Are you brimming with excitement for your upcoming wedding? If you're looking for romantic words to express how you feel about your significant other, read on. The following wedding quotes are not only truly hard-melting, but also quite sweet. They share important insights about love, happy relationships, and being married. Be sure to also have a look at our collection of cute love quotes.
As if getting married was already exciting enough, it seems as if everyone expects you to come up with a couple of romantic words that speak volumes at your wedding. But even though there is a deep bond of love between you and your other half, putting it into words is not that easy.
"You know you're in love when you can't fall asleep because reality is finally better than your dreams."
Dr. Seuss
It doesn't come easily to find the right words to articulate your deep feelings for your soul mate. That's where the following wedding quotes come in handy. What is so beautiful about these romantic pieces of poetry is that they were written by the most articulate authors, philosophers, and poets.
The following authors have brilliantly succeeded in putting the deep love and affection for their significant other into beautiful words. Some of their statements are wonderfully eloquent, others beautifully insightful. But all of their writings highlight that in most cases, honest words coming straight from the heart are the most powerful.
135 Heart-Melting Wedding Quotes
You can use the following statements as inspiration for your wedding vows or the toast to your future spouse. With these marvelous quotes as the foundation of your wedding, the first steps towards a happy and fulfilling marriage are successfully taken.
To give you a better overview, we've categorized the following quotes into different sections:
Enjoy reading!
Here's our collection of beautiful wedding quotes
1.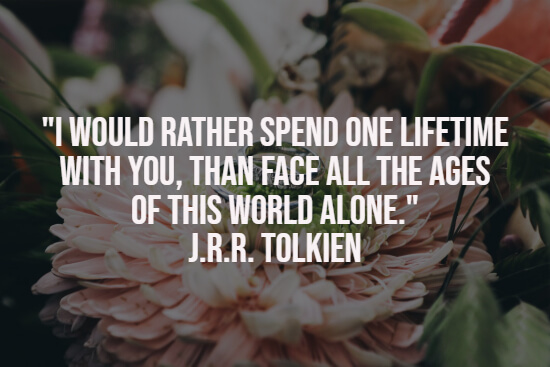 "I would rather spend one lifetime with you, than face all the ages of this world alone."
J.R.R. Tolkien
2.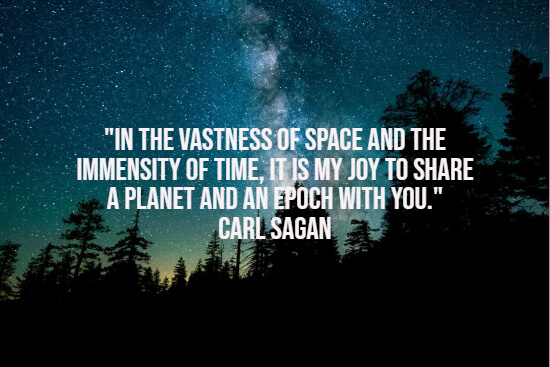 "In the vastness of space and the immensity of time, it is my joy to share a planet and an epoch with you."
Carl Sagan
3.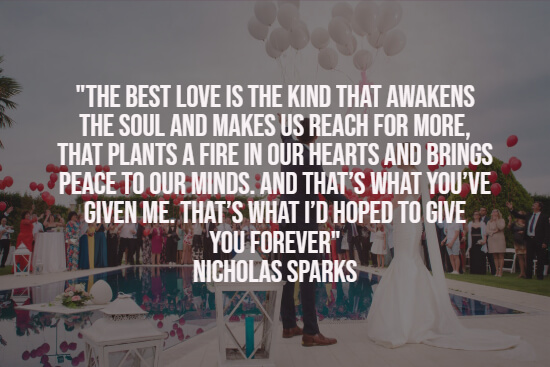 "The best love is the kind that awakens the soul and makes us reach for more, that plants a fire in our hearts and brings peace to our minds. And that's what you've given me. That's what I'd hoped to give you forever"
Nicholas Sparks
4.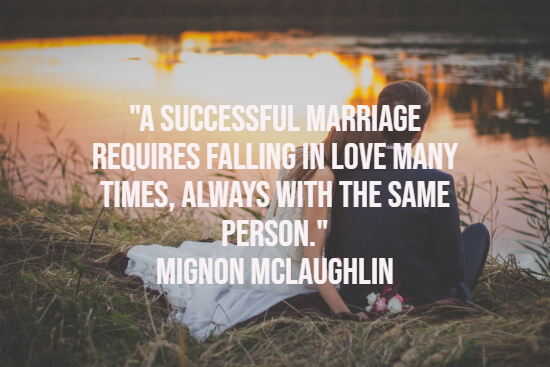 "A successful marriage requires falling in love many times, always with the same person."
Mignon McLaughlin
5.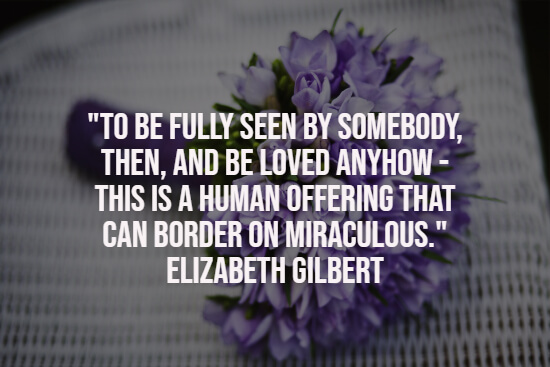 "To be fully seen by somebody, then, and be loved anyhow – this is a human offering that can border on miraculous."
Elizabeth Gilbert
6.
"A wedding ring is a symbol of commitment; a promise, a pledge, and a vow. The promise is to forsake all others, to stay devoted and true; the pledge is to honor that promise selflessly, to see the whole thing through; and the vow is to keep that pledge unwaveringly until the days are few. It is a mutual agreement to become one instead of two."
J.W. Lord
7.
"The best thing to hold onto in life is each other."
Audrey Hepburn
8.
"I don't need a ring or a license, or a spectacular white dress. It's not marriage so much, or at all really, that matters. It's the promise. It's knowing someone wants me to be part of his life. Someone loves me, that I'm the one for him. That's not just enough, it's everything."
Nora Roberts
9.
"I married a man who was as much a part of me as my own soul."
C.J. English
10.
"So it's not gonna be easy. It's going to be really hard; we're gonna have to work at this every day, but I want to do that because I want you. I want all of you, forever, every day. You and me… every day."
Nicholas Sparks
Do you want even more wedding quotes? Keep on reading…
11.
"A great marriage is not when the 'perfect couple' comes together. It is when an imperfect couple learns to enjoy their differences."
Dave Meurer
12.
"You have given me the greatest possible happiness. You have been in every way all that anyone could be. I don't think two people could have been happier."
Virginia Woolf
13.
"White is associated with purity because the entire spectrum is functioning in unity. White is a healing color. White is appropriate for weddings because the unity of male and female symbolizes unity."
Tae Yun Kim
14.
"In our time together, you claimed a special place in my heart, one I'll carry with me forever and that no one can ever replace."
Nicholas Sparks
15.
"I no longer believed in the idea of soul mates, or love at first sight. But I was beginning to believe that a very few times in your life if you were lucky, you might meet someone who was exactly right for you. Not because he was perfect, or because you were, but because your combined flaws were arranged in a way that allowed two separate beings to hinge together."
Lisa Kleypas
16.
"I love your feet because they have wandered over the earth and through the wind and water until they brought you to me."
Pablo Neruda
17.
"No long-term marriage is made easy, and there have been times when I've been so angry or so hurt that I thought my love would never recover. And then, in the midst of near despair, something has happened beneath the surface. A bright little flashing fish of hope has flicked silver fins and the water is bright and suddenly I am returned to a state of love again."
Madeleine L'Engle
18.
"When I saw you, I fell in love, and you smiled because you knew."
Arrigo Boito
19.
"The thrill of falling in love is often the thrill of being loved; the thrill of marriage is the thrill of loving someone for the rest of your life. Each day – and year – that passes is a triumph of this act of loving."
Susan Waggoner
20.
"To love is to accept a soul entirely, not wishing that the person was otherwise, nor hoping for change, nor clinging to some ideal past. To love is to cherish the individual standing before you presently. Charms, quirks, and all. To love is to give someone a piece of your heart that you will never, ever reclaim."
Richelle E. Goodrich
These wedding quotes are on fire
21.
"She gets a friend, a lover, a mate, the only man in this world who can complete her and give her the other half of her soul."
Quinn Loftis
22.
"It is a treasure that is outshined by what it means…eternal romance."
Theresa Ann Moore
23.
"Let there be spaces in your togetherness, and let the winds of the heavens dance between you."
Khalil Gibran
24.
"You are my confidante, my helpmate, my friend. My lover. You are everything the word wife means to me. In my heart, we are wed. In my soul, you are mine."
Charlotte Featherstone
25.
"I have taken you in my arms, and I love you, and I prefer you to my life itself. For the present life is nothing, and my most ardent dream is to spend it with you."
John Chrysostom
26.
"There is nothing more admirable than when two people who see eye to eye keep house as man and wife, confounding their enemies and delighting their friends."
Homer
27.
"I owe all the happiness of my life to you. You have been entirely patient with me and incredibly good. I want to say that – everybody knows it. I don't think two people could have been happier than we have been."
Virginia Woolf
28.
"That's what a good wife does, keeps your dreams alive even when you don't believe anymore"
Michael J. Sullivan
29.
"In three days. I will be your husband. I will take a solemn vow to protect you until death does us part."
Julia Quinn
30.
"True love is rare, and it's the only thing that gives life real meaning."
Nicholas Sparks
Wedding quotes like this are truly inspiring
31.
"I honestly have no idea how to live without you."
Stephenie Meyer
32.
"Yours is the light by which my spirit's born: yours is the darkness of my soul's return – you are my sun, my moon, and all my stars"
E.E. Cummings
33.
"I place your love above all things, and nothing would be more bitter or painful to me than to be of a different mind than you."
John Chrysostom
34.
"If the sun refused to shine, I would still be loving you. When mountains crumble to the sea, there will still be you and me."
Led Zeppelin
35.
"To say that one waits a lifetime for his soulmate to come around is a paradox. People eventually get sick of waiting, take a chance on someone, and by the art of commitment become soulmates, which takes a lifetime to perfect."
Criss Jami
36.
"Marriage is a partnership, not a democracy."
Nicholas Sparks
37.
"The funny thing is that although we place so much energy and importance on our wedding day, it isn't the biggest day of our life. The biggest day of your life is every day thereafter. Because it's not the pledge to love someone that matters, but the act of fulfilling that pledge that is most important. In other words, it's only just begun."
Laura Wolf
38.
"It takes three to make love, not two: you, your spouse, and God."
Fulton J. Sheen
39.
"I'll meet you at the altar. I'll be the one in white!"
Stephenie Meyer
40.
"Every woman should feel like a princess on her wedding day; it's practically a law."
Anna Bell
41.
"Weddings matter. Not just because they mark a significant turning point in a couple's lives, which they do. Weddings also serve as rare reunions for extended families and long-lost friends. They are a continuation of sacred rights and centuries-old traditions. And, most important, they are opportunities for joy. This is the real gift if the wedding, and it's given both to the couple and to everyone lucky enough to be present at their union."
Ellen McCarthy
42.
"To keep your marriage brimming, with love in the wedding cup, whenever you're wrong, admit it; whenever you're right, shut up."
Ogden Nash
43.
"I know what it is to live entirely for and with what I love best on earth. I hold myself supremely blest – blest beyond what language can express; because I am my husband's life as fully as he is mine."
Charlotte Brontë
44.
"Love is of all passions the strongest, for it attacks simultaneously the head, the heart, and the sense."
Lap Tzu
45.
"The gospel is the story of God covering his naked enemies, bringing them to the wedding feast and then marrying them rather than crushing them."
Justin S. Holcomb
These wedding quotes are full of wisdom
46.
"It isn't possible to love and part. You will wish that it was. You can transmute love, ignore it, muddle it, but you can never pull it out of you. I know by experience that the poets are right: love is eternal."
E.M. Forster
47.
"True love stories never have endings."
Richard Bach
48.
"Every great love starts with a great story."
Nicholas Sparks
49.
"Love is keeping the promise anyway."
John Green
50.
"The very first moment I beheld him, my heart was irrevocably gone."
Jane Austen
51.
"Romance is the glamour which turns the dust of everyday life into a golden haze. "
Elinor Glyn
52.
"If I die, I will wait for you, do you understand? No matter how long. I will watch from beyond to make sure you live every year you have to its fullest, and then we'll have so much to talk about when I see you again."
Jeaniene Frost
53.
"I wonder how many people don't get the one they want, but end up with the one they're supposed to be with."
Fannie Flagg
54.
"The difference between the love of a man and the love of a woman is that a man will always give reasons for loving, but a woman gives no reasons for loving."
Fulton J. Sheen
55.
"Two hearts can enlighten the whole world."
Kristian Goldmund Aumann
56.
"A wedding is allegedly one of the most wondrous experiences in a woman's life. All attending her presence are to make the occasion completely about her. Her beauty in that sliver of time is to be suspended in eternity."
Kenn Bivins
57.
"I ask you to pass through life at my side—to be my second self, and best earthly companion."
Charlotte Brontë
58.
"If we commit ourselves to one person for life, this is not, as many people think, a rejection of freedom; rather, it demands the courage to move into all the risks of freedom, and the risk of love which is permanent; into that love which is not possession but participation."
Madeleine L'Engle
59.
"Husbands and wives need to return regularly to the kinds of romantic activities that drew them together in the first place."
James C. Dobson
60.
"In your light I learn how to love. In your beauty, how to make poems. You dance inside my chest where no-one sees you, but sometimes I do, and that sight becomes this art."
Rumi
61.
"More than the wedding itself, that little ceremony there under the lamp, all silent save for the soft scratching of graphite on paper, will mark the true beginning of their life together."
John Banville
62.
"The best thing a girl can be is a good wife and mother. It is a girl's highest calling. I hope I am ready."
Nancy E. Turner
63.
"Love is absolute loyalty. People fade, looks fade, but loyalty never fades. You can depend so much on certain people; you can set your watch by them. And that's love, even if it doesn't seem very exciting."
Sylvester Stallone
64.
"We have to recognize that there cannot be relationships unless there is commitment, unless there is loyalty, unless there is love, patience, persistence."
Cornel West
65.
"Perhaps we were friends first and lovers second. But then perhaps this is what lovers are."
André Aciman
This wedding quote is so true
66.
"All my life I thought that the story was over when the hero and heroine were safely engaged – after all, what's good enough for Jane Austen ought to be good enough for anyone. But it's a lie. The story is about to begin, and every day will be a new piece of the plot. "
Mary Ann Shaffer
67.
"Being with you never felt wrong. It's the one thing I did right. You're the one thing I did right."
Becca Fitzpatrick
68.
"Hear my soul speak. Of the very instant that I saw you, did my heart fly at your service."
William Shakespeare
69.
"True love is never blind, but rather brings an added light."
Phoebe Cary
70.
"True love cannot be found where it does not exist, nor can be denied where it does."
Torquato Tasso
71.
"Love is an act of endless forgiveness; a tender look which becomes a habit."
Peter Ustinov
72.
"Marriage is not 'I', its 'We'."
Amit Kalantri
73.
"The best thing to hold onto in life is each other."
Audrey Hepburn
74.
"I never loved you any more than I do, right this second. And I'll never love you any less than I do, right this second."
Kami Garcia
75.
"I promise you to lay my heart in the palm of your hands. I promise you me."
Meredith Grey
76.
"A journey is like marriage. The certain way to be wrong is to think you control it."
John Steinbeck
77.
"Love recognizes no barriers. It jumps hurdles, leaps fences, penetrates walls to arrive at its destination full of hope."
Maya Angelou
78.
"If I know what love is, it is because of you."
Hermann Hesse
79.
"Two hearts in love need no words."
Marceline Desbordes-Valmore
80.
"When I fall in love, it will be forever."
Jane Austen
81.
"There is no more lovely, friendly and charming relationship, communion or company than a good marriage."
Martin Luther
82.
"I saw that you were perfect, and so I loved you. Then I saw that you were not perfect and I loved you even more."
Angelita Lim
83.
"Few people dare now to say that two beings have fallen in love because they have looked at each other. Yet it is in this way that love begins, and in this way only."
Victor Hugo
84.
"When I saw you I fell in love, and you smiled because you knew."
Arrigo Boito
85.
"If there is such a thing as a good marriage, it is because it resembles friendship rather than love."
Michel de Montaigne
86.
"It was finally becoming clear to her that love wasn't about finding someone perfect to marry. Love was about seeing through to the truth of a person and accepting all their shades of light and dark. Love was an ability."
Lisa Kleypas
87.
"Without you in my arms, I feel an emptiness in my soul. I find myself searching the crowds for your face – I know it's an impossibility, but I cannot help myself."
Nicholas Sparks
88.
"Absence diminishes small loves and increases great ones, as the wind blows out the candle and fans the bonfire."
Francois Duc de la Rochefoucauld
89.
"Maybe you expected marriage to be perfect – I guess that's where you and I are different. See, I thought it would be all about making mistakes, but doing it with someone who's there to remind you what you learned along the way."
Jodi Picoult
90.
"There would be more happily married couples in the world if people spent more time planning for married life than for a wedding."
Edmond Mbiaka
91.
"A good marriage is one which allows for change and growth in the individuals and in the way they express their love. "
Pearl Buck
92.
"Marriage is about compromise; it's about doing something for the other person, even if you don't want to. Like I did with the wedding."
Nicholas Sparks
93.
"A bride never forgets her wedding ornaments, why should we forsake our heavenly Father, the bridegroom?"
Lailah Gifty Akita
94.
"A bride will always be the belle of the ball at her own wedding."
Anthony T.Hincks
95.
"I'm done. I don't need anything more out of life. I have you, and that's enough."
Alessandra Torre
96.
"The only way love can last a lifetime is if it's unconditional. The truth is this: love is not determined by the one being loved but rather by the one choosing to love."
Stephen Kendrick
97.
"One word frees us of all the weight and pain of life: that word is love."
Sophocles
98.
"Marriage must fight constantly against a monster which devours everything: routine."
Honore de Balzac
99.
"When you find somebody you love, all the way through, and she loves you – even with your weaknesses, your flaws, everything starts to click into place. You'd be crazy not to want to spend the rest of your life with her."
Nora Roberts
100.
"I think of how each person in a marriage owes it to the other to find individual happiness, even in a shared life. That this is the only way to grow together, instead of apart."
Emily Giffin
101.
"You shouldn't marry someone you thought you could live with, you should marry someone you thought you couldn't live without."
Carole Matthews
102.
"Remember, whoever holds the purse strings for the wedding has the control. Don't accept a cent from anyone else if possible. Then you and he will be the only ones calling the shots. All the decisions will be yours and the rest of them will just have to go along with it."
Melissa Hill
Wedding anniversary quotes
103.
"A wedding anniversary is the celebration of love, trust, partnership, tolerance, and tenacity. The order varies for any given year."
Paul Sweeney
104.
"Chains do not hold a marriage together. It is threaded, hundreds of tiny threads, which sew people together through the years."
Simone Signoret
105.
"After all this time your love is blooming in my heart like a fresh flower and spreading the fragrance of happiness. Happy Anniversary."
Debasish Mridha
106.
"Grow old with me, the best is yet to be."
Robert Browning
107.
"He is not a lover who does not love forever."
Euripides
108.
"Our anniversary is just a momentary celebration, but our marriage is a timeless one."
Unknown
109.
"As we grow older together, As we continue to change with age, There is one thing that will never change… I will always keep falling in love with you."
Karen Clodfelder
110.
"For the two of us, home isn't a place. It is a person. And we are finally home."
Stephanie Perkins
111.
"Love grows more tremendously full, swift, poignant, as the years, multiply."
Zane Grey
112.
"I want to try with someone who loves me enough to try with me. I want to grow old looking at the same face every morning. I want to grow old looking at the same face every night at the dinner table. I want to be one of those old couples you see still holding hands and laughing after fifty years of marriage. That's what I want. I want to be someone's forever."
Rachel Gibson
113.
"No measure of time with you will be long enough, but we'll start with forever."
Stephenie Meyer
114.
"Let us celebrate the anniversary with a toast remembering those blissful memories and moments of love."
Debasish Mridha
115.
"We loved with a love that was more than love."
Edgar Allan Poe
116.
"The secret of a happy marriage is finding the right person. You know they're right if you love to be with them all the time."
Julia Child
117.
"You are my today and all of my tomorrows."
Lee Christopher
118.
"All that you are is all that I'll ever need."
Ed Sheeran
119.
"Loved you yesterday, love you still, always have, always will."
Unknown
Even more Anniversary Quotes
Funny wedding quotes
120.
"It's so great to find that one special person you want to annoy for the rest of your life."
Rita Rudner
121.
"Love, n. A temporary insanity curable by marriage."
Ambrose Bierce
122.
"Why does a woman work ten years to change a man, then complain he's not the man she married?"
Barbra Streisand
123.
"An archaeologist is the best husband a woman can have. The older she gets, the more interested he is in her."
Agatha Christie
124.
"By all means marry; if you get a good wife, you'll become happy; if you get a bad one, you'll become a philosopher."
Socrates
125.
"They say all marriages are made in heaven, but so are thunder and lightning."
Clint Eastwood
126.
"Some people claim that marriage interferes with romance. There's no doubt about it. Anytime you have a romance, your wife is bound to interfere."
Groucho Marx
127.
"I am" is reportedly the shortest sentence in the English language. Could it be that "I do" is the longest sentence?"
George Carlin
128.
"Love is a lot like a backache. It doesn't show up on X-Rays but you know it's there."
George Burns
129.
"Before you marry a person you should first make them use a computer with slow Internet to see who they really are."
Will Ferrell
130.
"They will stop calling brides beautiful after today—you have simply set the standard too high."
Anna Godbersen
131.
"A good marriage is where both people feel like they're getting the better end of the deal."
Anne Lamott
132.
"My wife and I were happy for twenty years. Then we met."
Rodney Dangerfield
133.
"I've been in love with the same woman for forty-one years. If my wife finds out, she'll kill me."
Henny Youngman
134.
"Do you know what it means to come home at night to a woman who'll give you a little love, a little affection, a little tenderness? It means you're in the wrong house, that's what it means."
Henny Youngman
135.
"When two people are under the influence of the most violent, most insane, most delusive, and most transient of passions, they are required to swear that they will remain in that excited, abnormal, and exhausting condition continuously until death do them part."
George Bernard Shaw
136.
"A diplomat is a man who always remembers a woman's birthday but never remembers her age."
Robert Frost
137.
"A man is lucky if he is the first love of a woman. A woman is lucky if she is the last love of a man."
Charles Dickens
I hope you enjoyed this collection of heart-melting wedding quotes. Do you have a favorite quote that reminds you about your own wedding?
Stay victorious!