Are you impatiently counting the weeks and months until your next vacation? If you're overcome with intense wanderlust, this list of inspirational vacation quotes will provide some relief. And if you can't get enough of traveling, be sure to also have a look at these inspirational travel quotes.
From the dawn of mankind, there have always been curious explorers who set out to discover new shores and new landscapes. Some of these adventurous were lucky enough to find new continents that had not been known to exist, as Christopher Columbus did. The wish to dive into foreign cultures and to learn from the natives has always been a driving force behind many adventures.
"Life is either a daring adventure or nothing."
Helen Keller
The great advantage of living in the 21st century is that almost every destination is no more than a flight of 12-24 hours away. Similarly, almost every square inch of Earth's surface has already been explored so the list of interesting travel spots is almost never-ending.
But even modern technology can't provide you the freedom to travel as much and as long as you please. To help you gap the time between, we have collected the following quotes to ease some of your wanderlust – at least for the moment.
105 Vacation Quotes to Fuel Your Wanderlust
While reading the following quotes, you will notice that they all originate from individuals who are passionate about traveling. Many of them journeyed from one destination to the next, fueled by their desire to explore the world. Therefore, the following vacation quotes are filled with beautiful thoughts about discovering new places and getting to know interesting people. Enjoy reading!
Here's our selection of inspirational vacation quotes
1.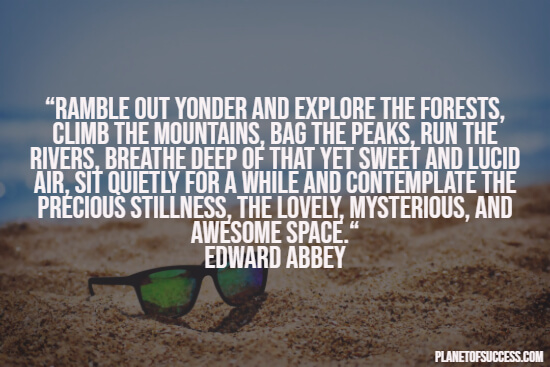 "Ramble out yonder and explore the forests, climb the mountains, bag the peaks, run the rivers, breathe deep of that yet sweet and lucid air, sit quietly for a while and contemplate the precious stillness, the lovely, mysterious, and awesome space."
Edward Abbey
2.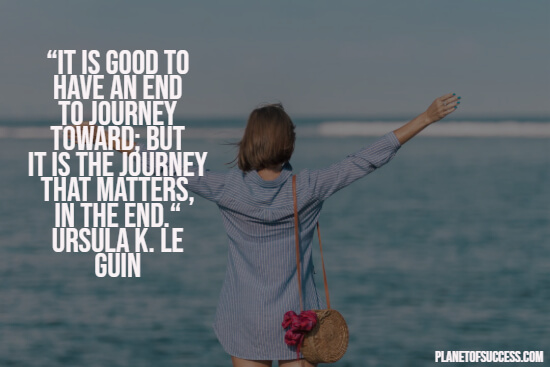 "It is good to have an end to journey toward; but it is the journey that matters, in the end."
Ursula K. Le Guin
3.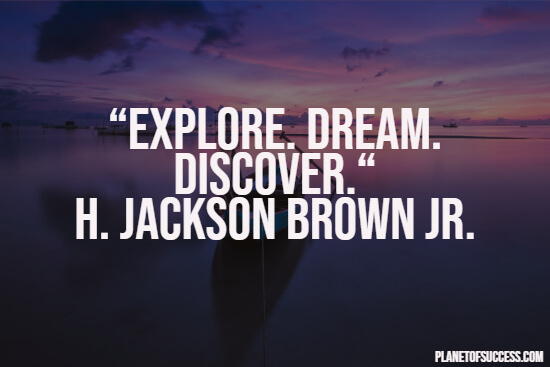 "Explore. Dream. Discover."
H. Jackson Brown Jr.
4.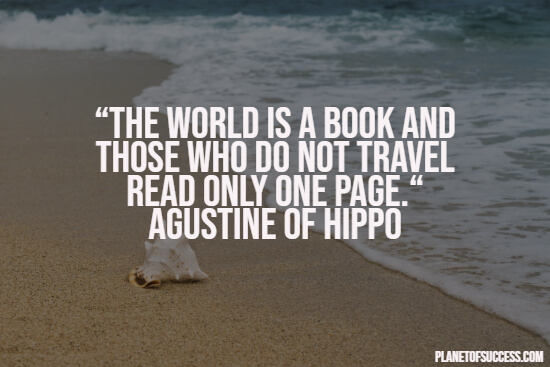 "The world is a book and those who do not travel read only one page."
Agustine of Hippo
5.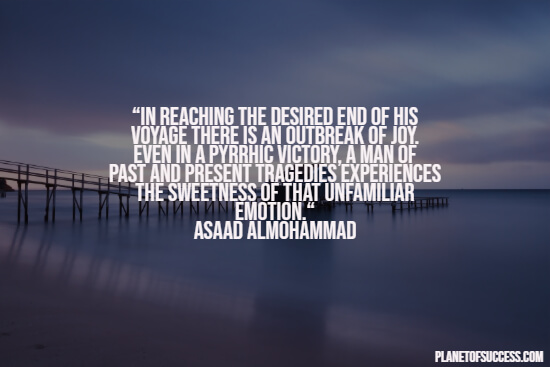 "For upon reaching his destination, a man with a past full of misfortunes can both taste the bitter drops of his sorrow and grin in triumph despite them. In reaching the desired end of his voyage there is an outbreak of joy. Even in a pyrrhic victory, a man of past and present tragedies experiences the sweetness of that unfamiliar emotion."
Asaad Almohammad
6.
"The real voyage of discovery consists not in seeking new landscapes, but in having new eyes."
Marcel Proust
7.
"No man needs a vacation so much as the man who has just had one."
Elbert Hubbard
8.
"Then something woke up inside him, and he wished to go and see the great mountains, and hear the pine-trees and the waterfalls, and explore the caves, and wear a sword instead of a walking-stick."
J.R.R. Tolkien
9.
"The only true voyage, the only bath in the Fountain of Youth, would be not to visit strange lands but to possess other eyes, to see the universe through the eyes of another, of a hundred others, to see the hundred universes that each of them sees, that each of them is; and this we do [with great artists]; with artists like these we do really fly from star to star. "
Marcel Proust
10.
"I think the best vacation is the one that relieves me of my own life for a while and then makes me long for it again."
Ann Patchett
11.
"People would be happier and healthier if they took longer vacations even if that meant earning less."
Jonathan Haidt
12.
"Now, Voyager, sail thou forth, to seek and find."
Walt Whitman
13.
"Make voyages. Attempt them. There's nothing else."
Tennesse Williams
14.
"Maybe that's the best part of going away for a vacation – coming home again."
Madeleine L'Engle
15.
"Some people spend all their time on vacation taking pictures so that when they get home they can show their friends evidence that they had a good time. They don't pause to let the vacation enter inside of them and take that home."
E.L. Konigsburg
16.
"Harry had no idea where Dumbledore went during the summer holidays. He amused himself for a moment, picturing Dumbledore, with his long silver beard, full-length wizard's robes, and pointed hat, stretched out on a beach somewhere, rubbing suntan lotion onto his long crooked nose."
J.K. Rowling,
17.
"Voyager, there are no bridges, one builds them as one walks."
Gloria Anzaldúa
18.
"It is always sad to leave a place to which one knows one will never return. Such are the melancolies du voyage: perhaps they are one of the most rewarding things about traveling."
Gustave Flaubert
19.
"There's nothing like a mission to save the world to liven up a vacation."
Donita K. Paul
20.
"It's more like that melancholy feeling you get at the end of a really good vacation. Something special is ending, and you're sad, but you can't be that sad because, hey, it was good while it lasted, and there'll be other vacations, other good times."
Gayle Forman
21.
"Once you have traveled, the voyage never ends, but is played out over and over again in the quietest chambers. The mind can never break off from the journey."
Pat Conroy
22.
"To be truly challenging, a voyage, like a life, must rest on a firm foundation of financial unrest. Otherwise, you are doomed to a routine traverse, the kind known to yachtsmen who play with their boats at sea… "cruising" it is called. Voyaging belongs to seamen, and to the wanderers of the world who cannot, or will not, fit in. If you are contemplating a voyage and you have the means, abandon the venture until your fortunes change. Only then will you know what the sea is all about."
Sterling Hayden
23.
"The secret of success is making your vocation your vacation."
Mark Twain
24.
"We travel, some of us forever, to seek other states, other lives, other souls."
Anaïs Nin
25.
"I always feel a little blue when a fun trip is over. The planning and anticipation of a vacation, and then the trip itself, are always so much fun. Getting home and back to real life always makes me feel a little empty."
Karey White
26.
"A vacation is what you take when you can no longer take what you've been taking."
Earl Wilson
27.
"Take time out. It's not a real vacation if you're reading email or calling in for messages."
Randy Pausch
28.
"When all else fails, take a vacation."
Betty Williams
29.
"The adventure is over. Everything gets over, and nothing is ever enough. Except the part you carry with you."
E.L. Konigsburg
30.
"Sometimes, you meet a wonderful person, but it's only for a brief instant. Maybe on vacation or on a train or maybe even in a bus line. And they touch your life for a moment, but in a special way."
Marian Keyes
31.
"But the true voyagers are only those who leave
Just to be leaving; hearts light, like balloons,
They never turn aside from their fatality
And without knowing why they always say: "Let's go!"
Charles Baudelaire
32.
"Take a vacation. […] Whatever it is, do something that makes you feel. Because feeling nothing is no way to go through life."
Valerie Thomas
33.
"Does the destination matter? Or is it the path we take? I declare that no accomplishment has substance nearly as great as the road used to achieve it. We are not creatures of destinations. It is the journey that shapes us. Our callused feet, our backs strong from carrying the weight of our travels, our eyes open with the fresh delight of experiences lived."
Brandon Sanderson
34.
"A journey is best measured in friends, rather than miles."
Tim Cahill
35.
"In matters of healing the body or the mind, vacation is a true genius!"
Mehmet Murat ildan
36.
"Live, travel, adventure, bless, and don't be sorry."
Jack Kerouac
37.
"Letting the happy accident happen is what a lot of vacation itineraries miss, I think, and I'm always trying to push people to allow those things to happen rather than stick to some rigid itinerary."
Anthony Bourdain
38.
"To be whole is to be part; true voyage is return."
Ursula K. LeGuin
39.
"We are all travelers in the wilderness of this world, and the best we can find in our travels is an honest friend."
Robert Louis Stevenson
40.
"I never travel without my diary. One should always have something sensational to read in the train."
Oscar Wilde
41.
"The feeling you have when you wake up in the morning and realize that it is the beginning of the holidays or the beginning of Summer."
C.S. Lewis
42.
"The sea is everything. It covers seven-tenths of the terrestrial globe. Its breath is pure and healthy. It is an immense desert, where man is never lonely, for he feels life stirring on all sides. The sea is only the embodiment of a supernatural and wonderful existence."
Jules Verne
43.
"Let us then continue our voyage—each for the other's sake, for a long time yet, a long time! We should miss each other so much! Tolerably calm seas and good winds and above all sun—what I wish for myself, I wish for you, too, and am sorry that my gratitude can find expression only in such a wish and has no influence at all on wind or weather!"
Friedrich Nietzsche
44.
"It's so important to change routines regularly, and take vacations to exotic locales, and have as many new experiences as possible that can serve to anchor our memories."
Joshua Foer
45.
"Hearing about vacations is like hearing about dreams – no one cares except the person who's experienced them."
Kirsten Hubbard
46.
"After all, the best part of a holiday is perhaps not so much to be resting yourself, as to see all the other fellows busy working."
Kenneth Grahame
47.
"That's why people take vacations. Not to relax or find excitement or see new places. To escape the death that exists in routine things."
Don DeLillo
48.
"Be an experimental person. Break up fixed routines. Expose yourself to new restaurants, new books, new theaters, new friends; take a different route to work someday, take a different vacation this year, do something new and different this weekend."
David J. Schwartz
49.
"Americans have an inability to relax into sheer pleasure. Ours is an entertainment seeking-nation, but not necessarily a pleasure-seeking one… This is the cause of that great sad American stereotype – the overstressed executive who goes on vacation, but who cannot relax."
Elizabeth Gilbert
50.
"If you're born in a cubicle and grow up in a corridor, and work in a cell, and vacation in a crowded sun-room, then coming up into the open with nothing but sky over you might just give you a nervous breakdown."
Isaac Asimov
51.
"When people went on vacation, they shed their home skins, thought they could be a new person."
Aimee Friedman
52.
"Vacation, I go there in my mind. Especially when I'm at work, getting paid for it."
Jarod Kintz
53.
"Nobody ever figures out what life is all about, and it doesn't matter. Explore the world. Nearly everything is really interesting if you go into it deeply enough."
Richard P. Feynman
54.
"Most people feel best about their work the week before their vacation, but it's not because of the vacation itself. What do you do the last week before you leave on a big trip? You clean up, close up, clarify, and renegotiate all your agreements with yourself and others. I just suggest that you do this weekly instead of yearly."
David Allen
55.
"Though the road's been rocky it sure feels good to me."
Bob Marley
56.
"Laughter is an instant vacation."
Milton Berle
57.
"Man has gone out to explore other worlds and other civilizations without having explored his own labyrinth of dark passages and secret chambers, and without finding what lies behind doorways that he himself has sealed."
Stanislaw Lem
58.
"Sometimes the hardest part of the journey is believing you're worthy of the trip."
Glenn Beck
59.
"Voyages are accomplished inwardly."
Henry Miller
60.
"Try to make every day feel as close to a vacation as possible."
Judy Greer
61.
"As surely as there is a voyage away, there is a journey home."
Jack Kornfield
62.
"Art urges voyages – and it is easier to stay at home."
Gwendolyn Brooks
63.
"Two years he walks the earth. No phone, no pool, no pets, no cigarettes. Ultimate freedom. An extremist. An aesthetic voyager whose home is the road."
Christopher McCandless
64.
No one realizes how beautiful it is to travel until he comes home and rests his head on his old, familiar pillow."
Lin Yutang
65.
"Explore more, expect least."
Santosh Kalwar
66.
"To travel is to live"
Hans Christian Andersen
67.
"Going on a solo vacation, or even spending a few days alone – leaving your laptop at home, if you can manage it – might seem like a strange way to feel loved, but if you can be happy with your own company, you can be happy with anything."
Chelsea Fagan
68.
"To suffer fifty weeks of the year for the sake of a two-week vacation, when all you really desire is to be outdoors, with your shirt off. And always to have to get ahead of the next fella. And still — that's how you build a future."
Arthur Miller
69.
"Tourists went on holidays while travellers did something else. They travelled."
Alex Garland
70.
"Perfume is like cocktails without the hangover, like chocolate without the calories, like an affair without tears, like a vacation from which you never have to come back."
Marian Bendeth
71.
"Never go on trips with anyone you do not love."
Ernest Hemingway
72.
"Reading… a vacation for the mind."
Dave Barry
73.
"Happiness is the consequence of personal effort. You fight for it, strive for it, insist upon it, and sometimes even travel around the world looking for it."
Elizabeth Gilbert
74.
"You live like this, sheltered, in a delicate world, and you believe you are living. Then you read a book or you take a trip… and you discover that you are not living, that you are hibernating."
Anaïs Nin
75.
"The journey is what brings us happiness not the destination."
Dan Millman
76.
"My family never went skiing. My dad was afraid of heights and my mom felt that a vacation was only a vacation if it involved reading at least two books on the beach."
Lisa Greenwald
77.
"If we would give, just once, the same amount of reflection to what we want out of life that we give to the question of what to do with a two weeks' vacation, we would be startled at our false standards and the aimless procession of our busy days."
Dorothy Canfield Fisher
78.
"Your friends are knocking on your door, saying, "Don't you need a vacation?!," and you don't even know what the word "vacation" means because what you're doing is what you want to do and a vacation from that is anything but a vacation — that's the state of mind of somebody who's doing what others might call visionary and brilliant."
Neil deGrasse Tyson
79.
"All journeys have secret destinations of which the traveler is unaware."
Martin Buber
80.
"Travel and change of place impart new vigor to the mind."
Seneca
81.
"Do people get sad on holiday sometimes? I can imagine they do, having all that time to think."
Nick Hornby
82.
"As we go through the flightiness of time, dazed by the inebriety of our mental time voyage, we must hit the brakes, sometimes, and not shy away from questioning ourselves, when we wade through the tanning mist of our memory that embroiders our thoughts or distorts them."
Erik Pevernagie
83.
"Life is a journey, not a destination."
Ralph Waldo Emerson
84.
"The old hunger for voyages fed at his heart… To go alone… into strange cities; to meet strange people and to pass again before they could know him; to wander, like his own legend, across the earth – it seemed to him there could be no better thing than that."
Thomas Wolfe
85.
"Here's to a vacation of no regrets!"
Joan Rylen
86.
"Like them you are tall and taciturn, and you are sad, all at once, like a voyage."
Pablo Neruda
87.
"My goal is to build a life I don't need a vacation from."
Rob Hill Sr.
88.
"We seek a holiday from our inner and outer restrictions, a more intense sense of the here and now, the beauty and value of the world we live in."
Oliver Sacks
89.
"To me you were home, to you I was just a vacation."
Sade Andria Zabala
90.
"It's nice to be able to take a vacation from myself every once in a while. You help with that. You're my safe harbor in an endless, stormy sea."
Patrick Rothfuss
91.
"I don't know if this makes me a bad person or whatever, but it's hard for me to get interested in other people's vacations."
Jeff Kinney
92.
"He who would travel happily must travel light."
Antoine de St. Exupery
93.
"Suddenly vacation is over, you have to catch a plane, and you see the shuttle take off on TV at the airport. But you keep coming back, year after year, and one day you find you're eighty years old driving through an orange grove."
Tim Dorsey
94.
"I have heard several people justify working long hours and getting home from work late at night by saying things like, "I have to put in all this time to make up for the vacation we're going to take this summer." I bet if I asked your kids, they'd say that they'd rather have you home every night to play with them than the weeklong summer trip to the lake where you're stressed out the whole time anyways."
Daniel Willey
95.
"Like all explorers, we are drawn to discover what's out there without knowing yet if we have the courage to face it."
Pema Chodron
96.
"We are all inventors, each sailing out on a voyage of discovery, guided each by a private chart, of which there is no duplicate. The world is all gates, all opportunities."
Ralph Waldo Emerson
97.
"Reality, however utopian, is something from which people feel the need of taking pretty frequent holidays."
Aldous Huxley
98.
"You don't live for vacations because you don't need a break from what you're doing – working, playing, and relaxing are one and the same. You don't even pay attention to how many hours you're working because to you, it's not really work. You're making money, but you'd do whatever it is you're doing for free."
Gary Vaynerchuk
99.
"What a long strange trip it's been."
Jerry Garcia
100.
"We expect our two-week vacations to be romantic, exotic, cheap, and effortless… We expect anything and everything. We expect the contradictory and the impossible. […] For never has a people expected so much more than the world could offer."
Daniel J. Boorstin
101.
"To travel is to discover that everyone is wrong about other countries."
Aldous Huxley
102.
"Man cannot discover new oceans unless he has the courage to lose sight of the shore."
Andre Gide
103.
"Instead of wondering when your next vacation is, maybe you ought to set up a life you don't need to escape from."
Seth Godin
104.
"Sometimes she missed people before they even left her, got depressed about a vacation being over before it started."
Jennifer Close
105.
"Life is not a long vacation, but a constant learning process."
Paulo Coelho
I hope you enjoyed this collection of inspirational vacation quotes. What's the next travel destination that you're dreaming of?
Stay victorious!