More than 20 years after his untimely death, the legacy of Tupac Shakur is still widely felt. If you want to learn more about 2Pac's insightful worldview and his articulate opinions on a variety of subjects, this collection of legendary Tupac quotes is for you. Enjoy reading. And for even more quotes about rap and hip-hop, have a look at these Wiz Khalifa quotes.
Tupac Shakur is one of the most iconic rappers of all time. No one else embodied the gangster rap aesthetic of the 1990s more authentically than the young American rapper who quickly rose to the top of the hip-hop industry. 2Pac's songs resonated deeply with the issues and problems his listeners were confronted with within their own lives, leading him to become a lightning rod to them. Despite his kind nature, many of his songs expressed rage, violence, and anger about racism, social injustice, and street violence.
"If you can make it through the night, there's a brighter day."
Tupac Shakur
At the time of his death, 2Pac was undoubtedly on top of the rap world. Known not only for his insightful lyrics, but he also stood out with his articulate and thoughtful nature. His personality can be described as sensitive, kind, humorous, contemplative with a strong commitment to his ideals. At the same time, he was a troubled soul and was described by some as paranoid and overly dramatic.
To this date, Shakur's albums have sold more than 75 million times, leading him to become one of hip-hop's most-selling artists of all time after his death. His songs remain popular to this very day, mainly because of the timeless nature of his lyrics that still spark conversations in our present time.
Tupac Shakur became one of hip-hop's most famous artists because of his authenticity and fearlessness. The complex rapper had a profound impact upon many young artists like 50 Cent and Eminem who would follow to emerge on the stage many years later.
114 Legendary Tupac Quotes about Life and Death
Despite his recording career lasting only for five years, his legendary lyrics spread across the globe. The following Tupac quotes of the young rapper will give you insights into his personality and the outlaw spirit he was so popular for.
Reading through this quote collection will take you back in time when Tupac Shakur was still alive. Discover the lyrical genius behind the popular songs and what motivated him to stand up for his ideals.
Here's our collection of Tupac quotes
1.
"I'm not saying that I'm gonna change the world, but I guarantee that I will spark the brain that will change the world."
Tupac Shakur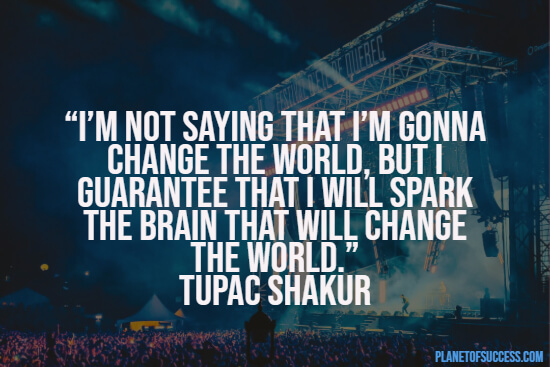 2.
"You never know how strong you can be until being strong is the only choice you have left."
Tupac Shakur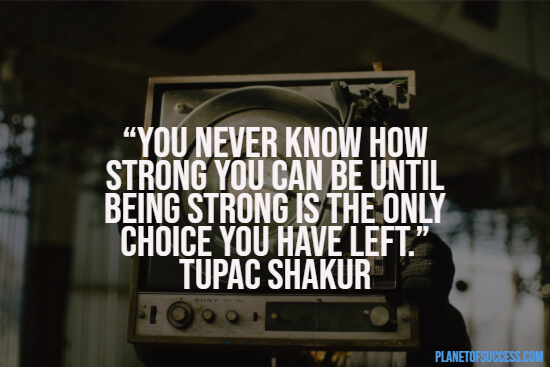 3.
"The only thing that can stop me is death, and even then my music will live forever."
Tupac Shakur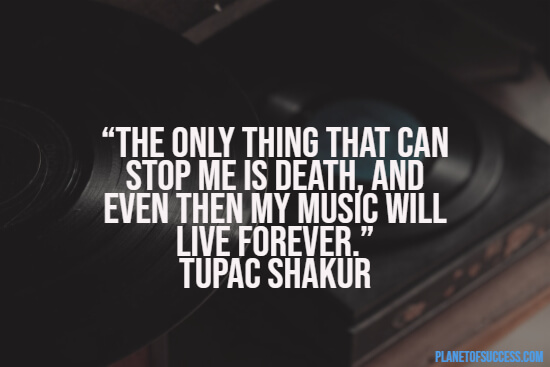 4.
"If there was no money and our wealth was based on our morals and how we treated people, we'd all be millionaires."
Tupac Shakur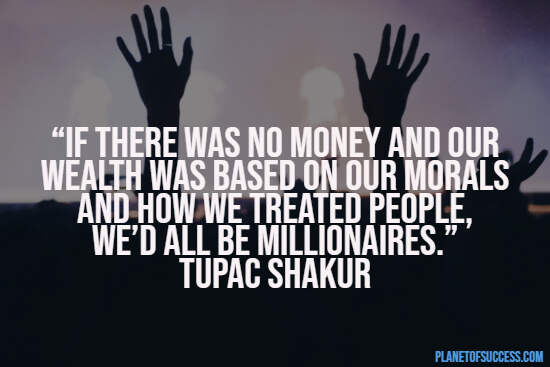 5.
"Tomorrow I wake with second wind and strong because of pride. I know I fought with all my heart to keep the dream alive."
Tupac Shakur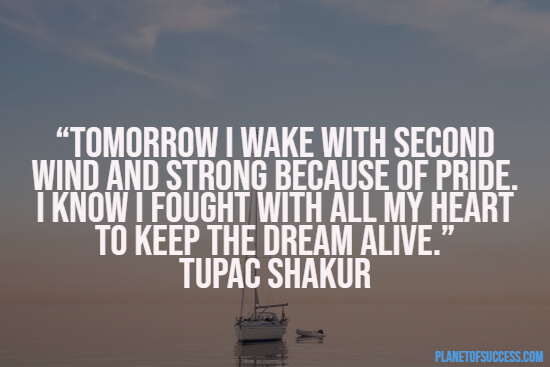 6.
"No matter what these people say about me, my music doesn't glorify any image. My music is spiritual when you listen to it. It's all about emotion, I tell my innermost, darkest secrets."
Tupac Shakur
7.
"Happy are those who dream dreams and are ready to pay the price to make them come true."
Tupac Shakur
8.
"I didn't choose the thug life, the thug life chose me."
Tupac Shakur
9.
"Reality is wrong. Dreams are for the real."
Tupac Shakur
10.
"Never surrender, it's all about the faith you got: don't ever stop, just push it 'till you hit the top and if you drop, at least you know you gave your all to be true to you, that way you can never fall"
Tupac Shakur
11.
"In life there are going to be some things that make it hard to smile. Through all the rain and pain you got to keep your sense of humor and smile for me now. Remember that."
Tupac Shakur
12.
"Nobody raised me; I was raised in this society. But I'm not going to use that as an excuse no more. I'm going to pull myself up by my bootstraps, and I'm going to make a change."
Tupac Shakur
13.
"My mother had a really bad childhood, and my father had a bad childhood, and I had a bad childhood, but I love my childhood, even though it was bad, I love it. I feel like it's taught me so much. And I feel like nothing can faze me, you know nothing in this world, nothing can surprise me, it might set me back, but only momentarily, only to spring back."
Tupac Shakur
14.
"Death is not the greatest loss in life. The greatest loss is what dies inside while still alive. Never surrender."
Tupac Shakur
15.
"Every time I fall in love with a woman, I don't fall in love with the woman she is, I fall in love with the woman she could be."
Tupac Shakur
Can't get enough of 2Pac quotes? Here are more for you…
16.
"Did you hear about the rose that grew from a crack in the concrete? Proving nature's laws wrong, it learned to walk without having feet. Funny, it seems by keeping its dreams; it learned to breathe fresh air."
Tupac Shakur
17.
"Long live the rose that grew from concrete when no one else even cared."
Tupac Shakur
18.
"We wouldn't ask why a rose that grew from the concrete for having damaged petals, in turn, we would all celebrate its tenacity, we would all love its will to reach the sun, well, we are the roses, this is the concrete and these are my damaged petals, don't ask me why, thank God, and ask me how."
Tupac Shakur
19.
"If you are lost in your worldliness and you have a guide, then it's not like being lost, it's like learning new things as you go through."
Tupac Shakur
20.
"They have money for war but can't feed the poor."
Tupac Shakur
21.
"The excuse maker in Tupac is dead. The vengeful Tupac is dead. The Tupac that would stand by and let dishonorable things happen is dead. God let me live for me to do something extremely extraordinary, and that's what I have to do."
Tupac Shakur
22.
"During your life, never stop dreaming. No one can take away your dreams."
Tupac Shakur
23.
"A woman brought you into this world, so you have no right to disrespect one"
Tupac Shakur
24.
"The evil forces are going to be at me. They're going to come 100 percent, so if I don't be 100 percent pure-hearted, I'm going to lose."
Tupac Shakur
25.
"What I want to do is form a society in which we can raise ourselves; so we can become our own father figures and the big homies can become their father figures and then you grow up then it's your turn to be a father figure to another young brother. That's where I want to start."
Tupac Shakur
26.
"That's how knowledge works, it's contagious."
Tupac Shakur
27.
"I believe that everything that you do bad comes back to you. So everything that I do that's bad, I'm going to suffer from it. But in my mind, I believe what I'm doing is right. So I feel like I'm going to heaven."
Tupac Shakur
28.
"Hate to sound sleazy, but tease me, I don't want it if it's that easy"
Tupac Shakur
29.
"I want to grow. I want to be better. You Grow. We all grow. We're made to grow. You either evolve or you disappear."
Tupac Shakur
30.
"On a whole, I don't have any friends. Friends come and go; I've lost my trust factor."
Tupac Shakur
31.
"Everything wasn't meant to be analyzed."
Tupac Shakur
32.
"If you saying you going to be real, that's how you be real-be physically fit, be mentally fit."
Tupac Shakur
33.
"I'm not a gangsta rapper. I rap about things that happen to me."
Tupac Shakur
34.
"You can spend minutes, hours, days, weeks, or even months over-analyzing a situation; trying to put the pieces together, justifying what could've, would've happened… or you can just leave the pieces on the floor and move on."
Tupac Shakur
35.
"Everybody's at war with different things… I'm at war with my own heart sometimes."
Tupac Shakur
These Tupac Shakur quotes are brimming with wisdom
36.
"Look at civilization, look at how we grew. We need to learn from our mistakes."
Tupac Shakur
37.
"All I'm trying to do is survive and make good out of the dirty, nasty, unbelievable lifestyle that they gave me."
Tupac Shakur
38.
"I love my childhood but I hated growing up poor. It made me very bitter."
Tupac Shakur
39.
"Only God can judge me. That which does not kill me can only make me stronger. I don't see why everybody feel as though that they gotta tell me how to live my life "
Tupac Shakur
40.
"I was given the responsibility before I wanted it. And now, I can't really differentiate what great responsibility is, because I've had it for so long."
Tupac Shakur
41.
"For every dark night, there's a brighter day."
Tupac Shakur
42.
"Since my mother had a bad childhood, she knows the importance of being honest, and the importance of facing each situation as it comes, and not dealing in a fairy tale land, be realistic about the problem, and analyzing it and solve it, see what you can do to solve it."
Tupac Shakur
43.
"Since we all came from a woman, got our name from a woman, and our game from a woman. I wonder why we take from women, why we rape our women, do we hate our women? I think its time we killed for our women, be real to our women, try to heal our women, cus if we don't we'll have a race of babies that will hate the ladies, who make the babies. And since a man can't make one he has no right to tell a woman when and where to create one"
Tupac Shakur
44.
"I don't see myself being special; I just see myself having more responsibilities than the next man."
Tupac Shakur
45.
"Adults complicate things and children don't."
Tupac Shakur
Tupac quotes like these are so powerful
46.
"Out of anger comes controversy, out of controversy comes conversation, out of conversation comes action."
Tupac Shakur
47.
"I know it seems hard sometimes but remember one thing. Through every dark night, there's a bright day after that. So no matter how hard it gets, stick your chest out, keep ya head up…. and handle it."
Tupac Shakur
48.
"Is it a crime to fight for what is mine?"
Tupac Shakur
49.
"I don't have no fear of death. My only fear is coming back reincarnated."
Tupac Shakur
50.
"[Talking about society] They will let you go as far as you want, but as soon as you're starting to ask too many questions and you're ready to change, the block will come."
Tupac Shakur
51.
"Don't believe everything you hear: Real eyes, Realize, Real lies"
Tupac Shakur
52.
"I'd rather die like a man, than live like a coward"
Tupac Shakur
53.
"My change is going to make a change through the community. And through that, they gonna see what type of person I truly was. Where my heart was. This Thug Life stuff, it was just ignorance. My intention was always in the right place."
Tupac Shakur
54.
"I think the youth should raise themselves since they got lofty ideas about what's theirs and their rights, what they should deserve."
Tupac Shakur
55.
"I don't understand how people can stand next to you one year, and next year, they cannot. They're going crazy, screaming. They can't take it that you're there. But last year I was in the same club, walking around, lonely like a motherfucker. Couldn't get a date or a dance. I was too skinny, too something, and now, 'He's just adorable. He's just, oh!'"
Tupac Shakur
56.
"Adults should go to school again."
Tupac Shakur
57.
"That's what I'm going to do as an artist, as a rapper. I'm gonna show the most graphic details of what I see in my community and hopefully, they'll stop it quick."
Tupac Shakur
58.
"My legacy will leave a mark on the world and I shall never be forgotten for my good, bad, and ugly deeds."
Tupac Shakur
59.
"It takes skill to be real. Time to heal each other."
Tupac Shakur
60.
"America is the biggest gang in the world"
Tupac Shakur
61.
"A coward dies a thousand times, a soldier dies but once."
Tupac Shakur
62.
"You can't be a king until you've made yourself; Until you've done something. And I've accomplished my goals that made me a man. Now I feel like I'm a man, now I set out goals to make me a king. Not a king of anyone else but me. Nobody else is under my rule but me. I made my self into a king, now I need a queen to be happy so I can be a teacher and a father, I can't be that until I find a queen-So I'm stuck in limbo."
Tupac Shakur
63.
"It's the game of life. Do I win or do I lose? One day they're gonna shut the game down. I gotta have as much fun and go around the board as many times as I can before it's my turn to leave."
Tupac Shakur
64.
"Whatever you see you gotta keep a sense of humor; you gotta be able to smile."
Tupac Shakur
65.
"Birds and bees and everything wasn't meant to be analyzed. And that's where problems came, I think, and that's where I think kids are happier, kids are definitely happier and more relaxed than adults."
Tupac Shakur
66.
"My whole life is going to be about saving somebody."
Tupac Shakur
67.
"I am not a perfectionist, but still I seek perfection."
Tupac Shakur
68.
"At the time I made 'Keep ya head up,' nobody had no songs about black women."
Tupac Shakur
69.
"If you have a happy childhood, you tend to – want your child to have a happy childhood, so you tend to want to keep the bad things out, and I don't think that's good, because you don't prepare for the world."
Tupac Shakur
70.
"I think that rich people should live like poor people and poor people should live like rich people. And they should change every week. And we will have the best round of people."
Tupac Shakur
Here are even more Tupac quotes…
71.
"Some say the blacker the berry, the sweeter the juice. I say the darker the flesh then the deeper the roots"
Tupac Shakur
72.
"My life was lived through falling rain so call on me if there be pain."
Tupac Shaku
73.
"This is supposed to be a melting pot but no one this learning from the others' mistakes. And that's weird. If we were all open, we would learn."
Tupac Shakur
74.
"When you do rap albums, you got to train yourself. You got to constantly be in character. You used to see rappers talking all that hard stuff, and then you see them in suits at the American Music Awards. I didn't want to be that type."
Tupac Shakur
75.
"People look to me to do things for them, to have answers. I wasn't having them because my brain was half dead from smoking"
Tupac Shakur
76.
"When you get out there, the responsibility is staggering and I'm ready, I'm going to be a little more ready than someone who's grown up in Disney World."
Tupac Shakur
77.
"If we really are saying rap is an art form, then we got to be true to it and be more responsible for our lyrics. If you see everybody dying because of what you saying, it don't matter that you didn't make them die, it just matters that you didn't save them."
Tupac Shakur
78.
"My mama always told me, that if you can't find something to live for, you best find something to die for."
Tupac Shakur
79.
"The American dream wasn't meant for me, cause lady liberty's a hypocrite, she lied to me, promised me freedom, education, and equality never gave me nothing but slavery but now look at how dangerous you made me calling me a mad man because I'm strong and bold."
Tupac Shakur
80.
"I am society's child. This is how they made me and now I'm sayin' what's on my mind and they don't want that. This is what you made me, America."
Tupac Shakur
81.
"School has taught me reading, which I love."
Tupac Shakur
82.
"There's no way I could pay you back but my plan is to show you that I understand, you are appreciated."
Tupac Shakur
83.
"Behind every sweet smile, there is a bitter sadness that no one can ever see and feel."
Tupac Shakur
84.
"Forgive but don't forget, girl keep your head up. And when he tells you you ain't nothing, don't believe him. And if he can't learn to love you, you should leave him."
Tupac Shakur
85.
"The way that my mother brought me up is, no lies, total truth, everything is real in society."
Tupac Shakur
86.
"Even the genius asks questions."
Tupac Shakur
87.
"Did you ever stop to think that I'm old enough to go to war but I ain't old enough to drink."
Tupac Shakur
88.
"I was letting people dictate who should be my friends. I felt like […] I couldn't be friends with Madonna. And so I dissed her, even though she showed me nothing but love. I felt bad, because when I went to jail, I called her and she was the only person that was willing to help me."
Tupac Shakur
89.
"If you grew up happy, too happy […] I don't think that prepares you for the world."
Tupac Shakur
90.
"I got a big mouth, I can't help it. I talk from my heart, I'm real."
Tupac Shakur
91.
"Everybody that said I wasn't nothing… my whole goal is to just make them ashamed that they wrote me off like that."
Tupac Shakur
92.
"This is a big question and no one's been able to answer it and this is staggering. How can President Reagan live in the White House, which has a lot of rooms, and there be homelessness? And he's talking about helping the homeless."
Tupac Shakur
93.
"I am a hard person to love but when I love, I love really hard."
Tupac Shakur
94.
"The only thing that comes to a sleeping man is dreams."
Tupac Shakur
95.
"If you let a person talk long enough, you'll hear their true intentions."
Tupac Shakur
96.
"If somebody else blows up and I fade out that's just how it's supposed to be, that's fate."
Tupac Shakur
97.
"Don't live to fight, fight to live."
Tupac Shakur
98.
"I came to California to escape the violence, to escape New York."
Tupac Shakur
99.
"I'm just as guilty for not doing nothing as I am for doing things. Not with this case, but just in my life. I had a job to do and I never showed up. I was so scared of this responsibility that I was running away from it."
Tupac Shakur
100.
"It don't stop 'til the casket drop."
Tupac Shakur
101.
"I'm going to show people my true intentions, and my true heart. I'm going to show them the man that my mother raised. I'm going to make them all proud."
Tupac Shakur
102.
"17 is such a weird age. it's such a – and the middle age, you're not 18 yet, and you're older than 16. […] It's like learning stage for me."
Tupac Shakur
103.
"What we really want to do is get the pride back in the black community. I feel like if you can't respect yourself, then you can't respect to race, and then you can't respect another's race."
Tupac Shakur
104.
"I want to learn from my mistakes."
Tupac Shakur
105.
"Then, going to trial, I started seeing the black women that were helping me. Now I've got a brand-new vision of them, because in here, it's mostly black female guards. They don't give me no extra favors, but they treat me with human respect."
Tupac Shakur
106.
"I'm not perfect. But I'll always be real."
Tupac Shakur
107.
"Everybody against me. Why? Why me? I have not brought violence to you. I have not brought Thug Life to America. I didn't create Thug Life. I diagnosed it."
Tupac Shakur
108.
"You gotta make a change. Its time for us as a people to start making some changes, let's change the way we eat, let's change the way we live, and let's change the way we treat each other. You see the old way wasn't working so it's on us, to do what we gotta do to survive."
Tupac Shakur
109.
"Fear no man but only God."
Tupac Shakur
110.
"I did not wanted to become the victim, so became the bully."
Tupac Shakur
111.
"I started seeing my situation and what got me here. Even though I'm innocent of the charge they gave me, I'm not innocent in terms of the way I was acting."
Tupac Shakur
112.
"I'm dealing with a more military type of philosophy – to mix the street life with respected, known and proven military philosophy."
Tupac Shakur
113.
"I think I'm a natural-born leader. I know how to bow down to authority if it's authority that I respect."
Tupac Shakur
114.
"I think the MTV generation is the next generation to come and the best generation that we've had thus far. They're starting to see the mistakes; they're starting to try to check it."
Tupac Shakur
We hope you enjoyed this collection of Tupac Shakur Quotes.
What is your favorite Tupac quote?
While reading through Tupac Shakur's thoughts on life, you may have noticed his deeply contradictory personality. Lighthearted, warm, and compassionate moments alternate with rage and anger.
We hope that this collection has given you profound insights into 2Pac's character, his ambitions, and his motivations. Perhaps, his thoughts inspire you to stand up for others as well and to relentlessly pursue your dreams like your idol.
We're excited to hear about your favorite quotes from the iconic rap idol.
Stay victorious!