In the following I will explain you a very interesting fact that successful people have in common. This is not just a fact, but a whole theory that I call the "Iceberg Theory of Success" and will let you realize how important it is to do "whatever it takes" if you aim to succeed! Everyone of us knows the structure of an iceberg that floats in the sea, so you'll know that only a small fraction of an iceberg is visible above the water line, whereas the larger part of an iceberg is hidden beneath the water. Well, I'm the opinion that an iceberg can be an excellent metaphor for a successful person. Everyone of us can see the outcome of this persons actions and most of his accomplishments (= the visible part of the iceberg), whereas the efforts that were necessary to achieve such an outcome remain hidden, unnoticed (like the invisible part of an iceberg that is beneath the water line).
The majority of people tend to only see the fabulous outcome that a successful person has achieved throughout his life, such as a luxurious villa, expensive sports cars or other, intangible, achievements. These achievements blind us so that we often are not even aware of the huge efforts that were necessary to make these accomplishments possible. And at this point it can be very demoralizing for a person that wants to achieve similar accomplishments, without knowing the "real" effort that will be necessary to succeed. This will finally lead to failure, as the person has had to high expectations without being ready or willing to put in as much effort as necessary to succeed.
Let's have a look at a fictitious person, which is a very successful investment banker. Well, we see this banker having lots of tangibles, such as fancy cars and an amazing villa, maybe even another house in his favorite holiday location. In case we get to know this investment banker closer we start to discover all his achievements and how successful in life he is. This is the visible part of the iceberg that stands figuratively for all the accomplishments of a successful person, which we discover once we see or get to know this person. While we are blinded by all the glamorous succeeding of this person we might have forgotten that there still exists an unknown part of the iceberg that remains hidden beneath the water, which is much bigger than what is visible at first sight. The hidden part of the iceberg stands figuratively for all the efforts that were necessary to achieve the outcome, such as hard work, perseverance at work, a long time of studying and maybe all the years of not being successful at all.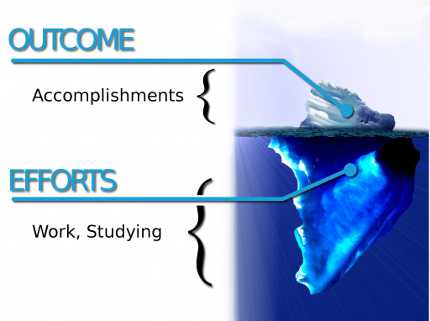 The "Iceberg Theory of Success" helps us to realize that every famous or extraordinary successful person had to invest a lot of effort and work until this person achieved his goals. Having this in mind we can avoid having too high expectations towards an outcome that we want to achieve, but it also allows us to be more persistent, as we can clarify ourselves that we have to do whatever it takes to succeed.
Let's have a look at a very successful actor. We see this actor playing all these fantastic roles in different movies and seasons, earning this actor millions of dollars. Furthermore we see the luxurious cars and the villa this actor owns and the rest of all his accomplishments. This is, once again, the visible part of the iceberg, but we might want to have a look at the utmost bigger part of the iceberg that remained unknown to us, such as all the years of not being famous, living without employment etc. Only a small fraction of actors became famous as teen stars that literally are famous from birth on. Most actors have to work hard on their skills in order to become famous. The same goes for every other person that is extraordinary successful in life.
The next time you see a famous person or any other successful person you could try to direct your focus to the necessary efforts that this person had to make in order to achieve his accomplishments. If you are willing to make similar commitments and efforts then go for it and you have the chance to become as successful as your example.
Photo by Rita Willaert
What do you think about the Iceberg Theory of Success?