Sitting at the beach, listening to the rushing of the waves, and enjoying the wonderful scenery of the sun slowly going down is one of the highlights of most vacations. But you don't have to travel far to enjoy the magnificent beauty of a sundown. To celebrate this wonderful spectacle of nature, we have collected some of the finest sunset quotes ever spoken or written. And for even more, have a look at our breathtaking nature quotes that celebrate earth.
There's something magical about the setting sun. It is the perfect conclusion for a beautiful day. Yet, most people don't have the time to enjoy one of the most beautiful scenes of nature.
"Clouds come floating into my life, no longer to carry rain or usher storm, but to add color to my sunset sky."
Rabindranath Tagore
Watching the sun slowly disappear below the horizon is a mystical experience. The entire scenery around you is transformed by the warm colors of the sun that paints the horizon orange. It is as if you have entered an enchanted world full of wonder and adventures.
To most dreamers like us, a sundown is one of the most romantic spectacles that nature can produce. Holding your partner in your arms while enjoying the magnificence of the sunset creates memories that will last a lifetime.
As if the beauty of a sunset alone wasn't enough, watching the sun go down can have several psychological benefits according to a variety of scientific studies. For example, it may increase your emotional well-being and your overall satisfaction with life.
101 Mesmerizing Sunset Quotes on the Beauty of Nature
The great thing about a sundown is that it is a wonderfully romantic experience that doesn't cost a dime. Each day presents the new opportunity for you to observe this miraculous wonder of nature.
Sometimes it can be quite difficult to find the right words that adequately describe how breathtaking the spectacle of the setting sun can be. To help you in finding the right words, we have collected these sunset quotes from some of the most creative writers. These thoughts and statements will inspire you to enjoy the beauty of this many sunsets as possible.
Here's our list of some of the most beautiful sunset quotes
1.
"Call for the grandest of all earthly spectacles, what is that? It is the sun going to his rest."
Thomas de Quincey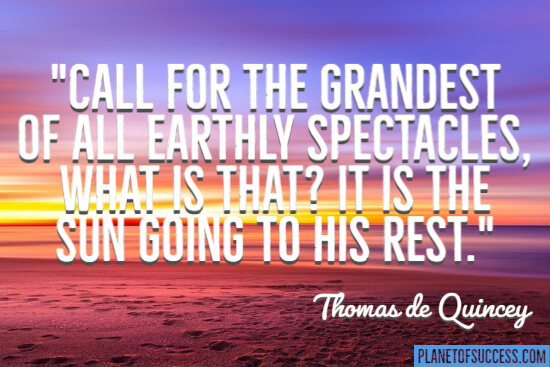 2.
"There's a sunrise and a sunset every single day, and they're absolutely free. Don't miss so many of them."
Jo Walton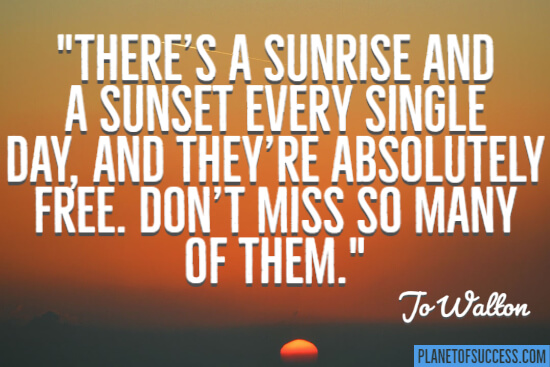 3.
"When I admire the wonders of a sunset or the beauty of the moon, my soul expands in the worship of the creator."
Mahatma Gandhi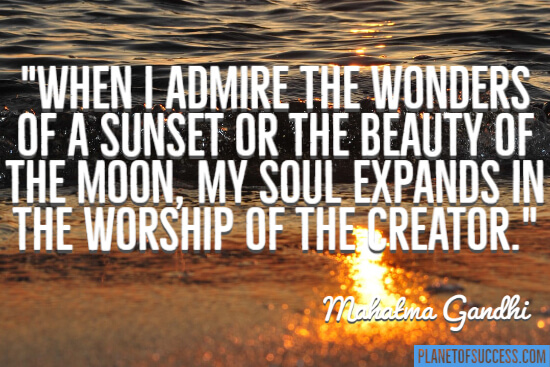 4.
"When the sun has set, no candle can replace it."
George R.R. Martin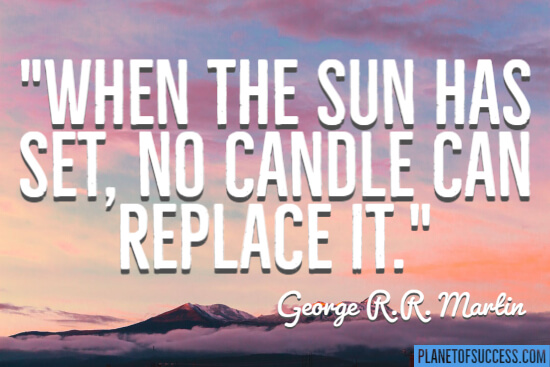 5.
"The sun ignites the clouds below it as if they, and the water, itself, were on fire."
Anthony T. Hincks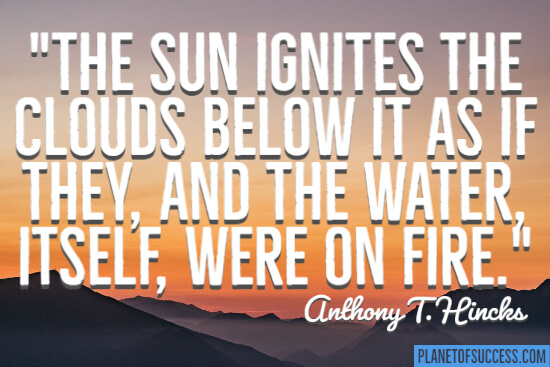 6.
"A sunset is the sun's fiery kiss to the night."
Crystal Woods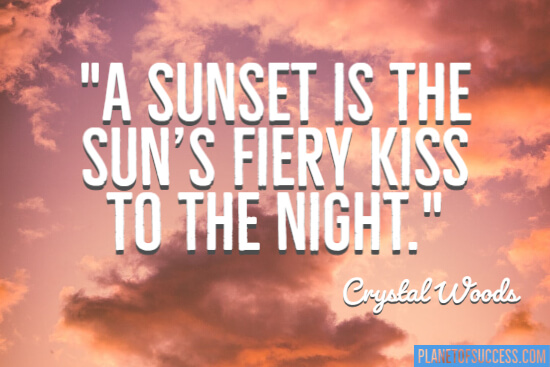 7.
"You were right about the stars, each one is a setting sun."
Jeff Tweedy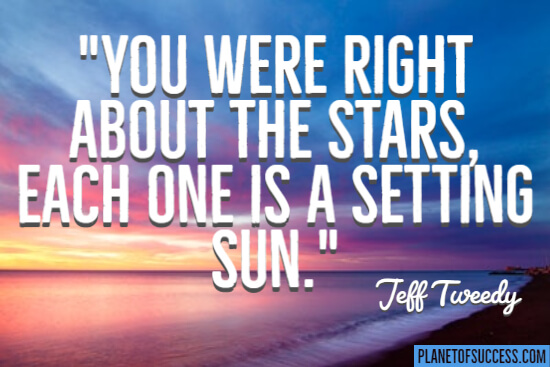 8.
"There is nothing more musical than a sunset."
Claude Debussy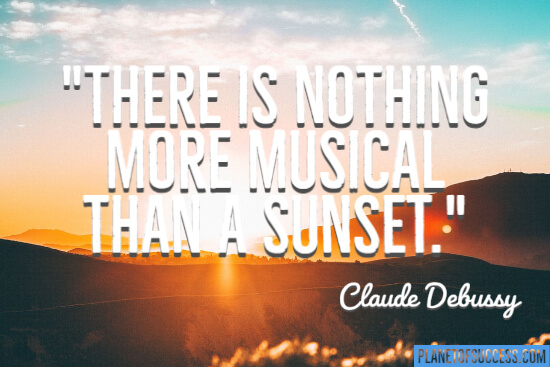 9.
"The sky broke like an egg into full sunset and the water caught fire."
Pamela Hansford Johnson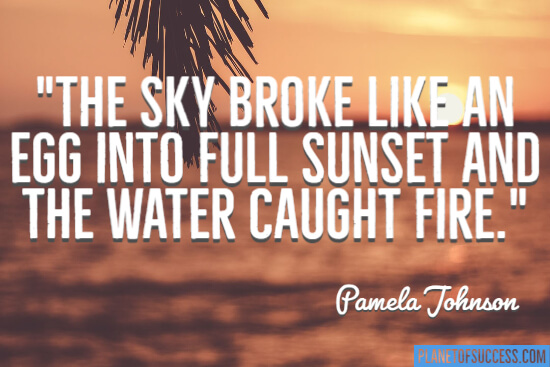 10.
"A sunrise or sunset can be ablaze with brilliance and arouse all the passion, all the yearning, in the soul of the beholder."
Mary Balogh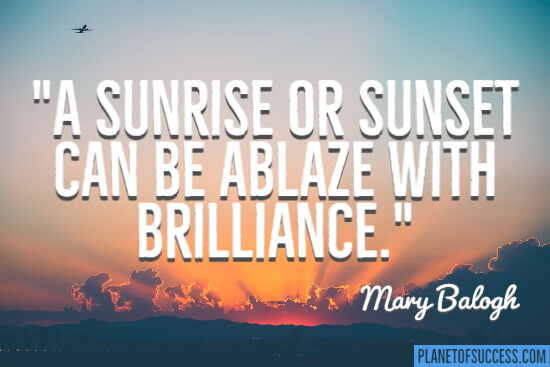 11.
"Once I saw a chimpanzee gaze at a particularly beautiful sunset for a full 15 minutes, watching the changing colors [and then]retire to the forest without picking a pawpaw for supper."
Adriaan Kortlandt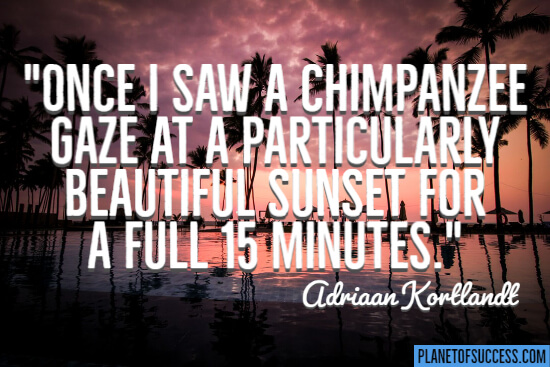 12.
"A large drop of sun lingered on the horizon and then dripped over and was gone, and the sky was brilliant over the spot where it had gone, and a torn cloud, like a bloody rag, hung over the spot of its going."
John Steinbeck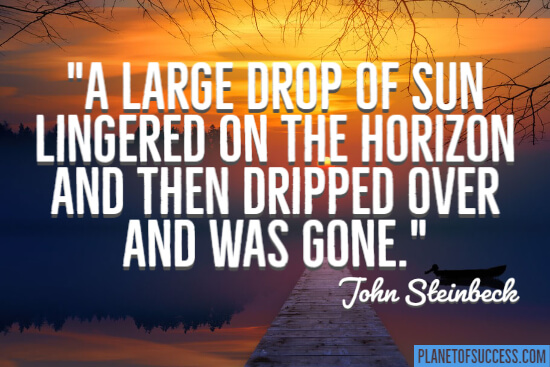 13.
"It was magic, the oldest magic of all when day became night, gods working in tandem, and I gave it the full benefit of my witness for the singular wonder it was."
J.D. Stanley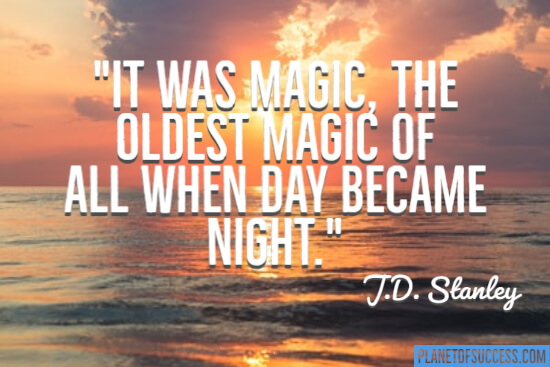 14.
"I love sunrises and sunsets. But what I really love is the space that I have in-between them to do something incredible."
Craig D. Lounsbrough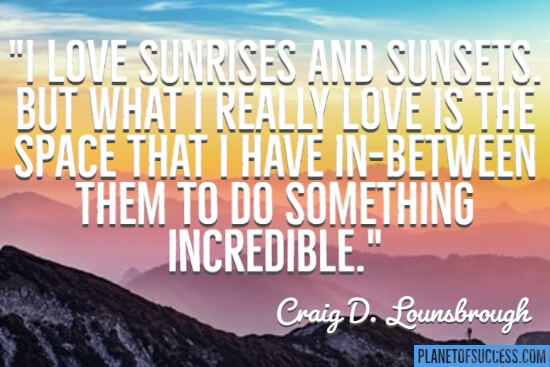 15.
"If I can put one touch of rosy sunset into the life of any man or woman, I shall feel that I have worked with God."
G.K. Chesterton
16.
"The sky, at sunset, looked like a carnivorous flower."
Roberto Bolaño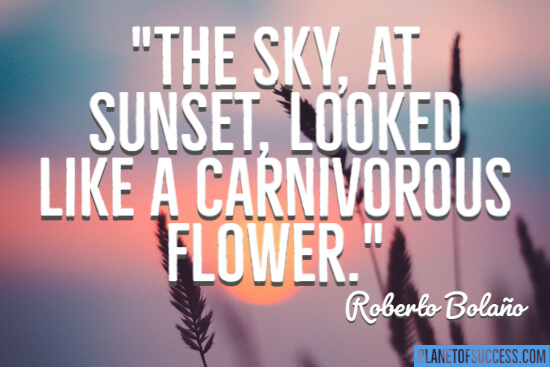 17.
"Every sunset is an opportunity to reset."
Richie Norton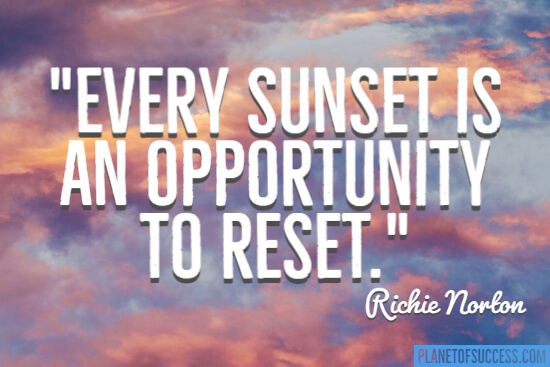 18.
"I can't give you the sunset, but I can give you the night."
Erin McCarthy
19.
"The sunsets are mad orange fools raging in the gloom."
Jack Kerouac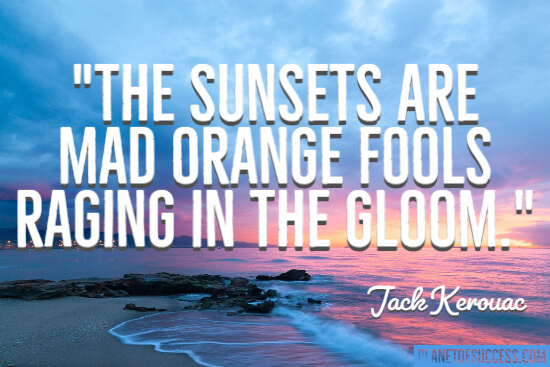 20.
"A sunset is the end of a day now passed. Yet, for some reason we get caught in the reality of the descending dark versus the anticipation of a rising dawn."
Craig D. Lounsbrough
21.
"When the Earth wants to swallow the sun, darkness will ensure."
Anthony T. Hincks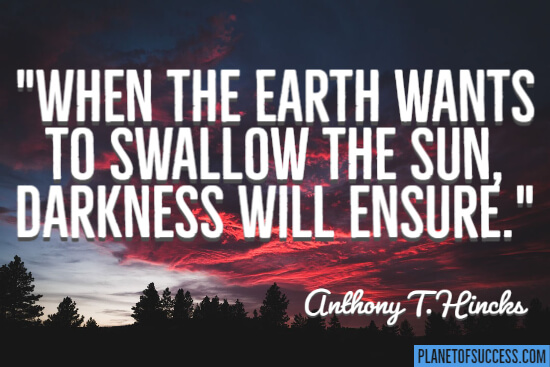 22.
"I like that time is marked by each sunrise and sunset whether or not you actually see it."
Catherine Opie
23.
"Whenever you want to see me, always look at the sunset; I will be there."
Grace Ogot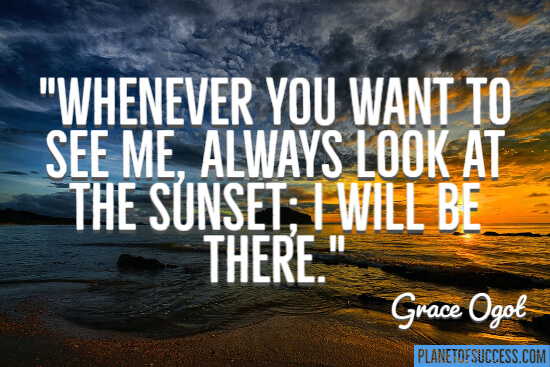 24.
"I always say that the times in my life when I've been happiest are the times when I've seen, like, a sunset."
Chris Evans
25.
"Allow failure to teach you a supreme lesson: Each sunset is the beginning of a very, very bright and powerful sunrise."
Sri Chinmoy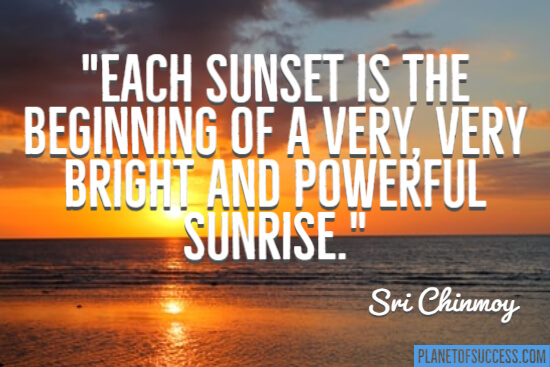 26.
"Sensual pleasures have the fleeting brilliance of a comet; a happy marriage has the tranquillity of a lovely sunset."
Ann Landers
27.
"Don't forget: beautiful sunsets need cloudy skies."
Paulo Coelho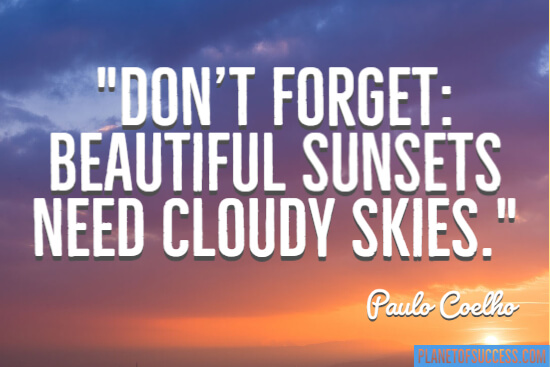 28.
"How strange this fear of death is! We are never frightened at a sunset."
George MacDonald
29.
"O, Sunlight! The most precious gold to be found on Earth."
Roman Payne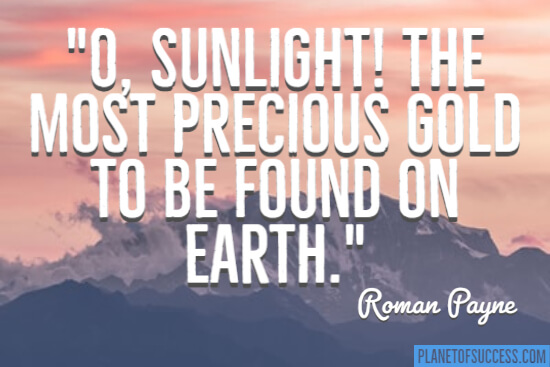 30.
"Sunsets are my escape into the reality I want to continuously live."
Rachel Roy
31.
"Get outside. Watch the sunrise. Watch the sunset. How does that make you feel? Does it make you feel big or tiny? Because there's something good about feeling both."
Amy Grant
32.
"No sun outlasts its sunset, but will rise again and bring the dawn."
Maya Angelou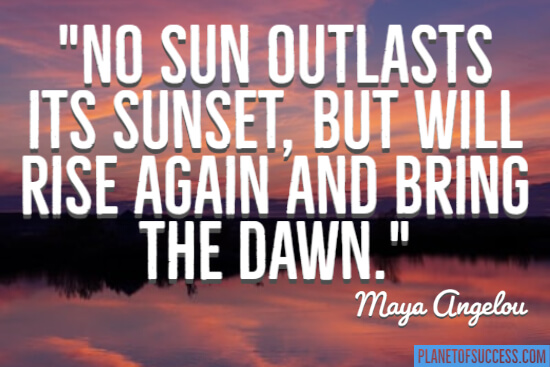 33.
"If you see the sunset, does it have to mean something? If you hear the birds singing does it have to have a message?"
Robert Wilson
34.
"Even the most beautiful days eventually have their sunsets."
Unknown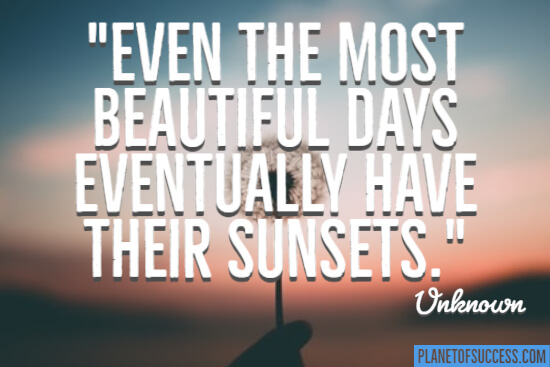 35.
"Perfect happiness is a beautiful sunset, the giggle of a grandchild, the first snowfall. It's the little things that make happy moments, not the grand events. Joy comes in sips, not gulps."
Sharon Draper
36.
"It is almost impossible to watch a sunset and not dream."
Bern Williams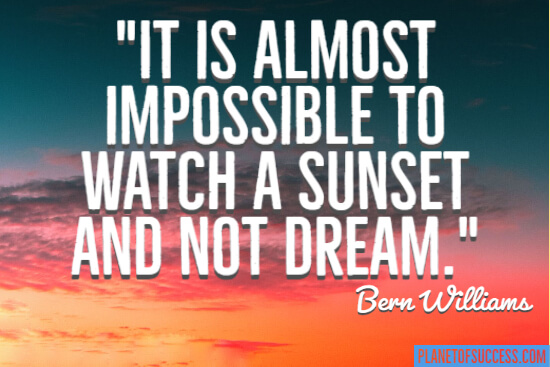 37.
"I'm always up for a riot, but now and again, you've gotta put your feet up and enjoy the sunset."
Pete Doherty
38.
"Enjoy the beauty of a sunset nature's farewell kiss for the night."
Sharon Rene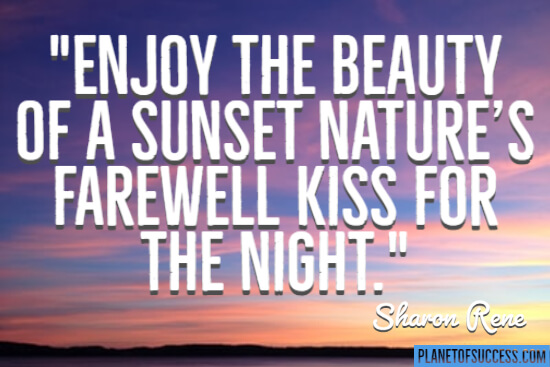 39.
"The sky takes on shades of orange during sunrise and sunset, the colour that gives you hope that the sun will set only to rise again."
Ram Charan
40.
"Sunsets are proof that no matter what happens, every day can end beautifully."
Kristen Butler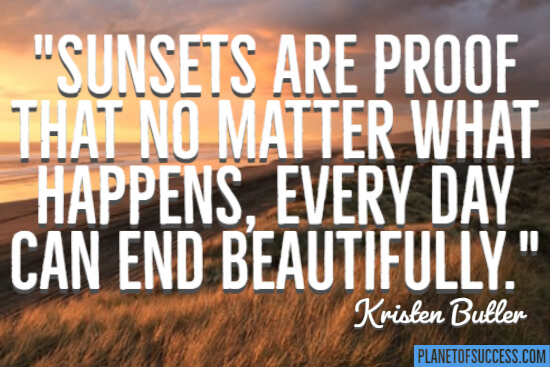 41.
"You ask of my companions. Hills, sir, and the sundown, and a dog as large as myself."
Emily Dickinson
42.
"Sunset is still my favorite color, and rainbow is second."
Mattie Stepanek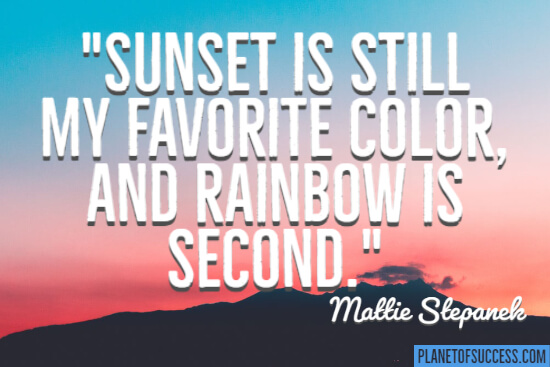 43.
"Sunsets are so beautiful that they almost seem as if we were looking through the gates of Heaven."
John Lubbock
44.
"There's never one sunrise the same or one sunset the same."
Carlos Santana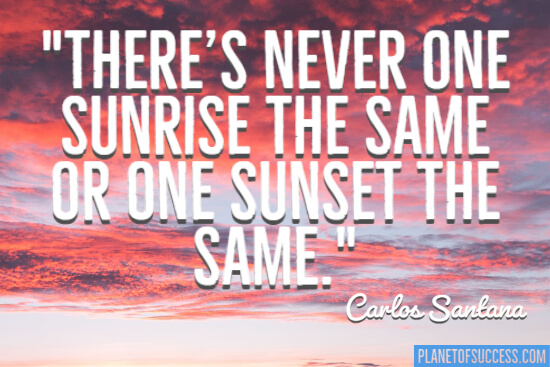 45.
"I think sunrises are rarer for me, but sunset is my favourite time of day."
Jon Foreman
46.
"In the full light of day, I don't want to think about the sunset."
Shakira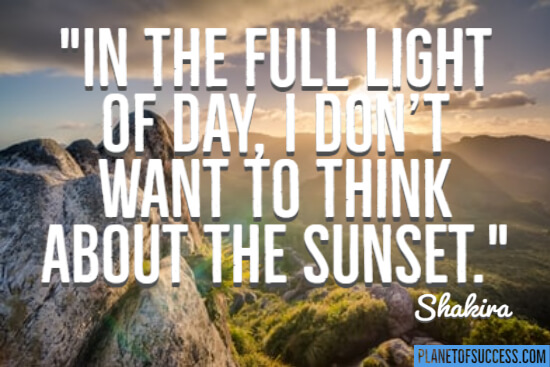 47.
"Like a wondrous sunset, perfection may be beyond our reach, but it is within our view and well worth seeking after."
Richelle E. Goodrich
48.
"If you can look at the sunset and smile, then you still have hope."
Unknown
49.
"If you want to be reminded of the love of the Lord, just watch the sunrise."
Jeannette Walls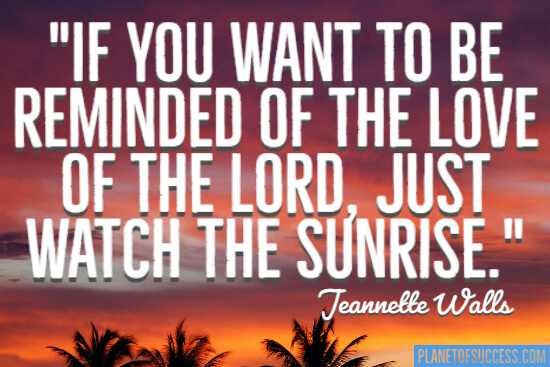 50.
"Do you remember what it was to be young. Every trouble would be solved by sundown, and every dawn you'd have a new chance to remake the world."
Silvia Moreno-Garcia
51.
"The true purpose of education is to teach a man to carry himself triumphant to the sunset."
Liberty Hyde Bailey
52.
"Of all the things in the world to see, I reckon the heavens at sundown has got to be my favorite sight."
Robert Newton Peck
53.
"She likes the mystery of that changeover, those fifteen minutes of sundown when the streets and trees and people and parked cars are delicate and immediate, every sound and smell and movement amplified by the lowest light or the lightest darkness."
Jardine Libaire,
54.
"Sunsets are proof that endings can often be beautiful too."
Beau Taplin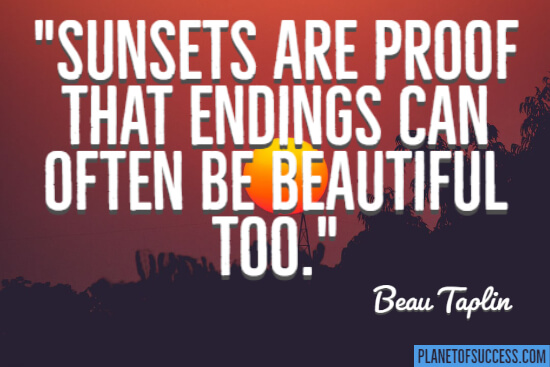 55.
"I have always thought beach weddings are beautiful. A sunset ceremony with a beautiful sky, white drapes, and fire lanterns."
Ricky Whittle
56.
"My joy is the golden sunset giving thanks for another day."
Jonathan Lockwood
57.
"I love watching the sunrise and sunset and the sky, the birds."
Manisha Koirala
58.
"There's never one sunrise the same or one sunset the same."
Carlos Santana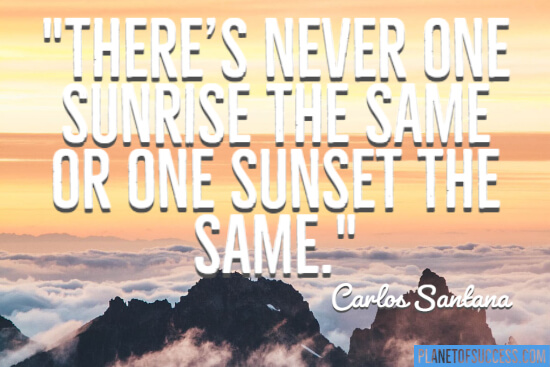 59.
"Keep looking up! I learn from the past, dream about the future, and look up. There's nothing like a beautiful sunset to end a healthy day."
Rachel Boston
60.
"There's always a sunrise and always a sunset and it's up to you to choose to be there for it."
Cheryl Strayed
61.
"If you are in a beautiful place where you can enjoy sunrise and sunset, then you are living like a lord."
Nathan Phillips
62.
"Every sunset is also a sunrise; it all depends on where you stand."
Karl Schmidt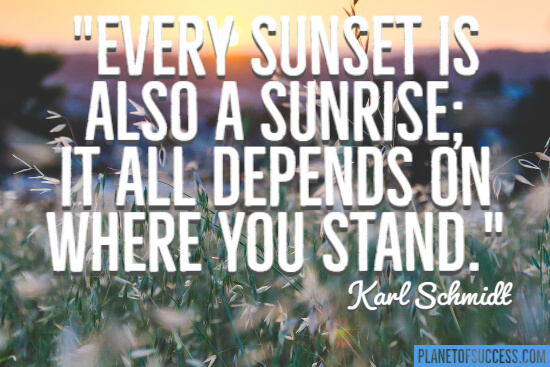 63.
"Know you I salute the air, the ocean and the land, every day at sundown for your dear sake my love."
Walt Whitman
64.
"What makes me really happy is a walk in the English countryside. A nice sunset, that British countryside – it means I'm home."
Natalie Dormer
65.
"Sundown can test you with its flood of color, but once it's full dark you're fine."
James Galvin
66.
"Sundown, yellow moon, I replay the past.
I know every scene by heart, they all went by so fast"
Bob Dylan
67.
"Watching them was like watching the sunset and the sunrise, equally beautiful in different ways."
Shannon A. Thompson
68.
"For me optimism is two lovers walking into the sunset arm in arm. Or maybe into the sunrise – whatever appeals to you."
Krzysztof Kieslowski
69.
"Sunrise is the start of something beautiful: the day. Sunset is the start of something beautiful: the night."
Juansen Dizon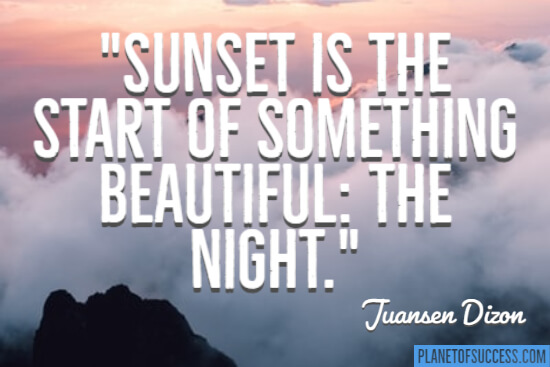 70.
"You just gotta use the sunset as a reset button and start over in the morning with every chance you get to open your eyes."
Victoria Monet
71.
"Watching sunrise and sunset from space, which is a beautiful sight, has been a personal privilege I have attained while being there."
Rakesh Sharma
72.
"Really appreciate the sunset as you're driving home, cursing all the terrible drivers on the road. Be where you are when you're there rather than out there in the future or back there in the past."
Valerie Harper
73.
"I am fine in the morning but after sundown I need you."
Pushpa Rana
74.
"Love the sunrise and the sundown and the morning and the evening star."
E.R. Eddison
75.
"There's always a story. It's all stories, really. The sun coming up every day is a story. Everything's got a story in it. Change the story, change the world."
Terry Pratchett
76.
"It was a rich and gorgeous sunset – an American sunset; and the ruddy glow of the sky was reflected from some extensive pools of water among the shadowy copses in the meadow below."
Francis Parkman
77.
"At sunrise, everything is luminous but not clear."
Norman Maclean
78.
"There is no way in which a man can earn a star or deserve a sunset."
G.K. Chesterton
79.
"The sun did not set but fell into the water like a meteor."
Isaac Bashevis Singer
80.
"I'd just love to ride off into the sunset with my love. I've only seen the sunset so far."
Amrita Singh
81.
"Instead of sailing off into the sunset, he hopes to sail into the next century."
Dave Anderson
82.
"The sunset, which is everyday magic."
Terry Pratchett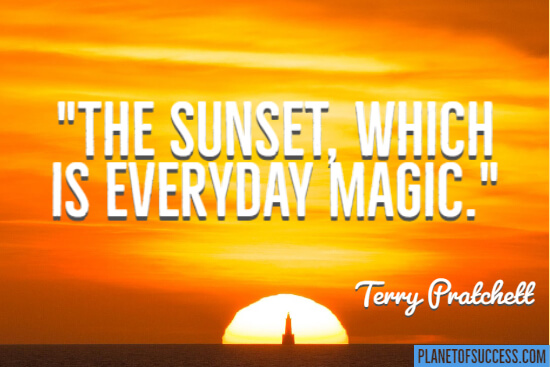 83.
"The sun was a fiery furnace of gold, but finally it set in the west and the cosmos glittered like a million burning embers."
Rehan Khan
84.
"London at sunset, a red glow westering across the leaden sky. The clouds were torn in places, gold light spilling through the fire-colored fleece."
Lisa Kleypas
85.
"We don't have time to hold a grudge against someone. They could be gone before sundown."
Karen Kingsbury
86.
"Look at the sunset
As a hope for tomorrow
I hope that you don't keep your pain a secret
And that you don't look at life with sorrow"
Lidia Longorio
87.
"I only went out for a walk and finally concluded to stay out till sundown, for going out, I found, was really going in."
John Muir
88.
"Isn't it the curse of the drifter, the desolation of heart we feel each evening at sundown."
Thomas Pynchon
89.
"The girls wandered down a long pineland aisle that seemed to lead right out into the heart of a deep-red, overflowing winter sunset."
L.M. Montgomery
90.
"In silence the three of them looked at the sunset and thought about God."
Maud Hart Lovelace
91.
"Know what you want to do, hold the thought firmly, and do every day what should be done, and every sunset will see you that much nearer the goal."
Elbert Hubbard
92.
"Sunrise paints the sky with pinks and the sunset with peaches."
Vera Nazarian
93.
"If I were a moviemaker I'd set about hunting sunsets."
Julio Cortázar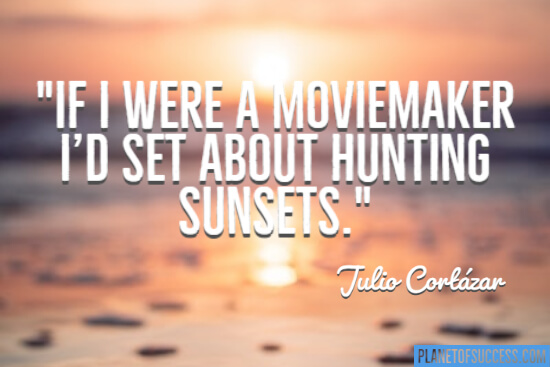 94.
"If I missed the sunrise of this day and if I let the sunset slip by unnoticed, I might ask if what captured my attention this day was worth the loss of this day because I can't think of anything that's that important."
Craig D. Lounsbrough
95.
"To leave out beautiful sunsets is the secret of good taste."
Dejan Stojanovic
96.
"And though I came to forget or regret all I have ever done, yet I would remember that once I saw the dragons aloft on the wind at sunset above the western isles; and I would be content."
Ursula K. Le Guin
97.
"Now, just after sundown, when all my work was over and I was on my way to my berth, it occurred to me that I should like an apple."
Robert Louis Stevenson
98.
"When I watch the sunset, I observe an orange sky."
Steven Magee
99.
"Thank you is what each and every one of us should say when we see either a sunrise or sunset."
Anthony T. Hincks
100.
"Nightfall was approaching, the light pouring away past the world's horizon in a gradually darkening cascade."
Obie Williams
101.
"Every sunrise begins with new eyes."
Richie Norton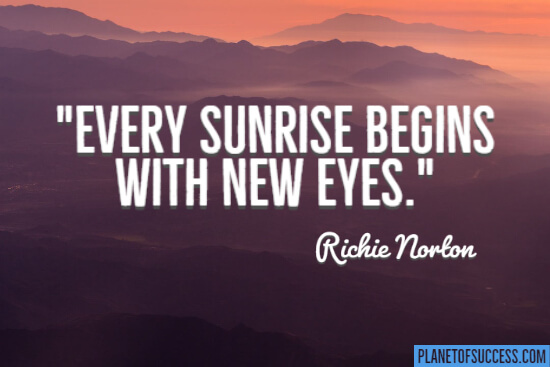 We hope you enjoyed this collection of sunset quotes.
You may have noticed that some of the quotes in the above are quite descriptive while others are brimming with romance. Whatever the case may be, many of them perfectly capture the essence of this wonderful experience in nature.
What's your favorite sundown quote?
Do you have a favorite quote that perfectly describes what you feel when you see the sun go down? We're excited to hear from you in the comment section below.
Stay victorious!