Are you contemplating suicide or know someone who does? This powerful collection of uplifting suicide quotes will give you hope and strength to get you through tough times in your life. And if you need even more uplifting quotes, be sure to have a look at our selection of powerful depression quotes to make you smile again.
The older you get, the more when you realize that tough times are a central part of life. In fact, life can often be absolutely gruesome, horrific, and purely frightening. Random events may destroy your career or your private life. Trials and tribulations may rain down upon you. When it seems as if all hope is lost, the help of others can offer us the beacon of light that gets us through exceptionally tough times.
"There's no shame in having to fight every day, but fighting every day, and presumably, if you're still alive to hear these words or read this interview, then you are winning your war. You're here. You might not win every battle. There are going to be some really tough days. There might be several tough times in any given single day, but hopefully, this will help somebody to think, 'This isn't easy; it is a fight, but I'm going to keep fighting.'"
Jared Padalecki
Many months or even years after you have overcome a personal crisis, you will start to notice that whatever has happened to you made you stronger in some way or the other. You will realize that even though the trials and tribulations left painful scars both emotionally and physically, you have become a stronger person by fighting and overcoming the struggle.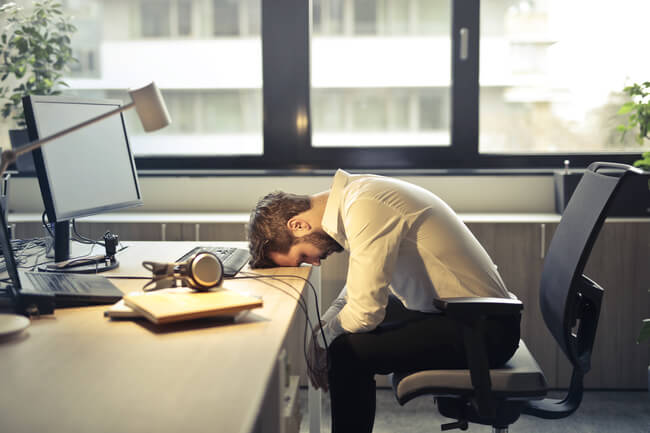 The second realization is equally important. You will notice that you may not be able to stop bad things from happening to you. But you can always change how you think about what is happening to you and how you choose to respond to it.
125 Uplifting Suicide Quotes That Will Give You Hope
If you arrived at a point in your life where you believe that there's no hope left for you, please read on. The following collection of suicide quotes features numerous offers who themselves were confronted with pretty tough times during their lives. And even though they were tempted to give in, they all chose to fight against the struggles they were confronted with. And as you can tell from their thoughts, they were not only successful but they also were eternally grateful for not having committed suicide. As an extra, we have also prepared some good suicide prevention quotes and suicidal thoughts quotes.
Here's our list of powerful suicide quotes
1.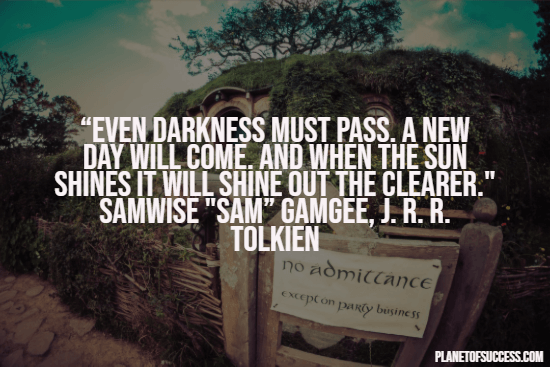 "How could the end be happy? How could the world go back to the way it was when so much bad had happened? But in the end, it's only a passing thing, this shadow. Even darkness must pass. A new day will come. And when the sun shines it will shine out the clearer."
Samwise "Sam" Gamgee, J. R. R. Tolkien
2.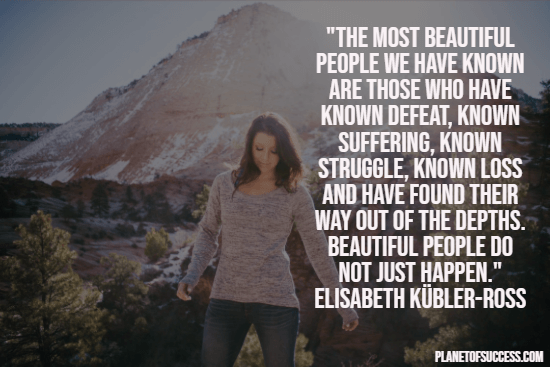 "The most beautiful people we have known are those who have known defeat, known suffering, known struggle, known loss and have found their way out of the depths. These persons have an appreciation, a sensitivity and an understanding of life that fills them with compassion, gentleness, and a deep loving concern. Beautiful people do not just happen."
Elisabeth Kübler-Ross
3.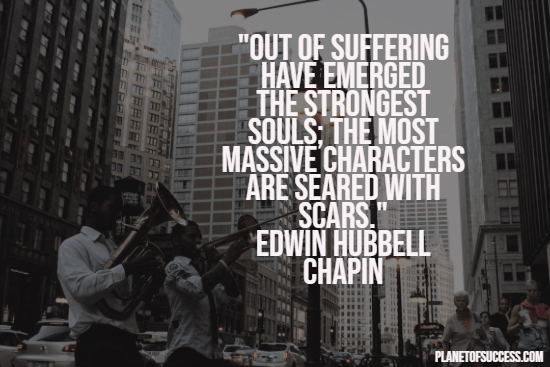 "Out of suffering have emerged the strongest souls; the most massive characters are seared with scars."
Edwin Hubbell Chapin
4.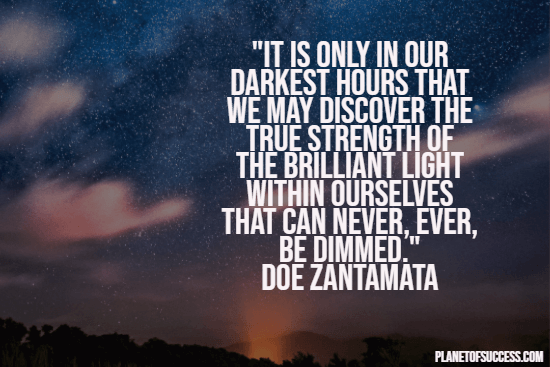 "It is only in our darkest hours that we may discover the true strength of the brilliant light within ourselves that can never, ever, be dimmed."
Doe Zantamata
5.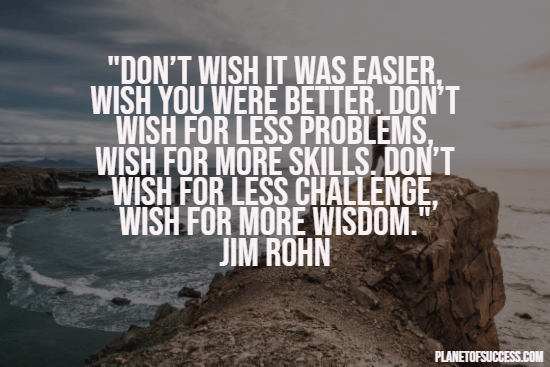 "Don't wish it was easier, wish you were better. Don't wish for less problems, wish for more skills. Don't wish for less challenge, wish for more wisdom."
Jim Rohn
6.
It is said that the darkest hour of the night comes just before the dawn."
Thomas Fuller
7.
Suffering becomes beautiful when anyone bears great calamities with cheerfulness, not through insensibility but through greatness of mind."
Aristotle
8.
"To all who walk the dark path, and to those who walk in the sunshine but hold out a hand in the darkness to travel beside us: Brighter days are coming. Clearer sight will arrive. And you will arrive too. No, it might not be forever. The bright moments might be for a few days at a time, but hold on for those days. Those days are worth the dark."
Jenny Lawson
9.
"Happiness can be found even in the darkest of times, if one only remembers to turn on the light."
Albus Dumbledore, J.K. Rowling
10.
"We must accept finite disappointment, but we must never lose infinite hope."
Martin Luther King
If you need more encouraging suicide quotes, keep on reading
11.
You'll have bad times, but it'll always wake you up to the good stuff you weren't paying attention to."
Sean Maguire
12.
"After every storm, the sun will smile; for every problem, there is a solution, and the soul's indefeasible duty is to be of good cheer."
William R. Alger
13.
"Strength does not come from winning. Your struggles develop your strengths. When you go through hardships and decide not to surrender, that is strength."
Arnold Schwarzenegger
14.
"Believe that life is worth living and your belief will help create the fact."
William James
15.
The reward of suffering is experience."
Harry S Truman
16.
God tests His people through hardship."
John Piper
17.
"Why is it that the finish line always tends to appear just after the point at which we most want to give up? Is it the universe's way of reserving the best for those who can give the most? What I do know, from nature, is that the dawn only appears after the darkest hour."
Bear Grylls
18.
"If the mind is to emerge unscathed from this relentless struggle with the unforeseen, two qualities are indispensable: first, an intellect that, even in the darkest hour, retains some glimmerings of the inner light which leads to truth; and second, the courage to follow this faint light wherever it may lead."
Carl Von Clausewitz
19.
Suffering is but another name for the teaching of experience, which is the parent of instruction and the schoolmaster of life."
Horace
20.
"Hope is important because it can make the present moment less difficult to bear. If we believe that tomorrow will be better, we can bear a hardship today."
Thich Nhat Hanh
21.
"The bravest sight in the world is to see a great man struggling against adversity."
Seneca
22.
For the faithful, our finest hours are sometimes during or just following our darkest hours."
Neal A. Maxwell
23.
"Never give up. Things may be hard, but if you quit trying they'll never get better. Stop worrying and start trusting God. It will be worth it."
Germany Kent
24.
"Take a shower, wash off the day. Drink a glass of water. Make the room dark. Lie down and close your eyes. Notice the silence. Notice your heart. Still beating. Still fighting. You made it, after all. You made it, another day. And you can make it one more. You're doing just fine."
Charlotte Eriksson
25.
If we had no winter, the spring would not be so pleasant: if we did not sometimes taste of adversity, prosperity would not be so welcome."
Anne Bradstreet
Uplifting suicide quotes like this help you to keep fighting
26.
"The best way to get rid of the pain is to feel the pain. And when you feel the pain and go beyond it, you'll see there's a very intense love that is wanting to awaken itself."
Deepak Chopra
27.
"The world breaks everyone, and afterward, some are strong at the broken places."
Ernest Hemingway
28.
"I ask not for a lighter burden, but for broader shoulders."
Jewish Proverb
29.
In the midst of winter, I finally learned there was in me an invincible summer."
Albert Camus
30.
"At the end of the day, the fact that we have the courage to still be standing is reason enough to celebrate."
Meredith Grey
31.
"All the adversity I've had in my life, all my troubles and obstacles, have strengthened me. You may not realize it when it happens, but a kick in the teeth may be the best thing in the world for you."
Walt Disney
32.
"We must embrace pain and burn it as fuel for our journey."
Kenji Mixazawa
33.
"The gem cannot be polished without friction, nor man perfected without trials."
Chinese Proverb
34.
"Rock bottom became the solid foundation on which I rebuilt my life."
J.K. Rowling
35.
Enclose your heart in times of need with the steel of your determination and your strength. In doing this, all things will be bearable."
Lora Leigh
36.
"Make up your mind that no matter what comes your way, no matter how difficult, no matter how unfair, you will do more than simply survive. You will thrive in spite of it."
Joel Osteen
37.
From my earliest recollection, I date the entertainment of a deep conviction that slavery would not always be able to hold me within its foul embrace; and in the darkest hours of my career in slavery, this living word of faith and spirit of hope departed not from me, but remained like ministering angels to cheer me through the gloom. This good spirit was from God, and to him I offer thanksgiving and praise."
Frederick Douglass
38.
"However mean your life is, meet it and live it; do not shun it and call it hard names. It looks poorest when you are richest. The fault-finder will find faults even in paradise."
Henry David Thoreau
39.
"Don't give up when dark times come. The more storms you face in life, the stronger you'll be. Hold on."
Germany Kent
40.
You may encounter many defeats, but you must not be defeated. In fact, it may be necessary to encounter the defeats, so you can know who you are, what you can rise from, how you can still come out of it."
Maya Angelou
41.
"Never let your head hang down. Never give up and sit down and grieve."
Leroy Satchel Paige
42.
"Tough times never last, but tough people do."
Robert H. Schuller
43.
"The greater the difficulty, the more glory in surmounting it. Skillful pilots gain their reputation from storms and tempests."
Epicetus
44.
It's always darkest before the dawn. The bigger your challenge, the closer you are to your victory."
Joel Osteen
45.
"You were given this life because you were strong enough to live it."
Unknown
Here are even more suicide quotes to help you in your struggles
46.
Suffering is the substance of life and the root of personality, for it is only suffering that makes us persons."
Miguel de Unamuno
47.
"Hard times may have put you down sometimes but they will not last forever. When all is said and done, you will be wise and strong."
Anurag Prakash Ray
48.
"There's some good in this world, Mr. Frodo. And it's worth fighting for."
Samwise "Sam" Gamgee, J. R. R. Tolkien
49.
"There are far, far better things ahead than anything we leave behind."
C. S. Lewis
50.
Difficulties are meant to rouse, not discourage. The human spirit is to grow strong by conflict."
William Ellery Channing
51.
"Prosperity is a great teacher; adversity is a greater. Possession pampers the mind; privation trains and strengthens it."
William Hazlitt
52.
"Always remember you are braver than you believe, stronger than you seem, and smarter than you think and loved more than you know."
Christopher Robin
53.
"You are on the floor crying, and you have been on the floor crying for days. And that is you being brave. That is you getting through it as best you know how. No one else can decide what your tough looks like."
Clementine von Radics
54.
For every dark night, there's a brighter day."
Tupac Shakur
55.
"That which does not kill us makes us stronger."
Friedrich Nietzsche
56.
"We all have an unsuspected reserve of strength inside that emerges when life puts us to the test."
Isabel Allende
57.
Adversity is the first path to truth."
Lord Byron
58.
"If I had no sense of humor, I would long ago have committed suicide."
Mahatma Gandhi
59.
It's at the borders of pain and suffering that the men are separated from the boys."
Emil Zatopek
60.
"These mountains that you are carrying, you were only supposed to climb."
Najwa Zebian
61.
"Sometimes the bad things that happen in our lives put us directly on the path to the best things that will ever happen to us."
Unknown
62.
"Life is very interesting. In the end, some of your greatest pains become your greatest strengths."
Drew Barrymore
63.
"You are imperfect, you are wired for struggle, but you are worthy of love and belonging."
Brené Brown
64.
"Hope is the feeling you have that the feeling you have isn't permanent."
Jean Kerr
65.
"If you were born with the weakness to fall, you were born with the strength to rise."
Rupi Kaur
These suicide quotes are so true
66.
"We are all that girl on the bathroom floor. Rock bottom just means crisis. It is not the end. Life does not evict us from anything unless it's inviting us to something better."
Glennon Doyle Melton
67.
"We are all in the gutter, but some of us are looking at the stars."
Oscar Wilde
68.
"I love the man that can smile in trouble, that can gather strength from distress, and grow brave by reflection. 'Tis the business of little minds to shrink, but he whose heart is firm, and whose conscience approves his conduct, will pursue his principles unto death."
Thomas Paine
69.
"We need to be aware of the suffering, but retain our clarity, calmness, and strength so we can help transform the situation."
Thich Nhat Hanh
70.
"All of life is a test and we all have our challenges to meet."
Marjory Sheba
71.
"I took a walk in the woods and came out taller than the trees."
Henry David Thoreau
72.
"If we had no winter, the spring would not be so pleasant: if we did not sometimes taste of adversity, prosperity would not be so welcome."
Anne Bradstreet
73.
I know God will not give me anything I can't handle. I just wish that He didn't trust me so much."
Mother Teresa
74.
"Never give up. There are always tough times, regardless of what you do in anything in life. Be able to push through those times and maintain your ultimate goal."
Nathan Chen
75.
"Inside of a ring or out, ain't nothing wrong with going down. It's staying down that's wrong."
Muhammad Ali
76.
"I like the night. Without the dark, we'd never see the stars."
Stephenie Meyer
77.
"Every adversity brings new experiences and new lessons."
Lailah Gifty Akita
78.
"Life isn't about waiting for the storm to pass, it's about learning how to dance in the rain."
Vivian Greene
79.
"Every adversity, every failure, and every heartache carries with it the seed of an equivalent or a greater benefit."
Napoleon Hill
80.
"Even at your darkest times don't lose faith, don't give up because even light shines the brightest in pitch black. Just be patient and believe, believe in yourself, believe in God."
Meeran W. Malik
81.
"When you're young and healthy you can plan on Monday to commit suicide, and by Wednesday you're laughing again."
Marilyn Monroe
82.
Men's and nations' finest hour consists of those moments when extraordinary challenge is met by extraordinary response. Hence in those darkest hours, we must light our individual candles rather than vying with others to call attention to the enveloping darkness."
Neal A. Maxwell
83.
Sit with the pain until it passes, and you will be calmer for the next one."
Naval Ravikant
84.
When suffering comes, we yearn for some sign from God, forgetting we have just had one."
Mignon McLaughlin
85.
The very greatest things, great thoughts, discoveries, inventions have usually been nurtured in hardship, often pondered over in sorrow, and at length established with difficulty."
Samuel Smiles
Suicide prevention quotes
86.
"But I know, somehow, that only when it is dark enough can you see the stars."
Martin Luther King, Jr."
87.
"The world is indeed full of peril, and in it, there are many dark places; but still, there is much that is fair, and though in all lands love is now mingled with grief, it grows perhaps the greater."
J.R.R. Tolkien
88.
"He knows not his own strength who hath not met adversity."
William Samuel Johnson
89.
"When everything seems to be going against you, remember that the airplane takes off against the wind, not with it."
Henry Ford
90.
"I will love the light for it shows me the way, yet I will endure the darkness for it shows me the stars."
Og Mandino
91.
It was the transcendent fortitude and steadfastness of these men who in adversity and in suffering through the darkest hour of our history held faithful to an ideal. Here men endured that a nation might live."
Herbert Hoover
92.
"Very little is needed to make a happy life; it is all within yourself, in your way of thinking."
Marcus Aurelius
93.
"There are moments when troubles enter our lives and we can do nothing to avoid them. But they are there for a reason. Only when we have overcome them will we understand why they were there."
Paulo Coelho
94.
There's nothing like suffering to remind us how not in control we actually are, how little power we ultimately have, and how much we ultimately need God."
Tullian Tchividjian
95.
"Our greatest glory is not in never falling, but in rising every time we fall."
Confucius
96.
"We should always pray for help, but we should always listen for inspiration and impression to proceed in ways different from those we may have thought of."
John H. Groberg
97.
"They say a person needs just three things to be truly happy in this world: someone to love, something to do, and something to hope for."
Tom Bodett
98.
"If you feel like giving up, give up on that feeling and give in to the realization there are endless possibilities waiting to be discovered before you."
Tom Althouse
99.
"A diamond is a chunk of coal that did well under pressure."
Henry Kissinger
100.
If you're going through hell, keep going."
Winston Churchill
101.
"You've got to stay strong to be strong in tough times."
Tilman J. Fertitta
102.
"Hard times don't create heroes. It is during the hard times when the 'hero' within us is revealed."
Bob Riley
103.
"Going through challenging things can teach you a lot, and they also make you appreciate the times that aren't so challenging."
Carrie Fisher
104.
"Hard times, when held with open hands and a tender heart, can prepare us for the future."
Cindee Snider Re
105.
"Challenges are what make life interesting and overcoming them is what makes life meaningful."
Joshua J. Marine
106.
"Through the darkest paths, you can reach the brightest heavens and this marvelous possibility will keep you full of life even in the middle of most horrible utter darkness!"
Mehmet Murat ildan
107.
Nobody looks good in their darkest hours. But it's those hours that make us what we are."
Karen Marie Moning
Suicidal thoughts quotes
108.
"I had to sink to the greatest mental depths, to thoughts of suicide, in order to experience grace."
Hermann Hesse
109.
"When things are bad, we take comfort in the thought that they could always get worse. And when they are, we find hope in the thought that things are so bad they have to get better."
Malcolm S. Forbes
110.
"Even if happiness forgets you a little bit, never completely forget about it."
Jacques Prevert
111.
It is during our darkest moments that we must focus to see the light."
Aristotle Onassis
112.
In my darkest hours I had a choice to make. I could be a victim or a victor."
Wynonna Judd
113.
"One word of encouragement can be enough to spark someone's motivation to continue with a difficult challenge."
Roy T. Bennett
114.
"Finding light in the darkness can mean the difference between monotonous good and a glimpse of greatness."
Julieanne O'Connor
115.
"The friend in my adversity I shall always cherish most. I can better trust those who helped to relieve the gloom of my dark hours than those who are so ready to enjoy with me the sunshine of my prosperity."
Ulysses S. Grant
116.
"If seeds despaired in their darkest hours, they would never rise to enjoy their brightest days."
Matshona Dhliwayo
117.
"Connecting with those you know love, like and appreciate you restores the spirit and gives you energy to keep moving forward in this life."
Deborah Day
118.
"You need to spend time crawling alone through shadows to truly appreciate what it is to stand in the sun."
Shaun Hick
119.
"Life is at its best when everything has fallen out of place, and you decide that you're going to fight to get them right, not when everything is going your way and everyone is praising you."
Thisuri Wanniarachchi
120.
"Just think how happy you would be if you lost everything you have right now, and then got it back again."
Frances Rodman
121.
"Courage does not always roar. Sometimes courage is the quiet voice at the end of the day saying, 'I will try again tomorrow."
Mary Anne Radmacher
122.
"Once you choose hope, anything's possible."
Christopher Reeve
123.
"A problem is a chance for you to do your best."
Duke Ellington
124.
"In times of great stress or adversity, it's always best to keep busy, to plow your anger and your energy into something positive."
Lee Iacocca
125.
"If you don't like something change it; if you can't change it, change the way you think about it."
Mary Engelbreit
I hope you enjoyed this collection of uplifting suicide quotes. What is your favorite quote that helps you to keep looking at the bright side of life?
Stay victorious!