Applying proper study time management strategies can help you to save time and stress; plus: it will enable you to spend more time on your hobbies and spare-time activities. Furthermore, it will help you to empower your study efforts as you will be able to spend more time on important subjects. Study time management definition: Study time management is the process of applying skills and techniques to save time, study efficient, set aims and reach study-goals effectively. Students that apply study time management will be able to beat procrastination and focus their full attention on their studies, which will finally allow them to spend more time with leisure activities.
Time management for students:
In the following, you will be presented with some effective student time management techniques and student tips on how to study effectively!
1. Prepare a Term Schedule/Calendar: You only have 24 hours a day, 168 hours a week and X hours a term. Effective study time management means that you use your given time in the most efficient way. You will only have one, four or even more hours a day that you can invest in your studies, depending on your leisure activities and if you have a job or not. Therefore it is important to prepare a regularly updated term schedule/calendar, where you:
write down all your scheduled tests

write down all tasks, assignments, and duties, if necessary with their due dates

record your planned leisure activities, such as gym, etc.
2. Get an Organizer: Another useful study time management technique is to have an organizer: This could be your smartphone, a college block or some sort of homework booklet. The easiest way for me is to sort a single paper on top of all others into the ring binder I use during my courses. Now every time you get a task to accomplish you will mark it down in this booklet/paper. You can consider this organizer to be a to-do-list for your studies where you write down everything that needs to get done. After you accomplished the task you can place a √ next to it.
3. Study time management: Take yourself some minutes after coming home from university/college and evaluate the amount of time you can invest in your studies. This is where you start to manage your study time, so I would recommend you to take up to 15 minutes for this! Make sure to include time for studying, completing tasks and assignments, projects, etc.
4. Use the time efficiently: Just as every other student, you will have to accomplish different duties and tasks BESIDES your studies, which means that you need to use the given time as efficient as possible for your studies. Make sure that you do not get interrupted while preparing for exams; not from the TV, music, telephone or anything else. You can get more done within less time by applying power sessions, where you focus all your attention only on your studies.
Definition power session:
A power session is a defined amount of time (from 30 minutes up to one and a half hour) where you focus all your attention on the completion of a specific tasks, your studies, etc. The effectiveness of such a power session lies in the advantage of not being interrupted in any kind of way, may it be emails, internet or anything else.
5. Schedule your time depending on your energy level: Another every important study time management technique is to schedule your time dependent on your personal energy level. Your energy level reaches its peak at approximately 10 am, but is very low during the time from 2 pm to 4 pm.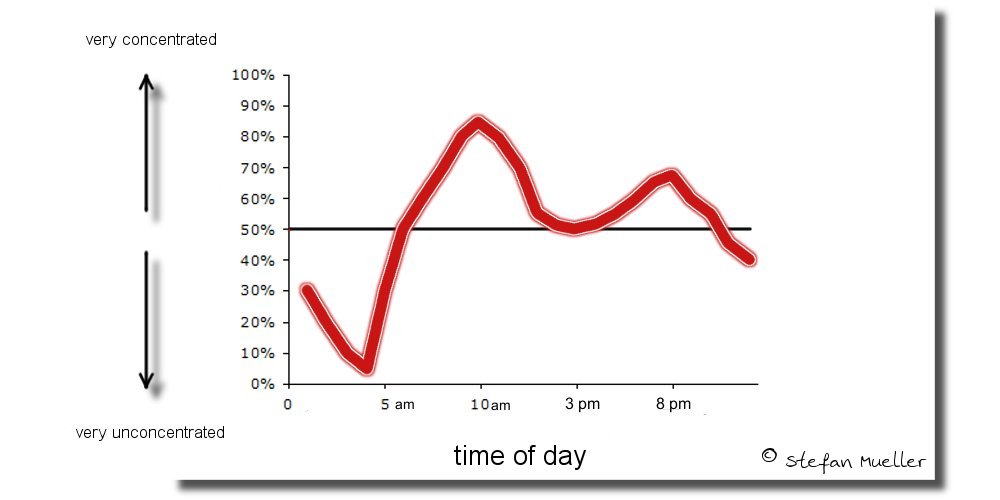 A lot of students are very productive in the morning, so it could be very useful to rise up early (when you are not in university at this time!). Others prefer the evening hours as their most productive part of the day. The only important thing is that you know for yourself on which time-period you can work most efficient and adapt your schedule accordingly to your high-energy periods.
6. Procrastination: One of the biggest obstacles you might face while applying effective study time management is procrastination, which is correlated to discipline. Every student is affected by procrastination once in a while or continuously. The desire to avoid specific tasks comes within boredom, fear or similar concerns. Not getting started will lead to stress and anxiety, which are very negative emotions during your studies. Luckily you can overcome procrastination by applying the following study time management technique: create smaller sub-goals and sub-tasks. You will notice that a subtask will help you to get started with your studies and will get you motivated to do the next tasks as well.
Getting excellent grades can be accomplished by everyone if they apply study time management and integrate careful planning into their everyday life. The above-named student tips on how to study effectively will help you to manage your time more efficient so that you have more leisure time, which is the most important thing during your studies.
What are your most favorite strategies to manage your study time?
This following articles about Time Management in general and how to get motivated to study might also interest you:
The article Study Time Management was brought to you by Planet of Success.