Have you ever noticed how quickly your mood changes when someone gives you a heartfelt smile? Even the simple habit of smiling at yourself in the mirror can provide similarly positive results. Interestingly enough, a smile is not just a nice gesture. As it turns out, the power of smiling is quite substantial. Scientists found that by contracting the muscles in your face responsible for creating a smile, a feedback loop is created that reinforces your feeling of happiness. To highlight the power of smiling, we've created the following selection of the most inspirational smile quotes. These are the quotes that will make you smile. Enjoy reading. (Be sure not to miss our hilarious collection of funny yearbook photos and quotes).
A smile is perhaps the most powerful gesture human beings are capable of. An honest smile at the right time can work true wonders. You can make someone's day and help them to forget some of their worries.
"I was smiling yesterday, I am smiling today and I will smile tomorrow. Simply because life is too short to cry for anything."
Santosh Kalwar
The truly wonderful thing about smiling is that it does not only have an impact upon others but on as well. In fact, when you smile, your reward mechanisms are stimulated. The stimulation is so intense that even 2000 chocolate bars cannot match it.
Even more so, scientists concluded that smiling stimulates brain activity as much as receiving $21,000 in cash. It's also well known that smiling is able to reduce stress by reducing stress-induced hormones and incites positive emotions within you. Basically, there are not many reasons not to share your smile openly and widely.
100 Smile Quotes That Will Make You Smile
Interestingly enough, research was conducted on photos that scientists found in yearbooks. The scientists were able to conclude that the individuals with a heartfelt smile would go on to lead happier lives and experienced fewer setbacks. To celebrate the power of smiling, we've created the following collection of smile quotes for you.
Here are the quotes that make you smile:
1.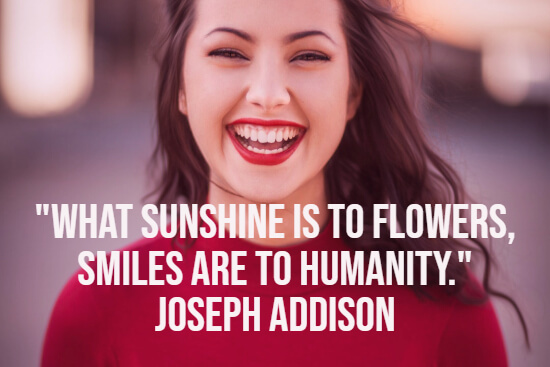 "What sunshine is to flowers, smiles are to humanity. These are but trifles, to be sure; but scattered along life's pathway, the good they do is inconceivable."
Joseph Addison
2.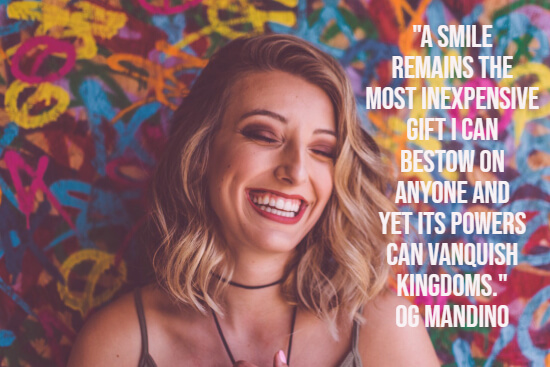 "A smile remains the most inexpensive gift I can bestow on anyone and yet its powers can vanquish kingdoms."
Og Mandino
3.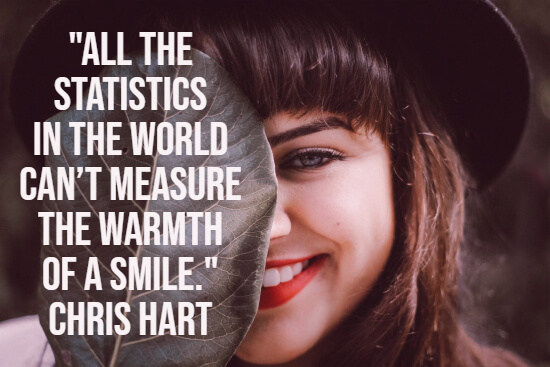 "All the statistics in the world can't measure the warmth of a smile."
Chris Hart
4.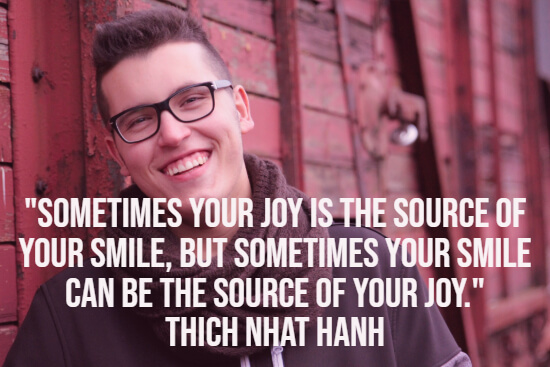 "Sometimes your joy is the source of your smile, but sometimes your smile can be the source of your joy."
Thich Nhat Hanh
5.
"You don't stop laughing because you grow old. You grow old because you stop laughing."
Michael Pritchard
6.
"Gratitude paints little smiley faces on everything it touches."
Richelle E. Goodrich
7.
"You'll find that life is still worthwhile, if you just smile."
Charlie Chaplin
8.
"Wrinkles are engraved smiles."
Jules Renard
9.
"Too often we underestimate the power of a touch, a smile, a kind word […] all of which have the potential to turn a life around."
Leo F. Buscaglia
10.
"Peace begins with a smile."
Mother Teresa
11.
"It only takes a split second to smile and forget, yet to someone that needed it, it can last a lifetime."
Steve Maraboli
12.
"If you smile when you are alone, then you really mean it."
Andy Rooney
13.
"A smile is the best way to get away with trouble."
Masashi Kishimoto
14.
"I like joy; I want to be joyous. I want to smile and I want to make people laugh. And that`s all I want. I like being happy. I want to make others happy."
Doris Day
15.
"Laugh, even when you feel too sick or too worn out or tired. Smile, even when you're trying not to cry and the tears are blurring your vision."
Alysha Speer
16.
"You smiled then, and your whole face changed with it. It kind of lit up, like there were sunbeams coming from inside you."
Lucy Christopher
17.
"If you have only one smile in you, give it to the people you love. Don't be surly at home, then go out in the street and start grinning 'Good morning' at total strangers."
Maya Angelou
18.
"Anyone who has a continuous smile on his face conceals a toughness that is almost frightening."
Greta Garbo
19.
"Let us always meet each other with smile, for the smile is the beginning of love."
Mother Teresa
20.
"Smile at strangers and you just might change a life."
Steve Maraboli
21.
"A smile costs nothing."
Sri S. Satchidananda
22.
"Children show me in their playful smiles the divine in everyone."
Michael Jackson
23.
"Don't cry because it's over, smile because it happened."
Dr. Seuss
24.
"Nothing shakes the smiling heart."
Santosh Kalwar
25.
"No matter where life takes me, you'll find me with a smile."
Mac Miller
26.
"Be the reason someone smiles. Be the reason someone feels loved and believes in the goodness in people."
Roy T. Bennett
27.
"An intelligent person, looking out of his eyes and hearkening in his ears, with a smile on his face all the time, will get more true education than many another in a life of heroic vigils"."
Robert Louis Stevenson
28.
"Let us make one point, that we meet each other with a smile when it is difficult to smile. Smile at each other, make time for each other in your family."
Mother Teresa
29.
"The best way to treat obstacles is to use them as stepping-stones. Laugh at them, tread on them, and let them lead you to something better."
Enid Blyton
30.
"A single smile can turn a bad moment good."
Sherrilyn Kenyon
31.
"If you're reading this… Congratulations, you're alive. If that's not something to smile about, then I don't know what is."
Chad Sugg
32.
"If I can see joy in your eyes then share with me your smile."
Santosh Kalwar
33.
"I like it when my mother smiles. And I especially like it when I make her smile."
Adriana Trigiani
34.
"I laugh because I must not cry, that is all, that is all. "
Abraham Lincoln
35.
"To risk life to save a smile on a face of a woman or a child is the secret of chivalry."
Dejan Stojanovic
36.
"Anyone can smile on their best day. I like to meet a man who can smile on his WORST."
Lauren Graham
37.
"Science teaches to think but love teaches to smile."
Santosh Kalwar
38.
"For a moment at least, be a smile on someone else's face."
Dejan Stojanovic
39.
"Through all of living have much joy and laughter, life is to be enjoyed, not just endured."
Gordon B. Hinckley
40.
"You shouldn't never regret something that made you smile."
Bei Maejor
41.
"You don't have to be happy to smile."
Daniel Willey
42.
"I would rather wear honest tears than the most beautiful and elaborately faked smile."
Tyler Knott Gregson
43.
"A smile doesn't always stand for a perfect life."
Faraaz Kazi
44.
"More smiling, less worrying."
Roy T. Bennett
45.
"It was sweet and lovely, that smile, perhaps the more so because it wasn't complicated by much in the way of thought."
Stephen King
46.
"Withhold a smile only when the smile can hurt someone. Otherwise, let it bloom forth in a riot."
Vera Nazarian
47.
"A song and a smile from someone I cared about could be enough to distract me from all that darkness, if only for a little while."
Ransom Riggs
48.
"An enigmatic smile is worth ten pages of dialog."
Connie Brockway
49.
"It's the sounds of life; the smiles on people's faces; and the love in everyone's heart that lets you know that there are angels around."
Anthony T.Hincks
50.
"It's when a new dawn rises that our smiles illuminate the sun."
Anthony T. Hincks
51.
"To meet the petty hazards of the day with a laugh—I really think that requires spirit!"
Jean Webster
52.
"I enjoy it when the world smiles; the more smiles, the warmer I am."
Dejan Stojanovic
53.
"Some people have the coldest smiles, but have the tenderest hearts. And many have the most tender smiles, but carry the coldest hearts. You cannot judge a man by his smile, but you can judge a man by his heart."
Suzy Kassem
54.
"A breeze, a forgotten summer, a smile, all can fit into a storefront window."
Dejan Stojanovic
55.
"Smile wide to receive many smiles in return."
Richelle E. Goodrich
56.
"Because when you're laughing, there is no other emotion in that moment except for joy."
Robert Schimmel
57.
"God invented smiles so that love could go anywhere."
Anthony T. Hincks
58.
"I love people who make me laugh. I honestly think it's the thing I like most, to laugh. It cures a multitude of ills. It's probably the most important thing in a person."
Audrey Hepburn
59.
"Jem put the full force of himself into each smile so that he seemed to be smiling with his eyes, his heart, his whole being."
Cassandra Clare
60.
"And then he gives me a smile that just seems so genuinely sweet with just the right touch of shyness that unexpected warmth rushes through me."
Suzanne Collins
61.
"The face of a truly happy man seldom lacks smiles."
Ogwo David Emenike
62.
"Sometimes in life, you either laugh or you cry. And I prefer to laugh."
Jim Stovall
63.
"Just one smile immensely increases the beauty of the universe."
Sri Chinmoy
64.
"Nothing is more valuable than a tired smile to greet people despite being in the middle of hard work!"
Mehmet Murat Ildan
65.
"In a town full of smiles, love is surely the mayor."
Anthony T. Hincks
66.
"Humor can make a serious difference. In the workplace, at home, in all areas of life – looking for a reason to laugh is necessary. A sense of humor helps us to get through the dull times, cope with the difficult times, enjoy the good times and manage the scary times."
Steve Goodier
67.
"Sometimes crying or laughing are the only options left, and laughing feels better right now."
Veronica Roth
68.
"You've got a lot of choices. If getting out of bed in the morning is a chore and you're not smiling on a regular basis, try another choice."
Steven D. Woodhull
69.
"The smile is civilization's finest adornment. It signifies the willpower and duty to fashion mankind's coexistence as quietly and agreeably as possible so that it will always appear friendly. For it is all a matter of appearance. The smile is culture's diploma: it is the diplomat's badge."
Iwan Goll
70.
"I know not all that may be coming, but be it what it will, I'll go to it laughing."
Herman Melville
71.
"Sunshine warms us, as do smiles—which makes me think that smiles are sunbeams reflected off our teeth."
Richelle E. Goodrich
72.
"Life is worth living as long as there's a laugh in it."
Lucy Maud Montgomery
73.
"There is nothing in the world so irresistibly contagious as laughter and good humor."
Charles Dickens
74.
"Laughter is wine for the soul – laughter soft, or loud and deep, tinged through with seriousness – the hilarious declaration made by man that life is worth living."
Sean O'Casey
75.
"It's true that laughter really is cheap medicine. It's a prescription anyone can afford. And best of all, you can fill it right now."
Steve Goodier
76.
"It's when a rainbow smiles that sadness is banished from the land."
Anthony T.Hincks
77.
"If you feel happy, smile with all your heart. If you're down, smile with all your might."
Paul Ian Guillermo
78.
"Always laugh when you can, it is cheap medicine."
Lord Byron
79.
"The real beauty of a woman is most clearly seen in the smiles of those who interact with her."
Richelle E. Goodrich
80.
"Magical dreams of yesterday convey smiles for all of our tomorrows."
Peggy Toney Horton
81.
"A genuine smile can speak a thousand words"
Bangambiki Habyarimana
82.
"Love and compassion are the mother and father of a smile. We need to create more smiles in our world today. Smiles, after all, pave the way to a happy world."
Steve Maraboli
83.
"Your smiles fill my heart with joy. Smiles are the flowers of life."
Debasish Mridha
84.
"Miles and miles of smiles illustrated by the gratitude that creates them"
Paul Bradley Smith
85.
"Smiles are free, so given them away as often as you can!"
Lily Amis
86.
"One smile in the morning can change your mood for the entire day. One hug in the evening can usher you into cheerful night dreams you will never regret!"
Israelmore Ayivor
87.
"Flowers are the smiles of earth inviting you to enjoy the beauty of love."
Debasish Mridha
88.
"If you haven't seen your wife smile at a traffic cop, you haven't seen her smile her prettiest."
Kin Hubbard
89.
"Laughter and tears are both responses to frustration and exhaustion. I myself prefer to laugh, since there is less cleaning do to do afterward."
Kurt Vonnegut
89.
"The soul smiles through the lips of a happy face"
Munia Khan
90.
"Smiles show fullness of a joyful soul."
Lailah Gifty Akita
91.
"Smiles are just supernovas in facial form."
Anthony T. Hincks
92.
"I am happier even than Jane; she only smiles, I laugh."
Jane Austen
93.
"It's hard not to feel happy when you make someone smile."
Roy T. Bennett
94.
"You can go a long way with a smile. You can go a lot farther with a smile and a gun."
Al Capone
95.
"Smiles are the foundation of beauty."
Edgar Rice Burroughs
96.
"Teeth aren't pearly, until you smile."
Anthony Liccione
97.
"We divided ourselves among caste, creed, culture, and countries but what is undivided remains most valuable: a mere smile and the love."
Santosh Kalwar
98.
"Smiles are such a simple thing to give but means so much to many."
Tony Curl
99.
"One minute with a silent spirit of self-knowledge is enough to align you to put smiles on the face of the boring world."
Israelmore Ayivor
100.
"Ah, I could last a long time on those smiles. I would sow and reap them like wheat."
Rachel Hartman
I hope you enjoyed this collection of inspirational smile quotes. Feel free to share your favorite quotes with a beloved person to put a smile on their face.
Stay victorious!