Do you have big dreams for your life? With our selection of inspiring small quotes, you'll have a lot of motivational fuel to push your life forward and to pursue your dreams. And for even more energizing and uplifting material, have a look at our collection of the most motivational quotes of all time. You'll love these quotes as well.
Taking the next step in life and dreaming big in general is not always easy. There may be many obstacles that prevent you from pushing ahead. No matter if these obstacles are psychological in nature or imposed by others, your success in life depends on overcoming what is holding you back.
"A ship in harbor is safe but that is not what ships are built for."
John A Shedd
Sadly, many individuals are discouraged from ever dreaming big because they think they are too small to make an impact. Instead of being courageous and taking risks, they trade in their dreams for safety. And in most cases, they are able to live perfectly safe lives. These lies, however, are characterized by mediocrity and often times dullness.
Don't be one of those who have accepted the limitations others have imposed upon them. If you need some great encouragement to spread your wings and to follow where your imagination leads you, the following small quotes will help you to do so. Even more so, these statements will encourage you to keep fighting for your dreams even when the going gets tough.
If the wear and tear of everyday life is starting to drag you down, uplifting short quotes will help you to realign your thinking processes so that you can continue with your quest of pursuing happiness.
102 Small Quotes to Make You Dream Big
What is so exciting about the following quotes is that they originate from remarkable individuals who are skillfully able to show you how big of an impact you can have on the world. These are the people who are able to convince you that you can accomplish so much more once you stop thinking of yourself as small and irrelevant. In many cases, these individuals themselves were true visionaries who had the courage to dream extraordinarily big.
You will notice that many of these small quotes convey powerful and profound ideas that help you to awaken the giant within you. Enjoy reading!
Here's our selection of visionary small quotes
1.
"Climb high; Climb far. Your goal the sky; Your aim the star."
Williams College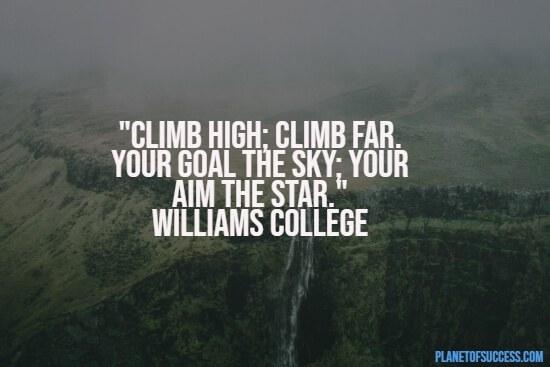 2.
"Stop acting so small. You are the universe in ecstatic motion."
Rumi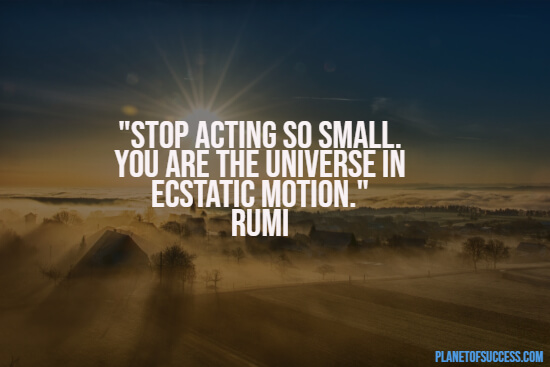 3.
"Dream no small dreams for they have no power to move the hearts of men."
Johann Wolfgang Von Goethe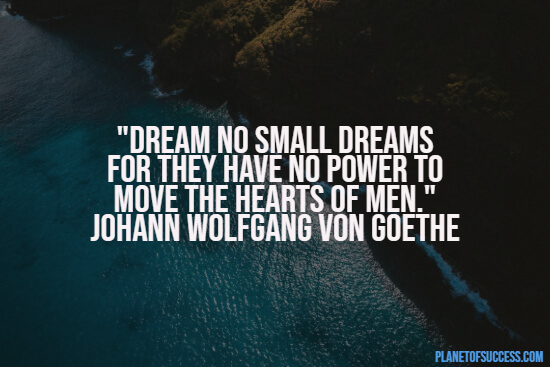 4.
"We don't have to engage in grand, heroic actions to participate in the process of change. Small acts, when multiplied by millions of people, can transform the world."
Howard Zinn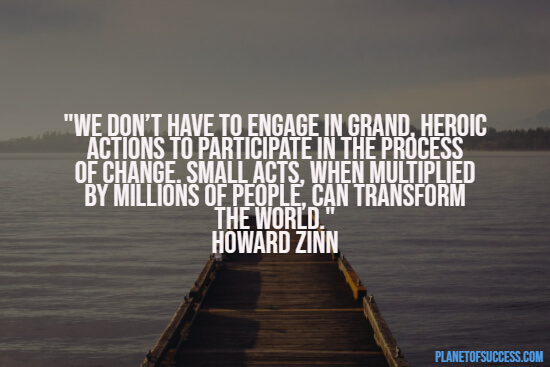 5.
"Be brave. Take risks. Nothing can substitute experience."
Paulo Coehlo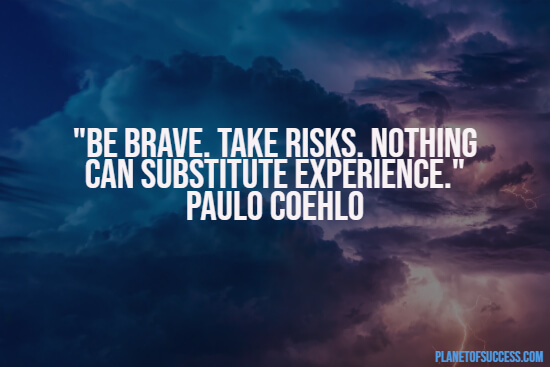 6.
"The man who removes a mountain begins by carrying away small stones."
William Faulkner
7.
You are a child of God. Your playing small does not serve the world. There is nothing enlightened about shrinking so that other people won't feel insecure around you. We are all meant to shine, as children do."
Marianne Williamson
8.
"What lies behind us and what lies before us are tiny matters compared to what lies within us."
Henry Stanley Haskins
9.
"A lot of people have ideas, but there are few who decide to do something about them now. Not tomorrow. Not next week. But today."
Nolan Bushnell
10.
"Keep away from people who try to belittle your ambitions. Small people always do that, but the really great make you feel that you, too, can become great."
Mark Twain
11.
"Those with a grateful mindset tend to see the message in the mess. And even though life may knock them down, the grateful find reasons, if even small ones, to get up."
Steve Maraboli
12.
"Why do anything unless it is going to be great?"
Peter Block
13.
"A multitude of small delights constitute happiness"
Charles Baudelaire
14.
"I don't care what the stars say about how small we are. One, even the smallest, weakest, most insignificant one, matters."
Rick Yancey
15.
"All big things in this world are done by people who are naïve and have an idea that is obviously impossible."
Frank Richards
16.
"You've got to think about big things while you're doing small things, so that all the small things go in the right direction."
Alvin Toffler
17.
"We pray for the big things and forget to give thanks for the ordinary, small (and yet really not small) gifts."
Dietrich Bonhoeffer
18.
"Your mind is for having ideas, not holding them."
David Allen
19.
"If we all did the things we are capable of doing, we would literally astound ourselves."
Thomas Alva Edison
20.
"Every great dream begins with a dreamer. Always remember, you have within you the strength, the patience, and the passion to reach for the stars to change the world."
Harriet Tubman
21.
"If you think you are too small to make a difference, try sleeping with a mosquito."
The Dalai Lama
22.
"I like thinking big. If you're going to be thinking anything, you might as well think big."
Donal Trump
23.
"Nothing is impossible, the word itself says 'I'm possible'!"
Audrey Hepburn
24.
"One can remain alive long past the usual date of disintegration if one is unafraid of change, insatiable in intellectual curiosity, interested in big things, and happy in small ways."
Edith Wharton
25.
"The winners in life think constantly in terms of I can, I will, and I am. Losers, on the other hand, concentrate their waking thoughts on what they should have or would have done, or what they can't do."
Dennis Waitley
26.
"Dreams come in a size too big so that we may grow into them."
Josie Bisse
27.
"Shoot for the moon. Even if you miss, you'll land among the stars."
Norman Vincent Peale
28.
"All our dreams can come true, if we have the courage to pursue them."
Walt Disney
29.
"When you want to succeed as bad as you want to breathe, then you'll be successful."
Eric Thomas
30.
"Between the great things we cannot do and the small things we will not do, the danger is that we shall do nothing."
Adolph Monod
31.
"If we were meant to stay in one place, we'd have roots instead of feet."
Rachel Wolchin
32.
"A man's dreams are an index to his greatness."
Zadoc Rabinowitz
33.
"Impossible is just a big word thrown around by small men who find it easier to live in the world they've been given than to explore the power they have to change it. Impossible is not a fact. It's an opinion. Impossible is not a declaration. It's a dare. Impossible is potential. Impossible is temporary. Impossible is nothing."
Muhammad Ali
34.
"I long to accomplish a great and noble task, but it is my chief duty to accomplish small tasks as if they were great and noble."
Helen Keller
35.
"Always dream and shoot higher than you know you can do. Don't bother just to be better than your contemporaries or predecessors. Try to be better than yourself."
William Faulkner
36.
"Where is beauty to be found? In great things that, like everything else, are doomed to die, or in small things that aspire to nothing, yet know how to set a jewel of infinity in a single moment?"
Muriel Barbery
37.
"Dream as if you will live forever; live as if you will die today."
James Dean
38.
"Not all of us can do great things. But we can do small things with great love."
Mother Teresa
39.
"It is with books as with men: a very small number play a great part."
Voltaire
40.
"If you will stay close to nature, to its simplicity, to the small things hardly noticeable, those things can unexpectedly become great and immeasurable."
Rainer Maria Rilke
41.
"You know all those things you've always wanted to do? You should go do them."
EJ Lamprey
42.
"Never doubt that a small group of thoughtful, committed, citizens can change the world. Indeed, it is the only thing that ever has."
Margaret Mead
43.
"The most significant gifts are the ones most easily overlooked. Small, everyday blessings: woods, health, music, laughter, memories, books, family, friends, second chances, warm fireplaces, and all the footprints scattered throughout our days."
Sue Monk Kidd
44.
"Amateurs sit and wait for inspiration, the rest of us just get up and go to work."
Stephen King
45.
"It is not so much the major events as the small day-to-day decisions that map the course of our living. . . Our lives are, in reality, the sum total of our seemingly unimportant decisions and of our capacity to live by those decisions."
Gordon B. Hinckley
46.
"For those who dare to dream, there is a whole world to win."
Dhirubhai Ambani
47.
"Keep a little fire burning; however small, however hidden."
Cormac McCarthy
48.
"The two most powerful warriors are patience and time."
Leo Tolstoy
49.
"It may seem like a small role now, but it matters. In the end, everything matters."
Jay Asher
50.
"If you can imagine it, you can achieve it. If you can dream it, you can become it."
William Arthur Ward
51.
"Capture your dreams and your life becomes full. You can, because you think you can."
Nikita Koloff
52.
"Living well is an art that can be developed: a love of life and ability to take great pleasure from small offerings and assurance that the world owes you nothing and that every gift is exactly that, a gift. "
Maya Angelou
53.
"You must live in the present, launch yourself on every wave, find your eternity in each moment."
Henry David Thoreau
54.
"It is never too late to be what you might have been."
George Eliot
55.
"Rich people think big. Poor people think small."
T. Harv Eker
56.
"Live the life you've imagined."
Henry David Thoreau
57.
"People are capable, at any time in their lives, of doing what they dream of."
Paulo Coelho
58.
"There's no great loss without some small gain."
Laura Ingalls Wilder
59.
"Have courage for the great sorrows of life and patience for the small ones; and when you have laboriously accomplished your daily task, go to sleep in peace. God is awake."
Victor Hugo
60.
"Happiness always looks small while you hold it in your hands, but let it go, and you learn at once how big and precious it is."
Maxim Gorky
61.
"To live is the rarest thing in the world. most people exist, that is all."
Oscar Wilde
62.
"Don't be afraid of the space between your dreams and reality. If you can dream it, you can make it so."
Belva Davis
63.
"I do not intend to tiptoe through life to arrive safely at death."
M.M. Gavillet
64.
"Be faithful in small things because it is in them that your strength lies."
Mother Teresa
65.
"One way to get the most out of life is to look upon it as an adventure."
William Feather
66.
"At first, dreams seem impossible, then improbable, and eventually inevitable."
Christopher Reeve
67.
"Look closely. The beautiful may be small."
Immanuel Kant
68.
"Small minds have always lashed out at what they don't understand."
Dan Brown
69.
"You are never too old to set another goal or to dream a new dream."
C.S. Lewis
70.
"You may not realize it when it happens, but a kick in the teeth may be the best thing in the world for you."
Walt Disney
71.
"Sometimes it's the little things that bring that special someone back to us in some small way."
Kasie West
72.
"Sometimes that mountain you've been climbing is just a grain of sand, and what you've been up there searching for forever, is in your hands. When you figure out love is all that matters, after all, it sure makes everything else seem so small."
Carrie Underwood
73.
"It's kind of fun to do the impossible!"
Walt Disney
74.
"Live all you can; it's a mistake not to."
Henry James
75.
"No act of kindness, no matter how small, is ever wasted."
Aesop
76.
"If I cannot do great things, I can do small things in a great way."
Martin Luther King Jr.
77.
"It is the small everyday deeds of ordinary folk that keep the darkness at bay. Small acts of kindness and love."
Peter Jackson
78.
"May your dreams defy the laws of gravity."
H. Jackson Brown, Jr.
79.
"Humility is the mother of giants. One sees great things from the valley; only small things from the peak."
G.K. Chesterton
80.
"Dream big dreams! Imagine that you have no limitations and then decide what's right before you decide what's possible."
Brian Tracey
81.
"Productivity is being able to do things that you were never able to do before."
Franz Kafka
82.
"Be faithful in small things because it is in them that your strength lies."
Mother Teresa
83.
"Let us endeavor so to live that when we come to die even the undertaker will be sorry."
Mark Twain
84.
"To live content with small means; to seek elegance rather than luxury, and refinement rather than fashion, to be worthy, not respectable, and wealthy, not rich; to study hard, think quietly, talk gently, act frankly, to listen to stars and birds, to babes and sages, with open heart, to bear all cheerfully, to all bravely await occasions, hurry never. In a word, to let the spiritual unbidden and unconscious grow up through the common. This is to be my symphony."
William Henry Channing
85.
"You may think I'm small, but I have a universe inside my mind."
Yoko Ono
86.
"You've got to say, I think that if I keep working at this and want it badly enough I can have it. It's called perseverance"
Lee Iacocca
87.
"Life is either a daring adventure or nothing at all."
Helen Keller
88.
"Great things are not done by impulse, but by a series of small things brought together."
Vincent Van Gogh
89.
"The problem with people is they forget that most of the time it's the small things that count."
Jennifer Niven
90.
"Miss no single opportunity of making some small sacrifice, here by a smiling look, thereby a kindly word; always doing the smallest right and doing it all for love."
St. Therese of Lisieux
91.
"What the superior man seeks is in himself; what the small man seeks is in others."
Confucius
92.
"It is better to take many small steps in the right direction than to make a great leap forward only to stumble backward."
Louis Sachar
93.
"The man who moves a mountain begins by carrying away small stones."
Confucius
94.
"If you can't do great things, do small things in a great way."
Napoleon Hill
95.
"The starting point of all achievement is DESIRE. Keep this constantly in mind. Weak desire brings weak results, just as a small fire makes a small amount of heat."
Napoleon Hill
96.
"That something so small could be so beautiful. Worth so much. Only the strongest people can turn away from feelings like that."
Anthony Doerr
97.
"Tell me, what it is you plan to do with your one wild and precious life?"
Mary Oliver
98.
"In friendship we are all debtors. We all owe each other for a thousand small kindnesses, for little moments of grace in the chaos."
Emery Lord
99.
"Dream lofty dreams, and as you dream, so shall you become. Your vision is the promise of what you shall one day be; your ideal is the prophecy of what you shall at last unveil."
James Allen
100.
"Even if you can't just snap your fingers and make a dream come true, you can travel in the direction of your dream, every single day and you can shorten the distance between the two of you."
Douglas Pagels
101.
"It's not who you are that holds you back, it's who you think you're not."
Hanoch McCarty
102.
"Many people lose the small joys in the hope for the big happiness."
Pearl S. Buck
I hope you enjoyed this collection of small quotes. What are your favorite quotes that help you to dream big?
Stay victorious!