Life can sometimes be quite draining. There are days, where it simply feels as if you're lacking the right motivation to do anything. If you feel like you've run out of energy and inspiration, worry not. It's quite normal to occasionally feel stuck in life without knowing how to break free. When it seems like the last drops of excitement and passion have dried up inside you, it's time for a change. Luckily, there are fantastic ways to quickly get your creative juices flowing again. Reading through a list of powerful short quotes carefully designed to re-energize you and to kick start your life is one such way. In fact, it is one of the most powerful things you can do to quickly get yourself into a much better mental state. In the following, you can find our selection of the finest short quotes to jump-start your life. These are the motivational short quotes that get you back on the road to success.
This article serves one purpose: to create a huge collection of powerful, motivational, energizing, and inspirational short quotes that help you to rock your life and to create a life full of success, happiness, and prosperity. It's that simple.
"The potential for greatness lives within each of us."
Wilma Rudolph
Such powerful short quotes that inspire greatness come in quite handy during times of great challenges. In fact, they can serve as a long needed reminder of what needs to be done to get yourself back on track. Even more so, these powerful quotes instill the unquenchable desire within you to accomplish the extraordinary. They will make you reach for the stars and encourage you to do whatever necessary to accomplish your dreams.
Whenever you struggle in life, it takes a lot of willpower to keep fighting for your dreams. Countless obstacles and challenges may stand in-between you and success. Let's have a look at those quotes that animate you to keep going during these times.
120 Short Quotes to Jump-Start Your Life
What is so powerful about inspiring and motivating short quotes is that they challenge you to live to your full potential. These quotes will remind you of your inherent potential and what you are really capable of. Even more so, these short quotes will ignite the fire within that allows you to pursue your goals with the greatest determination and motivation possible.
All the following quotes stem from exceptionally successful and extraordinarily inspirational individuals. As such, these short quotes distil the powerful knowledge and wisdom of these amazing people. When you read through the following collection, you will see that these exceptional individuals struggle with the very same issues and challenges you are confronted with today. But even more importantly, you will find that they all found unique ways to overcome what was holding them back. So let's have a look at these wonderful short quotes that serve as a dose of motivation that sparks your pursuit of success.
Here are these powerful short quotes to kick start your life:
1.
"Don't tell me the sky's the limit when there are footprints on the moon."
Paul Brandt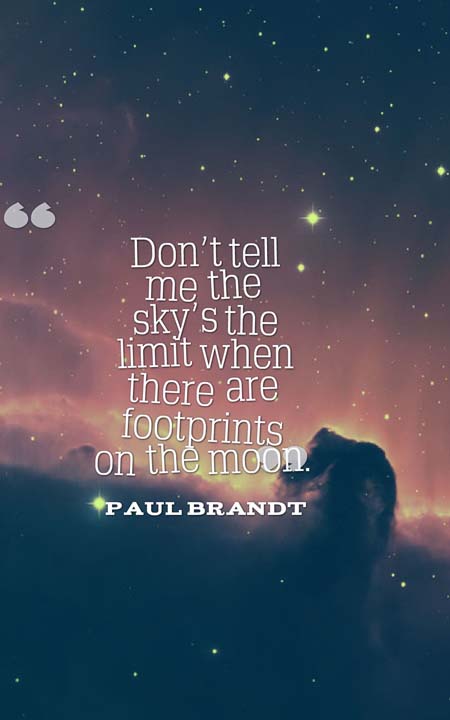 2.
"I have not failed. I've just found 10,000 ways that won't work."
Thomas A. Edison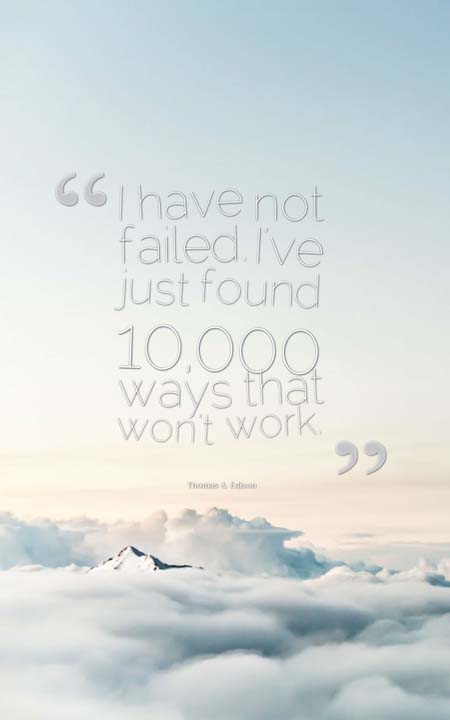 3.
"What lies behind us and what lies before us are tiny matters compared to what lies within us."
Ralph Waldo Emerson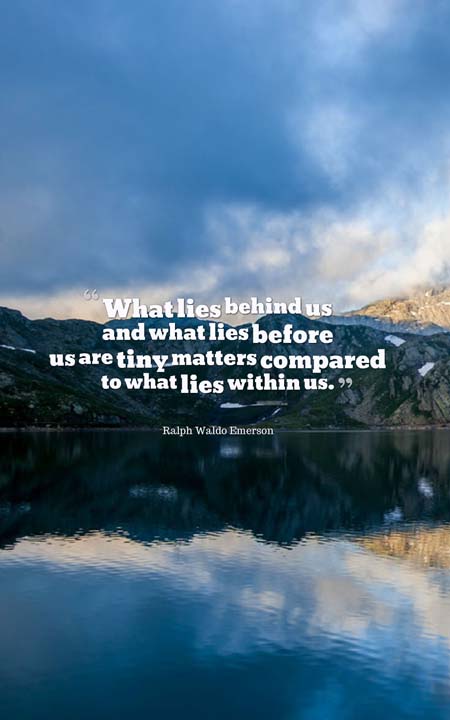 4.
"It's kind of fun to do the impossible."
Walt Disney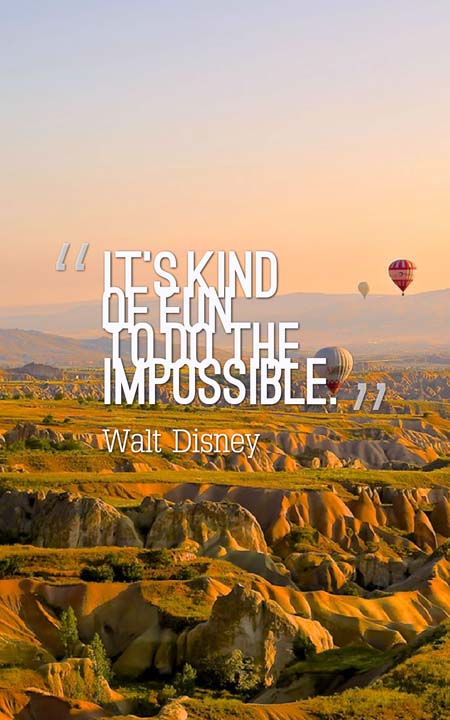 5.
"To achieve greatness one should live as if they will never die."
Francois de La Rochefoucauld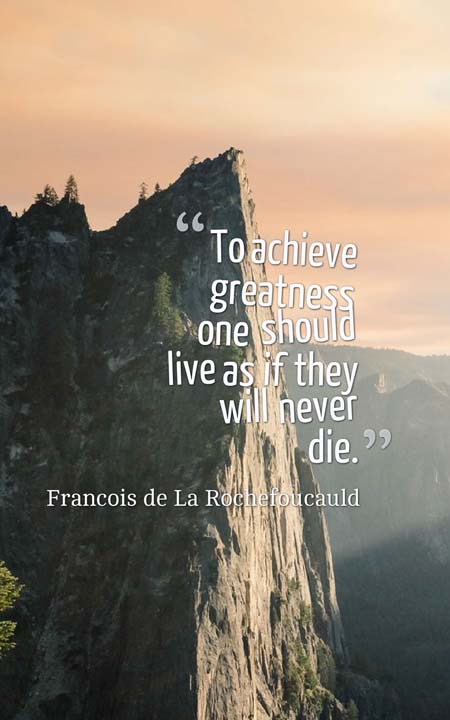 6.
"You must expect great things of yourself before you can do them."
Michael Jordan
7.
"A journey of a thousand miles begins with a single step."
Lao Tzu.
8.
"Success is not final, failure is not fatal: it is the courage to continue that counts."
Winston S. Churchill
9.
"Whatever the mind of man can conceive and believe, it can achieve."
Napoleon Hill
10.
"The question isn't who is going to let me; it's who is going to stop me."
Ayn Rand
11.
"You can go as far as your mind lets you. What you believe, remember, you can achieve."
Mary Kay Ash
12.
"Only in the darkness can you see the stars."
Martin Luther King Jr.
13.
"That which does not kill us makes us stronger."
Friedrich Nietzsche
14.
"I dream things that never were; and I say 'Why not?"
George Bernard Shaw
15.
"Desire, burning desire, is basic to achieving anything beyond the ordinary."
Joseph B. Wirthlin
16.
"What do we live for, if it is not to make life less difficult for each other?"
George Eliot
17.
"Pain is temporary. Quitting lasts forever."
Lance Armstrong
18.
"Big dreams create the magic that stir men's souls to greatness."
Bill McCartney
19.
"When you want to succeed as bad as you want to breathe, then you'll be successful."
Eric Thomas
20.
"If you don't stand for something you will fall for anything."
Gordon A. Eadie
21.
"Nothing is impossible, the word itself says 'I'm possible'!"
Audrey Hepburn
22.
"Life isn't about finding yourself. Life is about creating yourself."
George Bernard Shaw
23.
"Do not go where the path may lead, go instead where there is no path and leave a trail."
Ralph Waldo Emerson
24.
"The two most powerful warriors are patience and time."
Leo Tolstoy
25.
"Don't judge each day by the harvest you reap but by the seeds that you plant."
Robert Louis Stevenson
26.
"Life is like riding a bicycle. To keep your balance, you must keep moving."
Albert Einstein
27.
"Everything you can imagine is real."
Pablo Picasso
28.
"You never fail until you stop trying."
Albert Einstein
29.
"Even if you are on the right track, you'll get run over if you just sit there."
Will Rogers
30.
Nurture your mind with great thoughts. To believe in the heroic makes heroes."
Benjamin Disraeli
31.
"Do what you can, with what you have, where you are."
Theodore Roosevelt
32.
"Whether you believe you can do a thing or not, you are right."
Henry Ford.
33.
"It is never too late to be what you might have been."
George Eliot
34.
"Tomorrow is a new day. You shall begin it serenely and with too high a spirit to be encumbered with your old nonsense."
Ralph Waldo Emerson
35.
"The best way to predict your future is to create it."
Abraham Lincoln
36.
"Never doubt that a small group of thoughtful, committed, citizens can change the world."
Margaret Mead
37.
"Luck is a dividend of sweat. The more you sweat, the luckier you get."
Ray Kroc
38.
"Life begins at the end of your comfort zone."
Neale Donald Walsch
39.
"People do not decide to become extraordinary. They decide to accomplish extraordinary things."
Edmund Hillary
40.
"Life isn't about waiting for the storm to pass, it's about learning to dance in the rain."
Vivian Greene
41.
"Anyone who has never made a mistake has never tried anything new."
Albert Einstein
42.
"Ask what makes you come alive and go do it."
Howard Thurman
43.
"Accept no one's definition of your life, but define yourself."
Harvey Fierstein
44.
"A ship is safe in harbor, but that's not what ships are for."
William G.T. Shedd
45.
"What you plant now, you will harvest later."
Og Mandino
46.
"The difference between a successful person and others is not lack of strength not a lack of knowledge but rather a lack of will."
Vince Lombardi
47.
"It doesn't matter where you came from. All that matters is where you are going."
Brian Tracy
48.
"Knowledge is limited. Imagination encircles the world."
Albert Einstein
49.
"If you can't change it, change the way you think about it."
Maya Angelou
50.
"All the darkness in the world cannot extinguish the light of a single candle."
Francis of Assisi
51.
"Anyone can start over and make a new ending."
Chico Xavier
52.
"It takes a man with real heart to make beauty out of the stuff that makes us weep."
Clive Barker
53.
"What lies behind us and what lies before us are tiny matters compared to what lies within us."
Ralph Waldo Emerson
54.
"Mediocrity will never do. You are capable of something better."
Gordon B. Hinckley
55.
"Logic will get you from A to Z; imagination will get you everywhere."
Albert Einstein
56.
"Don't worry about failures, worry about the chances you miss when you don't even try."
Jack Canfield
57.
"You were designed for accomplishment, engineered for success, and endowed with the seeds of greatness."
Zig Ziglar
58.
"Greatness is not measured by what a man or woman accomplishes, but by the opposition he or she has overcome to reach his goals."
Dorothy Height
59.
"Be more concerned with your character than your reputation."
John Wooden
60.
"I have found that if you love life, life will love you back."
Arthur Rubinstein
61.
"When one door of happiness closes, another opens."
Helen Keller
62.
"Whatever the mind of man can conceive and believe it can achieve."
Napoleon Hill
63.
"Talent is given, greatness is earned."
LeBron James
64.
"It's up to you how far you let yourself fall and how long it takes you to get back up and stand on your own two feet"
Sr. Tac Jeffrey Mitchell
65.
"It's the possibility of having a dream come true that makes life interesting."
Paulo Coelho
66.
"Life's too short to think small."
Tim Ferriss
67.
"Be yourself; everyone else is already taken."
Oscar Wilde
68.
"All through history the way of truth and love have always won."
Mahatma Gandhi
69.
"I wonder if fears ever really go away, or if they just lose their power over us."
Veronica Roth
70.
"You were born with wings, why prefer to crawl through life?"
Jalaluddin Rumi
71.
"The most common way people give up their power is by thinking they don't have any."
Alice Walker
72.
"And, when you want something, all the universe conspires in helping you to achieve it."
Paulo Coelho
73.
"Always dream and shoot higher than you know you can do."
William Faulkner
74.
"If my life is going to mean anything, I have to live it myself."
Rick Riordan
75.
"Man who say it cannot be done, should not interrupt man doing it."
Confucius
76.
"When you come out of the storm, you won't be the same person who walked in. That's what this storm's all about."
Haruki Murakami
77.
"What makes the desert beautiful is that somewhere it hides a well…"
Antoine de Saint-Exupéry
78.
"If you are irritated by every rub, how will your mirror be polished?"
Jalaluddin Rumi
79.
"Some people want it to happen, some wish it would happen, others make it happen."
Michael Jordan
80.
"Knowing yourself is the beginning of all wisdom."
Aristotle
81.
"In the end, it's not going to matter how many breaths you took, but how many moments took your breath away."
Shing Xiong
82.
"Be thankful for what you have; you'll end up having more."
Oprah Winfrey
83.
"You only live once, but if you do it right, once is enough."
Mae West
84.
"In three words I can sum up everything I've learned about life: it goes on."
Robert Frost
85.
"To me, fearless is living in spite of those things that scare you."
Taylor Swift
86.
"Be not afraid of greatness; some are born great, some achieve greatness, and others have greatness thrust upon them."
William Shakespeare
87.
"Learn from yesterday, live for today, hope for tomorrow."
Albert Einstein
88.
"The future belongs to those who believe in the beauty of their dreams."
Eleanor Roosevelt
89.
"You can't live your life for other people. You've got to do what's right for you."
Nicholas Sparks
90.
"Always do what you are afraid to do."
Ralph Waldo Emerson
91.
"Don't be afraid to give up the good to go for the great."
John D. Rockefelle
92.
"Change the way you look at things and the things you look at will change."
Wayne Dyer
93.
"Folks are usually about as happy as they make their minds up to be."
Abraham Lincoln
94.
"Try a little harder to be a little better."
Gordon B. Hinckley
95.
"I can give you a formula for failure: try to please everybody all the time."
Herbert Bayard Swope
96.
"As you start to walk out on the way, the way appears."
Rumi
97.
"If you are not taking responsibility for your state of consciousness, you are not taking responsibility for life."
Eckhart Tolle
98.
"The mind is its own place, and in itself can make a heaven of hell, a hell of heaven.."
John Milton
99.
"Be the change that you wish to see in the world."
Mahatma Gandhi
100.
"Sail away from the safe harbor. Catch the trade winds in your sails. Explore. Dream. Discover."
H. Jackson Brown Jr.
101.
"The past has no power over the present moment."
Eckhart Tolle
102.
"Opportunity is missed by most people because it is dressed in overalls and looks like work."
Thomas A. Ediso
103.
"If you are at peace you are living in the present."
Lao Tzu
104.
"Not all of us can do great things. But we can do small things with great love."
Mother Teresa
105.
"You have feet in your shoes. You can steer yourself any direction you choose."
Dr. Seuss
106.
"Every person on earth plays a central role in the history of the world.
Paulo Coelho
107.
"We are all in the gutter, but some of us are looking at the stars."
Oscar Wilde
108.
"Don't bother just to be better than your contemporaries or predecessors. Try to be better than yourself."
William Faulkner
109.
"Stop being afraid of what could go wrong and start being positive about what could go right."
Zig Ziglar
110.
"It's not whether you get knocked down, it's whether you get up."
Vince Lombardi
111.
"When I hear somebody sigh, 'Life is hard,' I am always tempted to ask, 'Compared to what?'"
Sydney Harris
112.
"Whether you think you can, or you think you can't you're right."
Henry Ford
113.
"Life is 10% what happens to us and 90% how we react to it."
Dennis P. Kimbro
114.
"If one advances confidently in the direction of his dreams, and endeavors to live the life which he has imagined, he will meet with a success unexpected in common hours."
Henry David Thoreau
115.
"Every noble work is at first impossible."
Thomas Carlyle
116.
"Be who you are and say what you feel, because those who mind don't matter and those who matter don't mind."
Theodore Seuss Giesel
117.
"The only way of finding the limits of the possible is by going beyond them into the impossible."
Arthur C. Clarke
118.
"Believe that life is worth living, and your belief will help create the fact."
William James
119.
"Facing up to things, working through them, that's what makes you strong."
Sarah Dessen
120.
"If you think you are too small to make a difference, try sleeping with a mosquito."
Dalai Lama XIV
I hope you enjoyed reading this collection of powerful short quotes. What are your favorite quotes that work miracles for you? Feel free to share them in the comment section below.
Stay victorious!