Are you struggling a little with having the confidence to pursue your dreams and conquer your fears? The following self-confidence quotes will help you to boost the trust you have in yourself. And if you are looking for powerful ways to improve self-trust, have a look at these brain hacks to boost confidence.
Your confidence can make or break you. It is the deciding factor that allows you to relentlessly fight for your goals without ever giving up. At the same time, a lack of confidence can result in not being able to live your life to the fullest.
"Because one believes in oneself, one doesn't try to convince others. Because one is content with oneself, one doesn't need others' approval. Because one accepts oneself, the whole world accepts him or her."
Lao Tzu
Confidence helps you to get back up on your feet after a painful defeat. It will encourage you to see the oftentimes hidden opportunities during challenging times. Even more so, confidence gives you the necessary courage to walk beyond the known paths.
The difficulty lies in improving and maintaining your self-confidence. Doing so can be quite a challenge and is often accompanied by many setbacks. But it is also important to remind yourself that no one is born self-confidence. Instead, self-trust and confidence are gradually build up through experiences that confirm your beliefs.
101 Self-Confidence Quotes to Boost Your Courage
If you're not feeling confident, worry not. You are definitely not alone with this. What is beautiful about the following authors is that they themselves had to learn how to fully appreciate themselves and to become courageous individuals. On their path towards mastering self-confidence, they learned valuable lessons that they brought to paper. Enjoy reading the following self-confidence quotes.
Here's our collection of self-confidence quotes
1.
"Believe you can and you're halfway there."
Theodore Roosevelt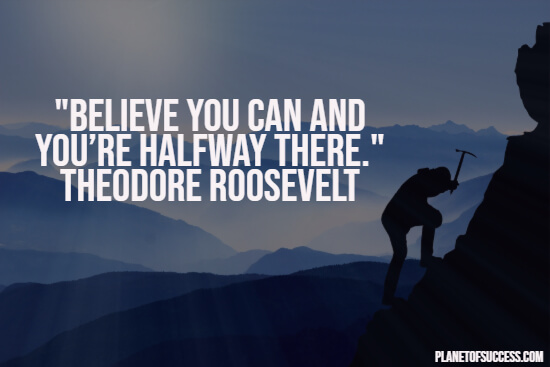 2.
"Believe in yourself! Have faith in your abilities! Without a humble but reasonable confidence in your own powers, you cannot be successful or happy."
Norman Vincent Peale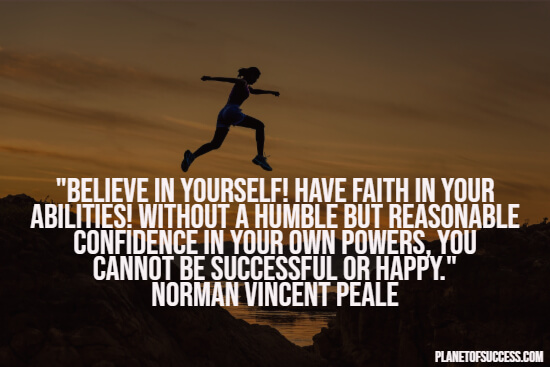 3.
"Look well into thyself; there is a source of strength which will always spring up if thou wilt always look."
Marcus Aurelius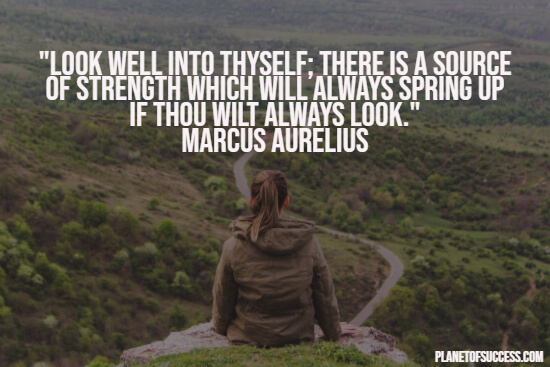 4.
"The way to develop self-confidence is to do the thing you fear, and get a record of successful experiences behind you."
William Jennings Bryan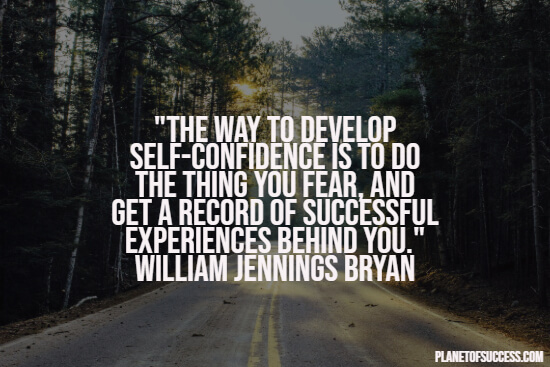 5.
"Don't wait until everything is just right. It will never be perfect. There will always be challenges, obstacles and less than perfect conditions. So what. Get started now. With each step you take, you will grow stronger and stronger, more and more skilled, more and more self-confident and more and more successful."
Mark Victor Hansen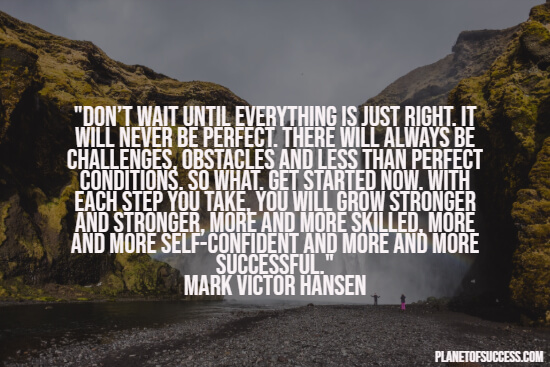 6.
"A clear vision, backed by definite plans, gives you a tremendous feeling of confidence and personal power."
Brian Tracy
7.
"The self-confidence of the warrior is not the self-confidence of the average man. The average man seeks certainty in the eyes of the onlooker and calls that self-confidence. The warrior seeks impeccability in his own eyes and calls that humbleness. The average man is hooked to his fellow-men, while the warrior is hooked only to infinity."
Carlos Castaneda
8.
"Once we believe in ourselves, we can risk curiosity, wonder, spontaneous delight, or any experience that reveals the human spirit"
E.E. Cummings
9.
"One important key to success is self-confidence. An important key to self-confidence is preparation."
Arthur Ashe
10.
"I had the chance to make every possible mistake and figure out a way to recover from it. Once you realize there is life after mistakes, you gain a self-confidence that never goes away."
Bob Schieffer
11.
"You may be the only person left who believes in you, but it's enough. It takes just one star to pierce a universe of darkness. Never give up."
Richelle E. Goodrich
12.
"The moment you doubt whether you can fly, you cease forever to be able to do it."
J. M. Barrie
13.
"To overcome fear is the quickest way to gain your self-confidence."
Roy T. Bennett
14.
"As soon as you trust yourself, you will know how to live."
Johann Wolfgang von Goeth
15.
"I am only one, but I am one. I cannot do everything, but I can do something. And because I cannot do everything, I will not refuse to do the something that I can do."
Edward Everett Hale
16.
"I am convinced that the jealous, the angry, the bitter and the egotistical are the first to race to the top of mountains. A confident person enjoys the journey, the people they meet along the way and sees life not as a competition."
Shannon L. Alder
17.
"If being an egomaniac means I believe in what I do and in my art or music, then in that respect you can call me that… I believe in what I do, and I'll say it."
John Lennon
18.
"Being confident and believing in your own self-worth is necessary to achieving your potential."
Sheryl Sandberg
19.
"If you have no confidence in self, you are twice defeated in the race of life. With confidence, you have won even before you have started."
Marcus Tullius Cicero
20.
"At every given moment we are absolutely perfect for what is required for our journey."
Steve Maraboli
21.
"Stop comparing yourself with others. If they are good at something, you too are good at something else. Self-confidence is not measured by your own capabilities versus that of others, but by your own needs."
Stephen Richards
22.
"Be faithful to that which exists within yourself."
Andre Gide
23.
"The more you believe in yourself, the more the world believes in you!"
Isa Zapata
24.
"Success is most often achieved by those who don't know that failure is inevitable."
Coco Chanel
25.
"We all have tremendous potential, and we all are blessed with gifts. Yet, the one thing that holds all of us back is some degree of self-doubt. It is not so much the lack of technical information that holds us back, but more the lack of self-confidence."
Robert T. Kiyosaki
26.
"Life for both sexes — and I looked at them, shouldering their way along the pavement — is arduous, difficult, a perpetual struggle. It calls for gigantic courage and strength. More than anything, perhaps, creatures of illusion as we are, it calls for confidence in oneself. Without self-confidence, we are as babes in the cradle."
Virginia Woolf
27.
"If you can't believe in miracles, then believe in yourself. When you want something bad enough, let that drive push you to make it happen. Sometimes you'll run into brick walls that are put there to test you. Find a way around them and stay focused on your dream. Where there's a will, there's away."
Isabel Lopez
28.
"If you have a dream, don't just sit there. Gather courage to believe that you can succeed and leave no stone unturned to make it a reality."
Dr. Roopleen
29.
"Confidence is knowing who you are and not changing it a bit because of someone's version of reality is not your reality."
Shannon L. Alder
30.
"In other words, it requires deliberate self-deception, including a constant effort to repress or block out unpleasant possibilities and 'negative' thoughts. The truly self-confident, or those who have in some way made their peace with the world and their destiny within it, do not need to expend effort censoring or otherwise controlling their thoughts."
Barbara Ehrenreich
31.
"In order to deal with reality successfully – to pursue and achieve the values which his life requires – man needs self-esteem; he needs to be confident of his efficacy and worth."
Ayn Rand
32.
"Believe in yourself up here and it will make you stronger than you could ever imagine."
Sarah Dessen
33.
"No one has ever achieved anything significant without a chorus of critics standing on the sidelines explaining why it can't be done."
Donald Trump
34.
"You were not meant for a mundane or mediocre life!"
Steve Maraboli
35.
"I didn't play the cards I was dealt. I changed the cards."
Kanye West
36.
"The worst enemy to creativity is self-doubt."
Sylvia Plath
37.
"Why should we worry about what others think of us, do we have more confidence in their opinions than we do our own?"
Brigham Young
38.
"With realization of one's own potential and self-confidence in one's ability, one can build a better world."
Dalai Lama XIV
39.
"To be a champion, you must have no ego at all. You must not exist as a separate entity. You must give yourself over to the race. You are nothing if not for your team, your car, your shoes, your tires. Do not mistake confidence and self-awareness for egotism."
Garth Stein
40.
"Believe in yourself. You are braver than you think, more talented than you know, and capable of more than you imagine."
Roy T. Bennett
41.
"People who love themselves come across as very loving, generous and kind; they express their self-confidence through humility, forgiveness, and inclusiveness."
Sanaya Roman
42.
"Don't doubt yourself, that's what haters are for."
Turcois Ominek
43.
"The poorer your self-esteem and the lower your self-confidence, the more easily negative feelings can overwhelm ordinary good sense."
Julian Short
44.
"I have great faith in fools – self-confidence my friends will call it."
Edgar Allan Poe
45.
"The best lightning rod for your protection is your own spine."
Ralph Waldo Emerson
46.
"No one knows your truth but you. If you're secure in yourself, no one and no(thing) can touch you."
Brittany Burgunder
47.
"You are more important than you think you are, you are braver, you are more lovable and smarter than you think you are. Upgrade what you think!"
Happy Goddessa
48.
"The most important point to remember in developing self-confidence is to take responsibility for who we are. This empowers us. We can change anything, do anything, and be anything when we assume full responsibility for ourselves."
Rachael Bermingham
49.
"Fear creates its own self-fulfilling dynamic- as people give into it, they lose energy and momentum. Their lack of confidence translates into inaction that lowers confidence levels even further, on and on."
Robert Greene
50.
"Believe in yourself, your abilities and your own potential. Never let self-doubt hold you captive. You are worthy of all that you dream of and hope for."
Roy Bennett
51.
"Believe in yourself, and the rest will fall into place. Have faith in your own abilities, work hard, and there is nothing you cannot accomplish."
Mohsin Jameel
52.
"At the core of your heart, you are perfect and pure. No one and nothing can alter that."
Amit Ray
53.
A sense of inferiority and inadequacy interferes with the attainment of your hopes, but self-confidence leads to self-realization and successful achievement."
Norman Vincent Peale
54.
"Positive thoughts always get drowned in the mind full of negative ones. Believe in yourself! Because, every small difference we may or may not make, creates a bigger impact in the long run."
Shahenshah Hafeez Khan
55.
"Self-confidence is the first requisite to great undertakings."
Samuel Johnson
56.
"A truly confident person does not require arrogance, which is nothing more than a smoke screen for insecurity."
Amy Cuddy
57.
"There are so many more important things to worry about than how you're perceived by strangers."
Dennis Lehane
58.
"Confidence is a life ingredient that is essential to success and wholeness. It is perhaps the single most important trait that enables seemingly average people to do and become all that they can. And the good news is – it can be learned. No one has to suffer a lifetime of low confidence."
Steve Goodier
59.
"Nobody holds a good opinion of a man who holds a low opinion of himself."
Anthony Trollope
60.
"My self-confidence comes from the fact that I have discovered my own dimensions. It does not behoove me to make myself smaller than I am."
Edith Södergran
61.
"My self-confidence can be measured out in teaspoons mixed into my poetry, and it still always tastes funny in my mouth."
Sarah Kay
62.
"Why escape your intended purpose by copying and trying to be someone else? You will discover who you were meant to be only after you have shown confidence in being yourself."
Suzy Kassem
63.
"Do you know what makes someone beautiful? Confidence. It's confidence that attracts people. That's what everybody's looking for."
Daniel Nayeri
64.
"My personal definition of confidence is to keep believing that the stars in the solar system are actually watching and applauding you."
Johnnie Dent Jr.
65.
"You've been criticizing yourself for years and it hasn't worked. Try approving of yourself and see what happens."
Louise Hay
66.
"Self-confidence is contagious."
Stephen Richards
67.
"You get your confidence and intuition back by trusting yourself, by being militantly on your own side. You need to trust yourself, especially on a first draft, where amid the anxiety and self-doubt, there should be a real sense of your imagination and your memories walking and woolgathering, tramping the hills, romping all over the place. Trust them. Don't look at your feet to see if you are doing it right. Just dance."
Anne Lamott
68.
"Remember to value who you are no matter what. Believe you are worth being loved and don't ever settle."
Leah DeCesare
69.
"They will always tell you that you can't do what you want to do, but you can do what you want to do. You just have to believe in yourself. The system is to bring you down, but you can rise up."
Bob Marley
70.
"Embrace your imperfections. We are not machines."
Lorin Morgan-Richards
71.
"A person without self-confidence is incapable of being independent, and people who are dependent on their partners always create unhappiness. Always."
Ryu Murakami
72.
"When teachers doubt your potential, show them how wrong they truly are."
Ace Antonio Hall
73.
"It requires courage not to surrender oneself to the ingenious or compassionate counsels of despair that would induce a man to eliminate himself from the ranks of the living; but it does not follow from this that every huckster who is fattened and nourished in self-confidence has more courage than the man who yielded to despair."
Søren Kierkegaard
74.
"Ignore any loss of nerve, ignore any loss of self-confidence, ignore any doubt or confusion. Move on believing in love, in peace, and harmony, and in great accomplishment. Remember joy isn't a stranger to you. You are winning and you are strong. Love. Love first, love always, love forever."
Anne Rice
75.
"You have the power to heal your life, and you need to know that. We think so often that we are helpless, but we're not. We always have the power of our minds… Claim and consciously use your power."
Louise L. Hay
76.
"We don't need self-confidence we need God-confidence"
Joyce Meyer
77.
"Encourage yourself, believe in yourself, and love yourself. Never doubt who you are."
Stephanie Lahart
78.
"Ego is thinking you have all the answers. Self-confidence is knowing you don't have the answers, but being pretty sure that you will be able to find them."
Maggie Stiefvater
79.
"Our self-esteem – be it low or high – has its influence on our thoughts, relationships, profession, and social life. When it is channeled in the right direction, you will find enough confidence to move out of your comfort zone and explore new possibilities."
Dr Prem Jagyasi
80.
"Role models are only of limited use. For no-one is as important, potentially powerful and as key in your life and world as you."
Rasheed Ogunlaru
81.
"When you express "purity" which is the truth about yourself, you feel a love for yourself that is expressed by self-respect, self-esteem, and self-confidence!"
Dr. Tae Yun Kim
82.
"Man is what he believes – believe in yourself"
Dr. Amit Abraham
83.
"Certain situations need a Jedi-like approach. One of these is when you are in a strange environment, usually where you feel unsure of yourself. You would be surprised how, if you walk with confidence and meaning, people will see this as a mark of confidence, yet you are perhaps shaking inside but outwardly you have the gait of a confident Jedi Knight."
Stephen Richards
84.
"True self-confidence is "the courage to be open—to welcome change and new ideas regardless of their source." Real self-confidence is not reflected in a title, an expensive suit, a fancy car, or a series of acquisitions. It is reflected in your mindset: your readiness to grow."
Carol S. Dweck
85.
"You're always with yourself, so you might as well enjoy the company."
Diane Von Furstenberg
86.
"My mind may be sober, but my confidence is high!"
Habeeb Akande
87.
"While clothes may not make the woman, they certainly have a strong effect on her self-confidence, which, I believe, does make the woman."
Mary Kay Ash
88.
"Your self-confidence is simply the part of your brain that tells you whether or not you should try something different or new or believe in yourself, and just as a Jedi truly believes that it is within their power to control their thoughts and stay in the Light, so can you."
Stephen Richards
89.
"A competent and self-confident person is incapable of jealousy in anything. Jealousy is invariably a symptom of neurotic insecurity."
Robert A. Heinlein
90.
"Once you feel nice about yourself, you have planted the first seed to develop self-confidence."
Stephen Richards
91.
"To lose confidence in one's body is to lose confidence in oneself."
Simone de Beauvoir
92.
"It's easy to believe in someone else, the hard part is to believe in yourself"
Sandesh
93.
"Stop spending so much time trying to prove what you already know to people who don't really matter. It just makes you look insecure and lacking self-confidence."
Karen E. Quinones Miller
94.
"With self-confidence, self-education and self-discipline, you can master the act in any chosen field."
Lailah Gifty Akita
95.
"The key to feeling confident is always listening to your inner self – the real you. And in the kingdom of God, the real you is more precious than rubies."
Jeffrey Holland
96.
"How many people have been thus led, through lack of self-confidence, to stifle their most justified doubts?"
Simone Weil
97.
"True confidence is not about what you take from someone to restore yourself, but what you give back to your critics because they need it more than you do."
Shannon L. Alder
98.
"Believe in yourself. Under-confidence leads to a self-fulfilling prophecy that you are not good enough for your work."
Dr. Roopleen
99.
"When we remove ego, we're left with what is real. What replaces ego is humility, yes—but rock-hard humility and confidence. Whereas ego is artificial, this type of confidence can hold weight. Ego is stolen. Confidence is earned. Ego is self-anointed, its swagger is artifice. One is girding yourself, the other gaslighting. It's the difference between potent and poisonous."
Ryan Holiday
100.
"Most people are about as happy as their self confidence will allow them to be."
Shannon L. Alder
101.
"Smile, for everyone lacks self-confidence and more than any other one thing a smile reassures them."
André Maurois
I hope you enjoyed this collection of self-confidence quotes. What are your tricks that help you to improve your self-esteem?
Stay victorious!