If you can't get enough of rap music's hypnotizing beats and its lyrical rhymes, we've got something special for you. How about a fine selection of some of the most legendary rapper quotes of all time? Enjoy reading! And if you can't get enough, be sure to also have a look at these profound Tupac quotes.
Despite its roots in the late 1970s, hip-hop artists have only made their first entry into the prestigious Rock and Roll Hall Of Fame many decades later in 2007. Among the illustrious circle of Hall of Famers are legendary artists like Tupac Shakur, Run-DMC, and N.W.A.
"The art of rap is deceptive. It seems so straightforward and personal and real that people read it completely literally, as raw testimony or autobiography."
Jay-Z
Whether a Hall of Famer or not, every single rap artist has brought a distinct style and a creative fusion of lyrics, tonality, and beats to the genre. From the iconic MCs who started spitting the very first lyrics of rap music to the present day household names, they all contributed iconic pieces to hip-hop's rise to popularity.
100 Legendary Rapper Quotes
Rap music is one of the most versatile music genres out there. It can raise awareness of social problems or set the right chill-out ambiance with thoughtful rhymes underlined by soothing beats just as much as it can kickstart a great party.
But not every lyric is the same. While there are many rap songs out there that leave absolutely no impression, you can come across some true masterpieces by a brilliant artist every once in a while. To help you save a lot of time, we have collected some of the most profound and legendary rapper quotes of all time.
Enjoy reading!
Here's our selection of inspirational and deep rapper quotes
1.
"A poet's mission is to make words do more work than they normally do, to make them work on more than one level."
Jay-Z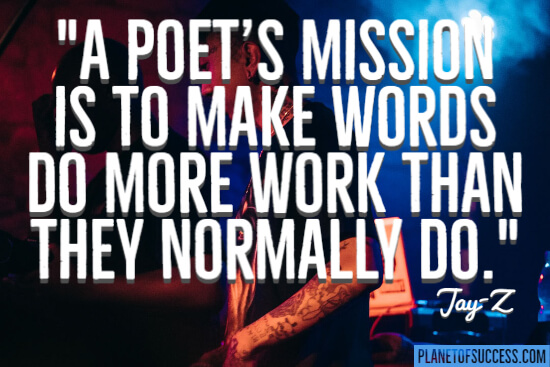 2.
"I've been hated by many, wanted by plenty, disliked by some, but confronted by none."
Drake
3.
"Life without knowledge is death in disguise."
Talib Kweli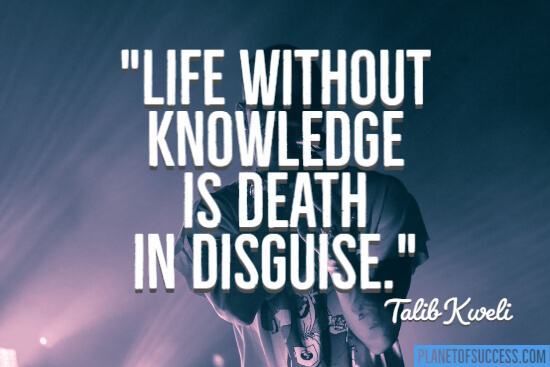 4.
"I never sleep, cause sleep is the cousin of death."
Nas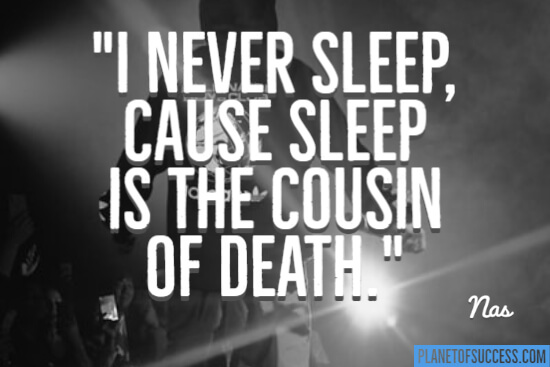 5.
"When the devil wants to dance with you, you better say never, because the dance with the devil might last you forever."
Immortal Technique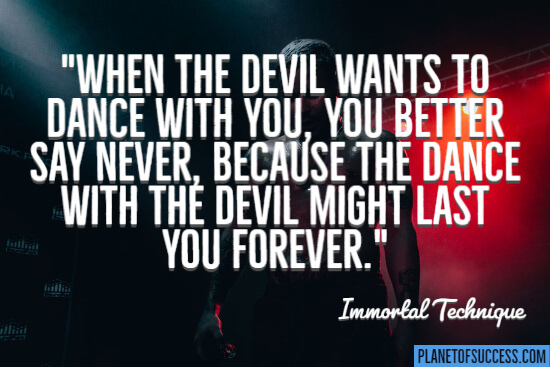 6.
"I am a hard person to love but when I love, I love really hard."
Tupac Shakur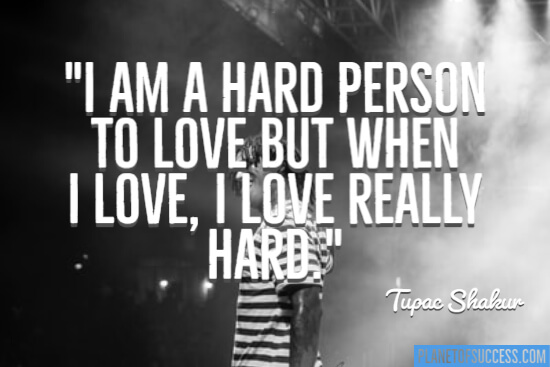 7.
"Surround yourself with love, not friends."
Lil Wayne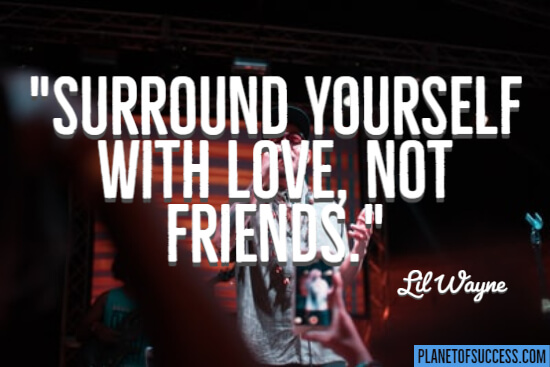 8.
"Hip-hop is what makes the world go around."
Snoop Dogg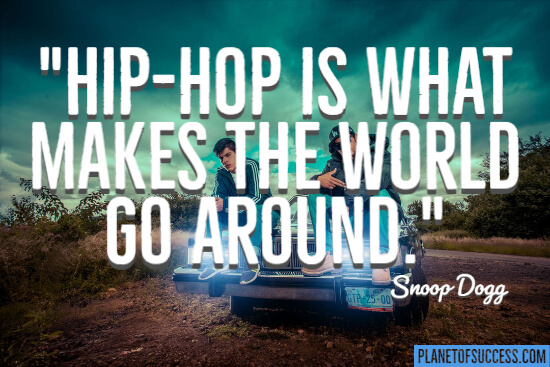 9.
"Rap was always a pipe dream for me, but rap was all I had. Because really, what was I going to do with my life? I had a young daughter. Kim and I were always either getting evicted or our house was getting shot up or robbed."
Eminem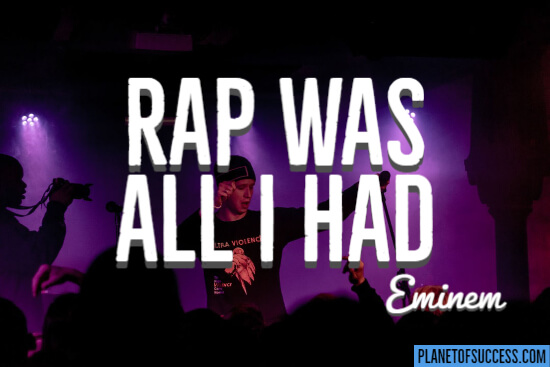 10.
"I'm gonna show the most graphic details of what I see in my community and hopefully they'll stop it quick."
Tupac Shakur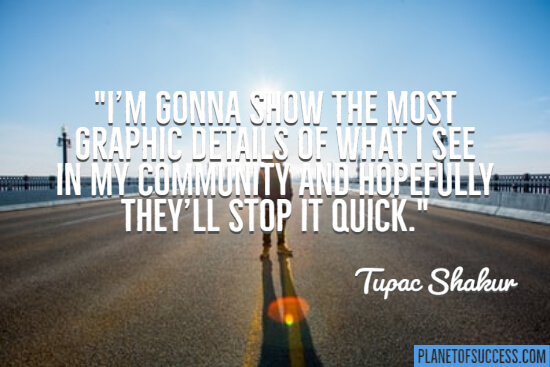 11.
"I would have so many friends if I help back the truth and just gave out compliments."
Drake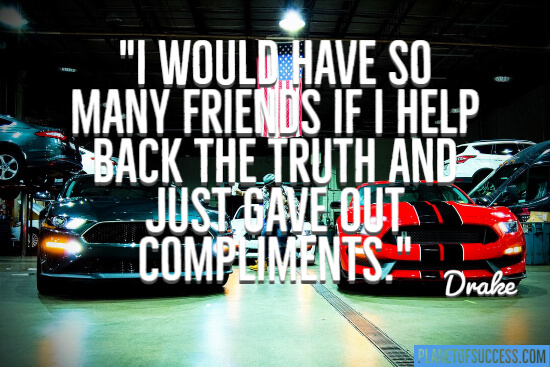 12.
"99 Problems is almost a deliberate provocation to simpleminded listeners."
Jay-Z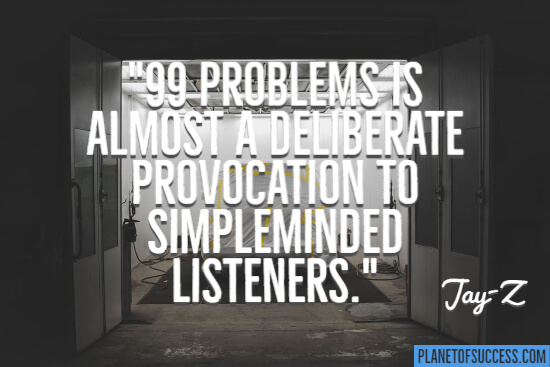 13.
"My lyrics aren't offensive. Some people find everything offensive."
Tyler, the Creator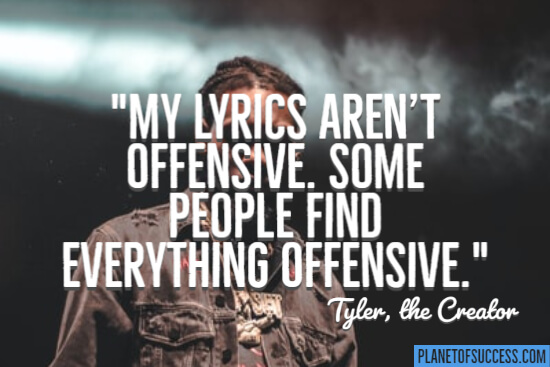 14.
"Fear not of men because men must die. Mind over matter and soul before flesh."
Mos Def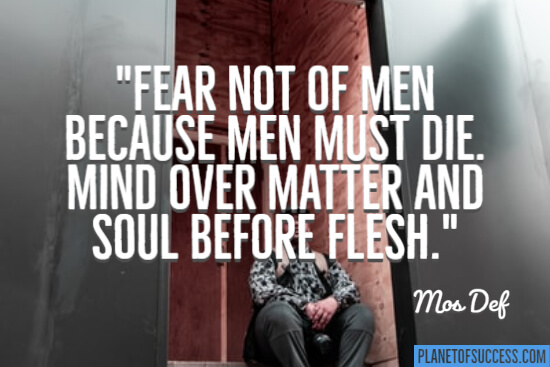 15.
"One minute you're an amateur, knowing nothing, not even the basics. The next you can put pen to paper, write a song, and create art in such little time! It's crazy beautiful."
Scott McGoldrick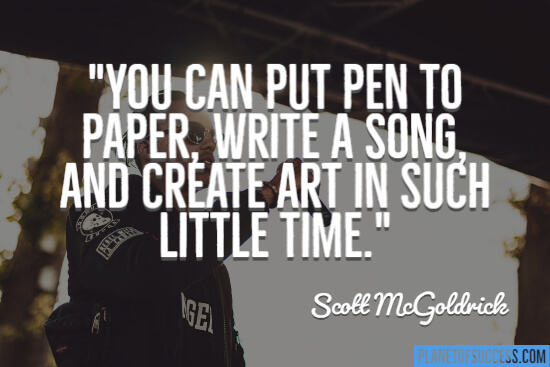 16.
"Sometimes I feel like rap music is almost the key to stopping racism."
Eminem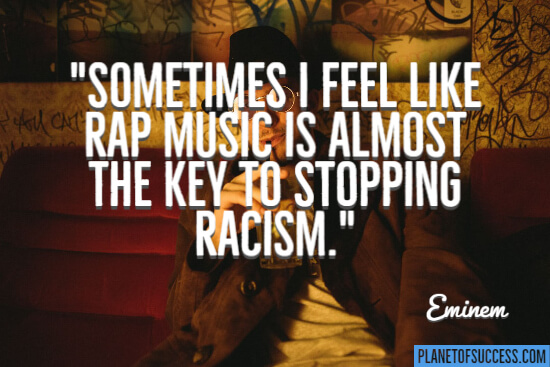 17.
"You might win some, but you just lost one."
Lauryn Hill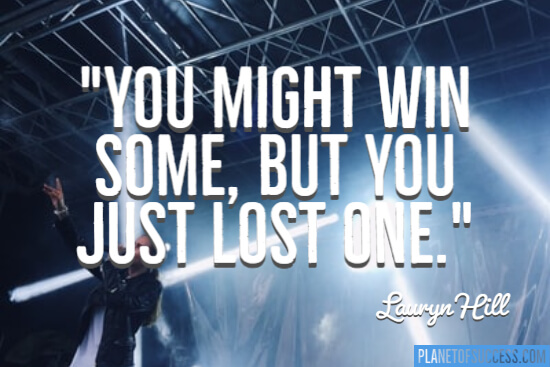 18.
"Let the music diffuse all the tension."
Nas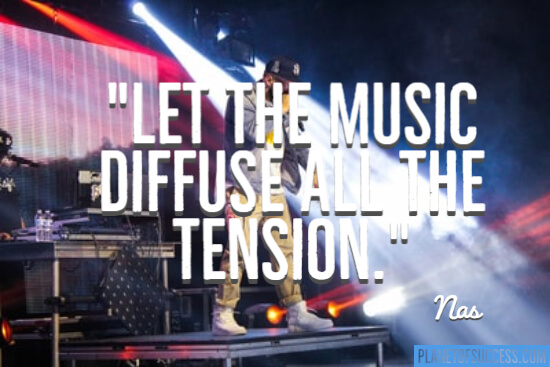 19.
"Hip-hop is supposed to uplift and create, to educate people on a larger level and to make a change."
Doug E. Fresh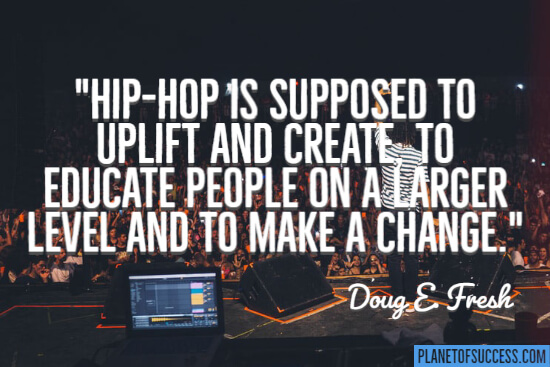 20.
"The writing process, the way I go about it is I do whatever the beat feels like, whatever the beat is telling me to do. Usually when the beat comes on, I think of a hook or the subject I want to rap about almost instantly. Within four, eight bars of it playing I'm just like, 'Oh, OK. This is what I wanna do'."
Eminem
21.
"We came into a broken world. And we're the cleanup crew."
Kanye West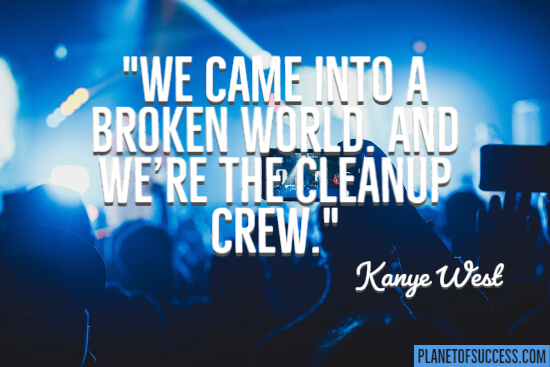 22.
"I never want to grow up."
Tyler, The Creator
23.
"Nothing in life is promised except death."
Kanye West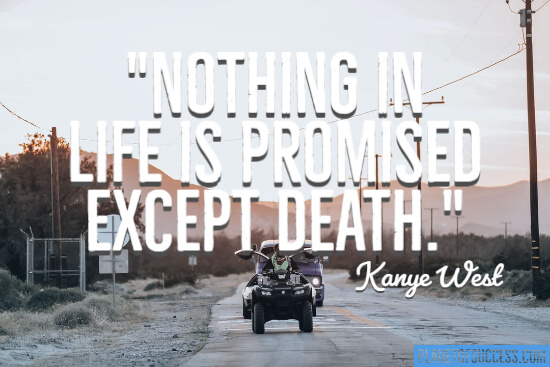 24.
"I didn't want to play it boring and safe. I also didn't want to innovate too much. Second albums, man, they're even scarier than first ones."
Kanye West
25.
"Being a student of hip-hop in general, you take technical aspects from places. You may take a rhyme pattern or flow from Big Daddy Kane or Kool G Rap."
Eminem
26.
"Hip-hop saved my life, man. It's the only thing I've ever been even decent at. I don't know how to do anything else."
Eminem
27.
"I think music should be free. I think all communication should be free. I think people should respect artists, and there should be a certain respect for artists who give their music away for free."
KRS-One
28.
"Keep your nose out the sky, keep your heart to god, and keep your face to the rising sun."
Kanye West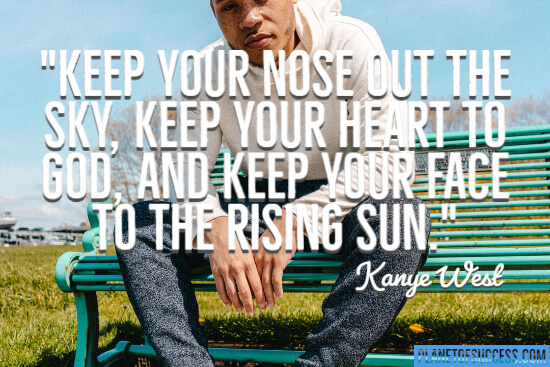 29.
"In the future, hip-hop is going to be called American folklore."
KRS-One
30.
"Usually, when I'm rappin', I'm creating a big story or a concept song that sounds like a movie to me."
Tyler, The Creator
31.
"Sporadic thoughts will pop into my head and I'll have to go write something down, and the next thing you know I've written a whole song in an hour."
Eminem
32.
"My family has never been there for me. They expect things because we're blood."
Eminem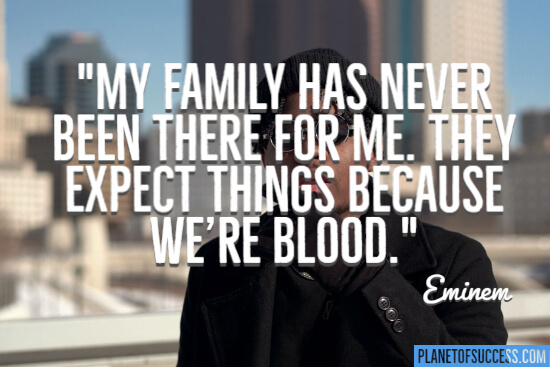 33.
"When you seek to do something, if you don't know the whole game plan, you're usually going to work against yourself."
KRS-One
34.
"I think my first album opened a lot of doors for me to push the freedom of speech to the limit."
Eminem
35.
"I refuse to accept other people's ideas of happiness for me. As if there's a 'one size fits all' standard for happiness."
Kanye West
36.
"Dealing with backstabbers, there was one thing I learned. They're only powerful when you got your back turned."
Eminem
37.
"If you have the opportunity to play this game of life you need to appreciate every moment. A lot of people don't appreciate the moment until it's passed."
Kanye West
38.
"I feel like I'm too busy writing history to read it."
Kanye West
39.
"I don't like people around me sad. I like making people happy."
Tyler, The Creator
40.
"I'm pretty calculating. I take stuff that I know appeals to people's bad sides and match it up with stuff that appeals to their good sides."
Kanye West
41.
"I want to solidify as an artist and show that as I grow as a person and make mistakes and learn from them, I'm going to grow artistically."
Eminem
42.
"I like my raps, but I'm never too happy with some of 'em because I feel like they could be better."
Tyler, The Creator
43.
"Music is so therapeutic for me that if I can't get it out, I start feeling bad about myself – a lot of self-loathing."
Eminem
44.
"I am who I am and I say what I think. I'm not putting a face on for the record."
Eminem
45.
"I liberate minds with my music."
Kanye West
46.
"Everybody has goals, aspirations or whatever, and everybody has been at a point in their life where nobody believed in them."
Eminem
47.
"I say what I want to say and do what I want to do. There's no in-between. People will either love you for it or hate you for it."
Eminem
48.
Hate reveals itself for what it really is – evil! It cannot see clearly, so it exposes itself at every turn, and those that truly love can see it."
KRS-One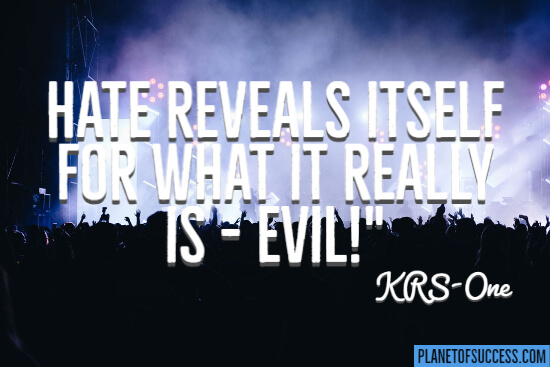 49.
"I honestly now know that I'm the physical embodiment of hip-hop on earth. That's my only purpose here on earth is to keep the culture together long enough for it to remain everything that we thought it could be when I was coming up."
KRS-One
50.
"It creeps me out sometimes to think of the person I was. I was a terrible person. I was mean to people."
Eminem
51.
"I was never really good at anything except for the ability to learn."
Kanye West
52.
"When you're not attached to anything, nothing can harm you. When people become attached, they can be harmed. I know this, so I don't attach myself to anything, really."
KRS-One
53.
"There is no forgiveness, justice, or healing on any level when hate is involved."
KRS-One
54.
"Trust is hard to come by. That's why my circle is small and tight. I'm kind of funny about making new friends."
Eminem
55.
"I'll say things that are serious and put them in a joke form so people can enjoy them. We laugh to keep from crying."
Kanye West
56.
"Our work is never over."
Kanye West
57.
"For me, money is not my definition of success. Inspiring people is a definition of success."
Kanye West
58.
"The thing about hip-hop is that it's from the underground, ideas from the underbelly, from people who have mostly been locked out, who have not been recognized."
Russell Simmons
59.
"Rap is a gimmick, but I'm for the hip-hop, the culture."
Method Man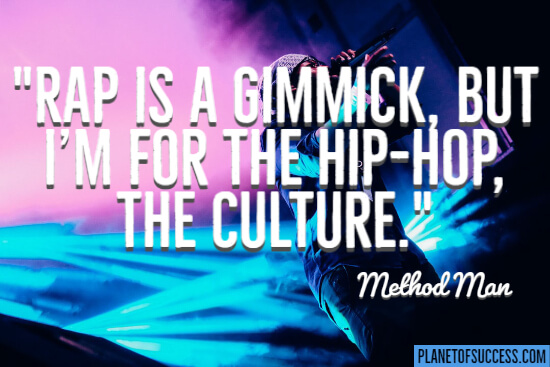 60.
"Music is the universal language."
Swizz Beatz
61.
"Stop, collaborate and listen."
Vanilla Ice
62.
"I've never had a dream in my life,
Because a dream is what you wanna do, but still haven't pursued.
I knew what I wanted, and did it till it was done.
So I've been the dream I wanted to be since Day One."
Aesop Rock
63.
"Everybody looking at you crazy,
What you gon' do?
Lift up your head and keep moving,
Or let the paranoia haunt you?
Kendrick Lamar
64.
"If I had interesting things to say, I would have been a speechwriter. I think it gets to musicians' heads a lot of the time. Just because people like your records doesn't mean what you have to say is going to be interesting."
Aesop Rock
65.
"Get rich or die trying."
50 Cent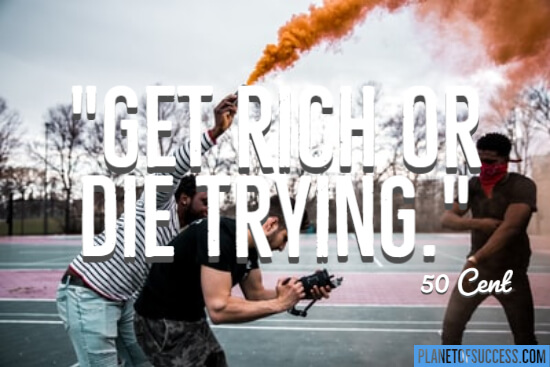 66.
"The thing that makes me different from any other rapper is that I usually talk real crazy in my songs."
Lil Uzi Vert
67.
"You know it's going to hell when the best rapper out there is white and the best golfer is black."
Charles Barkley
68.
"Biggie was the King Of New York as a rapper. There's a lot more dangerous guys than Biggie Smalls out there, you know what I'm saying? John Gotti was way closer to King Of New York than him."
Jay-Z
69.
"Hip-hop is bigger than the South; hip-hop is bigger than New York."
Nas
70.
"I always viewed myself as kind of hip-hop's outcast, or hip-hop's stepson."
Joe Budden
71.
"I'm hyperactive, and I went in the studio and I would just start making records, for no reason."
Sean Combs
72.
"Treat rap like art, instead of acting like it's a bunch of n***** reading out of their diaries. Art elevates and refines and transforms experience. And sometimes it just f**** with you for the fun of it."
Jay-Z
73.
"Youth is something I never wanna take for granted. I just want to smile and live life."
Tyler, the Creator
74.
"You realize, one day, it's not about you. It's the perceptions people had long before you even walked onto the scene. The joke's on them because they're really just fighting phantoms of their own creation."
Jay-Z
75.
"Hip hop in my veins, if you cut me I will bleed."
Nathan Feuerstein
76.
"I'm not a businessman, I'm a business, man!"
Jay-Z
77.
"If I had a dollar for every time I couldn't sleep, I could buy a billion locks and finally read a book in peace."
Aesop Rock
78.
"This twisted cat and mouse game always starts the same. First we're both down to play and somehow you go astray."
Iggy Azalea
79.
"If you believe that I'm a cop killer, you believe David Bowie is an astronaut."
Ice-T
80.
"That's unevenly rendered to those who grew up thinking faith was a surrender of reason but not a reason to surrender."
Aesop Rock
81.
"I'm just tryin to be somebody I can talk to in the morning with a smile."
Aesop Rock
82.
"You know the type: loud as a motorbike but wouldn't bust a grape in a fruit fight."
Jay-Z
83.
"Frankly, I don't feel the fire anymore from the youth. I miss my era when motherfuckers were fighting for shit, spitting fire in their lyrics."
Ice-T
84.
"I'm not a follower. I'm a leader. And anyone who speaks their mind is always criticised."
Tyler, the Creator
85.
"You could name practically any problem in the hood and there'd be a rap song for you."
Jay-Z
86.
"You know, fame is a funny thing. Especially actors, musicians, rappers, rock singers, it's kind of a lifestyle and it's easy to get caught up in it – you go to bars, you go to clubs, everyone's doing a certain thing… It's tough."
Eminem
87.
"It's a beautiful thing, to my people who keep an impressive wingspan, even when the cubicle shrink."
Aesop Rock
88.
"I live in my own head and it all makes sense to me."
Tyler, the Creator
89.
"Yeah, my life a b****, but you know nothing about her. Been to hell and back, I can show you vouchers"
Lil Wayne
90.
"That became the signature Ice-T style – rhymes that were "topical" and "vividly optical." To me it was street-level journalism, real-life observations told in poetry. That's the vision I tried to bring to all my recordings."
Ice-T
91.
"The older I get, the less I care about what's cool. I realize I'm old and weird."
Aesop Rock
92.
"I'm a hustler, baby; I sell water to a well!"
Jay-Z
93.
"Cuz even a gangsta rapper can find redemption. For the sins committed before revelation."
Carlos Salinas
94.
"Sleep and sleep well; sleep with a sacred array of fevers, wake as a pertinent version of a pipe dreamer."
Aesop Rock
95.
"It ain't no fun if the homies can't have none. "
Snoop Dogg
96.
"I wanted to kill Auto-Tune like Kurt Cobain killed the hair bands."
Jay-Z
97.
"I have a weird thing with giraffes, I don't like their neck"
Eminem
98.
"The only good thing about the 1980s was that they invented rap, but rap didn't get good until 1992, so what does that say about the 1980s."
Drew
99.
"There is admittedly an incredible mystique to meddling in the reason a city won't sleep."
Aesop Rock
100.
"I want to have a cultural impact. I want to be an inspiration, to show people what can be done."
Sean Combs
We hope you enjoyed this collection of rapper quotes.
What's your favorite quote?
Is there one particular line or quote is more powerful and thoughtful than all the others? Let us know in the comment section below. We're excited to hear about your favorite hip-hop rhyme.
Stay victorious!