Join us as we take a closer look at the most iconic lines woven together by the best of the best that hip-hop music has to offer. Discover the most legendary rap lyrics of all time that take you on a journey from the beginnings of rap music to the present day. And be sure not to miss our huge selection of legendary Tupac quotes, one of rap's most iconic artists.
What started as a fresh type of music in the streets of New York City in the late 1970s, rose to great levels of popularity and emerged as a global subculture in the decades to follow. From poetic and lyrical rhymes to aggressive battle rap, there are many incredibly well thought out lyrics that rap has to offer.
"A poet's mission is to make words do more work than they normally do, to make them work on more than one level."
Jay-Z
Every rap genre has its own lyrical gemstones only waiting to be discovered by real rap heads. To help you save a lot of time, we have created the following selection of the finest rap lyrics of all time. The following lines combine the iconic song texts of the legendary rappers that invented rap music to present-day hip-hop moguls like Jay-Z and Kanye West.
In every decade since hip-hop's inception in the late 1970s, there have been artists who skillfully took rap music to another level. Great beatmakers like Dr. Dre and RZA and lyrical geniuses like Eminem and Nas pushed the entire rap genre forward.
Thanks to well-timed punchlines that made audiences go wild and rhythmic words with profound messages, rap music was able to take on the world and allowed rappers to enter the Hall of Fame of music previously dominated by rock and pop musicians.
The 128 Most Legendary Rap Lyrics [of All Time]
One aspect that makes rap music so special is that one song alone can include a multitude of messages by the artist. In comparison to traditional types of music, a rapper is able to communicate much more with listeners of the song. And thanks to rap's origins, its messages are more likely to resonate with the youth who grow up in similar circumstances.
Enjoy reading through the following selection of the finest rap lyrics!
And to give you a better overview, we have categorized the following hip-hop quotes and lyrics into these sections:
Enjoy reading!
Here's our selection of the best rap lyrics of all time
1.
"I start to think, and then I sink
Into the paper like I was ink
When I'm writing, I'm trapped in between the lines
I escape when I finish the rhyme."
Rakim – 'I Know You Got Soul'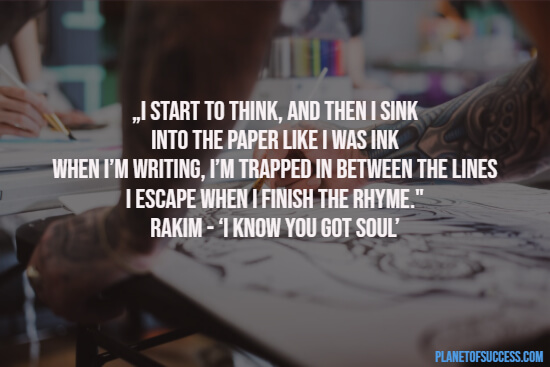 2.
"Brain cells are lit. Ideas start to hit
Next the formation of words that fit
At the table I sit, making it legit
And when my pen hits the paper."
Big Daddy Kane – 'Ain't No Half Steppin''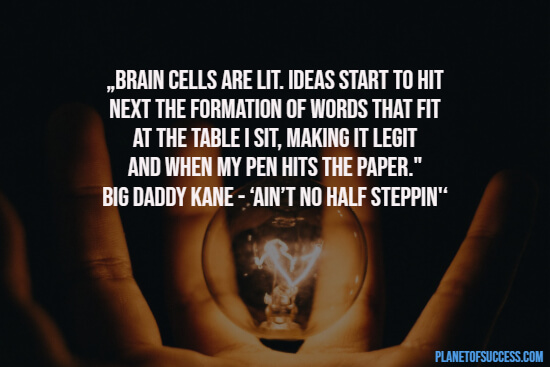 3.
"If I told you that a flower bloomed in a dark room, would you trust it?"
Kendrick Lamar – 'Poetic Justice'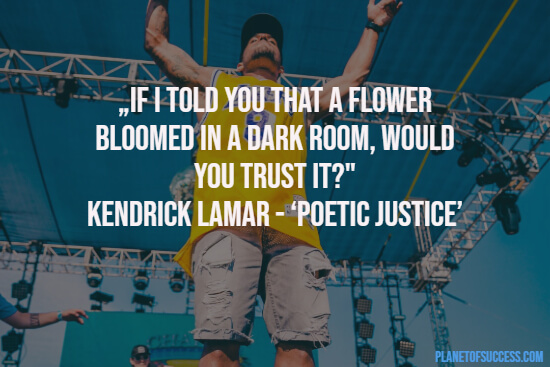 4.
"If skills sold, truth be told, I'd probably be
Lyrically, Talib Kweli
Truthfully, I wanna rhyme like Common Sense
But I did 5 mill' – I ain't been rhyming like Common since."
Jay-Z – 'Moment of Clarity'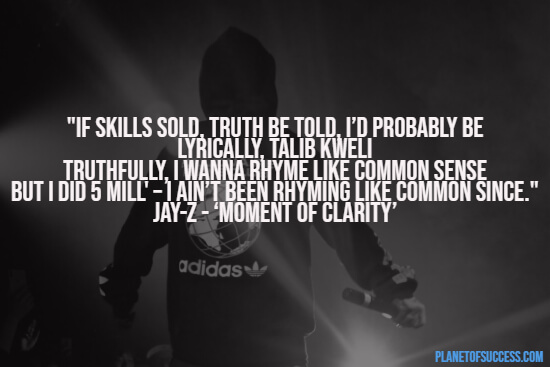 5.
"Out on bail, fresh out of jail, California dreamin'
Soon as I step on the scene, I'm hearin' hoochies screamin'."
2Pac and Dr. Dre – 'California Love'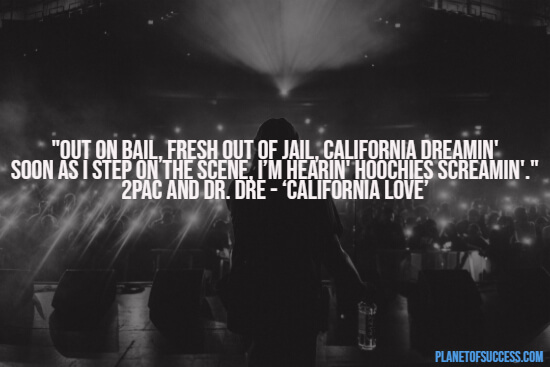 6.
"Here's a murder rap to keep y'all dancin'
With a crime record like Charles Manson
AK-47 is the tool
Don't make me act a fool."
N.W.A – 'Straight Outta Compton'
7.
"Our freedom of speech is freedom or death
We got to fight the powers that be
Lemme hear you say
Fight the power."
Public Enemy – 'Fight the Power'
8.
"For all of those who wanna profile and pose
Rock you in your face, stab your brain with your nose bone."
Prodigy – 'Shook Ones (Pt. II)'
9.
"Compton and Long Beach together, now you know you in trouble
Ain't nuthin' but a G thang, baby."
Dr. Dre feat. Snoop Doggy Dogg – 'Nuthin' But a 'G' Thang'
10.
"And if I die before I wake
I pray the lord my soul to take
But please don't cry
Just know that I have made these songs for you."
Kid Cudi – 'The Prayer'
11.
"Don't call it a comeback
I've been here for years
I'm rocking my peers
Puttin' suckers in fear
Makin' the tears rain down like a monsoon
Listen to the bass go boom
Explosions, overpowerin'.
LL Cool J – 'Mama Said Knock You Out'
12.
"Trying to make it from the bottom. His sins
Feeling as hard as Vince Carter's knee cartilage is."
Earl Sweatshirt – 'Chum'
13.
"Speak the wrong words man and you will get touched
You can put your whole army against my team and
I guarantee you it'll be your very last time breathing
Your simple words just don't move me, you're minor, we're major
You're all up in the game and don't deserve to be a player
Don't make me have to call your name out."
Mobb Deep – 'Shook Ones Part II'
14.
"A bird in the hand is worth more than a Bush."
Ice Cube – 'A Bird in the Hand'
15.
"You better lose yourself in the music, the moment
You own it, you better never let it go
You only get one shot, do not miss your chance to blow
This opportunity comes once in a lifetime."
Eminem – 'Lose Yourself'
16.
"Swimmin' laps around a bottle of Louie the Thirteenth
Jumpin' off of a mountain into a sea of codeine
I'm at the top of the top, but still I climb
And if I should ever fall, the ground will then turn to wine."
Lil' Wayne – 'I Feel Like Dying'
17.
"Rappers stepping to me they want to get some
But I'm the Kane, so yo, you know the outcome
Another victory
They can't get with me
So pick a BC date cause you're history
I'm the authentic poet to get lyrical
For you to beat me, it's gonna take a miracle"
Big Daddy Kane – 'Ain't No Half Steppin'
18.
"Don't push me cause I'm close to the edge
I'm trying not to lose my head
It's like a jungle. Sometimes it makes me wonder
How I keep from goin' under."
Grandmaster Flash & the Furious Five – 'The Message'
19.
"Cash, Rules, Everything, Around, Me
C.R.E.A.M.
Get the money
Dollar, dollar bill y'all."
Wu-Tang Clan – 'C.R.E.A.M.'
20.
"If you're having girl problems I feel bad for you son
I got ninety nine problems but a b**** ain't one."
Jay-Z, '99 Problems'
21.
"You know very well
Who you are
Don't let 'em hold you down
Reach for the stars
You had a goal
But not that many
'Cause you're the only one
I'll give you good and plenty."
Notorious B.I.G. – 'Juicy'
22.
"I can hear sweat trickling down your cheek
Your heartbeat sound like Sasquatch feet
Thundering, shaking the concrete."
Notorious B.I.G. – 'Who Shot Ya?'
23.
"Rappers I monkey flip em with the funky rhythm I be kicking
Musician, inflicting composition
Of pain, Scarface sniffing
Holding a M-16, with the pen I'm extreme, now
Bullet holes left in my peepholes
I'm suited up in street clothes
Hand me a nine and I'll defeat foes
Y'all know my steelo with or without the airplay."
Nas – 'N.Y. State of Mind'
24.
"Wanna move out the hood and defeat that cancer
I ask how she stay on her feet like dancers
How she keep on adding paint to a life-size canvas."
Lil B – 'Real Life'
25.
"Biggie Biggie Biggie can't you see
Sometimes your words just hypnotize me
And I just love your flashy ways
Guess that's why they broke, and you're so paid (uh)."
Notorious B.I.G. – 'Hypnotize'
26.
"God show me the way because the Devil's tryin' to break me down
The only thing that I pray is that my feet don't fail me now
And I don't think there is nothing I can do now to right my wrongs
I want to talk to God, but I'm afraid because we ain't spoke in so long, so long
So long
(Jesus Walks with me)."
Kanye West – 'Jesus Walks'
27.
"Right about now
You are about to be possessed."
Rob Base & DJ EZ Rock – 'It Takes Two'
28.
"Explosions, overpowerin'
Over the competition I'm towerin'
Wrecking shop when I write these lyrics
That'll make you call the cops
Don't you dare stare, you better move
Don't ever compare
Me to the rest that'll all get sliced and diced
Competition's payin' the price."
LL Cool J – 'Mama Said Knock You Out'
29.
"Hit it!
It takes two to make a thing go right
It takes two to make it outta sight
It takes two to make a thing go right
It takes two to make it outta sight
Hit it!."
Rob Base and DJ E-Z Rock – 'It Takes Two'
30.
"T to the R-uh-O-Y, how did you and I meet?
In front of Big Lou's, fighting in the street
But only you saw what took many time to see
I dedicate this to you for believing in me."
CL Smooth – 'They Reminisce Over You'
31.
"Don't you call this a regular jam
I'm gonna rock this land
I'm gonna take this itty-bitty world by storm
And I'm just gettin' warm."
LL Cool J – 'Mama Said Knock You Out'
32.
"I don't like to dream about gettin' paid
So I dig into the books of the rhymes that I made
So now's a test to see if I got pull
Hit the studio, 'cause I'm paid in full."
Eric B. and Rakim – 'Paid in Full'
33.
"Stronger and longer, even with the drum off
I keep on goin' and flowin' just like a river
I got a whole lot to give so I'm-a give a
Little at a time, new trails are blazin'
Action is in effect, and always stays in."
Marley Marl – 'The Symphony'
34.
"One, two, three and to the four
Snoop Doggy Dogg and Dr. Dre is at the door
Ready to make an entrance so back on up
'Cause you know we're 'bout to rip s**** up."
Dr. Dre feat. Snoop Doggy Dogg – 'Nuthin' But a 'G' Thang'
35.
"Hi! My name is (what?)
My name is (who?)
My name is
Slim Shady
Hi! My name is (huh?)
My name is (what?)
My name is
Slim Shady."
Eminem – 'My Name Is…'
36.
"My life owes me. Like an overdose, I'm slowly
Drifting into the arms of trouble, then trouble holds me."
K'naan – 'Strugglin''
37.
"Poppa been smooth since days of Underroos
Never lose, never choose to, bruise crews who
Do something to us, talk go through us
Girls walk to us, wanna do us, screw us
Who us? Yeah, Poppa and Puff (hehehe)
Close like Starsky and Hutch, stick the clutch."
Notorious B.I.G. – 'Hypnotize'
38.
"My Adidas walk through concert doors
And roam all over coliseum floors."
Run-D.M.C. – 'My Adidas'
39.
"Now let me welcome everybody to the Wild Wild West
A state that's untouchable like Eliot Ness
The track hits your eardrum like a slug to your chest."
2Pac and Dr. Dre – 'California Love'
40.
"Y'all cowards couldn't rap this dope with a Zig-Zag."
Shad – 'I Don't Like To'
41.
"Party people in the place to be, KRS-One attack
Ya got dropped off MCA cause the rhymes you wrote was wack
So you think that hip-hop had its start out in Queensbridge
If you pop that junk up in the Bronx you might not live
Cause you're in
South Bronx, the South South Bronx."
Boogie Down Productions – 'South Bronx'
42.
"Here comes the brand new flava in ya ear
Time for new flava in ya ear
I'm kicking new flava in ya ear
Mack's a brand new flava in ya ear
Here comes the brand new flava in ya ear."
Craig Mack, Rampage, the Notorious B.I.G., LL Cool J, Busta Rhymes – 'Flava in Ya Ear
43.
"Now don't you understand man universal law?
What you throw out comes back to you, star
Never underestimate those who you scar
Cause karma, karma, karma comes back to you hard!
You can't hold god's people back that long."
Lauryn Hill – 'Lost Ones'
44.
"
Milk is chillin', Gizmo's chillin'
What more can I say? Top billin'!"
Audio Two – 'Top Billin'
45.
"I make big money
I drive big cars
Everybody know me
It's like I'm a movie star
But late at night something ain't right."
Geto Boys – 'Mind Playing Tricks on Me'
46.
"Be having dreams that I'ma gangster, drinking Moets, holding Tecs
Making sure the cash came correct then I stepped
Investments in stocks, sewing up the blocks
To sell rocks, winning gunfights with mega cops."
Nas – 'N.Y. State of Mind'
47.
"I drip steam like a microphone fiend
Eager to MC is my theme
I get hype when I hear a drum roll
Rakim is on the mic and you know I got soul
I got soul (you got it) that's why I came
To teach those who can't say my name."
Eric B. and Rakim – 'I Know You Got Soul'
48.
"PSK we're making that green
People always say, "What the hell does that mean?"
P for the people who can't understand
How one homeboy became a man
S for the way we scream and shout
One by one I'm knocking you out
K for the way my DJ cutting
Other MC's, man you ain't saying nothing
Rocking on to the break of dawn
I think Code Money, your time is on."
Schoolly D – 'P.S.K. What Does It Mean?'
49.
"LL Cool J is hard as hell
Battle anybody I don't care who you tell
I excel, they all fail
Gonna crack shells, Double-L must rock the bells."
LL Cool J – 'Rock the Bells'
50.
"Attitude, when I'm on fire
Juice on the loose, electric wire
Simple and plain, give me the lane
I'll throw it down your throat like Barkley
See the car keys, you'll never get these
They belong to the 98 posse."
Public Enemy – 'Rebel Without a Pause'
51.
"It's my turn to burn now explore
The flava in ya ear, it's the boyscout
I make outs
I make other rappers have doubts
You're fucking with the wrong clan and the wrong man, that's it
Now you got to get your dome split
I'm going into my knapsack with my gat
Take off my hat
Yes, I'm just cool like that
The dangerous
The ruggedness
From the Flatbush abyss
BLS, 97, KISS bounce to this."
Craig Mack, Rampage, the Notorious B.I.G., LL Cool J, Busta Rhymes – 'Flava in Ya Ear'
52.
"His palms are sweaty, knees weak, arms are heavy
There's vomit on his sweater already, mom's spaghetti
He's nervous, but on the surface he looks calm and ready."
Eminem – 'Lose Yourself'
53.
"Jam Master Jay is making out our sound,
The turntables might wobble but they don't fall down.
I got the juice and Mother Goose both did that thing.
Jam Master's gettin' loose and DMC's the king.
Cause he's adult entertainer, child educator,
Jam Master Jay, king of the crossfader.
He's the better of the best, best believe he's the baddest.
Perfect timin' when I'm climbin', I'm rhymin' at fast."
Run-DMC – 'Peter Piper'
54.
"Inslumnational, underground
Thunder pounds when I stomp the ground
Like a million elephants and silverback orangutans
You can't stop the train
Who want some don't come unprepared
I'll be there, but when I leave there
Better be a household name."
André 3000, OutKast – 'B.O.B'
55.
"Try to answer to the master or the MC rap God is no joke
On the lyric – it's hard to be modest
I knew I was the man with the master plan
To make you wiggle and jiggle, like gelatin
Just think while I sink, into the brain structure
(Don't sleep on the E) You see, somethin' might rupture
It don't take time for me to blow your mind
Take a second to wreck it because you're dumb and blind
So just lounge… cause you're a MC clown
Go join the circus… EPMD's in town."
EPMD – 'Strictly Business'
56.
"I got you stuck off the realness, we be the infamous
You heard of us, official Queensbridge murderers
The Mobb comes equipped for warfare, beware
Of my crime family who got nuff shots to share."
Mobb Deep – 'Shook Ones Part II'
57.
"Now here's a little story I've got to tell
About three bad brothers you know so well
It started way back in history
With Adrock, (M.C.A.) and me (Mike D.)
I had a little horse named Paul Revere."
Beastie Boys – 'Paul Revere'
58.
"Right is wrong when hype is written
On the soul, de la that is,
Style is surely our own thing
Not the false disguise of showbiz
De la soul is from the soul
And this fact I can't deny
Strictly from the dan called stuckie
And from me myself and I
It's just me myself and I."
De La Soul – 'Me, Myself and I'
59.
"The king of crowd rockers finally is back
My voice is your choice as the hottest wax
True as a wizard, just a blizzard, I ain't taken no crap
I'm rhymin' and designin' with your girl in my lap."
LL Cool J – 'Rock the Bells'
60.
"Just waking up in the morning gotta thank God
I don't know but today seems kinda odd
No barking from the dogs, no smog
And momma cooked a breakfast with no hog
I got my grub on, but didn't pig out
Finally got a call from a girl want to dig out
Hooked it up on later as I hit the do'
Thinking will i live another twenty fo'."
Ice Cube – 'It Was a Good Day'
61.
"Bo don't know jack, cause Bo can't rap
Well what do you know, the Di-Dawg, is first up to bat
No batteries included, and no strings attached
No holds barred, no time for move faking
Gots to get the loot so I can bring home the bacon."
A Tribe Called Quest – 'Scenario'
62.
"Clap your hands, everybody
If you got what it takes
'Cause I'm Kurtis Blow and I want you to know
That these are the breaks
Breakes on a bus, brakes on a car
Breaks to make you a superstar
Breaks to win and breaks to lose
But these here breaks will rock your shoes
And these are the breaks
Break it up, break it up, break it up!"
Kurtis Blow – 'The Breaks'
63.
"California knows how to party
In the city of L.A
In the city of good ol' Watts
In the city, the city of Compton
We keep it rockin', we keep it rockin'."
2Pac and Dr. Dre – 'California Love'
64.
"I ain't here to argue about his facial features
Or here to convert atheists into believers
I'm just trying to say the way school need teachers
The way Kathie Lee needed Regis that's the way I need Jesus."
Kanye West – 'Jesus Walks'
65.
"Can't you hear the music's pumpin' hard like I wish you would?
Now push it
Push it good
Push it real good."
Salt-N-Pepa – 'Push It'
66.
"Drunk as hell but no throwing up
Half way home and my pager still blowing up
Today I didn't even have to use my A.K.
I got to say it was a good day."
Ice Cube – 'It Was a Good Day'
67.
"Missy be puttin it down, I'm the hottest round
I told y'all mother(*Skurt*), y'all can't stop me now
Listen to me now, I'm lastin twenty rounds
And if you want me, then come on get me now."
Missy Elliott – 'Get Ur Freak On'
68.
"You can find me in the club, bottle full of bub
Look mami I got the X if you into taking drugs
I'm into having s**, I ain't into making love
So come give me a hug if you into to getting rubbed."
50 Cent – 'In Da Club'
69.
"I reminisce for a spell, or shall I say think back
Twenty-two years ago to keep it on track
The birth of a child on the 8th of October
A toast, but my granddaddy came sober
Countin' all the fingers and the toes
Now I suppose you hope the little black boy grows."
Pete Rock and C.L. Smooth – 'They Reminisce Over You (T.R.O.Y.)'
Freestyle rap lyrics
70.
"I wasn't born mean, I was pushed to treachery
I walk the streets lookin' for some puss to fetch me
I'm like a veggie, brain is turned to mush, I'm edgy
Edgy enough to give Reggie Bush a wedgie."
Eminem Freestyles on Tim Westwood – 'Freestlye'
71.
"At the airport the Mobb picked me up in a truck
Jewelry chunky like f*** never scared to get stuck."
Nas – '1996 Freestlye'
72.
"I'm nice cause I rhyme like it's my life's on that line
The second that I'm provoked, I snap into a point."
Royce da 5'9 – 'I'm Me Freestyle'
73.
"Shut that crap up, you gots no backup
You'll get slapped up, South Bronx holds the map up
Pack up your all wrapped up in my delivery
Act up and it'll take a village like Hillary."
KRS-One – 'Freestlye'
74.
"Paparazzi should probably be taking pictures of this
My fans in the street with signs tryin' to picket for this
Saying, "We want 'Bis! We want 'Bis!
We want the rapper with the illest lyrics!"
Canibus
75.– 'Greatest Freestyle'
"Old school, new school need to know this
I burn like Left Eye Lisa Lopez
Burn slow like blunts of hydro
Jigga Man, BK shit, why'all know."
Jay-Z – 'Freestlye'
76.
"I told you last year that I burned you in a flame
Now this year, I'm wreckin average [guys]in the game."
Busta Rhymes – 'Freestlye'
77.
"Automatic heavily, I start firing
And the kids on the block, I'm the one they're admiring."
Eazy-E – '2 Hard Mutha's'
Rap lyrics about friends
78.
"Every step I take, every move I make
Every single day, every time I pray
I'll be missing you
Thinkin' of the day, when you went away
What a life to take, what a bond to break
I'll be missing you
I miss you Big."
Sean Combs – 'I'll Be Missing You'
79.
"Whether at the bar with superstars
Or cruisin in the trooper car
I really don't care who you are
All I really need is a friend."
KRS-One – 'A Friend'
80.
"Down with cha to the very end
Cause you ain't never had a friend like me
I'm down for you so ride with me
My enemies your enemies
Cause you ain't ever had a friend like me
Nobody knows where we'll be
My Enemies your enemies
Cause you ain't never had a friend like me."
Tupac Shakur – 'Never Had a Friend Like Me'
81.
"Real friends, how many of us?
How many of us, how many jealous? Real friends
It's not many of us, we smile at each other
But how many honest? Trust issues."
Kanye West – 'Real Friends'
82.
"You know that ain't right, with a friend of mine."
The Notorious B.I.G. – 'Friend of Mine'
83.
"If your friend is true then they'll be there with you
What about your friends, will they stand their ground,
Will they let you down again?
What about your friends, are they gonna be lowdown,
Will they ever be around,
Or will they turn their backs on you?"
TLC – 'What About Your Friends'
84.
"Fellas! Don't be silly! I know who my friends are!
And the next nice neighborhood I move into, you guys'll get crackin'."
MF DOOM – 'Deep Fried Frenz'
85.
"Lately it's been hard to tell my friends part from my enemies."
J. Cole – 'Hold It Down'
86.
"I got all I need in a world of doubt
We got our champagne dreams in an endless drought
We are the kings and queens seeking our aces out
We got all we need, no new friends now…"
LSD ft. Sia, Diplo, Labrinth – 'No New Friends'
87.
"No new friends, no new friends, no new friends, no, no new (DJ Khaled!)
Still here with my day one."
DJ Khaled – 'No New Friends'
Rap lyrics about life
88.
"You know it's funny when it rains it pours
They got money for wars, but can't feed the poor."
2pac – 'Keep Ya Head Up'
89.
"Why did the one straw break the camel's back; here's the secret
The million other straws underneath it. It's all mathematics."
Mos Def – 'Mathematics'
90.
"In my mission is to be more than just a rap muscian, the elevation of todays generation if I could them listen."
2pac – 'Unconditional'
91.
"From the womb to the tomb, presume the unpredictable
Guns salute life, rapidly; that's the ritual."
Nas – 'Verbal Intercourse'
92.
"I am the American dream
The rape of Africa, the undying machine
The overpriced medicine, the murderous regime."
Lupe Fiasco – 'Put You On Game'
93.
"If the solution has never been to look in yourself. How is it that you expect to find it anywhere else."
Immortal Technique – 'Caught In a Hustle'
94.
"That's just how life go along, it's painful!
I'll come back to you in dreams as an angel. "
Jedi Mind Tricks – 'Before the Great Collapse'
95.
"I'm trying to live life in the sight of God's memory like that y'all."
Mos Def, Black Star – 'Thieves in the Night'
96.
"The teachers say they only come to school to flunk
But there's some that only go to school for lunch
And that's life."
Lupe Fiasco – 'Life'
97.
"At exactly which point do you start to realise, that life without knowledge is death in disguise?"
Black Star – 'K.O.S.'
Rap lyrics about love
98.
"I hear my conscience call
Telling me I need a girl who's as sweet as a dove
For the first time in my life, I see I need love."
LL Cool J – 'I Need Love'
99.
"I kissed you softly and you yearned for more
We experienced pleasure unparalleled
Into an ocean of love we both fell. "
Boyz II Men – 'Hey Lover'
100.
"Put down your bags love
I know in the past love
Has been sort of hard in you
But I see the God in you
I just want to nurture it."
Common – 'Come Close'
101.
"Dear mama
Don't you know I love you?
Dear mama
Place no one above you
(Dear mama) Oh mama, I appreciate you
Although my shadow's gone
I will never leave you."
2Pac – 'Dear Mama'
102.
"I wanna be with (just love me, just love)."
Kendrick Lamar – 'Love'
103.
"In this world of love that I have for you
It's true
Eye know Eye love you better."
De La Soul – 'Eye Know'
104.
"Could you love me in a Bentley?
Could you love me on a bus?
I'll ask 21 questions, and they all about us."
50 Cent – '21 Questions'
105.
"Lotus flower bomb, firefly
When I'm low, she take me high
I can teach you all the sounds of love."
Wale – 'Lotus Flower Bomb'
106.
"Although I often reminisce, I can't believe that I've found
A desire for true love, floating around
Inside my soul, because my soul is cold."
LL Cool J – 'I Need Love'
107.
"If only you could see through your elaborate eyes
Only you and me, hun, the love never dies. "
A Tribe Called Quest – 'Bonita Applebum'
108.
"And oh, you're gonna love me
You're gonna wanna hug me and squeeze me."
Teyana Taylor – 'Gonna Love Me'
Rap lyrics about family
109.
"Diamonds are forever like family and loyalty."
Gang Starr – 'Family and Loyalty'
110.
"I know sometimes things may not
Always make sense to you right now
But hey
What daddy always tell you?
Straighten up little soldier
Stiffen up that upper lip
What you crying about?
You got me."
Eminem – 'Mockingbird'
111.
"Guess I should have tried to keep my family closer, much closer
All of my "let's just be friends"
Are friends I don't have anymore
Guess it's what they say you need family for
'Cause I can't depend on you anymore."
Drake– 'Keep The Family Close'
112.
"It ain't easy to raise a girl as a single man
Nah, the way mothers feel for they sons
How fathers feel for they daughters."
Nas – 'Daughters'
113.
"I'm sorry grandmama for mistakes I have made
When I aired family business, how you put me in my place
Even my baby mama, I can't look you in the face
'Cause I can't do enough, you a symbol of God's grace."
Clipse – 'Momma I'm So Sorry'
114.
"Havin a child shouldn't have to bring out the man in me
Plus I wanted you to be raised within a family."
Common – 'Retrospect for Life'
115.
"Hey mama, I want to scream so loud for you
'Cause I'm so proud of you, let me tell you what I'm about to do (hey mama)
I know I act a fool, but I promise you I'm going back to school."
Kanye West – 'Hey Mamma'
116.
"I just wanna thank you, for bein' around
And patiently waitin' and holdin' me down
It's easy to see, for Mr. X to the Z
That without no you, there could be no me."
Xzibit – 'Thank You'
117.
"This is family business
And this is for everybody standin' with us
Come on, let's take a family Grammy picture."
Kanye West – 'Family Business'
118.
"In tune with the family
I do got the ones that do know Scott."
Kid Cudi – 'Brothers'
Rap lyrics about money
119.
"She take my money when I'm in need
Yeah, she's a triflin' friend indeed
Oh, she's a gold digger
Way over town, that digs on me."
Kanye West – 'Gold Digger'
120.
"It's funny how money change a situation
Miscommunication leads to complication
My emancipation don't fit your equation
I was on the humble, you on every station."
Lauryn Hill – 'Lost Ones''
121.
"I don't know what they want from me
It's like the more money we come across
The more problems we see."
The Notorious B.I.G. – 'Mo Money Mo Problems'
122.
"Oh every time I close my eyes
I see my name in shining lights, yeah
A different city every night
Oh, I, I swear the world better prepare
For when I'm a billionaire."
Travie McCoy – 'Billionaire'
123.
"For the love of money
People will steal from their mother
For the love of money
People will rob their own brother."
The O'Jays – 'For the Love of Money'
124.
"Money trees is the perfect place for shade and that's just how I feel."
Kendrick Lamar – 'Money Trees'
125.
"Make the money, don't let the money make you
Change the game, don't let the game change you."
Macklemore & Ryan Lewis – 'Make The Money'
126.
"It's all about the Benjamins, baby."
Sean Combs – 'It's All About the Benjamins'
127.
"Money money on my mind
So money is all I think of."
Lil Wayne – 'Money on My Mind'
128.
"Shake your money maker
Like somebody 'bout to pay ya
I see you on my radar
Don't you act like you afraid."
Ludacris – 'Money Maker'
We hope you enjoyed this collection of rap lyrics.
Rap music is able to powerfully articulate the thoughts and feelings of entire generations. You will have noticed in the lyrics posted above that they are a mouthpiece for social injustices just as much as they are able to vividly describe the hopes, dreams, and ambitions of the youth.
What are your most favorite rap lyrics?
Is there a very special song whose lyrics are so profound that you can't stop listening to it? Let us know what your favorite lyrics are in the comment section below. Perhaps you're a lyrical genius and have your very own lyrics? We're excited to hear from you.
Stay victorious!