Have you ever found yourself in a situation where another human being made a difference for you? To celebrate the noble act of being selfless and taking care of others, we have created this selection of powerful quotes about helping others. Enjoy reading. And if you need some motivation to keep fighting for others, have a look at these warrior quotes that will awaken your inner hero.
Giving selflessly and doing something good for another human being is one of the most beautiful things you can do. If you ever had the chance of making a big impact on the life of someone else, you know how wonderful it can feel to help someone.
"The purpose of life is not to be happy. It is to be useful, to be honorable, to be compassionate, to have it make some difference that you have lived and lived well."
Ralph Waldo Emerson
Similarly, you may have found yourself in circumstances during which you were entirely dependent on the help of others. Perhaps even though what it means to struggle bitterly until a very special person came to your rescue. If you've ever been in such a situation, you know how much gratitude and relief you have felt once someone to care of you.
To celebrate the heroic acts of kindness, we have spared no effort to discover some of the greatest quotes about helping others. These quotes will help you to come up with the right words to adequately describe your thankfulness towards those who have helped you. At the same time, these quotes will also celebrate you and your kind acts of caring for others.
Just imagine what this world would look like if we all would make it a conscious effort to help each other wherever and whenever we can. Imagine a world in which individuals strive to improve the lives of others instead of pursuing meaningless physical objects and irrelevant spare time activities.
104 Selfless Quotes about Helping Others
When you read the following quotes, you will notice that they were written by individuals who themselves had a profound impact on the people they met in their lives. As such, these helping others quotes provide valuable insights on how every single one of us can contribute towards the improvement of society.
Never allow others to discourage you from trying to be helpful and supportive of others. Similarly, never get discouraged by thinking that you can't make a difference. Every help and even every kind gesture can have a meaningful impact on the life of someone else.
Here's our selection of noble quotes about helping others
1.
"No one is useless in this world who lightens the burdens of another."
Charles Dickens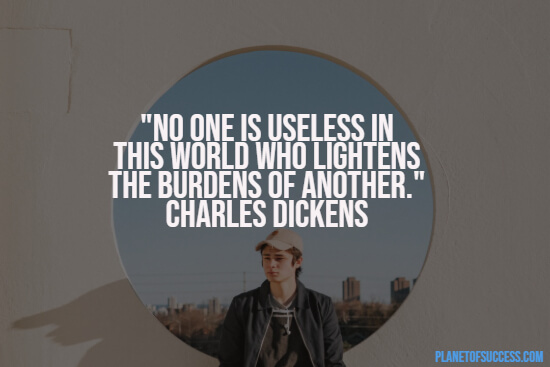 2.
"There is no exercise better for the heart than reaching down and lifting people up."
John Holmes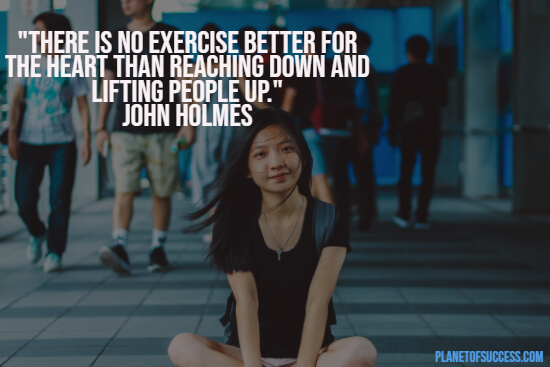 3.
"Those who are happiest are those who do the most for others."
Booker T. Washington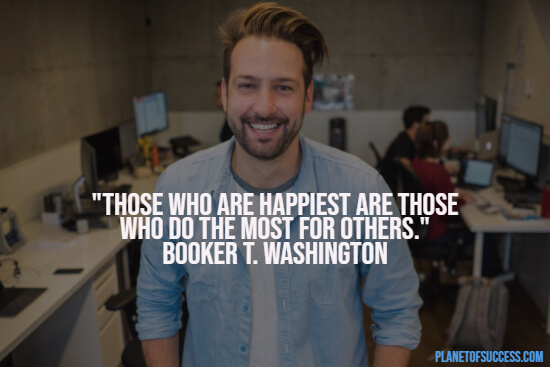 4.
"You have not lived today until you have done something for someone who can never repay you."
John Bunyan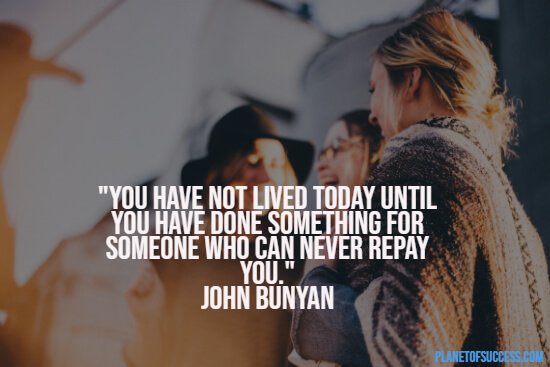 5.
"There is nothing more beautiful than someone who goes out of their way to make life beautiful for others."
Mandy Hale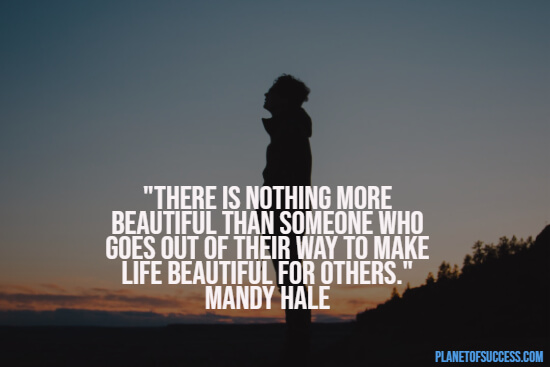 6.
"Experience is not what happens to you. It is what you do with what happens to you. Don't waste your pain; use it to help others."
Rick Warren
7.
"It is not the things you have that make you happy. It is love and kindness and helping each other and just plain being good. "
Laura Ingalls Wilder
8.
"I believe He wants us to love others so much that we go to extremes to help them."
Francis Chan
9.
"The greatest heroes in life are those that never give up on someone. They stick it out and make it work. They sacrifice things in their life, in order to help others grow. They give up what they want because someone needs it more. They work hard and overcome adversity."
Shannon L. Alder
10.
"We all want to help one another. Human beings are like that. We want to live by each other's happiness, not by each other's misery. We don't want to hate and despise one another. In this world, there is room for everyone, and the good earth is rich and can provide for everyone."
Charlie Chaplin
11.
"There's no point to living life unless you make history and the best way to make history is to help others."
Demi Lovato
12.
"When we fully understand the brevity of life, its fleeting joys, and unavoidable pains; when we accept the facts that all men and women are approaching an inevitable doom: the consciousness of it should make us more kindly and considerate of each other. This feeling should make men and women use their best efforts to help their fellow travelers on the road, to make the path brighter and easier as we journey on. It should bring a closer kinship, a better understanding, and a deeper sympathy for the wayfarers who must live a common life and die a common death."
Clarence Darrow
13.
"No one has ever become poor by giving."
Anne Frank
14.
"We rise by lifting others."
Robert Ingersoll
15.
"The best antidote I know for worry is work. The best cure for weariness is the challenge of helping someone who is even more tired. One of the great ironies of life is this: He or she who serves almost always benefits more than he or she who is served."
Gordon B. Hinckley
Can't get enough of quotes about helping others? Read on…
16.
"Learn to light a candle in the darkest moments of someone's life. Be the light that helps others see; it is what gives life its deepest significance."
Roy T. Bennett
17.
"I cannot do all the good that the world needs. But the world needs all the good that I can do."
Jana Stanfield
18.
"If we fail to look after others when they need help, who will look after us?"
Buddha
19.
"Ask for help when you need it, and give help when you can. I think that is how we serve God – and each other and ourselves – in times as dark as these."
Kristin Hannah
20.
"Let us do something, while we have the chance! It is not every day that we are needed. Not indeed that we personally are needed. Others would meet the case equally well, if not better. To all mankind they were addressed, those cries for help still ringing in our ears! But at this place, at this moment of time, all mankind is us, whether we like it or not. Let us make the most of it, before it is too late!"
Samuel Beckett
21.
"Never look down on anybody unless you're helping them up."
Jesse Jackson
22.
"Our prime purpose in this life is to help others. And if you can't help them, at least don't hurt them."
Dalai Lama
23.
"A kind gesture can reach a wound that only compassion can heal."
Steve Maraboli
24.
"As you grow older, you will discover that you have two hands: one for helping yourself, the other for helping others."
Sam Levenson
25.
"The only way we will survive is by being kind. The only way we can get by in this world is through the help we receive from others. No one can do it alone, no matter how great the machines are."
Amy Poehler
26.
"A great man shows his greatness by the way he treats little men."
Thomas Carlyle
27.
"Is there any real purpose in being alive if all we are going to do is get up every day and live only for ourselves? Live your life to help others. Give and live selflessly."
Joyce Meyer
28.
"Happiness has two hands: one with strength for lifting up heavy hearts and a gentle hand for tickling."
Richelle E. Goodrich
29.
"The source of love is deep in us and we can help others realize a lot of happiness. One word, one action, one thought can reduce another person's suffering and bring that person joy."
Thich Nhat Hanh
30.
"Every time we choose courage, we make everyone around us a little better and the world a little braver. And our world could stand to be a little kinder and braver."
Brené Brown
Helping others quotes like this are so uplifting
31.
"When you are kind to someone in trouble, you hope they'll remember and be kind to someone else. And it'll become like a wildfire."
Whoopi Goldberg
32.
"Successful people are always looking for opportunities to help others. Unsuccessful people are always asking, 'What's in it for me?'"
Brian Tracy
33.
"Life's most persistent and urgent question is, 'What are you doing for others?"
Martin Luther King Jr.
34.
"An egoist lives in poverty. A kind person lives in abundance."
Maxime Lagacé
35.
"A little thought and a little kindness are often worth more than a great deal of money."
John Ruskin
36.
"The fragrance always stays in the hand that gives the rose."
Hada Bejar
37.
"Carry out a random act of kindness, with no expectation of reward, safe in the knowledge that one day someone might do the same for you."
Princess Diana
38.
"When we give cheerfully and accept gratefully, everyone is blessed."
Maya Angelou
39.
"I don't want to live in the kind of world where we don't look out for each other. Not just the people that are close to us, but anybody who needs a helping hand. I can't change the way anybody else thinks, or what they choose to do, but I can do my bit."
Charles de Lint
40.
"Every human being has a basic instinct to help each other out. It might not seem that way sometimes, but it's true."
Andy Weir
41.
"I would say that the thrust of my life has been initially about getting free, and then realizing that my freedom is not independent of everybody else. Then I am arriving at that circle where one works on oneself as a gift to other people so that one doesn't create more suffering. I help people as a work on myself and I work on myself to help people."
Ram Dass
42.
"Help others without any reason and give without the expectation of receiving anything in return."
Roy T. Bennett
42.
"To live with your 'thorn' uncomplainingly — that is, sweet, patient, and free in heart to love and help others, even though every day you feel weak — is true sanctification. It is true healing for the spirit. It is a supreme victory of grace."
J.I. Packer
43.
"Not for ourselves alone are we born."
Marcus Tullius Cicero
44.
"Give freely to the world these gifts of love and compassion. Do not concern yourself with how much you receive in return, just know in your heart it will be returned."
Steve Maraboli
45.
"Be a star in someone's dark sky."
Matshona Dhliwayo
46.
"We only have what we give."
Isabel Allende
47.
"Most times we're so focused on what we think we want that we can't appreciate how happy we already are. It's only when we forget about our problems and help others forget theirs that we realize how good we really have it."
Glenn Beck
48.
"All sacrifice and suffering is redemptive. It is used to either teach the individual or to help others. Nothing is by chance."
A.J. Russell
49.
"Don't hurt others, and help those in need. That is all you need to know."
Ellen Hopkins
50.
"Be nice to people… maybe it'll be unappreciated, unreciprocated, or ignored, but spread the love anyway. We rise by lifting others."
Germany Kent
These helping others quotes are on fire
51.
"Deep down we know that what matters in this life is more than winning for ourselves. What really matters is helping others win, too, even if it means slowing down and changing our course now and then."
Fred Rogers
52.
"Doing nothing for others is the undoing of ourselves."
Horace Mann
53.
"The best way to not feel hopeless is to get up and do something. Don't wait for good things to happen to you. If you go out and make some good things happen, you will fill the world with hope, you will fill yourself with hope."
Barack Obama
54.
"Never lose the childlike wonder. It's just too important. It's what drives us. Help others."
Randy Pausch
55.
"Some people try to tell you the things you want in life are out of your grasp, while others lift you up on their shoulders and help you reach them. I may not know a lot, but I prefer to fill my life with people who let me climb on top of their shoulders, not people who try to keep me planted on the ground."
Katie Kacvinsky
56.
"Act with kindness, but do not expect gratitude."
Confucius
57.
"I know how much you grieve over those who are under your care: those you try to help and fail, those you cannot help. Have faith in God and remember that He will in His own way and in His own time complete what we so poorly attempt."
Iris Murdoch
58.
"Let yourself and others walk in a positive light. Talk about what can be done instead of what can't. Show grace when you have the advantage. If you hold on to overwhelming negativity, find a way to move beyond it. There's no beauty in the muck of your mind, don't drown others in it. If you need to forgive something, do it. Forgive yourself also. If you want to know peace, lift yourself, and people, higher."
Kristy Ferretti
59.
"The next time you want to withhold your help, or your love, or your support for another for whatever the reason, ask yourself a simple question: do the reasons you want to withhold it reflect more on them or on you? And which reasons do you want defining you forevermore?"
Dan Pearce
60.
"Sometimes all we need to soothe our soul and ease our burdens is the loving hand of a friend gently touching our heart and lifting us towards love."
Mimi Novic
61.
"What does love look like? It has the hands to help others. It has the feet to hasten to the poor and needy. It has eyes to see misery and want. It has the ears to hear the sighs and sorrows of men. That is what love looks like."
Augustine of Hippo
62.
"I have to come to realize that God does not want to punish us, but rather, to fulfill our lives. God created us, loves us and wants to help us to realize our potential so that we can be useful to others."
Ben Carson
63.
"It does not matter where we come from or what we look like. If we recognize our abilities, are willing to learn and to use what we know in helping others, we will always have a place in the world."
Ben Carson
64.
"If you and I are to live religious lives, it mustn't be that we talk a lot about religion, but that our manner of life is different. It is my belief that only if you try to be helpful to other people will you, in the end, find your way to God."
Ludwig Wittgenstein
65.
"A single act of kindness throws out roots in all directions, and the roots spring up and make new trees."
Amelia Earhart
66.
"The strongest people find the courage and caring to help others, even if they are going through their own storm."
Roy T. Bennett
67.
"You become strong by lifting others up, not pulling them down."
Matshona Dhliwayo
68.
"If you can dream it, then you can achieve it. You will get all you want in life if you help enough other people get what they want. "
Zig Ziglar
69.
"If you're in the luckiest one percent of humanity, you owe it to the rest of humanity to think about the other 99 percent."
Warren Buffett
70.
"Just because you need help to cope doesn't make you any less strong. The truly weak people in this life are the ones who can't admit they need help. They're the ones who can't admit that they can no longer go at it alone. Those are the people who are weak. By asking for help, by taking help, you've just admitted your weakness and in that, you find your strength. The weak of the world are those who think they've got it all figured out and flaunt it to others."
Rachel Van Dyken
71.
"Remember this. Hold on to this. This is the only perfection there is, the perfection of helping others. This is the only thing we can do that has any lasting meaning. This is why we're here. To make each other feel safe."
Andre Agassi
72.
"Love is not patronizing and charity isn't about pity, it is about love. Charity and love are the same – with charity you give love, so don't just give money but reach out your hand instead."
Mother Teresa
73.
"What wisdom can you find that is greater than kindness?"
Jean-Jacques Rousseau
74.
"To really change the world, we have to help people change the way they see things. Global betterment is a mental process, not one that requires huge sums of money or a high level of authority."
Suzy Kassem
75.
"The more credit you give away, the more will come back to you. The more you help others, the more they will want to help you."
Brian Tracy
76.
"Keep your eyes on yours and your nose out of everyone else's unless you're invited in. And when you get the invitation, help, don't judge."
Kim Holden
77.
"In normal life we hardly realize how much more we receive than we give, and life cannot be rich without such gratitude. It is so easy to overestimate the importance of our own achievements compared with what we owe to the help of others."
Dietrich Bonhoeffer
78.
"Furthermore, worrying about people and problems doesn't help. It doesn't solve problems, it doesn't help other people, and it doesn't help us. It is wasted energy."
Melody Beattie
79.
"Sometimes those who give the most are the ones with the least to spare."
Mike McIntyre
80.
"Be true to yourself. Make each day your masterpiece. Help others. Drink deeply from good books. Make friendship a fine art. Build a shelter against a rainy day. Pray for guidance and give thanks for your blessings every day."
John Wooden
81.
"Good works is giving to the poor and the helpless, but divine works is showing them their worth to the One who matters."
Criss Jami
82.
"Give, but give until it hurts."
Mother Teresa
83.
"Was it you or I who stumbled first? It does not matter. The one of us who finds the strength to get up first, must help the other."
Vera Nazarian
84.
"Do you not know that God entrusted you with that money (all above what buys necessities for your families) to feed the hungry, to clothe the naked, to help the stranger, the widow, the fatherless; and, indeed, as far as it will go, to relieve the wants of all mankind? How can you, how dare you, defraud the Lord, by applying it to any other purpose?"
John Wesley
85.
"What is hard work? It takes strength, energy, and stress to truly care about others enough to place oneself last, but it is easy to wrap oneself up and selfishly scramble on the heads of others."
Criss Jami
Here are even more helping others quotes for you
86.
"When we feel weak, we drop our heads on the shoulders of others. Don't get mad when someone does that. Be honored. For that person trusted you enough to, even if subtly, ask you for help."
Lori Goodwin
87.
"Along your pathway of life you will observe that you are not the only traveler. There are others who need your help. There are feet to steady, hands to grasp, minds to encourage, hearts to inspire, and souls to save."
Thomas S. Monson
88.
"The world isn't perfect, and some days it wears you down. You can either accept that, and face it, and be a help to others instead of a hindrance. Or you can decide the rules are too tough and they shouldn't apply to you, and you can ignore them and make things harder for everybody else. Sometimes life is about being sad and doing things anyway. Sometimes it's about being hurt and doing things anyway. The point isn't perfection. The point is doing it anyway."
Chloe Neill
89.
"Never underestimate the difference you can make in the lives of others. Step forward, reach out and help. This week reach to someone that might need a lift"
Pablo
90.
"God gave us crying so other folks could see when we needed help, and help us."
Joshilyn Jackson
91.
"When she needed help most, she was abandoned – and only when she offered help to others was she beloved."
Matthew Quick
92.
"I want to love you without clutching, appreciate you without judging, join you without invading, invite you without demanding, leave you without guilt, criticize you without blaming, and help you without insulting. If I can have the same from you, then we can truly meet and enrich each other."
Virginia Satir
93.
"Some people can't keep fighting. Some people want to escape. Some people are not ready—are not able—to find a way to deal with what's in front of them. Sometimes there's no one to help them. Sometimes they don't know how to ask for help. Sometimes it feels like there's no choice but to end it. No other way out. And sometimes it's impossible to see past that."
Sarah Fine
94.
"Find ways to be with those who are suffering by all means, including personal contact and visits, images, sounds. By such means,… awaken yourself and others to the reality of suffering in the world. If we get in touch with the suffering of the world, and are moved by that suffering, we may come forward to help the people who are suffering."
Thich Nhat Hanh
95.
"It always helps to think about other people instead of ourselves."
Ellen DeGeneres
96.
"Helped are those who find the courage to do at least one small thing each day to help the existence of another."
Alice Walker
97.
"A storyteller makes up things to help other people; a liar makes up things to help himself."
Daniel Wallace
98.
"We are all here on earth to help others: what on earth the others are here for, I don't know."
W.H. Auden
99.
"When you open your mind, you open new doors to new possibilities for yourself and new opportunities to help others."
Roy T. Bennett
100.
"Metaphorically speaking, it's easy to bump into one another on the journey from A to B and not even notice. People should take time to notice, enjoy and help each other."
Benedict Cumberbatch
101.
"Perhaps the best conversationalist in the world is the man who helps others to talk."
John Steinbeck
102.
"The most beautiful people are those who bring out the beauty in others."
Matshona Dhliwayo
103.
"You can make more friends in two months by becoming interested in other people than you can in two years by trying to get other people interested in you."
Dale Carnegie
104.
"Shine your light and make a positive impact on the world; there is nothing so honorable as helping improve the lives of others."
Roy T. Bennett
We hope you enjoyed this collection of quotes about helping others.
If you've made it to the end of this list, you know how important it can be to think of others and to help them when they are in need. We hope that these quotes have given you a great boost of encouragement that will help you to keep fighting for what is right. And always remember that even the smallest acts of kindness can have a big impact upon another human being. So do not get discouraged in your quest of being of service to others.
What was your favorite quote about helping others?
Let us know in the comment section what your favorite quote is. We are excited to hear from you.
Stay victorious!