A broken heart can change everything in life. It can turn your life upside down, leaving nothing as it once was. No matter if your soulmate has broken up with you or your deep affection for someone is not reciprocated, a hurting heart can leave you quite devastated. The pain that comes with disappointments experienced in romantic relationships is often times immeasurable. If you've ever suffered from a broken heart, you know how miserable it feels. The sad thing, however, is that breakups, disappointments, and the emotional pain that accompanies these experiences cannot be avoided. In fact, the agony of a broken heart is a part of life – no matter how unpleasant it feels like. We all have to go through the ups and downs of loving deeply. If it feels like as if your heart was shattered into a million pieces, the following quotes about heartbreak will lift your spirits up so that the pain can be eased a little.
Whenever you deeply connect with someone, there is this possibility of being hurt. In fact, when you open up to someone, many of your vulnerabilities are exposed to the other person.
"I hate to say it, most of them are going to break your heart, but you can't give up because if you give up, you'll never find your soulmate. You'll never find that half who makes you whole and that goes for everything. Just because you fail once, doesn't mean you're gonna fail at everything. Keep trying, hold on, and always, always, always believe in yourself, because if you don't, then who will? So keep your head high, keep your chin up, and most importantly, keep smiling, because life's a beautiful thing and there's so much to smile about."
Marilyn Monroe
By fully giving yourself to the person you love most, a deep and intimate bond develops throughout the years. It may even feel as if your heart is eternally connected with that of the other person. However, when something happens to tear this bond apart, the resulting heartbreak comes with an intensity that resembles physical pain.
If your heart aches so badly you cannot seem to take it any longer, reading through some quotes about heartbreak can really make a difference.
60 Profound Quotes about Heartbreak
When you're going through a breakup or anything else that has torn your heart part, disappointment, anger, sadness, and feelings of being rejected begin to emerge. To help you with slowly healing your emotional wounds, uplifting quotes about heartbreak can work wonders. These quotes will not only help you to eventually let go and move on but they also help you to strive towards a much brighter future.
Here are these uplifting quotes about heartbreak
1.
"Sometimes it takes a heartbreak to shake us awake and help us see we are worth so much more than we're settling for."
Mandy Hale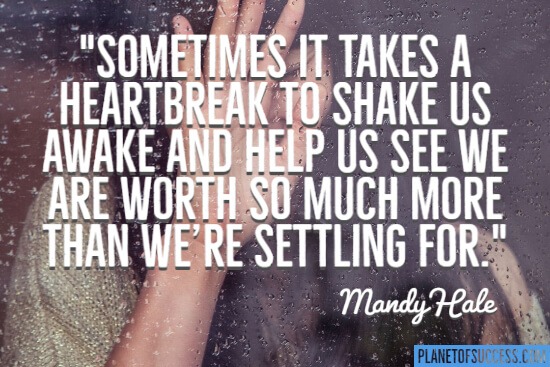 2.
"When we are in love, we are convinced nobody else will do. But as time goes, others do do, and often do do, much much better."
Coco J. Ginger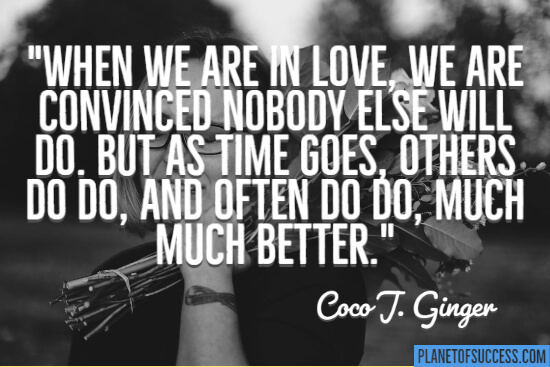 3.
"You'll get through this. And I know it's impossible to believe right now, but it gets better. Trust me."
Susane Colasanti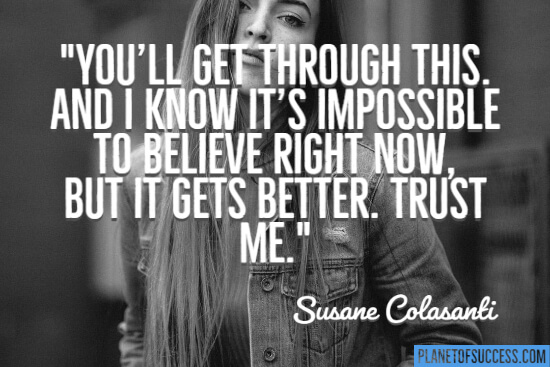 4.
"Life will break you. Nobody can protect you from that, and living alone won't either, for solitude will also break you with its yearning. You have to love. You have to feel. It is the reason you are here on earth. You are here to risk your heart. You are here to be swallowed up. And when it happens that you are broken, or betrayed, or left, or hurt, or death brushes near, let yourself sit by an apple tree and listen to the apples falling all around you in heaps, wasting their sweetness. Tell yourself you tasted as many as you could."
Louise Erdrich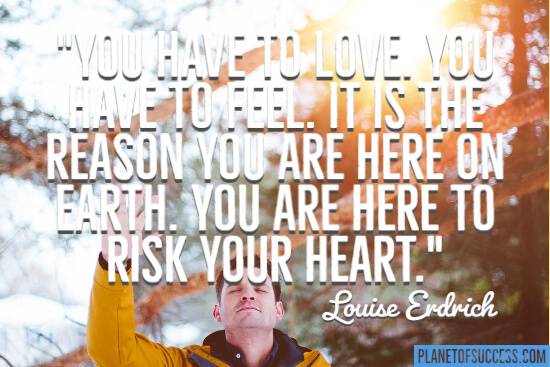 5.
"Sometimes we must undergo hardships, breakups, and narcissistic wounds, which shatter the flattering image that we had of ourselves, in order to discover two truths: that we are not who we thought we were; and that the loss of a cherished pleasure is not necessarily the loss of true happiness and well-being."
Jean-Yves Leloup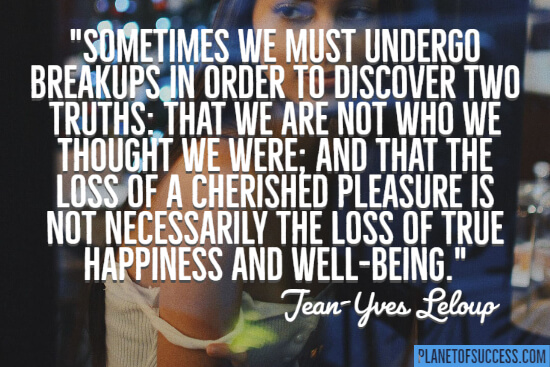 6.
"Once you had put the pieces back together, even though you may look intact, you were never quite the same as you'd been before the fall."
Jodi Picoult
7.
"Blessed are those with cracks in their broken heart because that is how the light gets in."
Shannon L. Alder
8.
"And anything that might hurt me would just make me stronger in the end."
Elizabeth Eulberg
9.
"The Lord is close to the brokenhearted."
Lailah Gifty Akita
10.
"You were only meant to be a stepping stone on my journey across the sea."
Sara Secora
11.
"Relationships are like broken glass. Sometimes it's better to leave them broken than hurt yourself trying to put the pieces back together"
Alex Haditaghi
12.
"Perhaps this is what the stories meant when they called somebody heartsick. Your heart and your stomach and your whole insides felt empty and hollow and aching."
Gabriel García Márquez
13.
"It took me a long time and a lot of heartache to realize that just because you love someone doesn't mean they deserve it."
Steve Maraboli
14.
"Death leaves a heartache no one can heal, love leaves a memory no one can steal."
Richard Puz
15.
"The shattering of a heart when being broken is the loudest quiet ever."
Carroll Bryant
16.
"Don't allow someone not worth it to have the power to occupy your thoughts. If they don't find you worth the effort or the time, why should you waste yours?"
Donna Lynn Hope
17.
"To be rejected by someone doesn't mean you should also reject yourself or that you should think of yourself as a lesser person. It doesn't mean that nobody will ever love you anymore. Remember that only ONE person has rejected you at the moment, and it only hurt so much because to you, that person's opinion symbolized the opinion of the whole world, of God."
Jocelyn Soriano
18.
"Don't cry when the sun is gone, because the tears won't let you see the stars."
Violeta Parra
19.
"You have to leave your broken heart in a place where- when the woman who knows how to see what a gift is, sees it- your broken heart can be picked up again."
C. JoyBell C.
20.
"Because I don't think God trusts just anybody with so much heartache. The world has not yet seen what God can do with a man who gives both halves of a broken heart to him. And I don't doubt that a man like that can change the world… or at least a little part of it."
Chris Fabry
21.
"Listen to God with a broken heart. He is not only the doctor who mends it but also the father who wipes away the tears."
Criss Jami
22.
"Forgiveness heals any brokenness in the heart."
Lailah Gifty Akita
23.
"I miss you in waves and tonight I'm drowning. You left me fending for my life and it feels like you're the only one who can bring me back to the shore alive."
Denice Envall
24.
"Once you embrace your value, talents and strengths, it neutralizes when others think less of you."
Rob Liano
25.
"The emotion that can break your heart is sometimes the very one that heals it…"
Nicholas Sparks
26.
"If your heart is broken, make art with the pieces."
Shane L. Koyczan
27.
"Someday you're gonna look back on this moment of your life as such a sweet time of grieving. You'll see that you were in mourning and your heart was broken, but your life was changing…"
Elizabeth Gilbert
28.
"One day you're going to remember me and how much i loved you… then you're gonna hate yourself for letting me go"
Drake
29.
"Oh, I wouldn't mind. It would be a privilege to have my heart broken by you."
John Green
30.
"I know my heart will never be the same but I'm telling myself I'll be okay."
Sara Evans
31.
"This is a good sign, having a broken heart. It means we have tried for something."
Elizabeth Gilbert
32.
"When the broken hearted people living in the world agree, there will be an answer, let it be."
Christopher Chase
33.
"It is strange how often a heart must be broken before the years can make it wise."
Sara Teasdale
34.
"Sometimes you break your heart in the right way, if you know what I mean."
Gregory David Roberts
35.
"Hearts can break. Yes, hearts can break. Sometimes I think it would be better if we died when they did, but we don't."
Stephen King
36.
"No matter how bad you want a person, if your hearts are in two different places, you'll have to pass and move on."
Alexandra Elle
37.
"Just because we can't be together doesn't mean I don't love you"
Cecily von Ziegesar
38.
"My heart no longer felt as if it belonged to me. It now felt as it had been stolen, torn from my chest by someone who wanted no part of it."
Meredith T. Taylor
39.
"Love is hard to find, hard to keep, and hard to forget."
Alysha Speer
40.
"One of the best times for figuring out who you are & what you really want out of life? Right after a breakup."
Mandy Hale
41.
"If hearts could shatter, mine just did."
Abbi Glines
42.
"It's the love that goes through the hardest trials and survives that's worth having."
Katie Ashley
43.
"When things are falling apart, know they are actually falling into place."
Staci A. Welch-Bartley
44.
"When I say I'm going to forget you I know it's impossible to forget someone I once knew. What I want is to erase you from my thoughts and purge you from my memories. I'm saying it's what I wish for, not what is or could ever be."
Donna Lynn Hope
45.
"Love does not leave, it grows and transforms into something different."
Staci Welch-Bartley
46.
"So it's true, when all is said and done, grief is the price we pay for love."
E.A. Bucchianeri
47.
"You can obsess and obsess over how things ended – what you did wrong or could have done differently – but there's not much of a point. It's not like it'll change anything. So really, why worry?"
Jess Rothenberg
48.
"Sometimes a broken heart can mend something else's brokenness"
Munia Khan
49.
"You don't ask nobody to give what they can't give, or be what they can't be. You've learned that, you got a headstart on heartbreak."
Jack Farris
50.
"It is our wounds that create in us a desire to reach for miracles. The fulfillment of such miracles depends on whether we let our wounds pull us down or lift us up towards our dreams."
Jocelyn Soriano
51.
"Everybody said, "Follow your heart". I did, it got broken"
Agatha Christie
52.
"Well, you can't have heartbreak without love," Dan pointed out. "If your heart was really broken, then at least you know you really loved him."
Leila Sales
53.
"It is a dull sensation, your heart breaking, like the sound of a pebble dropping on the sand. Not a shattering, not a tearing apart, there is nothing shrill or grandiose about the sensation. It is merely an internal realization that something treasured you never knew you had is leaving forever."
Samantha Bruce-Benjamin
54.
"Heartbreak could be lived with if it weren't accompanied by regret."
Laura Kasischke
55.
"He can touch your soul. And there is a difference between having your heart break and having your soul shatter."
Cassandra Clare
56.
"Maybe I was destined to forever fall in love with people I couldn't have. Maybe there's a whole assortment of impossible people waiting for me to find them. Waiting to make me feel the same impossibility over and over again."
Carol Rifka Brunt
57.
"What do you do when the one person you want comfort from the most is the one who caused your pain? How can I want so desperately for him to wrap me up in his arms but also want so much for him to leave me alone."
Amanda Grace
58.
"[Love] can stretch you beyond what you feel you can endure. But you can, and you must get back to love and living!"
Staci A. Welch-Bartley
59.
"The heart was made to be broken."
Oscar Wilde
60.
"Birds sing even when the world is filled with sadness. I don't know why people can't do the same thing."
Michael Gilbert
I hope you enjoyed reading this collection of quotes about heartbreak.
Stay victorious!