What would your life be without friendships? To many of us, healthy relationships are one of the key ingredients of happiness in life. If you love spending time with your friends, you'll definitely like our list of inspirational quotes about friendship. Be also sure to have a look at our selection of best friend quotes for even more inspiration.
Strong friendships can have a powerful impact on many areas of your life. Not only will friendships enrich your life, but they are also a major source of happiness. You can accomplish the most astonishing things in life, but none of it will really matter if you have no one to celebrate with.
"I hope we'll be friends forever, together we'll always be. I don't think you understand just how much you mean to me. And one day when we part our ways, we'll think back to the past and think about how happy we are 'cause our friendship will always last."
Bridget Davis
Forming long-lasting friendships is not just about enjoying the good times in life. Your true friends will also stand right at your side when things aren't going as well. In fact, bad times are a great challenge to a friendship. At the same time, trials and tribulations will show you who your real friends are.
Having and maintaining good friendships is an integral aspect of life. That's because we all need a handful of remarkable people to celebrate life and share our secrets with. Aside from that, it's always good to have friends around you who are honest with you and have the courage to tell you when you're wrong about something.
115 Marvelous Quotes about Friendship
Friendship can enrich your life in so many different ways. However, it's quite difficult to find eloquent words to describe how grateful you are for your fantastic friends. That's where the following authors, poets, adventurers, and artists come into play. Every single one of them has found beautiful words to articulate the power of friendship.
Enjoy reading this selection of quotes about friendship
1.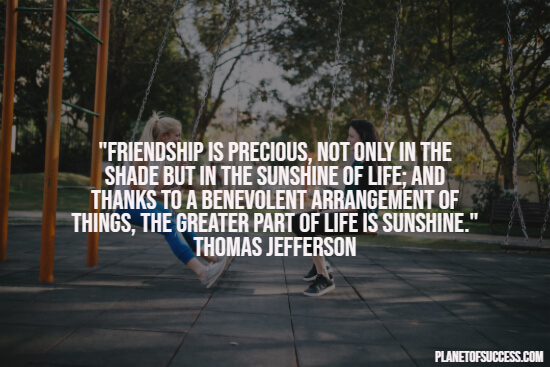 "Friendship is precious, not only in the shade but in the sunshine of life; and thanks to a benevolent arrangement of things, the greater part of life is sunshine."
Thomas Jefferson
2.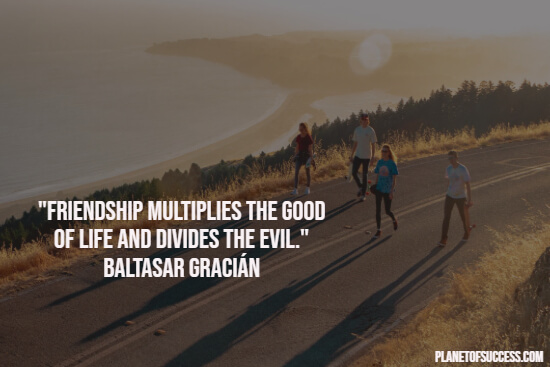 "Friendship multiplies the good of life and divides the evil."
Baltasar Gracián
3.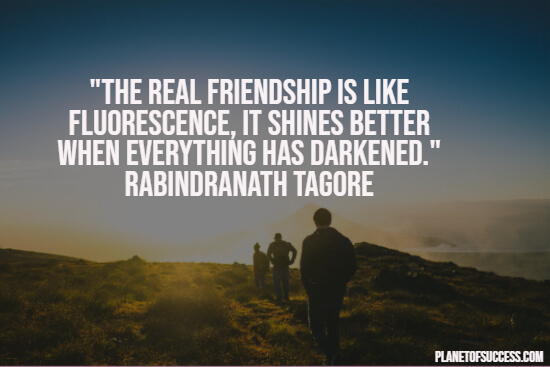 "The real friendship is like fluorescence, it shines better when everything has darkened."
Rabindranath Tagore
4.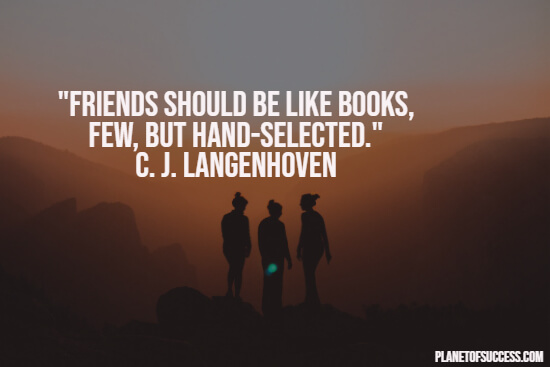 "Friends should be like books, few, but hand-selected."
C. J. Langenhoven
5.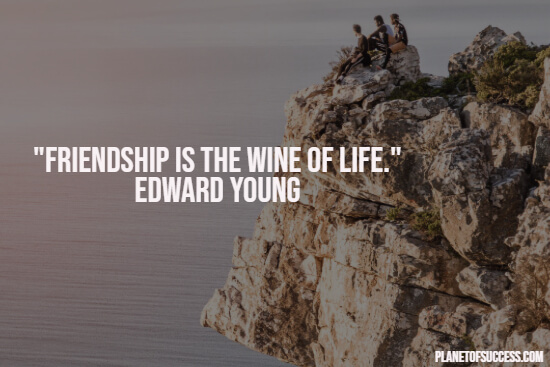 "Friendship is the wine of life."
Edward Young
6.
"The holy passion of Friendship is of so sweet and steady and loyal and enduring a nature that it will last through a whole lifetime, if not asked to lend money."
Mark Twain
7.
"It's the friends you can call up at 4 a.m. that matter."
Marlene Dietrich
8.
"The noble man is chiefly concerned with wisdom and friendship; of these, the former is a mortal good, the latter and immortal one."
Epicurus
9.
"A friend is one that knows you as you are, understands where you have been, accepts what you have become, and still, gently allows you to grow."
William Shakespeare
10.
"When friendships are real, they are not glass threads or frost-work but the solidest things we know."
Ralph Waldo Emerson
11.
"Friendship gives us the strength to turn from lambs into lions."
Stephen Richards
12.
"We should learn to like each other without needing a veil of illusion to conceal from ourselves that we did not think each other absolutely perfect."
Bertrand Russell
13.
"Other people, especially those who love us, can often see our twilight zones better than we ourselves can. It is the twilight zones of our hearts where true friendships are born."
Henri Nouwen
14.
"The glory of friendship is not the outstretched hand, not the kindly smile, nor the joy of companionship; it is the spiritual inspiration that comes to one when you discover that someone else believes in you and is willing to trust you with a friendship."
Ralph Waldo Emerson
15.
"Let us be grateful to people who make us happy, they are the charming gardeners who make our souls blossom."
Marcel Proust
Can't get enough of quotes about friendship? Keep on reading
16.
"I think if I've learned anything about friendship, it's to hang in, stay connected, fight for them, and let them fight for you. Don't walk away, don't be distracted, don't be too busy or tired, don't take them for granted. Friends are part of the glue that holds life and faith together. Powerful stuff."
Jon Katz
17.
"We cannot tell the precise moment when friendship is formed. As in filling a vessel drop by drop, there is, at last, a drop which makes it run over; so in a series of kindnesses there is at last one which makes the heart run over."
Ray Bradbury
18.
"Friendship is the hardest thing in the world to explain. It's not something you learn in school. But if you haven't learned the meaning of friendship, you really haven't learned anything."
Muhammad Ali
19.
"Friendship has splendors that love knows not. It grows stronger when crossed, whereas obstacles kill love. Friendship resists time, which wearies and severs couples. It has heights unknown to love."
Mariama Bâ
20.
"There are times when friendship feels like running down a hill together as fast as you can, jumping over things, spinning around, and you don't care where you're going, and you don't care where you've come from, because all that matters is speed, and the hands holding your hands."
M.T. Anderson
21.
"The typical expression of opening Friendship would be something like, 'What? You too? I thought I was the only one.'"
C.S. Lewis
22.
"If we would build on a sure foundation in friendship, we must love our friends for their sakes rather than for our own."
Charlotte Brontë
23.
"The measure of a friendship is not its physicality but its significance."
John Green
24.
"Friendship is never anything but sharing."
Elie Wiesel
25.
"Wishing to be friends is quick work, but friendship is a slow ripening fruit."
Aristotle
26.
"Human beings are born into this little span of life of which the best thing is its friendships and intimacies … and yet they leave their friendships and intimacies with no cultivation, to grow as they will by the roadside, expecting them to "keep" by force of mere inertia."
William James
27.
"I'm so thankful for friendship. It beautifies life so much."
L.M. Montgomery
28.
"The better part of one's life consists of his friendships."
Abraham Lincoln
29.
"Your noble friend will not accept pretension but will gently and very firmly confront you with your own blindness. Such friendship is creative and critical; it is willing to negotiate awkward and uneven territories of contradiction and woundedness."
John O'Donohue
30.
"The functions of intellect are insufficient without courage, love, friendship, compassion, and empathy."
Dean Koontz
31.
"Friendship, however, is a plant which cannot be forced – true friendship is no gourd spring up in a night and withering in a day."
Charlotte Brontë
32.
"True Friendship is the least jealous of loves. Two friends delight to be joined by a third, and three by a fourth, if only the newcomer is qualified to become a real friend. They can then say, as the blessed souls say in Dante, 'Here comes one who will augment our loves.' For in this love 'to divide is not to take away."
C.S. Lewis
33.
"What's friendship's realest measure? I'll tell you. The amount of precious time you'll squander on someone else's calamities and fuck-ups."
Richard Ford
34.
"Be slow to fall into friendship, but when you are in, continue firm and constant."
Socrates
35.
"I value nothing more highly than to be allowed the honor of entering into bonds of friendship with people who sincerely love truth."
Baruch Spinoza
36.
"Every friendship travels at sometime through the black valley of despair. This tests every aspect of your affection. You lose the attraction and the magic. Your sense of each other darkens and your presence is sore. If you can come through this time, it can purify with your love, and falsity and need will fall away. It will bring you onto new ground where affection can grow again."
John O'Donohue
37.
"Friendship is selfless love, care, respect, and honor not a profitable opportunity."
Santosh Kalwar
38.
"The process of falling in love at first sight is as final as it is swift in such a case, but the growth of true friendship may be a lifelong affair."
Sarah Orne Jewett
39.
"Friends are honest with each other. Even if the truth hurts."
Sarah Dessen
40.
"There can be no friendship without confidence, and no confidence without integrity."
Samuel Johnson
Quotes like this are brimming with wisdom
41.
"There is no enjoying the possession of anything valuable unless one has someone to share it with"
Lucius Annaeus Seneca
42.
"One's life has value so long as one attributes value to the life of others, by means of love, friendship, and compassion"
Simone de Beauvoir
43.
"The only true test of friendship is the time your friend spends on you."
John Marsden
44.
"Are not lifelong friendships born at the moment when at last you meet another human being who has some inkling […] you are looking for, watching for, listening for?"
C.S. Lewis
45.
"They were on their way to being not just friends, but the dearest of friends, the sort of friends whose lives are shaped by the friendship."
Robin McKinley
46.
"It's better to have a few faithful friends than numerous shallow friendships."
Jonathan Anthony Burkett
47.
"Friendship is love without wings."
George Gordon Byron
48.
"Friendship is the only cement that will ever hold the world together."
Woodrow Wilson
49.
"A friendship can weather most things and thrive in thin soil; but it needs a little mulch of letters and phone calls and small, silly presents every so often – just to save it from drying out completely."
Pam Brown
50.
"Love is friendship set to music."
Jackson Pollock
51.
"I may be stupid, as you say, to believe in honor and friendship and loyalty without price. But these are virtues to be cherished, for without them we are no more than beasts roaming the land."
David Gemmell
52.
"A real friendship ought to introduce each person to unexpected weirdness in the other."
Jaron Lanier
53.
"As you get older, it gets harder to build friendships. Too many defenses, too little opportunity. You get busy. And by the time you realize that you've lost the dearest best friend you've ever had, years have gone by and you're mature enough to be embarrassed by your attitude and, frankly, by your arrogance."
Kate Jacobs
54.
"Anybody can sympathize with the sufferings of a friend, but it requires a very fine nature to sympathize with a friend's success."
Oscar Wilde
55.
"That's friendship, each playing the potter to see what shapes we can make of each other."
Ray Bradbury
56.
"Friendship is something in the soul. It is a thing one feels. It is not a return for something."
Graham Greene
57.
"Look around you at the people you spend the most time with and realize that your life can't rise any higher than your friendships."
Mandy Hale
58.
"Friendship is unnecessary, like philosophy, like art, like the universe itself (for God did not need to create). It has no survival value; rather it is one of those things which give value to survival."
C.S. Lewis
59.
"This is the comfort of friends, that though they may be said to die, yet their friendship and society are, in the best sense, ever present, because immortal."
William Penn
60.
"Friendship is a strong and habitual inclination in two persons to promote the good and happiness in another."
Eustace Budgell
61.
"To let friendship die away by negligence and silence is certainly not wise. It is voluntarily to throw away one of the greatest comforts of this weary pilgrimage."
Samuel Johnson
62.
"Under every friendship there is a difficult sentence that must be said, in order that the friendship can survive."
Zadie Smith
63.
"Love is like the wild rose-briar; Friendship like the holly-tree. The holly is dark when the rose-briar blooms, but which will bloom most constantly?"
Emily Brontë
64.
"I don't need a friend who changes when I change and who nods when I nod; my shadow does that much better."
Plutarch
65.
"Friendship is an obstetric art; it draws out our richest and deepest resources; it unfolds the wings of our dreams and hidden indeterminate thoughts; it serves as a check on our judgments, tries out our new ideas, keeps up our ardor, and inflames our enthusiasm."
Antonin Sertillanges
Here are even more marvelous quotes for you
66.
"Friendship is thinking of the other person first."
George Alexiou
67.
"Friendship needs no words – it is solitude delivered from the anguish of loneliness."
Dag Hammarskjöld
68.
"Happy is the soul that has a friend. Happier is the soul that trusts in the truth of the heart of a friend. Happiest is the soul that knows the solemnity of friendship and honors its laws."
Ogwo David Emenike
69.
"Friendship is like money, easier made than kept."
Samuel Butler
70.
"Nothing firms up a friendship like a good-natured argument."
Lemony Snicket
71.
"Friendship is not a gift, but is the result of hard work."
Myles Munroe
72.
"Friendship needs no words."
Dag Hammarskjöld
73.
"A friendship founded on business is better than a business founded on friendship"
John D. Rockefeller
74.
"The opinion of this little circle, while I am in it, outweighs that of a thousand outsiders: as Friendship strengthens, it will do this even when my Friends are far away."
C.S. Lewis
75.
"Well, you know, there are limits to the sacred claims of friendship."
P.G. Wodehouse
76.
"Friendship is the most important thing in my life. It's rare to have friends like I've got. If I had as great a taste in husbands as I have in friends, what an even better life I would have had!"
Andrea Michaels
77.
"No friendship is an accident."
O. Henry
78.
"Friendship is always a sweet responsibility, never an opportunity."
Khalil Gibran
79.
"A friend is someone who knows all about you and still loves you."
Elbert Hubbard
80.
"There is no friendship that cares about an overheard secret."
Alexandre Dumas
81.
"Business, you know, may bring money, but friendship hardly ever does."
Jane Austen
82.
"The mark of Friendship is not that help will be given when the pinch comes (of course it will) but that, having been given, it makes no difference at all."
C.S. Lewis
83.
"In every friendship hearts grow and entwine themselves together so that the two hearts seem to make only one heart with only a common thought. That is why separation is so painful; it is not so much two hearts separating, but one being torn asunder."
Fulton J. Sheen
84.
"Good female friendships are the strongest relationships in the world."
Jessie Elliot
85.
"Friendship is more than talent. It is more than government. It is almost the equal of family. Never forget that."
Mario Puzo
86.
"Friendship… is not something you learn in school, but if you haven't learned the meaning of friendship you really haven't learned anything."
Oscar Wilde
87.
"Friendship must be about something, even if it were only an enthusiasm for dominoes or white mice. Those who have nothing can share nothing; those who are going nowhere can have no fellow-travelers."
C.S. Lewis
88.
"The rhythm of friendship is a very good rhythm."
Stevie Smith
89.
"It's not right for one friend to do all the giving and the other to do all the taking: that's not real friendship."
Haruki Murakami
90.
"I no longer have the energy for meaningless friendships, forced interactions or unnecessary conversations. If we don't vibrate on the same frequency there's just no reason for us to waste our time. I'd rather have no one and wait for substance than to not feel someone and fake the funk."
Joquesse Eugenia
91.
"True friendship is worth more than can be measured, a quality forever to be treasured."
Cecilia Dart-Thornton
92.
"Friendship doesn't just materialize at the end of the rainbow one morning in a soft-focus Hollywood haze. For it to last this long, and at such close quarters, some serious work had gone into it."
Tana French
93.
"Friendship isn't about protecting each other from pain so much as it is about helping each other to become what God has called us to be."
Mark Mossa
94.
"Do not be content with showing friendship in words alone, let your heart burn with loving kindness for all who may cross your path."
Baha'u'llah
95.
"Yes, we must ever be friends; and of all who offer you friendship let me be ever the first, the truest, the nearest and dearest!"
Henry Wadsworth Longfellow
96.
"They had taken the first step toward genuine friendship. They had exchanged vulnerabilities."
Arthur C. Clarke
97.
"True friendship is like sound health; the value of it is seldom known until it be lost."
Charles Caleb Colton
98.
"True friendship is as rare as twin lotuses on a single stalk."
Lauren Bjorkman
99.
"The most painful wound is that of broken friendships; and there is nothing more foolish than to sacrifice a friendship to politics."
Milan Kundera
100.
"Without the friendship we'd never have discovered the reason we were friends."
Mike A. Lancaster
101.
"A hunted man sometimes wearies of distrust and longs for friendship."
J. R. R. Tolkien
102.
"I find friendship to be like wine, raw when new, ripened with age, the true old man's milk and restorative cordial."
Thomas Jefferson
103.
"Friendship is a give and take. You have to have a strong relationship with your friend and I think you have to offer them something and they have to offer you something and that's to always learn from it."
Raven Symone
104.
"Friendship is a pretty full-time occupation if you really are friendly with somebody. You can't have too many friends because then you're just not really friends."
Truman Capote
105.
"Slowly we became silent, and silence itself if an enemy to friendship."
Norman Maclean
106.
"Friendship is like a glass ornament, once it is broken it can rarely be put back together exactly the same way."
Charles Kingsley
107.
"Madam, I have been looking for a person who disliked gravy all my life; let us swear eternal friendship."
Sydney Smith
108.
"The friendship is not a reward for our discriminating and good taste in finding one another out. It is the instrument by which God reveals to each of us the beauties of others."
C.S. Lewis
109.
"If there is such a thing as a good marriage, it is because it resembles friendship rather than love."
Michel de Montaigne
110.
"Friendships take minutes to make, moments to break, years to repair."
Pierce Brown
111.
"Real friendship or love is not manufactured or achieved by an act of will or intention. Friendship is always an act of recognition."
John O'Donohue
112.
"Friendship doesn't disappear like love does."
Moyoco Anno
113.
"Nothing of real worth can ever be bought. Love, friendship, honor, valor, respect. All these things have to be earned."
David Gemmell
114.
"Only solitary men know the full joys of friendship. Others have their family, but to a solitary and an exile his friends are everything."
Willa Cather
115.
"To remember friendship is to recall those conversations that it seemed a sin to break off."
Christopher Hitchens
I hope you enjoyed this collection of quotes about friendship. Who was the friend in your life that influenced you the most?
Stay victorious!