What would your life be without your best friend? The following list of inspirational quotes about best friends reminds you of all the beautiful moments you spend together. And if you can't get enough of good quotes, have a look at our collection of best friendship quotes.
You can count yourself pretty lucky if you have a best friend who has been standing on your side through the good and the bad times in life. No matter if you first met your best friend in kindergarten or much later in life, what matters is the deep bond between you.
"Sweet is the memory of distant friends! Like the mellow rays of the departing sun, it falls tenderly, yet sadly, on the heart."
Washington Irving
A best friend cannot be bought or made within a couple of months. Only the trials of time can truly tell if a good friend turns into a best friend. A pretty good indicator of your true friends is when they are there for you when you need them the most.
Fake friends usually stand as your side you when you are shining in your brightest light. But once tough times start to arise, they are faster gone then you can spell their name. That's why it's so important to develop a good feeling for people so that you can quickly filter out those who are fake and toxic.
101 Quotes about Best Friends to Warm Your Heart
It's often quite difficult to find the right words that adequately describe how important your best friend is to you. Inspiration comes from poets, philosophers, entrepreneurs, writers, and even adventurers. All the authors of the following quotes about best friends have found magnificent words to put their feelings about friendship to paper. These are the quotes that will reignite all those beautiful memories that you have about good times with your friends. Enjoy reading!
Here are those inspirational quotes about best friends
1.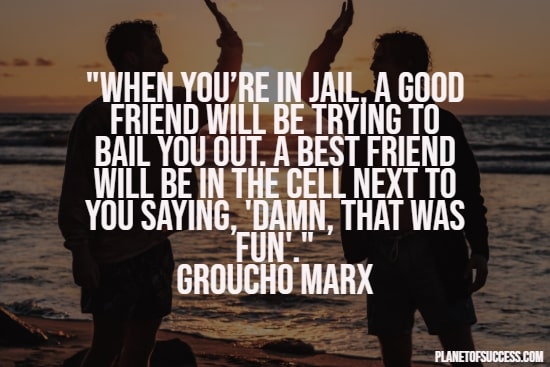 "When you're in jail, a good friend will be trying to bail you out. A best friend will be in the cell next to you saying, 'Damn, that was fun'."
Groucho Marx
2.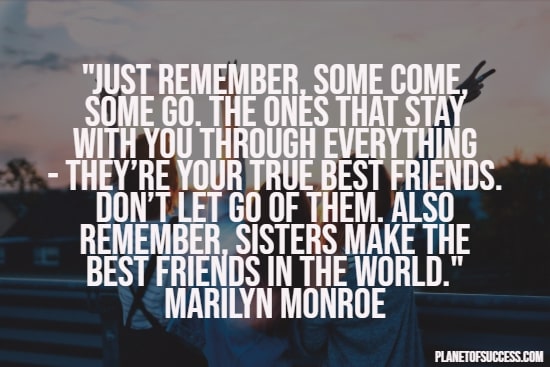 "Just remember, some come, some go. The ones that stay with you through everything – they're your true best friends. Don't let go of them. Also remember, sisters make the best friends in the world."
Marilyn Monroe
3.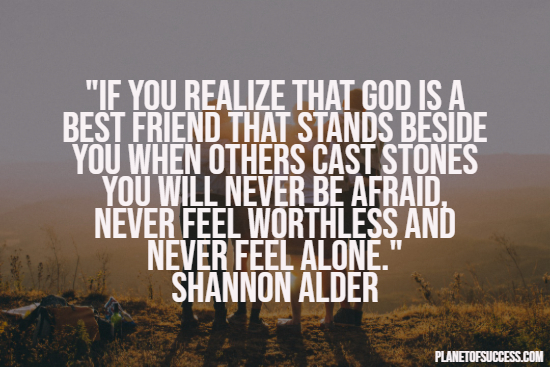 "If you realize that God is a best friend that stands beside you when others cast stones you will never be afraid, never feel worthless and never feel alone."
Shannon Alder
4.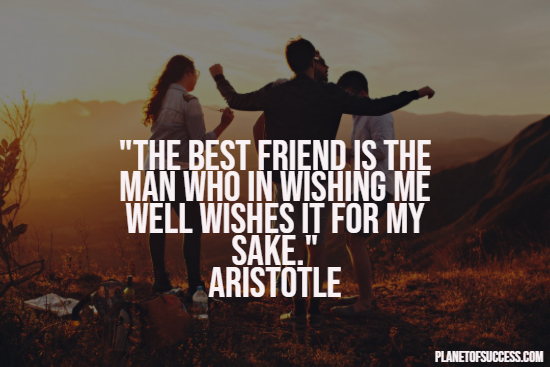 "The best friend is the man who in wishing me well wishes it for my sake."
Aristotle
5.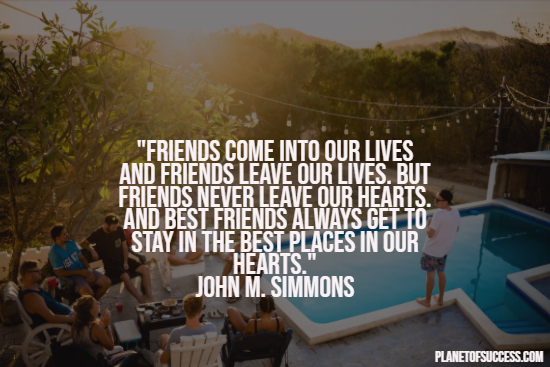 "Friends come into our lives and friends leave our lives. But friends never leave our hearts. And best friends always get to stay in the best places in our hearts."
John M. Simmons
6.
"A friend tells you what you want to hear; a best friend tells you the truth."
Marilyn Monroe
7.
"This is the currency of friendship, traded over years and miles, and I hope it's an even exchange someday. For now, I do what all best friends do when there's nothing left to say. We lie together in all the darkness, shoulder to shoulder, and wait for the worst to be over."
Emery Lord
8.
"My best friend is the one who brings out the best in me."
Henry Ford
9.
"A best friend is the only one that walks into your life when the world has walked out."
Shannon l. Alder
10.
"You are my best friend as well as my lover, and I do not know which side of you I enjoy the most. I treasure each side, just as I have treasured our life together."
Nicholas Sparks
11.
"I would rather have 1 amazing best friend than 100 decent regular friends. It's not about quantity, it's about quality."
Connor Franta
12.
"That was the thing about best friends. Like sisters and mothers, they could piss you off and make you cry and break your heart, but in the end, when the chips were down, they were there, making you laugh even in your darkest hours. "
Kristin Hannah
13.
"An integral part of any best friend's job is to immediately clear your computer history if you die."
Darynda Jones
14.
"Best friends are together through it all. Like soil and roots. One needing the other through chilling winters, scorching summers, through hailstorms and lightning strikes. They weather it together."
Lisa Schroeder
15.
"Best friends are always together, always whispering and laughing and running, always at each other's house, having dinner, sleeping over. They are practically adopted by each other's parents. You can't pry them apart."
Jerry Spinelli
16.
"That's the cool thing about having a best friend. They know what your pain feels like already, so you don't have to explain it."
Susane Colasanti
17.
"Only a true best friend can protect you from your immortal enemies."
Richelle Mead
18.
"Throughout life you will meet one person who is unlike any other. This person is one you could forever talk to. They understand you in a way that no one else does or even could. This person is your soul mate, your best friend. Don't ever let them go, for they're your guardian angel sent from heaven above"
Pamela Ann
19.
"Your best friend is the person who not only knows all the important stories and events in your life, but has lived through them with you. Your best friend isn't the person you call when you are in jail; most likely, she is sitting in the cell beside you."
Irene S. Levine
20.
"We never needed best friend gear because I guess with real friends you don't have to make it official. It just is."
Mindy Kaling
21.
"True best friends never fail on understanding, forgiving, and being there for one another no matter what situation that they might be in or having with one another because of the fact of that no matter if it's two males or females love should always be there as if brothers or sisters if their what we call best friends."
Jonathan Anthony Burkett
22.
"Best friends, no matter what they do or how much they hurt you, it only hurts as much as it does because they are your best friend. And none of us are perfect. Mistakes were made for best friends to forgive; it's what makes being a best friend official."
J.A. Redmerski
23.
"Friends are a strange, volatile, contradictory, yet sticky phenomenon. They are made, crafted, shaped, molded, created by focused effort and intent. And yet, true friendship, once recognized, in its essence is effortless. Best friends are formed by time."
Vera Nazarian
24.
"A friend will help you if someone knocks you down. A best friend will pick up a bat and say, "Stay down. I got this."
Darynda Jones
25.
"My Best Friend is a person who will give me a book I have not read."
Abraham Lincoln
26.
"Thanks for being my best friend and making my life bearable."
Leigh Bardugo
27.
"I am certain that priceless wealth is in thee, and that thou art my best friend."
Rabindranath Tagore
28.
"Ex-girlfriends are easily forgotten. Best friends stay with you for ever."
Cecelia Ahern
29.
"You must remember, family is often born of blood, but it doesn't depend on blood. Nor is it exclusive of friendship. Family members can be your best friends, you know. And best friends, whether or not they are related to you, can be your family."
Trenton Lee Stewart
30.
"A good friend will help you up when you fall. A best friend will laugh and try to trip you again."
Tamora Pierce
31.
"A best friend is your voice when you can't find it."
Ellen Hopkins
32.
"That's the problem with best friends. Sometimes they know you better than you know yourself."
Cecily von Ziegesar
33.
"Thank goodness for best friends. For true friends, the ones who love you no matter what."
Lauren Clark
34.
"That's what you do, you stand up for your best friend. And you eat lunch with him and talk with him and share secrets and laugh a lot and go places and do stuff."
Jerry Spinelli
35.
"Life is an awful, ugly place to not have a best friend."
Sarah Dessen
36.
"The best part about best friends is that you can maintain a relationship at any distance."
Connor Franta
37.
"A good friend keeps your secrets for you. A best friend helps you keep your own secrets."
Lauren Oliver
38.
"Show up with an army of undead warriors to save the day, and suddenly you're everybody's best friend."
Rick Riordan
39.
"Stick around long enough to become someone's best friend."
Vera Nazarian
40.
"A best friend is someone who, when they don't understand, they still understand."
Nancy Werlin
41.
"The best mirror is an old friend."
George Herbert
42.
"Have you felt it too? Have you seen how your best friends love everything about you- except the things that count? And your most important is nothing to them; nothing, not even a sound they can recognize."
Ayn Rand
43.
"Being soaked alone is cold. Being soaked with your best friend is an adventure."
Emily Wing Smith
44.
"It's odd when your best friend has an even better best friend."
Colleen Hoover
45.
"Diamonds are a girl's best friend."
Jule Styne
46.
"You truly are my best friend. I don't want to have to imagine my world without you in it."
Hippie
47.
"The rest of the girls pretended not to notice. That's just what best friends do."
Sara Shepard
48.
"When a woman becomes her own best friend life is easier."
Diane Von Furstenberg
49.
"Best friends are important. They're the closest thing to a sister you'll ever have."
Jenny Han
50.
"Why limit yourself to just one best friend?"
Lisi Harrison
51.
"I'm just here to be your friend. Your best friend, one last time."
Stephenie Meyer
52.
"That's the thing about best friends. That's what they do. They keep you from spinning off the edge."
Lauren Oliver
53.
"Besides the obvious difference, there was not much distinction between losing a best friend and losing a lover: it was all about intimacy. One moment, you had someone to share your biggest triumphs and fatal flaws with; the next minute, you had to keep them bottled inside. One moment, you'd start to call her to tell her a snippet of news or to vent about your awful day before realizing you did not have that right anymore; the next, you could not remember the digits of her phone number."
Jodi Picoult
54.
"Rule number three: Best friends always think you deserve the best guy even if the best guy barely knows you exist."
Candace Bushnell
55.
"The great thing about true best friends is that when you go MIA for a few months, they inquire but they don't press. Best friends know the power of infatuation but also how quickly it dissipates. You just have to wait it out. And then afterward, tease them about it for decades."
Mindy Kaling
56.
"I believe with all my heart that the cliches are true, that we are our own best friends and best company, and that if you're not right for yourself, it's impossible to be right for anyone."
Rachel Machacek
57.
"The important thing is not what we look like, but the role we play in our best friend's life. Friends choose certain friends because that's the kind of company they are looking for at that specific time, not because they're the correct height, age, or have the right hair color"
Cecelia Ahern
58.
"A true best friend loves you even when it seems like you've gone off the deep end."
Liz Fenton
59.
"Sometimes the hardest person in the world to talk to is your best friend, because it matters so much."
Steph Bowe
60.
"The cool thing about being best friends is that you can make big plans even if there's only a slim chance in hell that they'll ever happen."
Yvonne Prinz
61.
"When you're doing something for yourself, or your best friend or family, you're not going to cheese out. If you don't love something, you're not going to go the extra mile, work the extra weekend, challenge the status quo as much."
Steve Jobs
62.
"Being best friends is always about the benefit of the doubt."
David Levithan
63.
"A noble friend is the best gift."
C.S. Lewis
64.
"It's like being in love, discovering your best friend."
Elizabeth Wein
65.
"I don't like it. I wish we could all be together like before: best friends, not heartbroken strangers."
Amy Plum
66.
"You don't know what it's like to live in different worlds, to travel on great adventures through the galaxy with people you know better than you know your own family. To live and die with them. These are my friends, my best friends in the world."
Atticus Shaffer
67.
"There are certain emotions in your body that not even your best friend can sympathize with, but you will find the right film or the right book, and it will understand you."
Bjork
68.
"That was what a best friend did: hold up a mirror and show you your heart."
Kristin Hannah
69.
"To be someone's best friend requires a minimum investment of time. More than that, though, it takes emotional energy. Caring about someone deeply is exhausting."
Malcolm Gladwell
70.
"Best friends stay in your heart forever."
Jennifer Jabaley
71.
"Actually, I think it's the opposite. We know each other so well there isn't anything left to say. Sometimes it's nice just sitting here with you all, thinking. It's only best friends who can be comfortable with silence, wouldn't you say?"
Benjamin Wood
72.
"I've gotten to the point where the label of 'best friend' is so ridiculous. If you have three people in your life that you can trust, you can consider yourself the luckiest person in the whole world."
Selena Gomez
73.
"If Christ has died for me, I cannot trifle with the evil that killed my best Friend."
Charles H. Spurgeon
74.
"All I want is a best friend whom I can't wait to kiss again."
Robin Palmer
75.
"Someone told me the delightful story of the crusader who put a chastity belt on his wife and gave the key to his best friend for safekeeping, in case of his death. He had ridden only a few miles away when his friend, riding hard, caught up with him, saying 'You gave me the wrong key!"
Anais Nin
76.
"This principle – that your spouse should be capable of becoming your best friend – is a game changer when you address the question of compatibility in a prospective spouse."
Timothy Keller
77.
"The great thing about best friends is that they know you really well. And the terrible thing about best friends is that they know you really well."
Rachel Hawkins
78.
"I've seen the other side – marching side by side down city streets with people who all believe they can change the world […] and best friends who hold your hand and stretching out underneath a sky draped with stars and everything else. There is so much beauty in just existing. In being alive. I don't want to miss a second."
Hannah Harrington
79.
"The best friends you will ever have are the ones who don't make you feel like you owe them a damn thing."
Corey Taylor
80.
"The Puritan ethic of marriage was first to look not for a partner whom you do love passionately at this moment but rather for one whom you can love steadily as your best friend for life, then to proceed with God's help to do just that."
J.I. Packer
81.
"You're my best friend, my missing piece, and the only person who can make my world amazing just by being in it."
R.J. Prescott
82.
"The statistics on sanity are that one out of every four people is suffering from a mental illness. Look at your three best friends. If they're ok, then it's you."
Rita Mae Brown
83.
"The idea of losing him forever, my best friend, the only person I'd ever trusted with my secrets, was so painful I couldn't stand it."
Suzanne Collins
84.
"Love yourself and treat yourself as you would treat your very best friend. You deserve the same love you give to others."
Demi Lovato
85.
"Things are never quite as scary when you've got a best friend"
Bill Watterson
86.
"What do you say to your best friend when you stand at the gates of hell? Nothing. If it's your best friend, she already knows."
Eliza Crewe
87.
"If you want sympathy, look for a friend, but if you want honesty, an enemy might be the best friend you ever had."
Tonya Hurley
88.
"I want us to be best friends forever."
Cecelia Ahern
89.
"Without a best friend to tell stories to, it almost didn't matter if they even happened."
Leila Howland
90.
"The mirror is my best friend because when I cry it never laughs."
Charlie Chaplin
91.
"People really do like seeing their best friends humiliated; a large part of the friendship is based on humiliation; and that is an old truth, well known to all intelligent people."
Fyodor M. Dostoevsky
92.
"You're my best friend. You're the only somebody I got."
Damon Suede
93.
"If your best friend truly is the person who knows you completely and loves you anyway, wouldn't that be your mother?"
Richelle E. Goodrich
94.
"He took one look at me and knew I would be his best friend, his partner, his wife, and the mother of his children. He saw more in me in one glance than I'd seen in myself my whole life."
Alexa Riley
95.
"By the time you realize that you've lost the dearest best friend you've ever had, years have gone by and you're mature enough to be embarrassed by your attitude and, frankly, by your arrogance."
Kate Jacobs
96.
"No one is completely unhappy at the failure of his best friend."
Groucho Marx
97.
"No one should be allowed to be happy when you were so miserable – especially not your best friends. It should be a law."
Lauren Oliver
98.
"Yes, I do want to be your friend. I want to be your best friend in the entire world."
Tahereh Mafi
99.
"He is his own best friend and takes delight in privacy whereas the man of no virtue or ability is his own worst enemy and is afraid of solitude."
Aristotle
100.
"Somewhere on this planet is your best friend. Find that person"
Omar Kiam
101.
"Forget diamonds or dogs – a girl or boy's best friend is always a high-powered weapon."
Sarah A. Hoyt
I hope you enjoyed this collection of inspirational quotes about best friends. Feel free to share these quotes with some of your best friends.
Stay victorious!