Do you sometimes find yourself marveling at the bursts of beauty in your life? Our collection of inspirational quotes about beauty helps you to remember all those precious memories where you've been touched by beauty. And if you cannot get enough of quotes, have a look at our selection of the most beautiful quotes of all time.
Beauty can be found everywhere in life. From nature to art and music, life's most precious aspects fill our hearts with joy, happiness, and love. But even though beauty is all around us, most people are so busy that they overlook it.
"Think of all the beauty still left around you and be happy."
Anne Frank
The joys of life come in many different forms and shapes. Unfortunately, most people are so busy that they do no longer take the time to enjoy the beauty of the little things in life. People are so fixated on pursuing their dreams that they entirely forget to take a moment to appreciate the beauty of the moment.
Others limit their definition of beauty to physical appearances. This, however, is a pretty narrow way of looking at things. If you want to be able to see all the different nuances of beauty, you will also have to consider expanding your definition of beauty. It is not something that can only be seen but also felt, tasted, heard, and even smelled.
111 Inspirational Quotes about Beauty
The following quotes originate from some of the most eloquent authors that ever lived. These individuals have all been stricken by beauty and found articulate words to describe their feelings. You'll see that the following quotes about beauty inspire you to expand your understanding of beauty and encourage you to take a more meaningful look at your life. Some of these magical quotes will help you to rediscover wonderful aspects of life that give you great joy. Other quotes will motivate you to look deeper beyond superficialities to discover true treasures of beauty.
Enjoy reading this collection of inspirational quotes about beauty
1.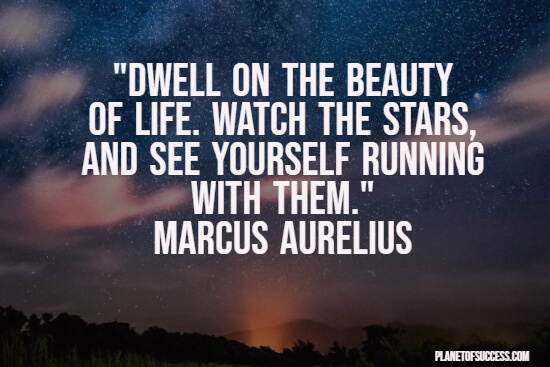 "Dwell on the beauty of life. Watch the stars, and see yourself running with them."
Marcus Aurelius
2.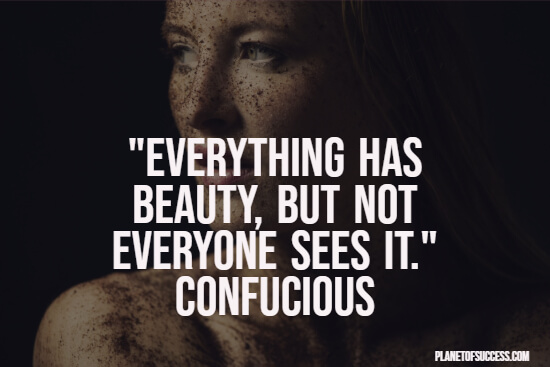 "Everything has beauty, but not everyone sees it."
Confucious
3.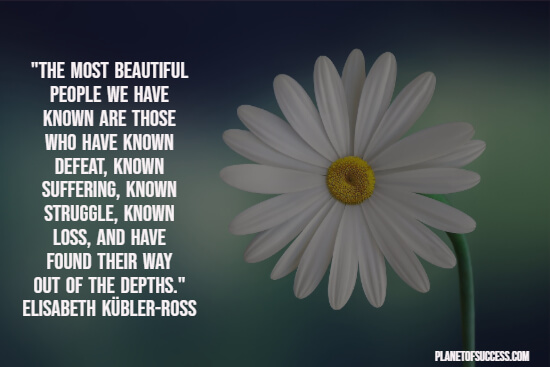 "The most beautiful people we have known are those who have known defeat, known suffering, known struggle, known loss, and have found their way out of the depths. These persons have an appreciation, a sensitivity, and an understanding of life that fills them with compassion, gentleness, and a deep loving concern. Beautiful people do not just happen."
Elisabeth Kübler-Ross
4.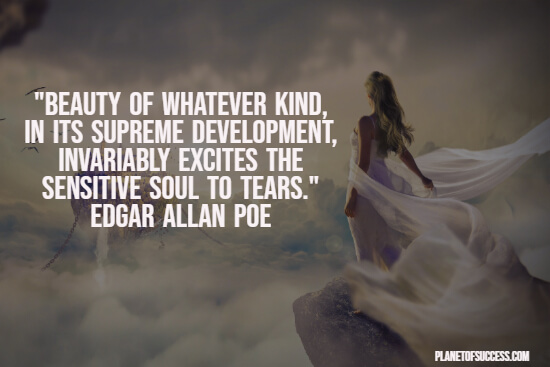 "Beauty of whatever kind, in its supreme development, invariably excites the sensitive soul to tears."
Edgar Allan Poe
5.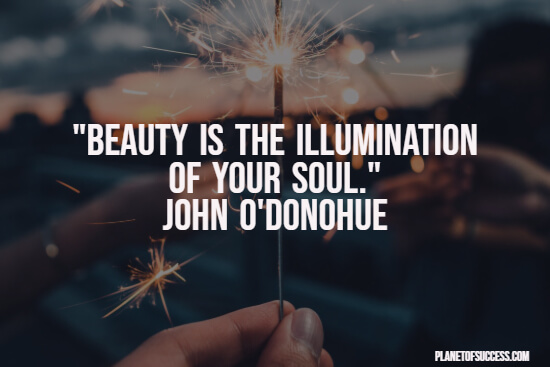 "Beauty is the illumination of your soul."
John O'Donohue
6.
"The power of finding beauty in the humblest things makes home happy and life lovely."
Louisa May Alcott
7.
"Beauty is eternity gazing at itself in a mirror. But you are eternity and you are the mirror."
Kahlil Gibran
8.
"When you do something noble and beautiful and nobody noticed, do not be sad. For the sun every morning is a beautiful spectacle and yet most of the audience still sleeps."
John Lennon
9.
"Beauty is unbearable, drives us to despair, offering us for a minute the glimpse of an eternity that we should like to stretch out over the whole of time."
Albert Camus
10.
"Nothing can make our life, or the lives of other people, more beautiful than perpetual kindness."
Leo Tolstoy
Do you want more quotes about beauty? Keep on reading…
11.
"Beauty is how you feel inside, and it reflects in your eyes. It is not something physical."
Sophia Loren
12.
"Clouds come floating into my life, no longer to carry rain or usher storm, but to add color to my sunset sky."
Rabindranath Tagore
13.
"It is an absolute human certainty that no one can know his own beauty or perceive a sense of his own worth until it has been reflected back to him in the mirror of another loving, caring human being."
John Joseph Powell
14.
"Beauty is no quality in things themselves: It exists merely in the mind which contemplates them; and each mind perceives a different beauty."
David Hume
15.
"Life is not always perfect. Like a road, it has many bends, ups and down, but that's its beauty."
Amit Ray
16.
"He who dares not grasp the thorn should never crave the rose."
Anne Bronte
17.
"No matter how plain a woman may be, if truth and honesty are written across her face, she will be beautiful."
Eleanor Roosevelt
18.
"Should you shield the canyons from the windstorms you would never see the true beauty of their carvings."
Elisabeth Kübler-Ross
19.
"A man should hear a little music, read a little poetry, and see a fine picture every day of his life, in order that worldly cares may not obliterate the sense of the beautiful which God has implanted in the human soul."
Johann Wolfgang von Goethe
20.
"If the stars should appear one night in a thousand years, how would men believe and adore; and preserve for many generations the remembrance of the city of God which had been shown! But every night come out these envoys of beauty, and light the universe with their admonishing smile."
Ralph Waldo Emerson
21.
"Looking at beauty in the world, is the first step of purifying the mind."
Amit Ray
22.
"I think happiness is what makes you pretty. Period. Happy people are beautiful. They become like a mirror and they reflect that happiness."
Drew Barrymore
23.
"You were given life; it is your duty (and also your entitlement as a human being) to find something beautiful within life, no matter how slight."
Elizabeth Gilbert
24.
"Remember that there are two kinds of beauty: one of the soul and the other of the body. That of the soul displays its radiance in intelligence, in chastity, in good conduct, in generosity, and in good breeding, and all these qualities may exist in an ugly man. And when we focus our attention upon that beauty, not upon the physical, love generally arises with great violence and intensity."
Miguel Cervantes
25.
"Sometimes people are beautiful.
Not in looks.
Not in what they say.
Just in what they are."
Markus Zusak
26.
"To be creative means to be in love with life. You can be creative only if you love life enough that you want to enhance its beauty, you want to bring a little more music to it, a little more poetry to it, a little more dance to it."
Osho
27.
"Life is full of beauty. Notice it. Notice the bumble bee, the small child, and the smiling faces. Smell the rain, and feel the wind. Live your life to the fullest potential, and fight for your dreams."
Ashley Smith
28.
"You are imperfect, permanently and inevitably flawed. And you are beautiful."
Amy Bloom
29.
"She walks in beauty, like the night
Of cloudless climes and starry skies;
And all that's best of dark and bright
Meet in her aspect and her eyes…"
Lord Byron
30.
"There is no exquisite beauty… without some strangeness in the proportion."
Edgar Allan Poe
31.
"Moments of beauty sustain us through hours of ugliness."
Brent Weeks
32.
"I don't think of all the misery, but of the beauty that still remains."
Anne Frank
33.
"Most people tend to think the best of those who are blessed with beauty; we have difficulty imagining that physical perfection can conceal twisted emotions or a damaged mind."
Dean Koontz
34.
"Youth is happy because it has the capacity to see beauty. Anyone who keeps the ability to see beauty never grows old."
Franz Kafka
35.
"It is amazing how complete is the delusion that beauty is goodness."
Leo Tolstoy
36.
"I can only note that the past is beautiful because one never realizes an emotion at the time. It expands later, and thus we don't have complete emotions about the present, only about the past."
Virginia Woolf
37.
"It just means that I'm able to see the beauty in most of the people who cross paths with me and I appreciate it for what it is and also for what it isn't."
Ashly Lorenzana
38.
"There is nothing more rare, nor more beautiful, than a woman being unapologetically herself; comfortable in her perfect imperfection. To me, that is the true essence of beauty."
Steve Maraboli
39.
"Our task must be to free ourselves… by widening our circle of compassion to embrace all living creatures and the whole of nature and it's beauty."
Albert Einstein
40.
"Just because something is beautiful doesn´t mean it´s good."
Alex Flinn
These quotes about beauty are spot on
41.
"Beauty is truth, truth beauty,—that is all
Ye know on earth, and all ye need to know"
John Keats
42.
"The best part of beauty is that which no picture can express."
P.C. Cast, Betrayed
43.
"Outer beauty attracts, but inner beauty captivates."
Kate Angell
44.
"A thing of beauty is a joy forever."
John Keats
45.
"Though we travel the world over to find the beautiful, we must carry it with us, or we find it not."
Ralph Waldo Emerson
46.
"Do I love you because you're beautiful, or are you beautiful because I love you?"
Richard Rodgers
47.
"It's ok to feel delicate sometimes. Real beauty is in the fragility of your petals. A rose that never wilts isn't a rose at all."
Crystal Woods
48.
"Live quietly in the moment and see the beauty of all before you. The future will take care of itself."
Yogananda
49.
"Beauty surrounds us."
Rumi
50.
"Beauty is the purest feeling of the soul. Beauty arises when soul is satisfied."
Amit Ray
51.
"Beauty is not caused. It is."
Emily Dickinson
52.
"Happy girls are the prettiest"
Audrey Hepburn
53.
"I would define, in brief, the poetry of words as the rhythmical creation of beauty."
Edgar Allan Poe
54.
"To the people who love you, you are beautiful already. This is not because they're blind to your shortcomings but because they so clearly see your soul. Your shortcomings then dim by comparison. The people who care about you are willing to let you be imperfect and beautiful, too."
Victoria Moran
55.
"And when all the wars are over, a butterfly will still be beautiful."
Ruskin Bond
56.
"Beauty is about being comfortable in your own skin. It's about knowing and accepting who you are."
Ellen DeGeneres
57.
"The appearance of things changes according to the emotions; and thus we see magic and beauty in them, while the magic and beauty are really in ourselves."
Kahlil Gibran
58.
"All this beauty exists so you and I can see His glory, His artwork. It's like an invitation to worship Him, to know Him."
Donald Miller
59.
"The voice of beauty speaks softly; it creeps only into the most fully awakened souls"
Friedrich Nietzsche
60.
"At some point in life, the world's beauty becomes enough. You don't need to photograph, paint or even remember it. It is enough. No record of it needs to be kept and you don't need someone to share it with or tell it to. When that happens — that letting go — you let go because you can."
Toni Morrison
61.
"Beauty is about finding the right fit, the most natural fit, to be perfect, you have to feel perfect about yourself – avoid trying to be something you're not."
Rick Riordan
62.
"There are as many styles of beauty as there are visions of happiness."
Stendhal
63.
"True beauty is something that attacks, overpowers, robs, and finally destroys."
Yukio Mishima
64.
"The beautiful is always bizarre."
Charles Baudelaire
65.
"The beauty of a living thing is not the atoms that go into it, but the way those atoms are put together."
Carl Sagan
66.
"Some of the greatest poetry is revealing to the reader the beauty in something that was so simple you had taken it for granted."
Neil deGrasse Tyson
67.
"Beauty is a sign of intelligence."
Andy Warhol
68.
"Proportion is the heart of beauty."
Ken Follett
69.
"The greatest beauty is organic wholeness, the wholeness of life and things, the divine beauty of the universe."
Robinson Jeffers
70.
"Beauty awakens the soul to act."
Dante Alighieri
Quotes about beauty like this show you how wonderful life is
71.
"Whatever can die is beautiful — more beautiful than a unicorn, who lives forever, and who is the most beautiful creature in the world. Do you understand me?"
Peter S. Beagle
72.
"The soul that sees beauty may sometimes walk alone."
Johann Wolfgang von Goethe
73.
"Strangeness is a necessary ingredient in beauty."
Charles Baudelaire
74.
"Only a mind free of impediment is capable of grasping the chaotic beauty of the world. This is our greatest asset."
Oliver Bowden
75.
"All the diversity, all the charm, and all the beauty of life are made up of light and shade."
Leo Tolstoy
76.
"Death is the mother of beauty. Only the perishable can be beautiful, which is why we are unmoved by artificial flowers."
Wallace Stevens
77.
"The mind can go in a thousand directions, but on this beautiful path, I walk in peace. With each step, the wind blows. With each step, a flower blooms."
Thich Nhat Hanh
78.
"Just because you are blind and unable to see my beauty doesn't mean it does not exist."
Margaret Cho
79.
"Life is so full of unpredictable beauty and strange surprises. Sometimes that beauty is too much for me to handle. Do you know that feeling? When something is just too beautiful? When someone says something or writes something or plays something that moves you to the point of tears, maybe even changes you."
Mark Oliver Everett
80.
"All things of grace and beauty such that one holds them to one's heart have a common provenance in pain. Their birth in grief and ashes."
Cormac McCarthy
81.
"Beauty is subjective. You know how sometimes what makes a person attractive is the way they make you laugh or how it seems like they can read your mind?"
Kiera Cass
82.
"Some beautiful paths can't be discovered without getting lost."
Erol Ozan
83.
"Each day should be spent finding beauty in flowers and poetry and talking to animals. That a day spent with dreaming and sunsets and refreshing breezes cannot be bettered."
Nicholas Sparks
84.
"You don't owe prettiness to anyone. Not to your boyfriend/spouse/partner, not to your co-workers, especially not to random men on the street. You don't owe it to your mother, you don't owe it to your children, you don't owe it to civilization in general. Prettiness is not a rent you pay for occupying a space marked 'female'."
Erin McKean
85.
"We desire to possess a beauty that is worth pursuing, worth fighting for, a beauty that is core to who we truly are. We want beauty that can be seen; beauty that can be felt; beauty that affects others; a beauty all our own to unveil."
Stasi Eldredge
86.
"Beauty, to me, is about being comfortable in your own skin."
Gwyneth Paltrow
87.
"Crippled things are always more beautiful. It's the flaw that brings out beauty."
Holly Black
88.
"You are beautiful. Know this. Anyone who tells you otherwise is simply lying. You are beautiful."
Steve Maraboli
89.
"Real beauty, the interesting, truly pleasing kind, is about honoring the beauty within you and without you. It's about knowing that someone else's definition of pretty has no hold over you."
Golda Poretsky
90.
"The ideals which have always shone before me and filled me with joy are goodness, beauty, and truth."
Albert Einstein
91.
"True beauty could be discovered only by one who mentally complete the incomplete."
Kakuzō Okakura
92.
"The beauty of the world… has two edges, one of laughter, one of anguish, cutting the heart asunder."
Virginia Woolf
93.
"I think the biggest lie the devil ever told was that beauty and goodness are the same."
Daniel Nayeri
94.
"The mirror is the worst judge of true beauty"
Sophia Nam
95.
"Beauty without expression is boring."
Ralph Waldo Emerson
96.
"Having an eye for beauty isn't the same thing as a weakness… except possibly when it comes to you."
Suzanne Collins
97.
"In a world of disorder and disaster and fraud, sometimes only beauty can be trusted. Only artistic excellence is incorruptible. Pleasure cannot be bargained down. And sometimes the meal is the only currency that is real."
Elizabeth Gilbert
98.
"Whole life is a search for beauty. But, when the beauty is found inside, the search ends and a beautiful journey begins."
Harshit Walia
99.
"Flawed, we're truly interesting, truly memorable, and yes, truly beautiful."
Justina Chen Headley
100.
"We do not want merely to see beauty… we want something else which can hardly be put into words – to be united with the beauty we see, to pass into it, to receive it into ourselves, to bathe in it, to become part of it."
C.S. Lewis
101.
"That which is really beautiful has no need of anything; not more than law, not more than truth, not more than benevolence or modesty."
Marcus Aurelius
102.
"It is perhaps when our lives are at their most problematic that we are likely to be most receptive to beautiful things."
Alain de Botton
103.
"There's nothing more inspiring than the complexity and beauty of the human heart."
Cynthia Hand
104.
"Those who contemplate the beauty of the earth find reserves of strength that will endure as long as life lasts."
Rachel Carson
105.
"Whatever the imagination seizes as Beauty must be truth -whether it existed before or not"
John Keats
106.
"One frequently only finds out how really beautiful a woman is, until after considerable acquaintance with her."
Mark Twain
107.
"What do we long for when we see beauty? To be beautiful. We think much happiness must be connected with it. But that is an error."
Friedrich Nietzsche
108.
"There is a beauty in the world, though it's harsher than we expect it to be."
Michael Cunningham
109.
"Beauty was not simply something to behold; it was something one could do."
Toni Morrison
110.
"Remember that the most beautiful things in the world are the most useless; peacocks and lilies for instance."
John Steinbeck
111.
"It is foolish to wish for beauty. Sensible people never either desire it for themselves or care about it in others. If the mind be but well cultivated, and the heart well disposed, no one ever cares for the exterior."
Anne Brontë
Bonus
"I am larger, better than I thought; I did not know I held so much goodness. All seems beautiful to me."
Walt Whitman
I hope you enjoyed this collection of quotes about beauty. What are your favorite quotes from this collection?
Stay victorious!