The British Royal family has not only become an iconic brand but is possibly one of the most popular figureheads of England. The family has attracted the world's fascination and is admired by millions. If you always wanted to know what it means to be the female patriarch of a royal family, our selection of majestic Queen quotes is perfect for you.
The United Kingdom is well-known for its rich history of Queens. There's no other country which has had more female leaders from a royal family than England. While some of these Queens have left a bloody path in the course of history, others have had quite a beneficial impact upon the country.
"I was a queen, and you took away my crown; a wife, and you killed my husband; a mother, and you deprived me of my children. My blood alone remains: take it but do not make me suffer long."
Marie Antoinette
With the following quotes about the Queen, you can gain a unique perspective on the various Queens that have ruled in England and other countries. The statements will help you to understand the perspectives of the various Queens and how they were viewed by the public in general.
Many of these quotes reflect the great admiration that past rulers and Queen Elisabeth are receiving. However, there are also critical tones of the royal family in general and the Queen in particular. These voices are also represented in the following collection.
85 Majestic and Royal Queen Quotes
The following selection of majestic Queen quotes gives you a good impression of what it means to be a royal. But this list will give you the inspiration to live life as if you were a queen.
Enjoy this collection of inspirational Queen quotes
1.
"And therefore I am come amongst you at this time, not as for my recreation or sport, but being resolved, in the midst and heat of the battle, to live or die amongst you all; to lay down, for my God, and for my kingdom, and for my people, my honour and my blood, even the dust. I know I have but the body of a weak and feeble woman; but I have the heart of a king, and of a king of England, too."
Queen Elizabeth I
2.
"I will do what queens do, I will rule."
Daenerys Targaryen
3.
"I do not so much rejoice that God hath made me to be a Queen, as to be a Queen over so thankful a people."
Queen Elizabeth I
4.
"And whether consciously or not, you must be in many a heart enthroned: queens you must always be: queens to your lovers; queens to your husbands and sons; queens of higher mystery to the world beyond, which bows itself, and will forever bow, before the myrtle crown, and the stainless scepter of womanhood."
John Ruskin
5.
"I may not be a lion,but I am lions cub and I have lion's heart"
Queen Elizabeth I
6.
"People are like bees. They're all workers who could be queens, with the right stuff, but once a queen-making has begun, it can't be reversed."
Natasha Pulley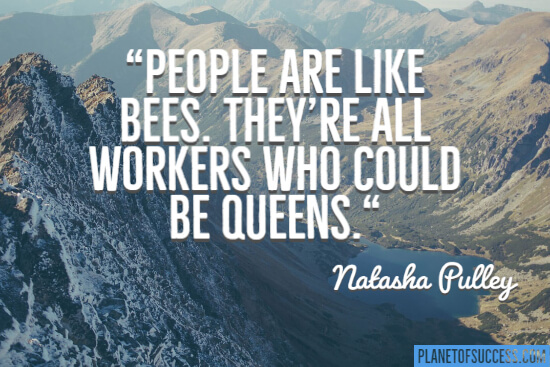 7.
"Therefore I am sure that this, my Coronation, is not the symbol of a power and a splendor that are gone but a declaration of our hopes for the future, and for the years I may, by God's Grace and Mercy, be given to reign and serve you as your Queen."
Queen Elizabeth II
8.
"Think like a queen. A queen is not afraid to fail. Failure is another steppingstone to greatness."
Oprah Winfrey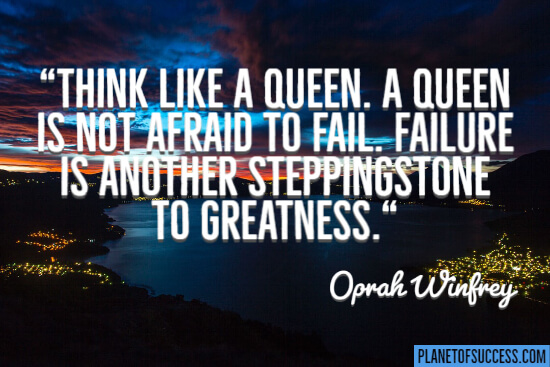 9.
"I cannot lead you into battle. I do not give you laws or administer justice but I can do something else – I can give my heart and my devotion to these old islands and to all the peoples of our brotherhood of nations."
Queen Elizabeth II
10.
"Perhaps I cannot make my people good, she told herself, but I should at least try to make them a little less bad."
George R.R. Martin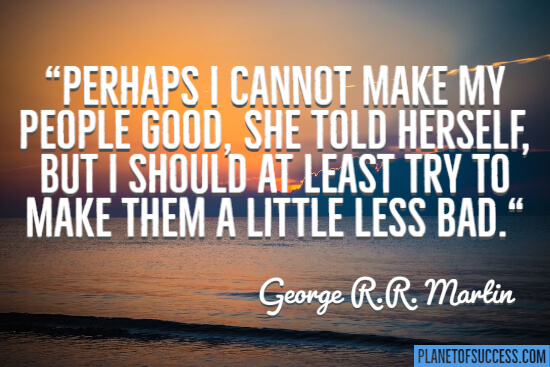 11.
"I do not want a husband who honors me as a queen, if he does not love me as a woman."
Elizabeth I
12.
"I look those haters straight in the eye, keep my chin up and shoulders back. Because I know I'm a fierce queen – and they know it, too."
Alyssa Edwards
13.
"It's time for a queen to rise."
Laura Sebastian
14.
"If only Queen Elizabeth II had the intellectual, political and linguistic skills of Queen Elizabeth I, many people would support giving her some of the powers of an elected president."
A. N. Wilson
15.
"I observe and remain silent."
Queen Elizabeth I
16.
"I've always said, if you treat yourself like a queen, you'll attract a king."
Pepa
17.
"Though I am not imperial, and though Elizabeth may not deserve it, the Queen of England will easily deserve to have an emperor's son to marry."
Elizabeth I
18.
"I am a queen because I know how to govern myself."
Lailah Gifty Akita
19.
"Every woman is a queen, and we all have different things to offer."
Queen Latifah
20.
"I would rather be a beggar and single than a queen and married."
Elizabeth I
21.
"The Queen is the only person who can put on a tiara with one hand, while walking down stairs."
Princess Margaret
22.
"To be a queen of a household is a powerful thing."
Jill Scott
23.
"You are enough to drive a saint to madness or a king to his knees."
Grace Willows
24.
"The Queen rarely loses her temper, but when she does, she brooks no argument."
Ingrid Seward
25.
"Like all best families, we have our share of eccentricities, of impetuous and wayward youngsters and of family disagreements."
Queen Elizabeth II
26.
"I have to be seen to be believed."
Queen Elizabeth II
27.
"No Queen has clean hands."
George R.R. Martin
28.
"My care is like my shadow in the sun, follows me flying, flies when I pursue it, stands and lies by me, doth what I have done."
Elizabeth I
29.
"I'd like to be a queen in people's hearts but I don't see myself being queen of this country."
Princess Diana
30.
"You better treat her like your queen, if you want to be treated like a king."
Moosa Rahat
31.
"It's like chess, you know. The Queen saves the King."
Terry Pratchett
32.
"Why do the Gods make kings and queens if not to protect the ones who can't protect themselves?"
George R.R. Martin
33.
"The past can not be cured."
Queen Elizabeth I
34.
"You are a queen that demands respect and God will bring the right person into your life to make you forget why you ever wasted your time on nothing important."
Shannon L. Alder
35.
"There's no point in fighting for the throne if you're not going to make a difference."
Rhiannon Thomas
36.
"I say this explicitly, that it is impossible for me to marry. That is the way it is for me. My temper is a mortal enemy to this horrible yoke, which I would not accept, even if I thus would become the ruler of the world."
Christina Queen of Sweden
37.
"I will have but one mistress and no master"
Queen Elizabeth I
38.
"As for my own part I care not for death, for all men are mortal; and though I be a woman yet I have as good a courage answerable to my place as ever my father had. I am your anointed Queen. I will never be by violence constrained to do anything. I thank God I am indeed endowed with such qualities that if I were turned out of the realm in my petticoat I were able to live in any place in Christendom."
Queen Elizabeth I
39.
"The Queen is the ultimate dictator."
Morrissey
40.
"Anger makes dull men witty, but it keeps them poor."
Queen Elizabeth I
41.
"There was once a time when darkness shrouded the world, and the darkness had a queen."
Marie Lu
42.
"In the end, this shall be for me sufficient, that a marble stone shall declare that a Queen, having reigned such a time, lived and died a virgin."
Queen Elizabeth I
43.
"Especially as a title-holder, you can do great things with charities, because people suddenly care about what you have to say. I wanted to make a difference, which is why I created the Queen of the Universe pageant. I want to change all of those stigmas in the beauty pageant world."
Joyce Giraud
44.
"There is no marvel in a woman learning to speak, but there would be in teaching her to hold her tongue"
Elizabeth I
45.
"I like a man who looks like a bad boy but knows how to treat a woman like a queen."
Candice Swanepoel
46.
"Do not tell secrets to those whose faith and silence you have not already tested."
Queen Elizabeth I
47.
"The engagements I had with Queen Elizabeth and Prince Charles were about reaching out and showing respect to the unionist people. I also recognized that when someone like her makes acts of reconciliation as she did do at the Garden of Remembrance in Dublin, she is 100% behind the peace process."
Martin McGuinness
48.
"Life is for living and working at. If you find anything or anybody a bore, the fault is in yourself."
Queen Elizabeth I
49.
"I love photo sessions. I'm alone, I'm the queen, everyone's taking care of me."
Eva Herzigova
50.
"I see, and say nothing."
Queen Elizabeth I
51.
"In the games of queens and kings, we leave our dreams at the door and we make do with what we have. Sometimes if we're fortunate, we still manage to have a good life."
Melina Marchetta
52.
"Men fight wars. Women win them."
Queen Elizabeth I
53.
"Once a king or queen of Narnia, always a king or queen of Narnia."
C.S. Lewis
55.
"I have the heart of a man, not a woman, and I am not afraid of anything."
Queen Elizabeth I
56.
"A true plague of a girl. And yet a queen in every sense of the word."
Renee Ahdieh
57.
"There is only one Christ, Jesus, one faith. All else is a dispute over trifles."
Queen Elizabeth I
58.
"Being the Queen is not all about singing, and being a diva is not all about singing. It has much to do with your service to people. And your social contributions to your community and your civic contributions as well."
Aretha Franklin
59.
"All my possessions for a moment of time."
Queen Elizabeth I
60.
"Let the Queen do the fighting cos if you lose the King, you've lost everything."
Terry Pratchett
61.
"Never did the world make a queen of a girl who hides in houses and dreams without traveling."
Roman Payne
62.
"This is the Lord's doing, and it is marvelous in our eyes."
Queen Elizabeth I
63.
"A queen could leave her throne. But a mother never leaves her son."
V.E. Schwab
64.
"The least we each ought to do for someone who treats us like a king or a queen is to treat them like a prince or a princess."
Mokokoma Mokhonoana
65.
"Always wear an internal crown and have a queendom mindset. A queen is a leader and role model."
Janna Cachola
66.
"The more you get in touch with your sensuality, the more you release your man's potential to treat you like a queen."
Lebo Grand
67.
"Come on, fight me as a queen would."
Rebecca Ross
68.
"My Queen, this is for you. I bring you the stars, the stars from the borderless sea."
Matt Suddain
69.
"For I am soft and made of melting snow;"
Queen Elizabeth I
70.
"A King and Queen cannot support a crown with eyes looking down. Their universe expands as far as you can see."
T.F. Hodge
71.
"The strength of a kingdom comes from its King,
The strength of a King comes from his Queen."
Cody Edward Lee Miller
72.
"A crown of kisses to the queen of dreams."
Albert Camus
73.
"If a man does not treat you like a princess during courtship, he will not treat you like a queen during marriage."
Matshona Dhliwayo
74.
"They don't want a princess. They want a war queen."
JM Robison
75.
"Sometimes a Pawn is enough to change the whole game and those who ignore the importance of it, are liable to lose their Queen."
Sandeep Sharma
76.
"Even when she's dethroned by hardship, she still wears the sun as a crown."
Curtis Tyrone Jones
77.
"I asked a queen once why she didn't want me. She wasn't a powerful queen, not a monarch of Spain or of Albania. Just a little kingdom of nowhere, but she married well and she had a crown. The queen of nowhere looked at me with her clear grey eyes and said: "Because I don't want to be in a story." Princesses usually grow up to be queens. The cleverness sticks long after the beauty goes."
Catherynne M. Valente
78.
"I'd decided that I was going to stop dressing like a princess and start dressing like a queen."
Kiera Cass
79.
"I love the way he says my name. With the elegance and utmost respect of a King, just before he bows to his Queen."
M.J. Abraham
80.
"A queen loves where she must not where she will."
George R.R. Martin
81.
"These people will try to manipulate you, try to bring you down but remember baby girl you are a queen, own your crown."
Nikki Rowe
82.
"Every day when you wake up, there is a crown prepared for you. Each day, forsake everything and everyone that will try to keep you from it."
C. JoyBell C.
83.
"A queen—a queen who bowed to no one, a queen who had faced them all down and triumphed. A queen who owned her body, her life, her destiny, and never apologized for it."
Sarah J. Maas
84.
"Her hair is full of icy wind and daylight. She is every princess, every queen, in the history book."
Lauren DeStefano
85.
"Real kings and queens are people whose heads are crowned with dreams as they sit on the throne of passion. They rule with visions in the regalia of inspirations!"
Israelmore Ayivor
86.
"In the beginning the queen had been a courageous and fair-minded princess very much liked by all, but unfortunately, she grew up and became a frightened adult, as adults tend to be. She started loving efficiency and avoiding conflict. As adults do."
Fredrik Backman
87.
"I fight tirelessly to inspire my fellow humans to become Kings and Queens in their own worlds."
Edmond Mbiaka
I hope you enjoyed this collection of Queen quotes.
Stay victorious!