In this present day and age, respect is slowly declining day by day. People are becoming more and more self-centered and unsympathetic to those around them. As a result, they have little to no regard for other people's rights and feelings. Instead, huge numbers of people behave however they please. What are the consequences of all of this? The number of people who act without politeness, thoughtfulness, and civility is rapidly declining. At the same time, disrespectful behavior is on the rise. Similarly, people who have earned great achievements are no longer treated with the respect they deserve. In order to draw attention to these problems, we've created a powerful list of respect quotes. It is a reminder of the importance to treat others kindly and with respect.
It's very likely that you are powerfully reminded each day that people who have no respect for others make the world a lot less peaceful. They treat others miserable and may even be the source of unhappiness for many other people.
"Life is too short to waste your time on people who don't respect, appreciate, and value you."
Roy T. Bennett
At the same time, you can also see how those around you thrive in situations where others respect them and treat them with dignity. Showing respect and being thoughtful of others really doesn't take much. In fact, it feels a lot better to treat others in a fair and justified manner.
Interestingly enough, it doesn't take that much to treat others politely. Simply behave with good manners and treat others how you would like to be treated. Even more so, respectful behavior is not just about admiring those who deserve it because of their great accomplishments. Respect is also about taking the time to listen to other people's concerns, problems, and thoughts. It is about complimenting those who've made great efforts and are hard-working, polite individuals.
75 Powerful Respect Quotes
The amazing thing of the following respect quotes is that they stem from some of the wisest and most intelligent beings that have ever walked on this earth. From their thoughts, you can learn a lot about what it means to behave respectfully. Similarly, these authors will remind you how important it is to treat others in a respectful manner. At the same time, however, these respect quotes will encourage you not to allow disrespectful people who do not deserve any respect whatsoever to exploit you.
Here's our collection of powerful respect quotes
These are the powerful quotes that will motivate you not to give up on your manners and politeness in a world that is filled with disrespectful people.
1.
"Knowledge will give you power, but character respect."
Bruce Lee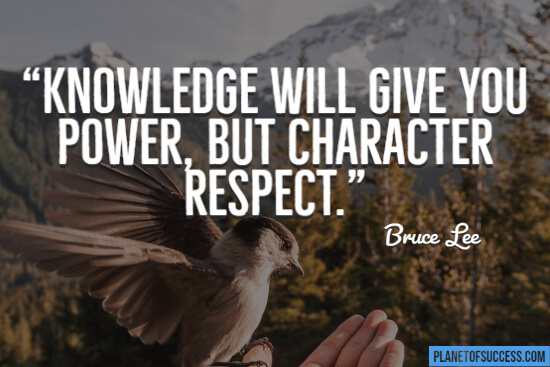 2.
"Respect yourself and others will respect you."
Confucius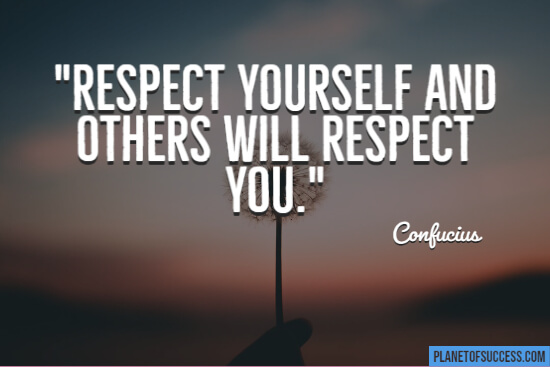 3.
"When we treat people merely as they are, they will remain as they are. When we treat them as if they were what they should be, they will become what they should be."
Thomas S. Monson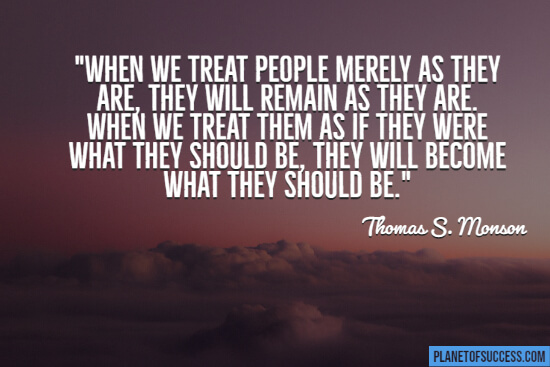 4.
"Everyone should be respected as an individual, but no one idolized."
Albert Einstein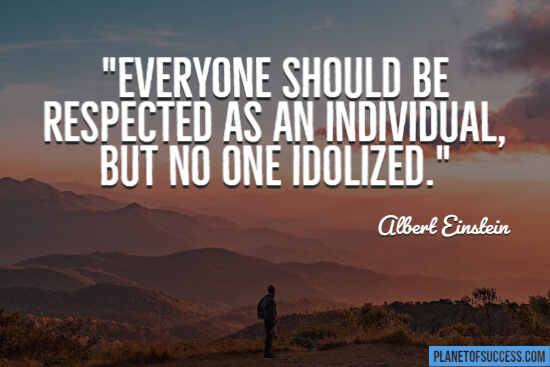 5.
"Men are respectable only as they respect."
Ralph Waldo Emerson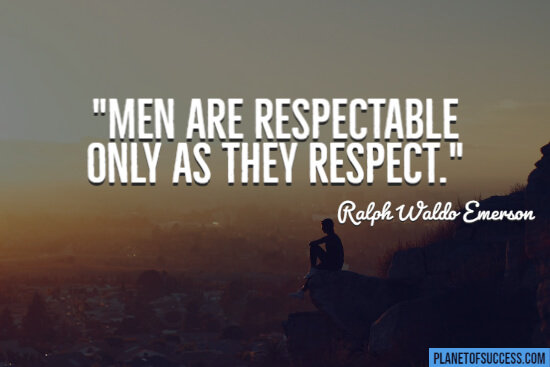 6.
"Respect is a two-way street, if you want to get it, you've got to give it."
R.G. Risch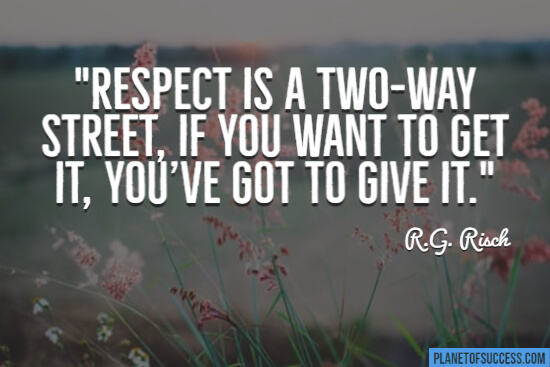 7.
"If we lose love and self respect for each other, this is how we finally die."
Maya Angelou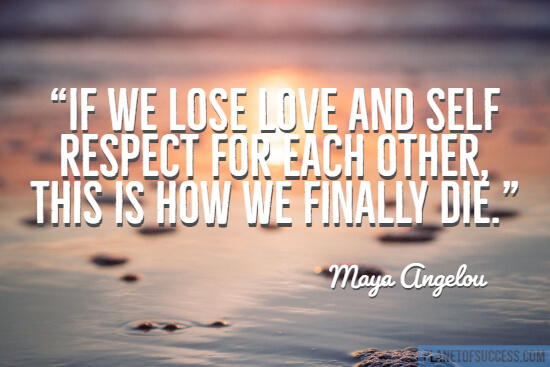 8.
"Nothing is more despicable than respect based on fear."
Albert Camus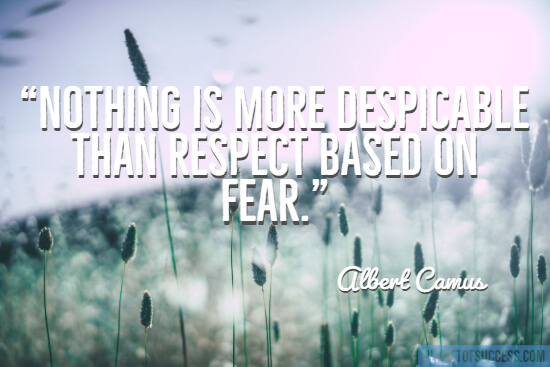 9.
"I firmly believe that respect is a lot more important, and a lot greater, than popularity."
Julius Erving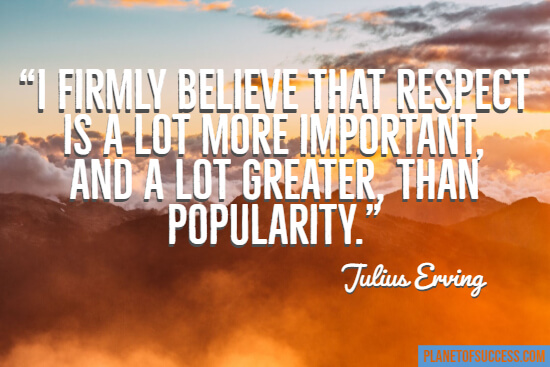 10.
"Never respect men merely for their riches, but rather for their philanthropy; we do not value the sun for its height, but for its use."
Gamaliel Bailey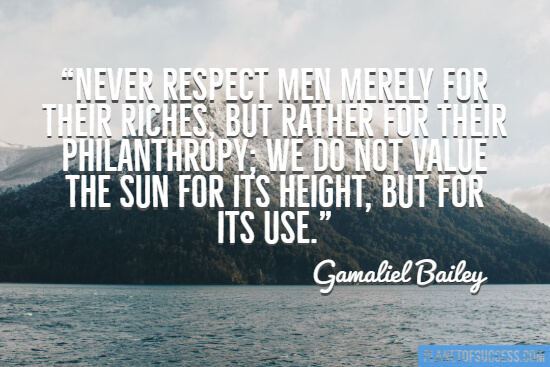 11.
"If you have some respect for people as they are, you can be more effective in helping them to become better than they are."
John W. Gardner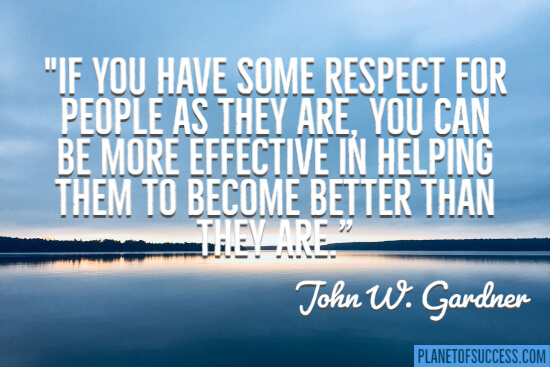 12.
"I speak to everyone in the same way, whether he is the garbage man or the president of the university."
Albert Einstein
13.
"I don't care if you're black, white, straight, bisexual, gay, lesbian, short, tall, fat, skinny, rich or poor. If you're nice to me, I'll be nice to you. Simple as that."
Robert Michaels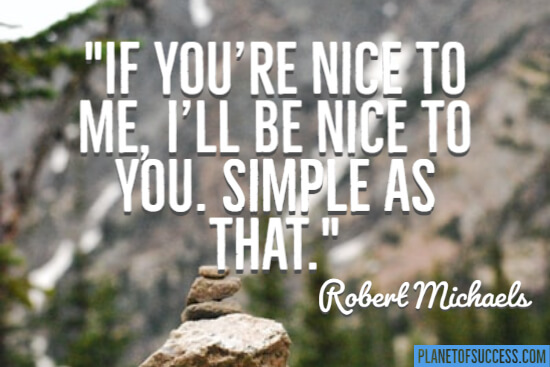 14.
"Respect other people's feelings. It might mean nothing to you, but it could mean everything to them."
Roy T. Bennett
15.
"It may be important to great thinkers to examine the world, to explain and despise it. But I think it is only important to love the world, not to despise it, not for us to hate each other, but to be able to regard the world and ourselves and all beings with love, admiration, and respect."
Hermann Hesse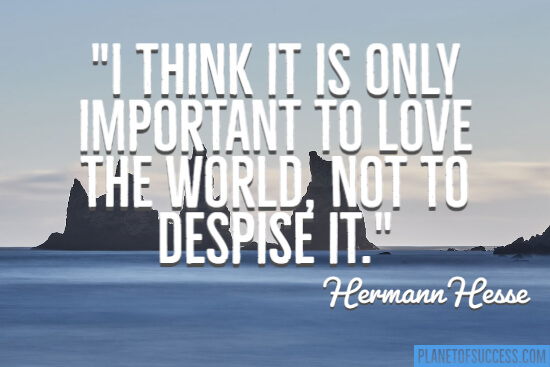 16.
"Tolerance only for those who agree with you is no tolerance at all."
Ray Davis
17.
"One of the most sincere forms of respect is actually listening to what another has to say."
Bryant H. McGill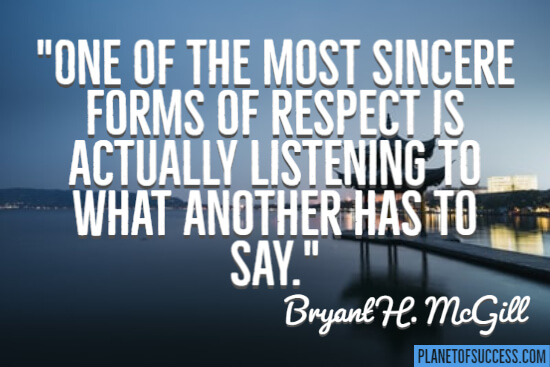 18.
"I'm not concerned with your liking or disliking me… All I ask is that you respect me as a human being."
Jackie Robinson
19.
"Treat people the way you want to be treated. Talk to people the way you want to be talked to. Respect is earned, not given."
Hussein Nishah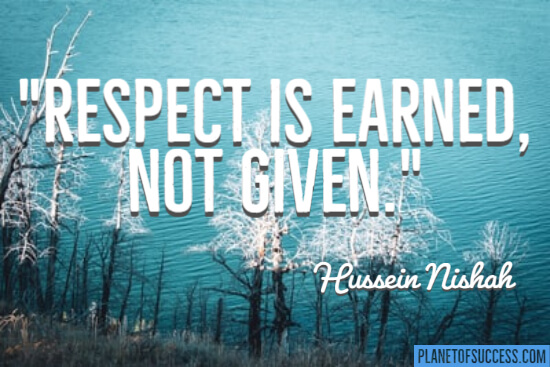 20.
"He who loves others is constantly loved by them. He who respects others is constantly respected by them."
Mencius
21.
"How people treat you with their karma. How you react is yours."
Wayne W. Dyer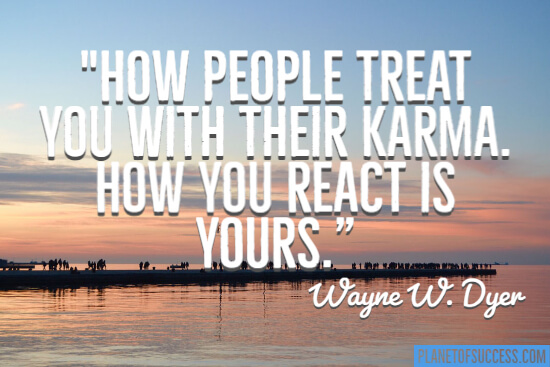 22.
"Respecting someone indicates the quality of your personality."
Mohammad Sakhi
23.
"There is no respect for others without humility in one's self."
Henri Amiel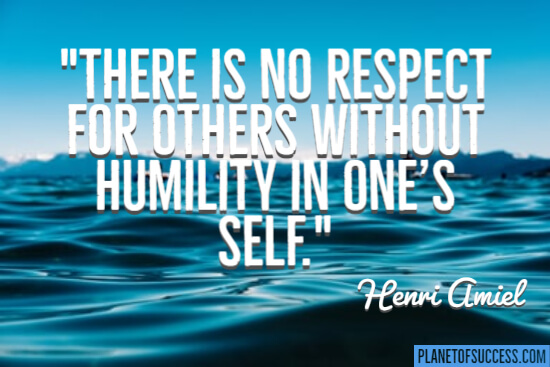 24.
"As all human beings are, in my view, creatures of God's design, we must respect all other human beings. That does not mean I have to agree with their choices or agree with their opinions, but indeed I respect them as human beings."
Stockwell Day, Jr.
25.
"My father used to have an expression. He'd say, 'Joey, a job is about a lot more than a paycheck. It's about your dignity. It's about respect. It's about your place in your community.'"
Joe Biden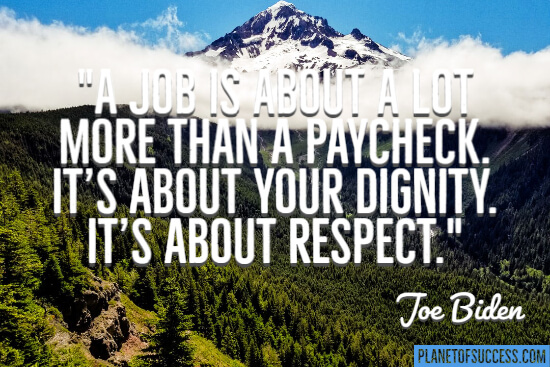 26.
"There is always the danger that we may just do the work for the sake of the work. This is where the respect and the love and the devotion come in – that we do it to God, to Christ, and that's why we try to do it as beautifully as possible."
Mother Teresa
27.
"We learned about gratitude and humility – that so many people had a hand in our success, from the teachers who inspired us to the janitors who kept our school clean… and we were taught to value everyone's contribution and treat everyone with respect."
Michelle Obama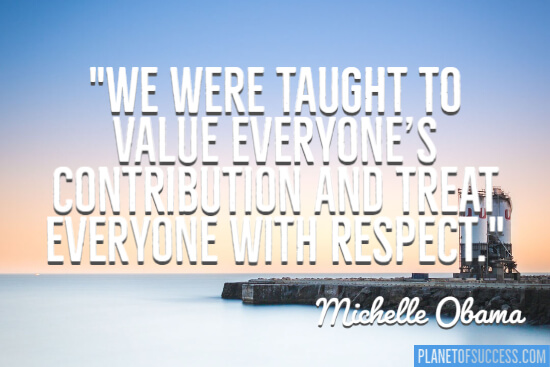 28.
"Be peaceful, be courteous, obey the law, respect everyone; but if someone puts his hand on you, send him to the cemetery."
Malcolm X
29.
"I cannot conceive of a greater loss than the loss of one's self-respect."
Mahatma Gandhi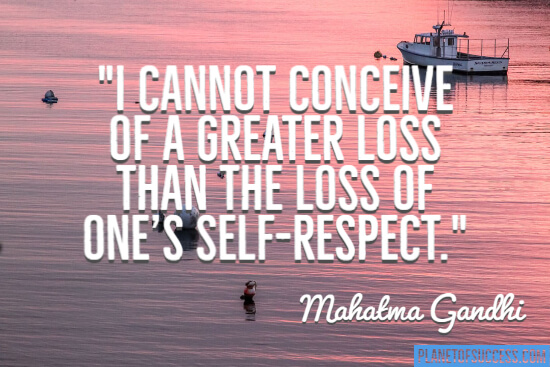 30.
"We cannot expect people to have respect for law and order until we teach respect to those we have entrusted to enforce those laws."
Hunter S. Thompson
31.
"To get down to the quick of it, respect motivates me – not success."
Hugh Jackman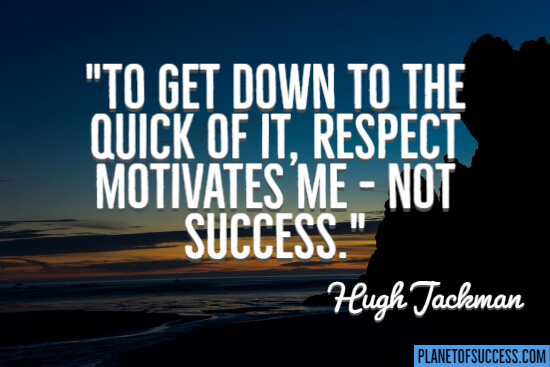 32.
"If you want to be respected by others, the great thing is to respect yourself. Only by that, only by self-respect will you compel others to respect you."
Fyodor Dostoyevsky
33.
"If we desire respect for the law, we must first make the law respectable."
Louis D. Brandeis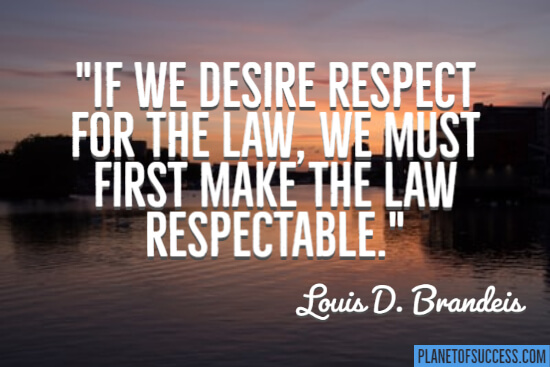 34.
"It is my goal to love everyone. I hate no one. Regardless of their race, religion, their proclivities, the desire of their heart and how they want to live their life and the decisions that they make. I can even respect people's decisions and lifestyle choices just as I hope they have the courtesy to respect my decisions and my choices."
Kirk Cameron
35.
"I'm the one person who wears the words 'hustle, loyalty, respect' on my T-shirts and merchandise. My audience is children. It's very flattering to see a kid wear your T-shirt; it's even more flattering to have a dad come up to you and say, 'I watch you with my kid. Keep doing what you're doing. You're a role model for my son.'"
John Cena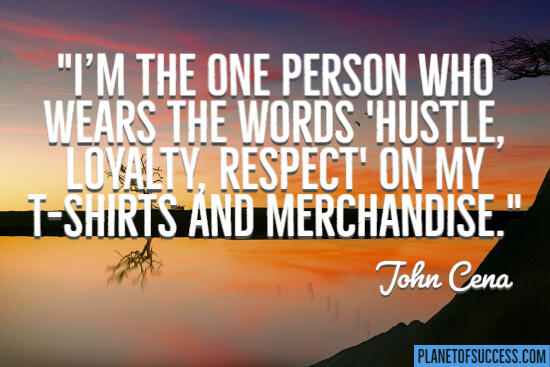 36.
"I have a great love and respect for religion, great love and respect for atheism. What I hate is agnosticism, people who do not choose."
Orson Welles
37.
"Responsibility and respect of others and their religious beliefs are also part of freedom."
Horst Koehler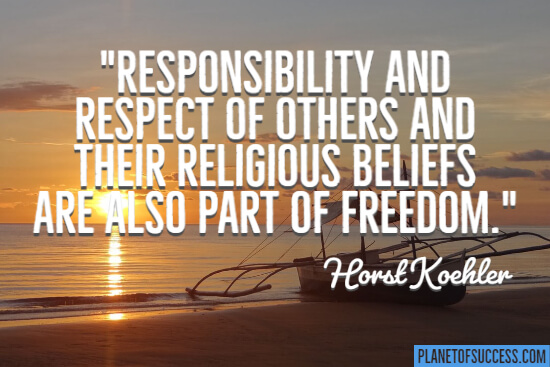 38.
"Above all, don't lie to yourself. The man who lies to himself and listens to his own lie comes to a point that he cannot distinguish the truth within him, or around him, and so loses all respect for himself and for others. And having no respect he ceases to love."
Fyodor Dostoyevsky
39.
"You should respect each other and refrain from disputes; you should not, like water and oil, repel each other, but should, like milk and water, mingle together."
Buddha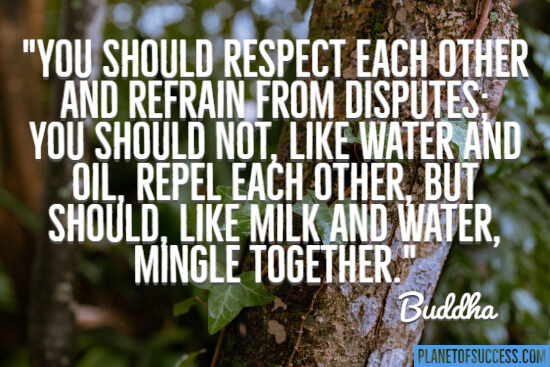 40.
"One of the surprising things in this world is the respect a worthless man has for himself."
E. W. Howe
41.
"Have a big enough heart to love unconditionally, and a broad enough mind to embrace the differences that make each of us unique."
D.B. Harrop
42.
"It is the way one treats his inferiors more than the way he treats his equals which reveals one's real character."
Charles Bayard Mitchell
43.
"In finding love, I think it's important to be patient. In being in a relationship, I think it's important to be honest, to communicate, to respect and trust, and to strive to give more than you take."
Kina Grannis
44.
"The bond that links your true family is not one of blood, but of respect and joy in each other's life."
Richard Bach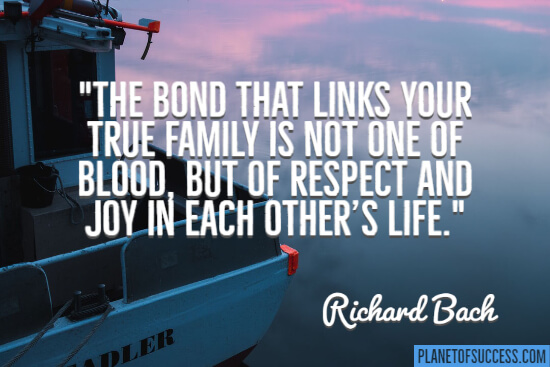 45.
"When you practice gratefulness, there is a sense of respect toward others."
Dalai Lama
46.
"Respect your efforts, respect yourself. Self-respect leads to self-discipline. When you have both firmly under your belt, that's real power."
Clint Eastwood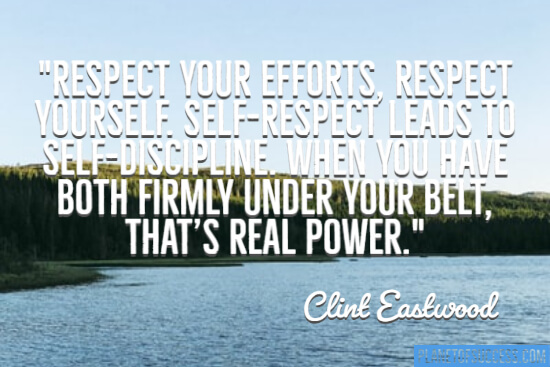 47.
"As all human beings are, in my view, creatures of God's design, we must respect all other human beings. That does not mean I have to agree with their choices or agree with their opinions, but indeed I respect them as human beings."
Stockwell Day
48.
"I have no right, by anything I do or say, to demean a human being in his own eyes. What matters is not what I think of him; it is what he thinks of himself. To undermine a man's self-respect is a sin."
Antoine de Saint-Exupery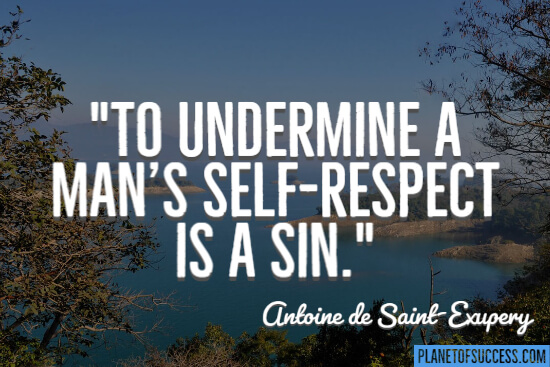 49.
"Respect was invented to cover the empty place where love should be."
Leo Tolstoy
50.
"Leadership is diving for a loose ball, getting the crowd involved, getting other players involved. It's being able to take it as well as dish it out. That's the only way you're going to get respect from the players."
Larry Bird
51.
"I guess at the end of the day, all women like to be appreciated and treated with respect and kindness."
Sofia Vergara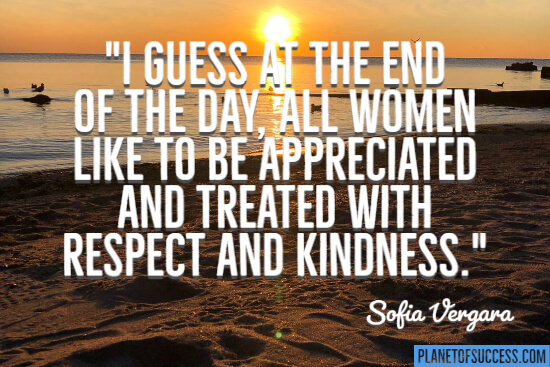 52.
"There can be no failure to a man who has not lost his courage, his character, his self-respect, or his self-confidence. He is still a King."
Orison Swett Marden
53.
"I never meet a ragged boy in the street without feeling that I may owe him a salute, for I know not what possibilities may be buttoned up under his coat."
James A. Garfield
54.
"Respect is one of life's greatest treasures. I mean, what does it all add up to if you don't have that?"
Marilyn Monroe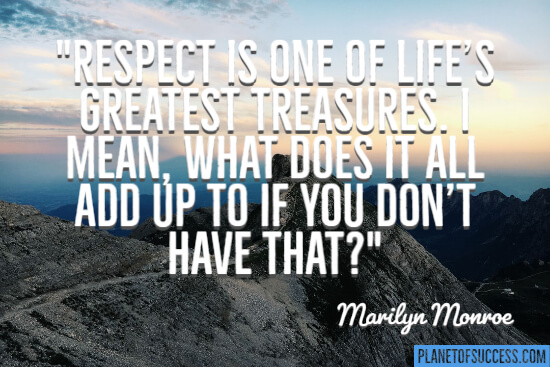 55.
"It is time to return to core values, time to get back to basics, to self-discipline and respect for the law, to consideration for the others, to accepting responsibility for yourself and your family – and not shuffling it off on other people and the state."
John Major
56.
"It takes no compromising to give people their rights. It takes no money to respect the individual. It takes no survey to remove repressions."
Harvey Milk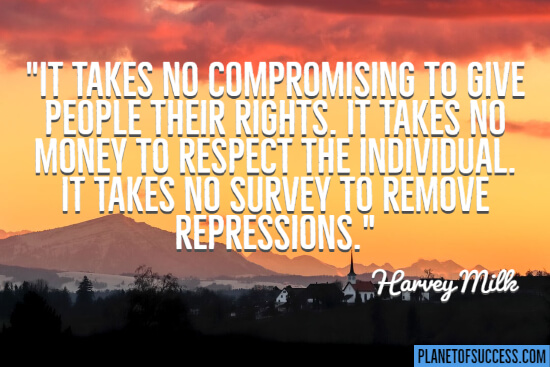 57.
"Football is like life – it requires perseverance, self-denial, hard work, sacrifice, dedication and respect for authority."
Vince Lombardi
58.
"We don't need to share the same opinions as others, but we need to be respectful."
Taylor Swift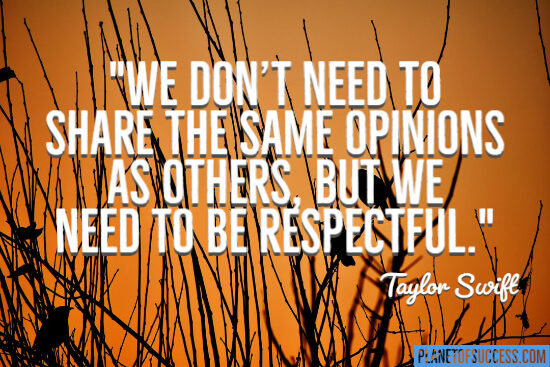 59.
"Our work for human dignity is often lonely, and almost always an uphill climb. At times, our efforts are misunderstood, and we are mistaken for the enemy. There has been a clear erosion of respect for U.N. blue and our impartiality."
Ban Ki-moon
60.
"Our parents deserve our honor and respect for giving us life itself. Beyond this, they almost always made countless sacrifices as they cared for and nurtured us through our infancy and childhood, provided us with the necessities of life, and nursed us through physical illnesses and the emotional stresses of growing up."
Ezra Taft Benson
61.
"You don't tell people who disagree with you they'd be better off somewhere else. And you don't reduce them to stereotypes; you address them as fully formed people worthy of respect. You try to persuade them."
Peggy Noonan
62.
"A person's a person, no matter how small."
Dr. Seuss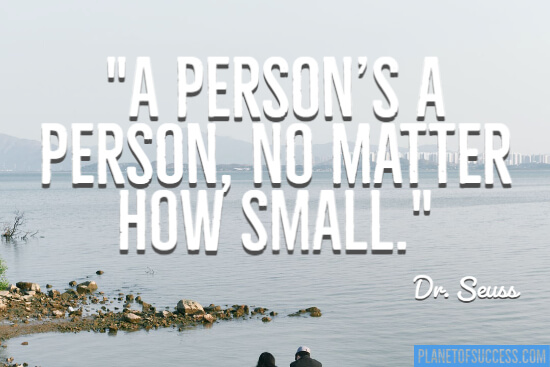 63.
"True humility is intelligent self-respect which keeps us from thinking too highly or too meanly of ourselves. It makes us modest by reminding us how far we have come short of what we can be."
Ralph W. Sockman
64.
"A child who is allowed to be disrespectful to his parents will not have true respect for anyone."
Billy Graham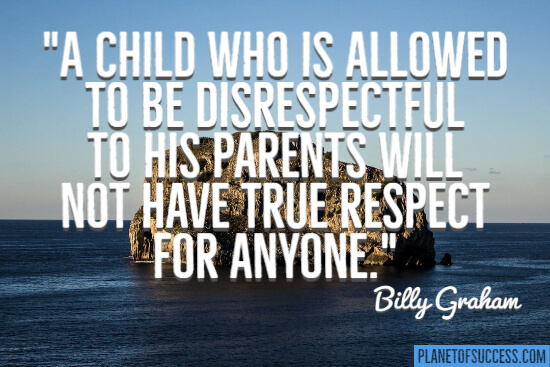 65.
"There are lots of people I admire and respect, but I don't necessarily want to be like them. I'm too happy being myself."
James D'arcy
66.
"Respect for ourselves guides our morals, respect for others guides our manners."
Laurence Sterne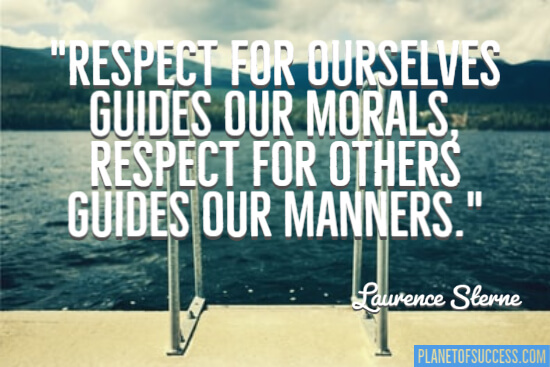 67.
"We should all consider each other as human beings, and we should respect each other."
Malala Yousafzai
68.
"Have a big enough heart to love unconditionally, and a broad enough mind to embrace the differences that make each of us unique."
D. B. Harrop
69.
"No boundary off area surrounds the heart of a person that lost their self and others."
Shannon L. Alder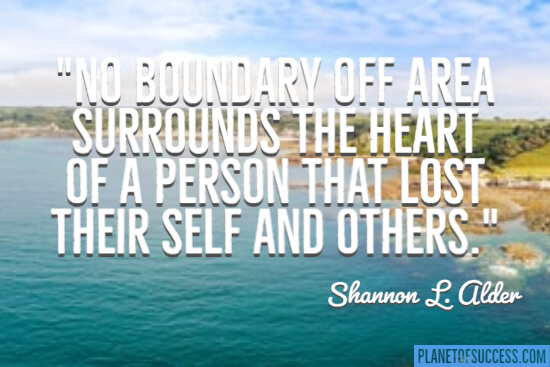 70.
"Diversity of character is due to the unequal time given to values. Only through each other will we see the importance of the qualities we lack and our unfinished soul's potential."
Shannon L. Alder
71.
"Someone once told me that if you respect a person, listen to their opinion. And if you do not respect someone, then do not listen to their opinion. And that works both ways."
Maisie Williams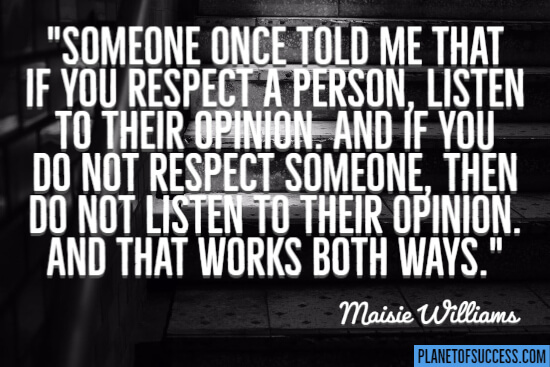 72.
"What we make testifies who we are. People can sense care and can sense carelessness. This relates to respect for each other and carelessness is personally offensive."
Jonathan Ive
73.
"Poetry is the universal language which the heart holds with nature and itself. He who has a contempt for poetry, cannot have much respect for himself, or for anything else."
William Hazlitt
74.
"Most good relationships are built on mutual trust and respect."
Mona Sutphen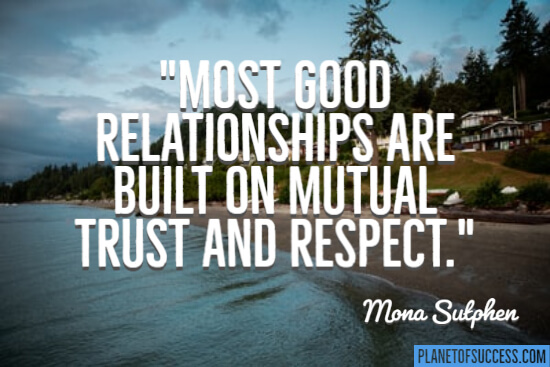 75.
"If we are not free, no one will respect us."
A. P. J. Abdul Kalam
Bonus
"Perhaps the surest test of an individual's integrity is his refusal to do or say anything that would damage his self-respect."
Thomas S. Monson
I hope you enjoyed this collection of powerful respect quotes.
Stay victorious!