Do you want to start all over with your life? It's never too late to reboot and start from scratch. If you want to start building the fundament for a better and happier life, you're at the right place. Our list of some of the most motivational new beginning quotes will inspire you to start again with excitement and commitment. To help you in developing the right mindset for a new start, be sure to also have a look at our collection of change quotes.
There are these times where you simply want to close one chapter of your life and start a new one. When everything seems to be going wrong in your present life, getting a blank sheet with fresh pages to write on can be quite enticing.
"Isn't it nice to think that tomorrow is a new day with no mistakes in it yet?"
L.M. Montgomery
Just as change is a constant in life, opportunities for a new beginning present themselves continuously to you. In fact, each new day is a new chapter in your life. It's your choice to make use of that chance.
No matter if you're feeling stuck in life or if you've been confronted with a painful failure, you can always start over again. All it takes is to develop the necessary courage to get back up on your feet and to make things happen.
109 Inspirational Quotes about New Beginnings
Many people wake up one day feeling sick and tired of certain aspects of their lives. Maybe they are unhappy about a toxic relationship. Or they are dissatisfied with their physical health. That's the moment when you've started to realize that change is necessary so that you can live a happier and healthier life.
Many of the following authors were confronted with the same issue of needing to make severe changes in their lives. The following new beginning quotes are packed with inspirational insights that help you to reboot your life.
Here's our list of new beginning quotes
1.
"Any new beginning can start now and if you want anything bad enough you'll find the courage to pursue it with all you have. The past doesn't have to be the future, stop making it so."
Nikki Rowe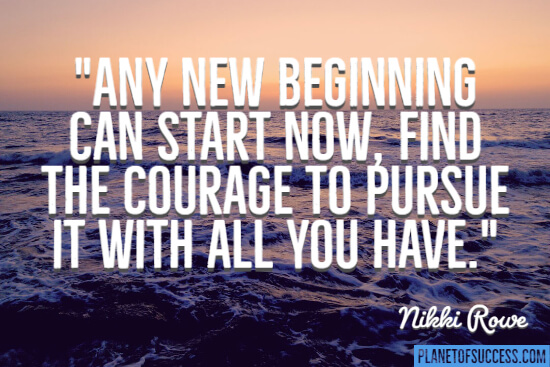 2.
"Every sunset is an opportunity to reset."
Richie Norton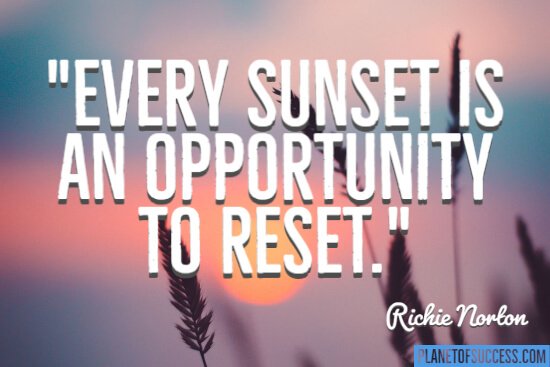 3.
"Keep on beginning and failing. Each time you fail, start all over again, and you will grow stronger until you have accomplished a purpose – not the one you began with perhaps, but one you'll be glad to remember."
Anne Sullivan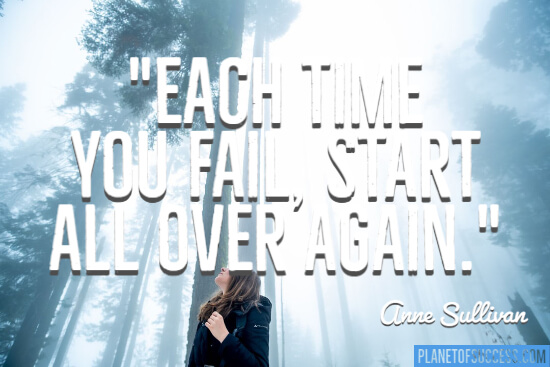 4.
"When we dream alone it is only a dream, but when many dream together it is the beginning of a new reality."
Friedensreich Hundertwasser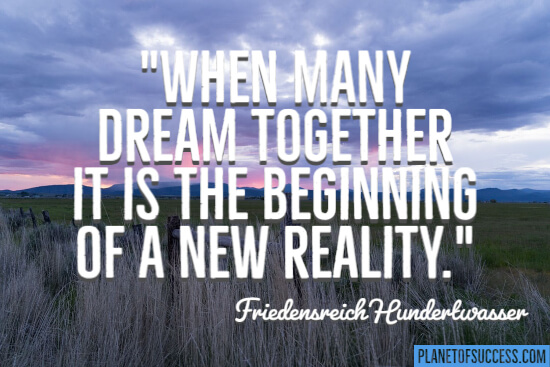 5.
"I hope you realize that every day is a fresh start for you. That every sunrise is a new chapter in your life waiting to be written."
Juansen Dizon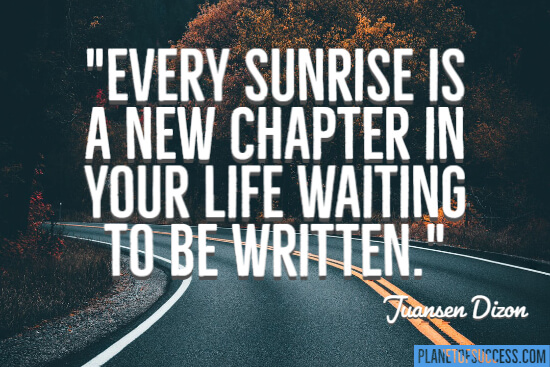 6.
"From the end spring new beginnings."
Pliny the Elder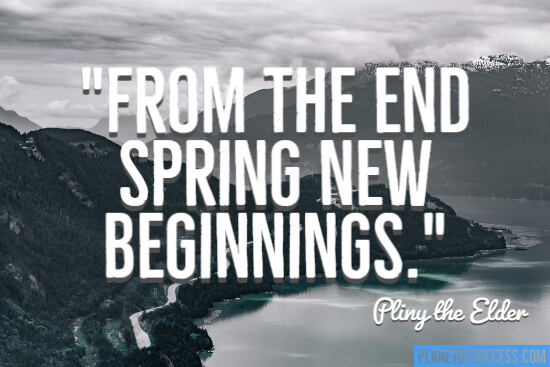 7.
"It is not the failure that holds us back but the reluctance to begin over again that causes us to stagnate."
Clarissa Pinkola Estés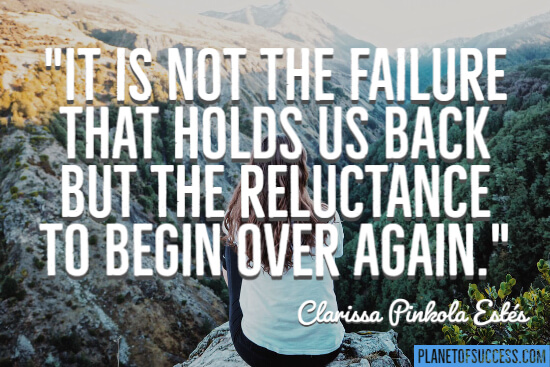 8.
"I'd been rejected, but I was still in love, so I decided to start over."
Steve Jobs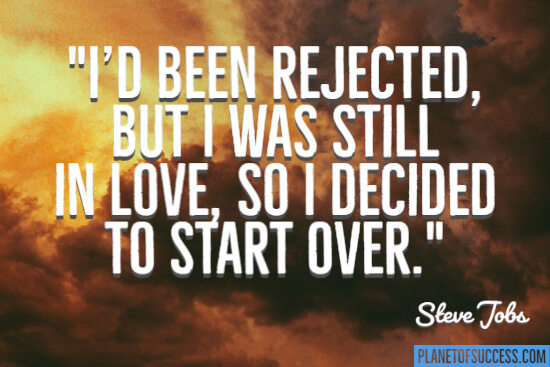 9.
"The beginning is always today."
Mary Shelley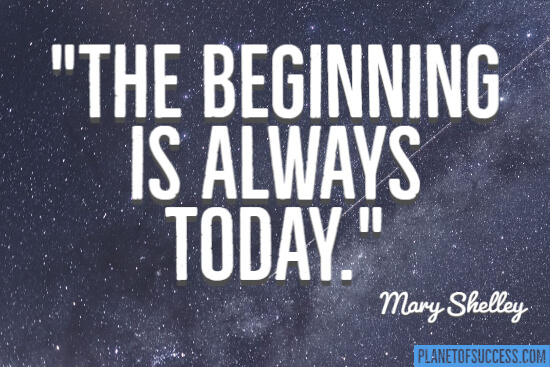 10.
"Sometimes you have to burn it down and start over."
Kelly Braffet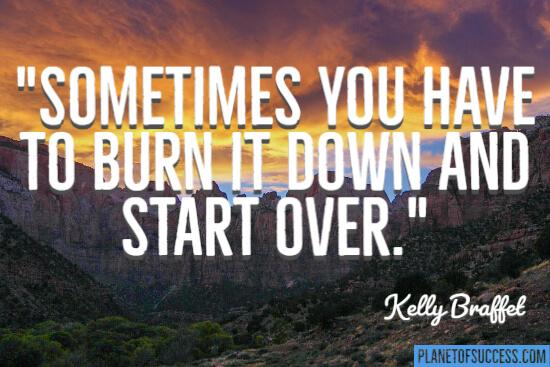 11.
"A Sunrise is God's way of saying, "Let's start again."
Todd Stocker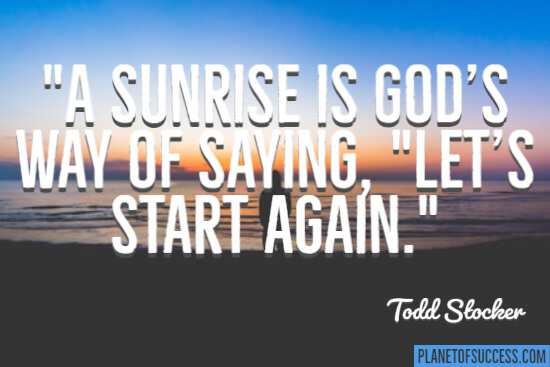 12.
"Nothing is predestined. The obstacles of your past can become the gateways that lead to new beginnings."
Ralph Blum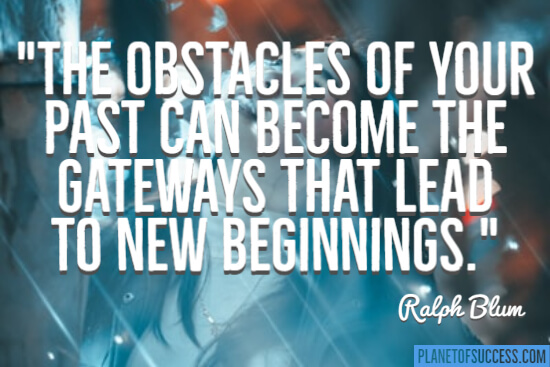 13.
"Pain is also a symptom of transformation. I thought about bouncing back. How we can start again. And again."
Abbi Jacobson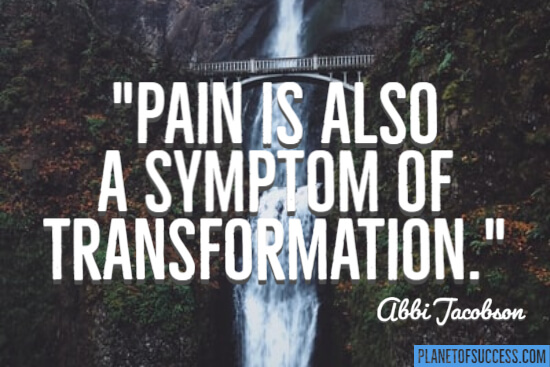 14.
"Never feel guilty for starting again."
Rupi Kaur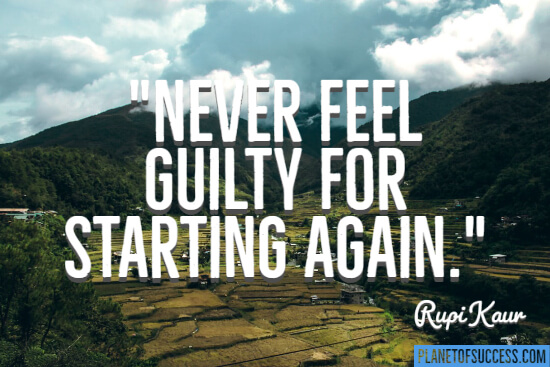 15.
"Perhaps that is where our choice lies – in determining how we will meet the inevitable end of things, and how we will greet each new beginning."
Elana K. Arnold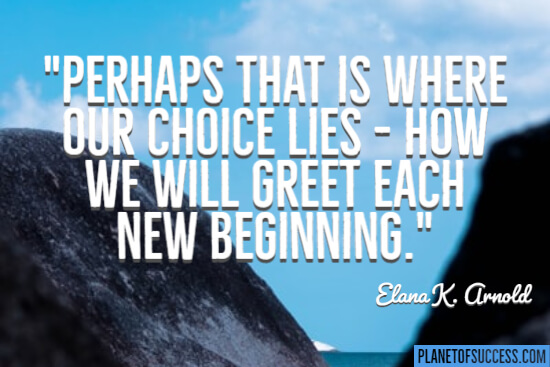 16.
"There is something beautiful about a blank canvas, the nothingness of the beginning that is so simple and breathtakingly pure. It's the paint that changes its meaning and the hand that creates the story. Every piece begins the same, but in the end they are all uniquely different."
Piper Payne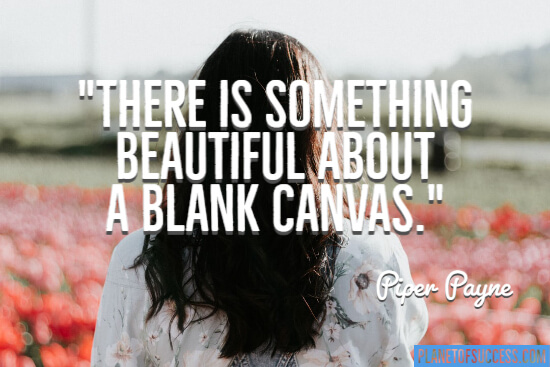 17.
"Never underestimate the power you have to take your life in a new direction."
Germany Kent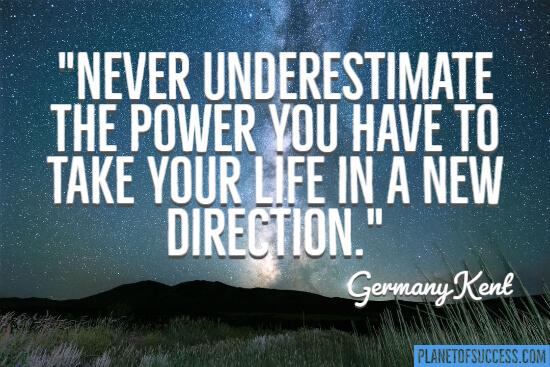 18.
"I want every day to be a fresh start on expanding what is possible."
Oprah Winfrey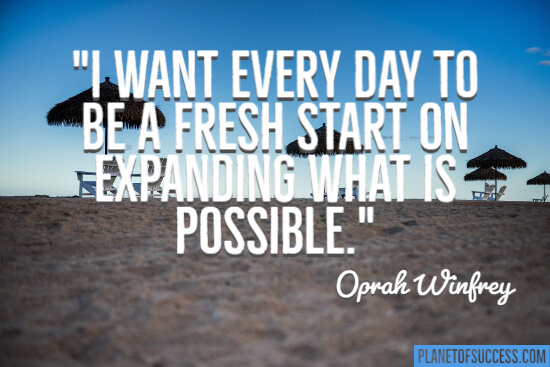 19.
"When there's a big disappointment, we don't know if that's the end of the story. It may just be the beginning of a great adventure."
Pema Chödrön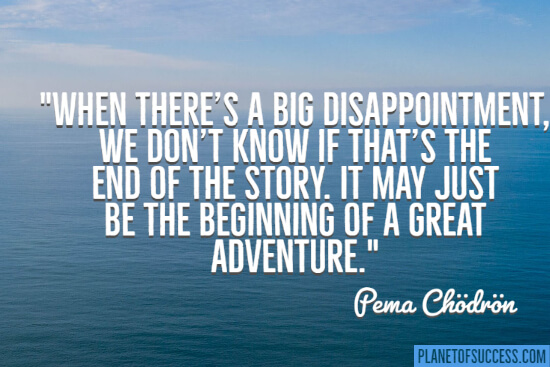 20.
"Humble new beginnings do exist, but to begin, you must be humble. Nothing ever stays the same."
Melody Carstairs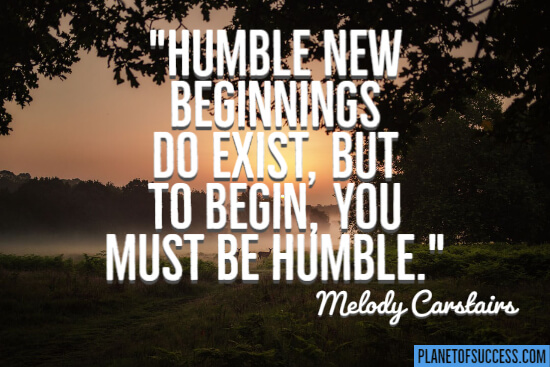 21.
"All achievements, all earned riches, have their beginning in an idea."
Napoleon Hill
22.
"Forgiveness says you are given another chance to make a new beginning."
Desmond Tutu
23.
"Let go of yesterday. Let today be a new beginning and be the best that you can, and you'll get to where God wants you to be."
Joel Osteen
24.
"Every new beginning comes from some other beginning's end."
Seneca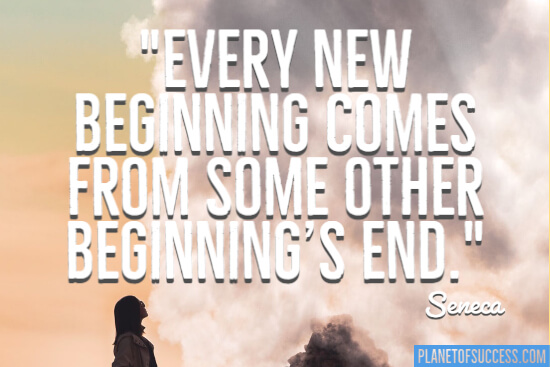 25.
"Every day I feel is a blessing from God. And I consider it a new beginning. Yeah, everything is beautiful."
Prince
26.
"Sometimes you have to kind of die inside in order to rise from your own ashes and believe in yourself and love yourself to become a new person."
Gerard Way
27.
"It's a wise man who understands that every day is a new beginning, because boy, how many mistakes do you make in a day? I don't know about you, but I make plenty. You can't turn the clock back, so you have to look ahead."
Mel Gibson
28.
"Let's forget the baggage of the past and make a new beginning."
Shehbaz Sharif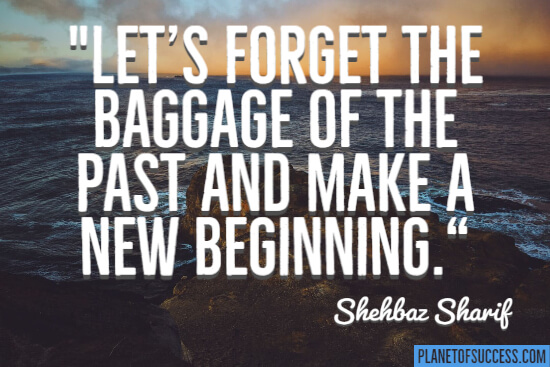 29.
"A tiny change today brings a dramatically different tomorrow."
Richard Bach
30.
"Sometimes it's not about trying to fix something that's broken. Sometimes it's about starting again and building something new. Something better"
Leisa Rayven
31.
"Let every dawn be to you as the beginning of life."
John Ruskin
32.
"For a true writer, each book should be a new beginning where he tries again for something that is beyond attainment."
Ernest Hemingway
33.
"Forget everything you've done. Start over."
Marty Rubin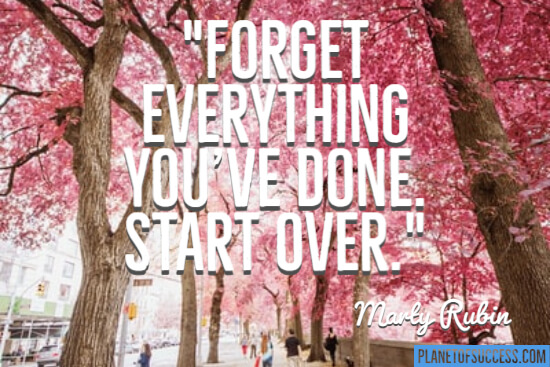 34.
"When you feel as though you can't do something, the simple antidote is action: Begin doing it. Start the process, even if it's just a simple step, and don't stop at the beginning."
Marcus Buckingham
35.
"I give you this to take with you: Nothing remains as it was. If you know this, you can begin again, with pure joy in the uprooting."
Judith Minty
36.
"Sometimes, you just have to start all over differently."
Bernard Kelvin Clive
37.
"Without a beginning I am pouring the whole of my existence into the building of endings, while the cross and the resurrection declare that God is incessantly building beginnings from the collapse of endings."
Craig D. Lounsbrough
38.
"What we call the beginning is often the end. And to make an end is to make a beginning. The end is where we start from."
T. S. Eliot
39.
"Imagination is the beginning of creation. You imagine what you desire, you will what you imagine and at last you create what you will."
George Bernard Shaw
40.
"The best thing about endings is knowing that just ahead is the daunting task to start over."
Jodi Picoult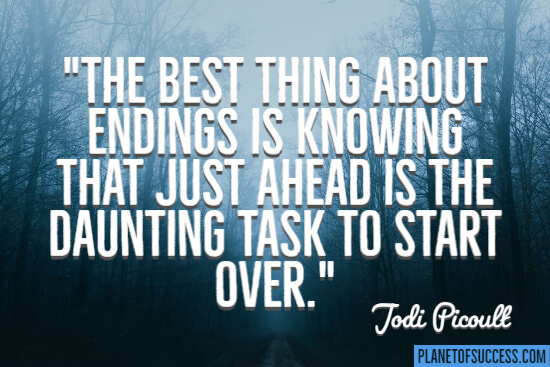 41.
"Beginnings could happen more than once or in different ways."
Rachel Joyce
42.
"Before beginning, plan carefully."
Marcus Tullius Cicero
43.
"The past is the beginning of the beginning and all that is and has been is but the twilight of the dawn."
H. G. Wells
44.
"Begin at the beginning and go on till you come to the end; then stop."
Lewis Carroll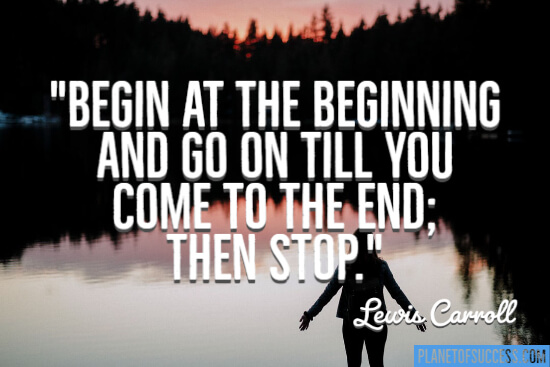 45.
"If you start in the pit of despair with these profane, awful things, even a glimmer of hope or awareness is going to occur that's much brighter coming from this dark, awful beginning."
Chuck Palahniuk
46.
"Starting over can be the scariest thing in the entire world, whether it's leaving a lover, a school, a team, a friend or anything else that feels like a core part of our identity but when your gut is telling you that something here isn't right or feels unsafe, I really want you to listen and trust in that voice."
Jennifer Elisabeth
47.
"Now this is not the end. It is not even the beginning of the end. But it is, perhaps, the end of the beginning."
Winston Churchill
48.
"To love oneself is the beginning of a lifelong romance."
Oscar Wilde
49.
"It's easy enough to keep something moving, but getting it going in the first place is hard. That's the thing about second chances and fresh starts. It's a (re)start."
Wildbow
50.
"Life is a process – just one thing after another. When you lose it, just start again."
Richard Carlson
51.
"There comes a moment when you realise that there are no more chapters left in the book of your (current) life and it's time to start a new book."
Malebo Sephodi
52.
"Tomorrow when I awaken, the slate will be clean, and a new day will stretch before me. God's mercies are new every morning."
Lori Hatcher
53.
"Be willing to be a beginner every single morning."
Meister Eckhart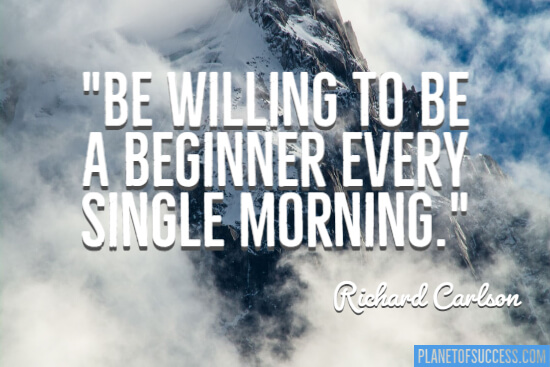 54.
"Everything has been said before, but since nobody listens we have to keep going back and beginning all over again."
Andre Gide
55.
"Hit the reset button. Whatever happened yesterday, forget about it. Get a new perspective. Today is a new day. Fresh start, begins now."
Germany Kent
56.
"The beginning is the most important part of the work."
Plato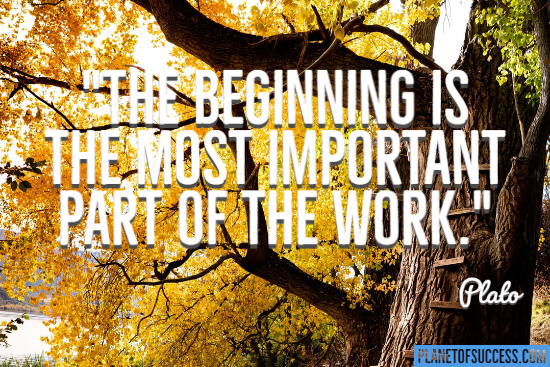 57.
"In every end, there is also a beginning."
Libba Bray
58.
"Once your mindset changes, everything on the outside will change along with it."
Steve Maraboli
59.
"You can turn over a new leaf every hour if you choose."
Arnold Bennett
60.
"Birthing is never easy or without pain, be it a universe, a child, or a fresh start in life. Contraction precedes expansion. Darkness comes before dawn. Joy follows pain. This is the way of things."
John Mark Green
61.
"This is life. Things get taken away. You will learn to start over many times – or you will be useless."
Mitch Albom
62.
"Recreate your life, always, always. Remove the stones, plant rose bushes and make sweets. Begin again."
Cora Coralina
63.
"Instead of saying, "I'm damaged, I'm broken, I have trust issues," say "I'm healing, I'm rediscovering myself, I'm starting over."
Horacio Jones
64.
"A fresh start is always made with dirty laundry."
Teri Louise Kelly
65.
"Infinity is the end. End without infinity is but a new beginning."
Dejan Stojanovic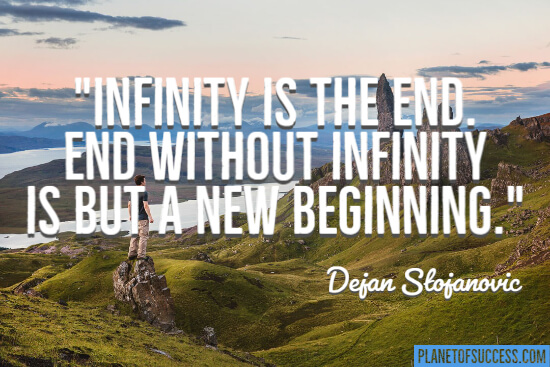 66.
"Each night, when I go to sleep, I die. And the next morning, when I wake up, I am reborn."
Mahatma Gandhi
67.
"It's painful and it's messy. But sometimes you just have to make the break and start again."
Tony Parsons
68.
"Left alone, no matter at what age or under what circumstance, you have to remake your life."
Katharine Graham
69.
"The direction you choose to face determines whether you're standing at the end or the beginning of a road."
Richelle E. Goodrich
70.
"For the first time in my life I realized that it was possible to reinvent oneself."
Joel Derfner
71.
"Forget everything you've done. Start over."
Marty Rubin
72.
"This is a new year. A new beginning. And things will change."
Taylor Swift
73.
"If positivity is not your mindset, then reset"
Josh Stern
74.
"What's wonderful about life is you always have to start over. No matter how many meals you've eaten, words you've spoken, breaths, you've taken, you always have to start over."
Marty Rubin
75.
"But there's a beginning in an end, you know? It's true that you can't reclaim what you had, but you can lock it up behind you. Start fresh."
Alexandra Bracken
76.
"It's never too late to start over!"
Lynne Gentry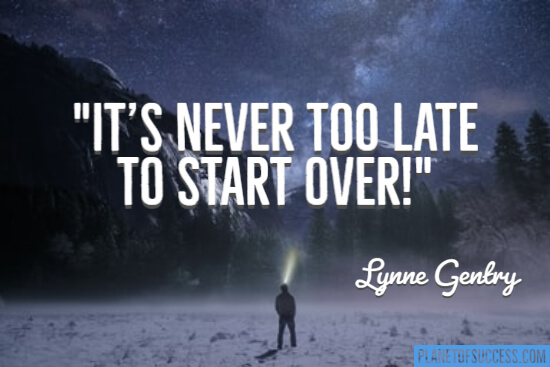 77.
"It takes a lot of courage to release the familiar and seemingly secure, to embrace the new. But there is no real security in what is no longer meaningful."
Alan Cohen
78.
"Seedlings of life sometimes come out of the fertiliser of what was left behind."
Gillian Duce
79.
"Every day begins like a blank chalkboard, on which each one of us can write the poem of our present and our dreams for the future."
Ricky Martin
80.
"To properly do penance one must express contrition for one's sins and perform acts to repair the damage caused by those transgressions. It is only when those acts are complete that the slate can truly be wiped clean and amnesty gives way to a new beginning."
Emily Thorne
81.
"What a seductive belief – that one can start fresh simply by jettisoning one's history, that one can leave all that is painful or unsavory behind."
Susan Rebecca White
82.
"If you're tired of starting over, then you need to learn to stick through and overcome difficult things instead of running away from them."
Jeanette Coron
83.
"It hurts to let go, to say goodbye for the final time and remain distant in your closure, but somehow in it all you find the pieces of your worth and you start creating yourself again, and in that journey of transformation you find the essence of what truly matters, inner happiness."
Nikki Rowe
84.
"Starting over begins when I develop a reawakened appreciation for what I already have."
Craig D. Lounsbrough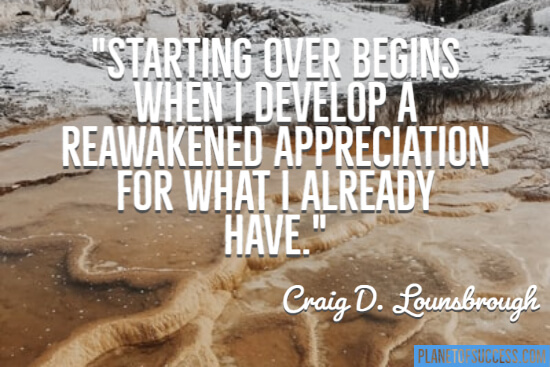 85.
"Sometimes we can only find our true direction when we let the wind of change carry us"
Mimi Novic
86.
"Beginnings are sudden, but also insidious. They creep up on you sideways, they keep to the shadows, they lurk unrecognized. Then, later, they spring."
Margaret Atwood
87.
"The future begins today."
Wayne Gerard Trotman
88.
"When your world is completely flattened, you have no choice but to start over from the ground up. It can take over a decade. Anyone that watched from afar would call this a tragic catastrophe. I now know one of life's greatest secrets; destruction breeds growth."
Kristin Michelle Elizabeth
89.
"The life is possible without the past. You can always have a fresh start with life, at any point. Each moment millions of children are born to have a fresh start with life."
Roshan Sharma
90.
"All is flux, nothing stays still"
Plato
91.
"Like a blinking cursor on an empty page, it was just the first thing. The beginning of the beginning. But at least it was done."
Sarah Dessen
92.
"The thrill of new beginnings is immensely alluring!"
Avijeet Das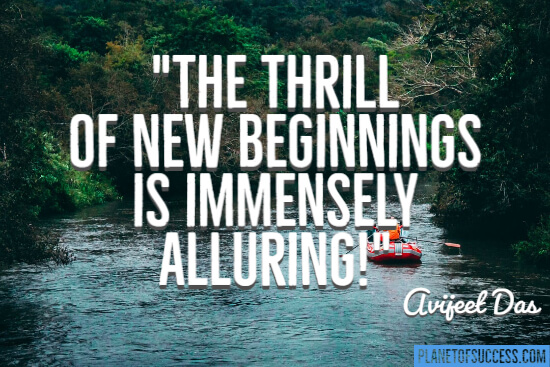 93.
"In the oddity or maybe the miracle of life, the roots of something new frequently lie in the decaying husks of something old."
Craig D. Lounsbrough
94.
"Go out in the woods, go out. If you don't go out in the woods nothing will ever happen and your life will never begin."
Clarissa Pinkola Estés
95.
"It makes me so happy. To be at the beginning again, knowing almost nothing."
Tom Stoppard
96.
"If we want things to stay as they are, things will have to change."
Giuseppe Tomasi di Lampedusa
97.
"I keep turning over new leaves, and spoiling them, as I used to spoil my copybooks; and I make so many beginnings there never will be an end."
Louisa May Alcott
98.
"Rock bottom is not your end; it is your beginning."
Christine Evangelou
99.
"Sometimes the hardest part isn't letting go but rather learning to start over."
Nicole Sobon
100.
"There are as many worlds as there are kinds of days, and as an opal changes its colors and its fire to match the nature of a day, so do I."
John Steinbeck
101.
"As long as you're still alive, you always have the chance to start again."
Emily Acker
102.
"You can start anew at any given moment. Life is just the passage of time and it's up to you to pass it as you please."
Charlotte Eriksson
103.
"The ending is nearer than you think, and it is already written. All that we have left to choose is the correct moment to begin."
Alan Moore
104.
"A bridge of silver wings stretches from the dead ashes of an unforgiving nightmare to the jeweled vision of a life started anew."
Aberjhani
105.
"It's good to start over. It will be scary but you will see what you're really made of; it's the best opportunity to achieve what you never thought you could."
Jennifer Coletta
106.
"It turned out that sometimes it's enough to start doing things differently now."
Laini Taylor
107.
"The future lies ahead, calling us up, offering us a new chance to make a new choice every day, offering us the chance to go another way, to start over. The possibilities are countless. All you have to do is just dare to take them."
Zøe Haslie
108.
"Don't worry. Just when you think your life is over, a new storyline falls from the sky and lands right in your lap."
Rebekah Crane
109.
"Rather than turning the page, it's much easier to just throw the book away."
Anthony Liccione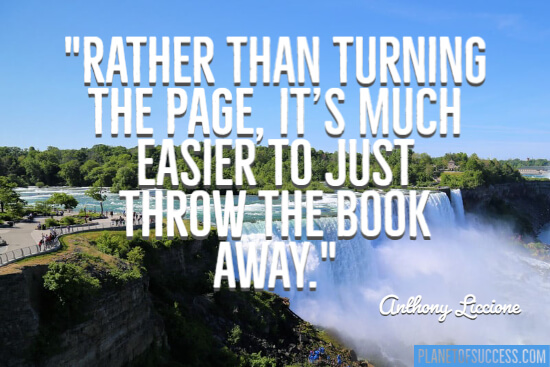 We hope you enjoyed this collection of new beginnings quotes.
After reading all these thoughts about starting new, you should be really excited to make positive changes in your life. It may not always be easy and there will definitely be obstacles in your way. But in the end, all the effort will be worth it once you have succeeded in building a happier life.
What's your favorite quote?
Is there one particular quote that best the trick for you in motivating you to start a new chapter in your life? We're excited to hear from you in the comments section below.
Stay victorious!