Have you ever heard the story of a mother lifting a car to free her child underneath it? While most believe this is an urban legend, a 22-year-old lifted a BMW 525i in 2012. Another mother from Canada, Lydia Angyiou, even fought with a polar bear to protect her kids. These are some powerful reasons to celebrate the miraculous impact of moms with this list of powerful mother quotes. PS: You may also enjoy our collection of heartwarming mother daughter quotes.
The love of a mother can move mountains – not only metaphorically but sometimes also physically. As several recorded cases have shown, mothers may even be able to develop extraordinary strength when their little ones are confronted with great dangers.
"A mother is the truest friend we have, when trials heavy and sudden fall upon us; when adversity takes the place of prosperity; when friends desert us; when trouble thickens around us, still will she cling to us, and endeavor by her kind precepts and counsels to dissipate the clouds of darkness, and cause peace to return to our hearts."
Washington Irving
The deep affection of a mother for her kids makes her sacrifice many hobbies and interests without even complaining. Even more so, the life of a woman changes quite significantly after a kid is born. Now, life is no longer all about having a great time, but more about providing for the child's safety and well-being.
In short, the mother's love is undoubtedly one of the most powerful forces on earth. These are great examples that show what is really important in life – spreading the love that is within you. It is the antidote to the great suffering experienced all around the world. The loving way mothers raise their children can help to spread compassion, kindness, and love to future generations.
100 Empowering Mother Quotes
Do you sometimes struggle with finding the right words that express the profound love of a mother? Luckily for you, many great writers have found beautiful and articulate words that perfectly describe the power of a mother. In the following list, we've collected some of the most inspirational and empowering mother quotes of all time.
Enjoy reading this fabulous collection of mother quotes
1.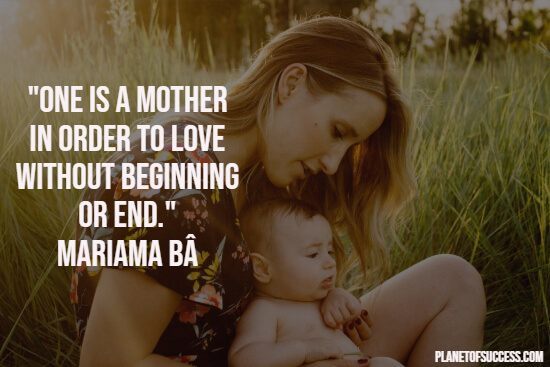 "One is a mother in order to understand the inexplicable. One is a mother to lighten the darkness. One is a mother to shield when lightning streaks the night, when thunder shakes the earth, when mud bogs one down. One is a mother in order to love without beginning or end."
Mariama Bâ
2.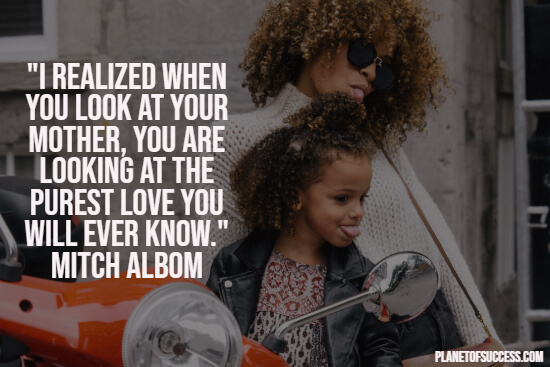 "I realized when you look at your mother, you are looking at the purest love you will ever know."
Mitch Albom
3.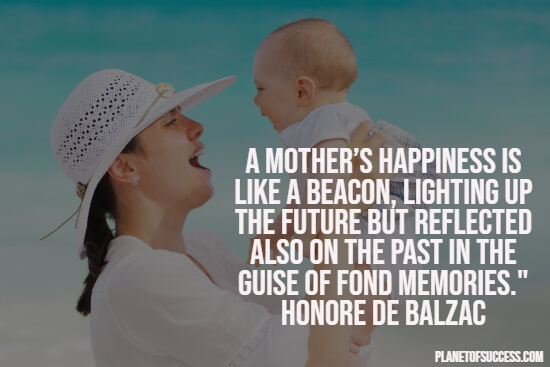 A mother's happiness is like a beacon, lighting up the future but reflected also on the past in the guise of fond memories."
Honore de Balzac
4.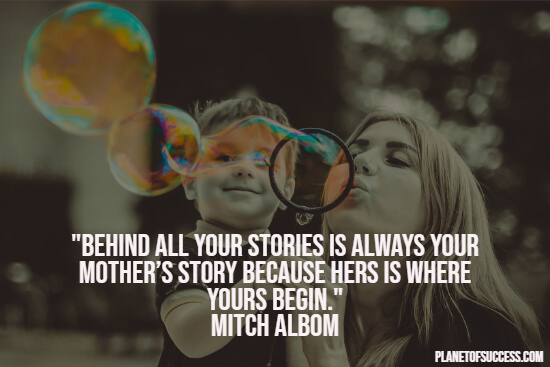 "Behind all your stories is always your mother's story because hers is where yours begin."
Mitch Albom
5.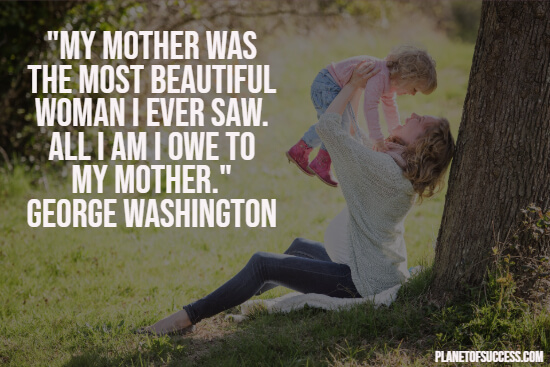 "My mother was the most beautiful woman I ever saw. All I am I owe to my mother. I attribute my success in life to the moral, intellectual and physical education I received from her."
George Washington
6.
"Surely a mother who has chosen to sacrifice her sleep deserves respect and admiration for her generous mothering."
Naomi Stadlen
7.
My mom always emphasized to my siblings and me is that it was never okay to just get by, be average or mediocre. She encouraged us to chase our dreams, but always keep God first in our lives."
Joseph Woodley
8.
"No man is poor who has a Godly mother."
Abraham Lincoln
9.
"One of the strongest loves I've ever witnessed is the love a mother has for her child."
Richelle E. Goodrich
10.
"The only love that I really believe in is a mother's love for her children."
Karl Lagerfeld
11.
"He didn't realize that love as powerful as your mothers for you leaves its own mark."
J.K. Rowling
12.
"In a child's eyes, a mother is a goddess. She can be glorious or terrible, benevolent or filled with wrath, but she commands love either way. I am convinced that this is the greatest power in the universe."
N.K. Jemisin
13.
"God knows that a mother needs fortitude and courage and tolerance and flexibility and patience and firmness and nearly every other brave aspect of the human soul."
Phyllis McGinley
14.
"Being a mother is completely different. You want your child to have more than you ever did. You want to build a fire underneath her and watch her soar. It's bigger than words."
Jodi Picoult
15.
"It is a mother's influence during the crucial formative years that forms a child's basic character. Home is the place where a child learns faith, feels love, and thereby learns from a mother's loving example to choose righteousness. How vital are the mother's influence and teaching in the home—and how apparent when neglected!"
Ezra Taft Benson
Do you want more inspirational quotes? Keep on reading
16.
"Probably there is nothing in human nature more resonant with charges than the flow of energy between two biologically alike bodies, one of which has lain in amniotic bliss inside the other, one of which has labored to give birth to the other. The materials are here for the deepest mutuality and the most painful estrangement."
Adrienne Rich
17.
"You are evidence of your mother's strength, especially if you are a rebellious knucklehead and regardless she has always maintained her sanity."
Criss Jami
18.
"Sometimes being a good mother gets in the way of being a good person."
Elizabeth Forsythe Hailey
19.
"A mother's body remembers her babies-the folds of soft flesh, the softly furred scalp against her nose. Each child has it's own entreaties to body and soul."
Barbara Kingsolver
20.
"You may have tangible wealth untold; caskets of jewels and coffers of gold. Richer than I you can never be. I had a mother who read to me."
Strickland Gillian
21.
"I ask you, what good is a big picture window and the lavish appointments and a priceless decor in a home if there is no mother there?"
Spencer W. Kimball
22.
"What she did have, after raising two children, was the equivalent of a Ph.D. in mothering and my undying respect."
Barbara Delinsky
23.
"That's the strange thing about being a mother: until you have a baby, you don't even realize how much you were missing one."
Jodi Picoult
24.
Mother: the most beautiful word on the lips of mankind."
Kahlil Gibran
25.
"Mother's ways are higher than others, even when everyone rejects, mother accepts with her arms open and wide."
Amit Ray
26.
My mother was the dearest, sweetest angel. She didn't talk; she sang. She was a tower of strength."
Jayne Meadows
27.
Always remember that your mother is there who loves you, who will protect you, always stand with you."
Kevin Vickers
28.
"Think of your mother and smile for all of the good precious moments."
Ana Monnar
29.
One good mother is worth a hundred schoolmasters."
George Herbert
30.
Her life was not easy, yet she was a living example of someone who did the best with what life handed her. Thank you, Mom. We will always be grateful for the life lessons you taught and the love you shared."
Sandra Bullock
These mother quotes are so true
31.
Behind every famous and influential person there is a driving force and in many cases, this driving force is the unfailing love and support of their mothers."
Lisa Valentine
32.
Whenever I thought about my mother, I envisioned an angel."
Ludvik Wieder
33.
Mothers never retire, no matter how old her children are she is always a Mom, always willing to encourage and help her children in any way she can!
Catherine Pulsifer
34.
"Everyone needs a mom. And a mom knows this. And it gives her a sense of purpose."
Stephen Chbosky
35.
Usually it is our biological mother or permanent mother substitute who profoundly influences our perceptions about ourselves, our lives, and our significant relationships."
Brenda Hunter
36.
"My mother said the cure for thinking too much about yourself was helping somebody who was worse off than you."
Sylvia Plath
37.
My mother is the neatest person I know. I mean that in every sense of the word."
Rob Guinan
38.
"Isn't this the truth of any good mother? That in all of our lives. We worry only about those we brought into this world, regardless of whether they loved us back or treated us fairly or understood our shortcomings."
Adriana Trigiani
39.
"When I needed her, Mom was there. All my life, she is the one who has been there for me. And I don't know if I ever tell her, but I love her for it. I love her for who she is. So thank you, Mom. We made it. Together."
Jeff Bauman
40.
"Your mom is your world, she can understand everything even what you can't tell she can see it"
Jordan Hoechlin
41.
"A queen could leave her throne. But a mother never leaves her son."
V.E. Schwab
42.
Never undermine yourself because you are 'just' a house mom."
Tracey Taylor
43.
You're a mom at home, you don't need to be a mom at work too. While the mothering urge in you is strong – save that energy for home."
Jacqueline Fisch
44.
My mother's love has always been a sustaining force for our family, and one of my greatest joys is seeing her integrity, her compassion, her intelligence reflected in my daughters."
Michelle Obama
45.
Motherhood is more awesome than I ever thought it could be any harder than I ever would have imagined."
Sarah Williams
Mother quotes like this are full of wisdom
46.
The most important thing I learned from Mom is that nothing is more precious or sacred than doing God's will."
Kenneth W. Hagin
47.
Now, mothering is far more rewarding than any job, but there are times when you need a day off."
Ashlee Meadows
48.
Mothers give up so much, so that their children can have so much."
Catherine Pulsifer
49.
I can truly say how wonderful, I feel my mother is. She knows exactly when I'm in need, not to mention all the things she does."
Julie Hebert
50.
I have tried to live my life as my mother would have wished. She taught me as a boy that service is the highest duty in the world… I have tried to follow her teaching."
Henry Ford
51.
Mama was my greatest teacher, a teacher of compassion, love, and fearlessness. If love is sweet as a flower, then my mother is that sweet flower of love."
Stevie Wonder
52.
Many of us who are mothers already know that being a mother is the toughest job there is. In a single day, you can travel from the depths of frustration to the pinnacle of elation!
June Cotner
53.
A mother is a woman who shows you the light when you just see the dark."
Grimaldos Robin
54.
If every mother could wrap her mind around her true value as a woman and mother, her life would never be the same."
Meg Meeker
55.
"Being a mother is not a matter of running through a succession of chores."
Naomi Stadlen
56.
"Father has a strengthening character like the sun and mother has a soothing temper like the moon."
Amit Kalantri
57.
Simply having children does not make mothers."
John A. Shedd
58.
Mother was by far the greatest personal influence in our lives."
Dwight Eisenhower
59.
"I can pinpoint that as the single happiest moment of my life because I realized then that Mom would always have my back. It made me feel giant."
Maria Semple
60.
Being a mother has been the most challenging and the most rewarding position I will ever hold."
Cathy Shaffer
61.
"He hesitated for a moment. Then he said softly, "I love you, Mother." He took my hand and kissed it, and folded my fingers round the stem of the rose. He had stripped it of its thorns."
Elizabeth Peters
62.
"Children are our future we must take care of them with maximum effort. "
Naomi Campbell
63.
"I don't think I really knew my own mother until I had children, and if she was different before, I don't remember."
Nancy E. Turner
64.
I have a special mother, this I truly know. I could not ask for better, my mother, I love her so."
Julie Hebert
65.
Daughters – see your mom as a woman who can share valuable guidance based on her journey."
Karen Keller
66.
My mother was invaluable to him. And she was invaluable to me – the most influential person in my life."
Steve Harvey
67.
"It is a fundamental truth that the responsibilities of motherhood cannot be successfully delegated. No, not to day-care centers, not to schools, not to nurseries, not to babysitters."
Ezra Taft Benson
68.
"I voted for every woman who has to leave a baby too soon, who has to downgrade her career, or who is made to feel invisible in her role as a mother."
Erin Passons
69.
"Being a mother is an attitude, not a biological relation."
Robert A. Heinlein
70.
"The best place to cry is on a mother's arms."
Jodi Picoult
These mother quotes are spot on
71.
May is a time we get many reminders to pause and take time to acknowledge the contributions of mothers to our lives."
Deborah Chelette-Wilson
72.
Most mothers are instinctive philosophers."
Harriet Beecher Stowe
73.
It really doesn't matter what age or stage a mother is at. Once you're a mother, you're a mother forever."
Rebecca Barlow Jordan
74.
That strong mother doesn't tell her cub, Son, stay weak so the wolves can get you. She says, Toughen up, this is reality we are living in."
Lauryn Hill
75.
I am sure that if the mothers of various nations could meet, there would be no more wars."
E. M. Forster
76.
A child's first teacher is its mother."
Peng Liyuan
77.
A mother's arms are made of tenderness and children sleep soundly in them."
Victor Hugo
78.
Mother's love is peace. It need not be acquired, it need not be deserved."
Eric Fromm
79.
The commonality is that we were all blessed to be mothers. Let no one tell you, you are not great for God labeled you 'greatness' by allowing you to bring his little ones into the world."
Willie Williams
80.
Mothers are the only ones that think nothing is beyond their control when it comes to their children."
Ali Fazal
81.
"Mothers and their children are in a category all their own. There's no bond so strong in the entire world. No love so instantaneous and forgiving."
Gail Tsukiyama
82.
Nothing else will ever make you as happy or as sad, as proud or as tired, as motherhood."
Elia Parsons
83.
"Life began with waking up and loving my mother's face."
George Eliot
84.
"My mother has always been my emotional barometer and my guidance. I was lucky enough to get to have one woman who truly helped me through everything."
Emma Stone
85.
All women become like their mothers. That is their tragedy. No man does. That's his."
Oscar Wilde
Even more mother quotes for you
86.
Being a mother is never going to be an easy job. But she's there for her children because she loves them and also because she loves them, she takes some time away."
Kate Flowers
87.
I learned from my mother that there is a greatness in all of us, and that all of us are delivered to this world with a mission."
Les Brown
88.
"A mother is not a person to lean on, but a person to make leaning unnecessary."
Dorothy Canfield Fisher
89.
"I believe in the strength and intelligence and sensitivity of women. My mother, my sisters are strong. My mum is a strong woman and I love her for it."
Tom Hiddleston
90.
"The best gift that I will ever have, is being a mother."
C. JoyBell C.
91.
Sometimes the strength of motherhood is greater than natural laws."
Barbara Kingsolver
92.
"If I have done anything in life worth attention, I feel sure that I inherited the disposition from my mother."
Booker T. Washington
93.
I think my mother is my biggest influence. There are so many things I hate about her but at the same time, I'm thankful for her. All I know is that when I'm a parent I want to be just like my mom. I can talk to my mom more than any of my friends could talk to their parents."
Nikki Reed
94.
"To describe my mother would be to write about a hurricane in its perfect power. Or the climbing, falling colors of a rainbow."
Maya Angelou
95.
The mother loves her child most divinely, not when she surrounds him with comfort and anticipates his wants but when she resolutely holds him to the highest standards and is content with nothing less than his best."
Hamilton W. Mabie
96.
Not only am I a fighter, but I'm a survivor. I think being a mother really plays into that."
Willow Cross
97.
It is not until you become a mother that your judgment slowly turns to compassion and understanding."
Erma Bombeck
98.
"There's no way to be a perfect mother and a million ways to be a good one."
Jill Churchill
99.
"I'm a guy and I love my mom. So shoot me. I'm man enough to hug her without feeling like a mama's boy."
Nyrae Dawn
100.
"I loved my mother too,' I said. 'I still do. That's the thing – it never goes away, even if the person does."
Anna Carey
101.
Motherhood is full of seasons and as many of the seasoned moms said, 'This too shall pass.'"
Jennifer Roskamp
102.
Despite the fact that we ought to show adoration to you mother each and every day, Mother's Day is that one day when we demonstrate the most love for you, and make you feel like a Queen."
Sheila Sage
103.
After all the definitions and expression of thoughts on Mother, I still feel that 'who is mother' is a question that cannot be answered satisfactorily by words and one has to experience the love, nurturing, compassion and empathy of a mother at a personal level to know what is mother."
Sanjay Kali
I hope you enjoyed this collection of beautiful mother quotes. Feel free to share your favorite quotes with your mother to put a smile on her face.
Stay victorious!