Are you about to get married or have you already married your significant other? A happy marriage can be one of the most fulfilling aspects of life. However, it takes a lot of effort, love, and mutual compromise to keep life's most beautiful bond alive. The true beauty of marriage absolutely deserves to be cherished. This is where our selection of truly romantic marriage quotes comes in handy. Enjoy reading and be sure to also have a look at our cute love quotes straight from the heart.
Marriage is the foundation of a happy family life. It provides stability and security to a couple that loves each other dearly. Even more so, it is the promise of two people to support and encourage each other during the good as well as the bad times in life.
"To be fully seen by somebody, then, and be loved anyhow – this is a human offering that can border on miraculous."
Elizabeth Gilbert
As with everything in life, each marriage has its own ups and downs. And while it's relatively easy to stick together through the good times, working yourself through the challenging times is not. There may be situations in your marriage, during which a lot of work and effort may be required to solve issues you're confronted with.
In this modern day and age, the grand purpose behind marrying is, unfortunately, almost forgotten. While marriage is a bond of love it also serves the purpose to bring us closer to God and his glory. Marriage is God's way of illustrating to us his mercy and Christ's ultimate sacrifice for us. Once God's purpose in a marriage is fully understood, working through marriage issues is no longer seen as a burden, but as important teaching from God.
110 Romantic Marriage Quotes
Each and every one of us may occasionally need a reminder to continuously keep working on our marriage. This is where inspirational marriage quotes can be quite helpful. These beautiful statements from some of the most renowned authors, philosophers, and poets cherish the importance of marriage.
As an additional bonus, we have not only prepared a selection of marriage quotes but also the couple of heartwarming and funny marriage quotes. Enjoy reading!
Enjoy reading our collection of beautiful marriage quotes
1.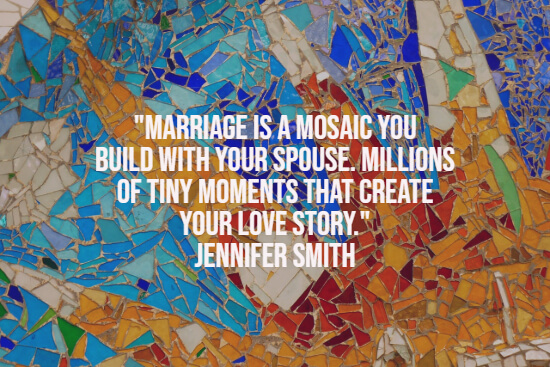 "Marriage is a mosaic you build with your spouse. Millions of tiny moments that create your love story."
Jennifer Smith
2.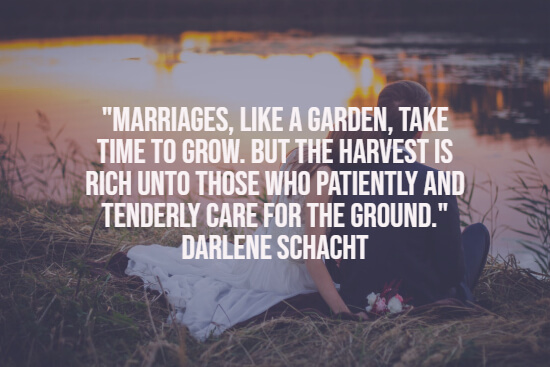 "Marriages, like a garden, take time to grow. But the harvest is rich unto those who patiently and tenderly care for the ground."
Darlene Schacht
3.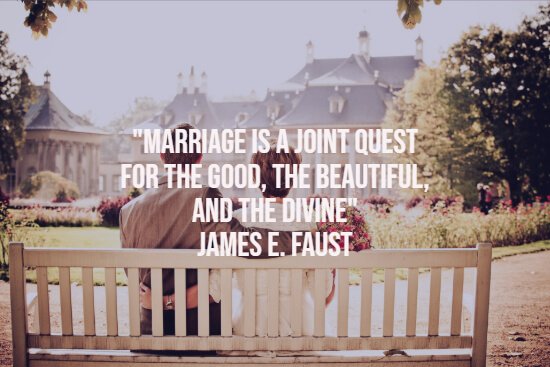 "Marriage is a joint quest for the good, the beautiful, and the divine"
James E. Faust
4.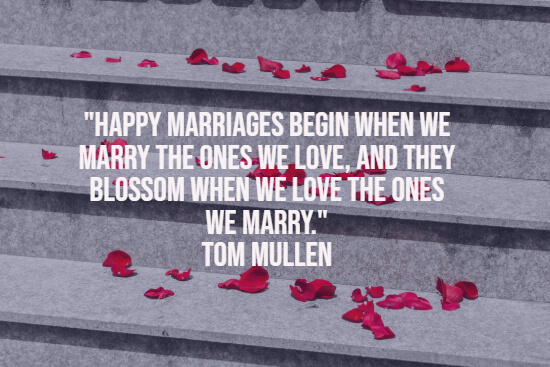 "Happy marriages begin when we marry the ones we love, and they blossom when we love the ones we marry."
Tom Mullen
5.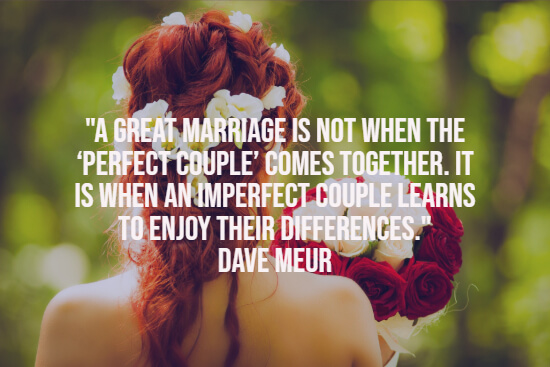 "A great marriage is not when the 'perfect couple' comes together. It is when an imperfect couple learns to enjoy their differences."
Dave Meur
6.
"Love seems the swiftest but it is the slowest of all growths. No man or woman really knows what perfect love is until they have been married a quarter of a century."
Mark Twain
7.
"A successful marriage requires falling in love many times, always with the same person."
Mignon McLoughlin
8.
"Chains do not hold a marriage together. It is threads, hundreds of tiny threads which sew people together through the years."
Simone Signoret
9.
"A happy marriage is the union of two good forgivers."
Robert Quillen
10.
"Happy is the man who finds a true friend, and far happier is he who finds that true friend in his wife."
Franz Schubert
11.
"Marriage makes you vulnerable and strong. It brings out the best and worst in you and then it changes you in ways you could have never expected. For the better."
Maggie Reyes
12.
"Marriage is getting to have a sleepover with your best friend every night of the week."
Christie Cook
13.
"The great secret of successful marriage is to treat all disasters as incidents and none of the incidents as disasters."
Sir Harold George Nicolson
14.
"A happy marriage is the world's best bargain." – O.A. Battista
15.
"What counts in making a happy marriage is not so much how compatible you are, but how you deal with incompatibility."
Leo Tolstoy
16.
"At the root of every successful marriage is a strong partnership."
Carson Daly
17.
"Marriage is our last, best chance to grow up."
Joseph Barth
18.
"Common courtesy plays a big role in happy marriages. People who are permanently married are polite to one another. They don't want to hurt one another's feelings, and they don't try to make the other one feel humiliated. People who are married for life are extremely kind to one another."
Frank Pittman
19.
"Marriage is the most natural state of man, and the state in which you will find solid happiness."
Benjamin Franklin
20.
"The goal in marriage is not to think alike, but to think together."
Robert C. Dodds
21.
"The difference between an ordinary marriage and an extraordinary marriage is in giving just a little extra every day, as often as possible, for as long as we both shall live."
Fawn Weaver
22.
"A happy man married the girl he loves; a happier man loves the girl he marries."
Susan Douglas
23.
"More marriages might survive if the partners realize that sometimes, the better comes after the worse."
Doug Larson
24.
"Marriage succeeds only as lifetime commitment with no escape clauses."
Dr. James Dobson
25.
"One advantage of marriage is that, when you fall out of love with him or he falls out of love with you, it keeps you together until you fall back in love again."
Judith Viorst
26.
"Ultimately the bond of all companionship, whether in marriage or in friendship, is conversation."
Oscar Wilde
27.
"The most precious gift that marriage gave me was the constant impact of something very close and intimate, yet all the time unmistakably other, resistant – in a word, real."
C.S. Lewis
28.
"There is no more lovely, friendly and charming relationship, communion or company than a good marriage."
Martin Luther
29.
"The secret of a happy marriage is finding the right person. You know they're right if you love to be with them all the time."
Julia Child
30.
"Many marriages would be better if the husband and wife clearly understood that they are on the same side."
Zig Ziglar
31.
"A happy marriage is a long conversation which always seems too short."
Andre Maurois
32.
"The real act of marriage takes place in the heart, not in the ballroom or church or synagogue. It's a choice you make on your wedding day, and over and over again and that choice is reflected in the way you treat your husband."
Barbara De Angelis
33.
"Marriage is a commitment- a decision to do, all through life, that which will express your love for one's spouse."
Herman H. Kieval
34.
"A marriage is a gift. It should be opened up and enjoyed."
Greg Evans
35.
"Marriage has the power to set the course of your life as a whole. If your marriage is strong, even if all the circumstances in your life around you are filled with trouble and weakness, it won't matter. You will be able to move out into the world in strength."
Timothy Keller
36.
"Any good marriage is secret territory, a necessary white space on society's map. What others don't know about it is what makes it yours."
Stephen King
37.
"The more you invest in a marriage, the more valuable it becomes."
Amy Grant
38.
"Marriage provides the solace of worked-on friendship and the joy of being known profoundly."
Imogene Stubbs
39.
"Marriage, at its core, is all about respect for the other person – and respect goes both ways."
Dr. Kevin Leman
40.
"In marriage, each partner is to be an encourager rather than a critic, a forgiver rather than a collector of hurts, an enabler rather than a reformer."
H. Norman Wright
41.
"Marriage is a huge investment: of time, of energy and of emotion. Protect and keep contributing to your investment."
Karen Gordon
42.
"A happy marriage is a selfless journey in which the happiness of another person is essential to your own."
Yvonne Levy
43.
"The great marriages are partnerships. It can't be a great marriage without being a partnership."
Helen Mirren
44.
"Marriage is not a noun; it's a verb. It isn't something you get. It's something you do. It's the way you love your partner every day."
Barbara De Angelis
45.
"A good marriage is one which allows for change and growth in the individuals and in the way they express their love."
Pearl S. Buck
46.
"A long marriage is two people trying to dance a duet and two solos at the same time."
Anne Taylor Flemming
47.
"Marriage is a form of discipline involving two people committing to a certain lifestyle and set of boundaries."
David Khalil
48.
"A good marriage is a contest of generosity."
Diane Sawyer
49.
"Marriage is not about age; it's about finding the right person."
Sophia Bush
50.
"May this marriage be full of laughter, our every day in paradise."
Rumi
51.
"The secret to a happy marriage is if you can be at peace with someone within four walls, if you are content because the one you love is near to you, either upstairs or downstairs, or in the same room, and you feel that warmth that you don't find very often, then that is what love is all about."
Bruce Forsyth
52.
"Experts on romance say for a happy marriage there has to be more than a passionate love. For a lasting union, they insist, there must be a genuine liking for each other. Which, in my book, is a good definition for friendship."
Marilyn Monroe
53.
"Marriage is not a noun; it's a verb. It isn't something you get. It's something you do. It's the way you love your partner every day."
Barbara De Angelis
54.
"A good marriage at age 50 predicted positive aging at 80. But, surprisingly, low cholesterol levels did not."
George Valliant
55.
"I have a best friend as a husband, and he is my number one supporter. We have our disagreements, but that comes along with marriage."
Tamera Mowry
56.
"Marriage, to women as to men, must be a luxury, not a necessity; an incident of life, not all of it."
Susan B. Anthony
57.
"Marriage is a gift of love you give to your spouse every day, with a never-ending promise that you'll walk side-by-side."
Darlene Schacht
58.
"Love is not weakness. It is strong. Only the sacrament of marriage can contain it."
Boris Pasternak
59.
"Marriage, ultimately, is the practice of becoming passionate friends."
Harville Hendrix
60.
"We had a happy marriage because we were together all the time. We were friends as well as husband and wife. We just had a good time."
Julia Child
61.
"Marriage is like watching the color of leaves in the fall; ever changing and more stunningly beautiful with each passing day."
Fawn Weaver
62.
"Marriage provides the solace of worked-on friendship and the joy of being known profoundly."
Imogene Stubbs
63.
"Once we figured out that we could not change each other, we became free to celebrate ourselves as we are."
H. Dean Rutherford
64.
"A long-lasting marriage is built by two people who believe in – and live by – the solemn promise they made."
Darlene Schacht
65.
"Happily married people know that keeping score is what unhappily married people do."
Alisa Bowman
66.
"In marriage, when we honor and celebrate each other, we're freed up to be the best people we can be."
Leslie Parrott
67.
"Marriage is our society's most pro-child institution. If you want kids to do well, then you want marriage to do well."
David Blankenhorn
68.
"Marriages are like fingerprints; each one is different and each one is beautiful."
Maggie Reyes
69.
"Marriage is not a noun; it's a verb. It isn't something you get. It's something you do. Its the way you love your partner every day."
Barbara De Angelis
70.
"It was not the days of ease that made our marriage stronger and happier; it was working through the difficult parts."
Karen Swallow Prior
71.
"Love is an ideal thing, marriage a real thing."
Johann Wolfgang von Goethe
72.
"A strong marriage rarely has two strong people at the same time. It is a husband and wife who take turns being strong for each other in the moments when the other feels weak."
Ashley Willis
73.
"There is nothing better than feeling completely content in life regardless of what life throws at you because your marriage is rock solid."
Carmen Smith
74.
"We come to love not by finding a perfect person, but by learning to see an imperfect person perfectly."
Sam Keen
75.
"Being in a long marriage is a little bit like that nice cup of coffee every morning – I might have it every day, but I still enjoy it."
Stephen Gaines
76.
"Gratitude is the fastest road to happiness in marriage."
Dr. Leslie Parrott
77.
"You don't marry one person; you marry three: the person you think they are, the person they are, and the person they are going to become as a result of being married to you."
Richard Needham
78.
"A good marriage is each for the other and two against the world."
Robert Brault
79.
"Success in marriage does not come merely through finding the right mate, but through being the right mate."
Barnett R. Brickner
80.
"Marriage is a thousand little things that make up the sum of our vows."
Darlene Schacht
81.
"Happy marriages are built on dreaming together."
Dr. Les Parrott
82.
"Marriage. It's like a cultural hand-rail. It links folks to the past and guides them to the future."
Diane Frolov
83.
"A good marriage is that in which each appoints the other guardian of his solitude."
Rainer Maria Rilke
84.
"Committing to staying calm is the first key to committing to staying married."
Hal Runkel
85.
"Excitement and fire are not qualities inherent to relationships they are what happens when two people make marriage the number one priority."
Michele Weiner-Davis
86.
"In every marriage, more than a week old, there are grounds for divorce. The trick is to find, and to continue to find, grounds for marriage."
Robert Anderson
87.
"A happy marriage has in it all the pleasures of friendship, all the enjoyment of sense and reason – and indeed all the sweets of life."
Joseph Addison
88.
"A good marriage is good for you. That isn't just a platitude. Mounting research shows that it is the literal truth. When your marriage is healthy, your body and mind are healthier."
Cliff Isaacson
89.
"A happy marriage is the world's best bargain."
O.A. Battista
90.
"Any fool can have a trophy wife. It takes a real man to have a trophy marriage."
Diane Sollee
91.
"It's true what they say — all the good men are married. But it's marriage that makes them good."
Gay Talese
92.
"Being married is like having a color television set. You never want to go back to black and white."
Danny Perosa
93.
"Marriage is not 50-50; divorce is 50-50. Marriage has to be 100-100. It isn't dividing everything in half, but giving everything you've got! "
Dave Willis
94.
"To be married to a man who makes you laugh every day, ah, now that's a real treat."
Joanne Woodward
Funny marriage quotes
95.
"To keep your marriage brimming, With love in the loving cup, Whenever you're wrong, admit it; Whenever you're right, shut up."
Ogden Nash
96.
"I love being married. It's so great to find that one special person you want to annoy for the rest of your life."
Rita Rudner
97.
"Marriage is not just spiritual communion, it is also remembering to take out the trash."
Joyce Brothers
98.
"After the chills and fever of love, how nice is the 98.6 degrees of marriage."
Mignon McLaughlin
99.
"I first learned the concept of non-violence in my marriage."
Gandhi
100.
"The older I get, the less time I want to spend with the part of the human race that didn't marry me."
Robert Brault
101.
"In the opinion of the world, marriage ends all, as it does in a comedy. The truth is precisely the opposite: it begins all."
Anne S Swetchine
102.
"My advice to you is to get married. If you find a good wife, you'll be happy; if not, you'll become a philosopher."
Socrates
103.
"Marriage is like a phone call in the night: first the ring, and then you wake up."
Evelyn Hendrick
104.
"Marriage: a book of which the first chapter is written in poetry and the remaining chapters written in prose."
Beverley Nichols
105.
"My wife tells me that if I ever decide to leave, she is coming with me."
Jon Bon Jovi
106.
"Before marriage, a man will lie awake all night thinking about something you said; after marriage, he'll fall asleep before you finish saying it."
Helen Rowland
107.
"Keep your eyes wide open before marriage, half shut afterwards."
Benjamin Franklin
108.
"The longest sentence you can form with two words is: I do."
H. L. Mencken
109.
"A good marriage is where both people feel like they're getting the better end of the deal."
Anne Lamott
110.
"If you love 'em in the morning with their eyes full of crust; If you love 'em at night with their hair full of rollers, chances are, you're in love."
Miles Davis
I hope you enjoyed this collection of romantic marriage quotes. How would your dream marriage look like?
Stay victorious!