Books are doors to magical worlds that take you on exciting journeys over the course of hundreds of pages. If you are a true book enthusiast, you will simply love that thrilling feeling you have whenever you've picked up a new book and are excited to delve into a new adventure. Within the pages of a book can be found epic adventures and marvelous character arcs – captured by ink for eternity. Even though many people may be reading the very same book, the story and its characters will always be entirely unique to your own imagination. As you can probably tell from our massive list with the best books of all time, we are huge book enthusiasts. Needless to say, this article was long overdue. To celebrate the joy of reading, we've created a big collection of some of the most inspiring reading quotes from truly creative authors and bookworms like you and us. Enjoy!
The wonderful thing about reading good books is that they skillfully immerse you in the story and allow you to become a part of it. It's truly inspiring to develop a connection to a book's characters and to become a part of their adventurous journey through life.
"Truly, books are wonderful things; to sit alone in a room and laugh and cry, because you are reading, and still be safe when you close the book; and having finished it, discover you are changed, yet unchanged!"
Fay Weldon
It is awe-inspiring to get lost in a good book and to become immersed within the creative landscape of a skilled author. And while there are many other forms of entertainment, reading an inspirational book gives you something wonderful, yet inexplicable that watching TV or browsing the Internet cannot give you.
Great books do not only take you on an exciting journey, but they also convey important life lessons. They can help you to better relate to other people and to better understand their motivations. Some books raise thought-provoking questions while others share valuable insights about life. And if nothing else, many of them are pretty good entertainment and allow you to have a great time.
135 Truly Inspiring Reading Quotes
The wonderful thing about the following inspiring quotes is that they originate from exceptionally insightful authors and book enthusiasts who have developed a deep affection for books.
Here are those famous quotes about reading books
1.
"A book, too, can be a star, a living fire to lighten the darkness, leading out into the expanding universe."
Madeleine L'Engle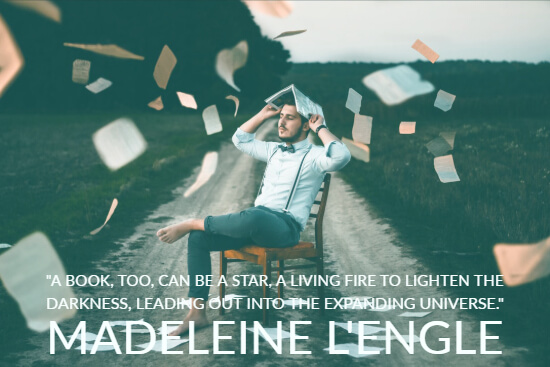 2.
"To learn to read is to light a fire; every syllable that is spelled out is a spark."
Victor Hugo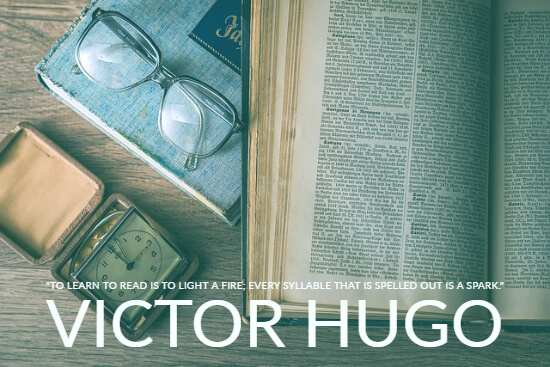 3.
"Sometimes, you read a book and it fills you with this weird evangelical zeal, and you become convinced that the shattered world will never be put back together unless and until all living humans read the book."
John Green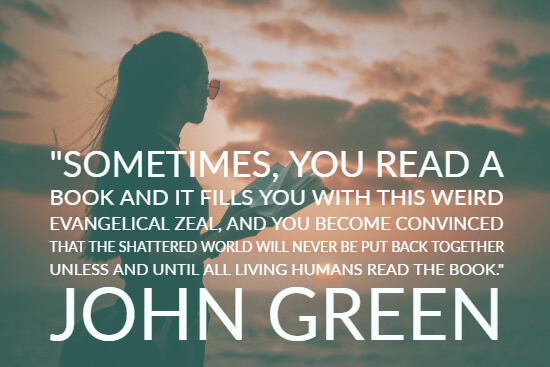 4.
"I owe everything I am and everything I will ever be to books."
Gary Paulsen
5.
"A reader lives a thousand lives before he dies, said Jojen. The man who never reads lives only one."
George R.R. Martin
6.
"I have always imagined that Paradise will be a kind of library."
Jorge Luis Borges
7.
"Never trust anyone who has not brought a book with them."
Lemony Snicket
8.
"A room without books is like a body without a soul."
Marcus Tullius Cicero
9.
"The person, be it gentleman or lady, who has no pleasure in a good novel, must be intolerably stupid."
Jane Austen
10.
"I find television very educating. Every time somebody turns on the set, I go into the other room and read a book."
Groucho Marx
11.
"We read to know we're not alone."
William Nicholson
12.
"Show me a family of readers, and I will show you the people who move the world."
Napoleon Bonaparte
13.
"No entertainment is so cheap as reading, nor any pleasure so lasting."
Mary Wortley Montagu
14.
"Good friends, good books, and a sleepy conscience: this is the ideal life."
Mark Twain
15.
"The reading of all good books is like conversation with the finest men of past centuries."
René Descartes
16.
"I don't believe in the kind of magic in my books. But I do believe something very magical can happen when you read a good book."
J.K. Rowling
17.
"I declare after all there is no enjoyment like reading! How much sooner one tires of anything than of a book! — When I have a house of my own, I shall be miserable if I have not an excellent library."
Jane Austen
18.
"To acquire the habit of reading is to construct for yourself a refuge from almost all the miseries of life."
W. Somerset Maugham
19.
"If one cannot enjoy reading a book over and over again, there is no use in reading it at all."
Oscar Wilde
20.
"Let others pride themselves about how many pages they have written; I'd rather boast about the ones I've read."
Jorge Luis Borges
21.
"Libraries will get you through times of no money better than money will get you through times of no libraries."
Anne Herbert
22.
"Fairy tales are more than true: not because they tell us that dragons exist, but because they tell us that dragons can be beaten."
Neil Gaiman
23.
"Do not read, as children do, to amuse yourself, or like the ambitious, for the purpose of instruction. No, read in order to live."
Gustave Flaubert
24.
"If you only read the books that everyone else is reading, you can only think what everyone else is thinking."
Haruki Murakami
25.
"In a good bookroom you feel in some mysterious way that you are absorbing the wisdom contained in all the books through your skin, without even opening them."
Mark Twain
26.
"One glance at a book and you hear the voice of another person, perhaps someone dead for 1,000 years. To read is to voyage through time."
Carl Sagan
27.
"Never trust anyone who has not brought a book with them."
Lemony Snicket
28.
"It's not that I don't like people. It's just that when I'm in the company of others – even my nearest and dearest – there always comes a moment when I'd rather be reading a book."
Maureen Corrigan
29.
"Some books should be tasted, some devoured, but only a few should be chewed and digested thoroughly."
Sir Francis Bacon
30.
"Books have a unique way of stopping time in a particular moment and saying: Let's not forget this."
Dave Eggers
31.
"There is no mistaking a real book when one meets it. It is like falling in love."
Christopher Morley
32.
So many books, so little time."
Frank Zappa
33.
"I cannot remember the books I've read any more than the meals I have eaten; even so, they have made me."
Emerson, Ralph Waldo
34.
"You can never get a cup of tea large enough or a book long enough to suit me."
C.S. Lewis
35.
"Books are the perfect entertainment: no commercials, no batteries, hours of enjoyment for each dollar spent. What I wonder is why everybody doesn't carry a book around for those inevitable dead spots in life."
Stephen King
36.
"What she was finding also was how one book led to another, doors kept opening wherever she turned and the days weren't long enough for the reading she wanted to do."
Alan Bennett
37.
"I had already found that it was not good to be alone, and so made companionship with what there was around me, sometimes with the universe and sometimes with my own insignificant self; but my books were always my friends, let fail all else."
Joshua Slocum
38.
"My Best Friend is a person who will give me a book I have not read."
Abraham Lincoln
39.
"If you would tell me the heart of a man, tell me not what he reads, but what he rereads."
Francois Mauriac
40.
"I know every book of mine by its smell, and I have but to put my nose between the pages to be reminded of all sorts of things."
George Gissing
41.
"If one cannot enjoy reading a book over and over again, there is no use in reading it at all."
Oscar Wilde
42.
"The world is a book and those who do not travel read only one page."
St. Augustine
43.
"It is a great thing to start life with a small number of really good books which are your very own."
Arthur Conan Doyle
44.
"There is no friend as loyal as a book."
Ernest Hemingway
45.
"There are two motives for reading a book; one, that you enjoy it; the other, that you can boast about it."
Bertrand Russell
46.
"What really knocks me out is a book that, when you're all done reading it, you wish the author that wrote it was a terrific friend of yours and you could call him up on the phone whenever you felt like it. That doesn't happen much, though."
J.D.
47.
"Reading one book is like eating one potato chip."
Diane Duane
48.
"Think before you speak. Read before you think."
Fran Lebowitz
49.
"A book must be the axe for the frozen sea within us."
Franz Kafka
50.
"It is what you read when you don't have to that determines what you will be when you can't help it."
Oscar Wilde
51.
"There are worse crimes than burning books. One of them is not reading them."
Joseph Brodsky
52.
"If there's a book that you want to read, but it hasn't been written yet, then you must write it."
Toni Morrison
53.
"You think your pain and your heartbreak are unprecedented in the history of the world, but then you read. It was books that taught me that the things that tormented me most were the very things that connected me with all the people who were alive, who had ever been alive."
James Baldwin
54.
"Books are the ultimate Dumpees: put them down and they'll wait for you forever; pay attention to them and they always love you back."
John Green
55.
"Books are like mirrors: if a fool looks in, you cannot expect a genius to look out."
J.K. Rowling
56.
"A house without books is like a room without windows."
Horace Mann
57.
"You have to write the book that wants to be written. And if the book will be too difficult for grown-ups, then you write it for children."
Madeleine L'Engle
58.
"A book lying idle on a shelf is wasted ammunition."
Henry Miller
59.
"A good library will never be too neat, or too dusty, because somebody will always be in it, taking books off the shelves and staying up late reading them."
Lemony Snicket
60.
"Let us read, and let us dance; these two amusements will never do any harm to the world."
Voltaire
61.
"I guess there are never enough books."
John Steinbeck
62.
"A great book should leave you with many experiences, and slightly exhausted at the end. You live several lives while reading."
William Styron
63.
"Man reading should be man intensely alive. The book should be a ball of light in one's hand."
Ezra Pound
64.
"A childhood without books – that would be no childhood. That would be like being shut out from the enchanted place where you can go and find the rarest kind of joy."
Astrid Lindgren
65.
"Many a book is like a key to unknown chambers within the castle of one's own self."
Franz Kafka
66.
"Books are my friends, my companions. They make me laugh and cry and find meaning in life."
Christopher Paolini
67.
"The odd thing about people who had many books was how they always wanted more."
Patricia A. McKillip
68.
"Read the best books first, or you may not have a chance to read them at all."
Henry David Thoreau
69.
"Do not read, as children do, to amuse yourself, or like the ambitious, for the purpose of instruction. No, read in order to live."
Gustave Flaubert
70.
"Reading was my escape and my comfort, my consolation, my stimulant of choice: reading for the pure pleasure of it, for the beautiful stillness that surrounds you when you hear an author's words reverberating in your head."
Paul Auster
71.
"… a mind needs books as a sword needs a whetstone, if it is to keep its edge."
George R.R. Martin
72.
"If you have a garden and a library, you have everything you need."
Cicero
74.
"No matter how busy you may think you are, you must find time for reading, or surrender yourself to self-chosen ignorance."
Atwood H. Townsend
75.
"Books are the quietest and most constant of friends; they are the most accessible and wisest of counselors, and the most patient of teachers."
Charles W. Eliot
76.
"Books are the plane, and the train, and the road. They are the destination, and the journey. They are home."
Anna Quindlen
77.
"It is a good rule after reading a new book, never to allow yourself another new one till you have read an old one in between."
C.S. Lewis
78.
"You don't have to burn books to destroy a culture. Just get people to stop reading them."
Ray Bradbury
79.
"Books are a uniquely portable magic."
Stephen King
80.
"Reading furnishes the mind only with materials of knowledge; it is thinking that makes what we read ours."
John Locke
81.
"When I look back, I am so impressed again with the life-giving power of literature. If I were a young person today, trying to gain a sense of myself in the world, I would do that again by reading, just as I did when I was young."
Maya Angelou
82.
"Truth is stranger than fiction, but it is because Fiction is obliged to stick to possibilities; Truth isn't."
Mark Twain
83.
"I can never read all the books I want; I can never be all the people I want and live all the lives I want. I can never train myself in all the skills I want. And why do I want? I want to live and feel all the shades, tones and variations of mental and physical experience possible in my life. And I am horribly limited."
Sylvia Plath
84.
"The best moments in reading are when you come across something – a thought, a feeling, a way of looking at things – which you had thought special and particular to you. Now here it is, set down by someone else, a person you have never met, someone even who is long dead. And it is as if a hand has come out and taken yours."
Alan Bennett
85.
"In the case of good books, the point is not to see how many of them you can get through, but rather how many can get through to you."
Mortimer J. Adler
86.
"The more that you read, the more things you will know. The more that you learn, the more places you'll go."
Dr. Seuss
87.
"If you don't like to read, you haven't found the right book."
J.K Rowling
88.
"When I was about eight, I decided that the most wonderful thing, next to a human being, was a book."
Margaret Walker
89.
"After nourishment, shelter and companionship, stories are the thing we need most in the world."
Philip Pullman
90.
"No matter who you are, no matter where you live, and no matter how many people are chasing you, what you don't read is often as important as what you do read."
Lemony Snicket
91.
"Books are the quietest and most constant of friends; they are the most accessible and wisest of counselors, and the most patient of teachers."
Charles W. Eliot
92.
"Books are the mirrors of the soul."
Virginia Woolf
93.
"Reading a book is like re-writing it for yourself. You bring to a novel, anything you read, all your experience of the world. You bring your history and you read it in your own terms."
Angela Carter
94.
"People say that life is the thing, but I prefer reading."
Logan Pearsall Smith
95.
"Only a generation of readers will spawn a generation of writers."
Steven Spielberg
96.
"For some of us, books are as important as almost anything else on earth"
Anne Lamott
97.
"Ah, how good it is to be among people who are reading."
Rainer Maria Rilke,
98.
"Books don't offer real escape, but they can stop a mind scratching itself."
David Mitchell
99.
"Reading, after a certain age, diverts the mind too much from its creative pursuits. Any man who reads too much and uses his own brain too little falls into lazy habits of thinking."
Albert Einstein
100.
"Reading is to the mind what exercise is to the body."
Joseph Addison
101.
"There's nothing wrong with reading a book you love over and over. When you do, the words get inside you, become a part of you, in a way that words in a book you've read only once can't."
Gail Carson Levine
102.
"I can feel infinitely alive curled up on the sofa reading a book."
Benedict Cumberbatch
103.
"After all, reading is arguably a far more creative and imaginative process than writing; when the reader creates emotion in their head, or the colors of the sky during the setting sun, or the smell of a warm summer's breeze on their face, they should reserve as much praise for themselves as they do for the writer – perhaps more."
Jasper Fforde
104.
"Maybe this is why we read, and why in moments of darkness we return to books: to find words for what we already know."
Alberto Manguel
105.
"I am reading six books at once, the only way of reading; since, as you will agree, one book is only a single unaccompanied note, and to get the full sound, one needs ten others at the same time."
Virginia Woolf
106.
"Most of what makes a book 'good' is that we are reading it at the right moment for us."
Alain de Botton
107.
"Despite the enormous quantity of books, how few people read! And if one reads profitably, one would realize how much stupid stuff the vulgar herd is content to swallow every day."
Voltaire
108.
"I am a part of everything that I have read."
Theodore Roosevelt
109.
"Reading brings us unknown friends"
Honore de Balzac
110.
"It is well known that reading quickens the growth of a heart like nothing else."
Catherynne M. Valente
111.
"I was burning through books every day – stories about people and places I'd never heard of. They were perhaps the only thing that kept me from teetering into utter despair."
Sarah J. Maas
112.
"Once you have read a book you care about, some part of it is always with you."
Louis L'Amour
113.
"I couldn't live a week without a private library – indeed, I'd part with all my furniture and squat and sleep on the floor before I'd let go of the 1500 or so books I possess."
H. P. Lovecraft
114.
"I always read. You know how sharks have to keep swimming or they die? I'm like that. If I stop reading, I die."
Patrick Rothfuss
115.
"A well-read woman is a dangerous creature."
Lisa Kleypas
116.
"Read not to contradict and confute; nor to believe and take for granted; nor to find talk and discourse; but to weigh and consider."
Francis Bacon
117.
"Books are not made for furniture, but there is nothing else that so beautifully furnishes a house."
Henry Ward Beecher
118.
"I love the smell of book ink in the morning."
Umberto Eco
119.
"There is creative reading as well as creative writing."
Ralph Waldo Emerson
120.
"A great book should leave you with many experiences, and slightly exhausted at the end. You live several lives while reading."
William Styron
121.
"Reading is the sole means by which we slip, involuntarily, often helplessly, into another's skin, another's voice, another's soul."
Joyce Carol Oates
122.
"A short story is a different thing altogether – a short story is like a quick kiss in the dark from a stranger."
Stephen King
123.
"If you truly love a book, you should sleep with it, write in it, read aloud from it, and fill its pages with muffin crumbs."
Anne Fadiman
124.
"No man can be called friendless who has God and the companionship of good books."
Elizabeth Barrett Browning
125.
"Reading is everything. Reading makes me feel like I've accomplished something. Reading is bliss."
Nora Ephron
press enter press control. Victor
126.
"Today a reader, tomorrow a leader."
Margaret Fuller
127.
"Read. Read. Read. Just don't read one type of book. Read different books by various authors so that you develop different styles."
R.L. Stine
128.
"We are of opinion that instead of letting books grow moldy behind an iron grating, far from the vulgar gaze, it is better to let them wear out by being read."
Jules Verne
129.
"The worst thing about new books is that they keep us from reading the old ones."
Joseph Joubert
130.
"A truly great book should be read in youth, again in maturity and once more in old age, as a fine building should be seen by morning light, at noon and by moonlight."
Robertson Davies
131.
"Reading was a joy, a desperately needed escape – I didn't read to learn, I was reading to read."
Christian Bauman
132.
"I am too fond of reading books to care to write them."
Oscar Wilde,
133.
"I love books, by the way, way more than movies. Movies tell you what to think. A good book lets you choose a few thoughts for yourself."
Karen Marie Moning
134.
"We read books to find out who we are. What other people, real or imaginary, do and think and feel… is an essential guide to our understanding of what we ourselves are and may become."
Ursula K. LeGuin
135.
"Reading is my favourite occupation, when I have leisure for it and books to read."
Anne Brontë
I hope you enjoyed this collection of truly inspiring reading quotes and quotes about reading books. When did you discover the beauty of reading?
Stay victorious!