Living in a long-distance relationship can prove to be quite a challenge. In fact, there are not many things that put a relationship as much to a test as distance. Sadly, the great distance that lies between you and your significant other complicates even the most basic things most couples take for granted. Holding your partner's hand, smelling their hair, and simply lying beside them in the bed: all these wonderful joys of a relationship are made impossible through distance. Add to this the loneliness and sadness both partners may experience as a result of the physical separation and you have a true challenge for the future of the relationship. To cheer you up and to brighten your mood, we've created a collection of beautiful long-distance relationship quotes. This selection of cute relationship quotes will help you to keep your relationship and love strong, healthy, and alive – despite the distance.
Remaining committed to a long-distance relationship can be quite tough. Even more so, it is exceptionally difficult to develop your relationship when you and your partner are almost always physically separated.
"You don't develop courage by being happy in your relationships every day. You develop it by surviving difficult times and challenging adversity."
Epicurus
Despite all the difficulties, long-distance relationships can function quite healthily. Yes, maintaining a relationship over a great distance requires creativity and effort but it can be done. In fact, staying committed to the relationship can prove to be exceptionally worthwhile. This is especially the case when you're in a relationship with your true soulmate – the one who fully understands you inside out. No one would ever allow distance to get in between them and the most important person in their life, wouldn't they?
In many cases, if a couple is able to maintain a loving relationship over a great distance, the two will become even closer to each other. Such strong relationships evolve to an exceptionally high level – not despite the great distance but because of it. So let's have a look at the wonderful long distance relationship quotes that help you through the difficult times.
75 Long-Distance Relationship Quotes to Brighten You up
What is so wonderful about long-distance relationship quotes is that they stem from truly creative authors. As such, these magnificent individuals faced the very same issues you and your partner are confronted with in the present moment. Even more importantly, these fantastic writers, poets, artists, and philosophers found unique ways to make the best of the relationship – despite being physically parted from each other.
Their thoughts will help you in seeing your relationship from a much brighter side. And never forget that your life wouldn't be as beautiful as it is today if you had never met your significant other.
Here are these beautiful long distance relationship quotes to cheer you up:
1.
"Being close is the first and last desire of lovers, but being far and loving each other without an inch's difference is the characteristic of real love."
Senora Ray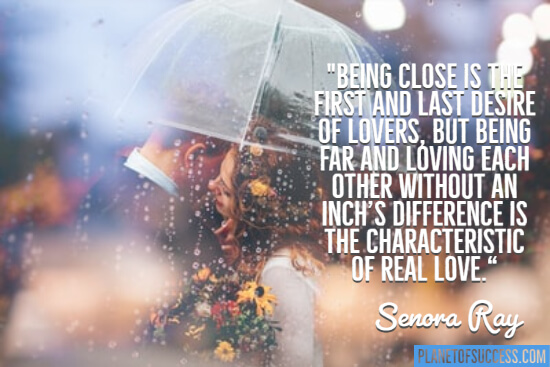 2.
"Absence sharpens love, presence strengthens it."
Thomas Fuller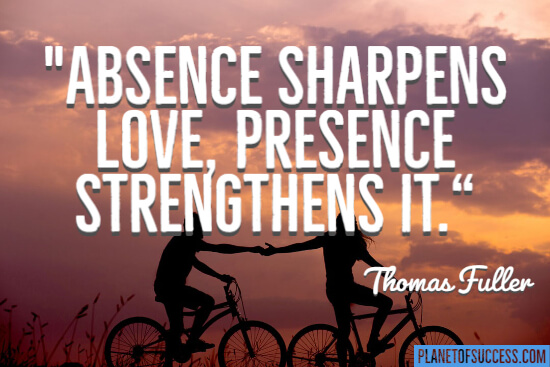 3.
"Love is missing someone whenever you're apart, but somehow feeling warm inside because you're close in heart."
Kay Knudsen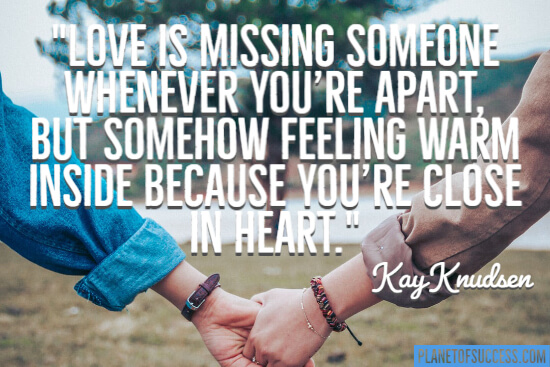 4.
"Does distance really matter? You love your favorite actor, drool for your favorite singer and await patiently for the next art from your favorite artist or writer. Why not the one you love?"
Jane Morsel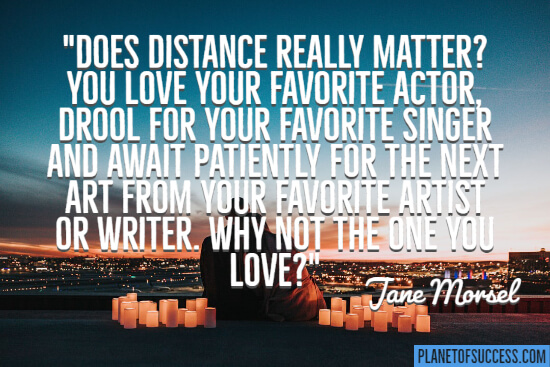 5.
"Can miles truly separate? If you want to be with someone you love, aren't you already there?"
Richard Bach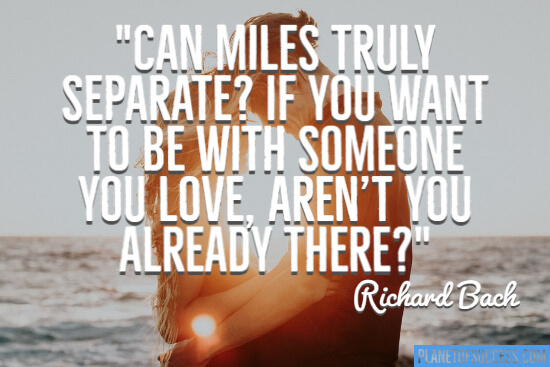 6.
"The distance may be far and wide but my heart can cover them all. The space between us is so much more but you should know that I love you so!"
Linda Roy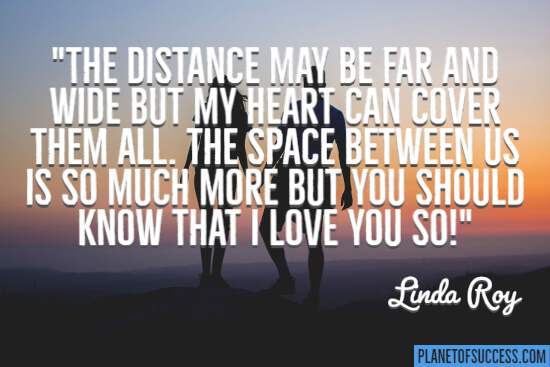 7.
"Waiting does not bother me, nor does the distance that is cropping up between us. All I want is a true commitment and to know that your heart will never change."
Ting Stores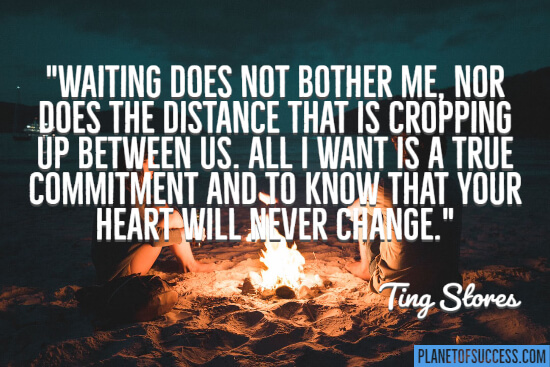 8.
"No matter how far you manage to go, distance will never be able to erase those beautiful memories. There is so much goodness that we shared together."
Lucy Aims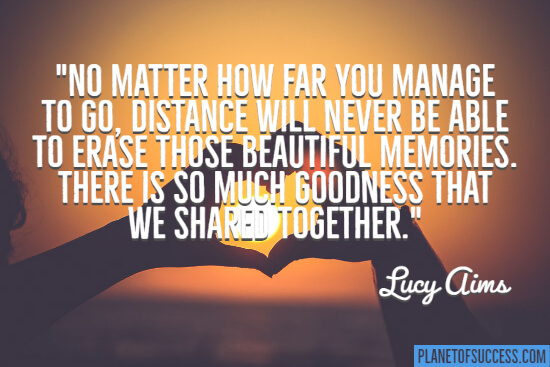 9.
"Love knows not distance; it hath no continent; its eyes are for the stars."
Gilbert Parker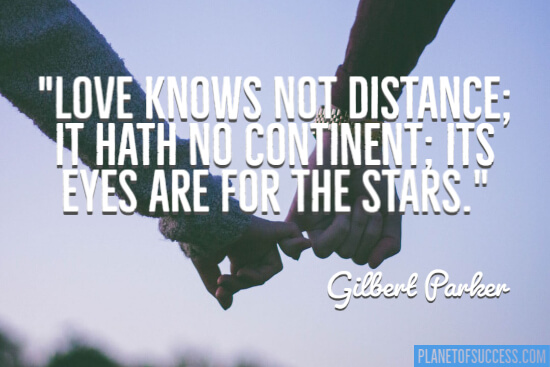 10.
"There are no goodbyes for us. Wherever you are, you will always be in my heart."
Gandhi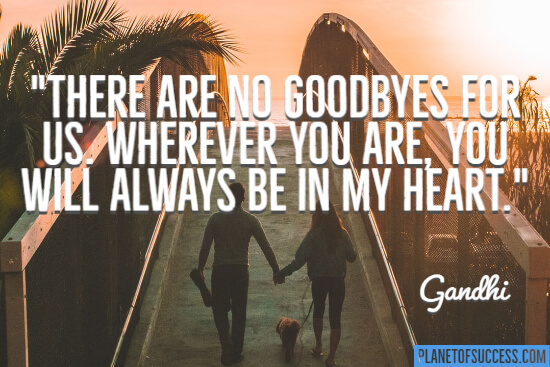 11.
"No matter where I am, no matter where I go, your heart is my northern light, I will always find my way home."
Michael Kilby
12.
"I believe in the immeasurable power of love; that true love can endure any circumstance and reach across any distance."
Steve Maraboli
13.
"Distance never separates two hearts that really care, for our memories span the miles and in seconds we are there. But whenever I start feeling sad, because I miss you, I remind myself how lucky I am to have someone so special to miss."
Cheryl Ott
14.
"If ever there is tomorrow when we're not together… there is something you must always remember. You are braver than you believe, stronger than you seem, and smarter than you think. But the most important thing is, even if we're apart… I'll always be with you."
A.A. Milne
15.
"Distance makes the heart grow fonder."
Thomas Haynes Bayly
16.
"True love doesn't mean being inseparable; it means being separated and nothing changes."
Unknown
17.
"I'll hold you in my heart, till I can hold you in my arms."
Eddy Arnold
18.
"In true love, the smallest distance is too great, and the greatest distance can be bridged."
Hans Nouwens
19.
"I imagine a line, a white line, painted on the sand and on the ocean, from me to you."
Jonathan Safran Foer
20.
"Missing someone gets easier every day because even though you are one day further from the last time you saw them, you are one day closer to the next time you will."
Unknown
21.
"Some people can be so close to you even if physically far, they walk with you and stay near in every moment of your life."
Senora Roy
22.
"In true love the smallest distance is too great, and the greatest distance can be bridged."
Hands Nouwens
23.
"I can bear the distance but cannot imagine a life without you. For you, I will go through the distance and the heartaches. You are my one and only."
Montana Lee
24.
"If I had a single flower for every time I think of you, I could walk forever in my garden."
Claudia Adrienne Grandi
25.
"Some of the toughest things in this world are to really want someone and not have them around you. Those are the times when you don't know what to do. All you can do for is wait."
Tamara Louis
26.
"If the only place where I could see you was in my dreams, I'd sleep forever."
Cyruz Mendoza
27.
"If you listen to the wind very carefully, you'll be able to hear me whisper my love for you."
Andrew Davidson
28.
"I fell in love with her when we were together, then fell deeper in love with in the years we were apart."
Nicholas Sparks
29.
"I can't text you roses, or fax you my heart. I'd email you kisses, but we'd still be apart. I love you to pieces, and just wish you'd see that I care for you so much because you mean the world to me."
Mahmoud El Hallab
30.
"It's not the distance that's the enemy, but the endless time I have to wait to hold you in my arms."
Livius Besski
31.
"I'll turn my back and walk away, away from the pain. Scream it loud, drown it out by the sound of the rain. Listen up, I've had enough all this waiting. I need you more right now than I ever did!"
Hawthorne Heights
32.
"And ever has it been known that love knows not its own depth until the hour of separation."
Khalil Gibran
33.
"Love will travel as far as you let it. It has no limits."
Dee King
34.
"I don't cry because we've been separated by distance, and for a matter of years. Why? Because for as long as we share the same sky and breathe the same air, we're still together."
Donna Lynn Hope
35.
"I love no one but you, I have discovered, but you are far away and I am here alone. Then this is my life and maybe, however unlikely, I'll find my way back there. Or maybe, one day, I'll settle for second best. And on that same day, hell will freeze over, the sun will burn out and the stars will fall from the sky."
Lemony Snicket
36.
"Close together or far apart, you're forever in my heart."
Unknown
37.
"As contraries are known by contraries, so is the delight of presence best known by the torments of absence."
Alcibiades
38.
"Blow 'o wind to where my loved one is. Touch him and come touch me soon. I'll feel his gentle touch through you and meet his beauty in the moon. These things are much for the one who loves. One can live by them alone: that he and I breathe the same air and that the earth we tread is one."
Ramayana
39.
"If there's a heaven out there somewhere, it's a place where we never have to say goodbye."
Unknown
40.
"I think we dream so we don't have to be apart for so long. If we're in each other's dreams, we can be together all the time."
A.A. Milne
41.
"Love reckons hours for months, and days for years; and every little absence is an age."
John Dryden
42.
"It feels good to think about you when I'm warm in bed. I feel as if you're curled up there beside me, fast asleep. And I think how great it would be if it were true."
Haruki Murakami
43.
"Every parting is a form of death, as every reunion is a type of heaven."
Tyron Edwards
44.
"Don't measure the distance; measure my love."
Unknwon
45.
"I know we loved each other, but distance can do strange things to people and before I was willing to tell you about it, I wanted to be certain that it would last"
Nicholas Sparks
46.
"How lucky am I to have something that makes saying goodbye so hard?"
A.A. Milne
47.
"This may be the last time I see you, but if you keep me in your heart, together we shall be eternal; if you believe, we shall never part."
Ben Harper
48.
"Contrary to what the cynics say, distance is not for the fearful, it is for the bold. It's for those who are willing to spend a lot of time alone in exchange for a little time with the one they love. It's for those knowing a good thing when they see it, even if they don't see it nearly enough."
Adam Gottbetter
49.
"I close my eyes, thinking that there is nothing like an embrace after an absence, nothing like fitting my face into the curve of his shoulder and filling my lungs with the scent of him."
Jodi Picoult
50.
"Your absence has not taught me how to be alone, it merely has shown that when together we cast a single shadow on the wall."
Doug Fetherling
51.
"When you feel alone, just look at the spaces between your fingers, remember that in those spaces you can see my fingers locked with yours forever."
Unknown
52.
"Thou art gone from my gaze like a beautiful dream. And I seek thee in vain by the meadow and stream."
George Linley
53.
"We were together even when we were apart."
Shannon A. Thompson
54.
"Distance means so little when someone means so much…"
Tom McNeal
55.
"Though space restrains us from being together, but one thing I am sure of, there are no spaces in my heart that restraining me from loving you…"
Unknown
56.
"Our separation of each other is an optical illusion of consciousness."
Albert Einstein
57.
"When I don't see you, I don't miss you, I just place my hand over my heart and its there I will find you because even though you are out of my sight, you will never be out of my heart."
Rashida Rowe
58.
"The 'I miss you's,' 'I love you's,' and 'I want to be with you's' will never amount to actually being with you physically."
Raghib Clitso
59.
"Where you used to be, there is a hole in the world, which I find myself constantly walking around in the daytime, and falling in at night. I miss you like hell."
Edna St. Vincent Millay
60.
"Absence is to love as wind is to fire; it extinguishes the small and kindles the great."
Roger de Bussy-Rabutin
61.
"The pain of parting is nothing to the joy of meeting again."
Charles Dickens
62.
"My heart is your home, wherever in the world you are – you will always have a place to stay."
K.A. Hill
63.
"Sometimes you have to be apart from the people you love, but that doesn't make you love them any less. Sometimes you love them more."
Nicholas Sparks
64.
"I miss you like the sun misses the flowers, like the sun misses the flowers in the depths of winter, instead of beauty to direct it's light to, the heart hardens like the frozen world which your absence has banished me to."
William Thatcher
65.
"I never got to tell him again that he really was wrong, that miles didn't matter, not if you loved someone. That borders and oceans weren't obstacles, not for the mind. I wished I'd been able to tell him these things, because saying them out loud to someone real, instead of a mirror or a picture postcard, would have made them all the more convincing."
Emylia Hall
66.
"This is the sad bed of chosen chastity because you are miles and mountains away."
Erica Jong
67.
"Two souls, far apart, can embrace each other with the arms of love."
Matshona Dhliwayo
68.
"Distance between two people is inconsequential when their souls are united."
Matshona Dhliwayo
69.
"Distance simply means separation in place but never in connections. Heart remains inseparable."
DhelChen
70.
"The thought of being with you tomorrow gives me the strength to go on today."
Unknown
71.
"I only miss you when I'm breathing."
Jason Derulo
72.
"When you are missing someone, time seems to move slower, and when I'm falling in love with someone, time seems to be moving faster."
Taylor Swift
73.
"What is the opposite of two? A lonely me, a lonely you."
Richard Wilbur
74.
"That farewell kiss which resembles greeting, that last glance of love which becomes the sharpest pang of sorrow."
George Eliot
75.
"It's not the distance that's the enemy, but the endless time I have to wait until I hold you in my arms."
Besski Levius
I hope you enjoy this collection of beautiful long distance relationship quotes.
Stay victorious!