If you are a curious person who reads a lot, you'll come across a magnificently special statement every once in a while. Be it an exceptionally profound quote about the nature of life or a helpful piece of advice for everyday life – these are the quotes that will change your life. The difficulty, however, lies in finding time to read as many books as possible to discover the pearls of wisdom hidden within a few of them. If you're running short on time and have to juggle various responsibilities, there may not be much time left to read a lot. To help you save time, we've collected some of the most remarkable and inspirational life-changing quotes out there. Have fun reading. And be sure to also have a look at our selection of Inspirational Quotes to Live by.
Not every word you read leaves an impression upon you. Similarly, not every book you buy is remarkable and special – unless it's a must-read (see recommended reading list), of course.
"Success is going from failure to failure without losing your enthusiasm."
Winston Churchill
For this reason, when you do come across a piece of tremendous value, it's all the more special. Quotes that are truly life-changing will leave a profound impression upon you. Even more so, these insights motivate you to take action. Life-changing quotes will inspire you to make important changes just as much as they help you to push your boundaries.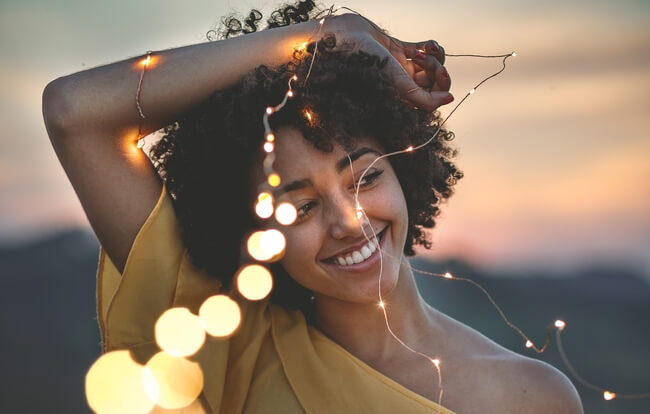 In almost all cases, you can judge the value of a book or quote by assessing how much it influenced your life. If a book or a certain idea within it animated you to make profound changes in your life, it must've been quite special.
101 Inspirational Life-Changing Quotes
Reading books or flicking through a collection of exceptional quotes will definitely have a much bigger impact upon you than mindlessly watching TV. That's a fact that unfortunately is fading more and more into obscurity with each generation. To help remind people about the value of reading, this list of life-changing quotes was created.
Here's our list of quotes that will change your life:
1.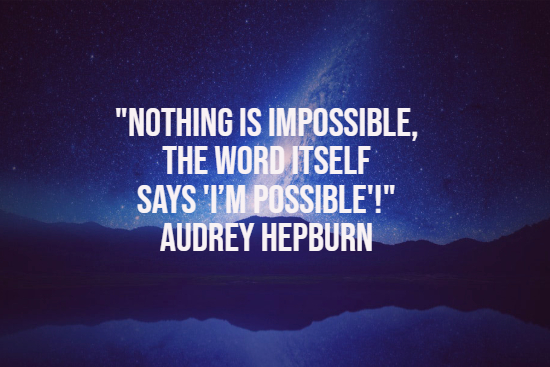 "Nothing is impossible, the word itself says 'I'm possible'!"
Audrey Hepburn
2.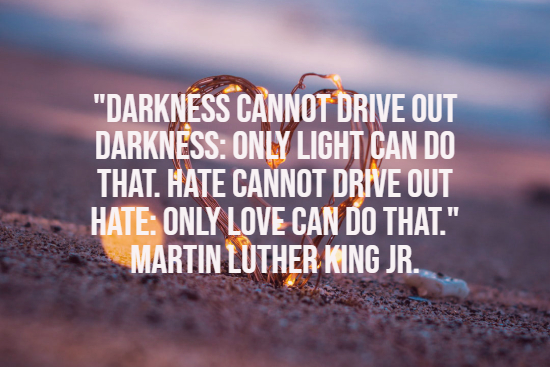 "Darkness cannot drive out darkness: only light can do that. Hate cannot drive out hate: only love can do that."
Martin Luther King Jr.
3.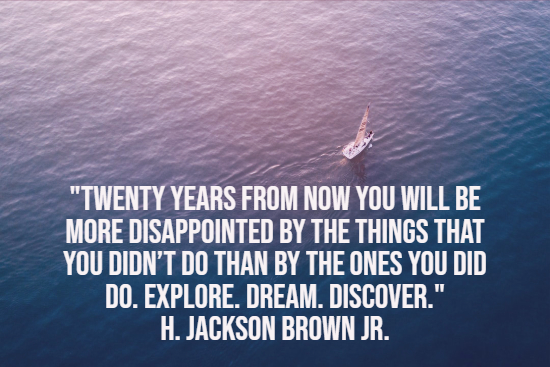 "Twenty years from now you will be more disappointed by the things that you didn't do than by the ones you did do. So throw off the bowlines. Sail away from the safe harbor. Catch the trade winds in your sails. Explore. Dream. Discover."
H. Jackson Brown Jr.
4.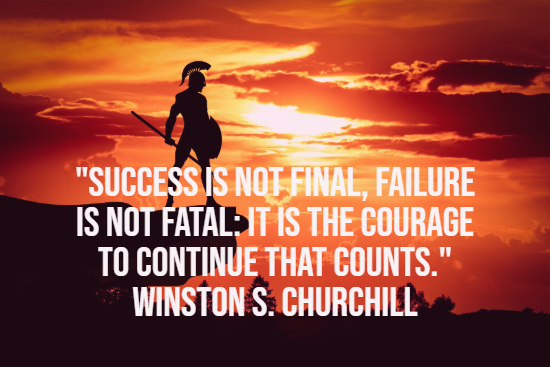 "Success is not final, failure is not fatal: it is the courage to continue that counts."
Winston S. Churchill
5.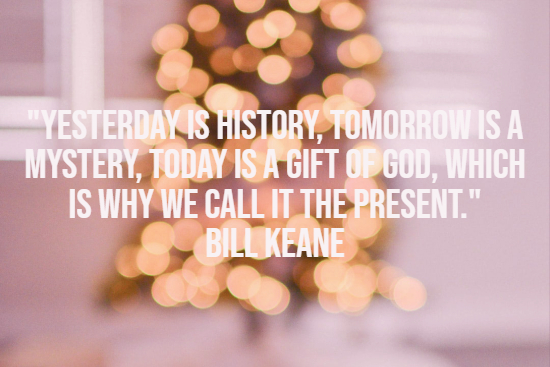 "Yesterday is history, tomorrow is a mystery, today is a gift of God, which is why we call it the present."
Bill Keane
6.
"I have not failed. I've just found 10,000 ways that won't work."
Thomas A. Edison
7.
"That which does not kill us makes us stronger."
Friedrich Nietzsche
8.
"Logic will get you from A to Z; imagination will get you everywhere."
Albert Einstein
9.
"I can't give you a sure-fire formula for success, but I can give you a formula for failure: try to please everybody all the time."
Herbert Bayard Swope
10.
"There is only one thing that makes a dream impossible to achieve: the fear of failure."
Paulo Coelho
11.
"First they ignore you. Then they ridicule you. And then they attack you and want to burn you. And then they build monuments to you."
Nicholas Klein
12.
"Be who you are and say what you feel, because those who mind don't matter, and those who matter don't mind."
Bernard M. Baruch
13.
"Everyone thinks of changing the world, but no one thinks of changing himself."
Leo Tolstoy
14.
"Count your age by friends, not years. Count your life by smiles, not tears."
John Lennon
15.
"Never doubt that a small group of thoughtful, committed, citizens can change the world. Indeed, it is the only thing that ever has."
Margaret Mead
16.
"The goal isn't to live forever, the goal is to create something that will."
Chuck Palahniuk
17.
"You only live once, but if you do it right, once is enough."
Mae West
18.
"Do what you can, with what you have, where you are."
Theodore Roosevelt
19.
"If you can't explain it to a six year old, you don't understand it yourself."
Albert Einstein
20.
"What you're supposed to do when you don't like a thing is change it. If you can't change it, change the way you think about it. Don't complain."
Maya Angelou
21.
"To be yourself in a world that is constantly trying to make you something else is the greatest accomplishment."
Ralph Waldo Emerson
22.
"If you want to know what a man's like, take a good look at how he treats his inferiors, not his equals."
J.K. Rowling
23.
"Be the change that you wish to see in the world."
Mahatma Gandhi
24.
"No one can make you feel inferior without your consent."
Eleanor Roosevelt
25.
"Knowing yourself is the beginning of all wisdom."
Aristotle
26.
"There are only two ways to live your life. One is as though nothing is a miracle. The other is as though everything is a miracle."
Albert Einstein
27.
"The fool doth think he is wise, but the wise man knows himself to be a fool."
William Shakespeare
28.
"If you don't stand for something you will fall for anything."
Gordon A. Eadie
29.
"For every minute you are angry you lose sixty seconds of happiness."
Ralph Waldo Emerson
30.
"You miss 100 percent of the shots you never take."
Wayne Gretzky
31.
"Becoming fearless isn't the point. That's impossible. It's learning how to control your fear, and how to be free from it."
Veronica Roth
32.
"Happiness is when what you think, what you say, and what you do are in harmony."
Mahatma Gandhi
33.
"An eye for an eye will only make the whole world blind."
Mahatma Gandhi
34.
"Keep away from people who try to belittle your ambitions. Small people always do that, but the really great make you feel that you, too, can become great."
Mark Twain
35.
"You will never be happy if you continue to search for what happiness consists of. You will never live if you are looking for the meaning of life."
Albert Camus
36.
"When I despair, I remember that all through history the way of truth and love have always won. There have been tyrants and murderers, and for a time, they can seem invincible, but in the end, they always fall."
Mahatma Gandhi
37.
"You're going to come across people in your life who will say all the right words at all the right times. But in the end, it's always their actions you should judge them by. It's actions, not words, that matter."
Nicholas Sparks
38.
"What lies behind us and what lies before us are tiny matters compared to what lies within us."
Ralph Waldo Emerson
39.
"All we have to decide is what to do with the time that is given us."
J.R.R. Tolkien
40.
"Not all of us can do great things. But we can do small things with great love."
Mother Teresa
41.
"In three words I can sum up everything I've learned about life: it goes on."
Robert Frost
42.
"Whenever you find yourself on the side of the majority, it is time to reform."
Mark Twain
43.
"When one door of happiness closes, another opens; but often we look so long at the closed door that we do not see the one which has been opened for us."
Helen Keller
44.
"Life isn't about finding yourself. Life is about creating yourself."
George Bernard Shaw
45.
"Promise me you'll always remember: You're braver than you believe, and stronger than you seem, and smarter than you think."
Carter Crocker
46.
"Life is like riding a bicycle. To keep your balance, you must keep moving."
Albert Einstein
47.
"I like the night. Without the dark, we'd never see the stars."
Stephenie Meyer
48.
"The saddest aspect of life right now is that science gathers knowledge faster than society gathers wisdom."
Isaac Asimov
49.
"How wonderful it is that nobody need wait a single moment before starting to improve the world."
Anne Frank
50.
"And above all, watch with glittering eyes the whole world around you because the greatest secrets are always hidden in the most unlikely places."
Roald Dahl
51.
"I find television very educating. Every time somebody turns on the set, I go into the other room and read a book."
Groucho Marx
52.
"Never forget what you are, for surely the world will not. Make it your strength. Then it can never be your weakness. Armor yourself in it, and it will never be used to hurt you."
George R.R. Martin
53.
"May you live every day of your life."
Jonathan Swift
54.
"A room without books is like a body without a soul."
Marcus Tullius Cicero
55.
"It's only after we've lost everything that we're free to do anything."
Chuck Palahniuk
56.
"Be yourself; everyone else is already taken."
Oscar Wilde
57.
"Happiness is not something ready made. It comes from your own actions."
Dalai Lama XIV
58.
"Most people are other people. Their thoughts are someone else's opinions, their lives a mimicry, their passions a quotation."
Oscar Wilde
59.
"Do one thing every day that scares you."
Eleanor Roosevelt
60.
"If you only read the books that everyone else is reading, you can only think what everyone else is thinking."
Haruki Murakami
61.
"Imagination is more important than knowledge. Knowledge is limited. Imagination encircles the world."
Albert Einstein
62.
"I may not have gone where I intended to go, but I think I have ended up where I needed to be."
Douglas Adams
63.
"Never memorize something that you can look up."
Albert Einstein
64.
"The Christian does not think God will love us because we are good, but that God will make us good because He loves us."
C.S. Lewis
65.
"Destroying things is much easier than making them."
Suzanne Collins
66.
"The man who does not read has no advantage over the man who cannot read."
Mark Twain
67.
"A clever person solves a problem. A wise person avoids it."
Albert Einstein
68.
"You cannot find peace by avoiding life."
Michael Cunningham
69.
"The weak can never forgive. Forgiveness is the attribute of the strong."
Mahatma Gandhi
70.
"Do what you feel in your heart to be right – for you'll be criticized anyway."
Eleanor Roosevelt
71.
"It does not do to dwell on dreams and forget to live."
J.K. Rowling
72.
"To live is the rarest thing in the world. Most people exist, that is all."
Oscar Wilde
73.
"It is better to remain silent at the risk of being thought a fool, than to talk and remove all doubt of it."
Maurice Switzer
74.
"Don't cry because it's over, smile because it happened."
Dr. Seuss
75.
"Fairy tales are more than true: not because they tell us that dragons exist, but because they tell us that dragons can be beaten."
Neil Gaiman
76.
"Love all, trust a few, do wrong to none."
William Shakespeare
77.
"Folks are usually about as happy as they make their minds up to be."
Abraham Lincoln
78.
"Finish each day and be done with it. You have done what you could. Some blunders and absurdities no doubt crept in; forget them as soon as you can. Tomorrow is a new day. You shall begin it serenely and with too high a spirit to be encumbered with your old nonsense."
Ralph Waldo Emerson
79.
"Anyone who has never made a mistake has never tried anything new."
Albert Einstein
80.
"But better to get hurt by the truth than comforted with a lie."
Khaled Hosseini
81.
"I speak to everyone in the same way, whether he is the garbage man or the president of the university."
Albert Einstein
82.
"Music expresses that which cannot be put into words and that which cannot remain silent"
Victor Hugo
83.
"Where there is love there is life."
Mahatma Gandhi
84.
85.
"You never really understand a person until you consider things from his point of view… Until you climb inside of his skin and walk around in it."
Harper Lee
86.
"Sometimes, you read a book and it fills you with this weird evangelical zeal, and you become convinced that the shattered world will never be put back together unless and until all living humans read the book."
John Green
87.
"If you can't handle me at my worst, then you sure as hell don't deserve me at my best."
Marilyn Monroe
88.
"Facts do not cease to exist because they are ignored."
Aldous Huxley
89.
"You can't live your life for other people. You've got to do what's right for you."
Nicholas Sparks
90.
"It is impossible to live without failing at something, unless you live so cautiously that you might as well not have lived at all – in which case, you fail by default."
J.K. Rowling
91.
"The only true wisdom is in knowing you know nothing."
Socrates
92.
"I have never let my schooling interfere with my education."
Mark Twain
93.
"I would rather walk with a friend in the dark, than alone in the light."
Helen Keller
94.
"We are only as strong as we are united, as weak as we are divided."
J.K. Rowling
95.
"Perfection is achieved, not when there is nothing more to add, but when there is nothing left to take away."
Antoine de Saint-Exupéry
96.
"Every man has his secret sorrows which the world knows not; and often times we call a man cold when he is only sad."
Henry Wadsworth Longfellow
97.
"A day without laughter is a day wasted."
Nicolas Chamfort
98.
"If there's a book that you want to read, but it hasn't been written yet, then you must write it."
Toni Morrison
99.
"It takes courage to grow up and become who you really are."
E.E. Cummings
100.
"We are all in the gutter, but some of us are looking at the stars."
Oscar Wilde
101.
"A reader lives a thousand lives before he dies, said Jojen. The man who never reads lives only one."
George R.R. Martin
I hope you enjoyed this collection of life-changing quotes.
Stay victorious!