One key to business success is to ask yourself important questions about your company and your business strategy to clarify your business's current situation and the possible chances for development in the future.
Some of these questions may reveal some unpleasant facts about your business, but it is very important that you try to answer all these questions as honest as possible. These questions let you evaluate what is currently working really great in your business and what is not working.
Here are the key questions for business success:
1. Do you have a business strategy?
You do not have a business strategy:
Without having a business strategy or a strategic business plan your enterprise will be conducted into pure chaos that goes into all kinds of different directions, without ever finding the road to business success. You can learn how to write a business plan by clicking on the following link: Business plan.
You already have a business strategy:
Excellent! As these strategies can be very dynamic you may have to change them from time to time and adapt your plan accordingly to changes on the market. Every time you plan a new strategy for your business you will first of all have to define your current plans and the main functional areas of your business as a whole.
2. Did you make a SWOT analysis?
When you create your business strategy you should also consider analyzing the Strengths, Weaknesses, Opportunities and Threats (SWOT) of your company (internal Strengths & Weaknesses) and the market (external (Opportunities & Threads). The key of this analysis is to build on your businesses strengths and resolve its weaknesses, while you find and exploit opportunities on the market and define strategies to avoid possible threats in the future.
3. Do you know your current level of sales?
Break down your sales by product (or service) and find those products that are making you the most money (cash cows), the products with the highest potential in high growth markets (stars), the question-marks and the products that are not making revenue for your business (poor dog's). Once you have created such a portfolio for your company you should now behave accordingly to the Boston Consulting Group and invest in the stars (= products with a high growth and high market share, which generate high amounts of money for your company), keep your cash cows (= products with a low growth and a high market share), minimize the number of "poor dog" products (= low growth and low market share) and either invest or sell of the question-mark products (= high growth, low market share).
It is necessary to make a critical evaluation when you analyze the product portfolio of your company accordingly to the BCG portfolio! Do not forget to also analyze the cash flow and the profitability of every product and keep these results in mind while you make decisions about your portfolio!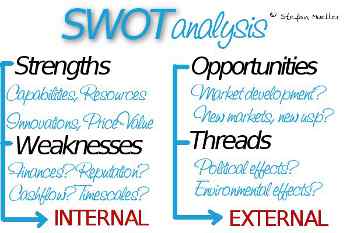 4. Are you building relationships?
Relationships are an important key to business success. Amongst all other business success tips that can be integrated voluntarily the building of relationships should be considered to be an essential part of your business success! The key to successful networking is to build and strengthen relationships with your customers and clients. People will not be going to buy your products no matter how qualified or competent you are UNLESS you are able to create a rapport with them so that they feel comfortable with you and your product. Another very positive side-effect of good relations is that satisfied customers will recommend your services or products you provide to their friends, business partners and so on.
5. What causes a detriment/net-loss in your business?
Another key to business success is to find elements of your company that are causing you detriments or even net losses and try to eliminate these factors. This can be done during an evaluation about the strengths (What has made your business successful in the past? What are the key skills your company possesses?) and weaknesses (What aspects of your company could be improved?). Sometimes it could be that some team members are causing you the net loss because their work performance is not as efficient as before. You could act now rigorous and fire this employee right away, but that could have a lot of very negative consequences for your company! I would recommend you to seek the dialogue with this team member and try to evaluate the reason for his current inefficiency, which also includes a way to increase his performance with the final aim to turn the net loss into a profit. It is an essential management skill to take your employees concerns and problems serious and to listen to them.
6. Is your customer king?
Well, without your customers your company would not be able to exist any moment longer. Therefore it is important to continuously analyze your customers to evaluate your best customers (that create the most profit for your company) and the specific needs and wishes of them. This analysis also includes facing the truth and taking their complaints serious in order to increase your customer satisfaction!
The article Key Questions for Business Success was brought to you by the eBook "The road to success".