Do you want to spice up your Instagram posts and increase your engagement? If you're looking for creative, engaging, and appealing captions to use for your photos then this article is packed with them. We've got 210 captivating Instagram quotes and captions that will make your engagement soar through the roof.
Being a content creator on Instagram is definitely not easy. One of the major challenges is to come up with great ideas for posts that engage your audience on a day-to-day basis. It's not too uncommon to struggle once in a while about what to post next on Instagram.
"Social media is not a media. The key is to listen, engage, and build relationships."
David Alston
Whenever you're not sure what to post during the upcoming days or weeks, it's great to have an inspiring resource that helps you to get your creative juices flowing again. That is what the following Instagram quotes and captions are all about. Not only will they give you creative and new post ideas but they will also supply you with imaginative captions for your images.
When it comes to Instagram posting, it's important to introduce a lot of variety into the content you share. The great art in succeeding as a content creator on Instagram is to find the right balance between posting relevant content that your audience loves without getting boring and repeating the same subject over and over again.
Aside from shooting engaging photos, finding the right caption can be quite a struggle as well. The right photo without some creative words may reduce your audience is engagement dramatically.
210 Instagram Quotes and Captions to Spice up Your Feed
We have created the following collection to help you in coming up with creative ideas for photos and captions. As an additional extra for you, we have also listed some of the most helpful Instagram quotes to maximize your success on the social network. Enjoy reading these Instagram quotes and happy sharing on your favorite platform.
To give you a better overview, we have categorized all quotes into the following categories:
Here we go…
Here's our selection of Instagram quotes and captions for your images
1.
"If you're posting pictures to platforms like Instagram or Twitter, be selective about the one you post. If I'm capturing a sunset, I'll take at least 10 pictures. I'll then filter them using other apps, enhance them. Then, I really pick the best image of perhaps 30."
Coco Rocha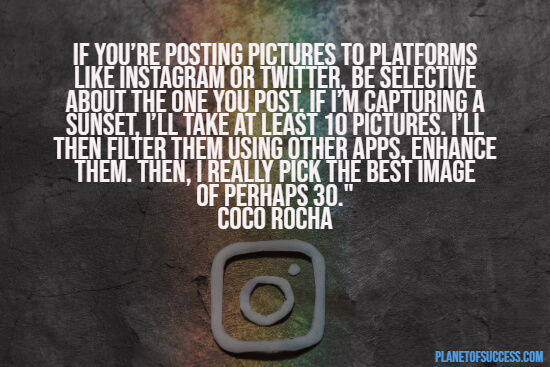 2.
"'Instagram' doesn't exist in a vacuum. We're not a bunch of siloed individuals. It's a bunch of people coming together on topics, fashion, you know, youthful teens, creatives, photographers, foodies, everyone coming together and building a community around the things they love, communicating visually."
Kevin Systrom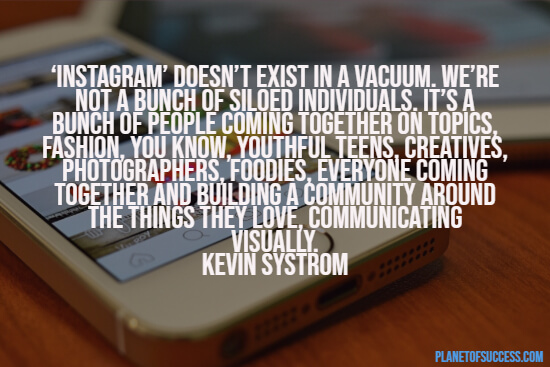 3.
"I think it's essential to engage with your followers. I always used to email bloggers, and no one ever replied, so I try to reply to every comment and question, and although sometimes I regret it when I'm sat on Instagram til 3 A.M., it's worth it."
Ella Woodward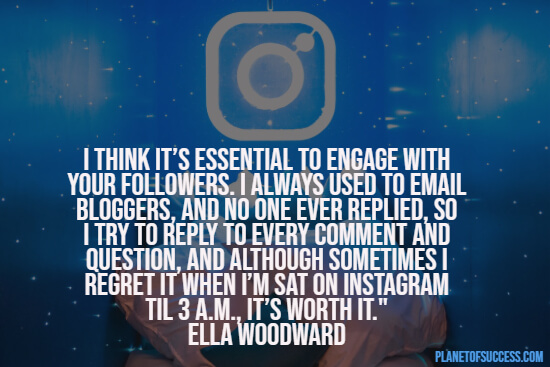 4.
"If I go on summer vacation, I'd make a funny video about it for YouTube. For Instagram, I'd show the gorgeous pictures. Snapchat is for the little side moments, like the hotel room, the food. Twitter is for whatever thoughts that come to mind about the vacation."
Eva Gutowski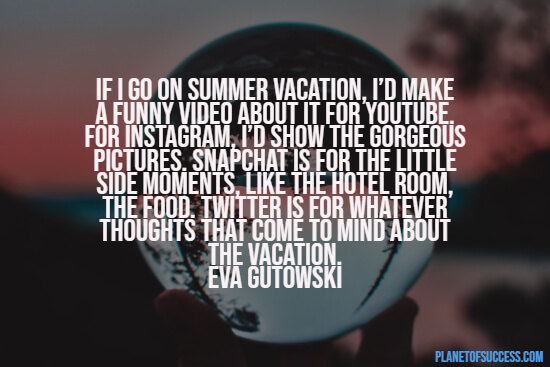 5.
"Instagram is a personal subscription. It's like your own personal magazine. It's like doing a photoshoot for no money, which is cool."
Goapele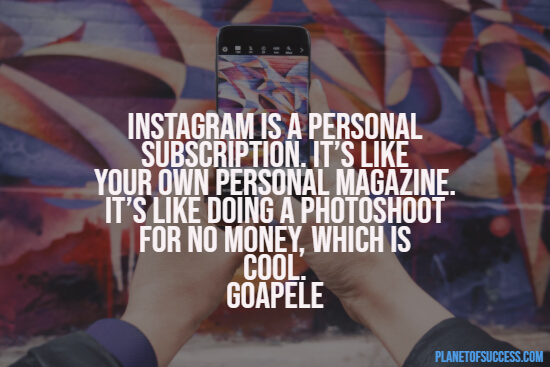 6.
"Never forget when posting something on Instagram that it lasts forever. Instagram is embarrassing enough as is, so be careful. A post might not embarrass you at this moment, but it's likely to in the future. So don't only think about yourself; think about your future self."
Cazzie David
7.
"Never hold up your entire group of friends in real life trying to capture a perfect Instagram pose. Nobody cares."
Mary H.K. Choi
8.
"Particularly Instagram, people look like they have a much better life than they really do. People basically seem like they are way better-looking than they really are, and they are way happier-seeming than they really are."
Elon Musk
9.
"Instagram is my edit of my life."
Kendall Jenner
10.
"Twitter is the place where I try to be more funny. And then I use Instagram just as my diary. I pull some jokes on there, but I think people have a better sense of humor on Twitter."
Gigi Hadid
11.
"When I'm putting some communication out on Twitter or Facebook or Instagram, I think that it's helping me, my brain, you know, because it's always somehow stimulated by people who are sending things to me. And it works both ways. It's great. My brain is very happy about it."
Yoko Ono
12.
"I'm a believer in feeling good in your skin, so I put bikini pics on my Instagram."
Emily Atack
13.
"Social media is a huge struggle for my generation in general – it's a lot of pressure! Even having an Instagram is stressful. You have to make it look cool, posting it at the right time, and it's become its own job and not something where you connect with people."
Justine Skye
14.
"My Instagram got deleted a lot of times. I used to do rough jokes and curse a lot."
Cardi B
15.
"Women are important storytellers who help connect the Instagram community to what's happening in the world."
Marne Levine
16.
"On every single picture on my Instagram page, you'll find a negative comment. My supporters will normally stand up to that hateful person, and then it will become a big argument, and it's just a lot. I try to tell myself not to listen to the haters, and I try not to read the comments because it's not worth it."
Jazz Jennings
17.
"It's insane how much press my Instagram will get. It's weird, in a way, that I can dictate the agenda – but I love being able to have a say in all of that."
Selena Gomez
Let's continue with some great photo captions for your stream.
Lit Instagram captions that are on fire
18.
""Go and ask Tommy, Hilfiger it out."
Unknown
19.
"Obey all the rules, miss all the fun."
Unknown
20.
"Go hard or go home."
Wiz Khalifa
21.
"No risk, no fun. No grit, no glory."
Unknown
22.
"Never be ashamed of who you are and what you do. That's what your parents do."
Unknown
23.
"Who said I'm picky? I just know exactly what I want."
Unknown
24.
"Stay real or get out of here."
Unknown
25.
"If you worked like your mouth talks, you'd be a millionaire."
Unknown
26.
"Don't get too close to the heater because plastic melts."
Unknown
27.
"You're either on my side, right by my side, or in my freaking way."
Unknown
28.
"Is that a wishbone? Where's that backbone of yours again?"
Unknown
29.
"Let the good times roll."
Louis Jordan
30.
"Forever is created right at this moment."
Unknown
31.
"The damages is done so I guess I'll be leaving."
Justin Timberlake
32.
"It doesn't take a rocket scientist to figure out what you're up to."
Unknown
33.
"You're a great cup of tea but I deserve champagne."
Unknown
34.
"What I'm going to do today? Whatever I want."
Bam Magera
Bold and sassy Instagram quotes and captions
35.
"Imperfection is beauty, madness is genius, and it's better to be absolutely ridiculous than absolutely boring."
Marilyn Monroe
36.
"I am freakin' gold. It's okay if you prefer silver and bronze. Gold 's not for everyone."
Unknown
37.
"Listen closely, can you hear me not caring?"
Unknown
38.
"One freaky photo a day keeps the normies away."
Unknown
39.
"People act like they've hurt my feelings. As if I have feelings."
Unknown
40.
"Lady, you've got countless more issues than Vogue."
Unknown
41.
"Sounds like a bad idea but I like it."
Unknown
42.
"Make the most of the moment, 'cause tomorrow you might be retired."
Unknown
43.
"Never forget how unique and special you are, just like everyone else on earth."
Unknown
44.
"My friends told me you're a player. That's great, I'm the coach."
Unknown
45.
"She was easy to figure out, just like quantum physics 101."
Unknown
46.
"Darling, couldn't you afford to buy a personality?"
Unknown
Instagram quotes about being yourself
47.
"Why try to fit in when you were born to stand out?"
Dr. Seuss
48.
"Be yourself; everyone else is already taken."
Oscar Wilde
49.
"I don't care if you like me; we are on Instagram and I'm not a Facebook status."
Unknown
50.
"I'm a limited-edition, get used to it."
Unknown
51.
"Always be a first-rate version of yourself and not a second rate version of someone else."
Judy Garland
52.
"Be who you are and say what you feel, because those who mind don't matter, and those who matter don't mind."
Bernard M. Baruch
53.
"If people dislike you, never forget that it is mind over matter. You shouldn't mind and they don't matter."
Unknown
54.
"It doesn't matter what others think if you're genuinely happy."
Unknown
55.
"People wander about me. I'm not easy to define."
Unknown
56.
"I'm proud of who I am so why should I matter what others think of me?"
Unknown
57.
"I didn't ask for your approval, I am happily who I am."
Unknown
58.
"Follow your inner moonlight; don't hide the madness."
Allen Ginsberg
Here are even more quotes about being yourself for you.
Instagram quotes about strength
59.
"We're strong alone but unstoppable together."
Unknown
60.
"My parents always ask me if I'm 12. Yeah, I am on a scale of 1 to 10."
Unknown
61.
"I make the impossible look easy. You're welcome."
Unknown
62.
"Better to be strong than pretty and useless."
Lilith Saintcrow
63.
"Don't tell me who or what I am. That's my job."
Unknown
64.
"Born to stand out, born to be free."
Unknown
65.
"50% savage, 25% fighter, and 25% hero."
Unknown
66.
"My kindness is not a sign of weakness."
Unknown
67.
"When people hate me for no reason, I give them one."
Unknown
68.
"Do not give your haters the gratification, never let yourself down."
Mohith Agadi
69.
"Rule your mind or it will rule you."
Horace
70.
"I looked for company and I found myself."
Pushpa Rana
71.
"Don't devalue yourself, you are the world's most precious stone."
Michael Bassey Johnson
"Want more? Here are even more quotes about strength.
72.
"Looks are not everything but I wear them just in case."
Unknown
73.
"The weak fall, but the strong will remain and never go under!"
Anne Frank
74.
"Guess what, I am single like a one-dollar bill but I'm not looking for a change."
Unknown
75.
"Strong people don't put others down… They lift them up."
Michael P. Watson
76.
"I don't need to be perfect when I look good."
Unknown
77.
"In a world that is filled with trends that come and go, I am a timeless classic."
Unknown
78.
"I'm sexy and I like it."
Unknown
79.
"Confidence level: intergalactic."
Unknown
80.
"My blood type? A-RhD positive with some gold sparkled into it."
Unknown
81.
"I'm everything that many want but nothing most can have."
Unknown
If you want more, be sure to have a look at these self-confidence quotes to boost your courage.
Instagram quotes about friendship
82.
"A friend is someone who knows all about you and still loves you."
Elbert Hubbard
83.
"What is a friend? A single soul dwelling in two bodies."
Aristotle
84.
"Pleasing everyone is impossible. But making everyone angry at you on the other hand…"
Unknown
85.
"Friendship… is born at the moment when one man says to another "What! You too? I thought that no one but myself ."
C.S. Lewis
86.
"Friendship is the hardest thing in the world to explain. It's not something you learn in school. But if you haven't learned the meaning of friendship, you really haven't learned anything."
Muhammad Ali
87.
"Rare as is true love, true friendship is rarer."
Jean de La Fontaine
Even more friendship quotes for you.
Captions to flirt with your audience
88.
"Even in a room of artwork, I still could not stop looking at the masterpiece that is you."
Unknown
89.
"When I see you, everything gets blurred out except for you."
Unknown
90.
"You should start hiding, the police is on its way to arrest you because you stole my heart."
Unknown
91.
"Are you a photographer? I smile every time I'm looking at you."
Unknown
92.
"I will forever remember that first moment when I looked into your eyes."
Unknown
93.
"The first and last thing I think about every day is you."
Unknown
94.
"You're my water when I'm thirsty. My food when I'm hungry."
Unknown
95.
"It wasn't a trick when I fell for you."
Unknown
Instagram captions about success
96.
"They say my dreams are too big and ambitious. I say they think too small and are too unambitious."
Unknown
97.
"Don't wish it were easier; wish you were better."
Jim Rohn
98.
"If you are not willing to risk the usual, you will have to settle for the ordinary."
Jim Rohn
99.
"Excellence is not a skill, it is an attitude."
Ralph Marston
100.
"I find that the harder I work, the more luck I seem to have."
Thomas Jefferson
101.
"Successful people do what unsuccessful people are not willing to do."
Jim Rohn
102.
"Please don't interrupt me when I'm doing the impossible."
Unknown
103.
"Opportunities don't happen. You create them."
Chris Grosser
104.
"Success is walking from failure to failure with no loss of enthusiasm."
Winston Churchill
105.
"Don't be afraid to give up the good to go for the great."
John D. Rockefeller
106.
"There are two types of people who will tell you that you cannot make a difference in this world: those who are afraid to try and those who are afraid you will succeed."
Ray Goforth
107.
"Stop chasing the money and start chasing the passion."
Tony Hsieh
108.
"Don't let the fear of losing be greater than the excitement of winning."
Robert Kiyosaki
Want more? Here are another 135 powerful success quotes to help you succeed in life.
Instagram bio quotes
109.
"With the right bio, you can spice up your account and increase the percentage of people who follow you. Your Instagram bio is the very first impression you can make with your visitors and it's an impactful one. It's not too unusual that people will scan your photos and your biography first before they decide whether or not to hit that follow button. Therefore it's all the more important to have a catchy text. Here are some suggestions.
110.
"In the end, it's not the years in your life that count. It's the life in your years."
Abraham Lincoln
111.
"My parents told me I could become anything I wanted to. So I became an Instagrammer."
Unknown
112.
"Genius is one percent inspiration, ninety-nine percent perspiration."
Thomas Alva Edison
113.
"A witty saying proves nothing."
Voltaire
114.
"Lionhearted Instagramer, passionate social media veteran."
Unknown
115.
"Life can only be understood backwards, but it must be lived forward."
Soren Kierkegaard
116.
"An ounce of action is worth a ton of theory."
Ralph Waldo Emerson
117.
"I capture the story of my life in artistic images."
Unknown
118.
"I let my photos do the talking."
Unknown
119.
"I'm an angel. The horns are only there to hold up the halo."
Suzanne Wrightt
120.
"In a world where you can be anyone, I choose to be myself."
Unknown
121.
"Just another Instagram influencer, nothing to see here."
Unknown
122.
"I'll go anywhere as long as it's forward."
David Livingstone
123.
"Do your own thinking independently. Be the chess player, not the chess piece."
Ralph Charell
124.
"Simplicity meets avant-garde photography."
Unknown
125.
"My photos speak for themselves."
Unknown
126.
"Life is what happens to you while you view photos on Instagram."
Unknown
127.
"Always one story short of becoming the real Instagram deal."
Unknown
128.
"A person is wise if he listens to millions of advice and doesn't implement any of it."
Michael Bassey Johnson
129.
"Choose a job you love, and you will never have to work a day in your life."
Confucius
Creative and good quotes for Instagram
130.
"They laugh at me because I'm different; I laugh at them because they're all the same."
Kurt Cobain
131.
"Live as if you were to die tomorrow. Learn as if you were to live forever."
Mahatma Gandhi
132.
"There are only two ways to live your life. One is as though nothing is a miracle. The other is as though everything is a miracle."
Albert Einstein
133.
"Others have seen what is and asked why. I have seen what could be and asked why not. "
Pablo Picasso
134.
"Be the change that you wish to see in the world."
Mahatma Gandhi
135.
"It is not enough that we do our best; sometimes we must do what is required."
Winston S. Churchill
136.
"Life is short. Make every breath count."
Unknown
137.
"Be yourself. The original is always more valuable than the copy."
Unknown
138.
"Great minds discuss ideas. Average minds discuss events. Small minds discuss people."
Henry Thomas Buckle
139.
"The best times in your life are those moments you can tell anyone about."
Unknown
140.
"Don't tell me you're a player, I am the game."
Unknown
141.
"Learn the rules like a pro, so you can break them like an artist."
Pablo Picasso
142.
"We have to continually be jumping off cliffs and developing our wings on the way down."
Kurt Vonnegut
143.
"We are all in the gutter, but some of us are looking at the stars."
Oscar Wilde
144.
"Do what you can, with what you have, where you are."
Theodore Roosevelt
145.
"The best preparation for tomorrow is doing your best today."
H. Jackson Brown Jr.
146.
"Imagination is everything. It is the preview of life's coming attractions."
Albert Einstein
147.
"It is never too late to be what you might have been."
George Eliot
148.
"You can never solve a problem on the level on which it was created."
Albert Einstein
149.
"Darkness cannot drive out darkness: only light can do that. Hate cannot drive out hate: only love can do that."
Martin Luther King Jr.
150.
"Everything you can imagine is real."
Pablo Picasso
Cute quotes for Instagram
151.
"Eat diamonds for breakfast and shine all day."
Unknown
152.
"Be a beautiful cupcake in a world full of muffins."
Unknown
153.
"A real girl isn't perfect and a perfect girl isn't real."
Harry Styles
154.
"Walking with a friend in the dark is better than walking alone in the light."
Helen Keller
155.
"People tell me I'm sexy. I prefer compliments that come from the heart."
Unknown
156.
"Being fabulous is not a crime."
Unknown
157.
"Don't try to be what you're not. If you're nervous, be nervous. If you're shy, be shy. It's cute."
Adriana Lima
158.
"Some girls are just born with glitter in their veins."
Paris Hilton
159.
"We were together. I forget the rest."
Walt Whitman
160.
"Whatever you are, be a good one."
Abraham Lincoln
161.
"I have nothing to give but my heart so full and these empty hands."
Louisa May Alcott
162.
"Baby you light up my world like nobody else."
One Direction
163.
"My style is simple, kinda girly, but with a bit of an edge."
Erin Heatherton
164.
"Life isn't perfect but your outfit can be."
Unknown
Instagram love quotes
165.
"I love you and that's the beginning and end of everything."
F. Scott Fitzgerald
166.
"My six word love story: I can't imagine life without you."
Unknown
167.
"Love is a friendship set to music."
Joseph Campbell
168.
"Thank you for always being my rainbow after the storm."
Unknown
169.
"If I know what love is, it is because of you."
Hermann Hesse
170.
"Once I had her hand, I never wanted to let go of her."
Ottilie Weber
171.
"I've fallen in love many times… always with you."
Unknown
172.
"I love you not only for what you are, but for what I am when I am with you."
Roy Croft
173.
"Sing me a love song in a slow, southern drawl to the tune of sunny days…"
Kellie Elmore
174.
"At the touch of love everyone becomes a poet."
Plato
175.
"To the world you may be one person, but to one person you are the world."
Bill Wilson
176.
"The most important thing in life is to learn how to give out love, and to let it come in."
Morrie Schwartz
177.
"You are every reason, every hope and every dream I've ever had."
Nicolas Sparks
178.
"My heart is perfect because you are in it."
Unknown
179.
"You are my paradise and I would happily get stranded on you for a lifetime."
Unknown
180.
"Life without love is like a tree without blossoms or fruit."
Khalil Gibran
Funny quotes for Instagram
181.
"Don't worry about the world coming to an end today. It is already tomorrow in Australia."
Charles M. Schulz
182.
"Laughing at our mistakes can lengthen our own life. Laughing at someone else's can shorten it."
Cullen Hightower
183.
"They say marriages are made in Heaven. But so is thunder and lightning."
Clint Eastwood
184.
"I refuse to answer that question on the grounds that I don't know the answer."
Douglas Adams
185.
"We wouldn't call him the master of disguise if we knew who it was, right?"
Unknown
186.
"Do whatever you want in life. Unless you're a psychopath."
Unknown
187.
"People say nothing is impossible, but I do nothing every day."
A. A. Milne
188.
"I like my coffee like my humor: dark and without sugar."
Unknown
189.
"I don't believe in astrology; I'm a Sagittarius and we're skeptical."
Arthur C. Clarke
190.
"Do you hear that? It's me roaring like a lion."
Unknown
191.
"The only mystery in life is why the kamikaze pilots wore helmets."
Al McGuire
192.
"My door is always open, feel free to leave."
Unknown
193.
"The world is full of magical things patiently waiting for our wits to grow sharper."
Bertrand Russell
194.
"It's not an insult if it's the truth."
Unknown
195.
"Light travels faster than sound. This is why some people appear bright until you hear them speak."
Alan Dundes
196.
"People say I'm heartless. But I just discovered how to use my heart less."
Unknown
197.
"Those who believe in telekinetics, raise my hand."
Kurt Vonnegut
198.
"It's true hard work never killed anybody, but I figure, why take the chance?"
Ronald Reagan
199.
"We never really grow up, we only learn how to act in public."
Bryan White
Instagram quotes to maximize your success on the social network
200.
"We're living at a time when attention is the new currency. Those who insert themselves into as many channels as possible look set to capture the most value."
Pete Cashmore
201.
"Activate your fans, don't just collect them like baseball cards."
Jay Baer
202.
"The most successful marketer becomes part of the lives of their followers. They follow back. They wish happy birthday."
Marsha Collier
203.
"Engage rather than sell… Work as a co-creator, not a marketer."
Tom H. C. Anderson
204.
"Don't worry; skills are cheap, passion is priceless. If you're passionate about your content and you know it and do it better than anyone else, even with few formal business skills you have the potential to create a million-dollar business."
Gary Vee
205.
"Once you can understand where the conversation is, who leads, the type of voices and the best place for you to add your voice, you can then start becoming a more active participant."
Mitch Joel
206.
"Don't say anything online that you wouldn't want plastered on a billboard with your face on it."
Erin Bury
207.
"You as a brand have to be completely confident about your position, because you will get criticism. You will have a negative reaction. If you didn't get a negative reaction, that means you're standing neutral and you have no point of view. Who wants to participate in that?"
Frank Cooper
208.
"Social Media gives us the opportunity to humanize our communications and make our companies more approachable."
Ardath Albee
209.
"Build it, and they will come" only works in the movies. Social Media is a "build it, nurture it, engage them, and they may come and stay."
Seth Godin
210.
"Monitor, engage, and be transparent; these have always been the keys to success in the digital space."
Dallas Lawrence
I hope you enjoyed this collection of Instagram quotes and captions. Have you found a great quote to spice up your Instagram feed?
Stay victorious!