Sunday is the best day of the week. It's a perfect day to sleep in, to recharge your batteries, and provides a wonderful alternative to your busy work week. While most of us need to address numerous responsibilities on a typical Saturday, Sunday is surprisingly different. Usually, there are not many things that need to be taken care of on a Sunday. Consequently, you can fully enjoy the entire day just the way you like and spend some quality time with your family and friends. For this reason, Sunday resembles the Grand Finale of your weekend's adventures. Even more so, Sunday's quietude helps you to kick off the exciting week ahead. At the same time, however, most of us get a little melancholic when the best day of the week is slowly coming to an end. To help you get over the blues that usually set in around 4 to 5 PM, we've created the following collection of inspirational Sunday quotes.
To most of us, Sunday means football/baseball/basketball, family time, and excellent food. Therefore, it goes without saying that Sunday is most people's favorite day of the week.
"Sunday is the golden clasp that binds together the volume of the week."
Henry Wadsworth Longfellow
Unfortunately, as pleasurable as each Sunday is, as quickly does Monday arise. As soon as Sunday is slowly coming to an end, a little melancholy and sadness begins to arise.
In fact, it sometimes feels as if the entire world around you drops into a collective state of unease during Sunday afternoon. In most people's minds, the responsibilities and difficulties of the upcoming week slowly begin to creep up. But luckily, there are some excellent Sunday quotes that help you to outsmart the blues. In the following, you will also find a couple of inspiring Sunday morning quotes. Enjoy!
45 Wonderfully Inspiring Sunday Quotes
Sadly, even the best of weekends are eventually coming to an end. When Sunday is slowly coming to an end, uplifting Sunday quotes come in quite handy. These inspiring statements about the beauty of Sundays help you to keep your positive weekend mood during the upcoming week.
Here are these inspiring Sunday quotes:
1.
"Happiness is a hot bath on a Sunday afternoon."
A.D. Posey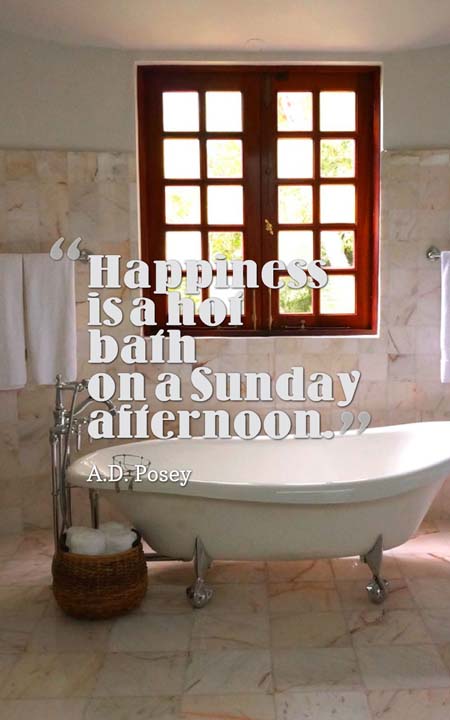 2.
"I have to be alone very often. I'd be quite happy if I spent from Saturday night until Monday morning alone in my apartment. That's how I refuel."
Audrey Hepburn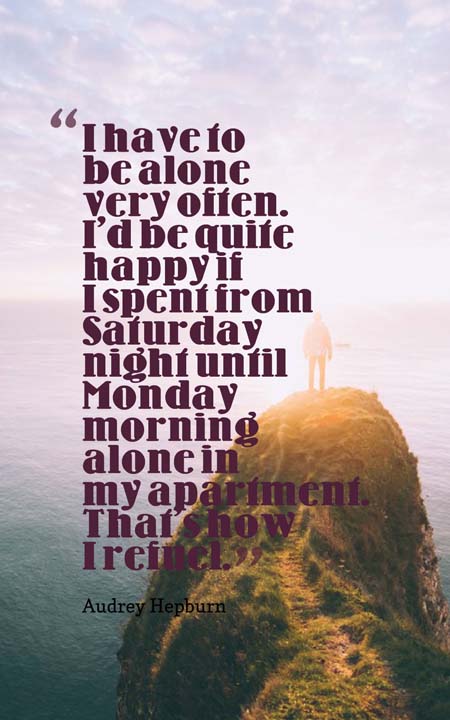 3.
"Well, there's nothing better than putting your feet up on a Sunday afternoon and grabbing a good book."
Chris Klein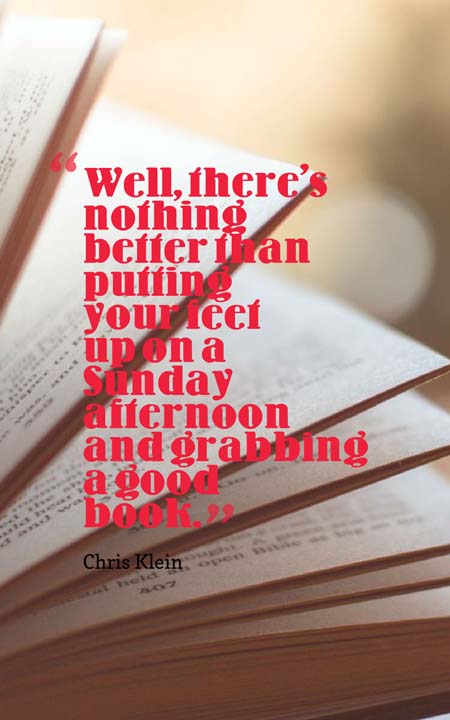 4.
"It's not that we spend five days looking forward to just two. It's that most people do what they enjoy most on those two days. Imagine living a life where every day is your Saturdays and Sundays. Make everyday your weekend. Make every day a play-day…"
James A. Murphy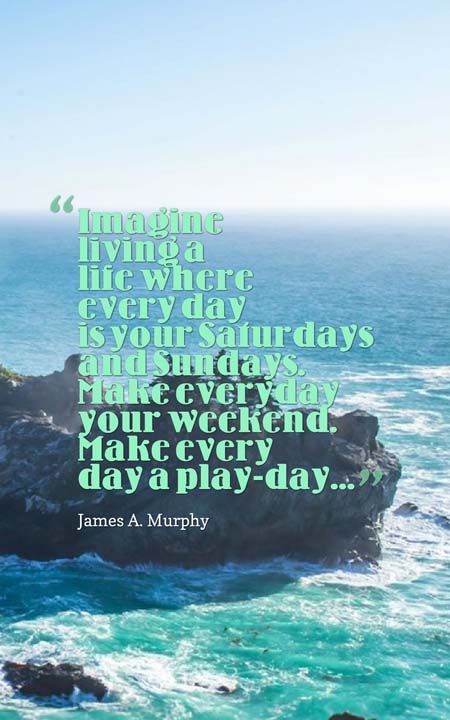 5.
"Tomorrow the rush of men, all working for a living, would drown him; but now, at this moment, in this soft green twilight, this soft green Sunday evening, when the heart of the world seemed to lie beating in the palm of his hand, he sat in that huge house upstairs terrified that he would never live."
Andrew Holleran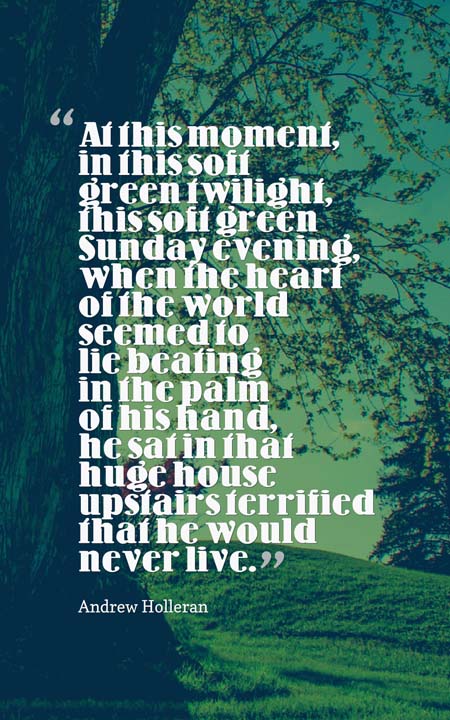 6.
"Always take some of the play, fun, freedom and wonders of the weekend into your week and your work."
Rasheed Ogunlaru
7.
"O holy Sunday, let your darkness not come along my way. Let her nurture internal and external world, as I start my personal day."
Santosh Kalwar
8.
"To summarize, Easter Sunday is the most important Sunday. It is the Sunday of all Sundays. It is the day of the new beginning of the entire cosmos, the day of resurrection. […] It must also include the message that we have been raised with Christ. Calling God's people to die to sin and rise to the new life is central not only to Easter day but to the Easter season."
Robert E. Webber
9.
"Sunday… The day I planned a lot but actually do nothing."
Lovely Goyal
10.
"The city takes a breath on Sunday. Of all that's lost with the pursuit of what's next, I hope we don't lose that…"
Hawksley Workman
11.
"Sitting with her on Sunday evening — a wet Sunday evening — the very time of all others when if a friend is at hand the heart must be opened, and everything told…"
Jane Austen
12.
"How do I like to spend my day off? I like to hit up the juice bar, the bookstore, tan, and then flirt with the pharmacy tech at Walmart."
Crystal Woods
13.
"Sunday is God's day, and he was committed to honoring it. Just because he was in Paris to compete in the Olympics didn't justify changing his lifelong commitment."
Craig Groeschel
14.
"On Sunday mornings, as the dawn burned into day, swarms of gulls descended on the uncollected trash, hovering and dropping in the cold clear light."
Edward Conlon
15.
"Now I know why the Lord took his day off on Sunday. That must be the day he personally greets his favorites."
Jason F. Wright
16.
"I am always happy to meet my friend, and my friend is my weekend."
Debasish Mridha
17.
"Sunday, the day for the language of leisure."
Elfriede Jelinek
18.
"Between Monday and Saturday men make an audience. On Sunday, they make a congregation."
Mokokoma Mokhonoana
19.
"The weekends are too short for sleep!"
Bryant A. Loney
20.
"On Sunday morning, I'm not nervous… I can't wait to tell what God wants me to say."
Charles Stanley
21.
"I've been saying for a couple of years now that people need to let God out of the Sunday morning box, that He doesn't want to just be with you for an hour or two on Sunday morning and then put back in His box to sit there until you have an emergency, but He wants to invade your Monday, Tuesday, Wednesday, Thursday, Friday, Saturday, and Sunday."
Joyce Meyer
22.
"Be in the habit of getting up bright and early on the weekends. Why waste such precious time in bed?"
Marilyn vos Savant
23.
"I'm obsessed with radio. It's a good start to Sunday morning."
R. L. Stine
24.
When I woke up Sunday morning at the Open and stepped outside and felt the wind and rain in my face, I knew I had an excellent chance to win if I just took my time and trusted myself."
Tom Kite
25.
"But nothing beats a Woody Allen film on a Sunday night, with a glass of wine and some leftovers."
Kate Fleetwood
26.
"It was a Sunday afternoon, wet and cheerless; and a duller spectacle this earth of ours has not to show than a rainy Sunday in London."
Thomas de Quincey
27.
"Sunday evenings often feel like the weekend is over before it's even begun."
Catherine McCormack
28.
"Sunday is my favorite day."
Emma Caulfield
29.
"I once spent a year in Philadelphia, I think it was on a Sunday."
W. C. Fields
30.
"Always strive to excel, but only on weekends."
Richard Rorty
31.
"Weekends don't count unless you spend them doing something completely pointless."
Bill Watterson
32.
"The most important thing a pastor does is stand in a pulpit every Sunday and say, 'Let us worship God.' If that ceases to be the primary thing I do in terms of my energy, my imagination, and the way I structure my life, then I no longer function as a pastor."
Eugene H. Peterson
33.
"Weekends are sacred for me. They're the perfect time to relax and spend time with family and friends."
Marcus Samuelsson
34.
"I love weekends. Just like everyone else, I get to rest on weekends and go out with friends. I hate Mondays."
Kim Yuna
35.
"On weekends, I sit in a lounge chair on my balcony. I love to be outside when the weather's right. I can stay there pretty much all day."
Sue Monk Kidd
36.
"[…] millions long for immortality who don't know what to do with themselves on a rainy Sunday afternoon."
Susan Ertz
37.
"If we are serious about climbing to higher ground, we will be found in church every Sunday—attending all of our meetings, partaking of the sacrament, participating in Sunday School, and contributing to the spirit found in Relief Society, Primary, and priesthood meetings."
Robert L. Millet
38.
"cozy+smell of pancakes-alarm clock=weekend"
Amy Krouse Rosenthal
39.
"Entrepreneurs don't have weekends or birthdays or holidays. Every day is my weekend, my birthday, my holiday. OR, every day is my work day. Mostly it's a choice."
Richie Norton
40.
"Oh dear sunday, I want to sleep in your arms and have [a]fun day."
Santosh Kalwar
41.
"Sunday is the only day you have to push like a handcart. […] The other days roll down the bridge by themselves."
Guus Kuijer
42.
"When you're single, your weekend days are wide-open vistas that extend in every direction; in a relationship, they're like the sky over Manhattan: punctured, hemmed in, compressed."
Adelle Waldman
43.
"Honestly, I never really understood the glorification of Fridays & weekends. I don't want to build a life and career, where I spent five days a week waiting for the weekend. No! I want to enjoy my life, and don't wish any weekday away. I want each day to matter to me, in some way, even if it's a small tiny way. I love my life. Everyday. That's the spirit we should convey all around us."
Akilnathan Logeswaran
44.
"I hate Sunday, and I don't think I'll ever get over it. But I'm going to try."
Frank D. Gilroy
45.
"The only reason why we ask other people how their weekend was is so we can tell them about our own weekend."
Chuck Palahniuk
I hope you enjoyed this collection of Sunday quotes. What are your favorite quotes? Let us know in the comment section below.
Stay victorious!