If you've ever dealt with an obsessive control freak, you know how confining an unnecessarily high level of control can be. Be it in your personal life or in your chosen profession, it's quite nerve-racking to be confronted with such a person. For this reason, it's all the more valuable when you're surrounded by individuals who are comfortable enough to trust you and others. These are the people who give others the necessary room they need in order to get the job done. To celebrate the importance of trusting others, we've created the following collection of trust quotes. (Be sure to also have a look at our article about respect quotes.)
Unfortunately, many executives and managers underestimate the importance of trust. Despite this, trust is more and more becoming an essential part of leadership and modern life in general. One reason for this is that authenticity and emotional intelligence are prerequisites of modern leaders.
"All the world is made of faith, and trust, and pixie dust."
J.M. Barrie
While business in the past was centered on vertical, power-based structures, the modern business world is becoming more horizontal. Instead of relying on status and rank, we can observe a shift to collaboration based leadership styles.
Leaders will utilize the art of persuasion and the power of trust to instill a vision in order to accomplish the mutual goals. However, it's also important to mention that trust is a two-way road. It takes two people to establish a relationship based on trust. Both individuals need to be trustworthy while both need to be willing to take the risk of trusting the other party.
100 Inspirational Trust Quotes
What is beautiful about the following statements is that they all originate from authors who discovered for themselves the importance of trust. At the same time, they've also been betrayed and lied to, which is why they have important insights on avoiding the trap of trusting others blindly.
Here's our collection of powerful trust quotes
1.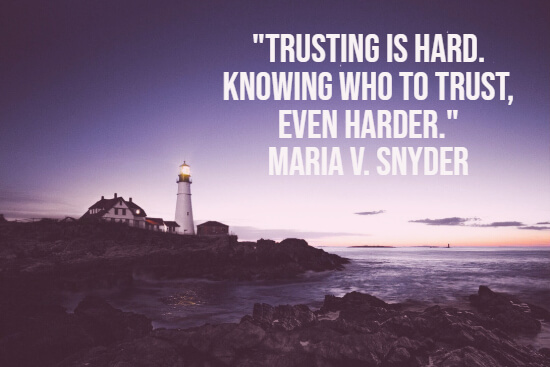 "Trusting is hard. Knowing who to trust, even harder."
Maria V. Snyder
2.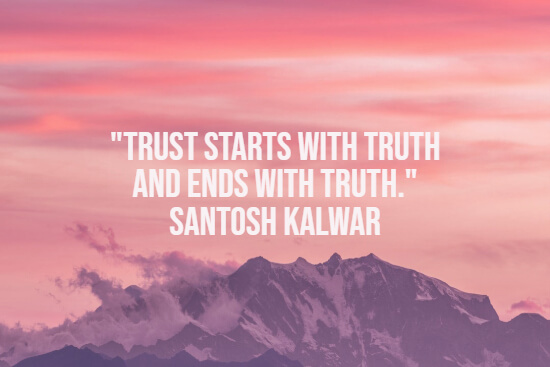 "Trust starts with truth and ends with truth."
Santosh Kalwar
3.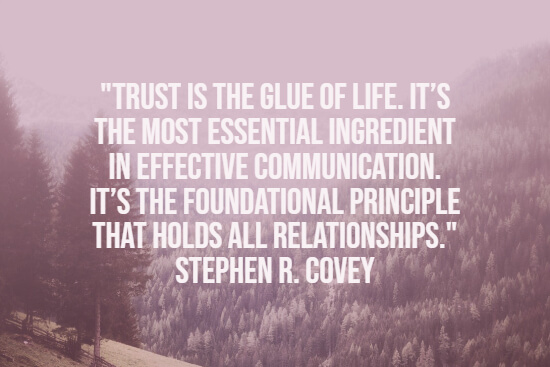 "Trust is the glue of life. It's the most essential ingredient in effective communication. It's the foundational principle that holds all relationships."
Stephen R. Covey
4.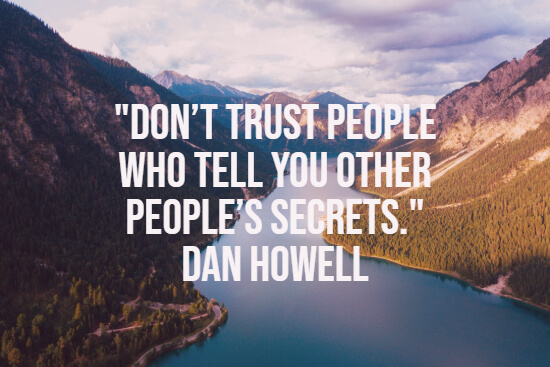 "Don't trust people who tell you other people's secrets."
Dan Howell
5.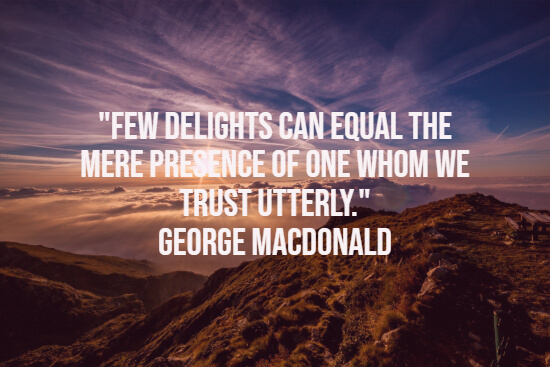 "Few delights can equal the mere presence of one whom we trust utterly."
George MacDonald
6.
"Trust should be earned inherently, without any verbal demands."
Anne Elisabeth Stengl
7.
"I don't trust easily, so when I tell you I trust you, don't make me regret it."
L.J. Smith
8.
"Everyone suffers at least one bad betrayal in their lifetime. It's what unites us. The trick is not to let it destroy your trust in others when that happens."
Sherrilyn Kenyon
9.
"The best way to find out if you can trust somebody is to trust them."
Ernest Hemingway
10.
"Whoever is careless with the truth in small matters cannot be trusted with important matters"
Albert Einstein
11.
"It isn't as bad as you sometimes think it is. It all works out. Don't worry. I say that to myself every morning. It all works out in the end. Put your trust in God, and move forward with faith and confidence in the future. The Lord will not forsake us. He will not forsake us. If we will put our trust in Him, if we will pray to Him, if we will live worthy of His blessings, He will hear our prayers."
Gordon B. Hinckley
12.
"Love all, trust a few, do wrong to none."
William Shakespeare
13.
"A body of men holding themselves accountable to nobody ought not to be trusted by anybody."
Thomas Paine
14.
"To have faith is to trust yourself to the water. When you swim you don't grab hold of the water, because if you do you will sink and drown. Instead, you relax, and float."
Alan Wilson Watts
15.
"None of us knows what might happen even the next minute, yet still we go forward. Because we trust. Because we have Faith."
Paulo Coelho
16.
"To be trusted is a greater compliment than being loved."
George MacDonald
17.
"I'm not upset that you lied to me, I'm upset that from now on I can't believe you."
Friedrich Nietzsche
18.
"And that's the thing about people who mean everything they say. They think everyone else does too."
Khaled Hosseini
19.
"Trust thyself: every heart vibrates to that iron string."
Ralph Waldo Emmerson
20.
"When the trust account is high, communication is easy, instant, and effective."
Stephen R. Covey
21.
"It is more shameful to distrust our friends than to be deceived by them."
Confucius
22.
"Consistently delivering on your promise value reinforces trust."
Bernard Kelvin Clive
23.
"It's discouraging to think how many people are shocked by honesty and how few by deceit."
Noël Coward
24.
"Trust is not an obsession, it's an extension of love. When we truly love someone, we give them our heart to hold in their hands. And when that love is returned, that very trust is balm to our souls."
Julie Lessman
25.
"Trust yourself, you will start to trust others."
Santosh Kalwar
26.
"I would rather trust a woman's instinct than a man's reason."
Stanley Baldwin
27.
"We're paying the highest tribute you can pay a man. We trust him to do right. It's that simple."
Harper Lee
28.
"After all, damn it, what does being in love mean if you can't trust a person."
Evelyn Waugh
29.
"I ask for trust. It is a lot, I know; it isn't easy to give. But it is all I ask."
Amelia Atwater-Rhodes
30.
"The real things haven't changed. It is still best to be honest and truthful; to make the most of what we have; to be happy with simple pleasures; and have courage when things go wrong."
Laura Ingalls Wilder
31.
"A doubtful friend is worse than a certain enemy. Let a man be one thing or the other, and we then know how to meet him."
Aesop
32.
"The shifts of fortune test the reliability of friends."
Marcus Tullius Cicero
33.
"Never be afraid to trust an unknown future to a known God."
Corrie ten Boom
34.
"You may be deceived if you trust too much, but you will live in torment unless you trust enough."
Frank Crane
35.
"To believe in something, and not to live it, is dishonest."
Mahatma Gandhi
36.
"Honesty is the first chapter of the book wisdom."
Thomas Jefferson
37.
"When friendships are real, they are not glass threads or frost-work, but the solidest things we can know."
Ralph Waldo Emerson
38.
"Forgiveness must be immediate, whether or not a person asks for it. Trust must be rebuilt over time. Trust requires a track record."
Rick Warren
39.
"If you cannot trust yourself, you cannot even trust your mistrust of yourself – so that without this underlying trust in the whole system of nature you are simply paralyzed"
Alan Watts
40.
"It has always been my contention that an individual who can be relied upon to be himself and to be honest unto himself can be relied upon in every other way."
J. Paul Getty
41.
"Consistency is the true foundation of trust."
Roy T. Bennett
42.
"The shifts of fortune test the reliability of friends."
Marcus Tullius Cicero
43.
"The beginning of love is the will to let those we love be perfectly themselves, the resolution not to twist them to fit our own image."
Thomas Merton
44.
"Trust and faith bring joy to life and help relationships grow to their maximum potential."
Joyce Meyer
45.
"It isn't an easy thing to give your loyalty to someone you don't know, especially when that person chooses to reveal nothing of himself."
Megan Whalen Turner
46.
"The inability to open up to hope is what blocks trust, and blocked trust is the reason for blighted dreams."
Elizabeth Gilbert
47.
"Trust, once lost, could not be easily found. Not in a year, perhaps not even in a lifetime."
J.E.B. Spredemann
48.
"Friendship- my definition- is built on two things. Respect and trust. Both elements have to be there. And it has to be mutual."
Stieg Larsson
49.
"You need not wonder whether you should have an unreliable person as a friend. An unreliable person is nobody's friend."
Idries Shah
50.
"Ethics is the key which opens big doors to business success. However, once it gets lost, the same access is locked forever. The newly acquired access gets eclipsed with lost reliability."
Priyavrat Thareja
51.
"Friends ask you questions; enemies question you."
Criss Jami
52.
"Love cannot live where there is no trust."
Edith Hamilton
53.
"Trust is like a mirror, you can fix it if it's broken, but you can still see the crack in [its]reflection."
Lady Gaga
54.
"In this world, there was nothing scarier than trusting someone. But there was also nothing more rewarding."
Brad Meltzer
55.
"Trust is the fruit of a relationship in which you know you are loved."
William P. Young
56.
"A person is wise if he listens to millions of advice and doesn't implement any of it."
Michael Bassey Johnson
57.
"It felt like the mistake was mine, for trusting you."
David Levithan
58.
"Trust is the fruit of a relationship in which you know you are loved."
William P. Young
59.
"You can't give real responsibilities to the shady shoulders. The weak may learn, but a shady person will always fall flat on face."
Sarvesh Jain
60.
"Have enough courage to trust love one more time and always one more time."
Maya Angelou
61.
"Never trust anyone, especially the people you admire. Those are the ones who will make you suffer the worst blows."
Carlos Ruiz Zafón
62.
"A faith that is not tested is never proved trustworthy."
Marcia Furrow
63.
"In this age, trust is the new currency for riches"
Bernard Kelvin Clive
64.
"People that have trust issues only need to look in the mirror. There they will meet the one person that will betray them the most."
Shannon L. Alder
65.
"My father wrote: "Always question where your loyalties lie. The people you trust will expect it, your greatest enemies will desire it, and those you treasure the most, will, without fail, abuse it."
Emily Thorne
66.
"Never trust he who trusts everyone."
Carlos Ruiz Zafón
67.
"To share your weakness is to make yourself vulnerable; to make yourself vulnerable is to show your strength."
Criss Jami
68.
"Without trust, there can be no genuine peace. Neither in politics nor in the quiet individuality of the heart and spirit."
Timothy Zahn
69.
"I am not bound to win, but I am bound to be true. I am not bound to succeed, but I am bound to live up to what light I have."
Abraham Lincoln
70.
"Trust in someone means that we no longer have to protect ourselves. We believe we will not be hurt or harmed by the other, at least not deliberately."
David Richo
71.
"Love meant jumping off a cliff and trusting that a certain person would be there to catch you at the bottom."
Jodi Picoult
72.
"I trust everyone. I just don't trust the devil inside them."
Troy Kennedy Martin
73.
"Trust is the fruit of a relationship in which you know you are loved."
William P. Young
74.
"You know, sometimes you've got to trust the people you love. You've got to trust that if they're good people, they'll make good decisions."
Janette Rallison
75.
"Never mistrust, unless given a reason."
Sonia Rumzi
76.
"You can fool some of the people all of the time, and all of the people some of the time, but you can not fool all of the people all of the time."
Abraham Lincoln
77.
"We're never so vulnerable than when we trust someone – but paradoxically, if we cannot trust, neither can we find love or joy."
Frank Crane
78.
"You cannot produce trust just like you cannot 'do' humility. It either is or is not."
Paul Young
79.
"Your trustworthiness quotient depends on your transparency ratio."
Shubha Vilas
80.
"How can you trust something that can end as suddenly as it begins?"
Nicola Yoon
81.
"A king who trusts no man is weak."
Patricia Briggs
82.
"It is only prudent never to place complete confidence in that by which we have even once been deceived."
René Descartes
83.
"Trust = telling someone about the things that make you sleepless."
Hillary Frank
84.
"Trust. It is like placing a blade in someone's hand and setting the very point to your heart."
Cassandra Clare
85.
"If you do not tell the truth about yourself you cannot tell it about other people."
Virginia Woolf
86.
"Trust your instincts, and make judgments on what your heart tells you. The heart will not betray you."
David Gemmell
87.
"Two people can only live as one when each is prepared to give and receive trust and understanding."
Helen Hollick
88.
"For somehow this is tyranny's disease, to trust no friends."
Aeschylus
89.
"Are we human creatures as honest, kind, trustworthy as we at times are inclined to believe?"
Lawrence G. Taylor
90.
"There's never a reason to trust someone. If there's a reason, then it's not trust."
Gerald Morris
91.
"Never trust the advice of a man in difficulties."
Aesop
92.
"Faith don't come in a bushel basket. It come one step at a time."
Lynn Austin
93.
"That's how you know you really trust someone, I think; when you don't have to talk all the time to make sure they still like you or prove that you have interesting stuff to say."
Sara Zarr
94.
"There's not much you need to know about the world. Except how to use a sword and trust very few."
Melina Marchetta
95.
"You know what the worst thing I can imagine is? Not trusting someone I love."
Cassandra Clare
96.
"Peace and trust take years to build and seconds to shatter."
Mahogany SilverRain
97.
"Trust, even when your heart begs you not to."
Alysha Speer
98.
"Loving someone is giving them the power to break your heart, but trusting them not to."
Julianne Moore
99.
"A man trusts another man when he sees enough of himself in him."
Gregory David Roberts
100.
"If you are untrustworthy, people will not trust you."
Lao Tzu
As a bonus, we've also compiled some great trust God quotes in the following.
Trust God quotes
"Put your trust in God, and move forward with faith and confidence in the future."
Gordon B. Hinckley
"Quit questioning God and start trusting Him!"
Joel Osteen
"God is God. Because he is God, He is worthy of my trust and obedience. I will find rest nowhere but in His holy will that is unspeakably beyond my largest notions of what he is up to."
Elisabeth Elliot
"Trust God and believe in good things to come."
Jeffrey R. Holland
"The more you go with the flow of life and surrender the outcome to God, and the less you seek constant clarity, the more you will find that fabulous things start to show up in your life."
Mandy Hale,
"If your trust is in man, your joy will soon be buried in the cemetery. If you hope is in cars, your happiness will soon be found in the mechanic shop. You are missing it if man is your hope."
Israelmore Ayivor
"Let your life reflect the faith you have in God. Fear nothing and pray about everything. Be strong, trust God's word, and trust the process."
Germany Kent
"Men trust God by risking rejection. Women trust God by waiting."
Carolyn McCulley
"When God takes out the trash, don't go digging back through it. Trust Him."
Amaka Imani Nkosazana
I hope you enjoyed this collection of inspirational trust quotes. What's your favorite quote about mutual trust?
Stay victorious!