Does it feel like as if a wave of intense wanderlust is washing over you right now? If you're absolutely thrilled about your next travel adventure, the following selection of the most inspirational travel quotes will help you to pass the time until your next holiday. P.S.: If you like traveling, our collection of beautiful ocean quotes may interest you as well.
Exploring the world and diving into foreign cultures is a wonderful experience that can have a deep impact on how you perceive life in general. Having spent some time abroad and getting to know people from all over the world is a truly enriching experience. It can make you realize how fortunate you are for living in a free end safe country. But it can also show you how tremendously happy people are all over the world despite sometimes having almost nothing. In short, traveling inspires you to look at your own life from a different perspective and helps you to see things in a more positive light.
"The world is a book and those who do not travel read only one page."
St. Augustine
There's only one problem with traveling the world: every journey comes to an end eventually. And if you're like most of us, you will have to work for a decent amount of time until the next adventure begins. If you've traveled a lot, you know that your wanderlust becomes almost unbearable when you return home from traveling. You've just returned home with so many wonderful impressions and experiences in your luggage that it feels as if you're an entirely different person. Most likely, you've made plans for your next trip long before you've arrived at home.
If you're already feeling the insatiable need to continue exploring the various exciting parts of the world you have been to, our list of beautiful travel quotes will help you to bridge the time until your next journey. Similarly, if you want to fuel your wanderlust, this selection of truly beautiful thoughts about traveling is for you.
170 Adventurous Travel Quotes
Even though exploring the world is such a wonderful experience, it's quite difficult to put the richness of traveling into words. Luckily for us, some of the greatest authors, philosophers, poets, and explorers shared our enthusiasm for traveling. These remarkable individuals have put their fascination for traveling into beautifully articulate words.
To fuel your wanderlust even more, we categorized this selection into the following parts:
Enjoy this huge collection of inspirational travel quotes
1.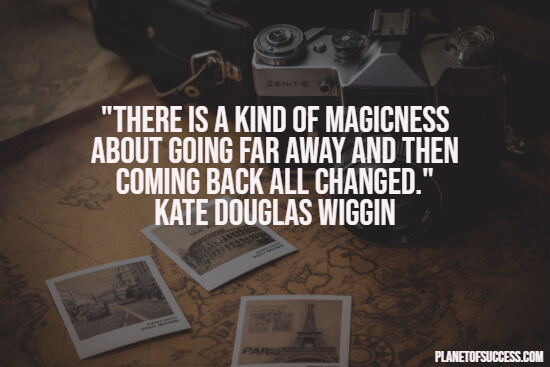 "There is a kind of magicness about going far away and then coming back all changed."
Kate Douglas Wiggin
2.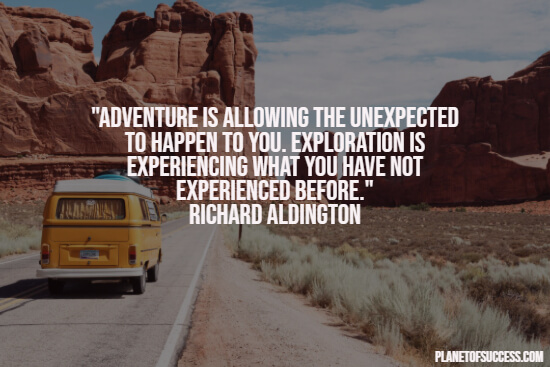 "Adventure is allowing the unexpected to happen to you. Exploration is experiencing what you have not experienced before. How can there be any adventure, any exploration, if you let somebody else – above all, a travel bureau – arrange everything before-hand?"
Richard Aldington
3.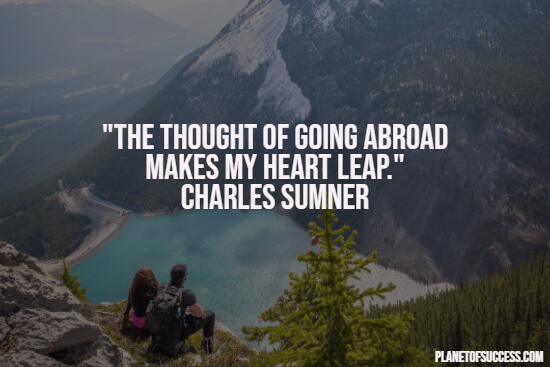 "The thought of going abroad makes my heart leap."
Charles Sumner
4.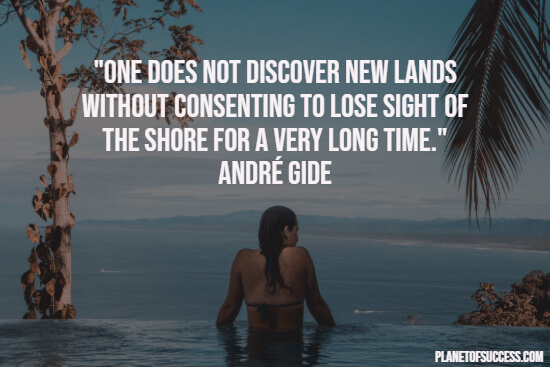 "One does not discover new lands without consenting to lose sight of the shore for a very long time."
André Gide
5.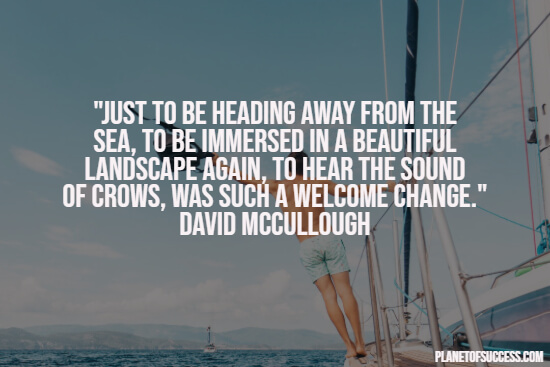 "Just to be heading away from the sea, to be immersed in a beautiful landscape again, to hear the sound of crows, was such a welcome change, and all to be seen so very appealing, a land of peace and plenty, every field perfectly cultivated, hillsides bordering the river highlighted by white limestone cliffs, every village and distant château so indisputably ancient and picturesque."
David McCullough
6.
"Traveling leaves you speechless, then turns you into a storyteller"
Ibn Battuta
7.
"The gladdest moment in human life, me thinks, is a departure into unknown lands."
Sir Richard Burton
8.
"Travel, at its best, transforms us in ways that aren't always apparent until we're back home. Sometimes we do leave our baggage behind, or, even better, it's misrouted to Cleveland and is never heard from again."
Eric Weiner
9.
"The Wanderlust has got me… by the belly-aching fire."
Robert W. Service
10.
"The very basic core of a man's living spirit is his passion for adventure. The joy of life comes from our encounters with new experiences, and hence there is no greater joy than to have an endlessly changing horizon, for each day to have a new and different sun."
Christopher McCandless
11.
"Travel does not exist without home… If we never return to the place we started, we would just be wandering, lost. Home is a reflecting surface, a place to measure our growth and enrich us after being infused with the outside world."
Josh Gates
12.
"Every one of a hundred thousand cities around the world had its own special sunset and it was worth going there, just once, if only to see the sun go down."
Ryu Murakami
13.
"The journey of a thousand miles begins with a single step."
Lao Tzu
14.
"Not I, nor anyone else can travel that road for you, you must travel it for yourself."
Walt Whitman
15.
"Sometimes it's worth lingering on the journey for a while before getting to the destination."
Richelle Mead
Can't get enough of travel quotes? Read on…
16.
"If I'm an advocate for anything, it's to move. As far as you can, as much as you can. Across the ocean, or simply across the river. The extent to which you can walk in someone else's shoes or at least eat their food, it's a plus for everybody. Open your mind, get up off the couch, move."
Anthony Bourdain
17.
"It is always sad to leave a place to which one knows one will never return. Such are the melancholies du voyage: perhaps they are one of the most rewarding things about traveling."
Gustave Flaubert
18.
"I travel not to go anywhere, but to go. I travel for travel's sake. The great affair is to move."
Robert Louis Stevenson
19.
"Travel brings power and love back into your life."
Rumi
20.
"It's not so much the journey that's important; as is the way that we treat those we encounter and those around us, along the way."
Jeremy Aldana
21.
"A journey, after all, neither begins in the instant we set out, nor ends when we have reached our doorstep once again. The film of memory continues running on inside of us long after we have come to a physical standstill."
Ryszard Kapuscinski
22.
"We leave something of ourselves behind when we leave a place, we stay there, even though we go away. And there are things in us that we can find again only by going back there."
Pascal Mercier
23.
"Only through travel can we know where we belong or not, where we are loved and where we are rejected."
Roman Payne
24.
"It is good to have an end to journey toward; but it is the journey that matters, in the end."
Ursula K. Le Guin
25.
"Why do you go away? So that you can come back. So that you can see the place you came from with new eyes and extra colors. And the people there see you differently, too. Coming back to where you started is not the same as never leaving."
Terry Pratchett
26.
"What is that feeling when you're driving away from people and they recede on the plain till you see their specks dispersing? – it's the too-huge world vaulting us, and it's good-bye. But we lean forward to the next crazy venture beneath the skies."
Jack Kerouac
27.
"The real voyage of discovery consists not in seeking new landscapes, but in having new eyes."
Marcel Proust
28.
"Travel isn't always pretty. It isn't always comfortable. Sometimes it hurts, it even breaks your heart. But that's okay. The journey changes you; it should change you. It leaves marks on your memory, on your consciousness, on your heart, and on your body. You take something with you. Hopefully, you leave something good behind."
Anthony Bourdain
29.
"Travel is the great leveler, the great teacher, bitter as medicine, crueler than mirror-glass. A long stretch of road will teach you more about yourself than a hundred years of quiet."
Patrick Rothfuss
30.
"I think you travel to search and you come back home to find yourself there."
Chimamanda Ngozi Adichie
31.
"To move, to breathe, to fly, to float,
To gain all while you give,
To roam the roads of lands remote,
To travel is to live."
Hans Christian Andersen
32.
"A good traveler has no fixed plans and is not intent on arriving."
Lao Tzu
33.
"The wish to travel seems to me characteristically human: the desire to move, to satisfy your curiosity or ease your fears, to change the circumstances of your life, to be a stranger, to make a friend, to experience an exotic landscape, to risk the unknown."
Paul Theroux
34.
"Once you have traveled, the voyage never ends, but is played out over and over again in the quietest chambers. The mind can never break off from the journey."
Pat Conroy
35.
"Travel makes one modest. You see what a tiny place you occupy in the world."
Gustave Flaubert
These travel quotes help you to overcome the travel blues
36.
"The pleasure we derive from journeys is perhaps dependent more on the mindset with which we travel than on the destination we travel to."
Alain de Botton
37.
"Like all great travelers, I have seen more than I remember, and remember more than I have seen."
Benjamin Disraeli
38.
"There's a part of me that thinks perhaps we go on existing in a place even after we've left it."
Colum McCann
39.
"No one realizes how beautiful it is to travel until he comes home and rests his head on his old, familiar pillow. "
Lin Yutang
40.
"One travels long distances not solely for large gatherings, but for something more intangible."
Jennifer Ball
41.
"I think one travels more usefully when they travel alone, because they reflect more."
Thomas Jefferson
42.
"Tourists went on holidays while travellers did something else. They travelled."
Alex Garland
43.
"The pleasure we derive from journeys is perhaps dependent more on the mindset with which we travel than on the destination we travel to"
Alain de Botton
44.
"Through travel I first became aware of the outside world; it was through travel that I found my own introspective way into becoming a part of it."
Eudora Welty
45.
"Leave home, leave the country, leave the familiar. Only then can routine experience—buying bread, eating vegetables, even saying hello—become new all over again."
Anthony Doerr
46.
"Once you have traveled, the voyage never ends, but is played out over and over again in the quietest chambers. The mind can never break off from the journey."
Pat Conroy
47.
"It is not the destination where you end up but the mishaps and memories you create along the way!"
Penelope Riley
48.
"At its best, travel should challenge our preconceptions and most cherished views, cause us to rethink our assumptions, shake us a bit, make us broader minded and more understanding."
Arthur Frommer
49.
"Not I, nor anyone else can travel that road for you.
You must travel it by yourself.
It is not far. It is within reach.
Perhaps you have been on it since you were born, and did not know.
Perhaps it is everywhere – on water and land."
Walt Whitman
50.
"Though the road's been rocky it sure feels good to me."
Bob Marley
Travel quotes like this are absolutely wonderful
51.
"We should not judge people by their peak of excellence, but by the distance they have traveled from the point where they started."
Henry Ward Beecher
52.
"No man ever steps in the same river twice, for it's not the same river and he's not the same man."
Heraclitus
53.
"A person susceptible to "wanderlust" is not so much addicted to movement as committed to transformation."
Pico Iyer
54.
"We may run, walk, stumble. drive, or fly, but let us never lose sight of the reason for the journey, or miss a chance to see a rainbow on the way."
Gloria Gaither
55.
"Returning home is the most difficult part of long-distance hiking; You have grown outside the puzzle and your piece no longer fits."
Cindy Ross
56.
"Your journey has molded you for your greater good, and it was exactly what it needed to be. Don't think you've lost time. There is no short-cutting to life. It took each and every situation you have encountered to bring you to the now. And now is right on time."
Asha Tyson
57.
"I travel because it makes me realize how much I haven't seen, how much I'm not going to see, and how much I still need to see."
Carew Papritz
58.
"Because the greatest part of a road trip isn't arriving at your destination. It's all the wild stuff that happens along the way."
Emma Chase
59.
"Sometimes there is no time to wait for the sea to calm down! If you have to reach your target, let your voyage start and let the storm be your path!"
Mehmet Murat ildan
60.
"There comes… a longing never to travel again except on foot."
Wendell Berry
61.
"Perhaps travel cannot prevent bigotry, but by demonstrating that all peoples cry, laugh, eat, worry, and die, it can introduce the idea that if we try and understand each other, we may even become friends"
Maya Angelou
62.
"Be the inner journeys, be the outer travels, all trips elevate man, all voyages lift him up!"
Mehmet Murat ildan
63.
"We've been focusing so much on getting there that we haven't been enjoying the ride"
Elizabeth Eulberg
64.
"The billowing diesel fumes of the airport did not smell like suffocating effluence, it assumed a peculiar pungent scent that morning, like the beginning of a new adventure, if an adventure could exude a fragrance."
E.A. Bucchianeri
65.
"With me, traveling is frankly a vice. The temptation to indulge in it is one which I find almost as hard to resist as the temptation to read promiscuously, omnivorously and without purpose."
Aldous Huxley
66.
"We travel not for trafficking alone;
By hotter winds our hearts are fanned:
For lust of knowing what should not be known
We take the Golden Road to Samarkand."
James Elroy Flecker
67.
"A wide sea voyage severs us at once. It makes us conscious of being cast loose from the secure anchorage of settled life, and sent adrift upon a doubtful world. It interposes a gulf, not merely imaginary, but real, between us and our homes – a gulf, subject to tempest, and fear, and uncertainty, rendering distance palpable, and return precarious."
Washington Irving
68.
"We shall part this company soon, and then for the Atlantic! Farewell then, my friends, my pursuits, my home, my country! Each bellying wave on its rough crest carries me away. The rocking vessel impedes my pen. And now, as my head begins slightly to reel, my imagination entertains the glorious prospects before me…"
David McCullough
69.
"The art of travel seems naturally to sustain a number of questions neither so simple nor so trivial and whose study might in modest ways contribute to an understanding of what the Greek philosophers beautifully termed eudaimonia or human flourishing."
Alain de Botton
70.
"We live in a wonderful world that is full of beauty, charm, and adventure. There is no end to the adventures we can have if only we seek them with our eyes open."
Jawaharial Nehru
71.
"Traveling's not something you're good at. It's something you do. Like breathing."
Gayle Foreman
72.
"To awaken quite alone in a strange town is one of the pleasantest sensations in the world."
Freya Stark
Funny travel quotes
73.
"Did you ever notice that the first piece of luggage on the carousel never belongs to anyone?"
Erma Bombeck
74.
"I heard an airplane passing overhead. I wished I was on it."
Charles Bukowski
75.
"If we were meant to stay in one place, we would have roots instead of feet."
Rachel Wolchin
76.
"People don't take trips – trips take people."
John Steinbeck
77.
"To travel is to discover that everyone is wrong about other countries."
Huxley Aldous
78.
"Once the travel bug bites there is no known antidote, and I know that I shall be happily infected until the end of my life"
Michael Palin
79.
"The traveler sees what he sees. The tourist sees what he has come to see."
G.K. Chesterton
80.
"I'm a perpetual tourist, and that's the best way to travel. Nobody gets used to you, you make new friends without having to hear anyone's everyday problems, and you jet back still feeling like a know-it-all."
John Waters
81.
"That's the glory of foreign travel, as far as I am concerned. You can't read anything, you have only the most rudimentary sense of how things work, you can't even reliably cross a street without endangering your life. Your whole existence becomes a series of interesting guesses."
Bill Bryson
82.
"Never did the world make a queen of a girl who hides in houses and dreams without traveling."
Roman Payne
83.
"If you reject the food, ignore the customs, fear the religion, and avoid the people, you might better stay home."
James A. Michener
84.
"Do we really want to travel in hermetically sealed popemobiles through the rural provinces of France, Mexico, and the Far East, eating only in Hard Rock Cafes and McDonald's?"
Anthony Bourdain
85.
"Travel brings wisdom only to the wise. It renders the ignorant more ignorant than ever."
Joe Abercrombie
86.
"A man travels the world over in search of what he needs and returns home to find it."
George Augustus Moore
87.
"The farther you go, however, the harder it is to return. The world has many edges, and it's easy to fall off."
Anderson Cooper
88.
"If you never lose sight of the shore, you're not on a voyage of discovery. You're on a day cruise."
J. Earp
Short travel quotes
89.
"In my travels I found no answers, only wonders."
Marty Rubin
90.
"To travel is to live."
Hans Christian Andersen
91.
"When one is traveling, everything looks brighter and lovelier."
Catherynne M. Valente
92.
"The journey is the treasure."
Lloyd Alexander
93.
"We travel, initially, to lose ourselves; and we travel, next to find ourselves."
Pico Iyer
94.
"Wherever you go becomes a part of you."
Anita Desai
95.
"We wander for distraction but we travel for fulfillment"
Hilaire Belloc
96.
"If the path be beautiful, let us not ask where it leads."
Anatole France
97.
"A ship in a harbor is safe, but it not what ships are built for."
John A. Shedd
98.
"Half the fun of the travel is the esthetic of lostness."
Ray Bradbury
99.
"Not all those who wander are lost."
J.R.R. Tolkien
100.
"Travel is never a matter of money but of courage."
Paolo Coelho
101.
"We travel, some of us forever, to seek other states, other lives, other souls."
Anaïs Nin
102.
"Traveling has less to do with seeing things than experiencing them."
Nicholas Sparks
103.
"The journey not the arrival matters."
T.S. Eliot
104.
"One's destination is never a place, but a new way of seeing things."
Henry Miller
105.
"Travel and change of place impart new vigor to the mind."
Seneca
106.
"I read; I travel; I become"
Derek Walcott
107.
"To travel is worth any cost or sacrifice."
Elizabeth Gilbert
108.
"Make voyages. Attempt them. There's nothing else."
Tennesse Williams
109.
"He who would travel happily must travel light."
Antoine de St. Exupery
110.
"Travel is glamorous only in retrospect."
Paul Theroux
111.
"Live, travel, adventure, bless and don't be sorry."
Jack Kerouac
112.
"The impulse to travel is one of the hopeful symptoms of life. "
Agnes Repplier
113.
"A journey is best measured in friends, rather than miles."
Tim Cahill
114.
"I made up my mind not to care so much about the destination, and simply enjoy the journey."
David Archuleta
115.
"Be a true traveller, don't be a temporary tourist."
Amit Kalantri
116.
"We gain new perspectives on life after every voyage."
Lailah Gifty Akita
117.
"What you're missing is that the path itself changes you."
Julien Smith
118.
"Life is adventure. Travel is adventure at a different address."
Kathy Griffin
119.
"Travel to unravel."
Richie Norton
120.
"Jobs fill your pocket, but adventures fill your soul."
Jamie Lyn Beatty
121.
"Traveling can be a great catalyst that triggers the greatest journey of all."
Khang Kijarro Nguyen
122.
"Once a year, go someplace you've never been before."
Dalai Lama
123.
"Those who say traveling is expensive, are just ill-informed."
Maria Angelova
124.
"The most beautiful in the world is, of course, the world itself."
Wallace Stevens
125.
"It is not down in any map; true places never are."
Herman Melville
126.
"Take only memories, leave only footprints."
Chief Seattle
127.
"A great way to learn about your country is to leave it."
Henry Rollins
128.
"Live life with no excuses, travel with no regret."
Oscar Wilde
129.
"You don't have to be rich to travel well."
Eugene Fodor
130.
"I travel a lot; I hate having my life disrupted by routine."
Caskie Stinnett
131.
"Wherever you go, go with all your heart!"
Confucius
Travel the world quotes
132.
"Though we travel the world over to find the beautiful, we must carry it with us, or we find it not."
Ralph Waldo Emerson
133.
"We travel to open our hearts and eyes and learn more about the world than our newspapers will accommodate. We travel to bring what little we can, in our ignorance and knowledge, to those parts of the globe whose riches are differently dispersed. And we travel, in essence, to become young fools again- to slow time down and get taken in, and fall in love once more."
Pico Iyer
134.
"The value of your travels does not hinge on how many stamps you have in your passport when you get home – and the slow nuanced experience of a single country is always better than the hurried, superficial experience of forty countries."
Rolf Potts
135.
"Nobody can discover the world for somebody else. Only when we discover it for ourselves does it become common ground and a common bond and we cease to be alone."
Wendell Berry
136.
"See the world. It's more fantastic than any dream made or paid for in factories. Ask for no guarantees, ask for no security."
Ray Bradbury
137.
"If you're twenty-two, physically fit, hungry to learn and be better, I urge you to travel – as far and as widely as possible. Sleep on floors if you have to. Find out how other people live and eat and cook. Learn from them – wherever you go."
Anthony Bourdain
138.
"Travel far enough, you meet yourself."
David Mitchell
139.
"Cities were always like people, showing their varying personalities to the traveler. Depending on the city and on the traveler, there might begin a mutual love, or dislike, friendship, or enmity."
Roman Payne
140.
"Every dreamer knows that it is entirely possible to be homesick for a place you've never been to, perhaps more homesick than for familiar ground."
Judith Thurman
141.
"Everything I was I carry with me, everything I will be lies waiting on the road ahead."
Ma Jian
142.
"I wandered everywhere, through cities and countries wide. And everywhere I went, the world was on my side."
Roman Payne
143.
"I wonder if the ocean smells different on the other side of the world."
J.A. Redmerski
144.
"When you travel, remember that a foreign country is not designed to make you comfortable. It is designed to make its own people comfortable."
Clifton Fadiman
145.
"Roam abroad in the world, and take thy fill of its enjoyments before the day shall come when thou must quit it for good."
Saadi
146.
"Own only what you can always carry with you: known languages, known countries, known people. Let your memory be your travel bag"
Alexandr Solzhenitsyn
147.
"I knew then that I wanted to go home, but I had no home to go to – and that is what adventures are all about."
Trina Schart Hyman
148.
"For every traveler who has any taste of his own, the only useful guidebook will be the one which he himself has written."
Aldous Huxley
149.
"All journeys have secret destinations of which the traveler is unaware."
Martin Buber
Mark Twain travel quotes
150.
"Travel is fatal to prejudice, bigotry, and narrow-mindedness, and many of our people need it sorely on these accounts. Broad, wholesome, charitable views of men and things cannot be acquired by vegetating in one little corner of the earth all one's lifetime."
Mark Twain
151.
"I have found out that there ain't no surer way to find out whether you like people or hate them than to travel with them."
Mark Twain
152.
"There is no unhappiness like the misery of sighting land (and work) again after a cheerful, careless voyage."
Mark Twain
153.
"Twenty years from now you will be more disappointed by the things you didn't do than by the ones you did do. So throw off the bowlines, sail away from the safe harbor. Catch the trade winds in your sails. Explore. Dream. Discover."
Mark Twain
154.
"Nothing so liberalizes a man and expands the kindly instincts that nature put in him as travel and contact with many kinds of people."
Mark Twain
155.
"Broad, wholesome, charitable views of men and things can not be acquired by vegetating in one little corner of the earth all one's lifetime."
Mark Twain
156.
"It liberates the vandal to travel — you never saw a bigoted, opinionated, stubborn, narrow-minded, self-conceited, almighty mean man in your life but he had stuck in one place since he was born and thought God made the world and dyspepsia and bile for his especial comfort and satisfaction."
Mark Twain
157.
"The gentle reader will never, never know what he can become until he goes abroad."
Mark Twain
158.
"If somebody should discover a creek in the county next to the one that the North Pole is in, Europe and America would start fifteen costly expeditions thither; one to explore the creek, and the other fourteen to hunt for each other."
Mark Twain
159.
"I am not in any way qualified to travel alone."
Mark Twain
160.
"To do something, say something, see something, before anybody else — these are the things that confer a pleasure compared with other pleasures are tame and commonplace, other ecstasies cheap and trivial. Lifetimes of ecstasy crowded into a single moment."
Mark Twain
161.
"Travel has no longer any charm for me. I have seen all the foreign countries I want to except Heaven and Hell and I have only a vague curiosity about one of those."
Mark Twain
Safe travel quotes
162.
"We can't jump off bridges anymore because our iPhones will get ruined. We can't take skinny dips in the ocean because there's no service on the beach and adventures aren't real unless they're on Instagram. Technology has doomed the spontaneity of adventure and we're helping destroy it every time we Google, check-in, and hashtag."
Jeremy Glass
163.
"For are we not, all of us, wand'rers and strangers; and do we not, all of us, travel in danger or voyage uncharted seas?"
Joan W. Blos
164.
"Reach out eagerly and without fear for newer and richer experience."
Eleanor Roosevelt
165.
"If I just keep putting one foot in front of the other, it stands to reason that I'm going to get there."
Rachel Joyce
166.
"Stop worrying about the potholes in the road and enjoy the journey."
Babs Hoffman
167.
"If you dare nothing, then when the day is over, nothing is all you will have gained."
Neil Gaiman
168.
"Tonight I watched the sunset at Ponte Vecchio. I think it's safe to say I have finally found the place that feels right to me. I just can't believe I had to come halfway across the world to find it."
Jenna Evans Welch
169.
"Maybe sometimes it's riskier not to take a risk. Sometimes all you're guaranteeing is that things will stay the same."
Danny Wallace
170.
"He'd learned long ago that a life lived without risks pretty much wasn't worth living."
Tamera Alexander
I hope you enjoyed this collection of inspirational travel quotes. What's the next destination you plan on visiting?
Stay victorious!