Do you struggle with beating the Monday blues? Are you lacking the right motivation to jump energetically out of your bed on Monday mornings? If you're feeling sluggish and unable to get moving, it's time for a change. There are many ways to overcome the Monday blues and to jumpstart your workweek. One way is to have a couple of inspiring Monday quotes at hand that help you to let Monday sluggishness be a thing of the past. If the start of your workweek seems awkwardly rough, a couple of excellent Monday quotes will help you to get back on track. To help you with jumpstarting a sluggish morning, we've created a collection of inspirational Monday quotes. Enjoy!
Monday morning is not many people's most popular time of the entire week. Quite the contrary is the case. Most have great difficulties with getting started on a Monday morning.
"So. Monday. We meet again. We will never be friends – but maybe we can move past our mutual enmity toward a more positive partnership."
Julio-Alexi Genao
There are these Monday mornings where it takes all your willpower to simply get out of bed. You may feel drained and struggle terribly to finally get going. Whatever is holding you back on a Monday morning, it's important to realize how important this time of the week is. In fact, how you start your Monday morning can have quite an impact upon the entire week ahead.
Monday morning sets not only the stage for the upcoming day but also for the rest of the week. If you're able to start your week feeling motivated and energized, it's very likely that you'll get a lot of things done throughout the week. To help you with this, we've created a neat collection of Monday inspirational quotes to help you kickstart the week.
65 Inspirational Monday Quotes to Boost Your Motivation
Sunday afternoon can be quite a downer. When the weekend is slowly coming to an end, your focus may shift to the week ahead. For many people, this means that thoughts about all the responsibilities and deadlines of the next week begin to creep up. No wonder so many people struggle to get started on a Monday morning!
To help you in having an excellent start of your workweek, the following Monday quotes will energize and motivate you.
Here are these fantastic happy Monday quotes
1.
"Success is to wake up each morning and consciously decide that today will be the best day of your life."
Ken Poirot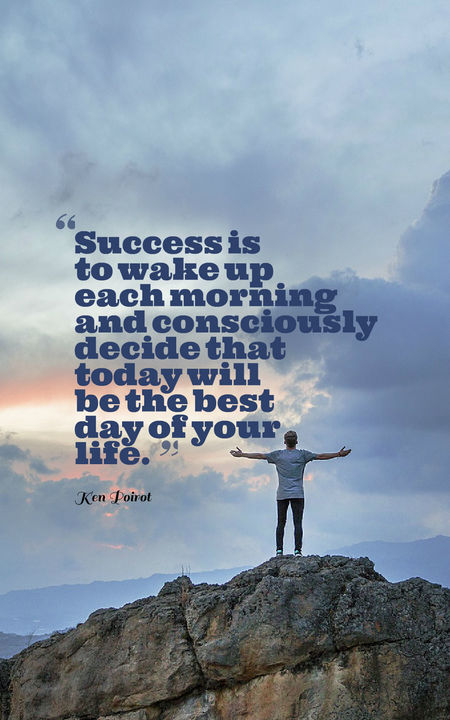 2.
"When you start to do the things that you truly love, it wouldn't matter whether it is Monday or Friday; you would be so excited to wake up each morning to work on your passions."
Edmond Mbiaka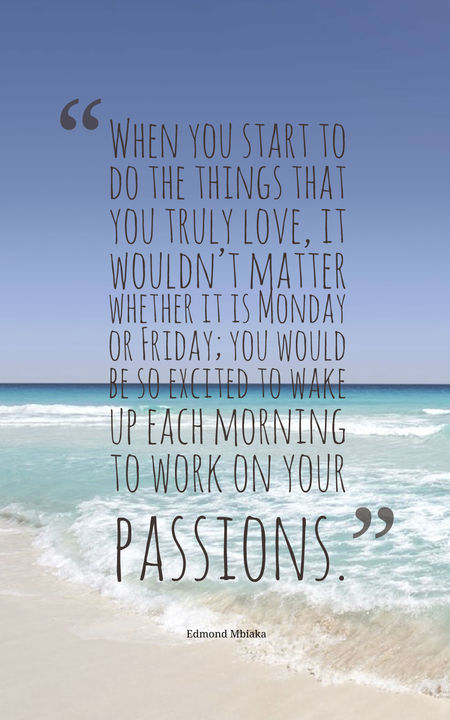 3.
"Mondays are the start of the work week which offer new beginnings 52 times a year!"
David Dweck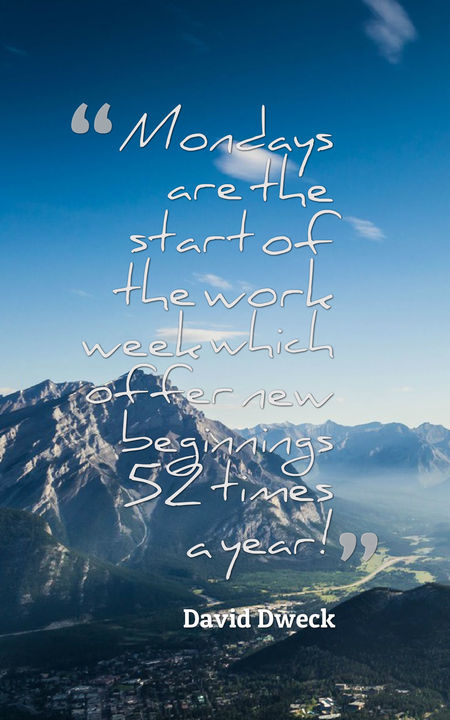 4.
"The critical ingredient is getting off […] and doing something. It's as simple as that. A lot of people have ideas, but there are few who decide to do something about them now. Not tomorrow. Not next week. But today."
Nolan Bushnell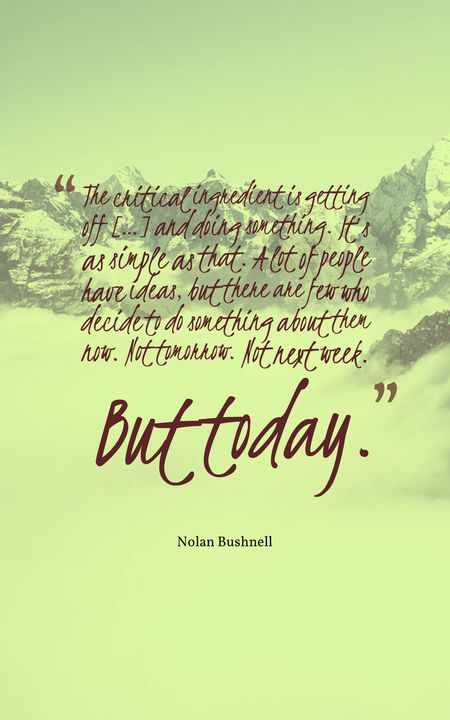 5.
"When you arise in the morning, think of what a precious privilege it is to be alive – to breathe, to think, to enjoy, to love – then make that day count!"
Steve Maraboli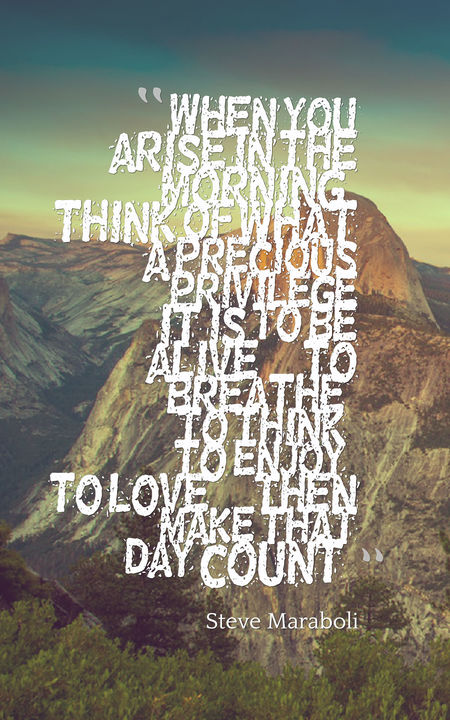 6.
"It's hard to beat a person who never gives up."
Babe Ruth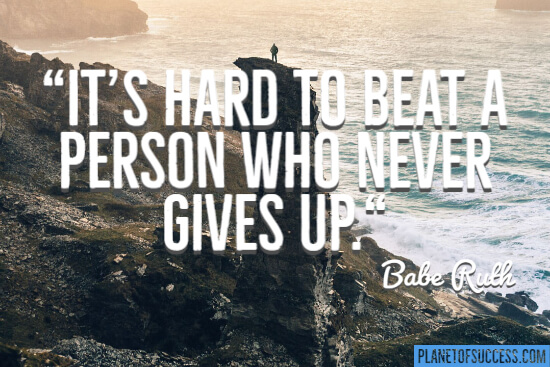 7.
"Amateurs sit and wait for inspiration, the rest of us just get up and go to work."
Stephen King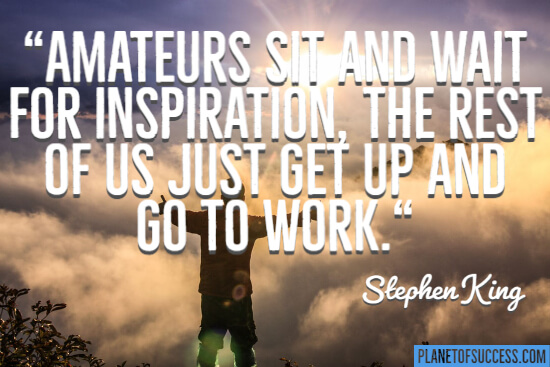 8.
"Your Monday morning thoughts set the tone for your whole week. See yourself getting stronger, and living a fulfilling, happier and healthier life."
Germany Kent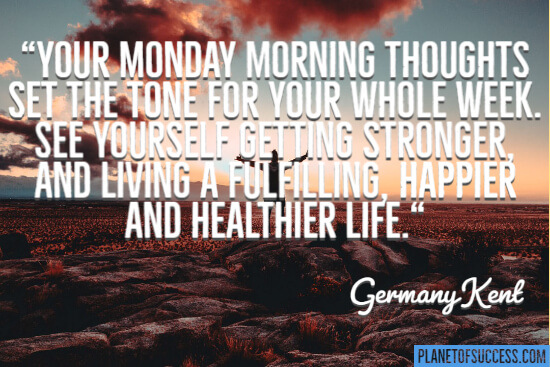 9.
"Monday is just a reminder that the weekend has past and there are only a few more days before another weekend gets here."
Unknown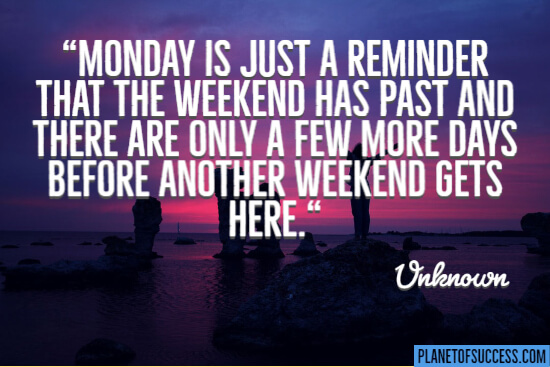 10.
"I have to go to work on Mondays and yes everyone hates Mondays. But I look at it a little differently. I don't have to work, I GET to work. I am blessed to have a job while many don't have one."
Dinky Manuel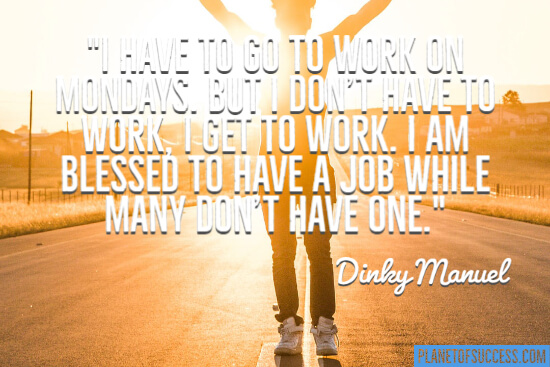 11.
"If you spend too much time thinking about a thing, you'll never get it done."
Bruce Lee
12.
"Morning is wonderful. Its only drawback is that it comes at such an inconvenient time of day."
Glen Cook
13.
"This morning do something different: When you wake up in the morning, wake your forgotten and forsaken dreams up as well, wake them up like an insisting rooster!"
Mehmet Murat ildan
14.
"Candy is natures way of making up for Mondays."
Rebecca Gober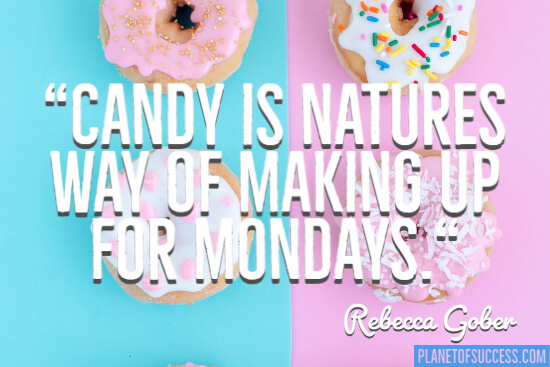 15.
"I want to live my life in such a way that when I get out of bed in the morning, the devil says, "aw shit, he's up!"
Steve Maraboli
16.
"The best preparation for tomorrow is doing your best today."
H. Jackson Brown Jr.
17.
"When you wake up every morning, let thanksgiving be your first thought."
Lailah Gifty Akita
18.
"I'm convinced that God gave us Mondays to punish us for the things we did over the weekend…"
Unknown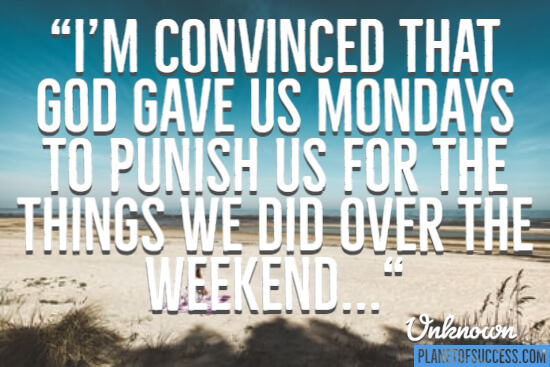 19.
"Honestly, I never really understood the glorification of Fridays and weekends. I don't want to build a life and career, where I spent five days a week waiting for the weekend. No! I want to enjoy my life, and don't wish any weekday away. I want each day to matter to me, in some way, even if it's a small tiny way. I love my life. Everyday. That's the spirit we should convey all around us."
Akilnathan Logeswaran
20.
"Morning is an important time of day because how you spend your morning can often tell you what kind of day you are going to have."
Lemony Snicket
21.
"Don't let a day of the week have so much power over your happiness. Happy Monday!"
Andrea L'Artiste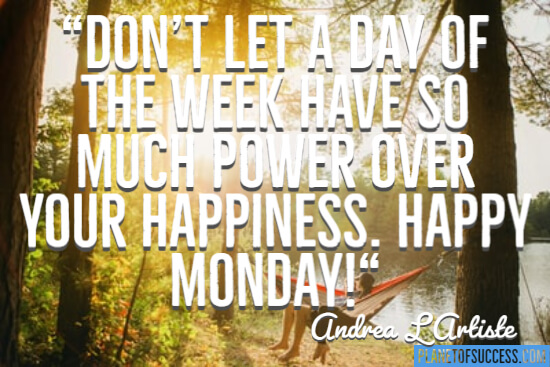 22.
"Make a pact with yourself today to not be defined by your past. Sometimes the greatest thing to come out of all your hard work isn't what you get for it, but what you become for it. Shake things up today!"
Steve Maraboli
23.
"Every morning was a cheerful invitation to make my life of equal simplicity, and I may say innocence, with Nature herself."
Henry David Thoreau
24.
"Monday is great if I can spend it in bed. I'm a man of simple pleasures, really."
Arthur Darvill
25.
"To be disciplined is to follow in a good way. To be self-disciplined is to follow in a better way."
Corita Kent
26.
"It's just been a long week, that's all.
It's Monday night, Jess.
My point exactly."
Scott Westerfeld
27.
"Today is a new day. Don't let your history interfere with your destiny! Let today be the day you stop being a victim of your circumstances and start taking action towards the life you want. You have the power and the time to shape your life. Break free from the poisonous victim mentality and embrace the truth of your greatness. You were not meant for a mundane or mediocre life!"
Steve Maraboli
28.
"The sun just touched the morning; the morning, happy thing, supposed that he had come to dwell, and life would be all spring."
Emily Dickinson
29.
"A morning coffee is my favorite way of starting the day, settling the nerves so that they don't later fray."
Marcia Carrington
30.
"This has been such a Monday! I wish I stayed in bed, and I wish that yesterday had never happened."
Lisa Mantchev
31.
"If only one of the presidential candidates would make it part of his platform to do something about making Monday part of the weekend. I think he would get a lot of votes."
Thomas Wayne
32.
"When was the last time you woke up and realized that today could be the best day of your life?"
Steve Maraboli
33.
"There is nothing more dreadful than having to go walking on one's own on Monday."
Thomas Bernhard
34.
"You are in control. Never allow your Monday to be manic."
Andrea L'Artiste
35.
"Have you ever seen the dawn[, …] full of deep silence and absolute clarity of perception? A dawning which you truly observe, degree by degree. It is the most amazing moment of birth. And more than anything it can spur you to action. Have a burning day."
Vera Nazarian
36.
"If you try and lose then it isn't your fault. But if you don't try and we lose, then it's all your fault."
Orson Scott Card
37.
"Mondays are a lot like getting fat. They make you feel sad, sometimes angry and there is not much scope for liking either fat or Mondays for any reason."
Garry Moll
38.
"Monday is a sloppy umbrella day, which makes everybody a little blue."
Giorge Leedy
39.
"Morning not only forgives, it forgets."
Marty Rubin
40.
"Renew, release, let go. Yesterday's gone. There's nothing you can do to bring it back. You can't 'should've' done something. You can only do something. Renew yourself. Release that attachment. Today is a new day!"
Steve Maraboli
41.
"Each morning when I open my eyes I say to myself: I, not events, have the power to make me happy or unhappy today. I can choose which it shall be. Yesterday is dead, tomorrow hasn't arrived yet. I have just one day, today, and I'm going to be happy in it."
Groucho Marx
42.
"You are where you are and what you are because of yourself, nothing else. Nature is neutral. Nature doesn't care. If you do what other successful people do, you will enjoy the same results and rewards that they do. And if you don't, you won't."
Brian Tracy
43.
"New days should be greeted like new lovers and babies toddling along a table looking back to make sure we're watching."
Darnell Lamont Walker
44.
"Sometimes it pays to stay in bed on Monday, rather than spending the rest of the week debugging Monday's code."
Dan Salomon
45.
"All men tend to become angry and irritated at the start of the week. It is the start of the week but is the end of all fun and happiness in life."
Venus Rivers
46.
"So fine was the morning except for a streak of wind here and there that the sea and sky looked all one fabric as if sails were stuck high up in the sky, or the clouds had dropped down into the sea."
Virginia Woolf
47.
"The winners in life think constantly in terms of I can, I will, and I am. Losers, on the other hand, concentrate their waking thoughts on what they should have or would have done, or what they can't do."
Dennis Waitley
48.
"Morning brings back the heroic ages. There was something cosmical about it; a standing advertisement, till forbidden, of the everlasting vigor and fertility of the world. The morning, which is the most memorable season of the day, is the awakening hour. Then there is the least somnolence in us; and for an hour, at least, some part of us awakes which slumbers all the rest of the day and night."
Henry David Thoreau
49.
"I drink [a]cup of sunlight every morning to brighten myself."
Debasish Mridha
50.
"There is no royal, flower-strewn path to success. And if there is, I have not found it. For if I have accomplished anything in life, it is because I have been willing to work hard."
C.J. Walker
51.
"Few ever lived to old age, and fewer still ever became distinguished, who were not in the habit of early rising."
John Todd
52.
"I know for sure that what we dwell on is who we become."
Oprah Winfrey
53.
"The elevator to success is out of order. You'll have to use the stairs… one step at a time."
Joe Girard
54.
"Forget yesterday – it has already forgotten you. Don't sweat tomorrow – you haven't even met. Instead, open your eyes and your heart to a truly precious gift – today."
Steve Maraboli
55.
"For all of its faults, it gives most hardworking people a chance to improve themselves economically, even as the deck is stacked in favor of the privileged few. Here are the choices most of us face in such a system: Get bitter or get busy."
Bill O' Reilly
56.
"Don't wish it were easier. Wish you were better."
Jim Rohn
57.
"Live today. Not yesterday. Not tomorrow. Just today. Inhabit your moments. Don't rent them out to tomorrow."
Jerry Spinelli
58.
"The morning was full of sunlight and hope."
Kate Chopin
59.
"It is well to be up before daybreak, for such habits contribute to health, wealth, and wisdom."
Aristotle
60.
The journey of a thousand miles begins with one step."
Lao Tzu
61.
"Hard work beats talent when talent fails to work hard."
Kevin Durant
62.
"Sometimes there's not a better way. Sometimes there's only the hard way."
Mary E. Pearson
63.
"There are no shortcuts to any place worth going."
Beverly Sills
64.
"I never wake up in the morning and wonder why I am here. I wake up and wonder why I am not making here better."
Jeffrey Fry
65.
"Optimism with some experience behind it is much more energizing than plain old experience with a certain degree of cynicism."
Twyla Tharp
I hope you enjoyed this collection of Monday quotes.
Stay victorious!