Have you been thinking a lot about your friends lately? Thanks to digitalization, social networks, and mobile devices, it seems as we are always connected with our friends. And in some way, this is certainly true. You can always reach out and get in touch with them online. However, none of the digital experiences you share with your friends can replace real-life interactions. In an ever-changing world, your best friends are the constant variables you can rely on. The following thought-provoking and insightful friend quotes highlight the great power of friendships. If you can't get enough of quotes about friendship, be sure to have a look at our collection of best friend quotes to warm your heart.
Do you enjoy thinking about the wonderful moments you've shared with your friends? Perhaps you've enjoyed so many great experiences with their friends that it is almost impossible to remember them all. You may even get a little nostalgic when looking back at all the precious friendships you've established throughout the years.
"Friendship… Is born at the moment when one man says to another "What! You too? I thought that no one but myself…"
C.S. Lewis
However, developing a deep friendship and connection with someone is not that easy. The friendship of two people who only think about what they can gain may not last that long. Similarly, establishing and maintaining a good friendship takes a lot of effort and the willingness to make compromises.
While it is relatively easy to be friends when everything is going great, true friendships are born during times of great challenges. It's always easy to be a friend of someone who enjoys great success in life. But only the willingness to walk with this friend through hell will determine if you are true friends.
101 Inspirational Friend Quotes
Since the earliest traces of civilization, friendship has always existed. One may argue that most of these friendships were superficial and based on deeply hidden interior motives, just as it is today. However, true friendships of individuals who were both willing to stand at each other aside during trials and tribulations that also exist back then. For this reason, it's always interesting to read what some of the most popular philosophers, executives, authors, scientists, and explorers had to say about friendship. Enjoy reading these insightful statements about friendship.
Here's our collection of truly inspirational friend quotes
1.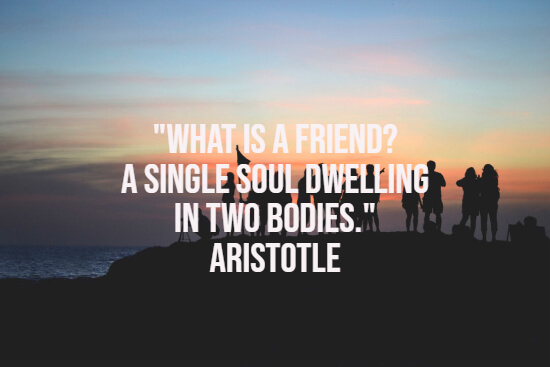 "What is a friend? A single soul dwelling in two bodies."
Aristotle
2.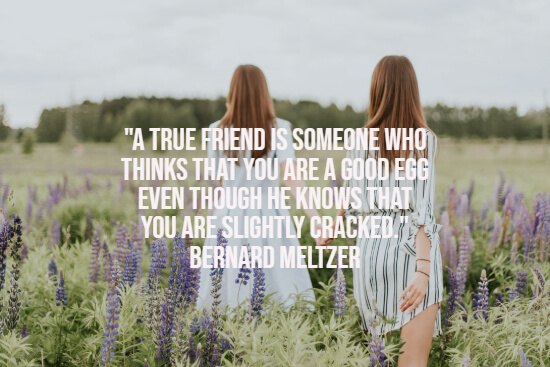 "A true friend is someone who thinks that you are a good egg even though he knows that you are slightly cracked."
Bernard Meltzer
3.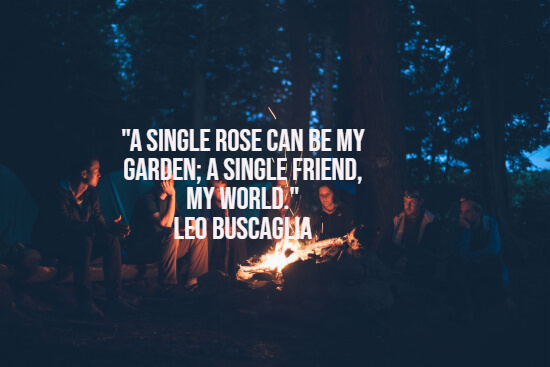 "A single rose can be my garden; a single friend, my world."
Leo Buscaglia
4.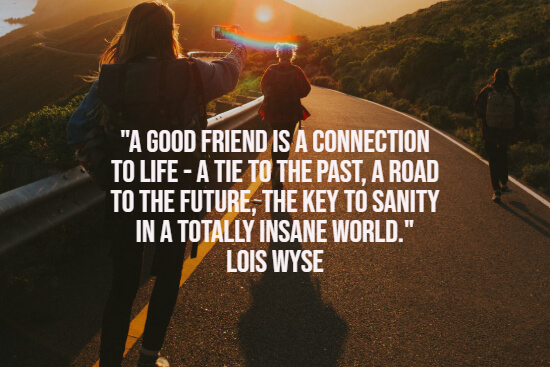 "A good friend is a connection to life – a tie to the past, a road to the future, the key to sanity in a totally insane world."
Lois Wyse
5.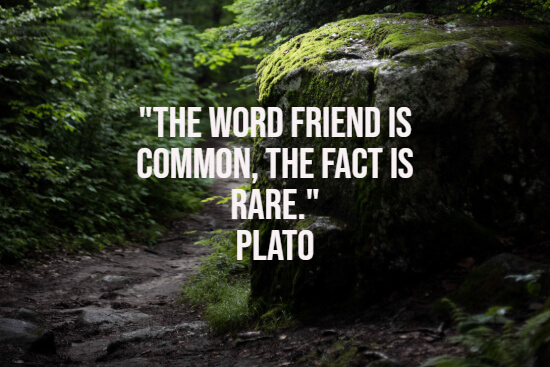 "The word friend is common, the fact is rare."
Plato
6.
"Each friend represents a world in us, a world possibly not born until they arrive."
Anais Nin
7.
"Nothing makes the earth seem so spacious as to have friends at a distance; they make the latitudes and longitudes."
Henry David Thoreau
8.
"We are all travelers in the wilderness of this world, and the best we can find in our travels is an honest friend."
Robert Louis Stevenson
9.
"True friends will always push you towards the great possibilities of your future, false friends will always chain you to the mistakes in your past."
Seth Brown
10.
"The truth is, everyone is going to hurt you. You just got to find the ones worth suffering for."
Bob Marley
These friend quotes are absolutely on point
11.
"Never hold resentments for the person who tells you what you need to hear; count them among your truest, most caring, and valuable friends."
Mike Norton
12.
"True friendship is worth more than can be measured, a quality forever to be treasured. True friendship doth endure while comrades age from boy to youth, from warrior to sage."
Cecilia Dart-Thornton
13.
"Real friends are there no matter what. Real friends are people you love and hate in equal measure but who are as much a part of you as yourself."
C.J. Tudor
14.
"There is nothing better than a friend, unless it is a friend with chocolate."
Linda Grayson
15.
"Good friends, good books, and a sleepy conscience: this is the ideal life."
Mark Twain
16.
"I think if I've learned anything about friendship, it's to hang in, stay connected, fight for them, and let them fight for you. Don't walk away, don't be distracted, don't be too busy or tired, don't take them for granted."
Jon Katz
17.
"Friendship gives us the strength to turn from lambs into lions."
Stephen Richards
18.
"It costs nothing to ask wise advice from a good friend."
George Clason
19.
The friend who can be silent with us in a moment of despair or confusion, who can stay with us in an hour of grief and bereavement, who can tolerate not knowing, not curing, not healing and face with us the reality of our powerlessness, that is a friend who cares."
Henri Nouwen
20.
"Friendship is the hardest thing in the world to explain. It's not something you learn in school. But if you haven't learned the meaning of friendship, you really haven't learned anything."
Muhammad Ali
Can't get enough of friend quotes? Keep reading
21.
"True friendship is like sound health; the value of it is seldom known until it be lost."
Charles Caleb Colton
22.
"In prosperity our friends know us; in adversity we know our friends."
John Churton Collins
23.
"There is nothing I would not do for those who are really my friends. I have no notion of loving people by halves, it is not my nature."
Jane Austen
24.
"I don't need a friend who changes when I change and who nods when I nod; my shadow does that much better."
Plutarch
25.
"One friend with whom you have a lot in common is better than three with whom you struggle to find things to talk about."
Mindy Kaling
26.
"A friend is someone who gives you total freedom to be yourself."
Jim Morrison
27.
"When friendships are real, they are not glass threads or frost-work, but the solidest things we can know."
Ralph Waldo
28.
The friendship is not a reward for our discriminating and good taste in finding one another out. It is the instrument by which God reveals to each of us the beauties of others."
C.S. Lewis
29.
"I mean talk. Never forget that God is your friend. And like all friends, He longs to hear what's been happening in your life. Good or bad, whether it's been full of sorrow or anger, and even when you're questioning why terrible things have to happen. So I talk with him."
Nicholas Sparks
30.
"Friendship marks a life even more deeply than love. Friendship is never anything but sharing."
Elie Wiesel
These friend quotes offer excellent advice
31.
"Friendship is unnecessary, like philosophy, like art… It has no survival value; rather it is one of those things which give value to survival."
C.S. Lewis
32.
"Be slow to fall into friendship, but when you are in, continue firm and constant."
Socrates
33.
"True friendship, once recognized, in its essence is effortless."
Vera Nazarian
34.
"A stranger is just a friend waiting to be let in."
Anthony T. Hincks
35.
"True friendship never questions what it costs you."
Stephen Richards
36.
"A friend is like a mirror: he's the one who reflects your light most accurately. However, a close friend not only reflects your self but enhances and embellishes it."
Charbel Tadros
37.
"Friendship happens when the distance between the hearts tends to zero."
Amit Ray
38.
"The antidote for fifty enemies is one friend."
Aristotle
39.
"In your entire life, you can probably count your true friends on one hand. Maybe even on one finger. Those are the friends you need to cherish."
Sarah Ockler
40.
"Laugh, and the world longs to be your friend."
Richelle E. Goodrich
Friend quotes like this are spot on
41.
"It's not so much that the old friend is a better friend. It's just that you know the person better, and you know they don't really care if you're acting like a poor, groveling idiot. They know you would do the same for them."
Markus Zusak
42.
"Sometimes a friend is most important, for friends are always there to laugh, cry, travel, see, hide, and feel with the other person. They will always be there. That is the measure of a true person: being a friend. It's so much more than you think."
Sophia Braun
43.
"One friend in a lifetime is much; two are many; three are hardly possible."
Henry Adams
44.
"If a friend to me is friend to all then a friend to all is not a friend to me."
Santosh Kalwar
45.
"Your friends will believe in your potential, your enemies will make you live up to it."
Tim Fargo
46.
"Friendship is the only cure for hatred, the only guarantee of peace."
Buddha
47.
"How much love inside a friend? Depends how much you give 'em."
Shel Silverstein
48.
"Anybody can sympathize with the sufferings of a friend, but it requires a very fine nature to sympathize with a friend's success."
Oscar Wilde
49.
"Friends are born, not made."
Henry Adams
50.
"Your noble friend will not accept pretension but will gently and very firmly confront you with your own blindness. Such friendship is creative and critical; it is willing to negotiate awkward and uneven territories of contradiction and woundedness."
John O'Donohue
These friend quotes are on fire
51.
"Of all the means to ensure happiness throughout the whole life, by far the most important is the acquisition of friends."
Epicurus
52.
"The only true test of friendship is the time your friend spends on you."
John Marsde
53.
"Tis a great confidence in a friend to tell him your faults; greater to tell him his."
Benjamin Franklin
54.
"Friendship, however, is a plant which cannot be forced – true friendship is no gourd spring up in a night and withering in a day."
Charlotte Brontë
55.
"Friends… they cherish one another's hopes. They are kind to one another's dreams."
Henry David Thoreau
56.
"A true friend sees you for who you are and who you can become."
Robin Jones Gunn
57.
"A friend is someone with whom you dare to be yourself."
Frank Crane
58.
"The shifts of fortune test the reliability of friends."
Marcus Tullius Cicero
59.
"Friends can make you feel that the world is smaller and less sneaky than it really is because you know people who have similar experiences."
Lemony Snicket
60.
"I'm so thankful for friendship. It beautifies life so much."
L.M. Montgomery
61.
"Friendship is a give and take. You have to have a strong relationship with your friend and I think you have to offer them something and they have to offer you something and that's to always learn from it."
Raven Symone
62.
"Real friends never have to tell you that they're your friends."
Morgan Matson
63.
"Never leave a friend behind. Friends are all we have to get us through this life – and they are the only things from this world that we could hope to see in the next."
Dean Koontz
64.
"When you have a good friend that really cares for you and tries to stick in there with you, you treat them like nothing. Learn to be a good friend because one day you're gonna look up and say I lost a good friend."
Marilyn Monroe
65.
"The friend who holds your hand and says the wrong thing is made of dearer stuff than the one who stays away."
Barbara Kingsolver
66.
"Wishing to be friends is quick work, but friendship is a slow ripening fruit."
Aristotle
67.
"We cannot tell the precise moment when friendship is formed. As in filling a vessel drop by drop, there is, at last, a drop which makes it run over; so in a series of kindnesses there is at last one which makes the heart run over."
Ray Bradbury
68.
"A friend to all is a friend to none."
Aristotle
69.
"Time doesn't take away from friendship, nor does separation."
Tennessee Williams
70.
"Your friends will know you better in the first minute you meet than your acquaintances will know you in a thousand years."
Richard Bach
71.
"Silence make the real conversations between friends. Not the saying, but the never needing to say that counts."
Margaret Lee Runbeck
72.
"There is no surer foundation for a beautiful friendship than a mutual taste in literature."
P.G. Wodehouse
73.
"Though I can make a friend in an hour, it will take a lifetime to cultivate a friendship."
Jeffrey Fry
74.
"One loyal friend is worth ten thousand relatives."
Euripides
75.
"It's really a rare thing to have a friend that changes your mind."
Jill Telford
76.
"The glory of friendship is not the outstretched hand, not the kindly smile, nor the joy of companionship; it is the spiritual inspiration that comes to one when you discover that someone else believes in you and is willing to trust you with a friendship."
Ralph Waldo Emerson
77.
"There are no faster or firmer friendships than those formed between people who love the same books."
Irving Stone
78.
"A best friend is the only one that walks into your life when the world has walked out."
Shannon l. Alder
79.
"Words are easy, like the wind; Faithful friends are hard to find."
William Shakespeare
80.
"In times of trouble and heartache, only then will you find a true friend."
Allison Mierop
81.
"It is during the worst times of your life that you will get to see the true colors of the people who say they care for you."
Unknown
82.
"For out of the eyes of every stranger looks either a friend or an enemy, waiting to be known."
Owen Wister
83.
"A true friend makes your problem their problem."
Mokokoma Mokhonoana
84.
"A good friend is an angel sent by God."
Roberts Devathala
85.
"A book is a dear friend who has a thousand things to say."
Nicole Sager
86.
"Everyone has a gift for something, even if it is the gift of being a good friend."
Marian Anderson
87.
"Friends should be like books, few, but hand-selected. "
C. J. Langenhoven
88.
"To throw away an honest friend is, as it were, to throw your life away"
Sophocles
89.
"A friend is someone who inspires, who challenges, who sends you in search of some truer sense of yourself.."
Steve Lopez
90.
"Some people need a red carpet rolled out in front of them in order to walk forward into friendship. They can't see the tiny outstretched hands all around them, everywhere, like leaves on trees."
Miranda July
91.
"With a friend we can be still and know that God is there with both of us."
Henri J.M. Nouwen
92.
"Two persons cannot long be friends if they cannot forgive each other's little failings."
Jean de La Bruyère
93.
"Friends are honest with each other. Even if the truth hurts."
Sarah Dessen
94.
"Friendships take minutes to make, moments to break, years to repair."
Pierce Brown
95.
"Everyone calls himself a friend, but only a fool relies on it: nothing is commoner than the name, nothing rarer than the thing."
Jean de La Fontaine
96.
"Hospitality means primarily the creation of free space where the stranger can enter and become a friend instead of an enemy."
Henri J.M. Nouwen
97.
"Not money, not fame and not positions can transform an enemy into a friend but rather, it is love that can do such a job."
Israelmore Ayivor
98.
"Friendship! That bond shared, not with the one you see every day but with the one that has got your back any day."
Olaotan Fawehinmi
99.
"A friend gave me a rainbow as a gift, so I put it up in the sky so everyone could share."
Anthony T.Hincks
100.
"Never be an insincere friend, never be manipulative, one day you will be discovered and lose everything"
Bangambiki Habyarimana
101.
"Unless we learn to criticize friends, we shall never find true ones."
Tarif Naaz
I hope you enjoyed this collection of friend quotes. How has your best friend shaped your personality?
Stay victorious!