Since its invention in 1891, basketball has become one of the most popular sports in the world. Even though you can quickly acquire the basic skills to play basketball, becoming a truly skilled player takes a lot of exercise and dedication. Therefore, having the right motivation is a key ingredient to continuously keep improving your basketball skills. But sometimes, the going can get really tough. When you are struggling to reach the next level, it can be quite helpful to have some motivating basketball quotes at hand. These quotes will inspire you to keep pushing your limits. They will encourage you to train harder and to never give up on your dreams. No matter how painful it gets, these basketball quotes will help you to always keep going.
Basketball quotes are a fantastic way to boost your own and your teammates' motivation. No matter if you're an athlete seeking to improve your game or a coach looking for some inspiration for your team, basketball quotes will always get the job done.
"I've missed more than 9000 shots in my career. I've lost almost 300 games. 26 times, I've been trusted to take the game-winning shot and missed. I've failed over and over and over again in my life. And that is why I succeed."
Michael Jordan
What differentiates successful basketball players from all the others is their unquenchable inner drive to succeed.
Their passion for the game helps them to train harder, with more intensity and excellence than 99.9% of the rest. That's what makes them so successful. By learning from these exceptional players, you can draw a lot of inspiration and motivation for your own life. To help you do so, we've created an inspiring collection of basketball quotes in the following.
The 101 Most Inspirational Basketball Quotes
The following basketball quotes will help you to ignite within you the unquenchable desire to become a successful basketball player. They will motivate you to overcome all the obstacles that prevent you from reaching the next level. Even more so, these motivating basketball quotes will help you to develop the inner drive that is necessary to succeed.
Here are these motivating and inspiring basketball quotes
1.
"I can accept failure, everyone fails at something. But I can't accept not trying."
Michael Jordan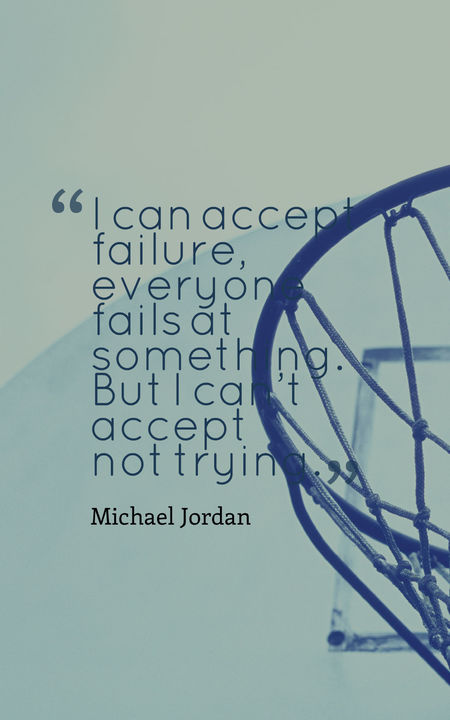 2.
"Hard work beats talent when talent fails to work hard."
Kevin Durant
3.
"No matter how hard you work at your craft and no matter how successful you become, people just have to find something negative to hang on you. […] The bar is always being raised as you go. The rules are always being rewritten. There's aggravation that comes with that, but that's part of what makes triumph so sweet."
Charles Barkley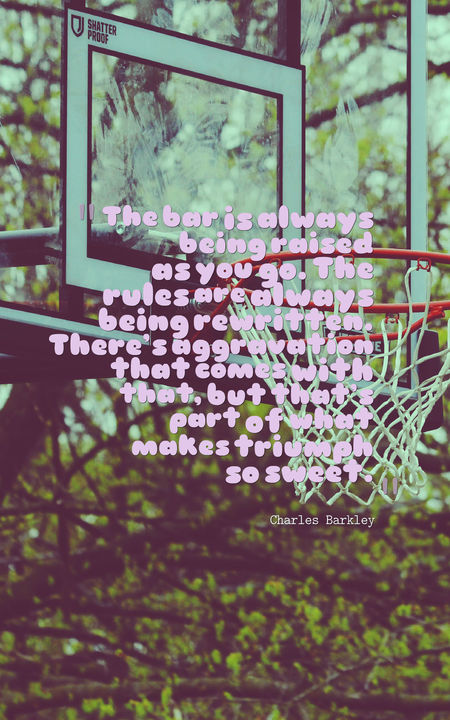 4.
"A winner is someone who recognizes his God-given talents, works his tail off to develop them into skills, and uses these skills to accomplish his goals."
Larry Bird
5.
"Some people want it to happen, some wish it would happen, and others make it happen."
Michael Jordan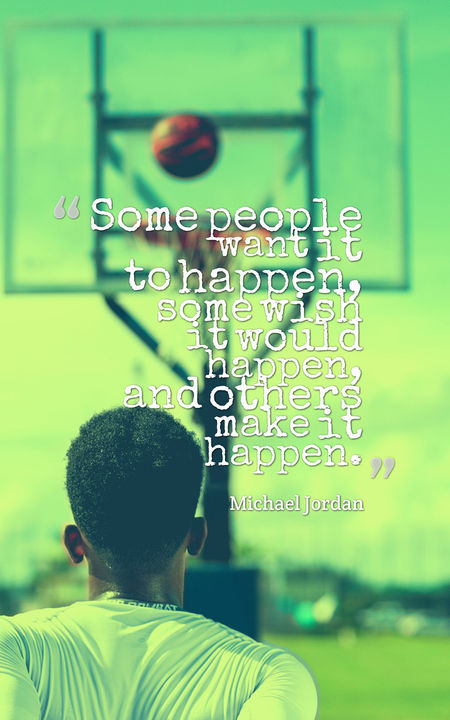 6.
"Excellence is not a singular act, but a habit. You are what you repeatedly do."
Shaquille O'Neal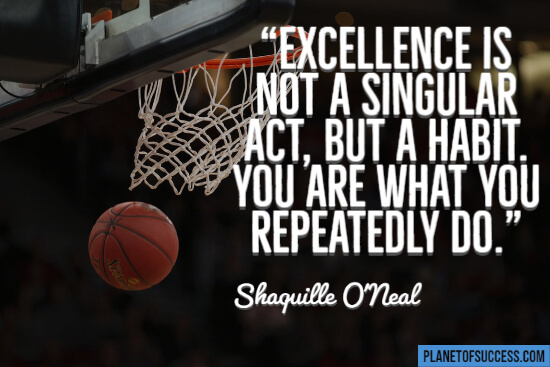 7.
"I gave everything I had to basketball. The passion is still there, but the desire to play is not. It was a great ride."
Allen Iverson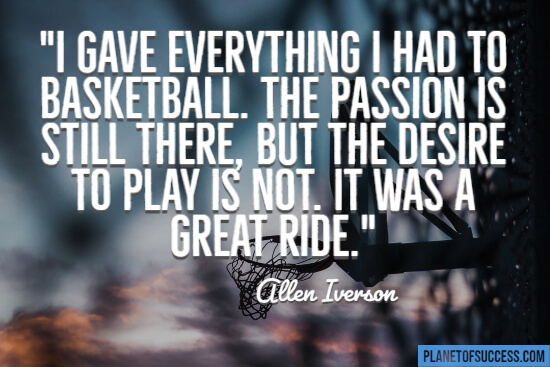 8.
"There's a great quote by Julius Irving that went, 'Being a professional is doing the things you love to do, on the days you don't feel like doing them.'"
David Halberstam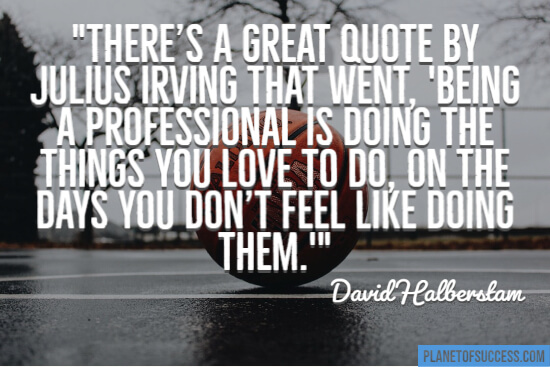 9.
"Nothing is given. Everything is earned."
LeBron James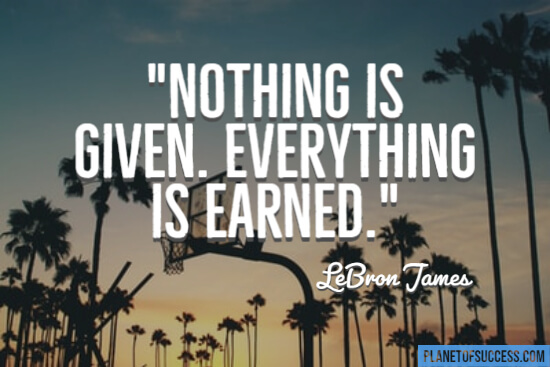 10.
"What do you do with a mistake: recognize it, admit it, learn from it, forget it."
Dean Smith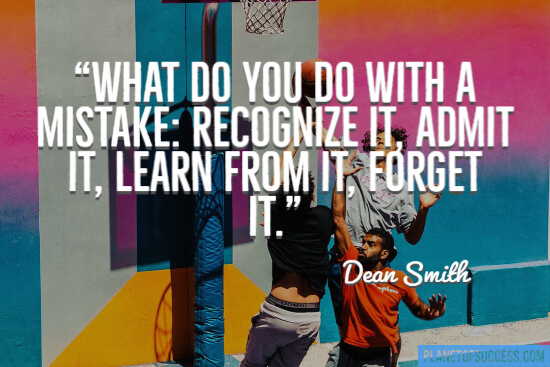 11.
"Concentration and mental toughness are the margins of victory."
Bill Russell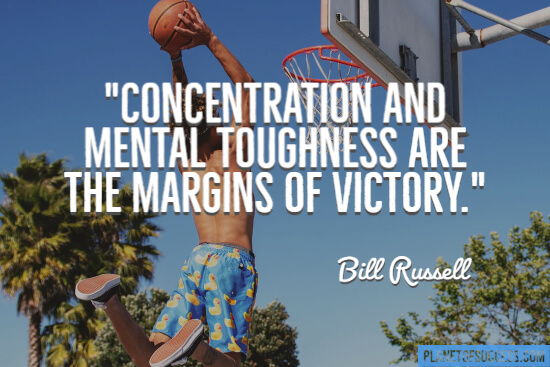 12.
"Talent wins games, but teamwork and intelligence wins championships."
Michael Jordan
13.
"Basketball is a beautiful game when the five players on the court play with one heartbeat."
Dean Smith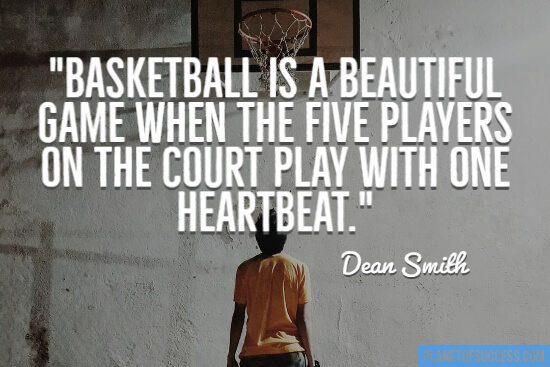 14.
"How good can we expect to be if our best player is not our best teammate."
Brad Stevens
15.
"Obstacles don't have to stop you. If you run into a wall, don't turn around and give up. Figure out how to climb it, go through it, or work around it."
Michael Jordan
16.
"Ability may get you to the top, but it takes character to keep you there."
John Wooden
17.
"Leadership is diving for a loose ball. It's about being able to take it as well as dish it out. That's the only way your going to get respect from other players"
Larry Bird
18.
"You must expect great things of yourself before you can do them."
Michael Jordan
19.
"Good players want to be coached… Great players want to be told the truth."
Doc Rivers
20.
"Recognize and reward players who put the team first, not just the gifted ones."
Don Meyer
21.
"I've failed over and over and over again in my life and that is why I succeed."
Michael Jordan
22.
"Good, better, best. Never let it rest. Until your good is better and your better is best."
Tim Duncan
23.
"To inspire the players, I adapted a quote from Walt Whitman and taped it on their lockers before the first game of the playoffs, against the Miami Heat. 'Henceforth we seek not good fortune, we are ourselves good fortune'."
Phil Jackson
24.
"If you quit ONCE it becomes a habit. Never quit!"
Michael Jordan
25.
"The strength of the team is each individual member. The strength of each member is the team."
Phil Jackson
26.
"It takes three things to be a 'special' player: talent, character, and competitive fire."
Kevin Eastman
27.
"A coach is someone who can give correction without causing resentment."
John Wooden
28.
"But that's the thing about basketball: you don't play games on paper."
Bill Simmons
29.
"It is amazing how much can be accomplished if no one cares who gets the credit."
John Wooden
30.
"Remember that basketball is a game of habits. If you make the other guy deviate from his habits, you've got him."
Bill Russell
31.
"Me shooting 40% at the foul line is just God's way of saying nobody's perfect."
Shaquille O'Neal
32.
"My attitude is that if you push me towards something that you think is a weakness, then I will turn that perceived weakness into a strength."
Michael Jordan
33.
"Be more concerned with your character than your reputation, because your character is what you really are, while your reputation is merely what others think you are."
John Wooden
34.
"Practice habits were crucial to my development in basketball. I didn't play against the toughest competition in high school, but one reason I was able to do well in college was that I mastered the fundamentals. You've got to have them down before you can even think about playing."
Larry Bird
35.
"Sometimes a player's greatest challenge is coming to grips with his role on the team."
Scottie Pippen
36.
"Something just doesn't pop under your nose; you have to work for it."
LeBron James
37.
"Put great thought to what and how you practice. Once practice is done you can never get that time back. Did you simulate the game?"
Kevin Eastman
38.
"The key is not the 'will to win'… everybody has that. It is the will to prepare to win that is important."
Bob Knight
39.
"Always turn a negative situation into a positive situation."
Michael Jordan
40.
"I think the reason why I'm the person who I am today is because I went through those tough times when I was younger."
LeBron James
41.
"There's only one thing we can control, and that is how hard we play."
Don Meyer
42.
"The idea is not to block every shot. The idea is to make your opponent believe that you might block every shot."
Bill Russell
43.
"When you think you have done enough, do a little more, because someone out there is working harder than you."
Larry Bird
44.
"I'm playing; I'm here. I'm going to fight until they tell me they don't want me anymore."
Steve Nash
45.
"In order to achieve positive results, one must work for them, not hope for them."
Bob Knight
46.
"Don't mistake activity with achievement."
John Wooden
47.
"Everybody has talent, but ability takes hard work."
Michael Jordan
48.
"Most of us spend the bulk of our time caught up in thoughts of the past or the future — which can be dangerous if your job is winning basketball games. Basketball takes place at such a lightning pace that it's easy to make mistakes and get obsessed with what just happened or what might happen next, which distracts you from the only thing that really matters — this very moment."
Phil Jackson
49.
"The key to success is failure"
Michael Jordan
50.
"I'm chasing perfection."
Kobe Bryant"
51.
"I don't know if I practiced more than anybody, but I sure practiced enough. I still wonder if somebody – somewhere – was practicing more than me."
Larry Bird
52.
"Approach the game with no preset agendas and you'll probably come away surprised at your overall efforts."
Phil Jackson
53.
"Some times your best effort just isn't good enough."
LeBron James
54.
"I've never lost a game I just ran out of time."
Michael Jordan
55.
"I have self-doubt. I have insecurity. I have fear of failure. I have nights when I show up at the arena and I'm like, 'My back hurts, my feet hurt, my knees hurt. I don't have it. I just want to chill.' We all have self-doubt. You don't deny it, but you also don't capitulate to it. You embrace it."
Kobe Bryant
56.
"Never say never, because limits, like fears, are often just an illusion."
Michael Jordan
57.
"The most we can hope for is to create the best possible conditions for success, then let go of the outcome. The ride is a lot more fun that way."
Phil Jackson
58.
"If every basketball player worked as hard as I did, I'd be out of a job."
Steve Nash
59.
"You don't need great skill to be a tough rebounder; being a rebounder is all about effort, determination, and physicality."
Mike Malone
60.
"The basketball court for me, during a game, is the most peaceful place I can imagine. On the basketball court, I worry about nothing. When I'm out there, no one can bother me…"
Michael Jordan
61.
"The goal is to make practice more difficult, physically/mentally, than anything your players will face during a game."
Bob Knight
62.
"If all I'm remembered for is being a good basketball player, then I've done a bad job with the rest of my life."
Isiah Thomas
63.
"Your best player has to set a tone of intolerance for anything that gets in the way of winning."
Jeff Van Gundy
64.
"As a leader, your job is to do everything in your power to create the perfect conditions for success by benching your ego and inspiring your team to play the game the right way. But at some point, you need to let go and turn yourself over to the basketball gods. The soul of success is surrendering to what is."
Phil Jackson
65.
"Don't let what you cannot do interfere with what you can do."
John Wooden
66.
"Push yourself again and again. Don't give an inch until the final buzzer sounds."
Larry Bird
67.
"I look at my jersey and see the NBA logo, I'm like, 'I didn't think I'd be here.'"
Kevin Durant
68.
"The day I stopped worrying about stats is the day I started winning."
Shaquille O'Neal
69.
"There is no "I"in team but there is in win."
Michael Jordan
70.
"The important thing is that your teammates have to know you're pulling for them and you really want them to be successful."
Kobe Bryant
71.
"Discipline is doing what has to be done, when it has to be done, as well as it can be done, and doing it that way all the time."
Bob Knight
72.
"Limits, like fears, are often just an illusion."
Michael Jordan
73.
"One man can be a crucial ingredient on a team, but one man cannot make a team."
Kareem Abdul-Jabbar
74.
"I've always been impressed by Kobe's resilience and ironclad self-confidence. Unlike Shaq, who was often plagued by self-doubt, Kobe never let such thoughts cross his mind. If someone set the bar at ten feet, he'd jump eleven, even if no one had ever done it before. That's the attitude he brought with him when he arrived at training camp that fall, and it had a powerful impact on his teammates."
Phil Jackson
75.
"It's the little details that are vital. Little things make big things happen."
John Wooden
76.
"If you do the work you get rewarded. There are no shortcuts in life."
Michael Jordan
77.
"People just don't understand how obsessed I am with winning."
Kobe Bryant
78.
"Great players are willing to give up their own personal achievement for the achievement of the group. It enhances everybody."
Kareem Abdul-Jabbar
79.
"That's why at the start of every season I always encouraged players to focus on the journey rather than the goal. What matters most is playing the game the right way and having the courage to grow, as human beings as well as basketball players. When you do that, the ring takes care of itself."
Phil Jackson
80.
"Coaches shouldn't have to push you to work hard, you should push yourself to work hard because you want to be a great player."
Bob Knight
81.
"I always wanted to be a basketball player. Nothing more, nothing less."
Dirk Nowitzki
82.
"You cant win unless you learn how to lose."
Kareem Abdul-Jabbar
83.
"Good thing in this business is that you just have to make one big shot and that's enough to make you forget 9 other shots that you missed."
Guy Zucker
84.
"Goals determine what you're going to be."
Julius Erving
85.
"Once I made a decision, I never thought about it again."
Michael Jordan
86.
"Everything is habit forming, so make sure what you do is what you want to be doing."
Wilt Chamberlain
87.
"Failure is acceptable. but not trying is a whole different ball park."
Michael Jordan
88.
"A lot of late nights in the gym, a lot of early mornings, especially when your friends are going out, you're going to the gym, those are the sacrifices that you have to make if you want to be an NBA basketball player."
Jason Kidd
89.
"Everyting negative – pressure, challenges – is all an opportunity for me to rise."
Kobe Bryant
90.
"I love seeing my teammates succeed. That's what I get more excited about than anything."
LeBron James
91.
"It's OK to make mistakes. That's how we learn. When we compete, we make mistakes."
Kareem Abdul-Jabbar
92.
"Talent is God given. Be humble. Fame is man-given. Be grateful. Conceit is self-given. Be careful."
John Wooden
93.
"We old athletes carry the disfigurements and markings of contests remembered only by us and no one else. Nothing is more lost than a forgotten game."
Pat Conroy
94.
"They say that nobody is perfect. Then they tell you practice makes perfect. I wish they'd make up their minds."
Wilt Chamberlain
95.
"The most important measure of how good a game I played was how much better I'd made my teammates play."
Bill Russell
96.
"What is love? Love is playing every game as if it's your last!"
Michael Jordan
97.
"Everything is habit forming, so make sure what you do is what you want to be doing."
Wilt Chamberlain
98.
"The only difference between a good shot and a bad shot is if it goes in or not"
Charles Barkley
99.
"I'm here. I'm not going anywhere. No matter what the injury – unless it's completely debilitating – I'm going to be the same player I've always been. I'll figure it out. I'll make some tweaks, some changes, but I'm still coming."
Kobe Bryant
100.
"Never make excuses. Your friends don't need them and your foes won't believe them."
John Wooden
101.
"To learn to succeed, you must first learn to fail."
Michael Jordan
I hope you enjoyed this collection of inspiring basketball quotes.
Stay victorious!