Teachers have a profound impact on their (often times very young) students. They encourage children to discover and learn while preparing them for the challenges of life. Great teachers ignite various interests early on in life that, over time, may develop into career choices or passions. As such, teachers are given the unique opportunity to positively shape lives. At the same time, helping young individuals grow and learn can be quite a struggle. The emotional, intellectual, and social needs of young students can be very complex, especially during puberty. For this reason, teachers need to be equipped with a lot of patience and have to find creative approaches to reach their students. To honor the great difficulty of giving students a valuable education, we've created a collection of truly inspirational quotes for teachers. Be sure to also have a look at our list of inspirational education quotes.
The true value of a highly dedicated teacher becomes painfully obvious once you're confronted with a not so good teacher. While a creative teacher can have a profoundly beneficial impact upon a student's life, it's negative counterpart may do a lot of unnecessary damage.
"Tell me and I forget, teach me and I may remember, involve me and I learn."
Benjamin Franklin
Instead of helping young students grow, indifferent and unnecessarily harsh teachers may leave emotional scars. Learning becomes associated with pain and anxiety instead of excitement. Consequently, the overall interest of the students suffers and their achievements in school as well. It is a dangerous cycle that unfortunately, many students experience in their lives.
This is the reason why it is so important that schools are filled with teachers who understand the great responsibility towards their students. Instead of breaking their students and turning them into performance-oriented machines, true teachers inspire students and help them to develop a passion for learning.
115 Insightful Teacher Quotes about the Power of Education
The unique way in which teachers empathize with their students and the manner of involving them from an early age can shape lives. If teachers are able to understand the interests of each generation, they can adapt teaching materials accordingly, and in doing so help their students flourish. To celebrate the truly remarkable teachers in all kinds of fields, the following list of teacher quotes was created. Enjoy!
Here are the most inspiring teacher appreciation quotes:
1.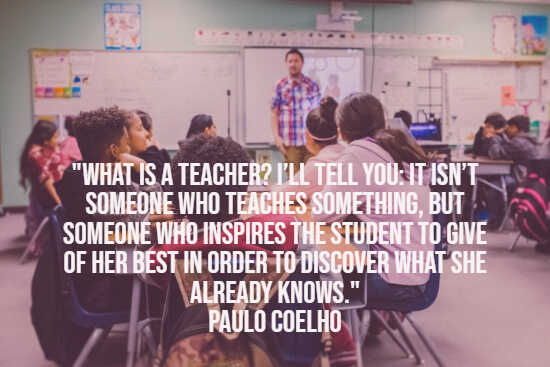 "What is a teacher? I'll tell you: it isn't someone who teaches something, but someone who inspires the student to give of her best in order to discover what she already knows."
Paulo Coelho
2.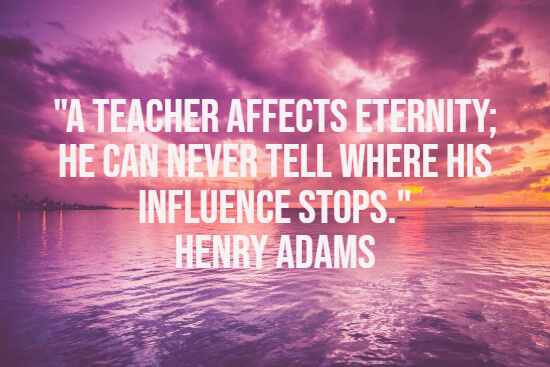 "A teacher affects eternity; he can never tell where his influence stops."
Henry Adams
3.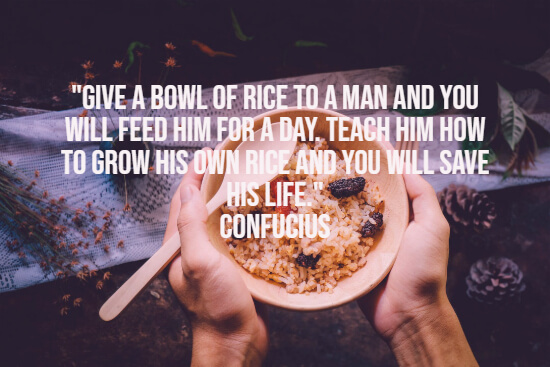 "Give a bowl of rice to a man and you will feed him for a day. Teach him how to grow his own rice and you will save his life."
Confucius
4.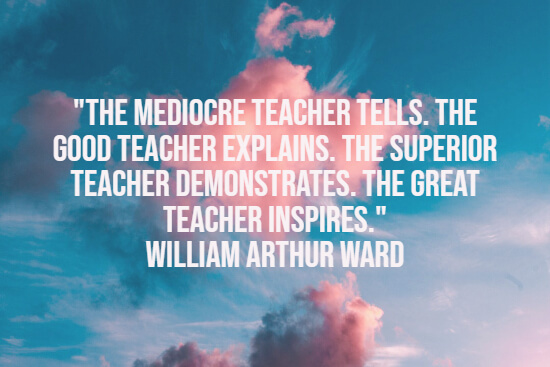 "The mediocre teacher tells. The good teacher explains. The superior teacher demonstrates. The great teacher inspires."
William Arthur Ward
5.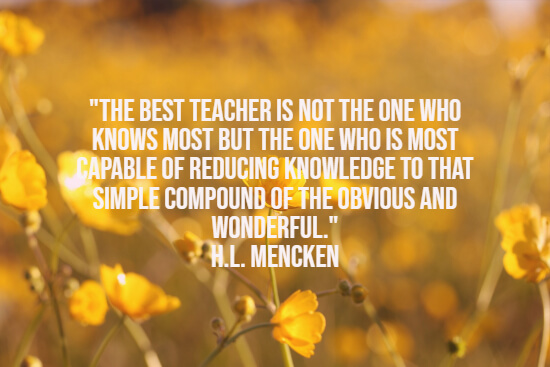 "The best teacher is not the one who knows most but the one who is most capable of reducing knowledge to that simple compound of the obvious and wonderful."
H.L. Mencken
6.
"The job of an educator is to teach students to see vitality in themselves"
Joseph Campbell
7.
"Do not train a child to learn by force or harshness; but direct them to it by what amuses their minds, so that you may be better able to discover with accuracy the peculiar bent of the genius of each."
Plato
8.
"Proper teaching is recognized with ease. You can know it without fail because it awakens within you that sensation which tells you this is something you have always known."
Frank Herbert
9.
"The mind is not a vessel to be filled, but a fire to be kindled."
Plutarch
10.
"Teachers have three loves: love of learning, love of learners, and the love of bringing the first two loves together."
Scott Hayden
11.
"When the student is ready the teacher will appear. When the student is truly ready, the teacher will disappear."
Tao Te Ching
12.
"One repays a teacher badly if one always remains nothing but a pupil."
Friedrich Nietzsche
13.
"A teacher who loves learning earns the right and the ability to help others learn."
Ruth Beechick
14.
"When you wish to instruct, be brief; that men's minds take in quickly what you say, learn its lesson, and retain it faithfully. Every word that is unnecessary only pours over the side of a brimming mind."
Cicero
15.
"The best teachers are those who show you where to look, but don't tell you what to see."
Alexandra K.Trenfor
16.
"Rewards and punishment is the lowest form of education."
Chuang Tzu
17.
"A teacher who cannot explain any abstract subject to a child does not himself thoroughly understand his subject; if he does not attempt to break down his knowledge to fit the child's mind, he does not understand teaching."
Fulton J. Sheen
18.
"I'm more interested in arousing enthusiasm in kids than in teaching the facts. The facts may change, but that enthusiasm for exploring the world will remain with them the rest of their lives."
Seymour Simon
19.
"The true teacher defends his pupils against his own personal influence."
Amos Bronson Alcott
20.
"You educate a man; you educate a man. You educate a woman; you educate a generation."
Brigham Young
21.
"You cannot teach a man anything, you can only help him find it within himself."
Galileo
22.
"Without wisdom, a teacher is nothing more than a research paper: a knowledge filled text which is boring and has no practical use. With wisdom, a teacher is like a great novel: a text filled with knowledge, practical applications and, above all, fun."
Charbel Tadros
23.
"Passion, not qualification, is what makes a good teacher great."
Haresh Sippy
24.
"A teacher must also be prepared to learn if he is going to teach."
Anthony T. Hincks
25.
"Learning is finding out what you already know. Doing is demonstrating that you know it. Teaching is reminding others that they know just as well as you. You are all learners, doers, teachers."
Richard Bach
26.
"The object of teaching a child is to enable him to get along without a teacher."
Elbert Hubbard
27.
"I am indebted to my father for living, but to my teacher for living well."
Alexander the Great
28.
"For the sole true end of education is simply this: to teach men how to learn for themselves; and whatever instruction fails to do this is effort spent in vain."
Dorothy L. Sayers
29.
"Education is the kindling of a flame, not the filling of a vessel."
Socrates
30.
"Teaching is not the noblest profession, in fact, it's a noble profession that reveals the nobility of all professions."
Vinod Varghese Antony
31.
"I am not a teacher, but an awakener."
Robert Frost
32.
"Education is the most powerful weapon which you can use to change the world."
Nelson Mandela
33.
"Children must be taught how to think, not what to think."
Margaret Mead
34.
"In learning you will teach, and in teaching you will learn."
Phil Collins
35.
"Educating the mind without educating the heart is no education at all."
Aristotle
36.
"I think the big mistake in schools is trying to teach children anything, and by using fear as the basic motivation. Fear of getting failing grades, fear of not staying with your class, etc. Interest can produce learning on a scale compared to fear as a nuclear explosion to a firecracker."
Stanley Kubrick
37.
"Anyone who teaches me deserves my respect, honoring and attention."
Sonia Rumzi
38.
"I never teach my pupils, I only attempt to provide the conditions in which they can learn."
Albert Einstein
39.
"To me education is a leading out of what is already there in the pupil's soul."
Muriel Spark
40.
"When you want to teach children to think, you begin by treating them seriously when they are little, giving them responsibilities, talking to them candidly, providing privacy and solitude for them, and making them readers and thinkers of significant thoughts from the beginning. That's if you want to teach them to think."
Bertrand Russell
41.
"The task of the modern educator is not to cut down jungles, but to irrigate deserts."
C.S. Lewis
42.
"A true teacher would never tell you what to do. But he would give you the knowledge with which you could decide what would be best for you to do."
Christopher Pike
43.
"In order to be a teacher you've got to be a student first"
Gary L. Francione
44.
"I'm not a teacher: only a fellow traveler of whom you asked the way. I pointed ahead – ahead of myself as well as you."
George Bernard Shaw
45.
"Have you ever really had a teacher? One who saw you as a raw but precious thing, a jewel that, with wisdom, could be polished to a proud shine?"
Mitch Albom
46.
"The best teachers teach from the heart not from the book."
Unknown
47.
"Do not give them a candle to light the way, teach them how to make fire instead."
Kamand Kojouri
48.
"You can never stop being a teacher. It is the core responsibility of a leader."
Alex Malley
49.
"For a teacher to be productive and effective in the process of teaching, compassion, or a kind heart, is the most crucial quality."
Dalai Lama XIV
50.
"The teacher should be like the conductor in the orchestra, not the trainer in the circus."
Abhijit Naskar
51.
"It takes generosity to be the one teaching, and humility to be the one being taught."
Mokokoma Mokhonoana
52.
"To educate a person in the mind but not in morals is to educate a menace to society."
Theodore Roosevelt
53.
"Teaching is not a lost art, but the regard for it is a lost tradition."
Jacques Barzun
54.
"[Students] don't remember what you try to teach them. They remember what you are."
Jim Henson
55.
"He who opens a school door, closes a prison."
Victor Hugo
56.
"To sustain the value of education, students should be respected as much as the teachers."
Amit Kalantri
57.
"The only good teachers for you are those friends who love you, who think you are interesting, or very important, or wonderfully funny; whose attitude is: Tell me more. Tell me all you can. I want to understand more about everything you feel and know and all the changes inside and out of you."
Brenda Ueland
58.
"Bodily exercise, when compulsory, does no harm to the body; but knowledge which is acquired under compulsion obtains no hold on the mind."
Plato
59.
"Teach the ignorant as much as you can; society is culpable in not providing a free education for all and it must answer for the night which it produces. If the soul is left in darkness sins will be committed. The guilty one is not he who commits the sin, but he who causes the darkness."
Victor Hugo
60.
"A Student is the most important person ever in this school… It is our job to handle each Student in a manner which is beneficial to the Student and ourselves."
William W. Purkey
61.
"A great teacher rekindles the fire within the students."
Lailah Gifty Akita
62.
"To know how to suggest is the art of teaching."
Henri Frederic Amiel
63.
"There are other defects in teaching, for example being tired of explaining to the students. So being tolerant and patient in the face of such difficulties is also important."
Dalai Lama XIV
64.
"Teaching is, after all, a form of show business."
Steve Martin
65.
"If you are a student, try to be a teacher; if you are a teacher, try to be a student!"
Mehmet Murat Ildan
66.
"Those who can, teach; those who can't, criticize."
Dan Hokstad
67.
"Would you rather have your child in a room with the best equipment in the world with an average teacher or an empty room with Socrates?"
Rafe Esquith
68.
"If I push a few of your buttons I'm probably doing my job as a teacher!"
Rafe Esquith
69.
"The teacher appears when the student is ready to learn."
Lailah Gifty Akita
70.
"True teachers are those who use themselves as bridges over which they invite their students to cross; then, having facilitated their crossing, joyfully collapse, encouraging them to create their own."
Nikos Kazantzakis
71.
"Instruction does much, but encouragement everything."
Johann Wolfgang von Goethe
72.
"The most important duty of a teacher is to not only teach but to also inspire and enhance the desire for learning."
Debasish Mridha
73.
"There is no real distinction between who can and cannot be a teacher. All that matters is that this person should have knowledge of the subject matter, empathy, and compassion with others, and, above all, a great sense of humor which is the true mark of wisdom."
Charbel Tadros
74.
"Spoon feeding in the long run teaches us nothing but the shape of the spoon."
E.M. Forster
75.
"Education is the power to think clearly, the power to act well in the world's work, and the power to appreciate life."
Brigham Young
76.
"When you study great teachers… you will learn much more from their caring and hard work than from their style."
William Glasser
77.
"Real education leads to the liberation of the mind."
Abhijit Naskar
78.
"No one learns as much about a subject as one who is forced to teach it."
Peter Drucker
79.
"The difference between a beginning teacher and an experienced one is that the beginning teacher asks, "How am I doing?" and the experienced teacher asks, How are the children doing?"
Esme Raji Codell
80.
"Teaching is only demonstrating that it is possible. Learning is making it possible for yourself."
Paulo Coelho
81.
"There is only one difference between teacher and disciple: the former is slightly less afraid than the latter."
Paulo Coelho
82.
"The whole art of teaching is only the art of awakening the natural curiosity of the mind for the purpose of satisfying it afterwards."
Anatole France
83.
"Education is not the filling of a pail, but the lighting of a fire."
William Butler Yeats
84.
"No one had warned me that a teacher could fall so completely in love with his students that graduation seemed like the death of a small civilization."
Pat Conroy
85.
"Teachers can be a living example to their students."
Sri Sri Ravi Shankar
86.
"Education is our passport to the future, for tomorrow belongs to the people who prepare for it today."
Malcolm X
87.
"You can't really teach a kid anything: you can only show him the way and motivate him to learn it himself."
Dave Cullen
88.
"Our children are only as brilliant as we allow them to be."
Eric Micha'el Leventhal
89.
"A good teacher always refuses to have disciples! Let everyone go his own way, in his own path instead of following others! If the direction is correct, there will be a meeting in the same place!"
Mehmet Murat Ildan
90.
"As long as there is ignorance, there will be adherence to superstition. Dispelling ignorance is the only solution. That is why I teach."
Irvin D. Yalom
91.
"I think the most difficult thing in teaching, as well as the most interesting, is to get the children to tell you their real thoughts about things."
Lucy Maud Montgomery
92.
"I keep looking for one more teacher, only to find that fish learn from the water and birds learn from the sky."
Mark Nepo
93.
"The quality of the relationships that students have in class with their peers and teachers is important to their success in school."
Bob Pletka
94.
"Life is the greatest teacher because it educates even those who really hate to learn."
Eraldo Banovac
95.
"There is no teacher more discriminating or transforming than loss."
Pat Conroy
96.
"A good teacher always tries to adopt the simplest teaching methods to make a student to understand the difficult things."
Sarvesh Murthi
97.
"Technology is just a tool. In terms of getting the kids working together and motivating them, the teacher is the most important."
Bill Gates
98.
"The world needs teachers – teachers who have broken their own shackles of indoctrination – teachers who can go beyond the narrow-mindedness of the society. A handful of these young, brave and zealous teachers in every nation, shall be enough to rekindle the spark of pure knowledge in the entire species."
Abhijit Naskar
99.
"This book is for teachers who have good days and bad and whose bad days bring the suffering that comes only from something one loves… when you love your work that much, and many teachers do, the only way to get out of trouble is to go deeper in."
Parker J. Palmer
100.
"There is no use in lecturing unless a class is listening. And they will only listen if you are saying something they think they can understand and seems relevant. If you pace up and down you can tell from their moving head whether they are following you."
Herbert A. Simon
101.
"The teacher must adopt the role of facilitator not content provider."
Lev S. Vygotsky
102.
"Children are like clay in the hands of teachers. Like a sculptor, we can chisel and carve their personalities with our behavior."
Balroop Singh
103.
"There is a difference between judgment and feedback. Your critics use you as a mirror for their own hidden darkness. Your teachers hold up a mirror to yours."
Vironika Tugaleva
104.
"Make failure your teacher, not your undertaker."
Zig Ziglar
105.
"When you don't learn the best, you will teach the worst."
Israelmore Ayivor
106.
"Every teacher needs a student, otherwise to whom he will teach? Every student needs a teacher, otherwise from whom he will learn?"
Mehmet Murat Ildan
107.
"Our job isn't to protect them from their own dumb choices; it's to teach them to make better ones. Teach them how not to be a screw-up in a screwed up world."
Emma Chase
108.
"Teaching requires a command of content that always eludes our grasp. Second, the students we teach are larger than life and even more complex. To see them clearly and see them whole and respond to them wisely at the moment requires a fusion of Freud and Solomon that few of us achieve."
Parker J. Palmer
109.
"A great teacher not only teaches, but they also cultivate green fields to grow beautiful flowers to spread the fragrance of peace, happiness, and prosperity."
Debasish Mridha
110.
"Anyone or anything can be a teacher given the right audience."
Akiroq Brost
111.
"If you want to build a ship, don't drum up people together to collect wood and don't assign them tasks and work, but rather teach them to long for the endless immensity of the sea."
Antoine de Saint-Exupéry
112.
"A teacher can change a life just with appreciation and love."
Debasish Mridha
113.
"Socrates was the best teacher and they killed him!"
Rafe Esquith
114.
"Teach all men to fish, but first teach all men to be fair. Take less, give more. Give more of yourself, take less from the world. Nobody owes you anything, you owe the world everything."
Suzy Kassem
115.
"One child, one teacher, one book, one pen can change the world."
Malala Yousafzai
I hope you enjoyed this collection of insightful teacher quotes. Which teacher has shaped your life the most?
Stay victorious!