Learn how to discover your life purpose, find the true meaning of life and discover your personal mission in the following article.
First of all, a few introducing thoughts:
Definition of purpose / purpose definition:
Purpose is an aim, goal, vision or dream towards a person strives or for which someone exists. Furthermore it is an effect or result that is desired to reach or accomplish. The purpose of life can be the reason for which a person is doing specific actions with the intention to accomplish an anticipated outcome.
.
Introduction: How to discover your life purpose?
The ambition to discover the purpose of life is nearly as old as mankind. We humans have the striving desire to demonstrate to ourselves and others that we actually do have a purpose in life. Unfortunately, a lot of us waste their time wondering what their purpose could be, which is neither fulfilling nor fun, especially when not able to discover life's purpose or the true meaning of life.
It is very important to consider that your life purpose might have a lot in common with activities that motivate, inspire and fulfill you, which could be your career or a vision that is not related to your professional life.
True purpose of life / true goals and visions



True goals are things you really want to accomplish and when you achieve these you feel joy, fulfillment and true happiness. A true goal should never ever be something that was predetermined by society, your friends or parents (social conditioning) and especially nothing others believe you should do! You will discover a true goal when you feel the burning desire that you really want to achieve it, the feeling to do whatever it takes to reach that specific goal (reach your goals)
Part I: How to discover your life purpose?
Do you know how to discover your personal mission, the true purpose in life or even the meaning of the universe (in case you are really ambitious!)? Well, first of you should erase all the ideas and thoughts that are popping into your mind right now about your job, your short- and long-term goals. These thoughts might just be irritating when trying to find your purpose in life, especially as these purposes and aims are mostly not related to the true meaning of your life. Set yourself free from false purposes that society, friends or your parents have taught you in order to become independent from outside influences. Your true purpose in life can only be discovered when you focus on yourself! Today we are going to focus on the very reason YOU exist!
Once you set yourself free from false purposes we can focus on the question: "How to discover your purpose in life?"
I'm going to explain two different techniques that shall help you in awakening your life purpose.
Technique no. 1 – The Brainstorming Approach
Take a piece of paper – preferable a big one that can evolve to a mind map

Write your question down like: "What is the true purpose in my life?"

Write down whatever pop's into your mind


Write down related, similar or other thoughts and start to evolve these

Start to formulate topics for similar and related thoughts

Once you have a lot of topics you can start to formulate purposes for everyone

Repeat no. 3-6 until you have really no idea what to write anymore


Summarize all your purposes and let them become your true purpose in life.
To clarify this method I've drawn a suggestion how the brainstorming process could look like, with some general purposes/thoughts: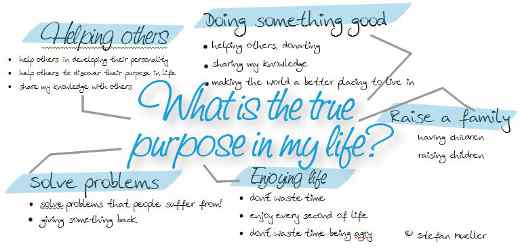 It's as simple as that. The more open-minded you are, and the better you are able to clear your head of all the false purposes and the social conditioning the better the final results of this technique.
It might take some time and many thoughts need to be written down before you finally are able to distinct between false purposes and true purposes in life. You only need to be persistent in order to get an overview of the true meaning of your life, but once you discover it the answer will feel like a flood of positive emotions.
Don't let yourself getting distracted or interrupted while you try to find your purpose in life. You might even want to quit the whole exercise, because excuses will start to arise. This is the point where you need to show persistence and make yourself aware that the rewards of this brainstorming will have an amazing influence in your life.
My final answer was: My purpose in life is to enjoy life as much as possible and to live it with gratefulness; without anger. I want to help others and make this world a better and more peaceful place to live in; for my family, friends and every human being.
Technique no. 2 – The "What would you do if,…" Approach
I personally prefer technique no. 1, but if you are facing some problems to find the true purpose of your life with the first method (described above) you might want to have a look at the second technique:
Imagine that your doctor told you that you have a condition and you therefore only have one year left to live. What would you do?
Once again, you can take out a piece of paper and write at top of it in big letters: "What would I do if I only had one year to live?"

Find answers to your question.

Summarize your answers and let them become your true purpose in life.
Just as described in the first method you can feel free to write down the first ideas and thoughts that pop into your mind. Discovering your purpose might be the most difficult part, but it is absolutely necessary so that you can focus on the accomplishment of the true purpose of your life.
Part II: How to pursue your purpose?
The second part would explode this article. It is therefore covered up in another article: Powerful Goal Setting
Quotes about purpose / life purpose quotes:
"The way you get meaning into your life is to devote yourself to loving others, devote yourself to your community around you, and devote yourself to creating something that gives you purpose and meaning." ~ Mitch Albom
"You will recognize your own path when you come upon it, because you will suddenly have all the energy and imagination you will ever need." ~ Jerry Gillies
"The best career advice to give the young is, find out what you like doing best and get someone else to pay you for doing it." ~ Katherine Whilehaen
Photo by former flickr member pardeshi, released under CC.
Have you already discovered the purpose of your life?