Love is the most powerful force on earth. It can move mountains and makes the world around you sparkle with joy. The magic touch love adds to your life is both intoxicating and awe-inspiring. However, when a magical relationship is slowly coming to an end or when your love is one-sided and unreturned, it can be excruciatingly painful. Not only does it feel as if the other person stabbed you in the heart but it also seems as if the emotional wounds simply do not heal. Being hurt so deeply by someone who you've opened up your heart and soul is painful beyond measurement. To help you in slowly healing your heartbreak, we've collected some very special broken heart quotes. These heartbreak quotes will empower you to let go and move on with your life. Be sure to also have a look at our fine selection of uplifting breakup quotes.
Not many things in life can be as emotionally painful as a breakup or love that is not reciprocated. You may have always envisioned yourself at the side of your significant other but things somehow came unexpectedly different. Realizing that what was once a healthy and loving relationship is now a pile of shards is devastatingly painful.
"I wish I were a little girl again because skinned knees are easier to fix than a broken heart."
Julia Roberts
When someone has broken your heart, you all of a sudden notice how vulnerable and powerless you have become. You may also be frustrated because you've slowly begun realizing that things will never be as they once were.
During the extremely difficult stages of a breakup, it can be quite helpful to have a couple of supporting broken heart quotes at hand to lift you up. Such quotes will help you to let go of the denial, anger, and depression that come with heartbreak.
75 Heart Touching Broken Heart Quotes
When you read through this following collection of broken heart quotes, you will realize that many people found themselves in similar situations. Listening to those individuals who have found unique strategies to cope with the emotional pain can prove to be quite beneficial for your own life as well. As such, the wisdom of the following authors can help you to let go of the pain and to finally mend your broken heart.
Here are these uplifting broken heart quotes
1.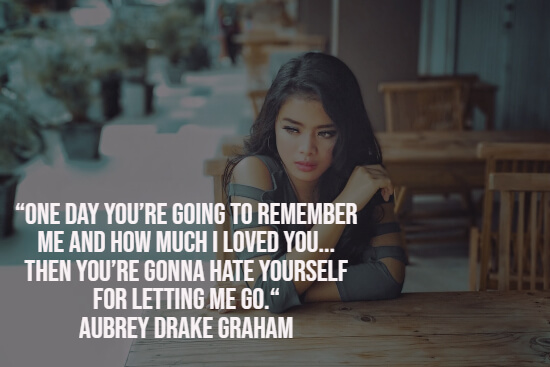 "One day you're going to remember me and how much I loved you… then you're gonna hate yourself for letting me go."
Aubrey Drake Graham
2.
"As for lovers, well, they'll come and go too. And baby, I hate to say it, most of them – actually pretty much all of them are going to break your heart, but you can't give up because if you give up, you'll never find your soulmate. You'll never find that half who makes you whole and that goes for everything. Just because you fail once, doesn't mean you're gonna fail at everything. Keep trying, hold on, and always, always, always believe in yourself, because if you don't, then who will, sweetie? So keep your head high, keep your chin up, and most importantly, keep smiling."
Marilyn Monroe
3.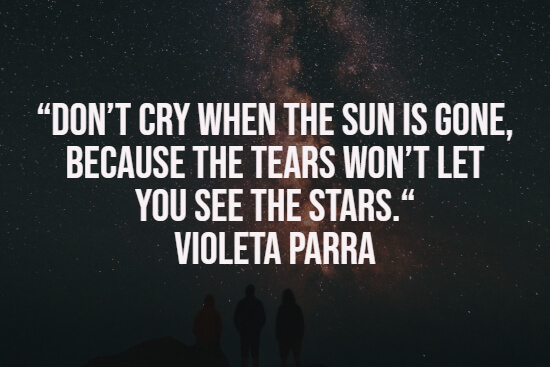 "Don't cry when the sun is gone, because the tears won't let you see the stars."
Violeta Parra
4.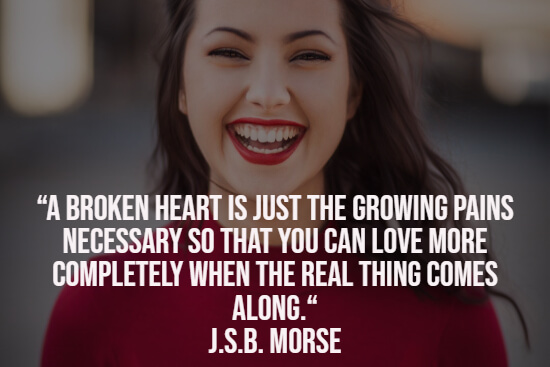 "A broken heart is just the growing pains necessary so that you can love more completely when the real thing comes along."
J.S.B. Morse
5.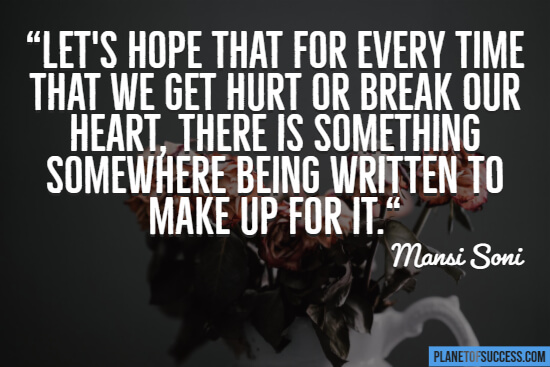 "Let's hope that for every time that we get hurt or break our heart, there is something somewhere being written to make up for it, to make the happiness due even bigger and laughters even merrier, for after all good things must happen to good people."
Mansi Soni
6.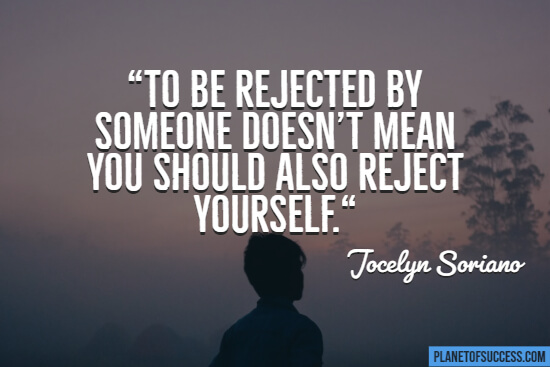 "To be rejected by someone doesn't mean you should also reject yourself or that you should think of yourself as a lesser person. It doesn't mean that nobody will ever love you anymore. Remember that only one person has rejected you at the moment, and it only hurt so much because to you, that person's opinion symbolized the opinion of the whole world, of God."
Jocelyn Soriano
7.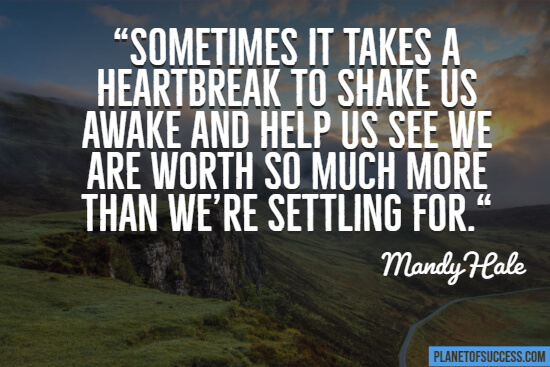 "Sometimes it takes a heartbreak to shake us awake and help us see we are worth so much more than we're settling for."
Mandy Hale
8.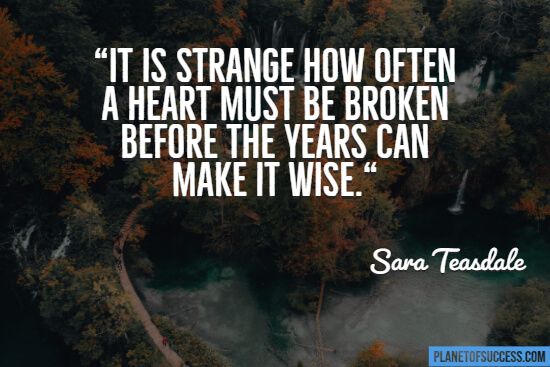 "It is strange how often a heart must be broken before the years can make it wise."
Sara Teasdale
9.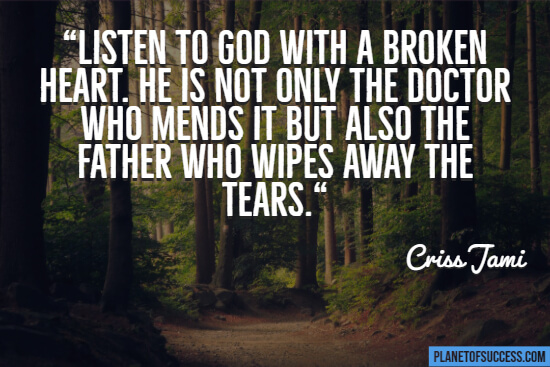 "Listen to God with a broken heart. He is not only the doctor who mends it but also the father who wipes away the tears."
Criss Jami
10.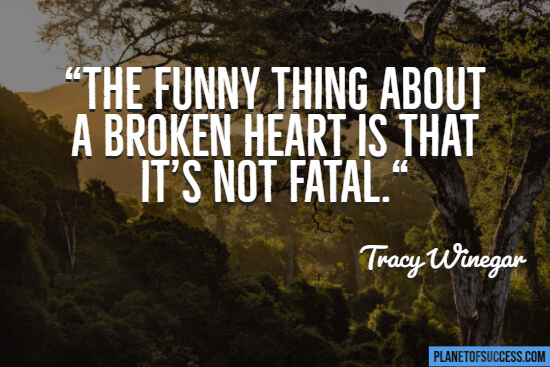 "How can you forget the day your heart is broken? The funny thing about a broken heart is that it's not fatal. Though you wish in vain that it were, life continues on and you have no choice but to continue on with it. You take the hand that fate has dealt you and you press forward because there is nothing else that can be done."
Tracy Winegar
11.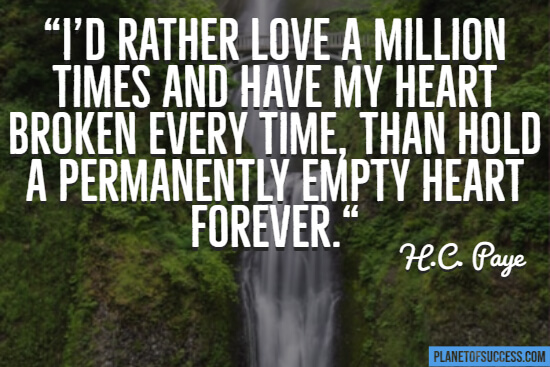 "I'd rather love a million times and have my heart broken every time, than hold a permanently empty heart forever."
H.C. Paye
12.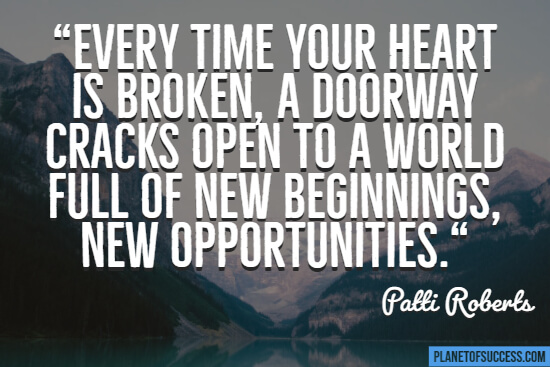 "Every time your heart is broken, a doorway cracks open to a world full of new beginnings, new opportunities."
Patti Roberts
13.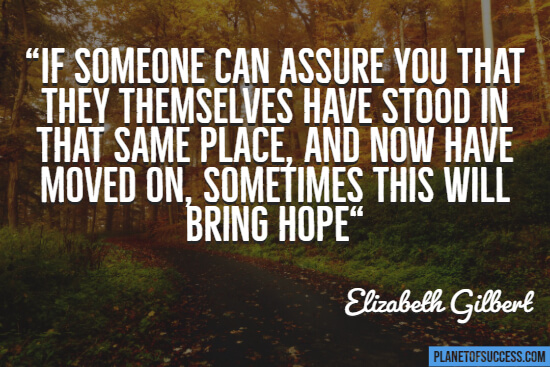 "When you are standing in [a]forest of sorrow, you cannot imagine that you could ever find your way to a better place. But if someone can assure you that they themselves have stood in that same place, and now have moved on, sometimes this will bring hope"
Elizabeth Gilbert
14.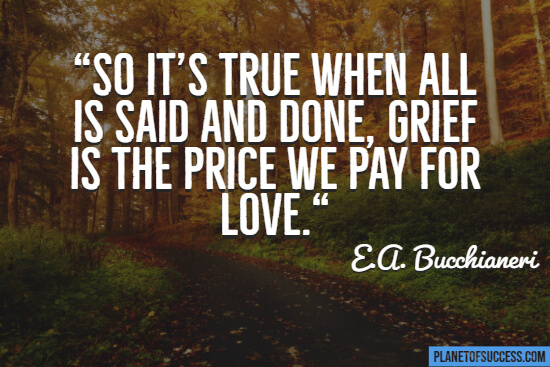 "So it's true when all is said and done, grief is the price we pay for love."
E.A. Bucchianeri
15.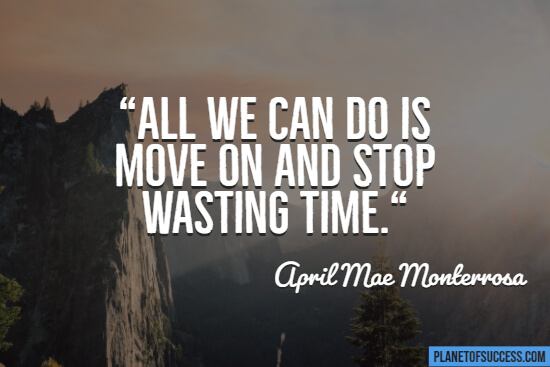 "When it comes to love and loss, acceptance is never easy. We can't make someone see all we have to give, make them love us, or make them change. All we can do is move on and stop wasting time."
April Mae Monterrosa
16.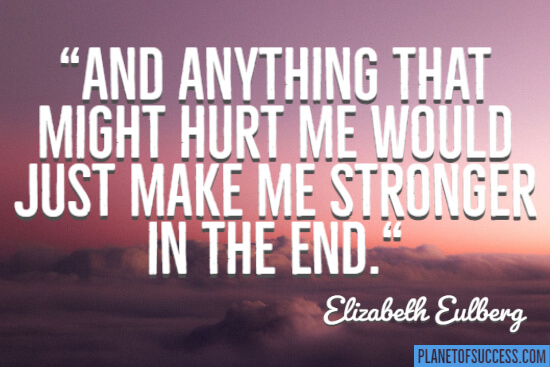 "And anything that might hurt me would just make me stronger in the end."
Elizabeth Eulberg
17.
"Let no one who loves be called altogether unhappy. Even love unreturned has its rainbow."
J.M. Barrie
18.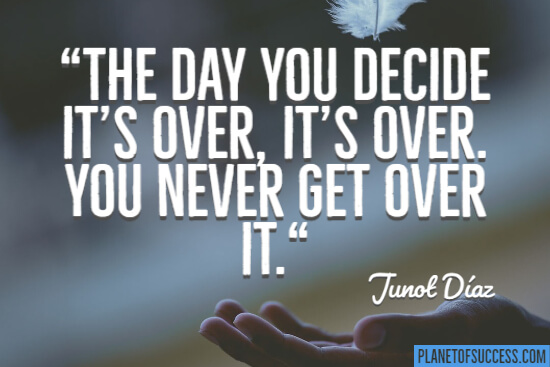 "You ask everybody you know: How long does it usually take to get over it? There are many formulas. One year for every year you dated. Two years for every year you dated. It's just a matter of willpower: The day you decide it's over, it's over. You never get over it."
Junot Díaz
19.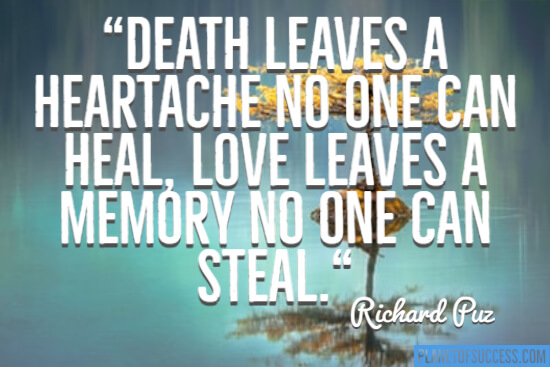 "Death leaves a heartache no one can heal, love leaves a memory no one can steal."
Richard Puz
20.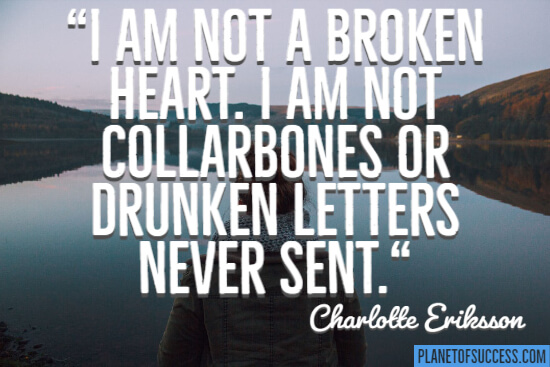 "I am not a broken heart. I am not collarbones or drunken letters never sent. I am not the way I leave or left or didn't know how to handle anything, at any time, and I am not your fault."
Charlotte Eriksson
21.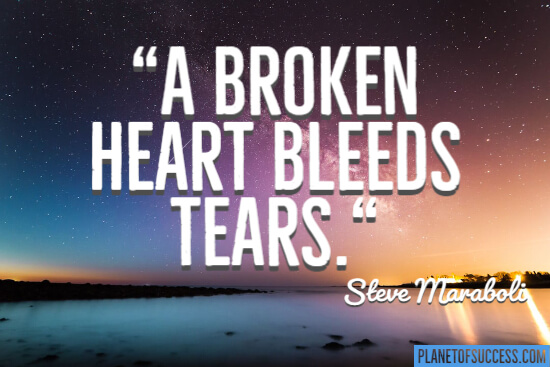 "A broken heart bleeds tears."
Steve Maraboli
22.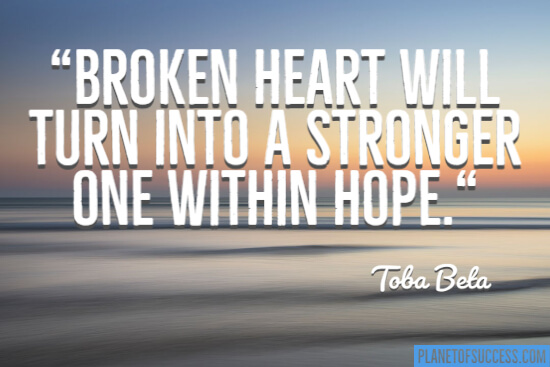 "Broken heart will turn into a stronger one within hope."
Toba Beta
23.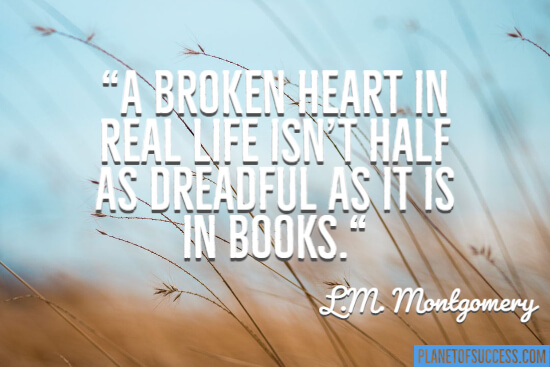 "A broken heart in real life isn't half as dreadful as it is in books. […] It takes spells of aching and gives you a sleepless night now and then, but between times it lets you enjoy life and dreams as if there were nothing the matter with it."
L.M. Montgomery
24.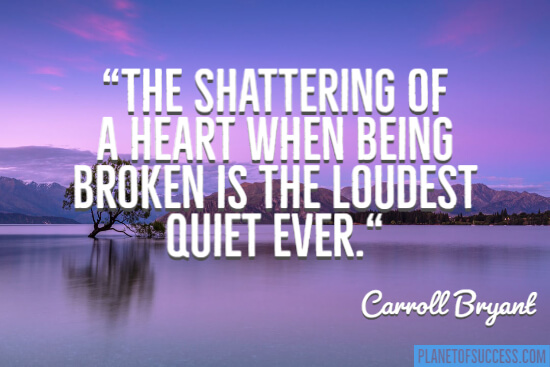 "The shattering of a heart when being broken is the loudest quiet ever."
Carroll Bryant
25.
"Yes, I understand why things had to happen this way. I understand his reason for causing me pain. But mere understanding does not chase away the hurt. It does not call upon the sun when dark clouds have loomed over me. Let the rain come then if it must come! And let it wash away the dust that hurt my eyes!"
Jocelyn Soriano
26.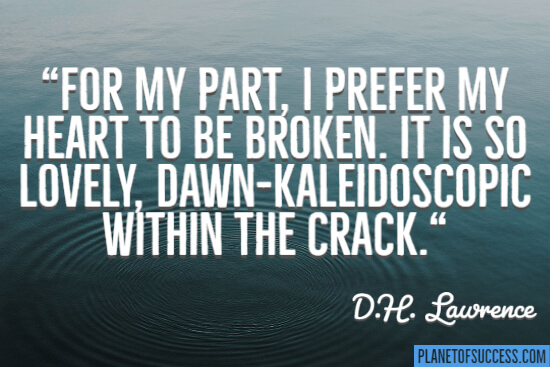 "For my part, I prefer my heart to be broken. It is so lovely, dawn-kaleidoscopic within the crack."
D.H. Lawrence
27.
"However much you wanted someone to want you, there was nothing you could do to make it happen. Whatever you did for them, whatever you gave them, whatever you let them take, it could never be enough. Never enough to be sure. Never enough to satisfy them. Never enough to stop them walking away. Never enough to make them love you."
Manna Francis
28.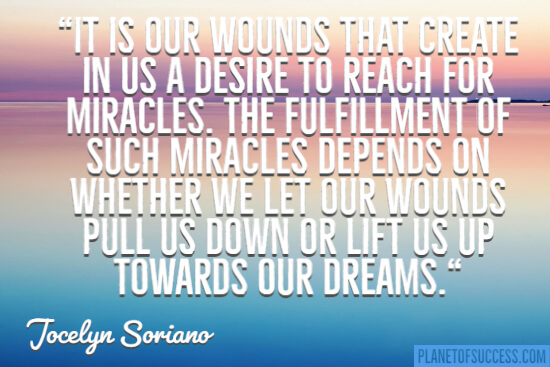 "It is our wounds that create in us a desire to reach for miracles. The fulfillment of such miracles depends on whether we let our wounds pull us down or lift us up towards our dreams."
Jocelyn Soriano
29.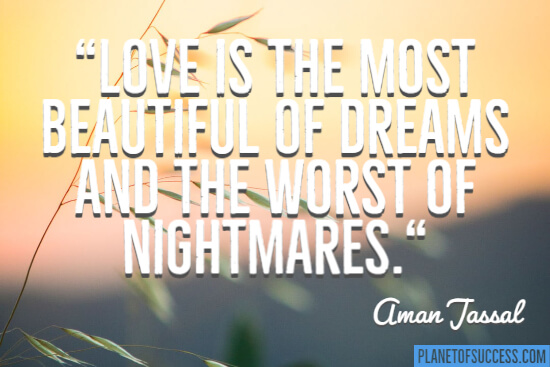 "Love is the most beautiful of dreams and the worst of nightmares."
Aman Jassal
30.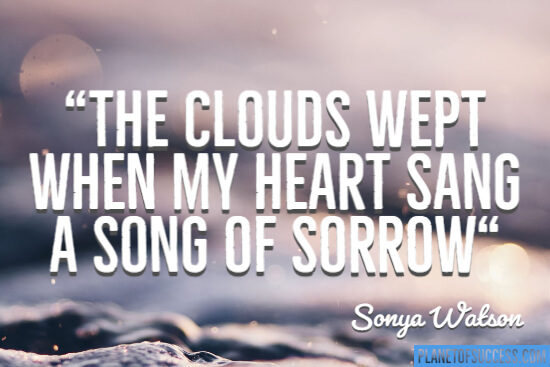 "The clouds wept when my heart sang a song of sorrow"
Sonya Watson
31.
"I have to admit, an unrequited love is so much better than a real one. I mean, it's perfect… As long as something is never even started, you never have to worry about it ending. It has endless potential."
Sarah Dessen
32.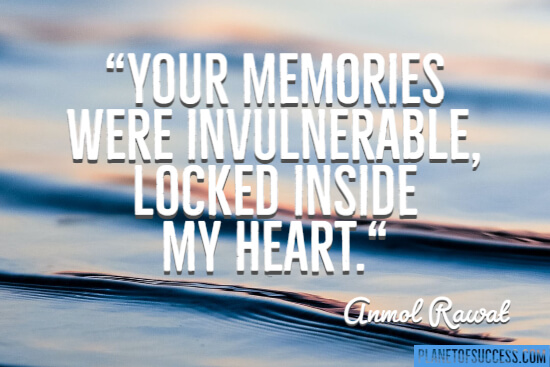 "The way to my heart was shattered when you left me, but I was glad because your memories were invulnerable, locked inside my heart."
Anmol Rawat
33.
"Some people come in your life and make you believe that your life is incomplete without them. Then they leave, creating a void in your heart that may fill back with time but will never be complete."
Anmol Rawat
34.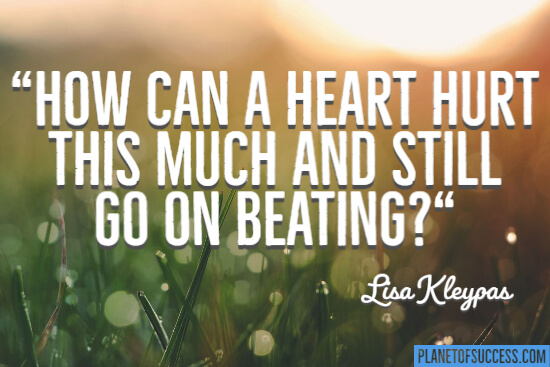 "I hate you for all the years I'll have to live without you. How can a heart hurt this much and still go on beating? How can I feel this bad without dying from it?"
Lisa Kleypas
35.
"I miss you in waves and tonight I'm drowning. You left me fending for my life and it feels like you're the only one who can bring me back to the shore alive."
Denice Envall
36.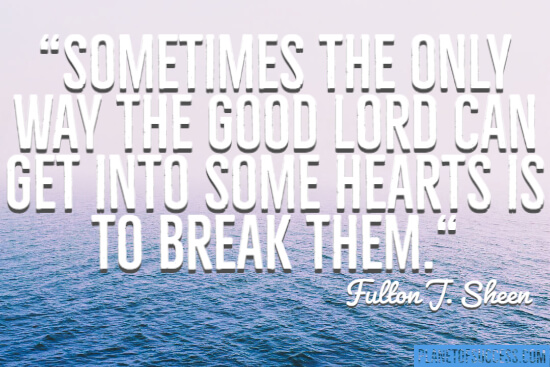 "Sometimes the only way the good Lord can get into some hearts is to break them."
Fulton J. Sheen
37.
"It is a dull sensation, your heart breaking, like the sound of a pebble dropping on the sand. Not a shattering, not a tearing apart, there is nothing shrill or grandiose about the sensation. It is merely an internal realization that something treasured you never knew you had is leaving forever."
Samantha Bruce-Benjamin
38.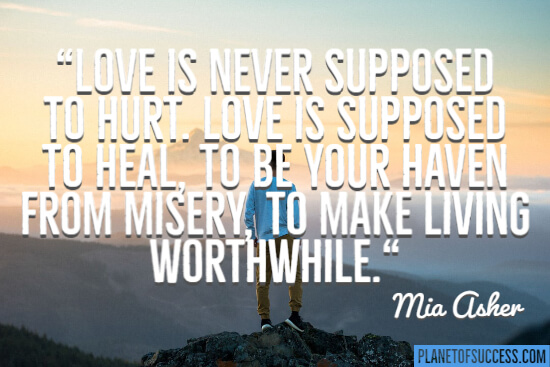 "Love is never supposed to hurt. Love is supposed to heal, to be your haven from misery, to make living worthwhile."
Mia Asher
39.
"With time the pain eases, the body recovers and the brain figures out new ways to go on."
Federico Chini
40.
"I understand that if you have never suffered a broken heart, then you have never really known what it is to truly be alive."
Patti Roberts
41.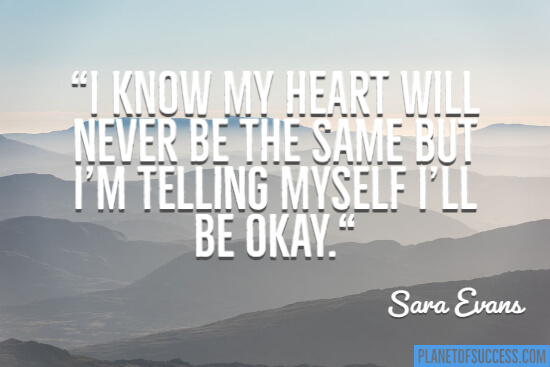 "I know my heart will never be the same but I'm telling myself I'll be okay."
Sara Evans
42.
"A broken heart is such a shabby thing, like poverty and failure and the incurable diseases which are also deforming. I hate it and am ashamed of it, and I must somehow repair this heart and put it back into its normal condition, as a tough somewhat scarred but operating organ."
Martha Gellhorn
43.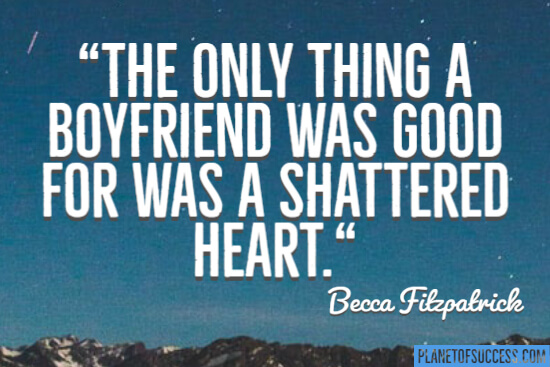 "The only thing a boyfriend was good for was a shattered heart."
Becca Fitzpatrick
44.
"It's the love that goes through the hardest trials and survives that's worth having."
Katie Ashley
45.
"Real love brings pain. Real love means sacrifices and hurts and all the thousand shocks of life. But it also means beauty, true beauty."
Anne Elisabeth Stengl
46.
"Maybe it's a good idea to write something about you in my book… At least then, there will be a place where we will meet every day… and be together forever!"
Anamika Mishra
47.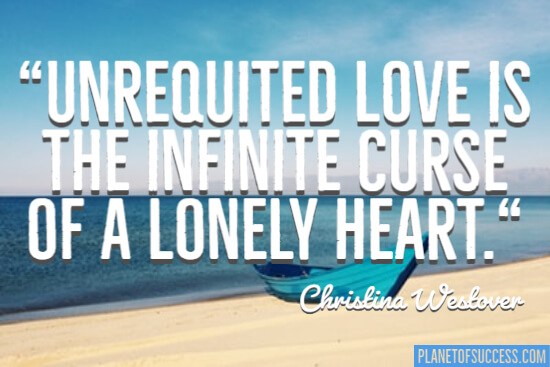 "Unrequited love is the infinite curse of a lonely heart."
Christina Westover
48.
"I'm really a very happy, contented little person in spite of my broken heart."
L.M. Montgomery
49.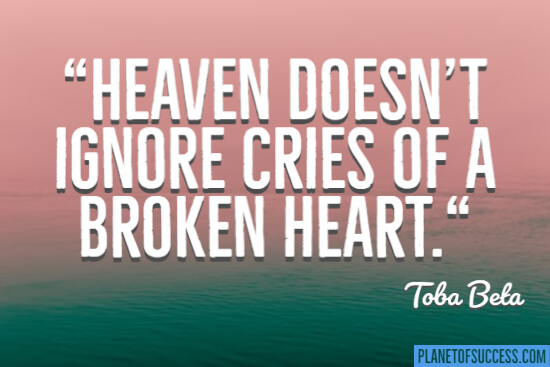 "Heaven doesn't ignore cries of a broken heart."
Toba Beta
50.
"Two words. Three vowels. Four consonants. Seven letters. It can either cut you open to the core and leave you in ungodly pain or it can free your soul and lift a tremendous weight off your shoulders. The phrase is: It's over."
Maggi Richard
51.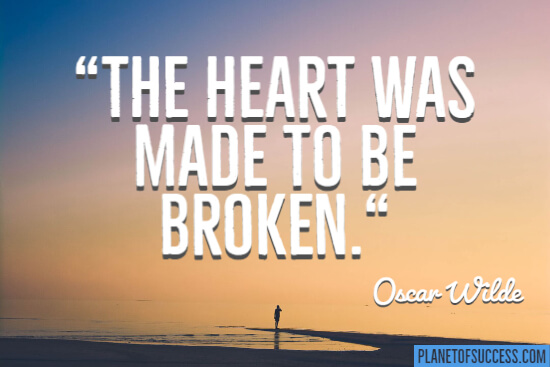 "The heart was made to be broken."
Oscar Wilde
52.
"There comes a time in your life when you have to choose to turn the page, write another book or simply close it."
Shannon L. Alder
53.
"Must I go bound while you go free, must I love a man who doesn't love me, must I be born with so little art, as to love a man who'll break my heart"
Cassandra Clare
54.
"Maybe I was destined to forever fall in love with people I couldn't have. Maybe there's a whole assortment of impossible people waiting for me to find them. Waiting to make me feel the same impossibility over and over again."
Carol Rifka Brunt
55.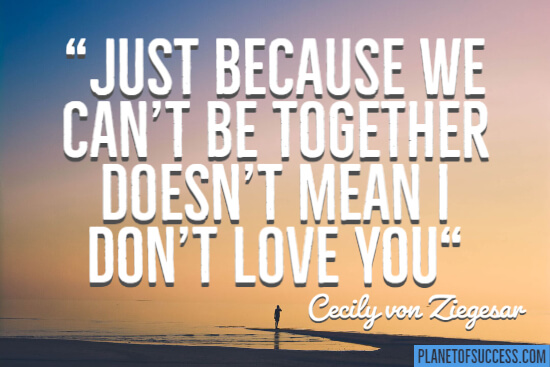 "Just because we can't be together doesn't mean I don't love you"
Cecily von Ziegesar
56.
"If only you would come back and see what damage you create, I've been waiting for your return since forever more…"
Mehek Bassi
57.
"You have to leave your broken heart in a place where- when the woman who knows how to see what a gift is, sees it- your broken heart can be picked up again."
C. JoyBell C.
58.
"Less is less. Heartbreak is heartbreak. You think I'm sitting here gloating. Telling myself that my suffering beats yours? Hurt is hurt. You don't measure these things."
Stephanie Kallos
59.
"The most confused you will ever get is when you try to convince your heart and spirit of something your mind knows is a lie."
Shannon L. Alder
60.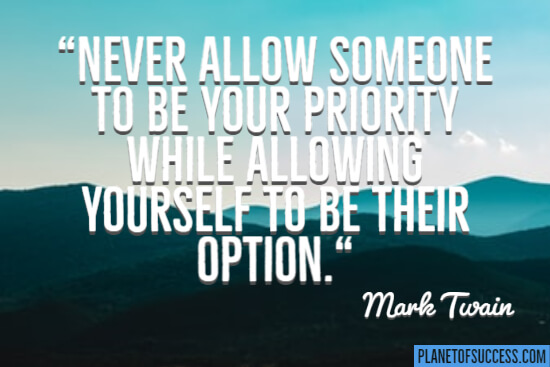 "Never allow someone to be your priority while allowing yourself to be their option."
Mark Twain
61.
"To make one person the center of your world is bound to end in disaster. There are too many factors outside your control."
Alexandra Adornetto
62.
"It is only with true love and compassion that we can begin to mend what is broken in the world. It is these two blessed things that can begin to heal all broken hearts."
Steve Maraboli
63.
"Sometimes, the only soul that can mend a broken heart is the one that broke it. For they are the ones holding all the pieces."
Patti Roberts
64.
"There is nothing more heartbreaking than to see the woman you love, the one woman you would do anything to protect, is the woman who is afraid of you."
Mallika Nawal
65.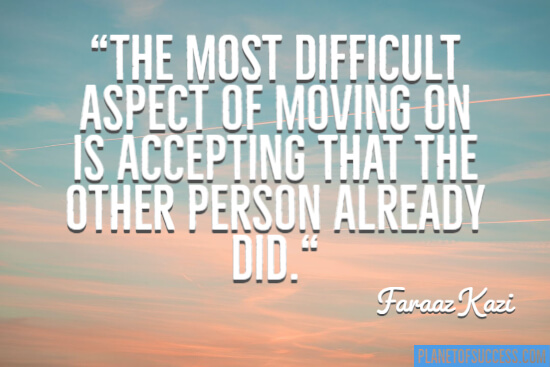 "The most difficult aspect of moving on is accepting that the other person already did."
Faraaz Kazi
66.
"Once you had put the pieces back together, even though you may look intact, you were never quite the same as you'd been before the fall."
Jodi Picoult
67.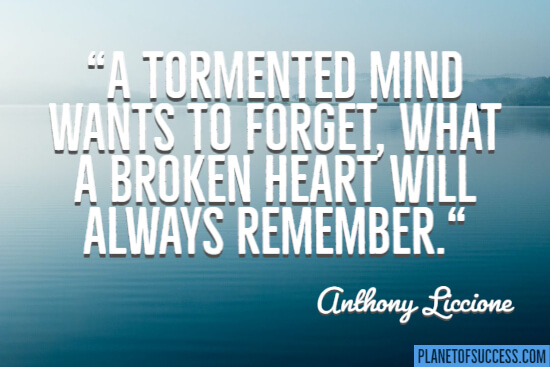 "A tormented mind wants to forget, what a broken heart will always remember."
Anthony Liccione
68.
"Love is hard to find, hard to keep, and hard to forget."
Alysha Speer
69.
"No matter how bad your heart is broken, the world doesn't stop for your grief."
Faraaz Kazi
70.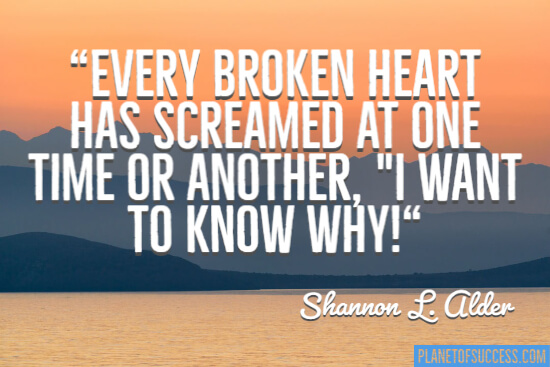 "Every broken heart has screamed at one time or another, "I want to know why!"
Shannon L. Alder
71.
"When we are in love, we are convinced nobody else will do. But as time goes, others do do, and often do do, much much better."
Coco J. Ginger
72.
"If you love something, let it go…"
Karen Halvorsen Schreck
73.
"Love hurts when it changes us."
Toba Beta
74.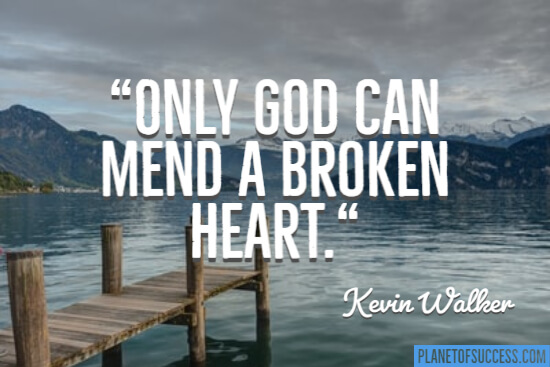 "Only God can mend a broken heart."
Kevin Walker
75.
"Grief is the price for love. But hearts are made to mend. Christ can do wonders with a broken heart if given all the pieces."
Suzanne Woods Fisher
I hope you enjoyed reading this collection of broken heart quotes. What do you do when you're struggling to overcome a painful heartbreak?
Stay victorious!