Are you looking for some positive inspiration to make you feel happy again? Have a look at our selection of some of the finest happy life quotes that will brighten your day. And for even more awesome quotes, have a look at these powerful life quotes to inspire greatness.
Having a bad day? Feeling down and overwhelmed? Then read on… We have something for you to lift your spirits and to get you back on track.
"Yesterday is not ours to recover, but tomorrow is ours to win or lose."
Lyndon B. Johnson
Some days it really feels like the entire world has conspired against you. Just when you thought it couldn't get any worse, the next daunting challenge hits you out of nowhere. When it seems like all hope is gone and a flow of bad news greets you with each new morning, it's time for a change.
This list of happy life quotes will encourage you to put things into perspective and to keep pursuing your dreams. It will motivate you to get back up on your feet when life drags you down. Even more so, the following quotes will enable you to use the bricks life has thrown at you as a foundation for your future success.
Entirely avoiding negativity and failure is next to impossible. For this reason, life is all about perspective. The way you think about what happens to you greatly determines your ability to constructively deal with it. This list is all about encouraging you to see things from a more positive side and to help you in finding the hidden opportunities that come with difficult times.
116 Happy Life Quotes to Brighten Your Day
Whenever it feels like as if you're stuck in a cloud of negativity, it can be tremendously helpful to listen to the thoughts of energetic and optimistic individuals. Reading quotes from such individuals can be quite effective in helping you to break free and to regain your positive outlook on life. To help you save a lot of time, we have researched some of the most energetic and optimistic happy life quotes from inspirational individuals.
These are the people who have faced trials and tribulations but continued to fight for their dreams with a positive and lighthearted attitude. Enjoy reading!
Here's our collection of happy life quotes
1.
"A happy life consists not in the absence, but in the mastery of hardships."
Helen Keller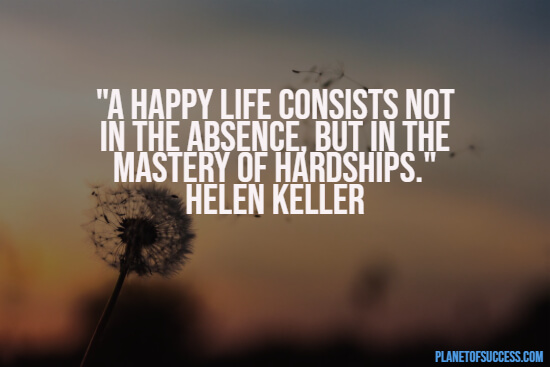 2.
"Life is ten percent what you experience and ninety percent how you respond to it."
Dorothy M. Neddermeyer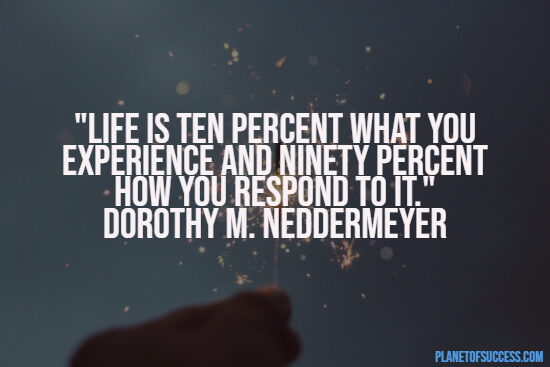 3.
"Happiness often sneaks in through a door you didn't know you left open."
John Barrymore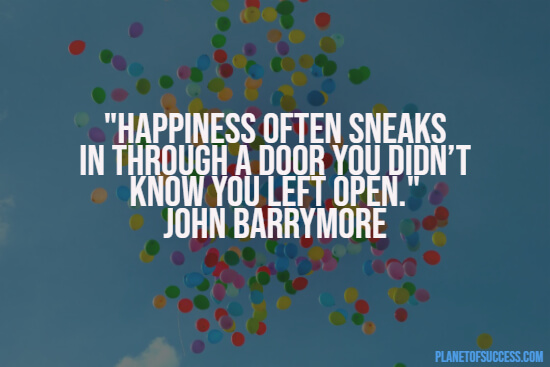 4.
"Dwell on the beauty of life. Watch the stars, and see yourself running with them."
Marcus Aurelius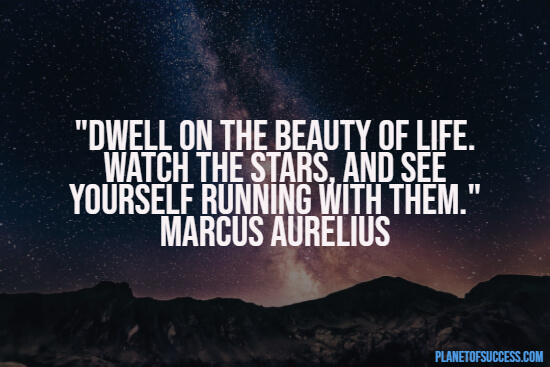 5.
"From the backstabbing co-worker to the meddling sister-in-law, you are in charge of how you react to the people and events in your life. You can either give negativity power over your life or you can choose happiness instead. Take control and choose to focus on what is important in your life. Those who cannot live fully often become destroyers of life."
Anais Nin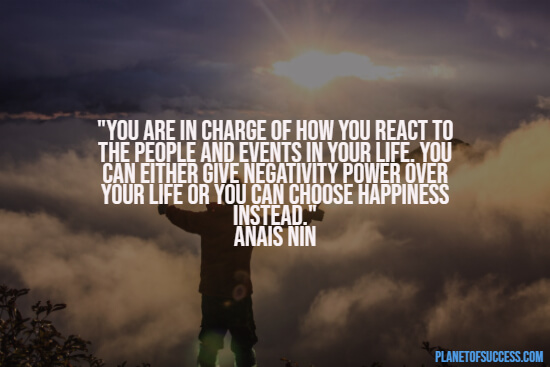 6.
"I think being in love with life is a key to eternal youth."
Doug Hutchison
7.
"It isn't what you have or who you are or where you are or what you are doing that makes you happy or unhappy. It is what you think about it."
Dale Carnegi
8.
"Even when you think you have your life all mapped out, things happen that shape your destiny in ways you might never even have imagined. The coincidences or little miracles that happen every day of your life are hints that the universe has much bigger plans for you than you ever dreamed of for yourself."
Deepak Chopra
9.
"The happiness of your life depends upon the quality of your thoughts."
Marcus Aurelius
10.
"When I was 5 years old, my mother always told me that happiness was the key to life. When I went to school, they asked me what I wanted to be when I grew up. I wrote down 'happy'. They told me I didn't understand the assignment, and I told them they didn't understand life."
John Lennon
Can you not get enough of happy life quotes? Here are more…
11.
"Happiness is like a butterfly which, when pursued, is always beyond our grasp, but, if you will sit down quietly, may alight upon you."
Nathaniel Hawthorne
12.
"Happiness is not a goal… it's a by-product of a life well lived."
Eleanor Roosevelt
13.
"Very little is needed to make a happy life; it is all within yourself in your way of thinking."
Marcus Aurelius
14.
"Let us be grateful to the people who make us happy; they are the charming gardeners who make our souls blossom."
Marcel Proust
15.
"Happiness is the meaning and the purpose of life, the whole aim, and end of human existence."
Aristotle
16.
"So we shall let the reader answer this question for himself: who is the happier man, he who has braved the storm of life and lived or he who has stayed securely on shore and merely existed?"
Hunter S. Thompson
17.
"The secret of life, though, is to fall seven times and to get up eight times."
Paulo Coelho
18.
"Life will throw everything but the kitchen sink in your path, and then it will throw the kitchen sink. It's your job to avoid the obstacles. If you let them stop you or distract you, you're not doing your job, and failing to do your job will cause regrets that paralyze you more than a bad back."
Andre Agassi
19.
"The grand essentials to happiness in this life are something to do, something to love, and something to hope for."
George Washington Burnap
20.
"For what prevents us from saying that the happy life is to have a mind that is free, lofty, fearless and steadfast? A man thus grounded must, whether he wills or not, necessarily be attended by constant cheerfulness and a joy that is deep and issues from deep within, since he finds delight in his own resources, and desires no joys greater than his inner joys."
Lucius Annaeus Seneca
21.
"Things usually work out in the end. What if they don't? That just means you haven't come to the end yet."
Jeannette Walls
22.
"Remember that very little is needed to make a happy life."
Marcus Aurelius
23.
"There are as many nights as days, and the one is just as long as the other in the year's course. Even a happy life cannot be without a measure of darkness, and the word 'happy' would lose its meaning if it were not balanced by sadness."
Carl Gustav Jung
24.
"I can only imagine how happy life would be if we could stay so grounded in our faith that we would never waver in our positive attitudes."
Tracie Miles
25.
"The more you praise and celebrate your life, the more there is in life to celebrate."
Oprah Winfrey
These happy life quotes are phenomenal
26.
"I'm a very positive thinker, and I think that is what helps me the most in difficult moments."
Roger Federer
27.
"The most important thing is to enjoy your life—to be happy—it's all that matters."
Audrey Hepburn
28.
"The power of finding beauty in the humblest things makes home happy and life lovely."
Louisa May Alcott
29.
"If you want to live a happy life, tie it to a goal, not to people or things."
Albert Einstein
30.
"Those born to wealth, and who have the means of gratifying every wish, know not what is the real happiness of life, just as those who have been tossed on the stormy waters of the ocean on a few frail planks can alone realize the blessings of fair weather."
Alexandre Dumas
31.
"Attitude is a little thing that makes a big difference."
Winston Churchill
32.
"I find beauty in unusual things, like hanging your head out the window or sitting on a fire escape."
Scarlett Johansson
33.
"Look at everything always as though you were seeing it either for the first or last time: Thus is your time on earth filled with glory."
Betty Smith
34.
"Happiness is not the absence of problems, it's the ability to deal with them."
Steve Maraboli
35.
"This is true happiness: to have no ambition and to work like a horse as if you had every ambition. To live far from men, not to need them and yet to love them. To have the stars above, the land to your left and the sea to your right and to realize of a sudden that in your heart, life has accomplished its final miracle: it has become a fairy tale."
Nikos Kazantzakis
36.
"The happy life is regarded as a life in conformity with virtue. It is a life which involves effort and is not spent in amusement."
Aristotle
37.
"But you can build a future out of anything. A scrap, a flicker. The desire to go forward, slowly, one foot at a time. You can build an airy city out of ruins."
Lauren Oliver
38.
"Stop comparing yourself to other people, just choose to be happy and live your own life."
Roy T. Bennett
39.
"You're only here for a short visit. Don't hurry, don't worry. And be sure to smell the flowers along the way."
Walter Hagen
40.
"Now and then it's good to pause in our pursuit of happiness and just be happy."
Guillaume Apollinaire
Happy life quotes like this are filled with joy
41.
"Be happy for this moment. This moment is your life."
Omar Khayyám
42.
"There is only one happiness in life, to love and be loved."
George Sand
43.
"Develop an interest in life as you see it; the people, things, literature, music – the world is so rich, simply throbbing with rich treasures, beautiful souls and interesting people. Forget yourself."
Henry Miller
44.
"Generally speaking, the most miserable people I know are those who are obsessed with themselves; the happiest people I know are those who lose themselves in the service of others…By and large, I have come to see that if we complain about life, it is because we are thinking only of ourselves."
Gordon B. Hinckley
45.
"Life is too short to waste time being unhappy."
Dan Howell
46.
"When you have once seen the glow of happiness on the face of a beloved person, you know that a man can have no vocation but to awaken that light on the faces surrounding him. In the depth of winter, I finally learned that within me there lay an invincible summer."
Albert Camus
47.
"Nothing happens to you, it happens for you. See the positive in negative events."
Joel Osteen
48.
"Maybe happiness didn't have to be about the big, sweeping circumstances, about having everything in your life in place. Maybe it was about stringing together a bunch of small pleasures."
Ann Brashares
49.
"Life is not measured by the number of breaths we take, but by the moments that take our breath away."
Maya Angelou
50.
"Believe that life is worth living and your belief will help create the fact."
William James
51.
"At times the world may seem an unfriendly and sinister place, but believe that there is much more good in it than bad. All you have to do is look hard enough."
Lemony Snicket
52.
"As we grow older and realize more clearly the limitations of human happiness, we come to see that the only real and abiding pleasure in life is to give pleasure to other people."
P.G. Wodehouse
53.
"All journeys have secret destinations of which the traveler is unaware."
Martin Buber
54.
"I began to realize how important it was to be an enthusiast in life. He taught me that if you are interested in something, no matter what it is, go at it at full speed ahead. Embrace it with both arms, hug it, love it and above all become passionate about it. Lukewarm is no good. Hot is no good either. White hot and passionate is the only thing to be."
Roald Dahl
55.
"A seemingly happy life may be empty. A seemingly difficult life may be devoted to a great cause. We have purposes larger than ourselves."
Atul Gawande
56.
"Keep your face to the sunshine and you cannot see a shadow."
Helen Keller
57.
"If in our daily life we can smile, if we can be peaceful and happy, not only we, but everyone will profit from it."
Thich Nhat Hanh
58.
"Positive thinking is more than just a tagline. It changes the way we behave. And I firmly believe that when I am positive, it not only makes me better, but it also makes those around me better."
Harvey Mackay
59.
"In order to carry a positive action we must develop here a positive vision."
Dalai Lama
60.
"It's vital that you accept yourself and learn to be happy with who God made you to be. If you want to truly enjoy your life, you must be at peace with yourself."
Joel Osteen
61.
"You will never be happy if you continue to search for what happiness consists of. You will never live if you are looking for the meaning of life."
Albert Camus
62.
"Positive anything is better than negative nothing."
Elbert Hubbard
63.
"Pessimism leads to weakness, optimism to power."
William James
64.
"A happy life must be to a great extent a quiet life, for it is only in an atmosphere of quiet that true joy can live."
Bertrand Russell
65.
"There are random moments – tossing a salad, coming up the driveway to the house, ironing the seams flat on a quilt square, standing at the kitchen window and looking out at the delphiniums, hearing a burst of laughter from one of my children's rooms – when I feel a wavelike rush of joy. This is my true religion: arbitrary moments of nearly painful happiness for a life I feel privileged to lead."
Elizabeth Berg
These happy life quotes are so true
66.
"Being happy isn't having everything in your life be perfect. Maybe it's about stringing together all the little things."
Ann Brashares
67.
"Everyone is lonely, we have to remember that life is to be lived one day at a time. You cannot worry about the past or future. Happiness is in the now."
Claudia Gray
68.
"Life's great happiness is to be convinced we are loved."
Victor Hugo
69.
"It makes a big difference in your life when you stay positive."
Ellen DeGeneres
70.
"It's a funny thing about life, once you begin to take note of the things you are grateful for, you begin to lose sight of the things that you lack."
Germany Kent
71.
"The greatest happiness of life is the conviction that we are loved – loved for ourselves, or rather, loved in spite of ourselves."
Victor Hugo
72.
"Believe that life is worth living and your belief will help create the fact."
William James
73.
"I may not have gone where I intended to go, but I think I have ended up where I needed to be."
Douglas Adams
74.
"Find ecstasy in life; the mere sense of living is joy enough."
Emily Dickinson
75.
"When you are joyful, when you say yes to life and have fun and project positivity all around you, you become a sun in the center of every constellation, and people want to be near you."
Shannon L. Alder
76.
"Positive thinking will let you do everything better than negative thinking will."
Zig Ziglar
77.
"Everybody in the world is seeking happiness—and there is one sure way to find it. That is by controlling your thoughts. Happiness doesn't depend on outward conditions. It depends on inner conditions."
Dale Carnegie
78.
"A happy life consists in tranquility of mind."
Cicero
79.
"Any intelligent person knows that life is a beautiful thing and that the purpose of life is to be happy."
Orhan Pamuk
80.
"Life is at its best when everything has fallen out of place, and you decide that you're going to fight to get them right, not when everything is going your way and everyone is praising you."
Thisuri Wanniarachchi
81.
"I'm killing time while I wait for life to shower me with meaning and happiness."
Bill Watterson
82.
"Even if happiness forgets you a little bit, never completely forget about it."
Jacques Prevert
83.
"Just be happy, and if you can't be happy, do things that make you happy. Or do nothing with the people that make you happy."
Esther Earl
84.
"We search for happiness everywhere, but we are like Tolstoy's fabled beggar who spent his life sitting on a pot of gold, under him the whole time. Your treasure – your perfection – is within you already. But to claim it, you must leave the buy commotion of the mind and abandon the desires of the ego and enter into the silence of the heart."
Elizabeth Gilbert
85.
"A successful man is one who can lay a firm foundation with the bricks others have thrown at him."
David Brinkley
86.
"I can choose either to be a victim of the world or an adventurer in search of treasure. It's all a question of how I view my life."
Paulo Coelho
87.
"Happiness is the only thing worth fighting for in life."
Lilly Singh
88.
"Those who do not know how to see the precious things in life will never be happy."
Alex Flinn
89.
"The real things haven't changed. It is still best to be honest and truthful; to make the most of what we have; to be happy with simple pleasures; and have courage when things go wrong."
Laura Ingalls Wilder
90.
"Life gives you lots of chances to screw up which means you have just as many chances to get it right."
Carrie Bradshaw
Here are even more quotes about living a happy life
91.
"The secret of a happy life is respect. Respect for yourself and respect for others."
Ayad Akhtar
92.
"This life is yours. Take the power to choose what you want to do and do it well. Take the power to love what you want in life and love it honestly. Take the power to walk in the forest and be a part of nature. Take the power to control your own life. No one else can do it for you. Take the power to make your life happy."
Susan Polis Schutz
93.
"Once you replace negative thoughts with positive ones, you'll start having positive results."
Willie Nelson
94.
"You know what the secret to a happy life is? No regrets. Just live in the moment."
Nicole Christie
95.
"Truly happy memories always live on, shining. Over time, one by one, they come back to life."
Banana Yoshimoto
96.
"One of the secrets of a happy life is continous small treats."
Iris Murdoch
97.
"Find a place inside where there's joy, and the joy will burn out the pain."
Joseph Campbell
98.
"I think… the secret is to just settle for the shape of your life takes… Instead of, you know, always waiting and wishing for what might make you happy."
Wally Lamb
99.
"Accept responsibility for your life. Know that it is you who will get you where you want to go, no one else."
Les Brown
100.
"I am drawn to stories where people can tell me what happened when everything fell apart. And not so much that their life became a total wreck, but how life unfolded and did not match up with their expectations."
Anna Sale
101.
"Perpetual optimism is a force multiplier."
Colin Powell
102.
"See, sometimes courage isn't climbing Mount Everest or changing the world. Sometimes your mountain to climb is made up of weekdays and months, made up of pushing yourself forward even when you want to nestle into the past. Sometimes changing the world means changing your world, as gradually as you need to, as gently as you heal, because sometimes courage isn't made up of war, and bloodshed; sometimes courage isn't made of combat. Sometimes courage is a quiet fight, a dim softness within you, that flickers even on your darkest days, and reminds you that you are strong, that you are growing — that there is hope."
Bianca Sparacino
103.
"Pierre was right when he said that one must believe in the possibility of happiness in order to be happy, and I now believe in it. Let the dead bury the dead, but while I'm alive, I must live and be happy."
Leo Tolstoy
104.
"In every day, there are 1,440 minutes. That means we have 1,440 daily opportunities to make a positive impact."
Les Brown
105.
"Try not to resist the changes that come your way. Instead, let life live through you. And do not worry that your life is turning upside down. How do you know that the side you are used to is better than the one to come?"
Elif Shafak
106.
"Even the darkest night will end and the sun will rise."
Victor Hugo
107.
"Do what makes you happy, be with who makes you smile, laugh as much as you breathe, and love as long as you live."
Rachel Ann Nunes
108.
"For just one second, look at your life and see how perfect it is. Stop looking for the next secret door that is going to lead you to your real life. Stop waiting. This is it: there's nothing else. It's here, and you'd better decide to enjoy it or you're going to be miserable wherever you go, for the rest of your life, forever."
Lev Grossman
109.
"I do not exist to impress the world. I exist to live my life in a way that will make me happy."
Richard Bac
110.
"The trick to happiness wasn't in freezing every momentary pleasure and clinging to each one, but in ensuring one's life would produce many future moments to anticipate."
Brandon Sanderson
111.
"A beautiful thing is precious, no matter the price. Those who do not know how to see the precious things in life will never be happy…"
Alex Flinn
112.
"The only really happy people are those who have learned how to serve."
Rick Warren
113.
"May we all be doomed to a happy life."
Alethea Kontis
114.
"Life doesn't get easier or more forgiving, we get stronger and more resilient."
Steve Maraboli
115.
"I don't live in either my past or my future. I'm interested only in the present. If you can concentrate always on the present, you'll be a happy man. Life will be a party for you, a grand festival, because life is the moment we're living now."
Paulo Coelho
116.
"I'm choosing happiness over suffering, I know I am. I'm making space for the unknown future to fill up my life with yet-to-come surprises."
Elizabeth Gilber
We hope you enjoyed this collection of happy life quotes.
What is your favorite happy life quote?
Do you have a quote with the almost magical ability to lift your spirits whenever you're feeling down? Let us know in the comment section below. We're excited to hear from you.
You may have also noticed that some of the quotes we have shared in this list are fantastic to shake off the dust and to get back on track after a failure. Some of the other quotes are brilliant motivators that will help you to get you through a rough day.
There's something in this collection for a wide variety of different situations and circumstances. Feel free to come back to this list whenever you need a fresh boost of positivity.
Stay victorious!