Friday rocks! Why? Because it symbolizes the end of the workweek and kick-starts the weekend. No matter if you're in college or at work, knowing that the weekend is just around the corner simply feels good. When it's only a couple of hours until you finally get your deserved break from a tough week, life almost miraculously looks a lot brighter. Even more so, once you're done with all your work on Friday, you can probably look back at all that you've accomplished throughout the week. Friday also introduces 2 ½ days filled with joy, happiness, and a lot of time to relax. In fact, who doesn't like Fridays when they introduced the prospect of a fulfilling and awesome weekend? Because Friday is such an awesome day, we've created the following collection of funny and happy Friday quotes. These are the quotes that celebrate Friday as the best day of the week.
After a tiring and stressful week at work or college, Friday introduces a welcome change. Instead of having to get up ridiculously early in the morning, you can party late and sleep in.
"Employers are at their happiest on Mondays. Employees are at their happiest on Fridays."
Mokokoma Mokhonoana
Let's face it, we all enjoy this feeling of finally walking out the door of our workplaces or colleges. It's a relieving moment when you can leave all the stress and burdens of your day-to-day life behind – at least for a couple of days.
Fridays are quite special. Just look around and you'll notice that almost everyone you meet is in a much better mood. After all, the weekend is only hours ahead. What better way to start the weekend than to have a look at a couple of funny Friday quotes.
40 Brilliant Happy Friday Quotes
There's something you, me, and the following authors have quite in common: we all love Fridays. But sometimes, it's really difficult to put your unique feelings about Friday words. Luckily, there are many creative authors who have managed to beautifully articulate the joy of Fridays. These are the Friday quotes that powerfully launch the weekend.
Here is our collection of funny and happy Friday quotes
1.
"Music always sounds better on Friday."
Lou Brutus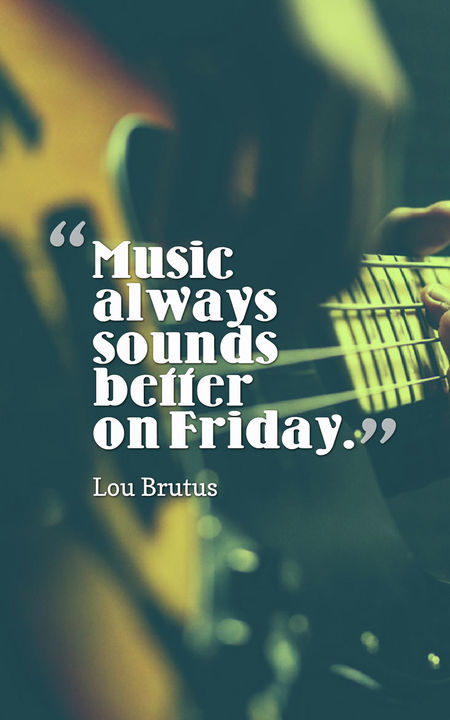 2.
"Friday is like a superhero that always arrives just in time to stop me from savagely beating one of my coworkers with a keyboard."
Rico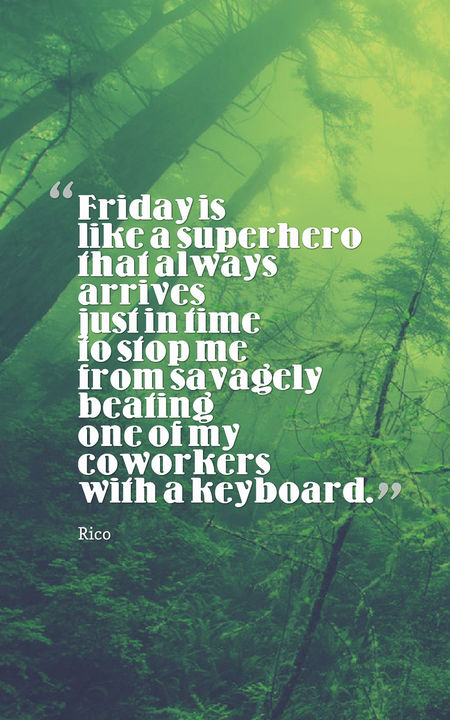 3.
"Some people ask the secret of our long marriage. We take time to go to a restaurant two times a week. A little candlelight, dinner, soft music, and dancing. She goes Tuesdays, I go Fridays."
Henny Youngman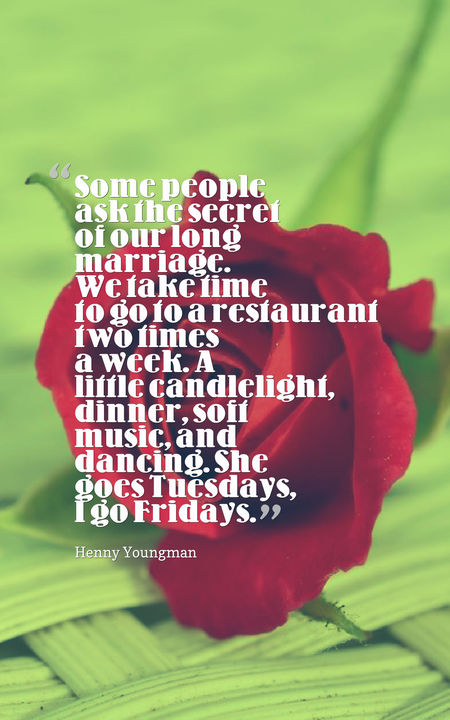 4.
"It's Friday… any plan of being a productive member of society is officially thrown out the window."
Unknown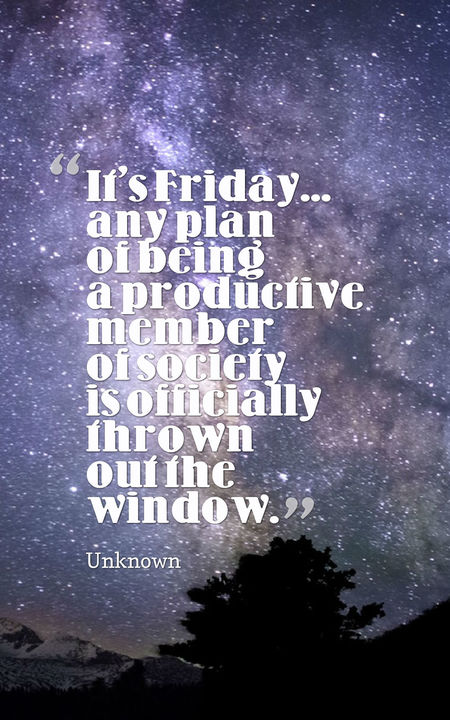 5.
"Welcome to Friday. In preparation for takeoff, please ensure all negative attitudes are properly stowed. On behalf of your captain, Jack Daniels and myself, welcome aboard. I expect sunshine and good attitudes today for our trip. Enjoy the ride."
Unknown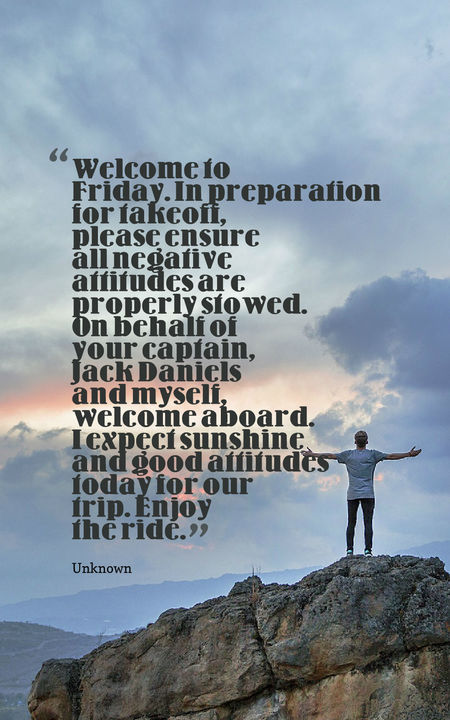 6.
"Friday. The golden child of the weekdays. The superhero of the workweek. The welcome wagon to the weekend. The famous F word we thank God for every week."
Unknown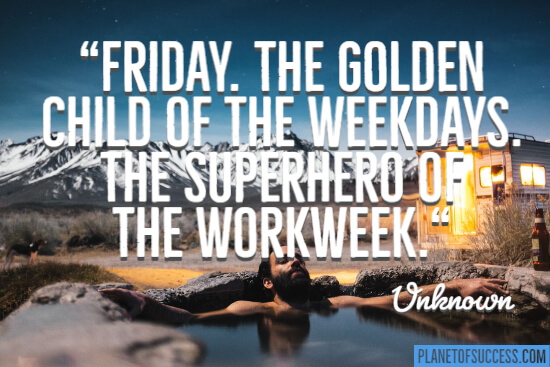 7.
"Dear Monday, I want to break up. I'm seeing Tuesday and dreaming about Friday. Sincerely, It's not me, It's you."
Unknown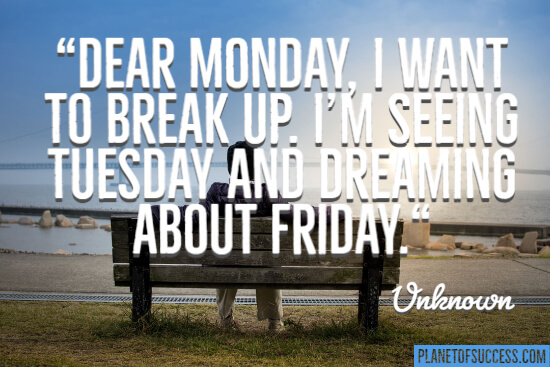 8.
"Friday afternoon feels like heaven…"
El Fuego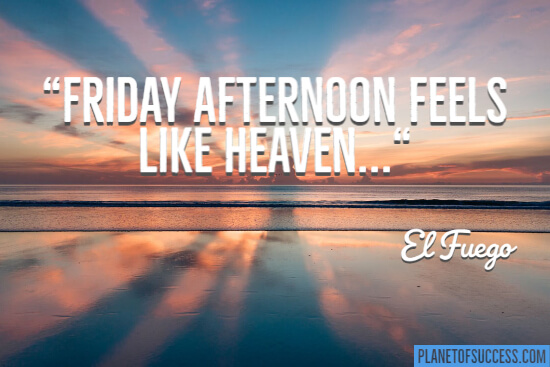 9.
"Hands up if you're ready to do something you'll regret this weekend. Go forth! You have my blessing."
Florence Welch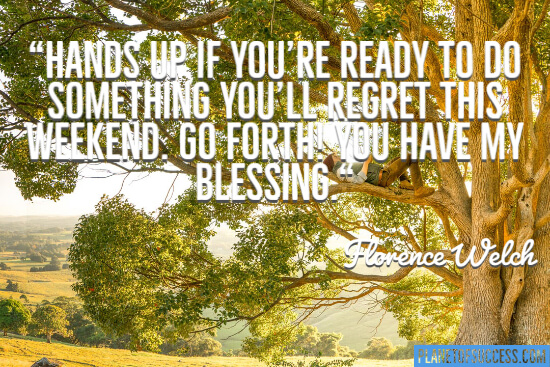 10.
"Its always difficult to keep Fridays confined within themselves… they tend to spill over…"
Parag Tipnis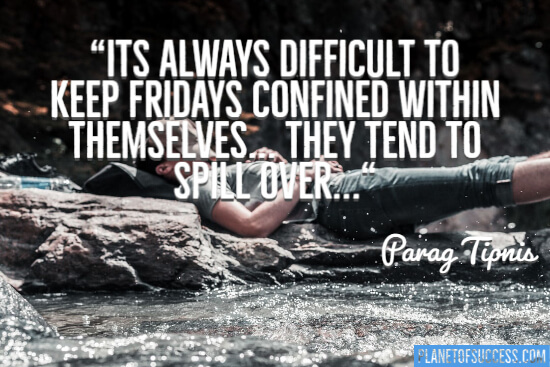 11.
"Fridays are the hardest in some ways: you're so close to freedom."
Lauren Oliver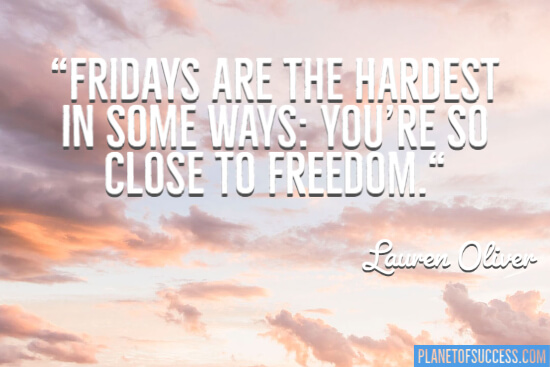 12.
"Why is Monday so far away from Friday but Friday is so close to Monday?"
Unknown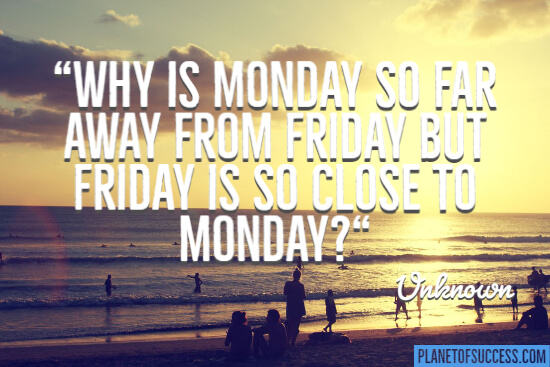 13.
"Thursday, which is 'Friday Eve' in Optimisian."
Unknown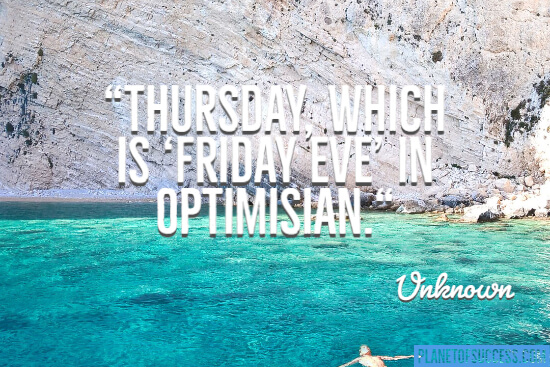 14.
"For most Americans, Friday afternoons are filled with positive anticipation of the weekend. In Washington, it's where government officials dump stories they want to bury."
John Sununu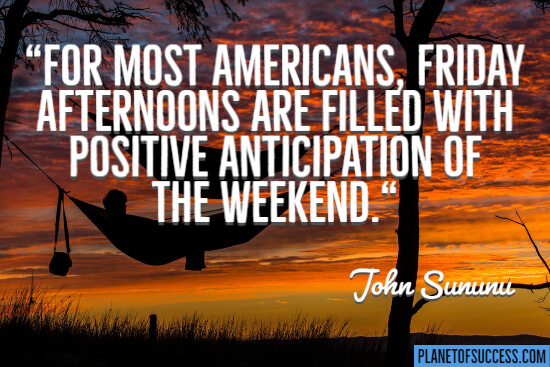 15.
"Youth is like a long weekend on Friday night. Middle age is like a long weekend on Monday afternoon."
Richard Nelson Bolles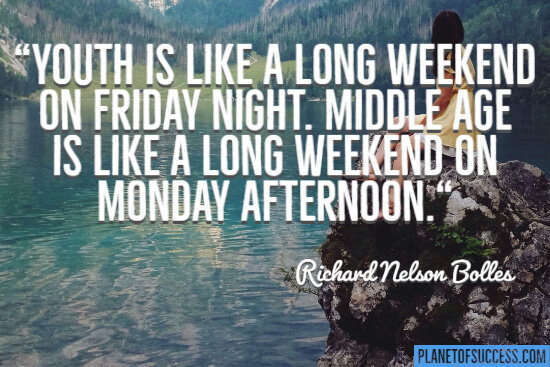 16.
"If my boss knew how unproductive I am on Fridays, he wouldn't want me here either."
James Johnson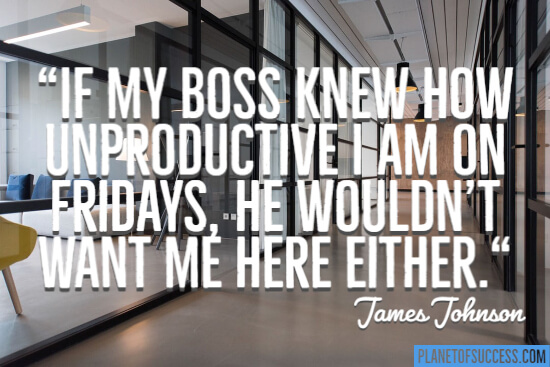 17.
"Make a Friday a day to celebrate work well done that you can be proud of knowing that you just didn't put in time to the next paycheck."
Byron Pulsifer
18.
"If you must have motivation, think of your paycheck on Friday."
Noel Coward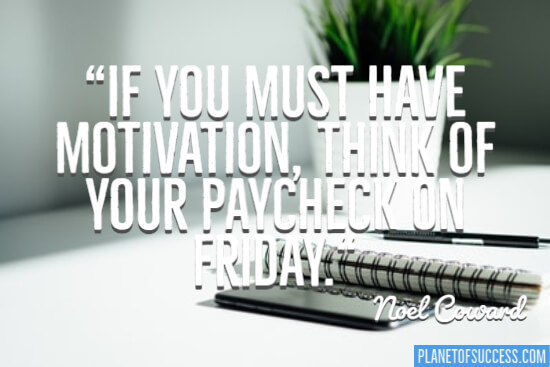 19.
"It's 4:58 on Friday afternoon. Do you know where your margarita is?"
Amy Neftzger
20.
"When you start to do the things that you truly love, it wouldn't matter whether it is Monday or Friday; you would be so excited to wake up each morning to work on your passions."
Edmond Mbiaka
21.
"Friday: The day after Thursday and before Saturday according to Rebecca Black. Also, the most annoying day of the week now."
Aaron Peckham
22.
"Oh! It's Friday again. Share the love that was missing during the week, In a worthy moment of peace and bliss."
S. O' Sade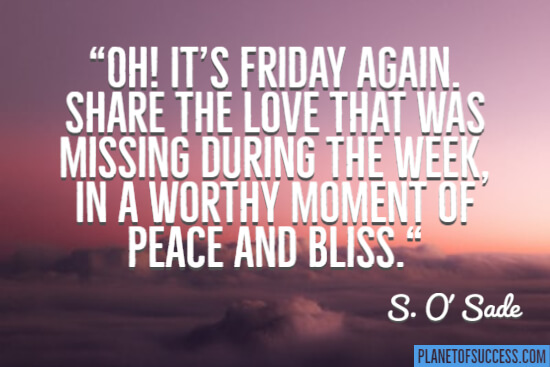 23.
"It's not that we spend five days looking forward to just two. It's that most people do what they enjoy most on those two days. Imagine living a life where every day is your Saturdays and Sundays. Make everyday your weekend. Make every day a play-day…"
James A. Murphy
24.
"Life must be terrible for working people, considering they spend every Friday night celebrating a two-day break from it."
Robert Black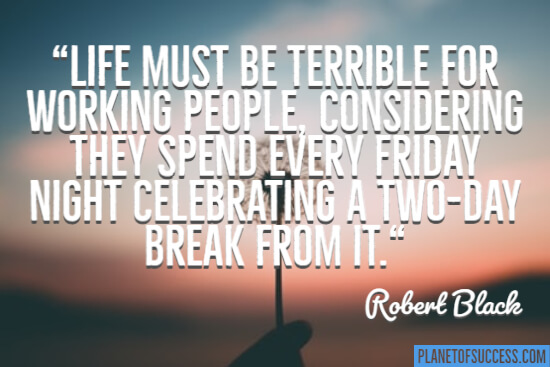 25.
"I don't care if Monday's blue, Tuesday's gray and Wednesday too. Thursday I don't care about you. It's Friday I'm in love with."
Unknown
26.
"cozy+smell of pancakes-alarm clock=weekend"
Amy Krouse Rosenthal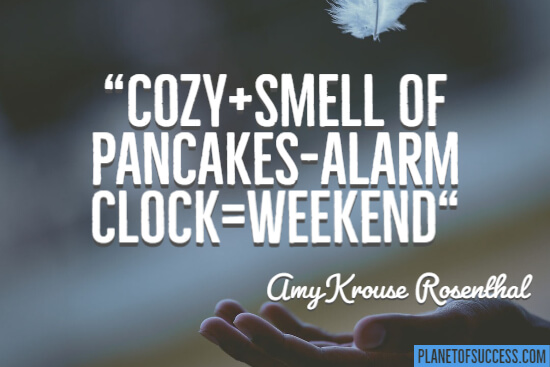 27.
"It's Friday morning mankind! Good vibe, don't frown and let the monster see you smile!"
Napz Cherub Pellazo
28.
"'Friday' is about hanging out with friends, having fun."
Rebecca Black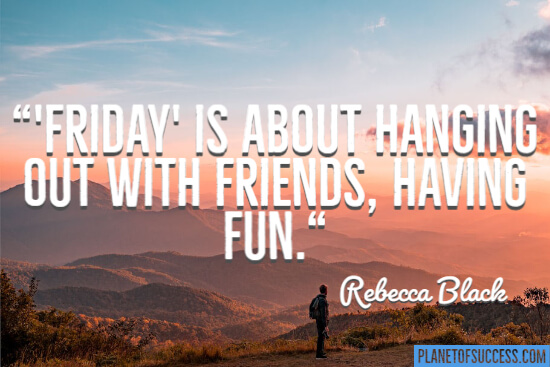 29.
"Weekends welcome warriors for social fun that starts on Friday."
David Chiles
30.
"I am always happy to meet my friend, and my friend is my weekend."
Debasish Mridha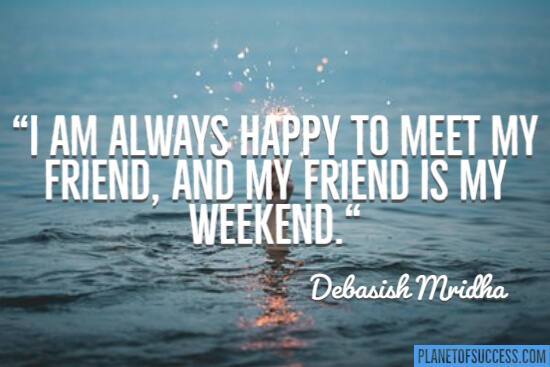 31.
"To be honest, when I'm home, every day is a Friday for me. It doesn't really matter what day it is for me. A lot of my friends actually have time off during the week, and so it doesn't prohibit me from enjoying myself when I am home on a Monday or a Tuesday."
Danica Patrick
32.
"I understand what's it like to work all week and on Friday night just want to go and leave your brain at the door, buy some popcorn and be thrilled by something."
Don Cheadle
33.
"Weekends are life's gift to those who hate their jobs."
Mokokoma Mokhonoana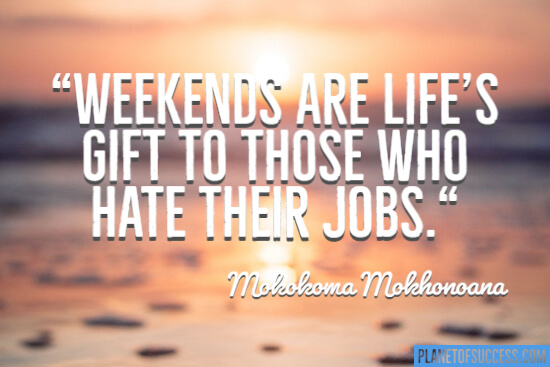 34.
"I know every day is a gift but where are the receipts for Mondays? I want to return it for another Friday."
Unknown
35.
"Always take some of the play, fun, freedom and wonder of the weekend into your week & your work"
Rasheed Ogunlaru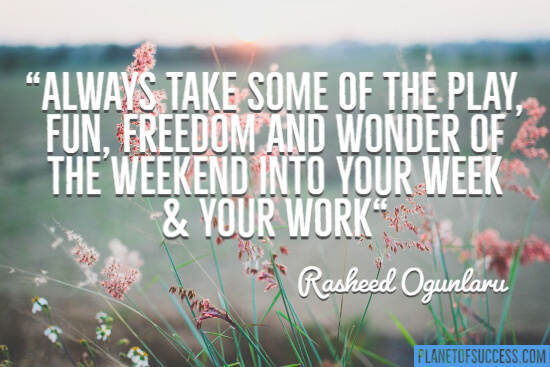 36.
"There are two tests in life, more important than any other test. On Monday morning, when you wake up, do you feel in the pit of your stomach you can't wait to go to work? And when you're ready to go home Friday afternoon, do you say, 'I can't wait to go home?'"
Chuck Schumer
37.
"No weekend, all weakened."
Toba Beta
38.
"The weekends are too short for sleep!"
Bryant A. Loney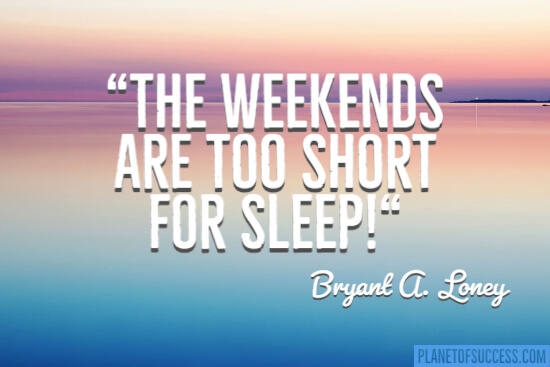 39.
"When you're single, your weekend days are wide-open vistas that extend in every direction; in a relationship, they're like the sky over Manhattan: punctured, hemmed in, compressed."
Adelle Waldman
40.
"Friday's a free day. A woman's day."
Neil Gaiman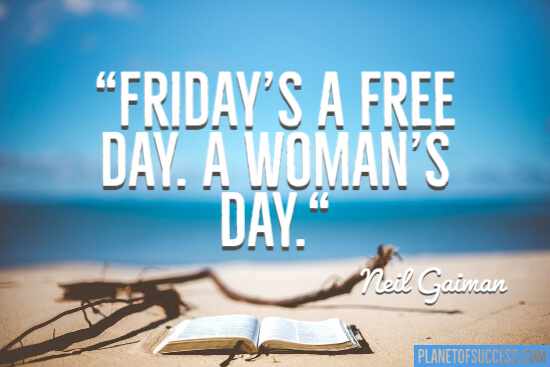 I hope you enjoyed reading this collection of funny Friday quotes.
Stay victorious