Are you struggling with the loss of a loved one? Coping with the death of someone you held dear is one of the most difficult challenges life can confront you with. To support you during this difficult time, we have created a collection of heartwarming grief quotes to help you in overcoming your sadness. (You may also like our list of condolences quotes).
As beautiful as life is, the sad and tragic truth is that all things have to come to an end. From the beautiful flower that is flourishing in your garden to the surrounding trees, all things pass eventually. When you lose a family member or a close friend, the grief and sadness you experience can be particularly difficult to bear.
"For life and death are one, even as the river and the sea are one."
Kahlil Gibran
Even though we all know that death is a natural part of life, when it actually happens to someone we love dearly, it can be exceptionally intense and confusing. Even long after your friend or relative has gone, nothing may seem to be the same in your life. Under these circumstances, moving on with your life can prove to be tremendously difficult.
If you are unable to cope with your loss, deep sadness or even depression may take root in your life. Some of these emotional wounds may be healed with time. But other wounds can be so severe that it takes social support and perhaps even professional counseling.
As challenging as grief can be, it is part of the important and healthy process that allows you to eventually overcome the pain. For this reason, grief is an important coping mechanism that will help you to come to terms with the loss of your loved one. To help you in taking one step after the other during this tough time, we have created the following collection of grief quotes.
103 Comforting Grief Quotes to Help You Cope with Your Loss
It often can be difficult to find the right words that describe the pain and grief you feel. Similarly, it's a great challenge to continue living your life after being confronted with a devastating loss. In situations like these, it is of great importance to be surrounded by loving and kind individuals that understand your suffering and help you to move forward.
To give you even more emotional support, the following collection of grief quotes contains uplifting and comforting thoughts to help you cope. Many of these quotes originate from individuals who themselves were confronted with a tragic loss. For this reason, their thoughts are all the more important and helpful for your own situation. Enjoy reading.
Here's our collection of uplifting grief quotes
1.
"The darker the night, the brighter the stars,
The deeper the grief, the closer is God!"
Fyodor Dostoevsky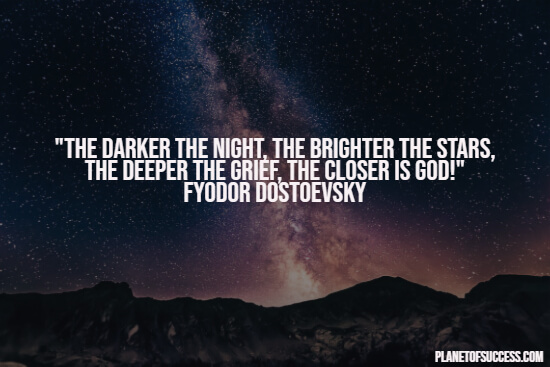 2.
"Only people who are capable of loving strongly can also suffer great sorrow, but this same necessity of loving serves to counteract their grief and heals them."
Leo Tolstoy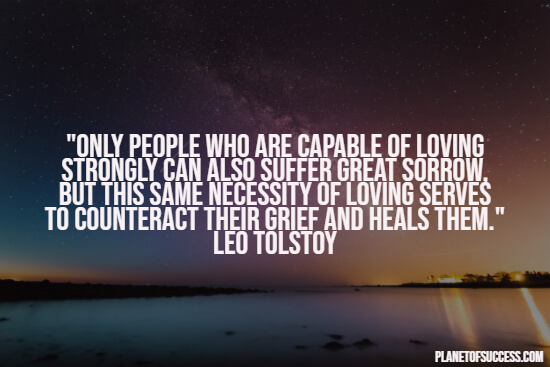 3.
"It's possible to go on, no matter how impossible it seems, and that in time, the grief… lessens. It may not go away completely, but after a while, it's not so overwhelming."
Nicholas Spark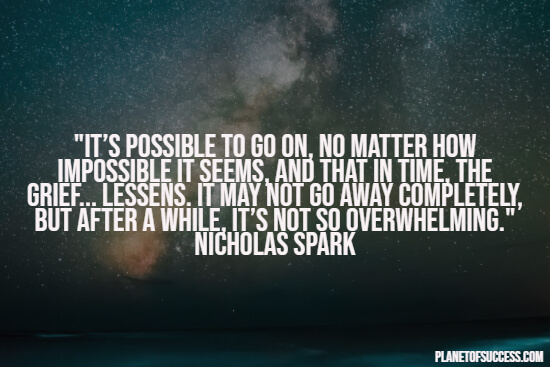 4.
"Don't grieve. Anything you lose comes round in another form."
Rumi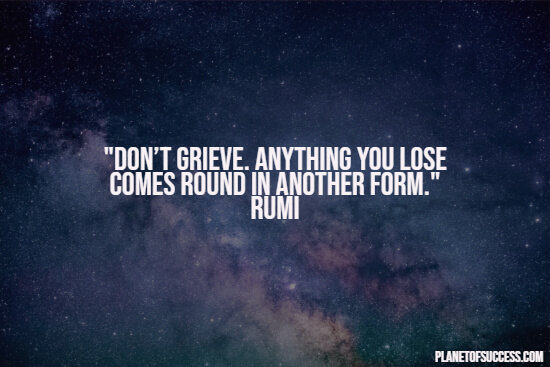 5.
"I believe that imagination is stronger than knowledge. That myth is more potent than history. That dreams are more powerful than facts. That hope always triumphs over experience. That laughter is the only cure for grief. And I believe that love is stronger than death."
Robert Fulghum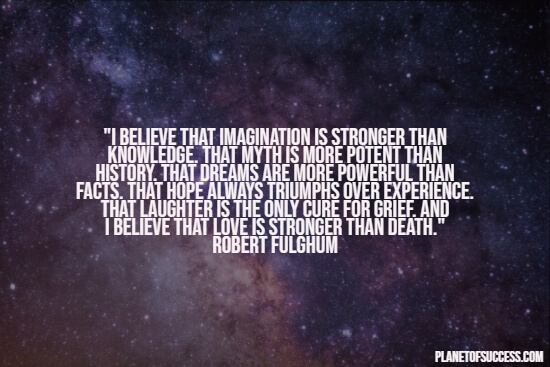 6.
"Tears shed for another person are not a sign of weakness. They are a sign of a pure heart."
José N. Harris
7.
"If you hold back on the emotions – if you don't allow yourself to go all the way through them – you can never get to being detached, you're too busy being afraid. You're afraid of the pain, you're afraid of the grief. You're afraid of the vulnerability that loving entails. But by throwing yourself into these emotions, by allowing yourself to dive in, all the way, over your heard even, you experience them fully and completely."
Mitch Albom
8.
"Grieving doesn't make you imperfect. It makes you human."
Sarah Dessen
9.
"Grief is love's souvenir. It's our proof that we once loved. Grief is the receipt we wave in the air that says to the world: Look! Love was once mine. I love well. Here is my proof that I paid the price."
Glennon Doyle Melton
10.
"Mostly it is loss which teaches us about the worth of things."
Arthur Schopenhauer
Do you need more soothing grief quotes? Keep on reading…
11.
"Sorrow comes in great waves… but rolls over us, and though it may almost smother us, it leaves us. And we know that if it is strong, we are stronger, inasmuch as it passes and we remain."
Henry James
12.
"We think that the point is to pass the test or overcome the problem, but the truth is that things don't really get solved. They come together and they fall apart. Then they come together again and fall apart again. It's just like that. The healing comes from letting there be room for all of this to happen: room for grief, for relief, for misery, for joy."
Pema Chödrön
13.
"We all want to do something to mitigate the pain of loss or to turn grief into something positive, to find a silver lining in the clouds. But I believe there is real value in just standing there, being still, being sad."
John Green
14.
"What I need is the dandelion in the spring. The bright yellow that means rebirth instead of destruction. The promise that life can go on, no matter how bad our losses. That it can be good again."
Suzanne Collin
15.
"It takes strength to face our sadness and to grieve and to let our grief and our anger flow in tears when they need to. It takes strength to talk about our feelings and to reach out for help and comfort when we need it."
Fred Rogers
16.
"Life seems sometimes like nothing more than a series of losses, from beginning to end. That's the given. How you respond to those losses, what you make of what's left, that's the part you have to make up as you go."
Katharine Weber
17.
"Where you used to be, there is a hole in the world, which I find myself constantly walking around in the daytime, and falling in at night. I miss you like hell."
Edna St. Vincent Millay
18.
"He who has felt the deepest grief is best able to experience supreme happiness. We must have felt what it is to die, Morrel, that we may appreciate the enjoyments of life."
Alexandre Dumas
19.
"Heaven knows we need never be ashamed of our tears, for they are rain upon the blinding dust of earth, overlying our hard hearts. I was better after I had cried, than before – more sorry, more aware of my own ingratitude, more gentle."
Charles Dickens
20.
"Grief is like the ocean; it comes on waves ebbing and flowing. Sometimes the water is calm, and sometimes it is overwhelming. All we can do is learn to swim."
Vicki Harrison
21.
"When someone close to you dies, the memories and recollections of them are painful. It isn't until the fifth stage of grief that the memories of them stop hurting as much; when the recollections become positive. When you stop thinking about the person's death, and remember all of the wonderful things about their life."
Colleen Hoover
22.
"You can not die of grief, though it feels as if you can. A heart does not actually break, though sometimes your chest aches as if it is breaking. Grief dims with time. It is the way of things. There comes a day when you smile again."
Laurell K. Hamilton
23.
"Behind every trial and sorrow that He makes us shoulder, God has a reason."
Khaled Hosseini
24.
"You will lose someone you can't live without, and your heart will be badly broken, and the bad news is that you never completely get over the loss of your beloved. But this is also the good news. They live forever in your broken heart that doesn't seal back up. And you come through. It's like having a broken leg that never heals perfectly—that still hurts when the weather gets cold, but you learn to dance with the limp."
Anne Lamott
25.
"My sister will die over and over again for the rest of my life. Grief is forever. It doesn't go away; it becomes a part of you, step for step, breath for breath. I will never stop grieving Bailey because I will never stop loving her. That's just how it is. Grief and love are conjoined, you don't get one without the other. All I can do is love her, and love the world, emulate her by living with daring and spirit and joy."
Jandy Nelson
These grief quotes provide comfort and help
26.
"There is a sacredness in tears… They are the messengers of overwhelming grief, of deep contrition and of unspeakable love."
Washington Irving
27.
"Each of us will have our own Fridays – those days when the universe itself seems shattered and the shards of our world lie littered about us in pieces. We all will experience those broken times when it seems we can never be put together again. We will all have our Fridays. But I testify to you in the name of the One who conquered death – Sunday will come. In the darkness of our sorrow, Sunday will come. No matter our desperation, no matter our grief, Sunday will come. In this life or the next, Sunday will come."
Joseph B. Wirthlin
28.
"So it's true, when all is said and done, grief is the price we pay for love."
E.A. Bucchianeri
29.
"Grief can destroy you – or focus you. You can decide a relationship was all for nothing if it had to end in death, and you alone. OR you can realize that every moment of it had more meaning than you dared to recognize at the time, so much meaning it scared you, so you just lived, just took for granted the love and laughter of each day, and didn't allow yourself to consider the sacredness of it."
Dean Koontz
30.
"When it's over and you're alone, you begin to see that it wasn't just a movie and a dinner together, not just watching sunsets together, not just scrubbing a floor or washing dishes together or worrying over a high electric bill. It was everything, it was the why of life, every event and precious moment of it. The answer to the mystery of existence is the love you shared sometimes so imperfectly, and when the loss wakes you to the deeper beauty of it, to the sanctity of it, you can't get off your knees for a long time, you're driven to your knees not by the weight of the loss but by gratitude for what preceded the loss. And the ache is always there, but one day not the emptiness, because to nurture the emptiness, to take solace in it, is to disrespect the gift of life."
Dean Koontz
31.
"Grief is replaced with a useful sadness. Every parent who loses a child finds a way to laugh again. The timbre begins to fade. The edge dulls. The hurt lessens. Every love is carved from loss. Mine was. Yours is. Your great-great-great-grandchildren's will be. But we learn to live in that love."
Jonathan Safran Foer
32.
"We are all sorry when loss comes for us. The test of our character comes not in how many tears we shed but in how we act after those tears have dried."
Michelle Moran
33.
"A lot of things are inherent in life – change, birth, death, aging, illness, accidents, calamities, and losses of all kinds- but these events don't have to be the cause of ongoing suffering. Yes, these events cause grief and sadness, but grief and sadness pass, like everything else, and are replaced with other experiences. The ego, however, clings to negative thoughts and feelings and, as a result, magnifies, intensifies, and sustains those emotions while the ego overlooks the subtle feelings of joy, gratitude, excitement, adventure, love, and peace that come from Essence. If we dwelt on these positive states as much as we generally dwell on our negative thoughts and painful emotions, our lives would be transformed."
Gina Lake
34.
"You do come out of it [grief], that's true. After a year, after five. But you don't come out of it like a train coming out of a tunnel, bursting through the downs into sunshine and that swift, rattling descent to the Channel; you come out of it as a gull comes out of an oil-slick. You are tarred and feathered for life."
Julian Barnes
35.
"Moving on, as a concept, is for stupid people, because any sensible person knows grief is a long-term project. I refuse to rush. The pain that is thrust upon us let no man slow or speed or fix."
Max Porter,
36.
"She heard him mutter, 'Can you take away this grief?'
'I'm sorry,' she replied. 'Everyone asks me. And I would not do so even if I knew how. It belongs to you. Only time and tears take away grief; that is what they are for."
Terry Pratchett
37.
"His grief he will not forget; but it will not darken his heart, it will teach him wisdom."
J.R.R. Tolkien
38.
"In times of grief and sorrow I will hold you and rock you and take your grief and make it my own. When you cry I cry and when you hurt I hurt. And together we will try to hold back the floods to tears and despair and make it through the potholed street of life"
Nicholas Sparks
39.
"'You'll get over it…' It's the clichés that cause the trouble. To lose someone you love is to alter your life forever. You don't get over it because 'it" is the person you loved. The pain stops, there are new people, but the gap never closes. How could it? The particularness of someone who mattered enough to grieve over is not made anodyne by death. This hole in my heart is in the shape of you and no-one else can fit it. Why would I want them to?"
Jeanette Winterson
40.
"When someone you love dies, and you're not expecting it, you don't lose her all at once; you lose her in pieces over a long time—the way the mail stops coming, and her scent fades from the pillows and even from the clothes in her closet and drawers. Gradually, you accumulate the parts of her that are gone. Just when the day comes—when there's a particular missing part that overwhelms you with the feeling that she's gone, forever—there comes another day, and another specifically missing part."
John Irving
41.
"The only way to end grief was to go through it."
Holly Black
42.
"Stop punishing yourself for being someone with a heart. You cannot protect yourself from suffering. To live is to grieve. You are not protecting yourself by shutting yourself off from the world. You are limiting yourself."
Leigh Bardugo
43.
"It's so much darker when a light goes out than it would have been if it had never shone."
John Steinbeck
44.
"Anyone who has lost something they thought was theirs forever finally comes to realize that nothing really belongs to them."
Paulo Coelho
45.
"Now I know that grief is a whetstone that sharpens all your love, all your happiest memories."
Claudia Gray
46.
"Grief reunites you with what you've lost. It's a merging; you go with the loved thing or person that's going away. You follow it a far as you can go. But finally, the grief goes away and you phase back into the world."
Philip K. Dick
47.
"I guess by now I should know enough about loss to realize that you never really stop missing someone-you just learn to live around the huge gaping hole of their absence."
Alyson Noel
48.
"Everyone keeps telling me that time heals all wounds, but no one can tell me what I'm supposed to do right now. Right now I can't sleep. It's right now that I can't eat. Right now I still hear his voice and sense his presence even though I know he's not here. Right now all I seem to do is cry. I know all about time and wounds healing, but even if I had all the time in the world, I still don't know what to do with all this hurt right now."
Nina Guilbeau
49.
"No pain that we suffer, no trial that we experience is wasted. It ministers to our education, to the development of such qualities as patience, faith, fortitude, and humility. All that we suffer and all that we endure, especially when we endure it patiently, builds up our characters, purifies our hearts, expands our souls, and makes us more tender and charitable, more worthy to be called the children of God . . . and it is through sorrow and suffering, toil and tribulation, that we gain the education that we come here to acquire and which will make us more like our Father and Mother in heaven."
Orson F. Whitney
50.
"To weep is to make less the depth of grief."
William Shakespeare
Uplifting grief quotes like this help you to slowly overcome the pain
51.
"The pleasure of remembering had been taken from me, because there was no longer anyone to remember with. It felt like losing your co-rememberer meant losing the memory itself, as if the things we'd done were less real and important than they had been hours before."
John Green
52.
"It's the great mystery of human life that old grief passes gradually into quiet tender joy."
Fyodor Dostoevsky
53.
"If all else perished, and he remained, I should still continue to be; and if all else remained, and he were annihilated, the universe would turn to a mighty stranger."
Emily Jane Brontë
54.
"At the temple, there is a poem called "Loss" carved into the stone. It has three words, but the poet has scratched them out. You cannot read loss, only feel it."
Arthur Golden
55.
"Have you ever lost someone you love and wanted one more conversation, one more chance to make up for the time when you thought they would be here forever? If so, then you know you can go your whole life collecting days, and none will outweigh the one you wish you had back."
Mitch Albom
56.
"Grief and love are conjoined, you don't get one without the other."
Jandy Nelso
57.
"The highest tribute to the dead is not grief but gratitude."
Thornton Wilder
58.
"Give sorrow words; the grief that does not speak knits up the o-er wrought heart and bids it break."
William Shakespeare
59.
"The terrible pain of loss teaches humility to our prideful kind, has the power to soften uncaring hearts, to make a better person of a good one."
Dean Koontz
60.
"When you are sorrowful look again in your heart, and you shall see that in truth you are weeping for that which has been your delight."
Kahlil Gibran
61.
"You don't know who is important to you until you actually lose them."
Mahatma Gandhi
62.
"In time, in time they tell me, I'll not feel so bad. I don't want time to heal me. There's a reason I'm like this. I want time to set me ugly and knotted with loss of you, marking me. I won't smooth you away. I can't say goodbye."
China Miéville
63.
"The friend who can be silent with us in a moment of despair or confusion, who can stay with us in an hour of grief and bereavement, who can tolerate not knowing, not curing, not healing and face with us the reality of our powerlessness, that is a friend who cares."
Henri Nouwen
64.
"There should be a statute of limitation on grief. A rulebook that says it is all right to wake up crying, but only for a month. That after 42 days you will no longer turn with your heart racing."
Jodi Picoult
65.
"Do not apologize for crying. Without this emotion, we are only robots."
Elizabeth Gilbert
66.
"Joy multiplies when it is shared among friends, but grief diminishes with every division. That is life."
R.A. Salvatore
67.
"You cannot have adventures without grief."
Catherynne M. Valente
68.
"It was like Percy had faced death before, like he knew about grief. What mattered was listening. You didn't need to say you were sorry. The only thing that helped was moving on—moving forward."
Rick Riordan
69.
"As long as I kept moving, my grief streamed out behind me like a swimmer's long hair in water. I knew the weight was there but it didn't touch me. Only when I stopped did the slick, dark stuff of it come floating around my face, catching my arms and throat till I began to drown. So I just didn't stop."
Barbara Kingsolver
70.
"All she knew was that whatever and whoever climbed out of that abyss of despair and grief would not be the same person who had plummeted in."
Sarah J. Maas
Here are even more grief quotes for you
71.
"In the days that follow, it's movement, not stillness, that helps to keep the grief at bay."
Veronica Roth
72.
"Grief is a most peculiar thing; we're so helpless in the face of it. It's like a window that will simply open of its own accord. The room grows cold, and we can do nothing but shiver. But it opens a little less each time, and a little less; and one day we wonder what has become of it."
Arthur Golden
73.
"Part of every misery is, so to speak, the misery's shadow or reflection: the fact that you don't merely suffer but have to keep on thinking about the fact that you suffer. I not only live each endless day in grief, but live each day thinking about living each day in grief."
C.S. Lewis
74.
"Friendship improves happiness, and abates misery, by doubling our joys, and dividing our grief"
Marcus Tullius Cicero
75.
"The world is indeed full of peril, and in it there are many dark places; but still, there is much that is fair, and though in all lands love is now mingled with grief, it grows perhaps the greater."
J.R.R. Tolkien
76.
"Whoever said that loss gets easier with time was a liar. Here's what really happens: The spaces between the times you miss them grow longer. Then, when you do remember to miss them again, it's still with a stabbing pain to the heart. And you have guilt. Guilt because it's been too long since you missed them last."
Kristin O'Donnell Tubb
77.
"Those who do not weep, do not see."
Victor Hugo
78.
"So that's how we live our lives. No matter how deep and fatal the loss, no matter how important the thing that's stolen from us – that's snatched right out of our hands – even if we are left completely changed, with only the outer layer of skin from before, we continue to play out our lives this way, in silence. We draw ever nearer to the end of our allotted span of time, bidding it farewell as it trails off behind. Repeating, often adroitly, the endless deeds of the everyday. Leaving behind a feeling of immeasurable emptiness."
Haruki Murakami
79.
"You can't have real pain without real love. You can't feel grief and loss and hurt without real love. Love is the only way you can ever be really hurt deep down."
Katherine Alice Applegate
80.
"Waste not fresh tears over old griefs."
Euripides
81.
"You never know what you have till you've lost it."
Alyson Noel
82.
"Perhaps it is the greater grief, after all, to be left on earth when another is gone."
Madeline Miller
83.
"It's painful that we miss people like that. You think you've accepted that someone is out of your life, that you've grieved and it's over, and then bam. One little thing, and you feel like you've lost that person all over again."
Rachel Hawkins
84.
"Given the choice between the experience of pain and nothing, I would choose pain."
William Faulkne
85.
"The weird, weird thing about devastating loss is that life actually goes on. When you're faced with a tragedy, a loss so huge that you have no idea how you can live through it, somehow, the world keeps turning, the seconds keep ticking."
James Patterson
86.
"But grief makes a monster out of us sometimes… and sometimes you say and do things to the people you love that you can't forgive yourself for."
Melina Marchetta
87.
"My grief is tremendous but my love is bigger."
Cheryl Strayed
88.
"Grief teaches the steadiest minds to waver."
Sophocles
89.
"Some of you say, "Joy is greater than sorrow," and others say, "Nay, sorrow is the greater." But I say unto you, they are inseparable. Together they come, and when one sits alone with you at your board, remember that the other is asleep upon your bed."
Kahlil Gibran
90.
"Happiness is beneficial for the body, but it is grief that develops the powers of the mind."
Marcel Proust
91.
"All your grief hasn't changed a thing. What you have lost will not be returned to you. It will always be lost. You're only left with your scars to mark the void. All you can choose to do is go on or not."
Charles Frazier
92.
"Wretchedness – life's painful aspect – softens us up considerably. Knowing pain is a very important ingredient of being there for another person. When you are feeling a lot of grief, you can look right into somebody's eyes because you feel you haven't got anything to lose–you're just there. The wretchedness humbles us and softens us, but if we were only wretched, we would all just go down the tubes. We'd be so depressed, discouraged, and hopeless that we wouldn't have enough energy to eat an apple. Gloriousness and wretchedness need each other. One inspires us, the other softens us. They go together."
Pema Chödrön
93.
"When her pain is fresh and new, let her have it. Don't try to take it away. Forgive yourself for not having that power. Grief and pain are like joy and peace; they are not things we should try to snatch from each other. They're sacred. they are part of each person's journey. All we can do is offer relief from this fear: I am all alone. That's the one fear you can alleviate."
Glennon Melton
94.
"No matter what anybody says about grief and about time healing all wounds, the truth is, there are certain sorrows that never fade away until the heart stops beating and the last breath is taken."
Tiffanie DeBartolo
95.
"When someone you love says goodbye you can stare long and hard at the door they closed and forget to see all the doors God has open in front of you."
Shannon Alder
96.
"If you have a sister and she dies, do you stop saying you have one? Or are you always a sister, even when the other half of the equation is gone?"
Jodi Picoult
97.
"It all goes away. Eventually, everything goes away."
Elizabeth Gilbert
98.
"No truth can cure the sorrow we feel from losing a loved one. No truth, no sincerity, no strength, no kindness can cure that sorrow. All we can do is see it through to the end and learn something from it, but what we learn will be no help in facing the next sorrow that comes to us without warning."
Haruki Murakami
99.
"There is no feeling, except the extremes of fear and grief, that does not find relief in music."
T.S. Eliot
100.
"The heaviness of loss in her heart hadn't eased, but there was room there for humor, too."
Nalo Hopkinson
101.
"It's only after we've lost everything that we're free to do anything."
Chuck Palahniuk
102.
"Grief can be a burden, but also an anchor. You get used to the weight, how it holds you in place."
Sarah Dessen
103.
"Grief does not change you. It reveals you."
John Green
I hope you enjoyed this collection of grief quotes. How do you express your condolences?
Stay victorious!