Gratitude is one of the most important keys to happiness. The following list of inspirational grateful quotes will help you to unlock the power of gratitude. P.S.: You may also like these quotes about being thankful. Enjoy reading!
Life is a miraculous wonder and a true gift. It is something so special and precious that one cannot avoid being in awe about it. Just think about it. It's almost impossible to look at the vastness of the stars and not be blown away by the beauty. Similarly, the most minuscule details of nature can make you speechless when pondering about them. For example, isn't it spectacular how a tiny seed can develop into a massive tree throughout many decades?
"Seeing a miracle will inspire you, but knowing you are a miracle will change you."
Deborah Brodie
When life gets tough, it's great to have something that reminds you of the beauty that is still left. In fact, it can be life-changing to be able to see the light during times when all hope seems gone. But not only during times of adversity is it important to realize how precious your life already is. Quite the contrary, appreciating what you have is of the greatest importance throughout every stage of life.
Something that is remarkably interesting about gratitude is that it can profoundly change how you view your life. While others pursue happiness without ever attaining it, being grateful can show you how great your life already is.
115 Grateful Quotes about Appreciating Life
The following quotes originate from individuals who mastered the art of being grateful. These extraordinary people found ways to continuously remind themselves of the gift they were given. As such, this list of grateful quotes will provide great inspiration to find many things in your life you can be thankful for. And by doing so, you will start to become aware of all the wonderful and joyful aspects of your life.
Here's our selection of grateful quotes
1.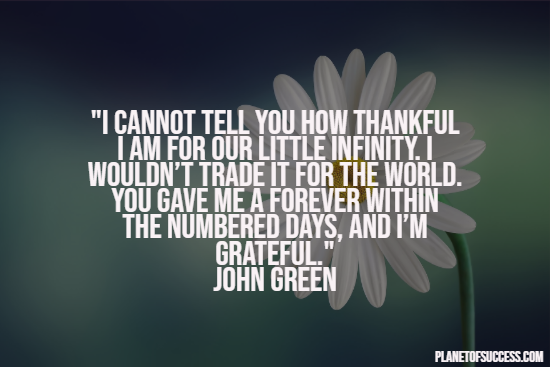 "I cannot tell you how thankful I am for our little infinity. I wouldn't trade it for the world. You gave me a forever within the numbered days, and I'm grateful."
John Green
2.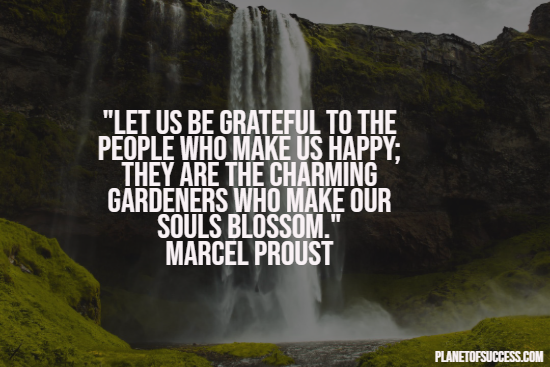 "Let us be grateful to the people who make us happy; they are the charming gardeners who make our souls blossom."
Marcel Proust
3.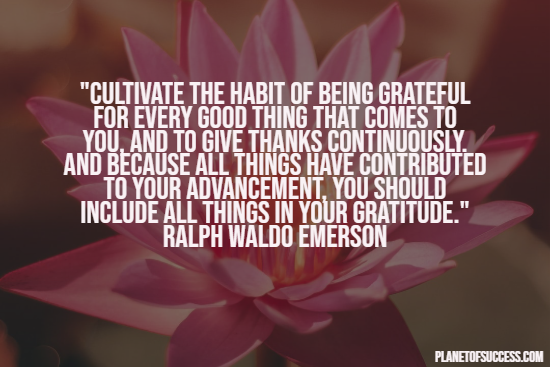 "Cultivate the habit of being grateful for every good thing that comes to you, and to give thanks continuously. And because all things have contributed to your advancement, you should include all things in your gratitude."
Ralph Waldo Emerson
4.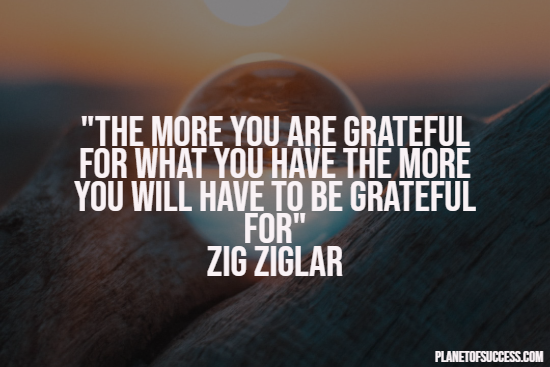 "The more you are grateful for what you have the more you will have to be grateful for"
Zig Ziglar
5.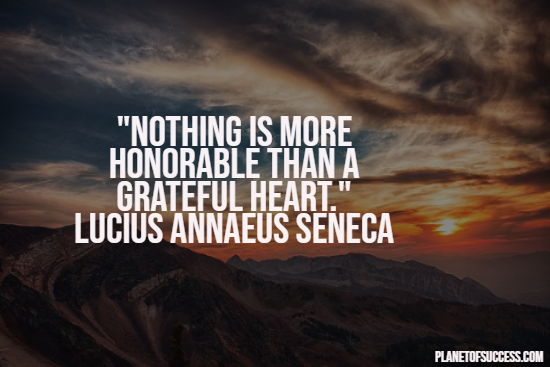 "Nothing is more honorable than a grateful heart."
Lucius Annaeus Seneca
6.
"As the year's pass, I am coming more and more to understand that it is the common, everyday blessings of our common everyday lives for which we should be particularly grateful."
Laura Ingalls Wilder
7.
"For an impoverished child whose family could not afford to buy books, the library was the open door to wonder and achievement, and I can never be sufficiently grateful that I had the wit to charge through that door and make the most of it."
Isaac Asimov
8.
"I am grateful to God for this gift, this possibility of developing myself and of writing, of expressing all that is in me. I can shake off everything if I write; my sorrows disappear; my courage is reborn. But, and that is the great question, will I ever be able to write anything great, will I ever become a journalist or a writer?"
Anne Frank
9.
"It is a miracle if you can find true friends, and it is a miracle if you have enough food to eat, and it is a miracle if you get to spend your days and evenings doing whatever it is you like to do, and the holiday season – like all the other seasons – is a good time not only to tell stories of miracles, but to think about the miracles in your own life, and to be grateful for them, and that's the end of this particular story."
Lemony Snicket
10.
"There is always something to be grateful for."
Rhonda Byrne
11.
"If you have food on your table, clothes on your back, a roof on your head, and a dream in your heart, you have everything you need in life."
Matshona Dhliwayo
12.
"The secret to happiness… be satisfied and be grateful."
Mitch Albom
13.
"I am grateful for all those dark years, even though in retrospect they seem like a long, bitter prayer that was answered finally."
Marilynne Robinson
14.
"Sometimes we make being happy so difficult. And being thankful such a chore."
Carew Papritz
15.
"I think the secret to a happy life is a selective memory. Remember what you are most grateful for and quickly forget what you're not."
Richard Paul Evans
16.
"You will encounter obstacles. You will make mistakes. Be grateful for both. Your obstacles and mistakes will be your greatest teachers. And the only way to not make mistakes in this life is to do nothing, which is the biggest mistake of all. "
Richard Paul Evans
17.
"Every problem is a gift – without problems we would not grow."
Anthony Robbins
18.
"I am so grateful for my troubles. As I reflect back on my life, I have come to realize that my greatest triumphs have been born of my greatest troubles."
Steve Maraboli
19.
"Be grateful for whoever comes, because each has been sent as a guide from beyond."
Rumi
20.
"On the day the tree bloomed in the fall, when its white apple blossoms fell and covered the ground like snow, it was tradition for the Waverleys to gather in the garden like survivors of some great catastrophe, hugging one another, laughing as they touched faces and arms, making sure they were all okay, grateful to have gotten through it."
Sarah Addison Allen
21.
"Let us turn our faces to the light. Let us endure hardship to be grateful for plenty. We have been given pain to be astounded by joy. We have been given life to deny death."
Stephen King
22.
"Dear world, I am excited to be alive in you, and I am thankful for another year."
Charlotte Eriksson
23.
"Don't feel sorry for me. I'm glad I had a second chance in life like you said to be smart because I learned a lot of things that I never knew were in this world, and I'm grateful I saw it even for a little bit."
Daniel Keyes
24.
"Be like a lotus. Let the beauty of your heart speak. Be grateful to the mud, water, air, and the light."
Amit Ray
25.
"Look closely and you will find that people are happy because they are grateful. The opposite of gratefulness is just taking everything for granted. "
David Steindl-Rast
26.
"Rejoice always, pray continually, give thanks in all circumstances; for this is God's will for you in Christ Jesus."
1 Thessalonians 5:16-18
27.
"A sincere attitude of gratitude is a beatitude for secured altitudes. Appreciate what you have been given and you will be promoted higher."
Israelmore Ayivor
28.
"An ancient cornerstone of prayer is that our desire to thank God is itself God's gift. Be grateful."
Richard Leonard
29.
"May your sky always be clear, may your dear smile always be bright and happy, and may you be forever blessed for that moment of bliss and happiness which you gave to another lonely and grateful heart. Isn't such a moment sufficient for the whole of one's life?"
Fyodor Dostoyevsky
30.
"Whenever you feel like criticizing anyone… just remember that all the people in this world haven't had the advantages that you've had."
F. Scott Fitzgerald
31.
"True spirituality makes you loving and grateful, and forgiving, and patient, and gentle, and long-suffering. True spirituality breathes reverence into every act and deed."
Marjorie Pay Hinckley
32.
"I watched the spinning stars, grateful, sad and proud, as only a man who has outlived his destiny and realizes he might yet forge himself another, can be."
Roger Zelazny
33.
"There's so much to be grateful for, words are poor things."
Marilynne Robinson
34.
"You are a gift from the heavens, the wonders above, the miracle of light that is lived in love. Thank you. I love you."
Wald Wassermann
35.
"I feel so grateful to discover that each new day brings me the opportunity to watch the sunrise and fall in love with you again."
Steve Maraboli
36.
"Be grateful for what you have now. As you begin to think about all the things in your life you are grateful for, you will be amazed at the never-ending thoughts that come back to you of more things to be grateful for."
Rhonda Byrne
37.
"What you are is God's gift to you, what you become is your gift to God."
Hans Urs von Balthasar
38.
"When things are bad, be thankful… they are not as bad as they could be."
Dixie Waters
39.
"You should be grateful for the gifts that are the rarest."
Maggie Stiefvater
40.
"Far better it seems to me, in our vulnerability, is to look death in the eye and to be grateful every day for the brief but magnificent opportunity that life provides."
Carl Sagan
41.
"Be grateful for the green that makes up the beautiful canvas, for nature has given you everything that you need to be happy."
Forrest Curran
42.
"Be thankful for everything that happens in your life; it's all an experience."
Roy T. Bennett
43.
"Even if you don't have all the things you want, be grateful for the things you don't have that you don't want."
Bob Dylan
44.
"It's a funny thing about life, once you begin to take note of the things you are grateful for, you begin to lose sight of the things that you lack."
Germany Kent
45.
"I am forever grateful for you. I will spend an eternity loving you, caring for you, respecting you, showing you every day that I hold you as high as the stars."
Steve Maraboli
46.
"Don't wait for other people to be loving, giving, compassionate, grateful, forgiving, generous, or friendly… lead the way!"
Steve Maraboli
47.
"If I could be alone, I would. Gratefully. I'd rather be alone than have to pretend I'm okay."
Katja Millay
48.
"If I am going to spend eternity visiting this moment and that, I'm grateful that so many of those moments are nice."
Kurt Vonnegut
49.
"I've started to look at life differently. When you're thanking God for every little you – every meal, every time you wake up, every time you take a sip of water – you can't help but be more thankful for life itself, for the unlikely and miraculous fact that you exist at all."
A.J. Jacobs
50.
"My father gave me the greatest gift anyone could give another person, he believed in me."
Jim Valvano
51.
"Among the things you can give and still keep are your word, a smile, and a grateful heart."
Zig Ziglar
52.
"You can spend your life wallowing in despair, wondering why you were the one who was led towards the road strewn with pain, or you can be grateful that you are strong enough to survive it."
J.D. Stroube
53.
"May you be forever blessed for that moment of bliss and happiness which you gave to another lonely and grateful heart. Isn't such a moment sufficient for the whole of one's life?"
Fyodor Dostoyevsky
54.
"When you get everything you wanted, I think maybe you do have to be a little grateful for the people who got you there… whether or not they thought they were doing you any favors at the time."
Jennifer Weiner
55.
"I am grateful for the blessings of wealth, but it hasn't changed who I am. My feet are still on the ground. I'm just wearing better shoes."
Oprah Winfrey
56.
"The unthankful heart discovers no mercies, but the thankful heart will find, in every hour, some heavenly blessings."
Henry Ward Beecher
57.
"Among the things you can give and still keep are your word, a smile, and a grateful heart."
Zig Ziglar
58.
"I am ceaselessly grateful from the bottom of my heart for everyone."
Dominic Owen Mallary
59.
"The root of joy is gratefulness… It is not joy that makes us grateful; it is gratitude that makes us joyful."
Brother David Steindl-Rast
60.
"If some lives form a perfect circle, others take shape in ways we cannot predict or always understand. Loss has been part of my journey. But it has also shown me what is precious. So has love for which I can only be grateful."
Nicholas Sparks
61.
"Suffering has been stronger than all other teaching, and has taught me to understand what your heart used to be. I have been bent and broken, but – I hope – into a better shape."
Charles Dickens
62.
"Be grateful, be smart, be clean, be true, be humble, be prayerful."
Gordon B. Hinckley
63.
"Commit yourself to constant improvement. Commit yourself to quality. Be persistent, persistent, persistent…and have a grateful heart!"
H. Jackson Brown Jr.
64.
"Have joy in your home. Have joy in your children. Have joy in your husband. Be grateful for the journey."
Marjorie Pay Hinckley
65.
"Sometimes the little things in life mean the most."
Ellen Hopkins
66.
"I'm grateful for being here, for being able to think, for being able to see, for being able to taste, for appreciating love – for knowing that it exists in a world so rife with vulgarity, with brutality and violence, and yet love exists. I'm grateful to know that it exists."
Maya Angelou
67.
"Don't ever feel bad that someone couldn't give you all of their heart. Be grateful that you can take the least complicated part of their soul with you, wherever you go. This is more than some people will ever have."
Shannon L. Alder
68.
"Be thankful for the infinitesimal thing that you have. Learn to value the blessings."
Giridhar Alwar
69.
"There are souls in this world who have the gift of finding joy everywhere, and leaving it behind them when they go."
Frederick William Faber
70.
"Have the wisdom to perceive all there is to be thankful for, and then be thankful for the wisdom to perceive things so clearly."
Richelle E. Goodrich
71.
"Uniqueness is wasted on youth. Like fine wine or a solid flossing habit, you'll be grateful for it when you're older."
Sloane Crosley
72.
"We have this one life to appreciate the grand design of the universe and for that, I am extremely grateful."
Stephen Hawking
73.
"The ideal purpose of your life is that you are grateful – great and full – that you are alive, and you enjoy it."
Yogi Bhajan
74.
"Grateful souls focus on the happiness and abundance present in their lives and this, in turn, attract more abundance and joy towards them."
Stephen Richards
75.
"A wonderful gift may not be wrapped as you expect."
Jonathan Lockwood Huie
76.
"Smile passionately, give thanks graciously, give generously, and love endlessly."
Debasish Mridha
77.
"Cherish each moment in your life and be grateful that you are here and you are Special"
Pablo
78.
"As subtle as it appears, being thankful is, in fact, an utterly invincible attitude that has enough muscle to handily uproot the most negative attitudes that we can conjure up. And I would think that we would be thankful that we can actually have that much power working against all our negativity."
Craig D. Lounsbrough
79.
"If you consistently say thanks, being grateful is easy."
Lisa Schroeder
80.
"We don't want to be characters in a story because characters have to move and breathe and face conflict with courage. And if life isn't remarkable, then we don't have to do any of that; we can be unwilling victims instead of grateful participants."
Donald Miller
81.
"I finally realized that being grateful to my body was key to giving more love to myself."
Oprah Winfrey
82.
"About being grateful for what you have instead of yearning for what you think you want."
Gayle Forman
83.
"If we were always conscious of the fact that people precious to us are frighteningly mortal, hanging not even by a thread, but by a wisp of gossamer, perhaps we would be kinder to them and more grateful for the love and friendship they give to us."
Dean Koontz
84.
"I'm blessed and I couldn't be more grateful. Do you want to know why? Because I'm a mother, but that's only half of it. I'm blessed because, when I need to, I can still just be a daughter. I get the feeling that there is nothing more precious than to have both of these roles, simultaneously."
Adrianna Stepiano
85.
"Develop a habit of being grateful and thankful for everything good in your life, and you'll find you are actually opening the door for more good to come into your life."
Idowu Koyenikan
86.
"Synchronize each breath with the present moment and become intertwined with happiness. Breathing in, we are grateful for the opportunities that are given to us; breathing out, we let go of the depression and anxiety that hold us back."
Forrest Curran
87.
"Every man who says frankly and fully what he thinks is so far doing a public service. We should be grateful to him for attacking most unsparingly our most cherished opinions."
John Stuart Mill
88.
"You will never be truly happy until you are grateful for what you already have."
Jayce O'Neal
89.
"Think of all we have to be grateful for, and thank God for all our boons and bounties."
Dale Carnegie
90.
"Be grateful for small mercies."
Alexandra Adornetto
91.
"My gratitude for good writing is unbounded; I'm grateful for it the way I'm grateful for the ocean."
Anne Lamont
92.
"I've been humbled. That makes you grateful for every day you have."
Drew Barrymore
93.
"If you have experienced an evening more exciting than any in your life, you're sad to see it end; and yet you still feel grateful that it happened."
Arthur Golden
94.
"All happy people are grateful. Ungrateful people cannot be happy. We tend to think that being unhappy leads people to complain, but it's truer to say that complaining leads to people becoming unhappy."
Dennis Prager
95.
"Learn everything you can, anytime you can, from anyone you can, there will always come a time when you will be grateful you did."
Sarah Caldwell
96.
"We remain ungrateful to God when we fail to know, acknowledge, and use effectively the true purpose and power He has endowed in us, but instead, cry over our weaknesses!"
Ernest Agyemang Yeboah
97.
"Be grateful for the opportunity to experience each day."
Joel Osteen
98.
"No one ever got radicalized by being grateful."
Gloria Steinem
99.
"Returning from work feeling inspired, safe, fulfilled and grateful is a natural human right to which we are all entitled and not a modern luxury that only a few lucky ones are able to find."
Simon Sinek
100.
"Always be thankful for the little things… even the smallest mountains can hide the most breathtaking views!"
Nyki Mack
101.
"There are people we treat wrong and later we're prepared to treat other people right. Perhaps this sounds mercenary, but I feel grateful for these trial relationships, and I would like to think it all evens out – surely, unknowingly, I have served as practice for other people."
Curtis Sittenfeld
102.
"The days of our lives, for all of us, are numbered…We know that. And yes, there are certainly times when we aren't able to muster as much strength and patience as we would like. It's called being human. But I have found that in the simple act of living with hope, and in the daily effort to have a positive impact in the world, the days I do have are made all the more meaningful and precious. And for that I am grateful."
Elizabeth Edwards
103.
"A grateful perspective brings happiness and abundance into a person's life."
Andy Andrews
104.
"Unless you're completely exploded, there's always something to be grateful for."
Saul Bellow
105.
"Gratitude is a mark of a noble soul and a refined character. We like to be around those who are grateful. They tend to brighten all around them. They make others feel better about themselves. They tend to be more humble, more joyful, more likable."
Joseph B. Wirthlin
106.
"Always be thankful for what you have, because you never know when it might be gone."
Micalea Smeltzer
107.
"It's a funny thing about life, once you begin to take note of the things you are grateful for, you begin to lose sight of the things that you lack."
Germany Kent
108.
"If we want to keep the blessings of life coming to us, we must learn to be grateful for whatever is given."
Harold Klemp
109.
"Talent is God given. Be humble. Fame is man-given. Be grateful. Conceit is self-given. Be careful."
John Wooden
110.
"It's good to suffer. Don't complain. Bear, bow, accept – and be grateful that God has made you suffer. For this makes you better than the people who are laughing and happy."
Ayn Rand
111.
"I am eternally grateful for my knack of finding in great books, some of them very funny books, reason enough to feel honored to be alive, no matter what else might be going on."
Kurt Vonnegut
112.
"Let us be grateful to the mirror for revealing to us our appearance only."
Maggie Stiefvater
113.
"If you never expect gratitude from a friend, you will be pleasantly surprised when they do prove grateful."
Robert Greene
114.
"Someone I loved once gave me a box full of darkness. It took me years to understand that this too, was a gift."
Mary Oliver
115.
"Far better it seems to me, in our vulnerability, is to look death in the eye and to be grateful every day for the brief but magnificent opportunity that life provides."
Carl Sagan
I hope you enjoyed this collection of grateful quotes. What is your favorite quote that helps you to appreciate all the beauty in your life?
Stay victorious!