Are you inspired by Mahatma Gandhi's major achievements and how he brought an empire to its knees with non-violent methods? The following list of wonderful Gandhi quotes will help you to learn more about the man who inspired millions around the world. P.S.: If you can't get enough of good quotes, these powerful life quotes may also be of interest to you.
Mahatma Gandhi was not only a social activist and the leader of the Indian movement against the British colonization but also a lawyer and politician. He's well known around the world for his unique approach of using non-violent strategies to liberate India from British rule.
"The future depends on what you do today."
Mahatma Gandhi
Gandhi spent more than two decades in South Africa – a time many consider to be his formidable years. In South Africa, he was confronted with racism and discrimination which resulted in numerous humiliations and even physical abuse.
A particularly humiliating experience led to his moment of truth after which he decided to no longer accept racial injustice but to defend himself. As a result, he educated fellow Indians who were living in South Africa as well on their rights and duties.
The 102 Greatest Gandhi Quotes of All Time
If you read through Gandhi's letters and books, you will notice that he had a lot of wisdom to share about life, love, and non-violence. His remarkable insights on life, in general, are exceptionally priceless. What is even more astonishing is that his ideas and thoughts are still applicable in our present day and age. The following Gandhi quotes will inspire you to stand up for others, to appreciate life, and to fully seize the moment.
Here's our selection of inspirational Mahatma Gandhi quotes
1.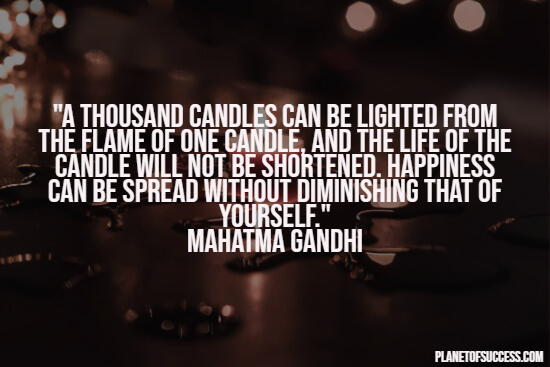 "A thousand candles can be lighted from the flame of one candle, and the life of the candle will not be shortened. Happiness can be spread without diminishing that of yourself."
Mahatma Gandhi
2.
"First they ignore you, then they laugh at you, then they fight you, then you win."
Mahatma Gandhi
3.
"You can chain me, you can torture me, you can even destroy this body, but you will never imprison my mind."
Mahatma Gandhi
4.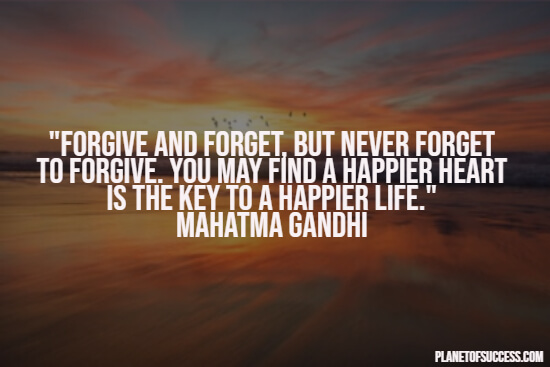 "Forgive and forget, but never forget to forgive. You may find a happier heart is the key to a happier life."
Mahatma Gandhi
5.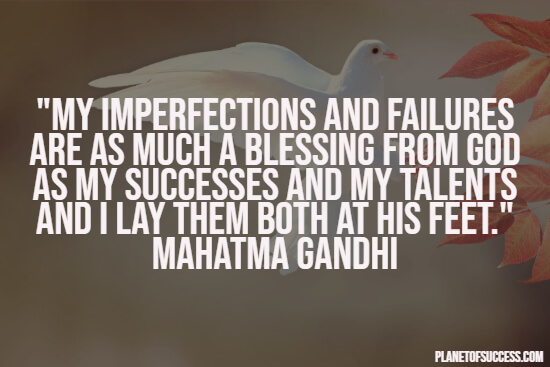 "My imperfections and failures are as much a blessing from God as my successes and my talents and I lay them both at his feet."
Mahatma Gandhi
6.
"The best way to find yourself is to lose yourself in the service of others."
Mahatma Gandhi
7.
"Non-violence is the greatest force at the disposal of mankind. It is mightier than the mightiest weapon of destruction devised by the ingenuity of man."
Mahatma Gandhi
8.
"Live as if you were to die tomorrow. Learn as if you were to live forever."
Mahatma Gandhi
9.
"If you don't ask, you don't get it"
Mahatma Ghandhi
10.
"Three-fourths of the miseries and misunderstandings in the world will disappear if we step into the shoes of our adversaries and understand their standpoint."
Mohandas K. Gandhi
11.
"'Hate the sin and not the sinner' is a precept which, though easy enough to understand, is rarely practiced, and that is why the poison of hatred spreads in the world."
Mohandas Gandhi
12.
"I have not conceived my mission to be that of a knight-errant wandering everywhere to deliver people from difficult situations. My humble occupation has been to show people how they can solve their own difficulties."
Mahatma Gandhi
13.
"Let our lives be open books for all to study."
Mahatma Gandhi
14.
"I do not believe in the doctrine of the greatest good of the greatest number. The only real, dignified, human doctrine is the greatest good of all."
Mahatma Gandhi
15.
"You must not lose faith in humanity. Humanity is like an ocean; if a few drops of the ocean are dirty, the ocean does not become dirty."
Mahatma Gandhi
16.
"A man is but the product of his thoughts. What he thinks, he becomes."
Mahatma Gandhi
17.
"True beauty after all consists in purity of heart."
Mohandas Gandhi
18.
"There are many causes I would die for. There is not a single cause I would kill for."
Mahatma Gandhi
19.
"Truth is like a vast tree which yields more and more fruit the more you nurture it. The deeper the search in the mind of truth, the richer the discovery of the gems buried there."
Mahatma Gandhi
20.
"Solitude is a catalyst for innovation"
Mahatma Gandhi
21.
"When I despair, I remember that all through history the way of truth and love have always won. There have been tyrants and murderers, and for a time, they can seem invincible, but in the end, they always fall."
Mahatma Gandhi
22.
"If we are to reach real peace in the world, we shall have to begin with the children."
Mahatma Gandhi
23.
"Be the change that you wish to see in the world."
Mahatma Gandhi
24.
"Happiness is when what you think, what you say, and what you do are in harmony."
Mahatma Gandhi
25.
"My aim is not to be consistent with my previous statements on a given question, but to be consistent with truth as it may present itself to me at a given moment. The result has been that I have grown from truth to truth."
Mahatma Gandhi
26.
"The weak can never forgive. Forgiveness is the attribute of the strong."
Mahatma Gandhi
27.
"no slick If I have the belief that I can do it, I shall surely acquire the capacity to do it even if I may not have it at the beginning."
Mahatma Gandhi
28.
"We are constantly being astonished these days at the amazing discoveries in the field of violence. But I maintain that far more undreamt of and seemingly impossible discoveries will be made in the field of nonviolence."
Mahatma Gandhi
29.
"An eye for an eye will only make the whole world blind."
Mahatma Gandhi
30.
"The good man is the friend of all living things."
Mahatma Gandhi
31.
"It is wrong and immoral to seek to escape the consequences of one's acts."
Mahatma Gandhi
32.
"Earth provides enough to satisfy every man's needs, but not every man's greed."
Mahatma Gandhi
33.
"Nothing is impossible for pure love."
Mahatma Gandhi
34.
"Where there is love there is life."
Mahatma Gandhi
35.
"And whilst he may not claim superiority by reason of learning, I myself must not withhold that meed of homage that learning, wherever it resides, always commands."
Mahatma Gandhi
36.
"I felt that violence was no remedy for India's ills, and that her civilization required the use of a different and higher weapon for self-protection."
Mahatma Gandhi
37.
"Freedom is not worth having if it does not include the freedom to make mistakes."
Mahatma Gandhi
38.
"Hatred ever kills, love never dies. Such is the vast difference between the two. What is obtained by love is retained for all time. What is obtained by hatred proves a burden in reality for it increases hatred."
Mohandas K. Gandhi
39.
"Each night, when I go to sleep, I die. And the next morning, when I wake up, I am reborn."
Mahatma Gandhi
40.
"To believe in something, and not to live it, is dishonest."
Mahatma Gandhi
41.
"The first principal of non-violent action is that of non-cooperation with everything humiliating."
Mahatma Gandhi
42.
"No matter how explicit the pledge, people will turn and twist the text to suit their own purpose"
Mahatma Gandhi
43.
"The day the power of love overrules the love of power, the world will know peace."
Mahatma Gandhi
44.
"A man of few words will rarely be thoughtless in his speech; he will measure every word."
Mahatma Gandh
45.
"I might be ready to embrace a snake, but, if one comes to bite you, I should kill it and protect you."
Mahatma Gandhi
46.
"For a bowl of water give a goodly meal; For a kindly greeting bow thou down with zeal; For a simple penny pay thou back with gold; If thy life be rescued, life do not withhold. Thus the words and actions of the wise regard; Every little service tenfold they reward. But the truly noble know all men as one, and return with gladness good for evil done."
Mahatma Gandhi
47.
"You don't know who is important to you until you actually lose them."
Mahatma Gandhi
48.
"I believe in trusting. Trust begets trust. Suspicion is foetid and only stinks. He who trusts has never yet lost in the world."
Mahatma Gandhi
49.
"Nonviolence is the first article of my faith. It is also the last article of my creed."
Mahatma Gandhi
50.
"Non-cooperation with evil is as much a duty as is cooperation with good."
Mohandas Gandhi
51.
"I believe that just as everyone inherits a particular form so does he inherit the particular characteristics and qualities of his progenitors, and to make this admission is to conserve one's energy."
Mahatma Gandhi
52.
"To safeguard democracy the people must have a keen sense of independence, self-respect and their oneness, and should insist upon choosing as their representatives only such persons as are good and true."
Mahatma Gandhi
53.
"I have but shadowed forth my intense longing to lose myself in the Eternal and become merely a lump of clay in the Potter's divine hands so that my service may become more certain because uninterrupted by the baser self in me."
Mahatma Gandhi
54.
"Honest disagreement is often a good sign of progress."
Mahatma Gandhi
55.
"I look upon an increase in the power of the State with the greatest fear because, although while apparently doing good by minimizing exploitation, it does the greatest harm to mankind by destroying individuality which lies at the heart of all progress."
Mahatma Gandhi
56.
"I want freedom for the full expression of my personality."
Mahatma Gandhi
57.
"All that appears and happens about and around us is uncertain, transient. But there is a Supreme Being hidden therein as a Certainty."
Mahatma Gandhi
58.
"When I admire the wonders of a sunset or the beauty of the moon, my soul expands in the worship of the creator."
Mahatma Gandhi
59.
"There are no goodbyes, where ever you'll be, you'll be in my heart."
Mahatma Gandhi
60.
"I object to violence because when it appears to do good, the good is only temporary; the evil it does is permanent."
Mahatma Gandhi
61.
"Many people, especially ignorant people, want to punish you for speaking the truth, for being correct, for being you. Never apologize for being correct, or for being years ahead of your time. If you're right and you know it, speak your mind. Speak your mind even if you're a minority of one. The truth is still the truth."
Mohandas Gandhi
62.
"To forget how to dig the earth and to tend the soil is to forget ourselves."
Mohandas K. Gandhi
63.
"An error does not become truth by reason of multiplied propagation, nor does truth become error because nobody sees it. Truth stands, even if there be no public support. It is self-sustained."
Mahatma Gandhi
64.
"You may never know what results come of your actions, but if you do nothing, there will be no results."
Mahatma Gandhi
65.
"Interdependence is and ought to be as much the ideal of man as self-sufficiency."
Mahatma Gandhi
66.
"Seek not greater wealth, but simpler pleasure; not higher fortune, but deeper felicity."
Mahatma Ghandi
67.
"Unity to be real must survive the severest strain without breaking."
Mahatma Gandhi
68.
"Whereas a good deed should call forth approbation and a wicked deed disapprobation, the doer of the deed, whether good or wicked, always deserves respect or pity as the case may be."
Mohandas Gandhi
69.
"There is more to life than simply increasing its speed."
Mahatma Gandhi
70.
"A weak man is just by accident. A strong but non-violent man is unjust by accident."
Mohandas Gandhi
71.
"Proneness to exaggerate, to suppress or modify the truth, wittingly or unwittingly, is a natural weakness of man and silence is necessary in order to surmount it."
Mahatma Gandhi
72.
"Permanent good can never be the outcome of untruth and violence."
Mahatma Ghandi
73.
"I offer you peace. I offer you love. I offer you friendship. I see your beauty. I hear your need. I feel your feelings."
Mahatma Gandhi
74.
"My shyness has been in reality my shield and buckler. It has allowed me to grow. It has helped me in my discernment of truth."
Mahatma Gandh
75.
"The history of the world is full of men who rose to leadership, by sheer force of self-confidence, bravery, and tenacity."
Mahatma Gandhi
76.
"Renunciation of objects, without the renunciation of desires, is short-lived, however hard you may try."
Mahatma Gandhi
77.
"Truth is transcendent. There are many expressions of it and ways to glimpse it. We cannot hold it in our clenched fist, but must hold it in our open palm and invite others to see it for themselves."
Mahatma Gandhi
78.
"God, as Truth, has been for me a treasure beyond price. May He be so to every one of us."
Mohandas Gandhi
79.
"Just as a man would not cherish living in a body other than his own, so do nations not like to live under other nations, however noble and great the latter may be."
Mahatma Gandhi
80.
"It does not require money, to live neat, clean and dignified."
Mahatma Gandhi
81.
"Silence becomes cowardice when occasion demands speaking out the whole truth and acting accordingly."
Mahatma Gandhi
82.
"He who devotes himself to service with a clear conscience, will day by day grasp the necessity for it in greater measure, and will continually grow richer in faith."
Mahatma Ghandi
83.
"He who broods over results is like a man given to objects of senses; he is ever distracted, he says goodbye to all scruples, everything is right in his estimation and he, therefore, resorts to means fair and foul to attain"
Mahatma Gandhi
84.
"No reform is possible unless some of the educated and the rich voluntarily accept the status of the poor, travel third, refuse to enjoy the amenities denied to the poor, and instead of taking avoidable hardships, discourtesies, and injustice as a matter of course, fight for their removal."
Mohandas Gandhi
85.
"Always aim at complete harmony of thought and word and deed. Always aim at purifying your thoughts and everything will be well."
Mahatma Gandhi
86.
"Purification being highly infectious, purification of oneself necessarily leads to the purification of one's surroundings."
Mahatma Gandhi
87.
"A vow is a purely religious act which cannot be taken in a fit of passion. It can be taken with a mind purified and composed and with God as witness."
Mahatma Gandhi
88.
"A man who is truthful and does not mean ill even to his adversary will be slow to believe charges even against his foes. He will, however, try to understand the viewpoints of his opponents and will always keep an open mind and seek every opportunity of serving his opponents."
Mahatma Gandhi
89.
"Friendship that insists upon agreement on all matters is not worth the name. Friendship to be real must ever sustain the weight of honest differences, however sharp they be."
Mahatma Gandhi
90.
"Government control gives rise to fraud, suppression of truth, intensification of the black market and artificial scarcity. Above all, it unmans the people and deprives them of initiative, it undoes the teaching of self-help."
Mahatma Gandhi
91.
"There is no school equal to a decent home and no teacher equal to a virtuous parent."
Mahatma Gandhi
92.
"A 'No' uttered from the deepest conviction is better than a 'Yes' merely uttered to please, or worse, to avoid trouble."
Mahatma Gandhi
93.
"Power is of two kinds. One is obtained by the fear of punishment and the other by acts of love. Power based on love is a thousand times more effective and permanent than the one derived from fear of punishment."
Mahatma Gandhi
94.
"Love is the strongest force the world possesses and yet it is the humblest imaginable."
Mahatma Gandhi
95.
"Only this much I knew – that under ideal conditions, true education could be imparted only by the parents, and that then there should be the minimum of outside help."
Mohandas Gandhi
96.
"They cannot take away our self respect if we do not give it to them."
Mahatma Gandhi
97.
"A coward is incapable of exhibiting love; it is the prerogative of the brave."
Mahatma Gandhi
98.
"It is unwise to be too sure of one's own wisdom. It is healthy to be reminded that the strongest might weaken and the wisest might err."
Mahatma Gandhi
99.
"He who is ever brooding over result often loses nerve in the performance of his duty. He becomes impatient and then gives vent to anger and begins to do unworthy things; he jumps from action to action never remaining faithful to any."
Mahatma Gandhi
100.
"In a gentle way, you can shake the world."
Mahatma Gandhi
101.
"In doing something, do it with love or never do it at all."
Mahatma Gandhi
102.
"Each one has to find his peace from within. And peace to be real must be unaffected by outside circumstances."
Mahatma Gandhi
I hope you enjoyed this collection of inspiring Mahatma Gandhi quotes. How has the philosophy of Gandhi shaped your life?
Stay victorious!