The way you start your morning sets the tone for the rest of the day. If you have an excellent start to the day, you'll be in the perfect mood for the adventures and challenges ahead. However, if you have to sluggishly drag yourself out of bed in the morning, it's quite likely that the mental clumsiness will prevent you from seizing the day's opportunities. Getting yourself into an energized and motivated state of mind in the morning can have a profound impact on your life. What better way could there be than to start your morning with a couple of really funny good morning quotes? The following quotes will not only give you a good laugh but will also help you to start your day the right way.
Isn't the power of having an uplifting morning ritual astonishing? If you're able to jump out of bed, feeling energized and motivated, it's likely that you'll be a lot more productive throughout the day.
"Dracula is a morning person compared to me."
Kim Dallmeier
At the same time, if you're having a bad start to the day, it feels as if you're rushing through the day without ever getting anything done. Even worse, you'll be a lot less productive because you're simply not able to focus on one task at a time.
However, establishing a powerful morning ritual that gets you excited for the upcoming day can be quite difficult. If anything else fails, funny good morning quotes can make a huge difference.
50 Funny Good Morning Quotes
Especially when you're an early riser, it can make quite a difference if you have something funny and energizing to look forward to. Your morning ritual helps you to tap into the vast power of mornings to increase your performance and productivity throughout the day. If you're looking for something that gets you going in the morning, have a look at funny good morning quotes. These brilliant and funny statements will help you to make the most of your day.
Here are these funny good morning quotes:
1.
"Morning is wonderful. Its only drawback is that it comes at such an inconvenient time of day."
Glen Cook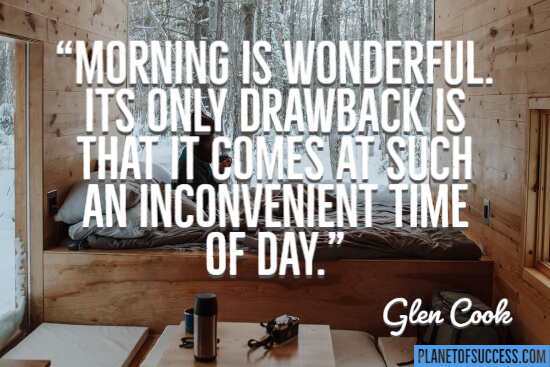 2.
"I want to live my life in such a way that when I get out of bed in the morning, the devil says, "aw s***, he's up!"
Steve Maraboli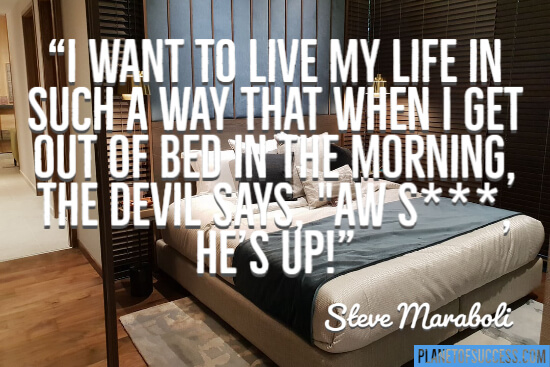 3.
"There should be a rule against people trying to be funny before the sun comes up."
Kristen Chandler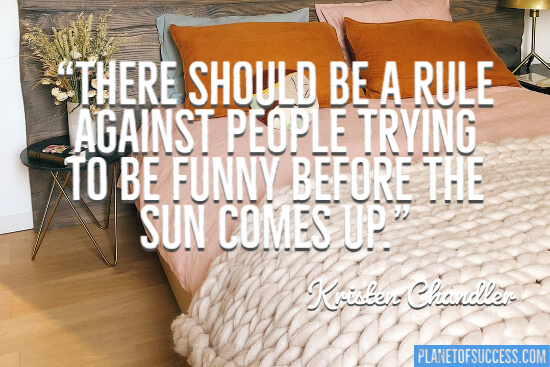 4.
"What irritates me most of all about these morning people is their horribly good temper, as if they have been up for three hours and already conquered France."
Timur Vermes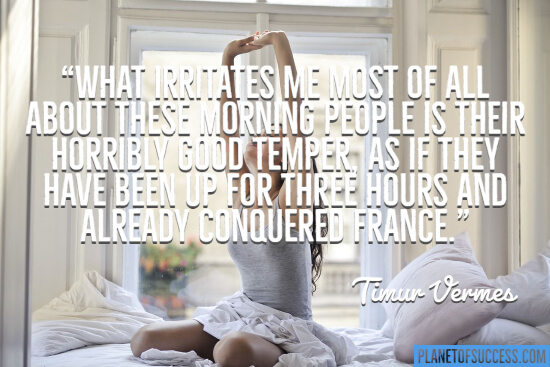 5.
"When reality and your dreams collide, typically it's just your alarm clock going off."
Crystal Woods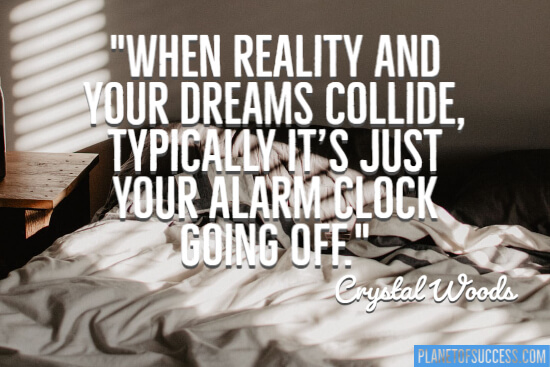 6.
"Every single day I wake up and make up my mind that I am going to work really hard. Then my mind laughs at me and says "Good joke". Then we laugh for some more time and I go back to bed."
Gehenna Toss
7.
"So far as I know, anything worth hearing is not usually uttered at seven o'clock in the morning; and if it is, it will generally be repeated at a more reasonable hour for a larger and more wakeful audience."
Moss Hart
8.
"I love the early hours of the day. It's a nice place to visit but I wouldn't want to live there."
James Lileks
9.
"It sounds plausible enough tonight, but wait until tomorrow. Wait for the common sense of the morning."
H.G. Wells
10.
"She says you're not awake until you're actually out of bed and standing up."
Richelle Mead
11.
"Some mornings I just feel like breaking the damn alarm but then one thing always stops me. I paid hundreds of dollars to buy my phone."
Job Might
12.
"Twinkle twinkle sleepy star, wake up now it's the 11th hour, up above the world so high, the sun has risen in the sky."
Mickey Nice
13.
"Mornings are pure evil from the pits of hell, which is why I don't do them anymore."
Rachel Caine
14.
"Everyone wants me to be a morning person. I could be one… only if morning began after noon."
Tony Smite
15.
"I have always disliked the morning, it is too responsible a time, with the daylight demanding that it be 'faced' and (usually when I wake for I wake late) with the sun already up and in charge of the world, with little hope of anyone usurping or challenging its authority. A shot of light in the face of a poor waking human being and another slave limbs wounded into the light-occupied territory."
Janet Frame
16.
"I woke up in the morning; lay in my bed waiting until my mom will prepare the breakfast. And suddenly I remember that I'm the mom."
Unknown
17.
"Morning is an important time of day because how you spend your morning can often tell you what kind of day you are going to have."
Lemony Snicket
18.
"Love is blind. Especially in the morning, because I can't see a damn thing before having coffee."
Aleksandra Ninkovic
19.
"It's a gray morning. A roll-over-and-snuggle-deeper-in-the-covers morning."
Kate Messner
20.
"Luckily, today has been cancelled. Go back to bed."
Unknown
21.
"Men all do about the same thing when they wake up."
John Steinbeck
22.
"Lena's hair was sticking out in about fifteen directions, and her eyes were all small and puffy from crying. So this was what girls looked like in the morning. I had never seen one, not up close."
Kami Garcia
23.
"Sunrise is starting to feel like a guilt trip."
Kris Kidd
24.
"One of the few times in a man's life when he is not full of s***? The morning of a colonoscopy. Enough said!"
Jim Lawrence
25.
"I wish I had a brush that could paint the whole sky and turn every morning into night."
Akshay Vasu
26.
"Morning will come, it has no choice."
Marty Rubin
27.
"I need to get up – my coffee needs me."
Unknown
28.
"In the morning I woke like a sloth in the fog."
Leslie Connor
29.
"Morning not only forgives, it forgets."
Marty Rubin
30.
"A morning coffee is my favorite way of starting the day, settling the nerves so that they don't later fray."
Marcia Carrington
31.
"Some people wake up fast. Some people wake up slow. I wake up dead."
John Marsden
32.
"There is nowhere morning does not go."
Leah Hager Cohen
33.
"You knows dat in New Orleans is not morning 'til dee sun come up."
Tom Robbins
34.
"It is only in the morning that one should marry, read unfavorable reviews, make one's will, beat one's servants, and so forth."
E.T.A. Hoffmann
35.
"I have suggested to several of these eight-hour logicians that they ought to start work at ten o'clock at night, thereby allowing them to leave at six in the morning and perhaps even arrive home before it is time to get up. Some even took this for a serious suggestion. In my opinion, only bakers need to work early in the morning."
Timur Vermes
36.
"I feel as though whenever I create something, my Mr. Hyde wakes up in the middle of the night and starts thrashing it. I sometimes love it the next morning, but other times it is an abomination."
Criss Jami
37.
"Life kisses our faces every morning. Yet, between morning and evening, she laughs at our sorrows."
Kahlil Gibran
38.
"I yawned and stretched luxuriously in the morning. I make noises when I stretch because it feels ten times better than stretching silently."
Kevin Hearne
39.
"There are two ways of waking up in the morning. One is to say, 'Good morning, God,' and the other is to say, 'Good God, morning'!"
Fulton J. Sheen
40.
"The doctor has a new suggestion for you this morning. Laugh a little more in the morning for breakfast, give a beautiful smile in the afternoon. Stay far happier for dinner. What is the doctor's fee? Think more about me."
Sally Coleslaw
41.
"A person who has not done one-half his day's work by ten o'clock, runs a chance of leaving the other half undone."
Emily Brontë
42.
"I am not a morning person."
Laurell K. Hamilton
43.
"Moist groaned. It was the crack of seven and he was allergic to the concept of two seven o'clocks in one day."
Terry Pratchett
44.
"Some people wake up fast. Some people wake up slow. I wake up dead."
John Marsden
45.
"Mornings are like almost clean slates. I say almost clean because the residue of yesterdays is sometimes stuck on them."
Medeia Sharif
46.
"I hate early mornings. But I love waking up with you."
Sade Andria Zabala
47.
"Let the morning keep what belongs to the morning."
Marie Rutkoski
48.
"It feels like the mornings clap their hands. To make me wake."
Markus Zusak
49.
"Don't make me kill you at this hour in the morning Jimmy. It's not civilized."
Kylie Scott
50.
"It's morning time already and it's time to widen those teeny tiny eyes. Stretch those tough buff arms, wiggle that silky slinky hair and eat some salty malty fries."
Jessie Tower
I hope you enjoyed reading this collection of funny good morning quotes.
Stay victorious