Are you looking for some legendary, testosterone-filled, and passionate quotes about football that push you to the limit? Keep on reading! This list of inspirational football quotes motivates you to peak performance in sports, but also in your professional and private life. P.S.: If you love team sports in general, be sure to also have a look at our soccer quotes.
No matter if you actively play football or simply love the game, there's a lot about team sports and football we can apply in real life. Take for instance the perseverance, willpower, diligence, and hard work individual players and entire teams invest throughout the year. These are all central characteristics that will ultimately decide the championship but will also help you to propel yourself in business and in life.
"Some people think football is a matter of life and death. I don't like that attitude. I can assure them it is much more serious than that."
Bill Shankly
A team sport such as football teaches us the importance of teamwork and effort. Numerous times in history, exceptional teams with incredibly talented players have been outperformed by less talented teams that were fueled by a mutual vision and the willingness of individual players to sacrifice themselves for the team.
The great difficulty is to maintain your motivation and mental toughness throughout long periods of time. However, if you have the right resources at your hands, your journey to greatness will be fueled by your unquestionable desire to succeed. There are many inspirational resources you can use, from reading the autobiographies of successful players to watching motivational pregame speeches of coaches. Another resource that comes in quite handy: motivational football quotes from legendary players and coaches themselves.
114 Inspirational Football Quotes from the Legends
If a Hall of Fame champion is talking about football, you better listen. Unfortunately, most of us won't be able to meet the football legends in person to pick their brains. So to help you save a lot of time, we've collected the most inspirational football quotes for you. These are the quotes that famous coaches used to push their teams and the speeches captains gave before important games. Enjoy reading! As a bonus, we've also added a couple of pretty funny football quotes.
Here's our selection of motivational football quotes
1.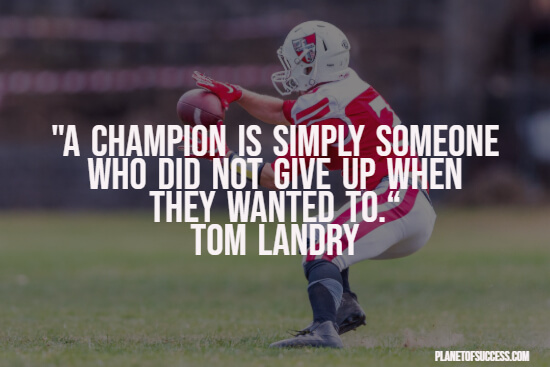 "A champion is simply someone who did not give up when they wanted to."
Tom Landry
2.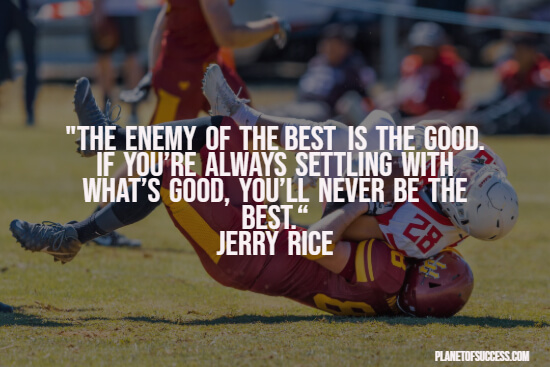 "The Enemy of the best is the good. If you're always settling with what's good, you'll never be the best."
Jerry Rice
3.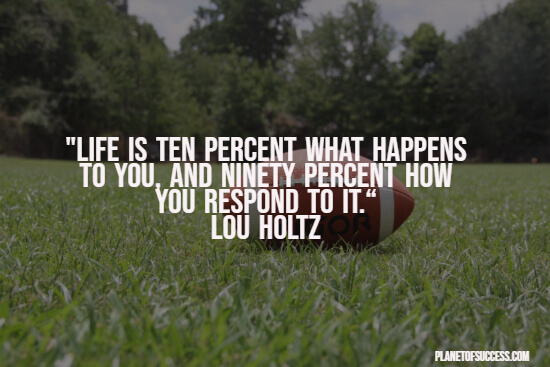 "Life is ten percent what happens to you, and ninety percent how you respond to it."
Lou Holtz
4.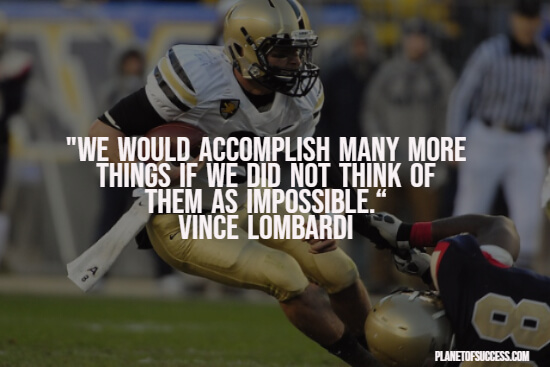 "We would accomplish many more things if we did not think of them as impossible."
Vince Lombardi
5.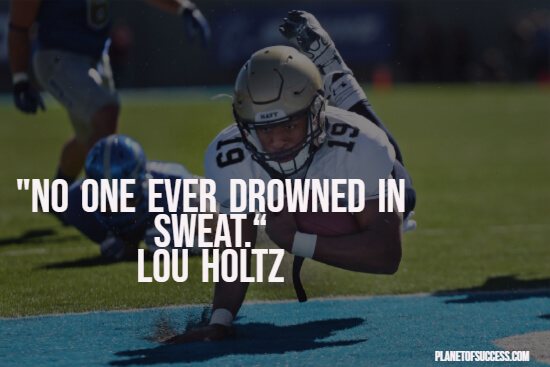 "No one ever drowned in sweat."
Lou Holtz
6.
"If you want to win, do the ordinary things better than anyone else does them day in and day out."
Chuck Noll
7.
"You have to perform at a consistently higher level than others. That's the mark of a true professional."
Joe Paterno
8.
"Today I will do what others won't, so tomorrow I can accomplish what others can't."
Jerry Rice
9.
"Football is like life – it requires perserverance, self-denial, hard work, sacrifice, dedication and respect for authority."
Vince Lombardi
10.
"Everyone has the fire, but the champions know when to ignite the spark."
Amit Ray
11.
"Victories are a byproduct of a larger vision. It begins with a question: How much do we owe one another? Each coach's and player's individual answer is one of the building blocks of The Streak. De La Salle separates itself from the competition because everyone from the head coach to the least accomplished player on the roster is willing to make the sacrifices necessary to be their absolute best."
Neil Hayes
12.
"Pressure is something you feel when you don't know what the hell you're doing"
Peyton Manning
13.
"Excuses are the tools of the incompetent."
Mike Tomlin
14.
"I may win and I may lose, but I will never be defeated."
Emmitt Smith
15.
"Make sure when anyone tackles you he remembers how much it hurts"
Jim Brown
Can't get enough of inspirational football quotes? Keep on reading
16.
"Leadership is a matter of having people look at you and gain confidence. If you're in control, they're in control."
Tom Landry
17.
"You fail all of the time. But you aren't a failure until you start blaming someone else."
Bum Phillips
18.
"The best part of it for me is the idea that this group of young men, who came together and believed in themselves, bought the team concept completely, took the names off the back of the jerseys, checked the egos at the door"
Tom Coughlin
19.
"When you've got something to prove, there's nothing greater than a challenge."
Terry Bradshaw
20.
"Anyone can go hard on the last sprint of a workout, if you're tough, you'll go hard on each and every one"
Travis Macy
21.
"If my mother put on a helmet and shoulder pads and a uniform that wasn't the same as the one I was wearing, I'd run over her if she was in my way. And I love my mother"
Bo Jackson
22.
"The only place success comes before work is in the dictionary."
Vince Lombardi
23.
"If you're not in the parade, you watch the parade. That's life."
Mike Ditka
24.
"Being a champion has nothing to do with sports, its a mindset. A skill of looking at challenges that seem impossible, and rising up to overcome."
Jeremy Coates
25.
"When you don't give up, you cannot fail."
Adrian Peterson
26.
"The Motto of Champions: If you are hurt, you can suck it up and press on. If injured, you can rebound and return bigger and better… and continue to inspire!"
T.F. Hodge
27.
"You cannot make progress with excuses."
Cam Newton
28.
"Remember, tomorrow is promised to no one."
Walter Payton
29.
"Stay focused. Your start does not determine how you're going to finish."
Herm Edwards
30.
"Life is full of all sorts of setbacks and twists and turns and disappointments. The character of this team will be how well you will come back from this letdown, this defeat. You could still be a great team and you can still accomplish great things like football players but it's going to take a real resolve to do it."
Coach Ladouceur
31.
"There is no substitute for work."
Vince Lombardi
32.
"Success isn't measured by money or power or social rank. Success is measured by your discipline and inner peace."
Mike Ditka
33.
"I have yet to be in a game where luck was involved."
Urban Meyer
34.
"People are always blaming their circumstances for what they are. I don't believe in circumstances. The people who get on in this world are the people who get up and look for the circumstances they want, and if they can't find them, make them."
Kirk Mango
35.
"The spirit, the will to win, and the will to excel are the things that endure. These qualities are so much more important than the events that occur"
Vince Lombardi
36.
"Winning isn't getting ahead of others. It's getting ahead of yourself."
Roger Staubach
37.
"Greatness, whether athletic or otherwise, doesn't come from those content on just being but from those who seek being the difference."
Kirk Mango
38.
"Leaders are made, they are not born. They are made by hard effort, which is the price which all of us must pay to achieve any goal that is worthwhile."
Vince Lombardi
39.
"Self-praise is for losers. Be a winner. Stand for something. Always have class, and be humble."
John Madden
40.
"Perfection is not attainable. But if we chase perfection, we can catch excellence."
Vince Lombardi
41.
"Success isn't owned, it's leased. And rent is due every day."
J.J. Watt
42.
"Once you learn to quit, it becomes a habit."
Vince Lombardi
43.
"Just remember, the difference between being good versus being great is just a few points, inches, or seconds."
Bruce H. Jackson
44.
"The only discipline that lasts, is self discipline."
Bum Phillips
45.
"You can learn a line from a win and a book from defeat."
Paul Brown
Motivational football quotes like this will keep you going
46.
"The minute you hesitate you are in trouble."
Steve Waugh
47.
"How do you win? By getting average players to play good and good players to play great. That's how you win."
Bum Phillips
48.
"Opportunity doesn't make appointments, you have to be ready when it arrives."
Tim Fargo
49.
"After the cheers have died down and the stadium is empty, after the headlines have been written and after you are back in the quiet of your room and the championship ring has been placed on the dresser and all the pomp and fanfare has faded, the enduring things that are left are: the dedication to excellence, the dedication to victory, and the dedication to doing with our lives the very best we can to make the world a better place in which to live"
Vince Lombardi
50.
"Fear can be conquered. I became a better person and a better football player when I learned that lesson."
Roger Craig
51.
"If what you did yesterday seems big, you haven't done anything today."
Lou Holtz
52.
"My philosophy? Simplicity plus variety."
Hank Stram
53.
"The process begins during the off-season program, when players spend countless hours together and become heavily invested in the season before it even starts. It continues during these weekly meetings, when players stand and deliver heartfelt testimonials. You can't play for Ladouceur unless you're willing to stand in front of your teammates and bare your soul. You can't play unless you're willing to cry."
Neil Hayes
54.
"There is a difference in being in shape and being in football shape. Anyone can out on the field and run around, but once you start getting hit and have to get up then you find out the difference between being in shape and football shape"
John Madden
55.
"Losing doesn't make me want to quit, it makes me want to fight that much harder."
Bear Bryant
56.
"I am a member of the team, and I rely on the team, I defer to it and sacrifice for it, because the team, not the individual, is the ultimate champion."
Mia Hamm
57.
"I visualize things in my mind before I have to do them. It's like having a mental workshop"
Jack Youngblood
58.
"Failures are expected by losers, ignored by winners."
Joe Gibbs
59.
"We believed in ourselves all year. That's the position you want to be in"
Eli Manning
60.
"Try not to do too many things at once. Know what you want, the number one thing today and tomorrow. Persevere and get it done."
George Allen
61.
"It's not the size of the dog in the fight, but the size of the fight in the dog."
Archie Griffin
62.
"You all know and lived the 'secrets' to De La Salle's success-love, brotherhood, sacrifice, discipline, heart, courage, passion, honesty."
Neil Hayes
63.
"If you're not gonna go all the way, why go at all?"
Joe Namath
64.
"Every team is beatable, you never know. The right moment, the right time, every team is beatable"
Tom Coughlin
65.
"Who you are tomorrow begins with what you do today."
Tim Fargo
Here are some more famous football quotes
66.
"No matter the circumstances you may be going through, just push through it."
Ray Lewis
67.
"It's not whether you get knocked down, it's whether you get up."
Vince Lombardi
68.
"There were probably about five games in my career where everything was moving in slow motion and you could be out there all day, totally in the zone, and you don't even know where you are on the field, everything is just totally blocked out"
Lawrence Taylor
69.
"Brady has compared playing football with "getting into a car crash every Sunday—a scheduled car crash." I've heard players use this image before, and doctors who have treated football injuries."
Mark Leibovich
70.
"Winning is not everything – but making the effort to win is."
Vince Lombardi
71.
"Football is an honest game. It's true to life. It's a game about sharing. Football is a team game. So is life"
Joe Namath
72.
"There is a difference between conceit and confidence. Conceit is bragging about yourself. Confidence means you believe you can get the job done"
Johnny Unitas
73.
"If you are afraid of confrontation, you are not going to do very well."
Bill Parcells
74.
"Life is, as football: One wins the goal, and one faces a failure."
Ehsan Sehgal
75.
"Set your goals high, and don't stop till you get there."
Bo Jackson
76.
"Your talent determines what you can do. Your motivation determines how much you are willing to do. Your attitude determines how well you do it."
Lou Holtz
77.
"Confidence gets you off to a fast start. Confidence gets you that first job and maybe the next two promotions. But confidence stops you from learning. Confidence becomes a caricature after a while. I can't tell you how many confident blowhards I've seen in my coaching career who never get better after the age of forty."
Bill Walsh
78.
"The harder you work, the harder it is to surrender."
Marv Levy
79.
"Certainly, the competitive, action-oriented game of football, as meshed with positive team experiences, added to the supportive culture."
Jim Dent
80.
"Work isn't work unless you would rather be doing something else,"
Don Shula
81.
"Football is all very well as a game for rough girls, but is hardly suitable for delicate boys."
Oscar Wilde
82.
"Coaching is not how much you know. It's how much you can get players to do."
Bum Phillips
83.
"The worst thing about pro football is that a lot of it has nothing to do with football. It has so much business and hair spray crusted over it: so many sideshows and expert panels "breaking things down for us" and a whole lot of people you don't want to deal with or watch on TV […]."
Mark Leibovich
84.
"The man on top of the mountain didn't fall there."
Vince Lombardi
85.
"In the sweep of its appeal, its ability to touch every corner of humanity, football is the only game that needed to be invented."
Bobby Charlton
86.
"I've observed that if individuals who prevail in a highly competitive environment have any one thing in common besides success, it is failure – and their ability to overcome it."
Bill Walsh
87.
"I don't expect to win enough games to be put on NCAA probation. I just want to win enough to warrant an investigation."
Bob Devaney
88.
"Remember, once you set a goal, it's all about how hard you're willing to work, how much you're willing to sacrifice and how badly you truly want it."
J.J. Watt
89.
"You're the only one that can put pressure on yourself… No one else can put pressure on you. It's self-inflicted. For me, I just want to go out and play football."
Maurice Jones-Drew
90.
"Today, you've got a decision to make. You're gonna get better or you're gonna get worse but you're not gonna stay the same. Which will it be?"
Joe Paterno
91.
"You get hit the hardest when trying to run or hide from a problem. Like the defense on a football field, putting all focus on evading only one defender is asking to be blindsided."
Criss Jami
92.
"We'll fight 'em until hell freezes over, then we'll fight 'em on the ice."
Dutch Meyer
93.
"In football everything is complicated by the presence of the opposite team."
Jean-Paul Sartre
94.
"The most valuable player is the one who makes the most players valuable."
Peyton Manning
95.
"As you travel around you will come across a sport described by some contemporaries as 'abominable… more common, undignified and worthless than any other game, rarely ending but with some loss, accident or disadvantage to the players themselves'. This is football."
Ian Mortimer
96.
"Adversity is an opportunity for heroism."
Marv Levy
97.
"For every pass I caught in a game, I caught a thousand in practice."
Don Hutson
98.
"The natural state of a football fan is bitter disappointment, no matter what the score."
Nick Hornby
99.
"The thing about football – the important thing about football – is that it is not just about football."
Terry Pratchett
100.
"It's like football. Two sides may each want to beat the other, they may even hate each other as sides, but if someone came and told them football is stupid and not worth playing or caring about, then they'd feel together. It's feeling that matters. "
John Fowl
101.
"We're going to play football and nothing but football. If you don't want to play football, you can't play at all."
F. Scott Fitzgerald
102.
"Nobody who ever gave his best regretted it."
George S. Halas
Funny football quotes
103.
"If you're mad at your kid, you can either raise him to be a nose tackle or send him out to play on the freeway. It's about the same."
Bob Golic
104.
"I like to believe that my best hits border on felonious assault."
Jack Tatum
105.
"I feel like I'm the best, but you're not going to get me to say that."
Jerry Rice
106.
"We can't run. We can't pass. We can't stop the run. We can't stop the pass. We can't kick. Other than that, we're just not a very good football team right now."
Bruce Coslet
107.
"I want to rush for 1,000 or 1,500 yards. Whichever comes first."
George Rogers
108.
"I wouldn't ever set out to hurt anyone deliberately unless it was important. Like a league game."
Dick Butkus
109.
"Nobody in football should be called a genius. A genius is a guy like Norman Einstein."
Joe Theismann
110.
"Don't talk about playoffs! You kidding me? Playoffs? I just hope we can win another game!"
Jim Mora
111.
"The shoulder surgery was a success. The lobotomy failed."
Mike Ditka
112.
"To win, I'd run over Joe's mom, too."
Matt Millen
113.
"My knees look like they lost a knife fight with a midget."
E.J. Holub
114.
"We couldn't do diddly poo offensively."
Jim Mora
I hope you enjoyed this collection of inspirational football quotes. Feel free to share your favorite quote with us in the comments section below. We're excited to hear from you.
Stay victorious!