The moment your daughter was born was probably the happiest time of your life. The birth of a child is such an intense and wonderful moment that there simply aren't words to describe the overwhelming joy that comes with it. When you're holding your daughter for the first time in your hands, you feel endorphins rushing through your entire body. So many tensions and fears are instantaneously relieved when you see that your daughter – this precious little miracle of life – is just fine. In fact, it may seem like as if you're brimming with an overwhelming variety of emotions, ranging from pure joy, happiness, and excitement. At the same time, you will have also realized what a huge responsibility you have from now on for that being lying in your arms. The birth of your daughter may be years or decades ago but it's very likely that she has grown to become one of the most important aspects of your life. To celebrate the deep bond you have with your wonderful daughter, we've prepared a collection of inspirational daughter quotes. (You may also like our collection of inspirational mother daughter quotes).
The relationship you have with your daughter is very likely quite a powerful one. In fact, a unique bond between you and your daughter is established at the moment of birth.
"I was given such a great gift. It's a miracle that never stops amazing me and reminding me to give thanks, every day. Having a wife and daughter gives me a lot more purpose. I was much more selfish before, but now I think about what kind of role model I'll be. I just want to be a better man."
Jake Owen
With this relationship come a wide variety of responsibilities and burdens but also a great number of sacrifices that need to be made. However, all these challenges of being a mother or father are entirely forgotten when you see what a true miracle your daughter is.
Reading a couple of beautiful daughter quotes will remind you day after day how important your daughter is to you. These statements will show you why every single sacrifice you've made for your daughter was more than worth it in the end.
60 Beautifully Inspiring Daughter Quotes
What is so inspiring about the following statements is that they stem from authors who themselves know the great responsibility and joy of having a daughter. As such, these inspiring individuals have found articulate words to express the deep love and affection for their daughters.
Here is this collection of beautiful daughter quotes
1.
"As mothers and daughters, we are connected with one another. My mother is the bone of my spine, keeping me straight and true. She is my blood, making sure it runs rich and strong. She is the beating of my heart. I cannot now imagine a life without her."
Kristin Hannah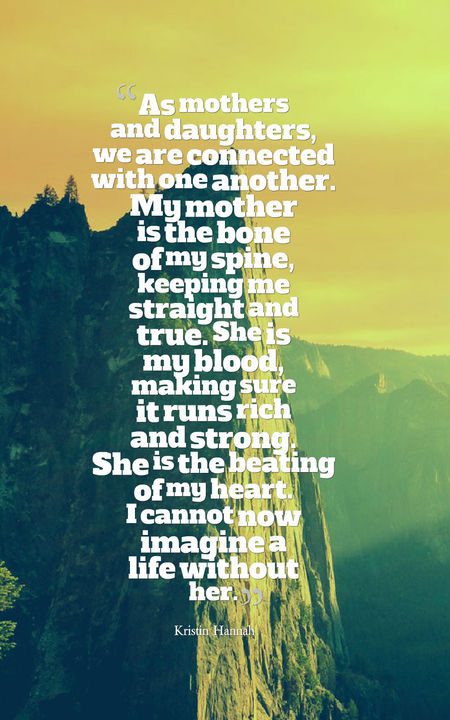 2.
"A wedding is for daughters and fathers. The mothers all dress up, trying to look like young women. But a wedding is for a father and daughter. They stop being married to each other on that day."
Sarah Ruhl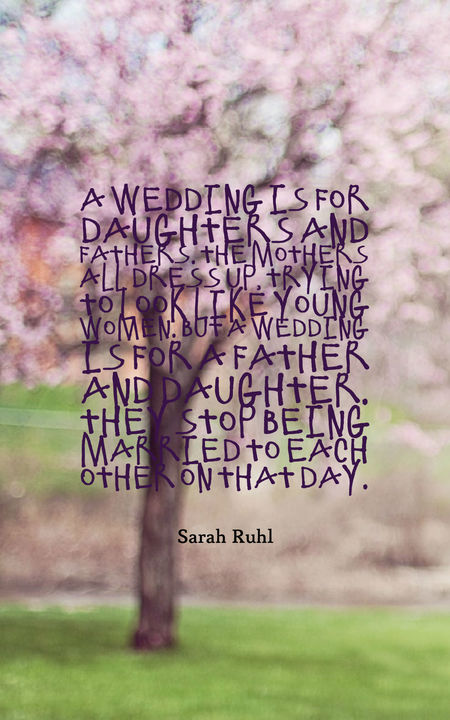 3.
"Last of all, this book owes perhaps its biggest debt to the ultimate models for Kira and Heron and every other awesome girl in the Partials series: my two daughters. May you always have heroines to inspire you, role models to look up to, and the freedom and courage to make your own choices, no matter how simple or scary or hard or eternal they may be."
Dan Wells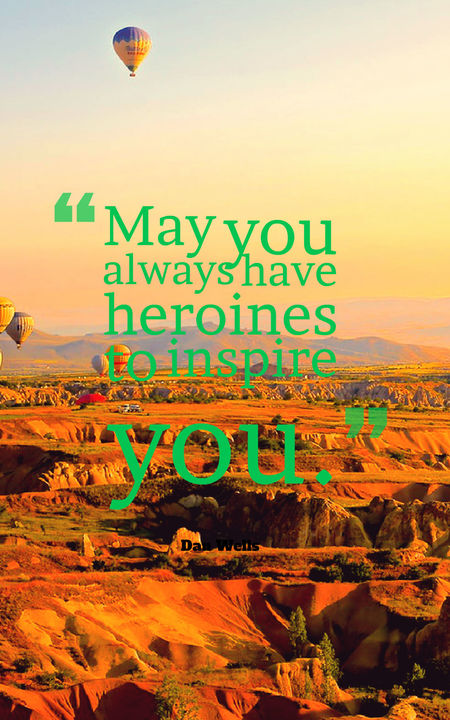 4.
"They were daughters of the sky. Luck belonged to them – never bad, often good, sometimes hard."
C.J. Milbrandt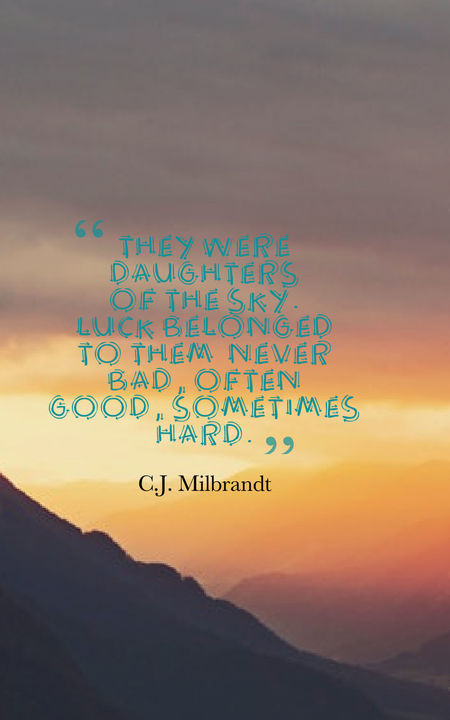 5.
"We must teach our girls that if they speak their mind, they can create the world they want to see."
Robyn Silverman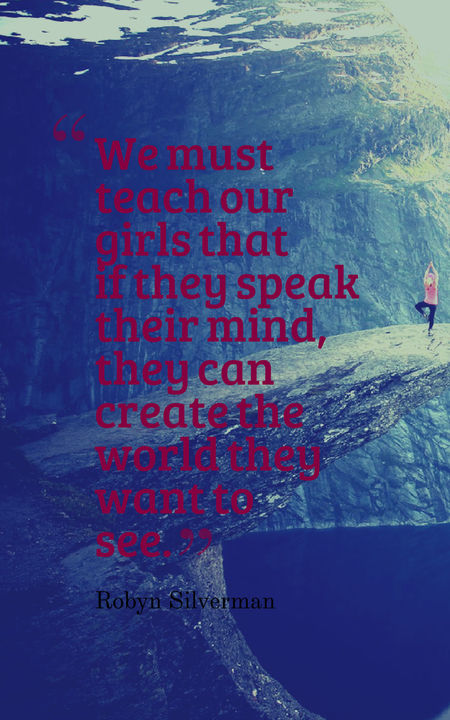 6.
"Good daughters are fortunate lamps, brightening the family's name. Wicked daughters are firebrands, blackening the family's fame."
Chitra Banerjee Divakaruni
7.
"A daughter is a rainbow – a curve of light through scattered mist that lifts the spirit with her prismatic presence. […] A daughter is a promise, kept."
Ellen Hopkins
8.
"There's something like a line of gold thread running through a man's words when he talks to his daughter, and gradually over the years it gets to be long enough for you to pick up in your hands and weave into a cloth that feels like love itself."
John Gregory Brown
9.
"Even as a small child, I understood that woman had secrets, and that some of these were only to be told to daughters. In this way, we were bound together for eternity."
Alice Hoffman
10.
"If a mother was Sacrifice personified, then a daughter was Guilt, with no possibility of redress."
Milan Kundera
11.
"If daughters couldn't soften a man, then nothing would."
Linda Weaver Clarke
12.
"Like a detective keenly searching for clues, our daughters are solving the mystery of womanhood itself."
Melia Keeton-Digby
13.
"Daughters. They were sometimes as familiar and intimate as honeysuckles in bloom, but mostly daughters were mysteries. They lived in rooms you had long since abandoned and could not, did not, ever want to reenter."
Benjamin Alire Sáenz
14.
"What I really want to tell him is to pick up that baby of his and hold her tight, to set the moon on the edge of her crib and to hang her name up in the stars."
Jodi Picoult
15.
"Fathers never have exactly the daughters they want because they invent a notion a them that the daughters have to conform to."
Simone de Beauvoir
16.
"To be the father of growing daughters is to understand something of what Yeats evokes with his imperishable phrase 'terrible beauty.' Nothing can make one so happily exhilarated or so frightened: it's a solid lesson in the limitations of self to realize that your heart is running around inside someone else's body. It also makes me quite astonishingly calm at the thought of death: I know whom I would die to protect and I also understand that nobody but a lugubrious serf can possibly wish for a father who never goes away."
Christopher Hitchens
17.
"Be careful when you ask Karma for something that you have always wanted. When I was young, I asked to be surrounded by beautiful women. Now I have a wife and four daughters."
James Hauenstein
18.
"Do you know how lucky you are to have a daughter who loves you so much?"
Ingrid Ricks
19.
"But fathers always thought their youngest daughters were rather special"
Rona Jaffe
20.
"A son is a son till he gets a wife, a daughter is a daughter the rest of her life."
Rajat ÁKá Shanu
21.
"You may have started as my daughter, but it was always understood that one day you would be a wife, mother, and contributor to this Messiah's kingdom. I will never ask anything from you again, but an entire world will."
Michael Ben Zehabe
22.
"We gotta start teaching our daughters to be somebodies instead of somebody's."
Kifah Shah
23.
"It is a known fact that every man's heart is set on having a daughter."
Françoise Sagan
24.
"We honor both the mothers whose shoulders we've stood on and the daughters who will one day stand tall on ours."
Oprah Winfrey
25.
"I remember thinking when the girls were born, first one and then the other, that I should have had sons and not daughters. I didn't feel up to daughters, I didn't know how they worked. I must have been afraid of hating them. With sons, I would have known what to do."
Margaret Atwood
26.
"She still remembered sitting for hours as a little girl and pretending to be a hassock. A foot stool. Because if she could just stay very small, and very quiet, her mother would forget she was there, and then she wouldn't scream about people and places and things that had gone wrong."
Eloisa James
27.
"When he sent his girl out in the world, he did not know what the world did to daughters. He did not know how quickly it would wick the dew off her, how she would be returned to him hollowed out, relieved of her better parts."
Lesley Nneka Arimah
28.
"I think, sometimes it's hard no matter whose daughter you are."
Sarah Dessen
29.
"Mothers and daughters together are a powerful force to be reckoned with"
Melia Keeton-Digby
30.
"Accept the fact that girls squeal when they're happy or confused or excited or scared or because they just saw a certain boy in line."
Harry H. Harrison Jr.
31.
"Dex's mother knew she should be afraid for her daughter. This, she'd been told, was the tragedy of being a girl. To live in fear – it was the fate of any parent, maybe, but the special provenance of a mother to a daughter, one woman raising another, knowing too well what could happen. This was what lurked inside the luckiest delivery rooms, the ones whose balloons screamed It's a girl!: pink cigars and flowered onesies and fear."
Robin Wasserman
32.
"Fathers be good to your daughters. Daughters will love like you do. Girls become lovers who turn into mothers. So, mothers be good to your daughters too."
John Mayer
33.
"No, I'm putting it away, trying to buy a house for my family. The goal is to use the money to move into a big house, so my daughter can have a garden."
Ewan McGregor
34.
"Do not forget to tell your daughters God made them beautiful."
Habeeb Akande
35.
"And then it occurs to me. They are frightened. In me, they see their own daughters, just as ignorant, just as unmindful of all the truths and hopes, they have brought to America. They see daughters who grow impatient when their mothers talk in Chinese."
Amy Tan
36.
"He had been searching for it his entire life. He had devoted himself to poetry to find it. Now, in the middle of his life, he found it. It was in the face of the love of his life, his daughter."
Roman Payne
37.
"Mothers are urgently trying to tell something to their daughters, and this urgency is precisely what repels their daughters, forcing them to turn away. Mothers are left stranded, madly holding a lump of London clay, some grass, some white tubers, a dandelion, a fat worm passing the world through itself."
Zadie Smith
38.
"I hope someday she meets just the right man and has babies – a whole passel of babies, more than I could have – so she understands how it kills me now that she won't let me hug her when she's in obvious distress."
Kristina Riggle
39.
"My mother… she is beautiful, softened at the edges and tempered with a spine of steel. I want to grow old and be like her."
Jodi Picoult
40.
"Did you ever look out in that dark world out there and think, how do I let my daughter out into that? And how do I stop her?"
Megan Abbott
41.
"On famous relatives: First I was my mother's daughter… and now I am my daughter's mother."
Abha Maryada Banerjee
42.
"Daughters are never of so much consequence to a father."
Jane Austen
43.
"She had nothing to teach a daughter. She could teach her to dream – say, to be a painter, as she herself had been trained – and then teach her to let it go. Teach her to cloister herself in dark hallways, admiring how the light fell through the rice-paper doors while knowing that there was no point in putting it on canvas."
Shawna Yang Ryan
44.
"For a man to be jealous of his daughter was a damnable thing, Harrison thought, though he realized he had been jealous of Lorry for years. It was to her that he had let his heart go out, yes, back when she was a small thing."
John Ehle
45.
"My daughter is my biggest achievement. She is a little star and my life has changed so much for the better since she came along."
Denise Van Outen
46.
"My daughter is the biggest gift; I've said it so many times and it sounds like a cliche, but the thing about being a parent is when you think you've cracked it, and you're on top of your game, they change again and you have to catch up and adjust. I feel such a responsibility to instill good values in her, to be polite, to have discipline."
Geri Halliwell
47.
"My daughter is my passion and my life."
Tamara Mellon
48.
"I have the most beautiful daughter in the world and I'm grateful for her."
Bethenny Frankel
49.
"I have a daughter and she's the greatest thing that ever happened to me. She gives me a good excuse to watch cartoons."
Mike Dirnt
50.
"Never grow a wishbone, daughter, where you backbone ought to be."
Clementine Paddleford
51.
"I want to teach my daughter the importance of exercising and eating healthy as she grows up."
Ellen Pompeo
52.
"Most fathers don't see the war within the daughter, her struggles with conflicting images of the idealized and flawed father, her temptation both to retreat to Daddy's lap and protection and to push out of his embrace to that of Beau and the world beyond home."
Victoria Secunda
53.
"My life comes down to three moments: the death of my father, meeting my husband, and the birth of my daughter. Everything I did previous to that just doesn't seem to add up to very much."
Gwyneth Paltrow
54.
"Having two daughters changed my perspective on a lot of things, and I definitely have a newfound respect for women. And I think I finally became a good and real man when I had a daughter."
Mark Wahlberg
55.
"My favorite thing about motherhood is the outpouring of love that is non-judgmental and beautiful. My daughter just makes me happy, and she motivates me to be a kid again."
Christina Milian
56.
"I've always traveled with a picture of my daughter from 1989, her kindergarten school picture, that has 'I love you, Daddy' written on it. She's always made fun of me because I never changed that picture out. It's like my resistance to her getting older. It was the first thing she'd ever written to me and it means the world to me."
Kiefer Sutherland
57.
"Anything I've done up till May 27th, 1999 was kind of an illusion, existing without living. My daughter, the birth of my daughter, gave me life."
Johnny Depp
58.
"The daughter prays; the mother listens."
Amanda Downum
59.
"One of the greatest gifts I've ever gotten is my daughter."
Ace Frehley
60.
"I missed my one true friend, my mother. She and I were close in a way I don't think many other mothers and daughters were."
Kaitlyn Greenidge
In conclusion:
"To a father growing old, nothing is dearer than a daughter."
Euripides
I hope you enjoyed reading this collection of inspirational daughter quotes. Feel free to share your favorite quote with us in the comment section below.
Stay victorious!