Dancing is so much more than just grooving on the dance floor to your favorite tunes. In fact, you'll be surprised how many benefits are associated with dancing. Not only does it train your brain and your body's motor skills but it also is an excellent exercise for your entire body. Here are some of the greatest dance quotes of all time to celebrate the joy of dancing.
Dancing helps you to stay physically and mentally fit. Even more so, dancing regularly can improve your general well-being, boosts your self-esteem and has also been shown to improve your social skills. No matter if you're a professional dancer or enjoy dancing as a recreational activity, it sometimes can be a little difficult to get up from the comfortable couch and attend dance class.
To help you with igniting that initial spark that gets you dancing, we've compiled the following selection of inspirational dance quotes. These are the quotes that'll get you excited for that particular moment when the music is turned on and your entire body begins moving to the beat.
Dance is not only a wonderful way to express yourself but also a fantastic spare time activity you can enjoy with your partner. Dancing will definitely boost your mood, helps you to forget everything around you, and allows you to bond with your partner.
"If you hit a wall, climb over it, crawl under it, or dance on top of it."
Unknown
For many people, dancing is a fantastic way to lose themselves in the vibrating rhythm of the music. It helps them to forget all the problems in their lives and to simply enjoy the present moment.
It's astonishing how many different dance forms have evolved throughout the centuries. Be it modern dance styles such as dancehall, hip-hop, and dubstep or more classic styles such as ballet and tango, they all provide great exercise for your body.
80 Inspirational Dance Quotes to Get You Dancing
Dance allows you to express a wide variety of emotions. The way you dance can express happiness, excitement, and passion but also aggression and anger. What is so wonderful about dancing is that it helps you to relieve stress and to fully center yourself in the present moment. The following inspirational dance quotes celebrate the joy of dancing and get you excited for this beautiful way of expressing yourself.
Here are these inspiring dance quotes
1.
"Hand in hand, on the edge of the sand, they danced by the light of the moon."
Edward Lear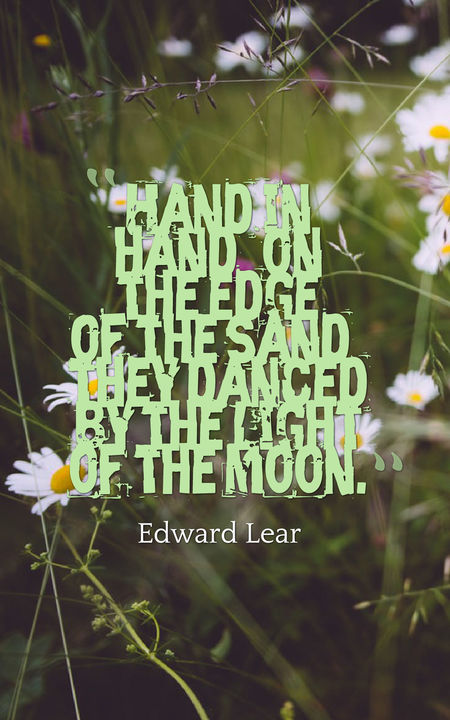 2.
"Dance is the hidden language of the soul."
Martha Graham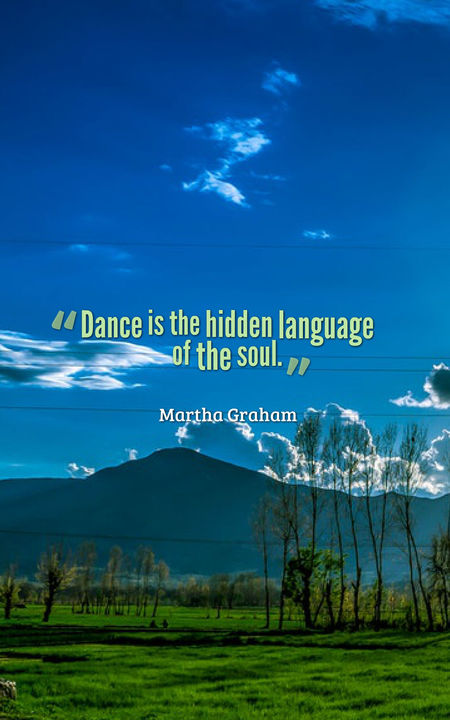 3.
"Consciousness expresses itself through creation. This world we live in is the dance of the creator. Dancers come and go in the twinkling of an eye but the dance lives on. On many an occasion when I am dancing, I have felt touched by something sacred. In those moments, I felt my spirit soar and become one with everything that exists."
Michael Jackson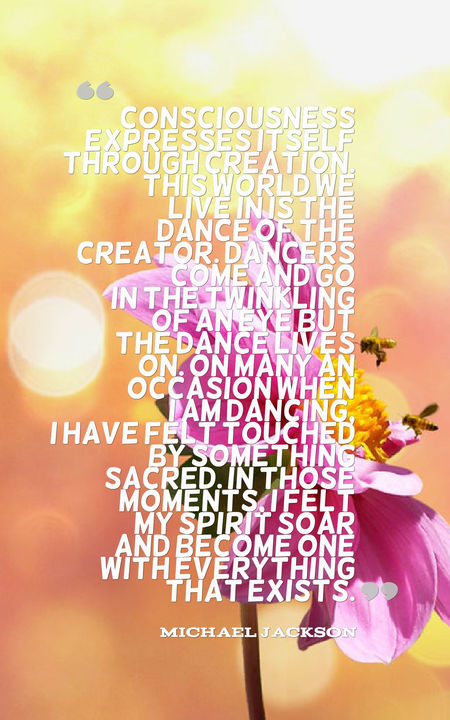 4.
"Nobody cares if you can't dance well. Just get up and dance. Great dancers are great because of their passion."
Martha Graham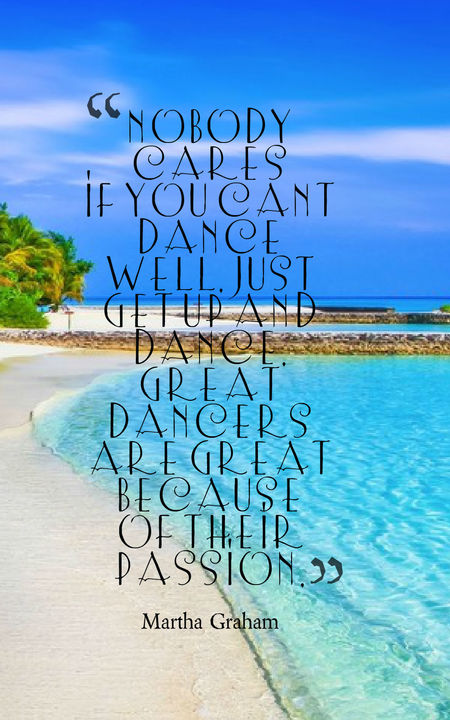 5.
"The job of feets is walking, but their hobby is dancing."
Amit Kalantri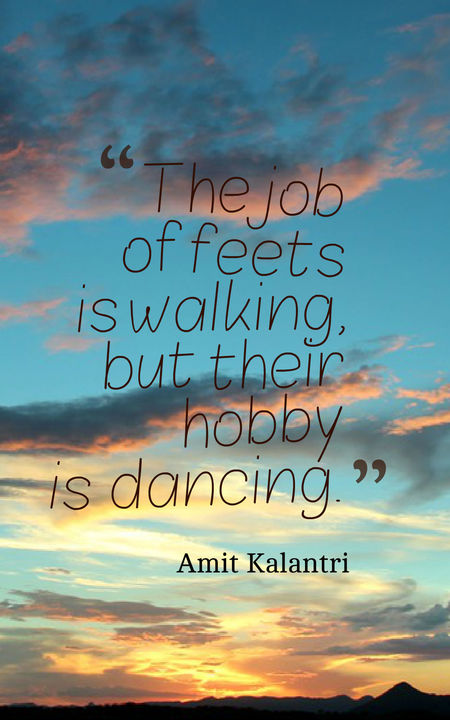 6.
"Dancing is a perpendicular expression of a horizontal desire."
George Bernard Shaw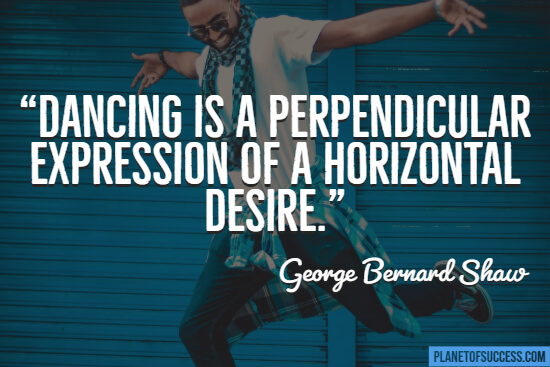 7.
"To dance is to be out of yourself. Larger, more beautiful, more powerful… This is power, it is glory on earth and it is yours for the taking"
Agnes De Mille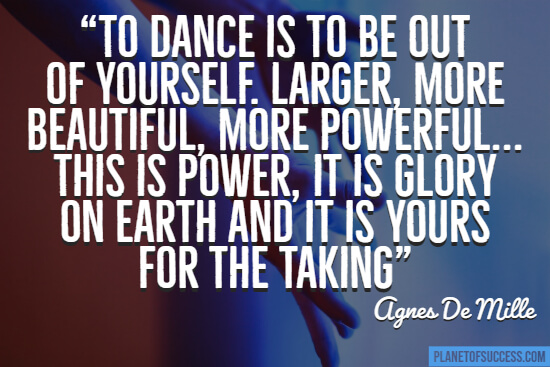 8.
"Those who were seen dancing were thought to be insane by those who could not hear the music."
Friedrich Nietzsche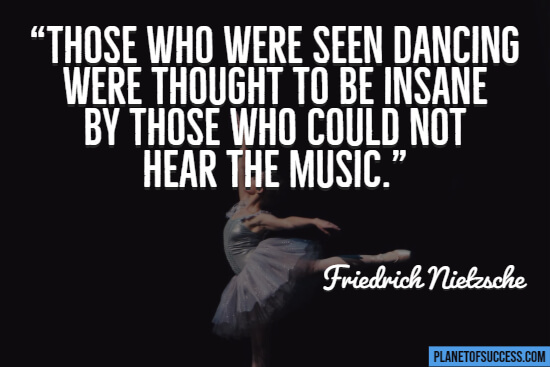 9.
"Dance, when you're broken open. Dance, if you've torn the bandage off. Dance in the middle of the fighting. […] Dance when you're perfectly free."
Jalaluddin Rumi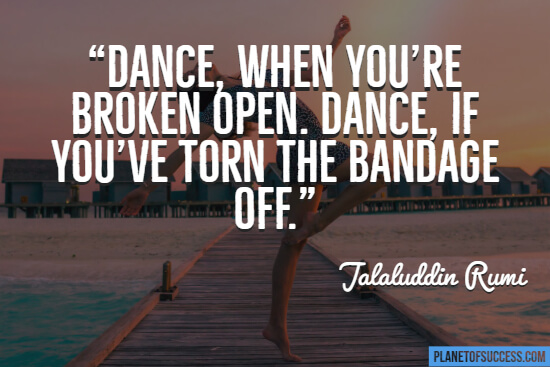 10.
"Every day brings a chance for you to draw in a breath, kick off your shoes, and dance."
Oprah Winfrey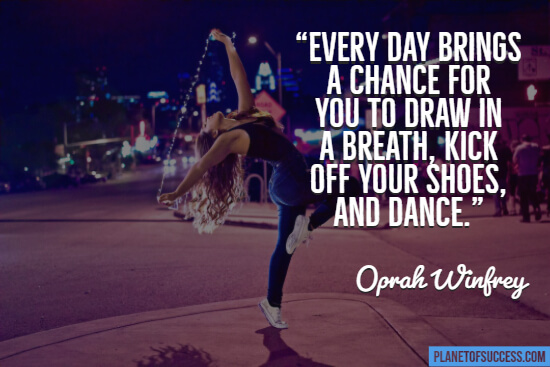 11.
"This is why the idea of finding love across the dance floor endures – symbolizing that, when we know the true rhythm of our heart, we know the other."
Alexandra Katehakis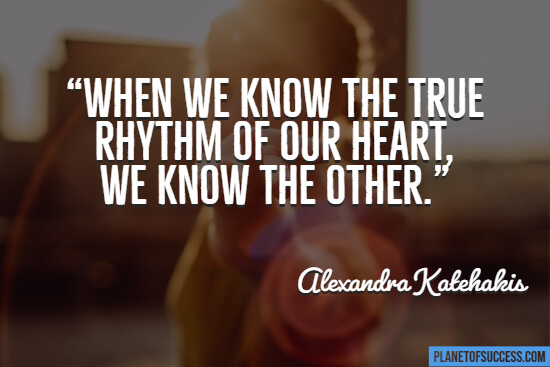 12.
"You have to love dancing to stick to it. It gives you nothing back, no manuscripts to store away, no paintings to show on walls and maybe hang in museums, no poems to be printed and sold, nothing but that single fleeting moment when you feel alive."
Merce Cunningham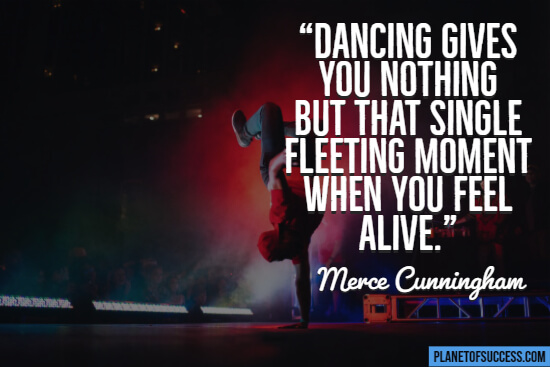 13.
"In a society that worships love, freedom, and beauty, dance is sacred. It is a prayer for the future, a remembrance of the past and a joyful exclamation of thanks for the present."
Amelia Atwater-Rhodes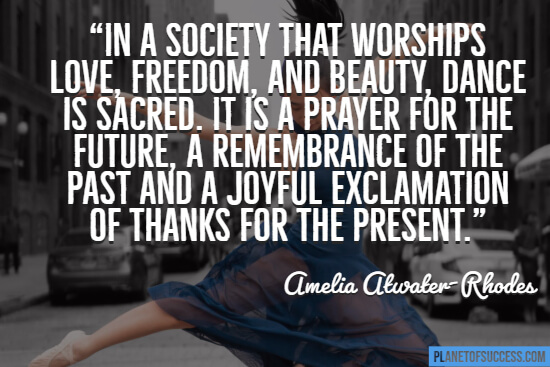 14.
"I feel that the essence of dance is the expression of man – the landscape of his soul. I hope that every dance I do reveals something of myself or some wonderful thing a human can be."
Martha Graham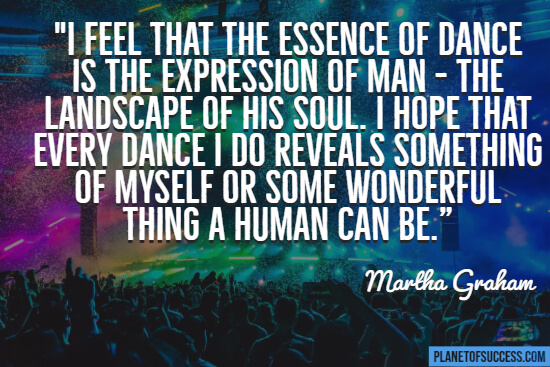 15.
"Any kind of dancing is better than no dancing at all."
Lynda Barr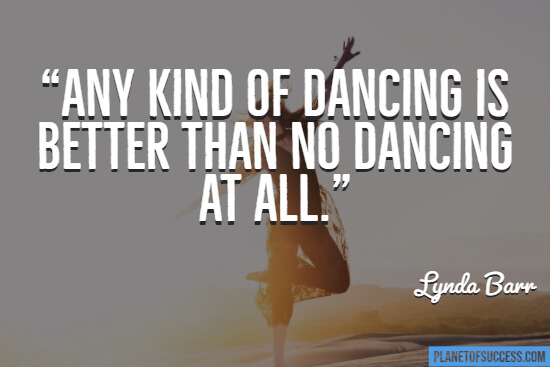 16.
"Dancing is creating a sculpture that is visible only for a moment."
Erol Ozan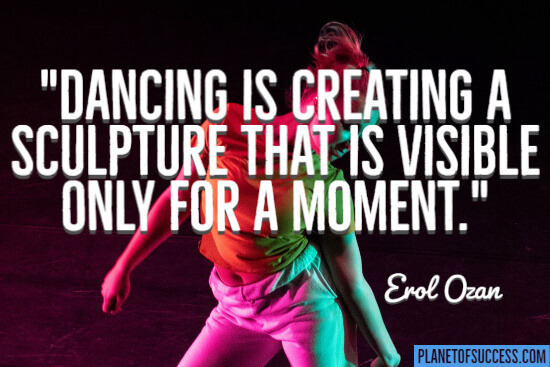 17.
"Dancing is surely the most basic and relevant of all forms of expression. Nothing else can so effectively give outward form to an inner experience."
Lyall Watson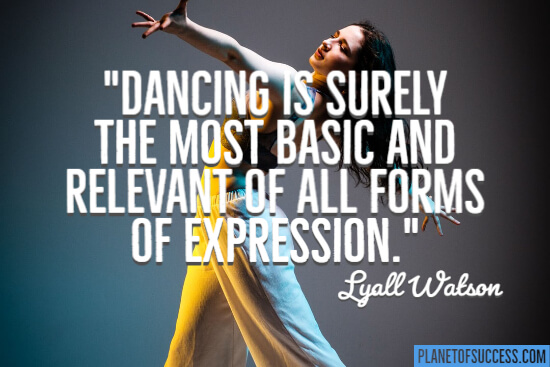 18.
"We dance to seduce ourselves. To fall in love with ourselves. When we dance with another, we manifest the very thing we love about ourselves so that they may see it and love us too."
Kamand Kojouri
19.
"You dance love, and you dance joy, and you dance dreams. And I know if I can make you smile by jumping over a couple of couches or running through a rainstorm, then I'll be very glad to be a song and dance man."
Gene Kelly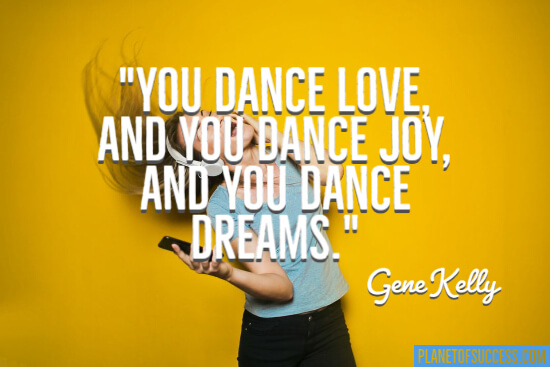 20.
"Daily dance uplifts the soul to spiritual realms."
Lailah Gifty Akita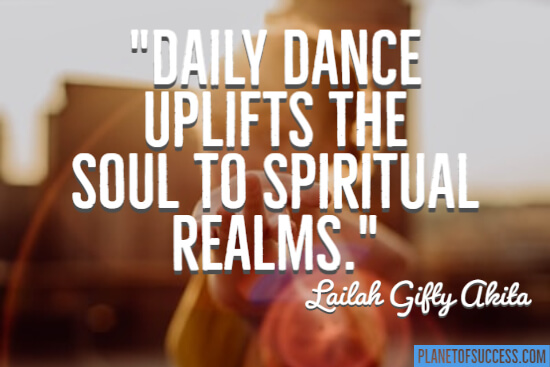 21.
"If you've got nothing to dance about, find a reason to sing."
Melody Carstairs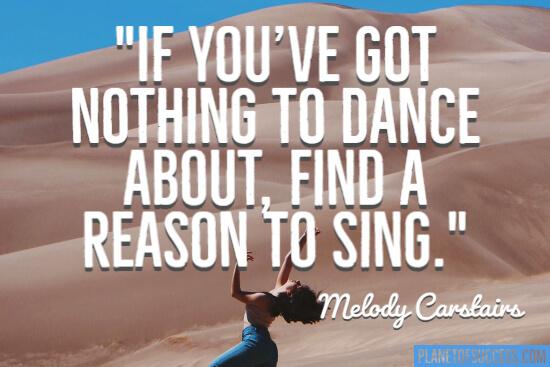 22.
"When you dance, you can enjoy the luxury of being you."
Paulo Coelho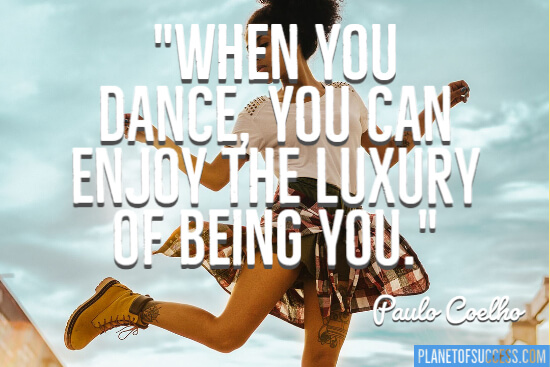 23.
"If you look at a dancer in silence, his or her body will be the music. If you turn the music on, that body will become an extension of what you're hearing."
Judith Jamison
24.
"I don't want to hide. I want to slow dance with you again. I want to dance with you forever."
Sarah Black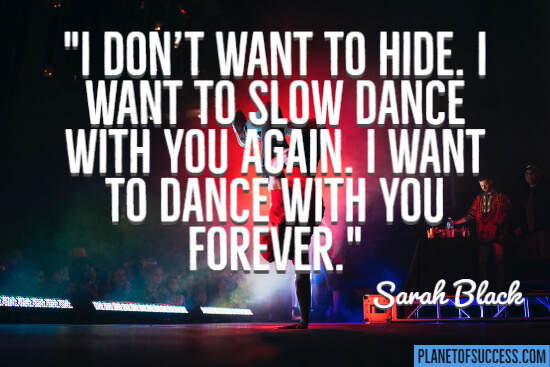 25.
"To live is to be musical, starting with the blood dancing in your veins. Everything living has a rhythm. Do you feel your music?"
Michael Jackson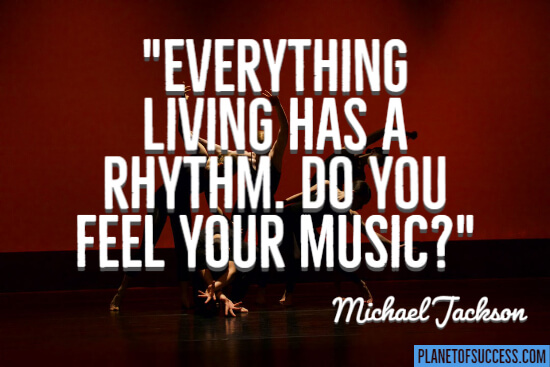 26.
"Stars are always dancing. Sometimes they dance twinkling away with the rhythm of your joyful heart and sometimes they dance without movement to embrace your heartache as if frozen sculptures of open-armed sadness."
Munia Khan
27.
"Every song has it's own heartbeat. […] The pulse in music is what makes it alive."
J.R. Rim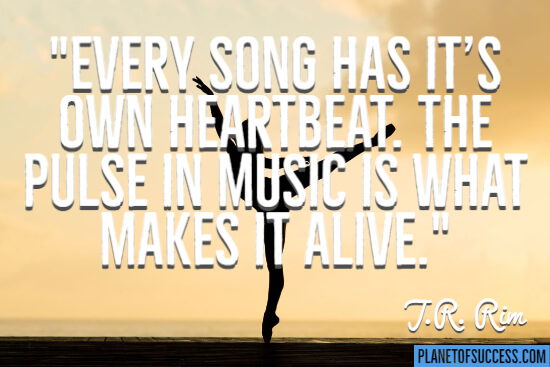 28.
"There was still no likelihood that we could make a living from dance. We were doing it because we loved it… We realized how full we felt; we were surrounded by music and dancing and joy."
Alvin Ailey
29.
"Our biological rhythms are the symphony of the cosmos, music embedded deep within us to which we dance, even when we can't name the tune."
Deepak Chopra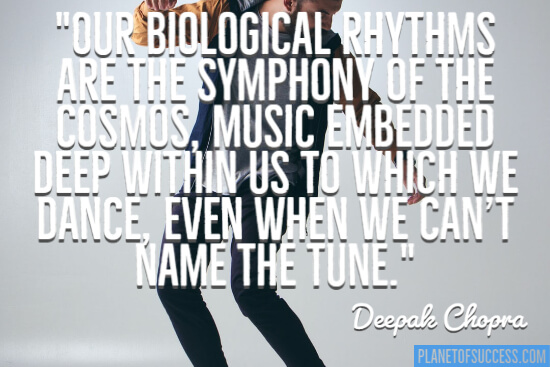 30.
"It doesn't matter if I'm off the beat. It doesn't matter if I'm snapping to the rhythm. It doesn't matter if I look like a complete goon when I dance. It is my dance. It is my moment. It is mine. And dance I will. Try and stop me. You'll probably get kicked in the face."
Dan Pearce
31.
"Where words leave off, music begins."
Heinrich Heine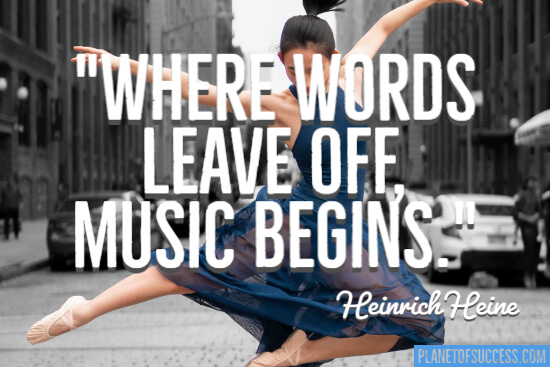 32.
"For I have trained myself and am training myself always to be able to dance lightly in the service of thought"
Søren Kierkegaard
33.
"One step, two steps, three steps; like winds of time experience joy of centuries, when movements become revelations of the dance of destinies."
Shah Asad Rizvi
34.
"Life is the dancer and you are the dance."
Eckhart Tolle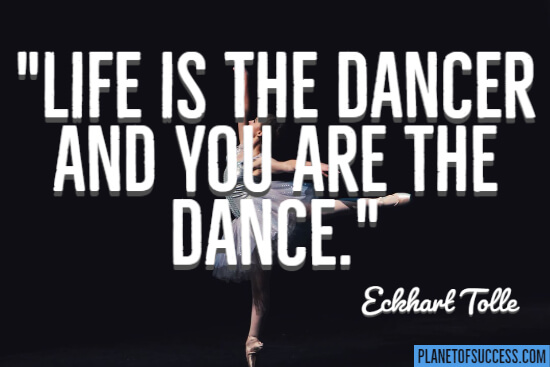 35.
"I do not try to dance better than anyone else. I only try to to dance better than myself."
Mikhail Baryshnikov
36.
"Let us dance in the sun, wearing wild flowers in our hair…"
Susan Polis Schutz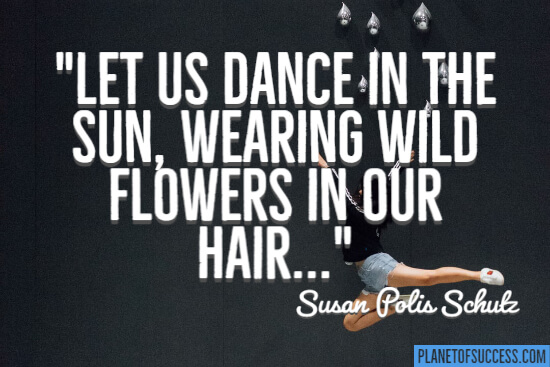 37.
"Life is a dance. Mindfulness is witnessing that dance."
Amit Ray
38.
"Life is short and there will always be dirty dishes, so let's dance."
James Howe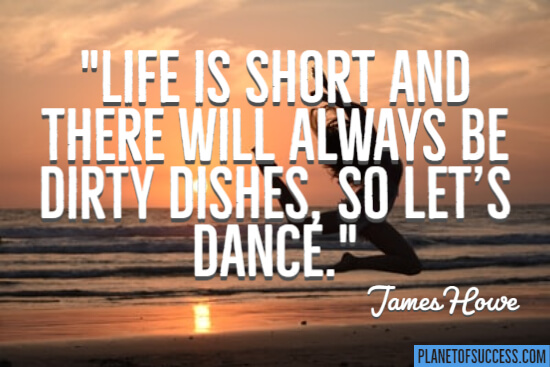 39.
"It's the heart afraid of breaking that never learns to dance."
Xiaolu Guo
40.
"We should consider every day lost on which we have not danced at least once."
Friedrich Nietzsche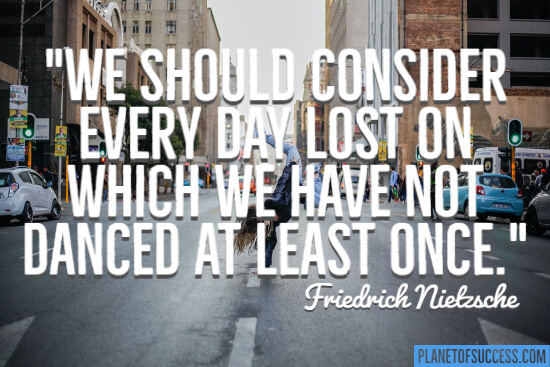 41.
"Sometimes in life confusion tends to arise and only dialogue of dance seems to make sense."
Shah Asad Rizvi
42.
"Do not be frightened, friend. Let us dance our way to God."
Kamand Kojouri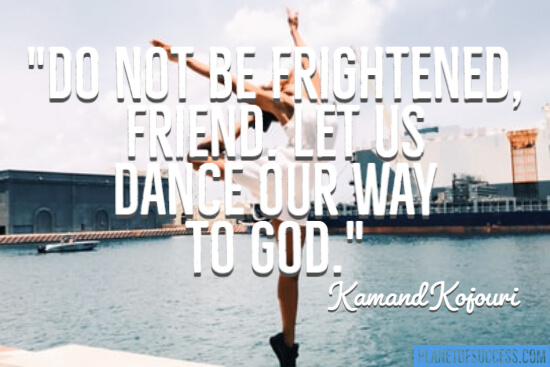 43.
Dance and sing to your music. Embrace your blessings. Make today worth remembering."
Steve Maraboli
44.
"Disco's are tricky. You look a total wally if you dance too early but after one crucial song tips the disco over, you look a sad saddo if you don't."
David Mitchell
45.
"She would be half a planet away, floating in a turquoise sea, dancing by moonlight to flamenco guitar."
Janet Fitch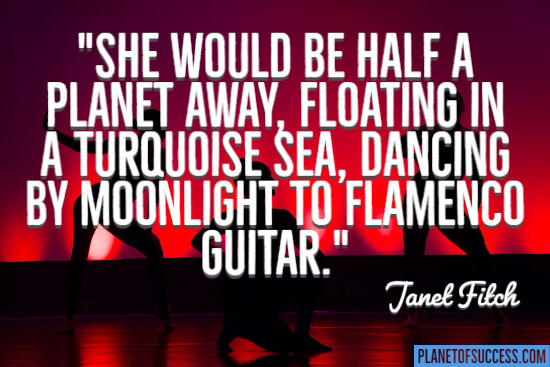 46.
"Life is sweet when you pay attention. When it doesn't seem sweet, put a sticker on your nose and do a funky dance."
Whitney Scott
47.
"The same stream of life that runs through my veins night and day runs through the world and dances in rhythmic measures. It is the same life that shoots in joy through the dust of the earth in numberless blades of grass and breaks into tumultuous waves of leaves and flowers."
Rabindranath Tagore
48.
"We think to dance, and dance in thought. But to hibernate in the mind, is to bring upon us an apocalypse of the Soul."
Ilyas Kassam
49.
"Dance is the timeless interpretation of life."
Shah Asad Rizvi
50.
"People have asked me why I chose to be a dancer. I did not choose. I was chosen to be a dancer, and with that, you live all your life."
Martha Graham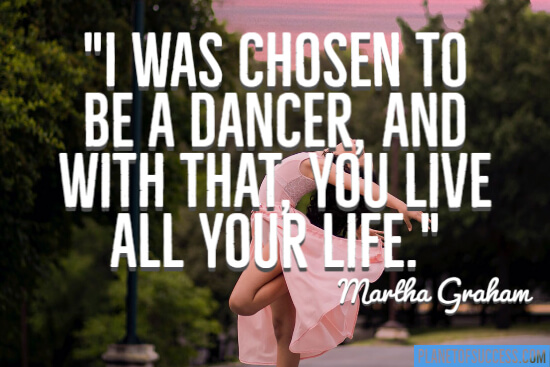 51.
"Let us read, and let us dance; these two amusements will never do any harm to the world."
Voltaire
52.
"Caution not spirit, let it roam wild; for in that natural state dance embraces divine frequency."
Shah Asad Rizvi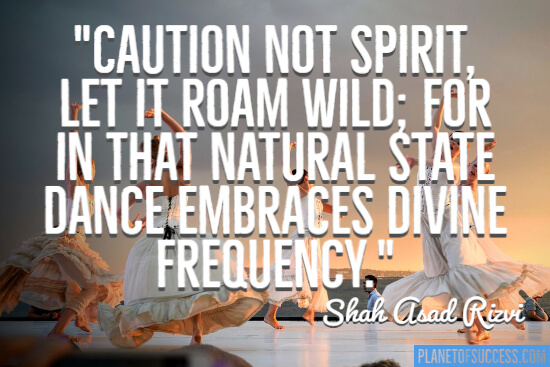 53.
"The only way to make sense out of change is to plunge into it, move with it, and join the dance."
Alan W. Watts
54.
"The musician has the most brothers, and the dancer the most sisters."
Alexandra Chauran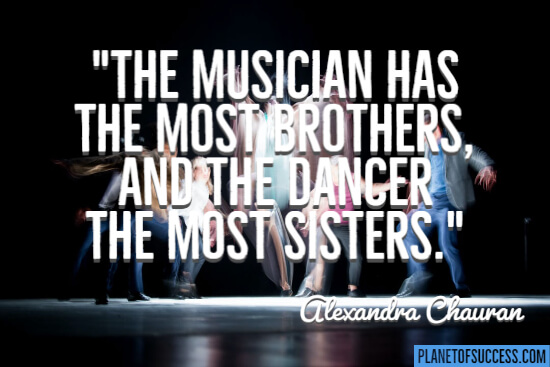 55.
"Music produces a kind of pleasure which human nature cannot do without."
Confucius
56.
"Somebody just gave me a shower radio. Thanks a lot. Do you really want music in the shower? I guess there's no better place to dance than a slick surface next to a glass door."
Jerry Seinfeld
57.
"They twirled and rocked, intertwined and separated, nearly leaning onto one another but barely touching, their movements sometimes tender, sometimes almost violent…Moments passed while the dancers held tight to each other, as though their bodies were melting together. The expression on their features as they lifted their faces to the sky was one of unimaginable joy."
Hannah Fielding
58.
The moon rose above the canopy and a dreamy mist swirled around our knees as we danced, fingers entwined and hearts in sync with the universe; just a prince and his princess, a boy and a girl, learning to love in a beautiful world."
Aishabella Sheikh
59.
"Music produces a kind of pleasure which human nature cannot do without."
Confucius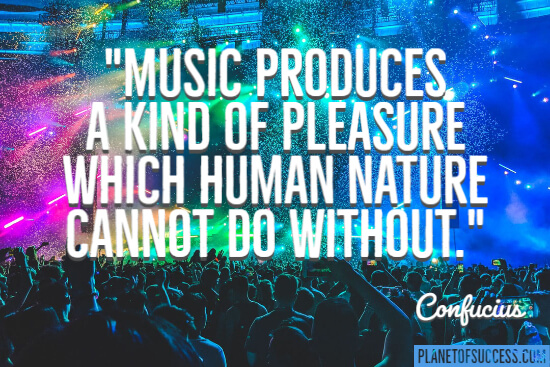 60.
"Music, once admitted to the soul, becomes a sort of spirit, and never dies."
Edward Bulwer-Lytton
61.
"Music… will help dissolve your perplexities and purify your character and sensibilities, and in time of care and sorrow, will keep a fountain of joy alive in you."
Dietrich Bonhoeffer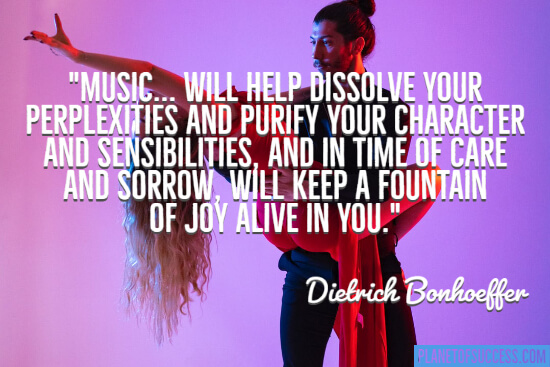 62.
"Music is the language of the spirit. It opens the secret of life bringing peace, abolishing strife."
Kahlil Gibran
63.
"If a man doesn't know how to dance he doesn't know how to make love, there I said it!"
Craig Ferguson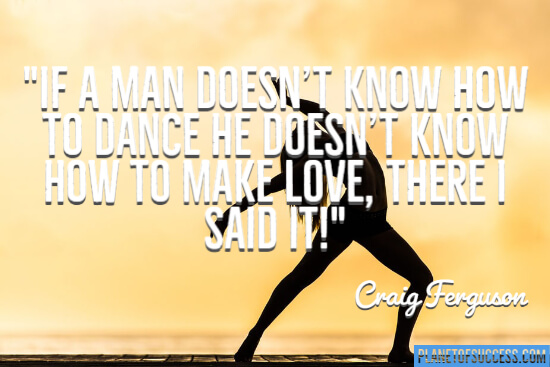 64.
"Music is an outburst of the soul."
Frederick Delius
65.
"Music is the great uniter. An incredible force. Something that people who differ on everything and anything else can have in common."
Sarah Dessen
66.
"I skipped between the dancers, twirling my skirts. The seated, masked musicians didn't look up at me as I leaped before them, dancing in place. No chains, no boundaries — just me and the music, dancing, and dancing."
Sarah J. Maas
67.
"Through synergy of intellect, artistry and grace came into existence the blessing of a dancer."
Shah Asad Rizvi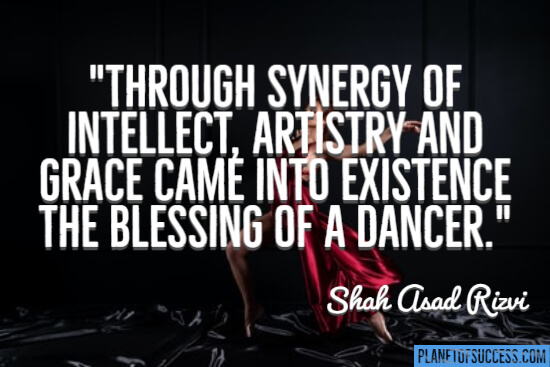 68.
"Music is an agreeable harmony for the honor of God and the permissible delights of the soul."
Johann Sebastian Bach
69.
"Music touches us emotionally, where words alone can't."
Johnny Depp
70.
"Dancing with a spinal cord injury is a challenge like no other, but I aspired to prove to myself that I could still be phenomenal dancer even with an SCI"
Sarah Todd Hammer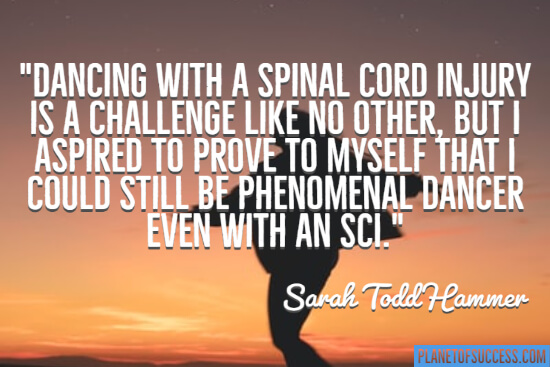 71.
"Every dance you make belongs to you. It is part of your collection. When you think of it like that, you'll want to make your next routine the best you've ever made!"
Torron-Lee Dewar
72.
"Dance from your heart and let your passion shine through"
The Dance Mum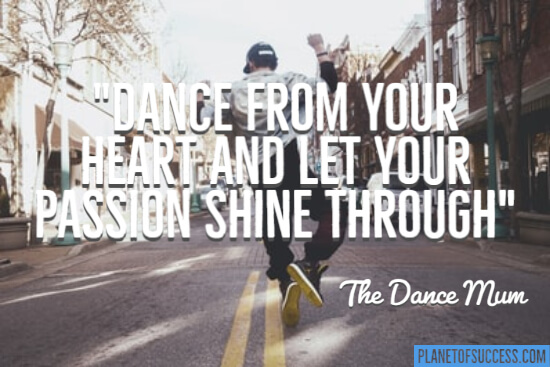 73.
"Passion drove her deeper, into the abyss beneath his skin where she mapped his soul to the dance of his heartbeat…"
Virginia Alison
74.
"Dance is the timeless interpretation of life."
Shah Asad Rizvi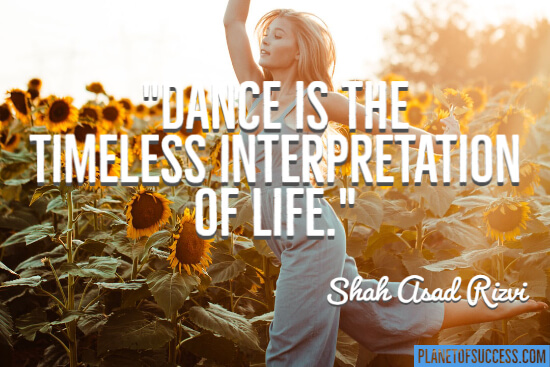 75.
"I don't want people who want to dance, I want people who have to dance. "
George Balanchine
76.
"Life seems to go on without effort when I am filled with music."
George Eliot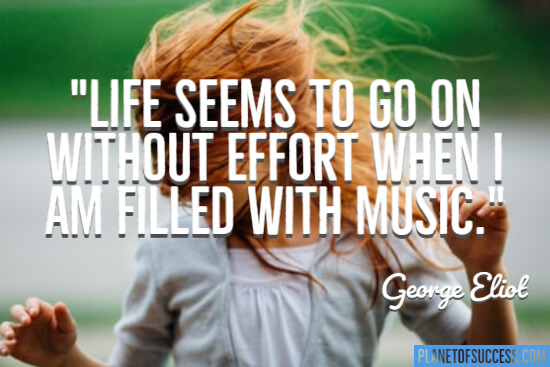 77.
"My heart, which is so full to overflowing, has often been solaced and refreshed by music when sick and weary."
Martin Luther
78.
"To be creative means to be in love with life. You can be creative only if you love life enough that you want to enhance its beauty, you want to bring a little more music to it, a little more poetry to it, a little more dance to it."
Osho
79.
"The first dance is the worst dance; the last dance is the best dance! All the roads of persistent practice lead to the Land of Perfection!"
Mehmet Murat ildan
80.
"Music is the universal language of mankind."
Henry Wadsworth Longfellow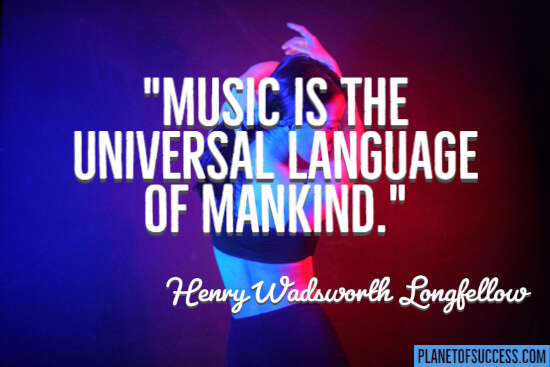 I hope you enjoyed this selection of inspiring dance quotes.
Stay victorious!