Relationships are an integral aspect of life. They give life meaning and make everything in life so much more worthwhile. In fact, relationships can be considered to be the essence of life. Great levels of joy, fulfillment, and happiness can be derived from having meaningful relationships with the people that are dear to us. For this reason, it's always a good idea to pause for a moment and to celebrate the wonderful relationships we have with other people. In the following, you can find a hand-picked collection of truly cute relationship quotes. The following quotes about relationships will show you once more how rewarding it is to nurture the relationships with the people that matter most to you.
Maintaining healthy relationships with the people you love most and your significant other can be quite challenging at times. Relationships take a lot of work and are sometimes quite a challenge. But luckily, the huge rewards of relationships outweigh all the difficult aspects significantly. More often than not, however, we simply need a reminder of the beauty of relationships. Even when you're together with your soulmate, the relationship might experience some ups and downs.
That's where a collection of cute relationship quotes comes in handy. These are the quotes that celebrate all the wonderful aspects of relationships. Many of these quotes will remind you how rewarding it is to be in a relationship and that it is definitely worth fighting for it. There are also quotes in this collection that will help you to realize that you are certainly not alone with your relationship struggles. In fact, these quotes will convince you how worthwhile it is to invest time and effort into the relationship you have with the very special person in your life.
"The meeting of two personalities is like the contact of two chemical substances: if there is any reaction, both are transformed."
C.G. Jung
Having a healthy relationship with the person you love most is definitely an important aspect to a meaningful and fulfilled life. But whenever relationship struggles occur, it can be quite helpful to have a couple of cute relationship quotes at hand that help you to see things through. These relationship quotes will help you to keep fighting for a relationship that is worth it.
55 Magnificently Cute Relationship Quotes
In the following, you can find cute quotes about relationships that magnificently celebrate the wonders and joys of the deep bond between you and your loved one. These quotes will motivate you to nurture and deepen the relationships with the ones that are most important in your life.
1. Nicholas Sparks on love that awakens the soul
"The best love is the kind that awakens the soul and makes us reach for more, that plants a fire in our hearts and brings peace to our minds."
Nicholas Sparks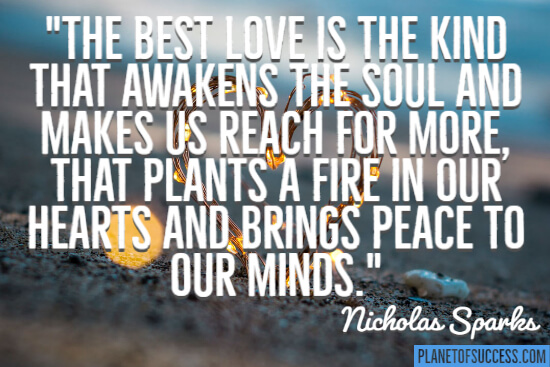 Conditional love that limits you is seldom beneficial. Only the love that is unconditional will help you to become more than what you are today. In this sense, the best love will encourage you to reach for the stars and to keep pursuing your dreams – without standing in your way. And a fantastic side effect of all of this is that this kind of love helps you to find peace of mind.
2. Kermit on wanting everyone to love you
"Maybe you don't need the whole world to love you, you know. Maybe you just need one person."
Kermit the Frog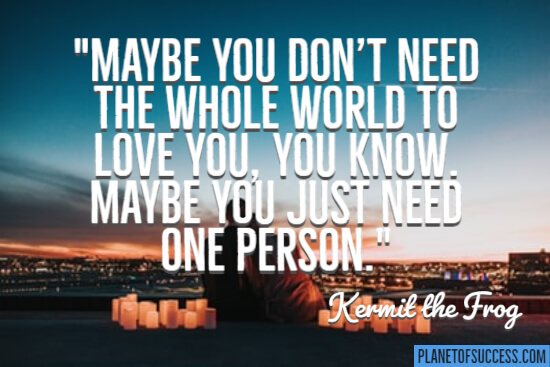 Many people desperately try to be loved by everyone without realizing that love is not a numbers game. Even if the whole wide world does not even know you, you can still be the happiest person when the right people love you dearly.
3. George Eliot on the joy of being in a relationship
"What greater thing is there for two human souls, than to feel that they are joined for life–to strengthen each other in all labor, to rest on each other in all sorrow, to minister to each other in all pain, to be one with each other in silent unspeakable memories at the moment of the last parting?"
George Eliot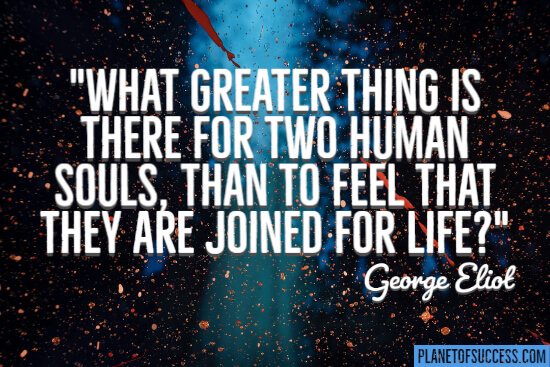 Love gives you strength, it makes you courageous, and fuels all your endeavors in life.
4. Kaleel Jamison on relationships
"Relationships–of all kinds-are like sand held in your hand. Held loosely, with an open hand, the sand remains where it is. The minute you close your hand and squeeze tightly to hold on, the sand trickles through your fingers. You may hold onto some of it, but most will be spilled."
Kaleel Jamison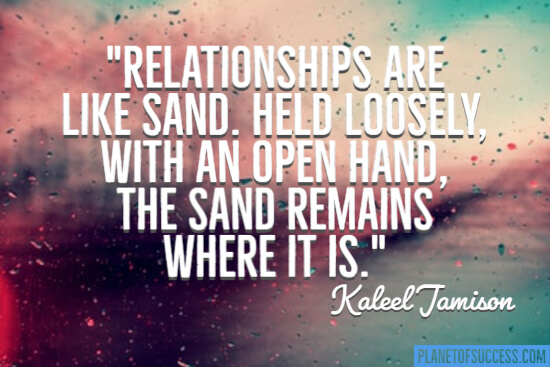 Being overly attached to another person may not always produce good outcomes. In fact, the more you try to hold on to someone, the more likely it is that you are going to lose this person.
5. Steve Maraboli on real men
"When in a relationship, a real man doesn't make his woman jealous of others, he makes others jealous of his woman."
Steve Maraboli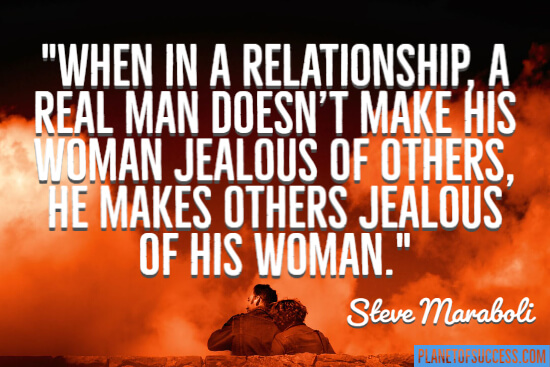 Wonderful! This one is a particularly cute quote about relationships.
6. Marcel Proust on being grateful
"Let us be grateful to the people who make us happy; they are the charming gardeners who make our souls blossom."
Marcel Proust
The people who make us happy are perhaps the most important elements of our lives. Without them, living life would be a lot less worthwhile and joyful. That's why it's important to take good care of the relationships you have with your loved ones.
7. Donna Roberts on true friendship
"A friend is someone who knows the song in your heart and can sing it back to you when you have forgotten the words."
Donna Roberts
Of all the other cute quotes about relationships, this one is particularly remarkable.
8. Frederick Buechner on those who you love most
"You can kiss your family and friends good-bye and put miles between you, but at the same time you carry them with you in your heart, your mind, your stomach, because you do not just live in a world but a world lives in you."
Frederick Buechner
The people you love most will always be around you, no matter where you go.
9. Winnie the Pooh on old-age
"If you live to be a hundred, I want to live to be a hundred minus one day, so I never have to live without you."
Winnie the Pooh
There could be no greater ending to a marvelous love story.
10. Bob Dylan on sharing dreams
"I'll let you be in my dreams if I can be in yours."
Bob Dylan
If you're in a relationship, always let the other person participate in your dreams. In fact, it can be remarkably worthwhile to let the other person become part of your dreams.
11. Scott Wilbanks on true friendship
"Perhaps, that is the way of friends, to love one another for their imperfections, not despite them."
Scott Wilbanks
12. John Smith on living without your loved one
"I'd rather die tomorrow than live a hundred years without knowing you."
John Smith
13. Lao Tzu on strength and courage
"Being deeply loved by someone gives you the strength, while loving someone deeply gives you courage."
Lao Tzu
14. Donna Roberts on the importance of friendship
"A friend is someone who knows the song in your heart and can sing it back to you when you have forgotten the words."
Donna Roberts
15. Nicholas Sparks on the melody of love
"If conversation was the lyrics, laughter was the music, making time spent together a melody that could be replayed over and over without getting stale."
Nicholas Sparks
16. Doménico Estrada on lasting relationships
"To know when to go away and when to come closer is the key to any lasting relationship."
Doménico Cieri Estrada
17. Ingrid Bergman on kissing
"A kiss is a lovely trick designed by nature to stop speech when words become superfluous."
Ingrid Bergman
18. Richard Bach on love stories
"True love stories never have endings."
Richard Bach
19. Cole Porter on getting out of jail
"If you ever feel so happy you land in jail, I'm your bail."
Cole Porter
20. Honore de Balzac on true love
"A woman knows the face of the man she loves as a sailor knows the open sea."
Honore de Balzac
21. Sarah Dessen on perfect relationships
"No relationship is perfect, ever. There are always some ways you have to bend, to compromise, to give something up in order to gain something greater."
Sarah Dessen
22. Albert Camus on the glow of happiness
"When you have once seen the glow of happiness on the face of a beloved person, you know that a man can have no vocation but to awaken that light on the faces surrounding him. In the depth of winter, I finally learned that within me there lay an invincible summer."
Albert Camus
23. Lucille Ball on love at first sight
"It wasn't love at first sight. It took a full five minutes."
Lucille Ball
24. Anthony Robbins on challenging relationships
"Some of the biggest challenges in relationships come from the fact that most people enter a relationship in order to get something: they're trying to find someone who's going to make them feel good. In reality, the only way a relationship will last is if you see your relationship as a place that you go to give, and not a place that you go to take."
Anthony Robbins
25. Joyce Meyer on improving relationships
"We can improve our relationships with others by leaps and bounds if we become encouragers instead of critics."
Joyce Meyer
26. Dave Matthews on being just friends
"A guy and a girl can be just friends, but at one point or another, they will fall for each other… Maybe temporarily, maybe at the wrong time, maybe too late, or maybe forever"
Dave Matthews
27. Alain de Botton on intimacy
"Intimacy is the capacity to be rather weird with someone – and finding that that's ok with them."
Alain de Botton
28. Robert Morrow on healthy relationships
"If you want to know what a truly healthy relationship is, it's one where both people wake up every morning and say, 'I choose to be with this person.'"
Robert Morrow
29. Michael Johnson on playing hide and seek
"True love is not a hide and seek game: in true love, both lovers seek each other."
Michael Bassey Johnson
30. Neale Walsch on the purpose of relationships
"The purpose of a relationship is not to have another who might complete you, but to have another with whom you might share your completeness."
Neale Donald Walsch
31. Jane Austen on loving others unconditionally
"There is nothing I would not do for those who are really my friends. I have no notion of loving people by halves, it is not my nature."
Jane Austen
32. Leo F. Buscaglia on loving relationships
"A loving relationship is one in which the loved one is free to be himself — to laugh with me, but never at me; to cry with me, but never because of me; to love life, to love himself, to love being loved. Such a relationship is based upon freedom and can never grow in a jealous heart."
Leo F. Buscaglia
33. Albert Schweitzer on kindness
"Constant kindness can accomplish much. As the sun makes ice melt, kindness causes misunderstanding, mistrust, and hostility to evaporate."
Albert Schweitzer
34. Oscar Wilde on the real meaning of love
"You don't love someone for their looks, or their clothes, or for their fancy car, but because they sing a song only you can hear."
Oscar Wilde
35. A Swedish proverb on shared joy
"Shared joy is a double joy; shared sorrow is half a sorrow."
Swedish Proverb
36. Steve Cohen on eternal love
"It's a wonderful thing, as time goes by, to be with someone who looks into your face when you've gotten old, and still sees what you think you look like."
Steve Cohen
37. C.S. Lewis on the birth of friendship
"Friendship is born at that moment when one person says to another, 'What! You too? I thought I was the only one"
C.S. Lewis
38. Baz Luhrmann on believing in love
"Above all things, I believe in love. Love is like oxygen. Love is a many-splendored thing. Love lifts us up where we belong. All you need is love!"
Baz Luhrmann
39. Raven Symone on friendship
"Friendship is a give and take. You have to have a strong relationship with your friend and I think you have to offer them something and they have to offer you something and that's to always learn from it."
Raven Symone
40. Criss Jami on loving without need
"To love without need or without expectation of restitution, that is how we ought to love."
Criss Jami
41. Bell Hooks on giving generously
"Giving generously in romantic relationships, and in all other bonds, means recognizing when the other person needs our attention. Attention is an important resource."
Bell Hooks
42. Epicurus on developing courage
"You don't develop courage by being happy in your relationships everyday. You develop it by surviving difficult times and challenging adversity."
Epicurus
43. Joanne Woodward on beauty
"Beauty fades, but to be married to a man who makes you laugh every day, ah, now that's a real treat."
Joanne Woodward
44. Martin Buber on people that relate to each other
"When two people relate to each other authentically and humanly, God is the electricity that surges between them."
Martin Buber
45. Steve Maraboli on loving your companion
"In a strong relationship, you should love your companion more than you need them."
Steve Maraboli
46. Nicholas Sparks on making compromises
"Relationship is about forgiveness and compromise. It is about balance where one person complements each other."
Nicholas Sparks
47. Oprah Winfrey on choosing the right friends
"Lots of people want to ride with you in the limo, but what you want is someone who will take the bus with you when the limo breaks down."
Oprah Winfrey
48. Jaachynma Agu on courageous women
"Men love women who are courageous for it means they can go all the way with him in his pursuit of his good dreams and intentions."
Jaachynma N.E. Agu
49. Elbert Hubbard on true friends
"A friend is someone who knows all about you and still loves you."
Elbert Hubbard
50. Michael Johnson on people that leave footsteps
"People will walk in and walk out of your life, but the one whose footstep made a long lasting impression is the one you should never allow to walk out."
Michael Bassey Johnson
51. Albert Camus on walking besides each other
"Don't walk in front of me; I may not follow. Don't walk behind me; I may not lead. Just walk beside me and be my friend."
Albert Camus
52. Andre Breton on love
"Love is when you meet someone who tells you something new about yourself."
Andre Breton
53. Audrey Hepburn on cheating
"Cheating on a good woman is like choosing trash over treasure."
Audrey Hepburn
54. Sarah Dessen on love that works
"You know, when it works, love is amazing. It's not overrated."
Sarah Dessen
55. Rainer Maria Rilke on infinite distances
"Once the realization is accepted that even between the closest human beings infinite distances continue, a wonderful living side by side can grow, if they succeed in loving the distance between them which makes it possible for each to see the other whole against the sky."
Rainer Maria Rilke
I hope you enjoyed these cute relationship quotes.
Stay victorious!