Are you looking for some inspirational thoughts that celebrate life in all of its aspects? Have a look at the following cute quotes about life that are filled with delightful insights about happiness, gratitude, and the pure joy of life in general. And if you can't get enough, have a look at our massive collection of inspirational quotes about life.
Living life as a realist is all fine and good. But let's face it, life is much better when you're looking at it positively. Interestingly enough, how you respond to life's challenges depends to a certain degree on your perspective.
"I think being in love with life is a key to eternal youth."
Doug Hutchison
Life can either be miserable or wonderful, a painful ride filled with annoying obstacles or a daring adventure with interesting challenges. In a sense, it does not matter so much what happens to you but how you think about it and how you respond to it.
There are so many joyful and marvelous aspects of life, you only have to look for them. With a grateful heart, many things that others take for granted start looking like beautiful wonders. Just think about the rising sun and what an awe-inspiring experience it is every morning. Yet, not many people take the time to watch and appreciate this spectacle.
It is important to realize that you have everything you'll ever need to create a beautiful and joyful life. You can be the designer of your life and you get to choose what kind of experience you want it to be. That's life's true gift to you – the opportunity to fill your days with happiness, joy, gratitude, and to create a meaningful existence.
112 Cute Quotes about Life to Make You Smile
It's not always easy to find the right words that describe how beautiful life. Luckily for us, there are numerous authors and philosophers who already did a pretty good job in describing the joy of life in an eloquent way.
The right quote at the right time can work wonders. That is why we have selected some of the finest statements that highlight the magnificence of life. Even more so, the following cute quotes about life will encourage you to never give up on your pursuit of happiness.
Enjoy reading!
Here's our list of cute quotes about life to make you smile instantly
1.
"Life is short, and it is up to you to make it sweet."
Sarah Louise Delany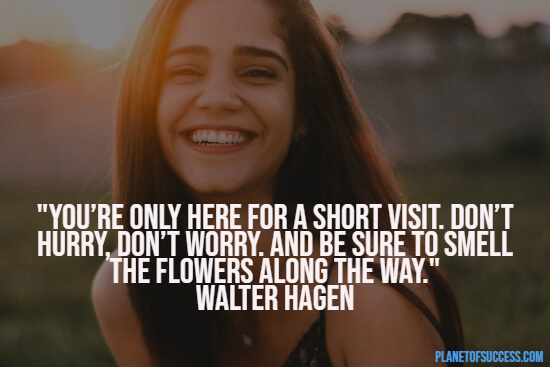 2.
"You're only here for a short visit. Don't hurry, don't worry. And be sure to smell the flowers along the way."
Walter Hagen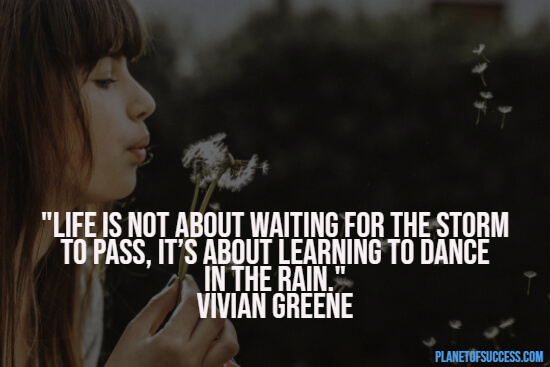 3.
"Life is not about waiting for the storm to pass, it's about learning to dance in the rain."
Vivian Greene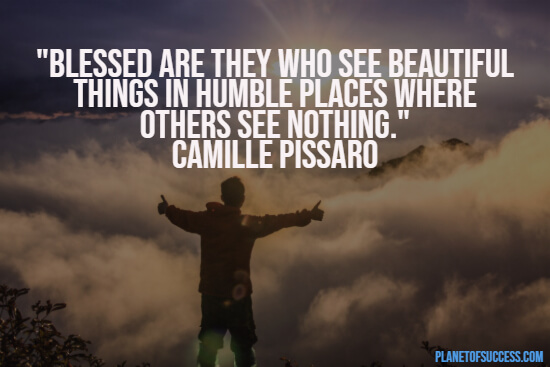 4.
"Blessed are they who see beautiful things in humble places where others see nothing."
Camille Pissaro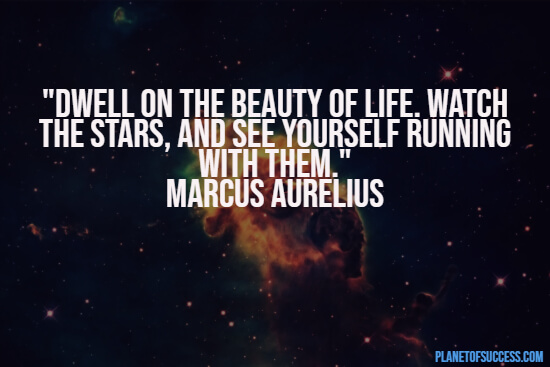 5.
"Dwell on the beauty of life. Watch the stars, and see yourself running with them."
Marcus Aurelius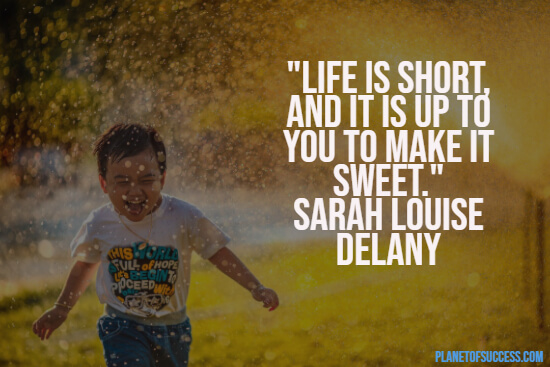 6.
"When life gives you lemons, make lemonade."
Elbert Hubbard
7.
"Magic exists. Who can doubt it, when there are rainbows and wildflowers, the music of the wind and the silence of the stars? Anyone who has loved has been touched by magic. It is such a simple and such an extraordinary part of the lives we live."
Nora Roberts
8.
"You were born with wings, why prefer to crawl through life?"
Rumi
9.
"Laughter is wine for the soul – laughter soft, or loud and deep, tinged through with seriousness – the hilarious declaration made by man that life is worth living."
Sean O'Casey
10.
"I learned this, at least, by my experiment: that if one advances confidently in the direction of his dreams, and endeavors to live the life which he has imagined, he will meet with a success unexpected in common hours."
Henry David Thoreau
11.
"To be creative means to be in love with life. You can be creative only if you love life enough that you want to enhance its beauty, you want to bring a little more music to it, a little more poetry to it, a little more dance to it."
Osho
12.
"Yours is the light by which my spirit's born: – you are my sun, my moon, and all my stars."
E. E. Cummings
13.
"I am beginning to learn that it is the sweet, simple things of life which are the real ones after all."
Laura Ingalls Wilder
14.
"The more you praise and celebrate your life, the more there is in life to celebrate."
Oprah Winfrey
15.
"Find ecstasy in life; the mere sense of living is joy enough."
Emily Dickinson
Do you want more cute quotes about life? Keep on reading…
16.
"If the stars should appear one night in a thousand years, how would men believe and adore; and preserve for many generations the remembrance of the city of God which had been shown! But every night come out these envoys of beauty, and light the universe with their admonishing smile."
Ralph Waldo Emerson
17.
"You never know what life is like, until you have lived it."
Marilyn Monroe
18.
"Do not complain beneath the stars about the lack of bright spots in your life."
Bjørnstjerne Bjørnson
19.
"Be clearly aware of the stars and infinity on high. Then life seems almost enchanted after all."
Vincent Van Gogh
20.
"There are darknesses in life and there are lights, and you are one of the lights, the light of all lights."
Bram Stoker
21.
"Be glad of life because it gives you the chance to love and to work and to play and look up at the stars."
Henry Van Dyke
22.
"One word frees us of all the weight and pain of life: That word is love."
Sophocles
23.
"It is one of life's bitterest truths that bedtime so often arrives just when things are really getting interesting."
Lemony Snicket
24.
"It's the possibility of having a dream come true that makes life interesting."
Paulo Coelho
25.
"I am nothing special, of this I am sure. I am a common man with common thoughts and I've led a common life. There are no monuments dedicated to me and my name will soon be forgotten, but I've loved another with all my heart and soul, and to me, this has always been enough.."
Nicholas Sparks
26.
"Life is like a prism. What you see depends on how you turn the glass."
Jonathan Kellerman
27.
"Keep smiling, because life's beautiful and there's so much to smile about."
Marilyn Monroe
28.
"Fantasy is a necessary ingredient in living, it's a way of looking at life through the wrong end of a telescope."
Dr. Seuss
29.
"The only way to get through life is to laugh your way through it. You either have to laugh or cry. I prefer to laugh. Crying gives me a headache."
Marjorie Pay Hinckley
30.
"You have everything needed for the extravagant journey that is your life."
Carlos Castaneda
31.
"The secret of life, though, is to fall seven times and to get up eight times."
Paulo Coelho
32.
"I was smiling yesterday, I am smiling today and I will smile tomorrow. Simply because life is too short to cry for anything."
Santosh Kalwar
33.
"The power of finding beauty in the humblest things makes home happy and life lovely."
Louisa May Alcott
34.
"Think of all the beauty still left around you and be happy."
Anne Frank
35.
"The best portion of a good man's life: his little, nameless unremembered acts of kindness and love."
William Wordsworth
36.
"Everything has its beauty, but not everyone see it."
Confucius
37.
"I think if I've learned anything about friendship, it's to hang in, stay connected, fight for them, and let them fight for you. Don't walk away, don't be distracted, don't be too busy or tired, don't take them for granted. Friends are part of the glue that holds life and faith together. Powerful stuff."
Jon Katz
38.
"Sometimes beautiful things come into our lives out of nowhere. We can't always understand them, but we have to trust in them. I know you want to question everything, but sometimes it pays to just have a little faith."
Lauren Kate
39.
"I like the night. Without the dark, we'd never see the stars."
Stephenie Meyer
40.
"The way you get meaning into your life is to devote yourself to loving others, devote yourself to your community around you, and devote yourself to creating something that gives you purpose and meaning."
Mitch Albom
These cute quotes about life are spot on
41.
"Perhaps, only when we find ourselves stuck with each other, away from all our dreams and life ambitions, we would see love as it really is; an extraordinary gift given to ordinary people."
Chinonye J. Chidolue
42.
"When you arise in the morning think of what a precious privilege it is to be alive, to breathe, to think, to enjoy, to love."
Marcus Aurelius
43.
"Clouds come floating into my life, no longer to carry rain or usher storm, but to add color to my sunset sky."
Rabindranath Tagore
44.
"Dost thou love life? Then do not squander time, for that's the stuff life is made of."
Benjamin Franklin
45.
"Turn the page, your heroine is still there, breathe, relax, life is beautiful: you're in a book!"
Gabrielle Dubois
46.
"If life were predictable it would cease to be life, and be without flavor."
Eleanor Roosevelt
47.
"Life is a mellifluous symphony for those who know how to play the music!"
Avijeet Das
48.
"You only get one life. It's actually your duty to live it as fully as possible."
Jojo Moyes
49.
"Today, just take time to smell the roses, enjoy those little things about your life, your family, spouse, friends, job. Forget about the thorns -the pains and problems they cause you – and enjoy life"
Bernard Kelvin Clive
50.
"You only live once, but if you do it right, once is enough."
Mae West
51.
"My mission in life is not merely to survive, but to thrive; and to do so with some passion, some compassion, some humor, and some style."
Maya Angelou
52.
"But in a solitary life, there are rare moments when another soul dips near yours, as stars once a year brush the earth. Such a constellation was he to me."
Madeline Miller
53.
"I want to show it's possible to be happy and enjoy life, even if things seem awful. Did you know that, after a few years, lottery winners go back to the exact same levels of happiness as before they won? And people in serious accidents do, too, once they've adjusted to their changed lives? Happiness is a state of mind, Annie."
Eva Woods
54.
"Remember this: Nothing is written in the stars. Not these stars, nor any others. No one controls your destiny."
Gregory Maguire
55.
"You can be gorgeous at thirty, charmimg at forty, and irresistible for the rest of your life."
Coco Chanel
56.
"You were given life; it is your duty (and also your entitlement as a human being) to find something beautiful within life, no matter how slight."
Elizabeth Gilbert
57.
"Life is a mirror: if you frown at it, it frowns back; if you smile, it returns the greeting."
William Makepeace Thackeray
58.
"I used to dream about escaping my ordinary life, but my life was never ordinary. I had simply failed to notice how extraordinary it was."
Ransom Riggs
59.
"The happiness of your life depends upon the quality of your thoughts."
Marcus Aurelius
60.
"You have one life. Live it! Enjoy it!"
Izey Victoria Odiase
Cute quotes about life like this show you how precious life is
61.
"All of life is peaks and valleys. Don't let the peaks get too high and the valleys too low."
John Wooden
62.
"A person must never cease striving to enjoy life. It takes wit, interest, and energy to be happy."
Kilroy J. Oldster
63.
"Beauty is eternity gazing at itself in a mirror. But you are eternity and you are the mirror."
Kahlil Gibran
64.
"There is nothing more beautiful than seeing a person being themselves. Imagine going through your day being unapologetically you."
Steve Maraboli
65.
"We're all a little weird. And life is a little weird. And when we find someone whose weirdness is compatible with ours, we join up with them and fall into mutually satisfying weirdness—and call it love—true love."
Robert Fulghum
66.
"Don't be pushed around by the fears in your mind. Be led by the dreams in your heart."
Roy T. Bennett
67.
"Happiness is always there. You just have to choose to see it. There's no point dwelling in the dark and ignoring the light of the stars."
Carrie Hope
68.
"Dreams do come true, if only we wish hard enough. You can have anything in life if you will sacrifice everything else for it."
J.M. Barrie
69.
"In life, finding a voice is speaking and living the truth. Each of you is an original. Each of you has a distinctive voice. When you find it, your story will be told. You will be heard."
John Grisham
70.
"When life gives you lemons, chunk it right back."
Bill Watterson
71.
"Life is as beautiful as the stars and the moon."
Debasish Mridha
72.
"What I need is the dandelion in the spring. The bright yellow that means rebirth instead of destruction. The promise that life can go on, no matter how bad our losses. That it can be good again."
Suzanne Collins
73.
"Count your age by friends, not years. Count your life by smiles, not tears."
John Lennon
74.
"When I look at my life and its secret colors, I feel like bursting into tears."
Albert Camus
75.
"We write to taste life twice, in the moment and in retrospect."
Anais Nin
76.
"No one knows for certain how much impact they have on the lives of other people. Oftentimes, we have no clue. Yet we push it just the same."
Jay Asher
77.
"In diversity there is beauty and there is strength."
Maya Angelou
78.
"Life is beautiful so it encourages me to smile. I smile at life to make it beautiful."
Debasish Mridha
79.
"The purpose of life is not to be happy. It is to be useful, to be honorable, to be compassionate, to have it make some difference that you have lived and lived well."
Ralph Waldo Emerson
80.
"Never say 'no' to adventures. Always say 'yes,' otherwise you'll lead a very dull life."
Ian Fleming
81.
"No one can construct for you the bridge upon which precisely you must cross the stream of life, no one but you yourself alone."
Friedrich Nietzsche
82.
"Accept no one's definition of your life; define yourself."
Robert Frost
83.
"Nothing in life is to be feared, it is only to be understood. Now is the time to understand more, so that we may fear less."
Marie Curie
84.
"Beauty surrounds us."
Rumi
85.
"What do we live for, if it is not to make life less difficult for each other?"
George Eliot
86.
"One of the deep secrets of life is that all that is really worth the doing is what we do for others."
Lewis Carroll
87.
"Art washes away from the soul the dust of everyday life."
Pablo Picasso
88.
"Ride life straight to perfect laughter. It's the only good fight there is."
Charles Bukowski
89.
"Above all, be the heroine of your life, not the victim."
Nora Ephron
90.
"When life gives you lemons, squirt someone in the eye."
Cathy Guiswite
Here are even more cute quotes about life for you
91.
"Each of us has meaning and we bring it to life."
Joseph Campbell
92.
"Life is a beautiful magnificent thing, even to a jellyfish."
Charles Chaplin
93.
"When you do something noble and beautiful and nobody noticed, do not be sad. For the sun every morning is a beautiful spectacle and yet most of the audience still sleeps."
John Lennon
94.
"To do the useful thing, to say the courageous thing, to contemplate the beautiful thing: that is enough for one man's life."
T.S. Eliot
95.
"You know, one of the tragedies of real life is that there is no background music."
Annie Proulx
96.
"The important thing to you is not how many years in your life, but how much life in your years!"
Edward J. Stieglitz
97.
"When it is dark enough, you can see the stars."
Ralph Waldo Emerson
98.
"Some beautiful paths can't be discovered without getting lost."
Erol Ozan
99.
"Nobody ever figures out what life is all about, and it doesn't matter. Explore the world. Nearly everything is really interesting if you go into it deeply enough."
Richard P. Feynman
100.
"He felt that his whole life was some kind of dream and he sometimes wondered whose it was and whether they were enjoying it."
Douglas Adams
101.
"Walk as if you are kissing the Earth with your feet."
Thich Nhat Hanh
102.
"The very least you can do in your life is figure out what you hope for. And the most you can do is live inside that hope. Not admire it from a distance but live right in it, under its roof."
Barbara Kingsolver
103.
"And so with the sunshine and the great bursts of leaves growing on the trees, just as things grow in fast movies, I had that familiar conviction that life was beginning over again with the summer."
F. Scott Fitzgerald
104.
"All your life, you will be faced with a choice. You can choose love or hate…I choose love."
Johnny Cash
105.
"I was within and without, simultaneously enchanted and repelled by the inexhaustible variety of life."
Fitzgerald F. Scott
106.
"The grand essentials to happiness in this life are something to do, something to love, and something to hope for."
George Washington Burnap
107.
"My life has a superb cast, but I cannot figure out the plot."
Ashleigh Brilliant
108.
"Life isn't finding shelter in the storm. It's about learning to dance in the rain."
Sherrilyn Kenyon
109.
"Keep smiling, because life is a beautiful thing and there's so much to smile about."
Marilyn Monroe
110.
"Life is an adventure! So live it."
L.M. Preston
111.
"We must be willing to let go of the life we planned so as to have the life that is waiting for us."
Joseph Campbell
112.
"Trust your heart if the seas catch fire, live by love though the stars walk backward."
E.E. Cummings
I hope you enjoyed this collection of inspirational and cute quotes about life.
Stay victorious!