Do you feel butterflies when you're around your beloved? If it seems as if a dozen glittering monarchs are causing a wonderful sensation in your stomach, you may have seriously fallen in love. If you're even fortunate enough to have found your true soulmate, you can count yourself pretty lucky. In order to help you celebrate the joys of your relationship, we've created the following list of the most romantic and truly cute couple quotes. Enjoy reading. PS: You may also like our collection of beautifully romantic "I love you" quotes.
When you're deeply in love with your soulmate, you simply know that the both of you were always meant for each other. It's a wonderful feeling having found someone who completes you – someone who fits perfectly to you. Every aspect of life is simply more beautiful when your partner is around. Even more so, it may often feel like your relationship is adding width and depth to your life in general.
"You know you're in love when you can't fall asleep because reality is finally better than your dreams."
Dr. Seuss
If you can no longer imagine living life without your significant other, you may possibly have found the perfect partner for you. However, maintaining a healthy and balanced relationship takes a lot of effort and commitment. One key ingredient of a happy relationship is to celebrate regularly, from important relationship milestones to the small wonders of your bond. There are many creative ways to celebrate the power of love. Sending your partner romantic quotes coming from the heart is a cute way of letting them know that you're thinking about them.
They say that love can move mountains and partners who have a deep affection for each other will be able to overcome every obstacle.
110 Cute Couple Quotes from the Heart
The following quotes about love and relationships celebrate the wonders of the bond between you and your significant other. Enjoy reading this collection of cute couple quotes that stem from authors who have fully immersed themselves in love.
Here's our collection of romantic and cute couple quotes
1.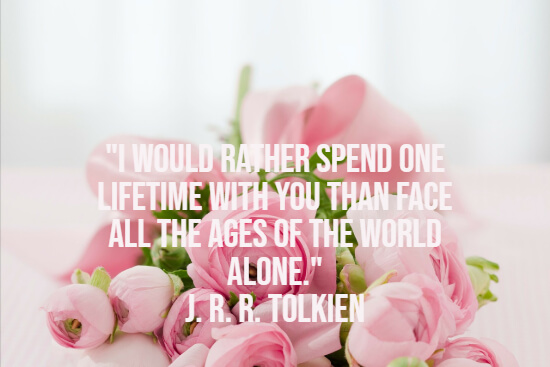 "I would rather spend one lifetime with you than face all the ages of the world alone."
J. R. R. Tolkien
2.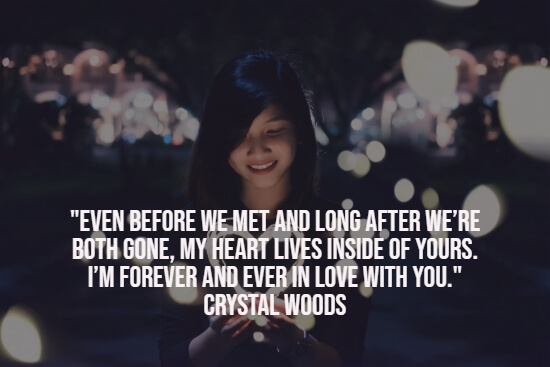 "Even before we met and long after we're both gone, my heart lives inside of yours. I'm forever and ever in love with you."
Crystal Woods
3.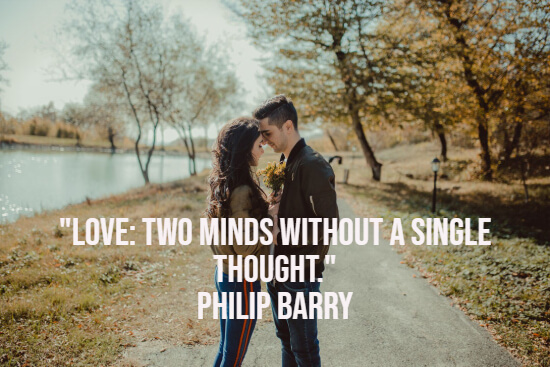 "Love: Two minds without a single thought."
Philip Barry
4.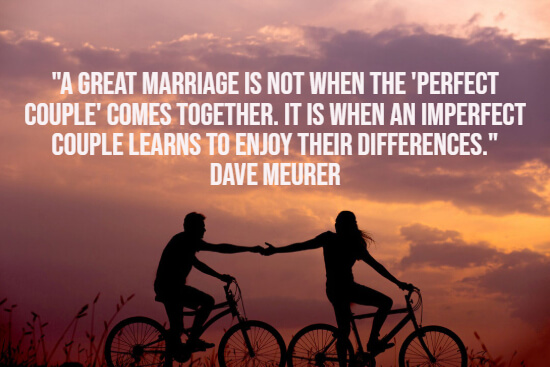 "A great marriage is not when the 'perfect couple' comes together. It is when an imperfect couple learns to enjoy their differences."
Dave Meurer
5.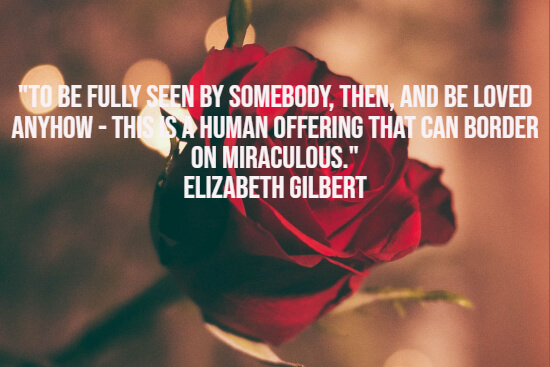 "To be fully seen by somebody, then, and be loved anyhow – this is a human offering that can border on miraculous."
Elizabeth Gilbert
6.
"So it's not gonna be easy. It's going to be really hard; we're gonna have to work at this every day, but I want to do that because I want you. I want all of you, forever, every day. You and me… every day."
Nicholas Sparks
7.
"Love's about finding the one person who makes your heart complete. Who makes you a better person than you ever dreamed you could be. It's about looking in the eyes of your wife and knowing all the way to your bones that she's simply the best person you've ever known."
Julia Quinn
8.
"You're my reflection, all I see is you."
Justin Timberlake
9.
"What greater thing is there for two human souls, than to feel that they are joined for life – to strengthen each other in all labor, to rest on each other in all sorrow, to minister to each other in all pain, to be one with each other in silent unspeakable memories at the moment of the last parting?"
George Eliot
10.
"Falling in love is very real, but I used to shake my head when people talked about soul mates, poor deluded individuals grasping at some supernatural ideal not intended for mortals but sounded pretty in a poetry book. Then, we met, and everything changed, the cynic has become the converted, the skeptic, an ardent zealot."
E.A. Bucchianeri
Can't get enough of cute couple quotes? Read on…
11.
"The reason it hurts so much to separate is because our souls are connected."
Nicholas Sparks
12.
"I wonder how many people don't get the one they want, but end up with the one they're supposed to be with."
Fannie Flagg
13.
"A very few times in your life, if you were lucky, you might meet someone who was exactly right for you. Not because he was perfect, or because you were, but because your combined flaws were arranged in a way that allowed two separate beings to hinge together."
Lisa Kleypas
14.
"He felt now that he was not simply close to her, but that he did not know where he ended and she began."
Leo Tolstoy
15.
"Our eyes met and our souls caught on fire."
Nikki Rowe
16.
"The meeting of two personalities is like the contact of two chemical substances. If there is any reaction, both are transformed."
Carl Jung
17.
"I'd rather die tomorrow than live a hundred years without knowing you."
Pocahantas
18.
"The only way love can last a lifetime is if it's unconditional. The truth is this: love is not determined by the one being loved but rather by the one choosing to love."
Stephen Kendrick
19.
"Our soul mate is the one who makes life come to life."
Richard Bach
20.
"It is an absolute human certainty that no one can know his own beauty or perceive a sense of his own worth until it has been reflected back to him in the mirror of another loving, caring human being."
John Joseph Powell
These cute couple quotes are on fire
21.
"Love is composed of a single soul inhabiting two bodies."
Aristotle
22.
"Do you know what it's like to love someone so much, that you can't see yourself without picturing her? We were, well, meant to be together. Some people spend their whole lives looking for that one person. I was lucky enough to have her all along."
Jodi Picoult
23.
"When one meets the other half, the actual half of himself, the pair are lost in an amazement of love and friendship and intimacy and one will not be out of the other's sight, as I may say, even for a moment."
Plato
24.
"There is one friend in the life of each of us who seems not a separate person, however dear and beloved, but an expansion, an interpretation, of one's self, the very meaning of one's soul."
Edith Wharton
25.
"So hand in hand they passed, the loveliest pair that ever since in love's embraces met – Adam, the goodliest man of men since born his sons; the fairest of her daughters Eve."
John Milton
26.
"Together we shared a bond not even death would violate."
Dee Remy
27.
"When you're in love, you're capable of learning everything and knowing things you had never dared even to think because love is the key to an understanding of all the mysteries."
Paulo Coelho
28.
"It is a hard quest worth making to find a comrade through whose steady presence one becomes steadily the person one desires to be."
Anna Louise Strong
29.
"There are lots of people who can call you by your name but there is only one person who can make it sound so special."
Kim Jarabelo
30.
"Finding someone you love and who loves you back is a wonderful, wonderful feeling. But finding a true soul mate is an even better feeling. A soul mate is someone who understands you like no other, loves you like no other, will be there for you forever, but I am a firm believer in the fact that for some, love lives on even after they're gone."
Cecelia Ahern
These cute couple quotes are on point
31.
"Falling in love is easy. Falling in love with the same person repeatedly is extraordinary."
Crystal Woods
32.
"The best love is the kind that awakens the soul and makes us reach for more, that plants a fire in our hearts and brings peace to our minds. And that's what you've given me. That's what I'd hoped to give you forever"
Nicholas Sparks
33.
"I could recognize his soul in mine as much as he could find me in his. Our sole existences seemed to have been for this very moment when nothing else mattered."
X. Williamson
34.
"Maybe we've lived a thousand lives before this one and in each of them, we've found each other… I know I've spent each life before this one searching for you. Not someone like you but you, for your soul and mine, must always come together."
Nicholas Sparks
35.
"When you're in a relationship and it's good, even if nothing else in your life is right, you feel like your whole world is complete."
Keith Sweat
36.
"No relationship is perfect, ever. There are always some ways you have to bend, to compromise, to give something up in order to gain something greater."
Sarah Dessen
37.
"Over everything, I choose you"
Marissa Meyer
38.
"Everything that happens is nicer with you."
Sandol Stoddard
39.
"Even the strongest feelings expire, but a couple that has learned how to rely on their OWN sensuality never runs out of juice. As long as sensuality continues to burn within and between the two of us, we can weather any storm."
Lebo Grand
40.
"For the two of us, home isn't a place. It is a person. And we are finally home."
Stephanie Perkins
How about some cute couple quotes full of wisdom…
41.
"I can't imagine what my life was before. I can't imagine ever being without you for very long again."
Anna Godbersen
42.
"The minute I heard my first love story, I started looking for you, not knowing how blind that was. Lovers don't finally meet somewhere. They're in each other all along."
Rumi
43.
"Sometimes you wake up from a dream. Sometimes you wake up in a dream. And sometimes, every once in a while, you wake up in someone else's dream. "
Richelle Mead
44.
"There is the heat of love, the pulsing rush of longing, the lover's whisper, irresistible—magic to make the sanest man go mad."
Homer
45.
"To say that one waits a lifetime for his soulmate to come around is a paradox. People eventually get sick of waiting, take a chance on someone, and by the art of commitment become soulmates, which takes a lifetime to perfect."
Criss Jami
46.
"In our time together, you claimed a special place in my heart, one I'll carry with me forever and that no one can ever replace."
Nicholas Sparks
47.
"When you find a guy who watches the stars and names one for… you marry him all over again."
Shannon Alder
48.
"At the touch of love, everyone becomes a poet."
Plato
49.
"To be fully known and truly loved is, well, a lot like being loved by God. It is what we need more than anything. It liberates us from pretense, humbles us out of our self-righteousness, and fortifies us for any difficulty life can throw at us."
Timothy Keller
50.
"A woman knows the face of the man she loves as a sailor knows the open sea."
Honore de Balzac
This couple quote is so true
51.
"Every couple needs to argue now and then just to prove that the relationship is strong enough to survive."
Nicholas Sparks
52.
"Love lets you find those hidden places in another person."
Hilary T. Smith
53.
"When in a relationship, a real man doesn't make his woman jealous of others, he makes others jealous of his woman."
Steve Maraboli
54.
"Connecting with someone is not necessarily a bond with a significant other or even a friend, but can be the indefinable – perhaps the rarest and most precious thing in life to find at all."
Donna Lynn Hope
55.
"Once you find someone to share your ups and downs, downs are almost as good as ups."
Robert Brault
56.
"I could start fires with what I feel for you."
David Ramirez
57.
"You pierce my soul. I am half agony, half hope… I have loved none but you."
Jane Austen
58.
"There is no pretending, I love you, and I will love you until I die, and if there is life after that, I'll love you then."
Cassandra Clare
59.
"They didn't agree on much. But despite their differences, they had one important thing in common. They were crazy about each other."
Nicholas Sparks
60.
"Bound souls. He had always thought the stories of men and women bound throughout all eternity by the strength of passion, were but pleasant tales for long winter's nights. But he recognized the woman just as surely as she recognized him, and he knew the tales were true."
Ann Marston
61.
"The more you love, the more love you have to give. It's the only feeling we have which is infinite."
Christina Westover
62.
"No long-term marriage is made easily. In the midst of near despair, something has happened beneath the surface. A bright little flashing fish of hope has flicked silver fins and the water is bright and suddenly I am returned to a state of love again."
Madeleine L'Engle
63.
"There is nothing more admirable than when two people who see eye to eye keep house as man and wife, confounding their enemies and delighting their friends."
Homer
64.
"I want to be in a relationship where you telling me you love me is just a ceremonious validation of what you already show me."
Steve Maraboli
65.
"No matter where I went, I always knew my way back to you."
Diana Peterfreund
66.
"An archaeologist is the best husband a woman can have. The older she gets, the more interested he is in her."
Agatha Christie
67.
"In the end there doesn't have to be anyone who understands you. There just has to be someone who wants to."
Robert Brault
68.
"A good relationship is where things just work. They work because, whatever the list of qualities, whatever the reason, you happen to be really, really good together."
Deb Caletti
69.
"There are lots of people who can call you by your name but there is only one person who can make it sound so special."
Kim Jarabelo
70.
"Together, we form a necessary paradox; not a senseless contradiction."
Criss Jami
71.
"Together we're strong and beautiful. If only for fleeting moments of love, everything else is worth putting up with."
Maude Julien
72.
"People will walk in and walk out of your life, but the one whose footstep made a long lasting impression is the one you should never allow to walk out."
Michael Bassey Johnson
73.
"Love is the foolishness of men, and the wisdom of God."
Victor Hugo
74.
"He stepped down, trying not to look long at her, as if she were the sun, yet he saw her, like the sun, even without looking."
Leo Tolstoy
75.
"On the left side of a strong woman, stands a strong man; he is strengthened by her character."
Ellen J. Barrier
76.
"We are what ballads are written of, what bards sing of. We are epic, you and I."
Samantha Garman
77.
"He touched my soul long before I knew what his hands felt like."
Nikki Rowe
78.
"When you are loved, you can do anything in creation. When you are loved, there's no need at all to understand what's happening, because everything happens within you."
Paulo Coelho
79.
"You're my favorite person of all time."
Rainbow Rowell
80.
"All I've ever wanted was to be near you."
Shannon Hale
81.
"I don't have the money to buy you the world, But I am prepared to share that world with you."
Jeremy Legend
82.
"Once someone loves you that much, loves you more than you deserve, you can't go back to being loved the normal way."
Tiffany Reisz
83.
"He is not going to be perfect, but if he is kind and thoughtful if he knows how to work and earn a living if he is honest and full of faith, the chances are you will not go wrong, that you will be immensely happy."
Gordon B. Hinckley
84.
"Words are a pretext. It is the inner bond that draws one person to another, not words."
Rumi
85.
"When two people relate to each other authentically and humanly, God is the electricity that surges between them."
Martin Buber
86.
"It takes three to make love, not two: you, your spouse, and God. Without God people only succeed in bringing out the worst in one another. Lovers who have nothing else to do but love each other soon find there is nothing else. Without a central loyalty, life is unfinished."
Fulton J. Sheen
87.
"It's a blessed thing to love and feel loved in return."
E.A. Bucchianeri
88.
"There is nothing more terrifying or fulfilling than complete love, it's worth the risk… reach for it."
Jaeda DeWalt
89.
"Our eyelashes brushed like they would weave together by themselves, turning us into one wild thing. I say, "I think I missed you before I met you even."
Francesca Lia Block
90.
"Love, like everything else in life, should be a discovery, an adventure, and like most adventures, you don't know you're having one until you're right in the middle of it."
E.A. Bucchianeri
91.
"True love is not a hide and seek game: in true love, both lovers seek each other."
Michael Bassey Johnson
92.
"Inhale when I inhale. Exhale when I exhale. Breathe with me, for two beating hearts breathing one breath together become one."
Christina Westover
93.
"He stirred my soul in the most subtle way and the story between us wrote itself."
Nikki Rowe
94.
"People think a soul mate is your perfect fit, and that's what everyone wants. But a true soul mate is a mirror, the person who shows you everything you're holding back, the person who brings you to your own attention so you can change your life. A true soul mate is probably the most important person you'll ever meet because they tear down your walls and smack you awake."
Elizabeth Gilbert
95.
"We should meet in another life, we should meet in air, me and you."
Sylvia Plath
96.
"I'd cut up my heart for you to wear if you wanted it."
Margaret Mitchell
97.
"There is nothing more beautiful than a vulnerable heart in open hands."
Amanda Mosher
98.
"We were quite different, but we belonged together, we were more than the sum of our two selves, we were allies, we made our own community, and that is rare in life."
Sándor Márai
99.
"When in a relationship, a real man doesn't make his woman jealous of others, he makes others jealous of his woman."
Steve Maraboli
100.
"You are the ruler of my heart. There is no measure greater than this."
Truth Devour
101.
"I melted into the dream as if I had always been there. I knew where I had come from; I knew where I was going."
Chelsie Shakespeare
102.
"Being deeply moved by someone gives you the strength, while loving someone deeply gives you courage."
Lao Tzu
103.
"It takes one person to forgive, it takes two people to be reunited."
Lewis B. Smedes
104.
"One's not half of two; two are halves of one."
E.E. Cummings
105.
"Giving generously in romantic relationships, and in all other bonds, means recognizing when the other person needs our attention. Attention is an important resource."
Bell Hooks
106.
"Before I met you, my life ran on sheer amusement. After I met you, my life ran on sheer compassion."
Heenashree Khandelwal
107.
"Happiness is only real when shared."
Jon Krakauer
108.
"Seize the moments of happiness, love and be loved! That is the only reality in the world, all else is folly. It is the one thing we are interested in here."
Leo Tolstoy
109.
"You have no choice. You must leave your ego on the doorstep before you enter love."
Kamand Kojouri
110.
"I know by experience that the poets are right: love is eternal."
E.M. Forster
I hope you enjoyed this collection of cute couple quotes. What are your favorite quotes about love, relationships, and couples?
Stay victorious!