Are you struggling with cancer or know someone who does? The following cancer quotes will lift you up during difficult times so that you can keep on fighting. If you want even more positive quotes, have a look at these uplifting quotes that will help brighten your day.
Being diagnosed with cancer is a horrific shock, to say the least. From one day to the other, your entire life is turned around. There are so many questions in your head and not a single answer. You may feel hopeless and alone. But you are not alone.
"Temper us in fire, and we grow stronger. When we suffer, we survive."
Cassandra Clare
Millions all around the world are diagnosed with cancer each year. And while it is painfully tragic that many lose the battle with this awful decease, there are also millions of individuals who fought and survived. Among these cancer survivors, there are many celebrities who have become true role models for all those with a similar fate.
As a family member or friend of someone who has cancer, you may not know how to behave. You want to be there for your friend, parent, or relative but don't know what to say and what to do. The following cancer quotes will help you to find the right words during some of the most difficult moments in life.
102 Uplifting Cancer Quotes to Keep on Fighting
The following collection is a mixture of uplifting quotes that will help you to never lose hope even when all hope seems gone. But there also quotes from those who have survived the illness and their unique insights about their experiences. To give you an even more helpful collection, we have categorized the following quotes into these different sections:
Here's our selection of inspirational cancer quotes
1.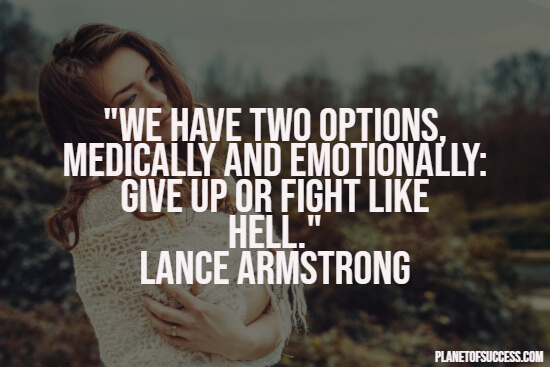 "We have two options, medically and emotionally: give up or fight like hell."
Lance Armstrong
2.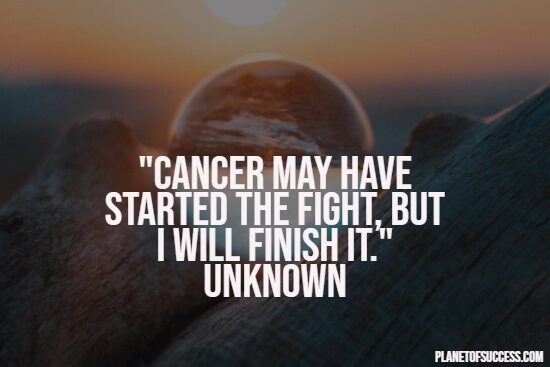 "Cancer may have started the fight, but I will finish it."
Unknown
3.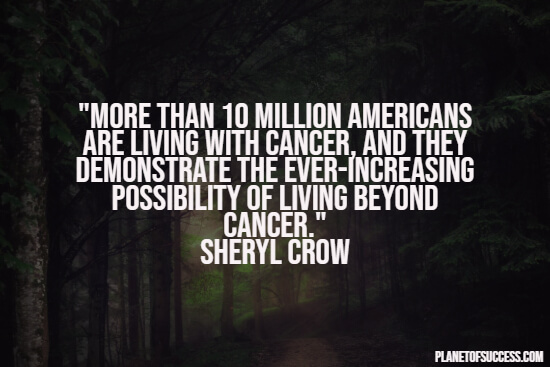 "More than 10 million Americans are living with cancer, and they demonstrate the ever-increasing possibility of living beyond cancer."
Sheryl Crow
4.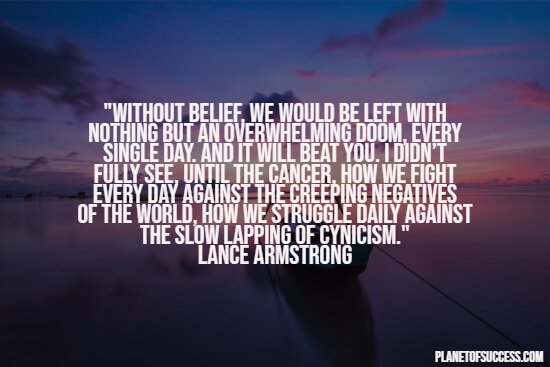 "Without belief, we would be left with nothing but an overwhelming doom, every single day. And it will beat you. I didn't fully see, until the cancer, how we fight every day against the creeping negatives of the world, how we struggle daily against the slow lapping of cynicism."
Lance Armstrong
5.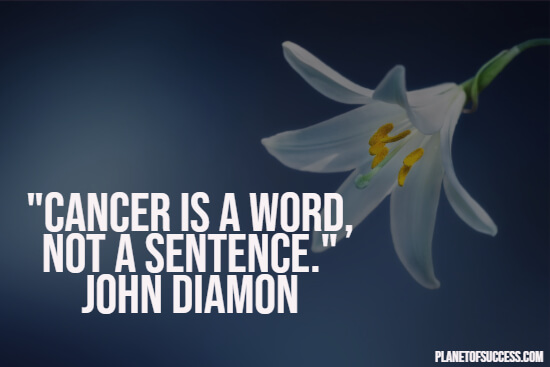 "Cancer is a word, not a sentence."
John Diamon
6.
"You beat cancer by how you live, why you live and in the manner in which you live."
Stuart Scott
7.
"One of the things that can help people with cancer is having something that you really look forward to doing, so that you can focus on that while the treatments are going on. I guess it's like saying, 'I have unfinished business left before I die."
Joe Marelle
8.
"Nah. I'm a tough cookie. Except for the cancer, I'm fine."
Lisa Scottoline
9.
"Cancer can take away all of my physical abilities. It cannot touch my mind, it cannot touch my heart, and it cannot touch my soul."
Jim Valvano
10.
"Only in the darkness can you see the stars."
Martin Luther King Jr.
11.
"Cancer gave me an understanding of the point of all this. To survive. Most of our lives it is easy but for the moments when it becomes difficult, when accident or sickness or sadness strikes, it's just about remembering one thing. You must simply survive."
Shaun Hick
12.
"I would tell someone who's battling cancer to write down the five to ten things that you look forward to doing with the rest of your life. In other words, your future should be the focus. For example, 'I want to see my grandchildren,' or 'I want to take that trip.' You've got to find something to look forward to that will give you strength. You want it to draw you like a magnet."
Joe Marelle
13.
"Above all, cancer is a spiritual practice that teaches me about faith and resilience."
Kris Carr
14.
"Cancer opens many doors. One of the most important is your heart."
Greg Anderson
15.
"Since I had cancer I've realised that every day is a bonus."
Geoffrey Boycott
16.
"I think cancer is a hard battle to fight alone or with another person at your side, but I will say having someone to pick you up when you fall, stand by your side through every appointment and delivery of bad news, is priceless."
Jenna Morasca
17.
"Cancer has shown me what family is. It showed me a love that I never knew really existed."
Michael Douglas
18.
"Cancer is that awful word we all fear when we go to the doctor for a physical exam, but in that brief dark moment we hear it the world we live in and the people we share it with begin to illuminate things we did not even pay attention to."
B. D. Phillips
19.
"I want to see cancer cured in my lifetime. It might be."
James D. Watson
20.
"Cancer is messy and scary. You throw everything at it, but don't forget to throw love at it. It turns out that might be the best weapon of all."
Regina Brett
21.
"I do not wish my anger and pain and fear about cancer to fossilize into yet another silence, nor to rob me of whatever strength can lie at the core of this experience, openly acknowledged and examined… imposed silence about any area of our lives is a tool for separation and powerlessness."
Audre Lorde
22.
"I felt great empathy for my friend, as one form of cancer after another emerged to challenge him. I felt sympathy for his suffering that surely clawed at his daily routines, always active and busy, but he rarely verbalized complaints while courageously challenging his archenemy. He met pain and physical decline with 600-calorie workouts; he discarded anxieties somewhere along innumerable running trails; he faced death by running through life at full stride."
Brent Green
23.
"Who can say they have been through cancer twice and beat it? Confront the world, Aundrea. You're alive. Be proud of the strong woman you are and stop hiding behind your wig."
Amanda Maxlyn
24.
"Cancer is the be-all and end-all of the sport, and the only thing you can do is show up to the game with your jersey on."
Colleen Hoover
25.
"You never know how strong you are until being strong is the only choice you have"
Cayla Mills
26.
"Courage is not the absence of fear, but rather the judgment that something else is more important than fear."
Ambrose Redmoon
27.
"During chemo, you're more tired than you've ever been. It's like a cloud passing over the sun, and suddenly you're out. You don't know how you'll answer the door when your groceries are delivered. But you also find that you're stronger than you've ever been. You're clear. Your mortality is at optimal distance, not up so close that it obscures everything else, but close enough to give you depth perception. Previously, it has taken you weeks, months, or years to discover the meaning of an experience. Now it's instantaneous."
Melissa Bank
28.
"Feed your faith and your fears will starve to death."
Unknown
29.
"The failure to think positively can weigh on a cancer patient like a second disease."
Barbara Ehrenreich
30.
"The human spirit is stronger than anything that can happen to it."
C.C. Scott
31.
"We must embrace pain and burn it as fuel for our journey."
Kenji Miyazawa
32.
"This is the story of how Dad lived with his lung cancer. But it is much more. Through his illness and the miracles we experienced, I came to see that Dad's was not just a journey. It was a journey home. Home to God. "
Joseph M. Hanneman
33.
"We shall draw from the heart of suffering itself the means of inspiration and survival."
Winston Churchill
34.
"Sometimes even to live is an act of courage."
Lucius Annaeus Seneca
35.
"When you have exhausted all possibilities, remember this: You haven't."
Thomas Edison
36.
"I walk to rid myself of the terror of cancer, and to overcome the fear of it coming back. The fear may never completely fade, but actively engaging life – whatever that may involve – reminds me of the joy each day can bring."
Edie Littlefield Sundby
37.
"Cancer… the process of creation gone wild, I thought."
Philip K. Dick
38.
"What to do if you find yourself stuck in a crack in the ground underneath a giant boulder you can't move, with no hope of rescue. Consider how lucky you are that life has been good to you so far. Alternatively, if life hasn't been good to you so far, which given your current circumstances seems more likely, consider how lucky you are that it won't be troubling you much longer."
Douglas Adams
39.
"Cure the symptoms, cure the disease."
Michael Critchton
40.
"I am praying hard for the day that Cancer is just a Zodiac Sign and no longer a Disease…"
Nitya Prakash
41.
"A man is happy so long as he chooses to be happy."
Aleksandr Solzhenitsyn
42.
"Cancer is not a single disease, and it almost certainly can't ever be addressed with a single magical potion."
Mary Elizabeth Williams
43.
"You need to spend time crawling alone through shadows to truly appreciate what it is to stand in the sun."
Shaun Hick
44.
"A life touched by cancer is not a life destroyed by cancer."
Drew Boswel
45.
"Births and cancer treatments are so expensive, it's a luxury to live, a privilege to die."
J. Andrew Schrecker
46.
"Growth for the sake of growth is the ideology of the cancer cell."
Edward Abbey
47.
"Cancer is not a straight line. It's up and down."
Elizabeth Edwards
48.
"I started to walk the day I was told I was dying of cancer. I believe walking has kept me alive. I live with a constant, pressing awareness of death. Once I start to walk, I am not afraid anymore; all is well."
Edie Littlefield Sundby
49.
"Some days there won't be a song in your heart. Sing anyway."
Emory Austin
50.
"Cancer does not stop your life, giving up your dreams or your goals, it is simply a parameter to manage, no more, no less than all the other parameters of life."
Gérard Bourrat
51.
"Relapse doesn't have to be part of recovery any more than return has to be part of cancer."
Toni Sorenson
52.
"What does not kill us makes us stronger."
Friedrich Nietzsche
53.
"If I keep grinning maybe my inoperable colon cancer won't hurt so much."
Tony Millionaire
54.
"The truth is that you can be angry and scared and happy and grateful and tired and fed up at the same time. I guess that's the gift of cancer."
Mary Elizabeth Williams,
55.
"My reaction on being told that I had cancer was not what I might have expected. I was relieved to finally know what I had to deal with and calm at the possibility of fading away. It seemed to me I had already lived a full life, like a well-plotted novel that reaches a satisfactory conclusion. I had known deep friendship, true love, loss, and sorrow. I had felt at one with nature and at home in the city. And, critically, I had discovered both a creative capacity within myself and inner discipline to put it to work. I had become a whole person."
Peter Korn
56.
"Without hair, A queen is still a queen'."
Prajakta Mhadnak
57.
"People wonder why cancer exists when it is just a clever method to teach people lessons about love and loss. It borrows time or steals it depending on the needs of Heaven. It is a vehicle to get us where we need to be. It calls us home because something needs us there."
Kate McGahan
58.
"I decided right then and there that no matter what cancer did to me I would continue to move. Movement was what the physical body was designed to do; it was how it coped and functioned. Movement was vitality. It was life. I would move. Always. No matter what. Until my last breath, I would move."
Edie Littlefield Sundby
Breast cancer quotes
59.
"Once I overcame breast cancer, I wasn't afraid of anything anymore."
Melissa Etheridge
60.
"Breast cancer deaths in America have been declining for more than a decade. Much of that success is due to early detection and better treatments for women. I strongly encourage women to get a mammogram."
Larry Craig
61.
"If you have a friend or family member with breast cancer, try not to look at her with 'sad eyes.' Treat her like you always did; just show a little extra love."
Hoda Kotb
62.
"There can be life after breast cancer. The prerequisite is early detection."
Ann Jillian
63.
"We did not know that certain forms of breast cancer were programmed and almost ineluctable, and we would not have believed you if you had told us that in our lifetime young women would be subjecting themselves to preventative mastectomies."
Margaret Drabble
64.
"Breast cancer, whether I like it or not, is part of my family's story. That's why I am so passionate about raising awareness, because I have seen firsthand how it can impact others."
DeAngelo Williams
65.
"Every woman needs to know the facts. And the fact is, when it comes to breast cancer, every woman is at risk."
Debbie Wasserman Schultz
66.
"Breast cancer is being detected at an earlier, more treatable stage these days, largely because women are taking more preventive measures, like self-exams and regular mammograms. And treatment is getting better too."
Elizabeth Hurley
67.
"With breast cancer, it's all about detection. You have to educate young women and encourage them to do everything they have to do."
Bill Rancic
68.
"Results from a prospective study of 25,892 Norwegian women clearly showed that consumption in excess of 750 ml of whole milk a day leads to a relative risk of breast cancer of 2.91 compared with consumption of less than 150 ml with a relative risk of 1.0."
Bodo Melnik
69.
"Whether you're a mother or father, or a husband or a son, or a niece or a nephew or uncle, breast cancer doesn't discriminate.' – Stephanie McMahon
70.
"Breast cancer is scary and no one understands that like another woman who has gone through it too."
Mindy Sterling
Cancer survivor quotes
71.
"To continue believing in yourself, believing in the doctors, believing in the treatment, believing in whatever I chose to believe in, that was the most important thing, I decided. It had to be."
Lance Armstrong
72.
"Beating cancer is a personal battle. It was one of the toughest opponents I have faced so far, and I think I did reasonably well. Touch wood."
Yuvraj Singh
73.
"Cancer didn't bring me to my knees, it brought me to my feet."
Michael Douglas
74.
"You can be a victim of cancer, or a survivor of cancer. It's a mindset."
Dave Pelzer
75.
"Did you notice the smile on a cancer patient's face after the last treatment? That's the smile you want on your face."
Lawrence Wray
76.
"You know, once you've stood up to cancer, everything else feels like a pretty easy fight."
David H. Koch
77.
"I knew now why people fear cancer: because it is a slow and inevitable death, it is the very definition of cynicism and loss of spirit. So, I believed."
Lance Armstrong
78.
"Cricket is my life. Before cancer, I was happy-go-lucky. I used to think about my career and worry about the future. But post it, my thinking has completely changed. I'm happy to eat and breathe normally. I'm happy to have my life back."
Yuvraj Singh
79.
"The night before brain surgery, I thought about death. I searched out my larger values, and I asked myself, if I was going to die, did I want to do it fighting and clawing or in peaceful surrender? What sort of character did I hope to show? Was I content with myself and what I had done with my life so far? I decided that I was essentially a good person, although I could have been better."
Lance Armstrong
80.
"I began to realize that coming in such close contact with my own mortality had changed both nothing and everything. Before my cancer was diagnosed, I knew that someday I would die, but I didn't know when. After the diagnosis, I knew that someday I would die, but I didn't know when. But now I knew it acutely. The problem wasn't really a scientific one. The fact of death is unsettling. Yet there is no other way to live."
Paul Kalanithi
81.
"Cancer is a journey, but you walk the road alone. There are many places to stop along the way and get nourishment – you just have to be willing to take it."
Emily Hollenberg
82.
"Pain is temporary. Quitting lasts forever."
Lance Armstrong
83.
"I had cancer, cancer never had me."
Unknown
84.
"Once cancer happens it changes the way you live for the rest of your life."
Hayley Mills
85.
"I want men to know that things really do get better — and they get better fairly rapidly. Don't get discouraged."
George Campbell
86.
"We normally know we're getting older when the only thing we want for our birthday is not to be reminded; unless you're a cancer survivor! Then we love people reminding us!"
Chris Geiger
Fighting cancer quotes
87.
"Time is shortening. But every day that I challenge this cancer and survive is a victory for me."
Ingrid Bergman
88.
"I'm going to beat this cancer or die trying."
Michael Landon
89.
"You have to fight, because if you don't, you let the opponent win, and if your opponent is cancer, the results can be deadly."
Lawrence Wray
90.
"Working out is my way of saying to cancer, 'You're trying to invade my body; you're trying to take me away from my daughters, but I'm stronger than you. And I'm going to hit harder than you."
Stuart Scott
91.
"Strength is born in the deep silence of long-suffering hearts; not amidst joy."
Felicia Hemans
92.
"Acceptance of death and cancer did not mean I intended to give up, just the opposite. I was prepared to fight cancer not out of fear of dying, but out of joy of living."
Edie Littlefield Sundby
93.
"Now I'm fighting cancer, everybody knows that. People ask me all the time about how you go through your life and how's your day, and nothing is changed for me."
Jim Valvano
94.
"Cancer is a fight to the death. Either you kill it, or it will kill you. Get ready to brawl."
Lawrence Wray
95.
"In terms of fitness and battling through cancer, exercise helps you stay strong physically and mentally."
Grete Waitz
96.
"Today we fight. Tomorrow we fight. The day after, we fight. And if this disease plans on whipping us, it better bring a lunch, 'cause it's gonna have a long day doing it."
Jim Beaver
97.
"You are braver than you believe, stronger than you seem."
A. A. Milne
98.
"Yes, I have cancer and it might not go away, but I can still have a future because life goes on."
Kris Carr
99.
"I'm battling cancer. It's another battle I intend to win."
Arlen Specter
100.
"The most important thing in illness is never to lose heart."
Nikolai Lenin
101.
"You gain strength, courage, and confidence by every experience in which you really stop to look fear in the face. You must do the thing which you think you cannot do"
Eleanor Roosevelt
102.
"Optimism is the foundation of courage."
Nicholas Murray Butler
I hope you enjoyed this collection of inspirational cancer quotes.
Stay victorious!